One of the most common home decorations used by interior designers is throw pillows. Homeowners and interior designers use pillows to stage homes that they want to sell or rent. An ordinary housewife uses pillows to decorate their home. A throw pillow comes in many different forms. You may see a Chinese-themed throw pillow or English country throw pillows.
Throw pillows are made from many kinds of leather, silk, suede, cotton, and much more. Throw pillows also are available in many different sizes. Most throw pillows range from 16 inches to 24 inches and have a square design. The most basic throw pillows have no insert and are often loosely filled.
How to Decorate with English Country Throw Pillows
An English country throw pillow would be considered a decorative pillow. When this pillow is used as a decorative pillow, it is to help drapes, walls, and rugs stand out and is a part of a particular theme. For example, if someone is decorating a room and wants to give it a country or English country-themed look, they would complement the furnishings in the room by using English country throw pillows to put on the sofas and chairs.

We have a complete guide on how to style throw pillows at home, if you are interested in learning!
Throw pillows are used to add decorative pieces, but they can also be used for functional purposes. A throw pillow can be used for functional purposes if someone has an injury or chronic condition and may need head, neck, and back support. A throw pillow can fully assist with providing support for these areas.
English country pillows will go perfectly with an English country home style if that's how your home is decorated.
The pillows will help to insinuate the nature and the coziness of the home. The English type of pillows might have pictures of leaves and gardens themed on them. Toss one on your English country style bed to add character.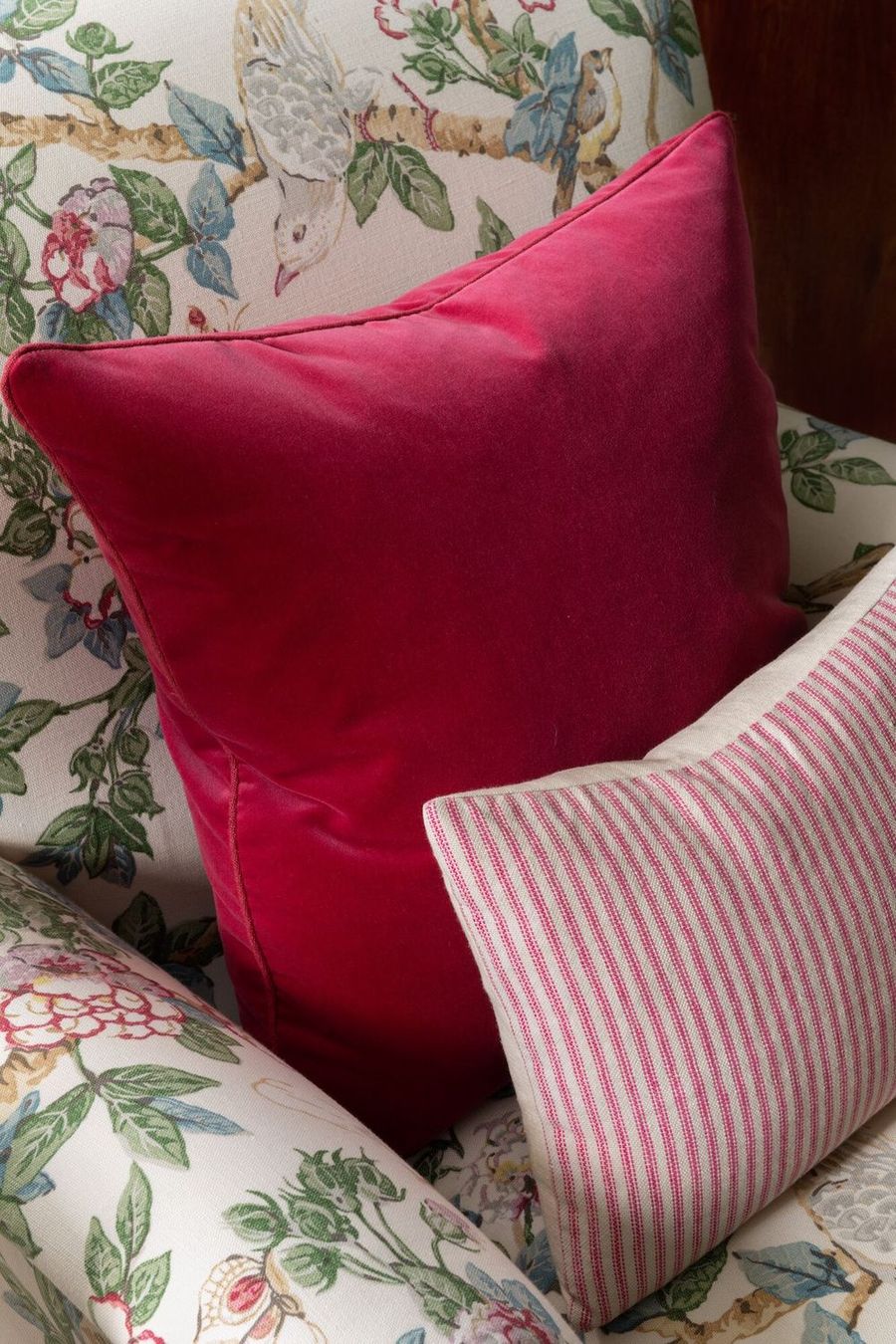 The decorator can also mix in some functional pillows where when someone is sitting on the English country couch or in a lounge chair; they have a pillow available for comfort. These pillows will help with the decorator's English country-themed message across: family, comfort, and love.
Average Cost of Throw Pillows
The reason why throw pillows can be expensive is based on the design, shape, and fabric that the designer is using. A quality throw pillow that is considered luxury starts at $50 and, in some cases, can cost up to $250 or more!
If a homeowner or client wants to purchase a customized throw pillow, the price can easily reach above $250. However, if you are on a budget and want to buy an inexpensive throw pillow, they are available for as little as $20. The only downside is that you may have to compromise on quality, comfort, and design.
Throw pillows or an English country pillow can be used for many different decorative purposes. These pillows also have functional purposes that can assist in bringing relief to people who have body pain.
Pillows can be costly because they were made up of excellent materials such as leather, silk, and suede. Throw pillows can also be homemade or found in a cheaper version. These homemade or cheaper versions of throw pillows may not be as decorative and the inside may be empty.
If you are decorating your home, a throw pillow can complement any theme for every room in a home! You should remember that the more quality the throw pillow, the more costly the throw pillow.