These charming English country bathrooms are quintessentially British in style and design. We love a good bathroom design and even more so from a rustic country home or farmhouse. You will fall in love with these English cottage bathrooms just as we did!
English country decor is known for its floral decorations, chintz walls, pale colors and rustic country style. We are going to share some modern as well as traditional examples of English bathrooms in the countryside. There are many beautiful English estates to take design inspiration from as you decorate your home!
English Country Bathrooms
The bathroom is a very intimate space. For cleaning up, doing our makeup, and doing our business this is a small yet very practical room in the house! You want to make sure that your bathroom suits all your needs and is comfortable at the same time. You may even want to soak in the tub after a long day. These ideas will help you create the perfect English bathroom oasis.
We hope you love these English bathroom ideas from across the internet.
Skirted Side Table
Skirted furniture is a quintessentially English design choice. This gorgeous bathroom has a clawfoot tub and skirted side table nearby.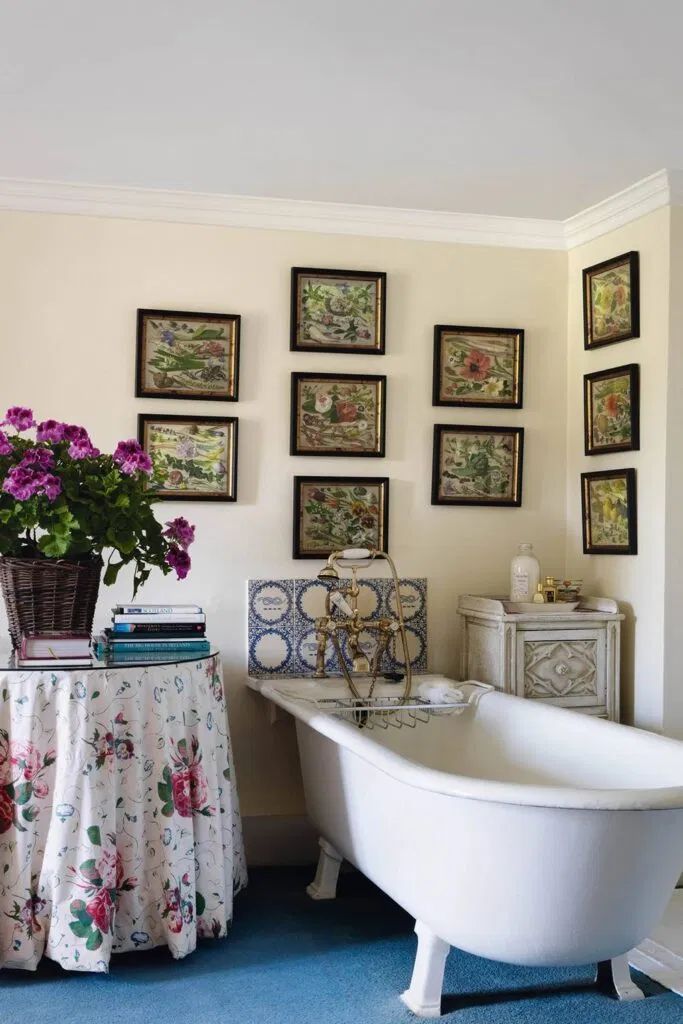 Tufted Chaise Lounge
I adore this luxurious English bathroom! The turquoise tufted chaise lounge nearby the bathtub is the perfect area to lounge. The teal floral wallpaper makes this space so relaxing.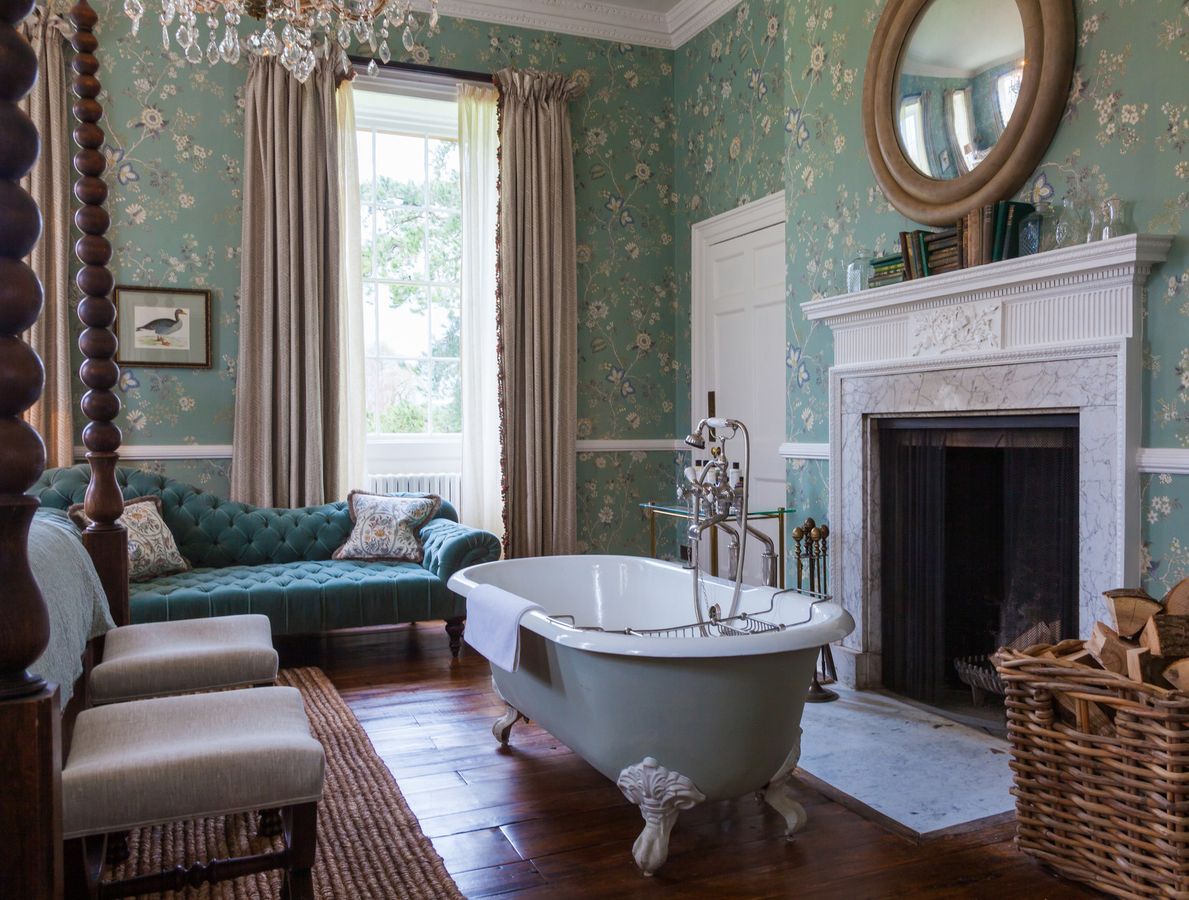 Vintage Style
This vintage style English bathroom has beautiful floral wallpaper and plenty of fresh flowers on a small able near the bathtub. A crystal chandelier hangs from the ceiling above. A wood armoire holds bath linens nearby.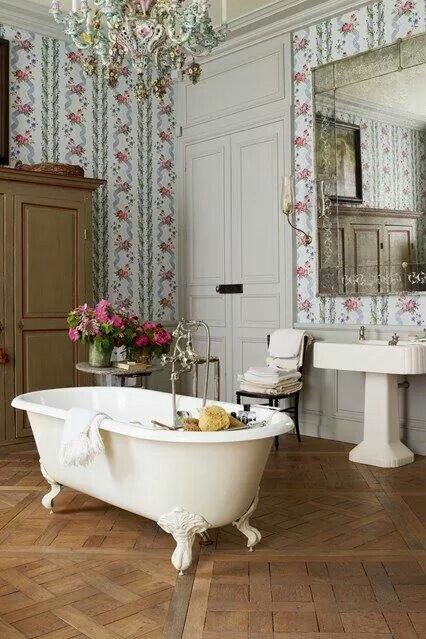 Skirted Sink
This bathroom vanity has a skirted sink for a feminine bathroom design.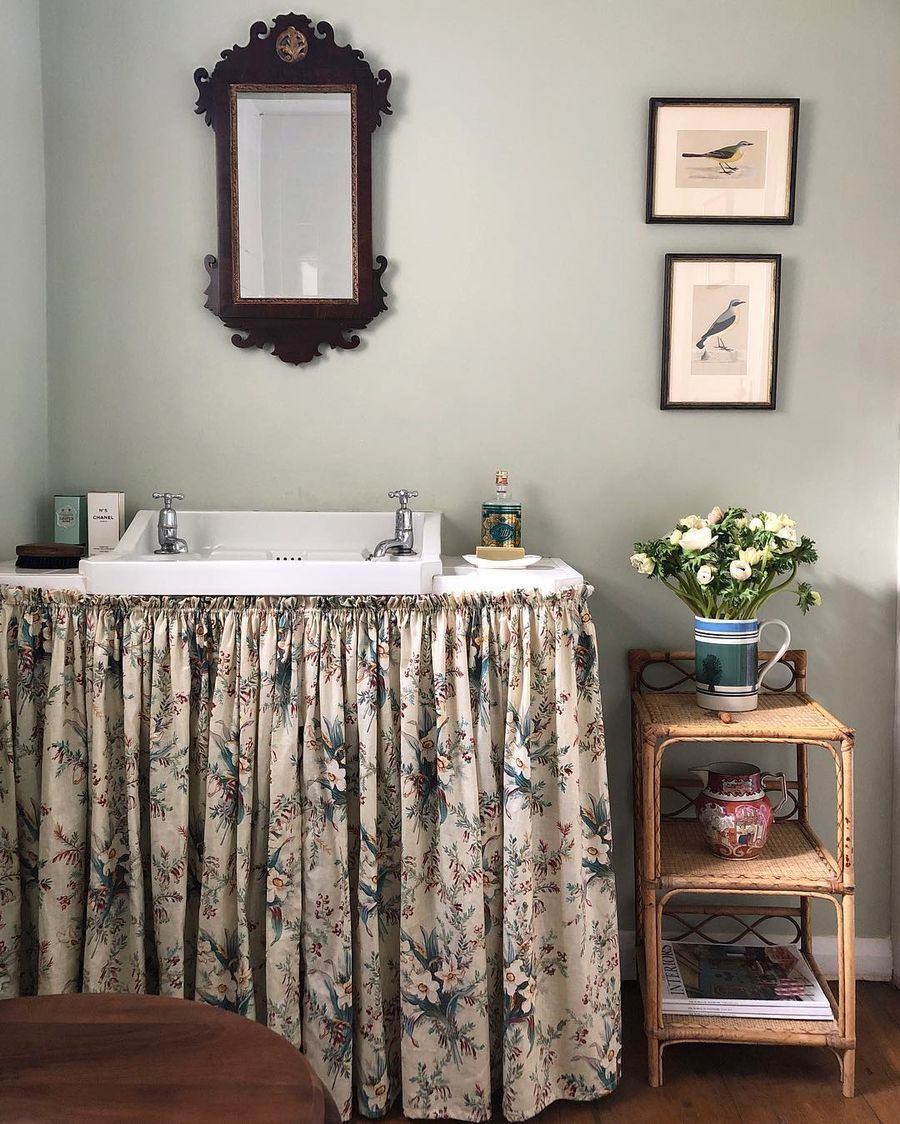 Red Clawfoot Tub
This unique bathroom has a red clawfoot tub and an exposed wood ceiling beam.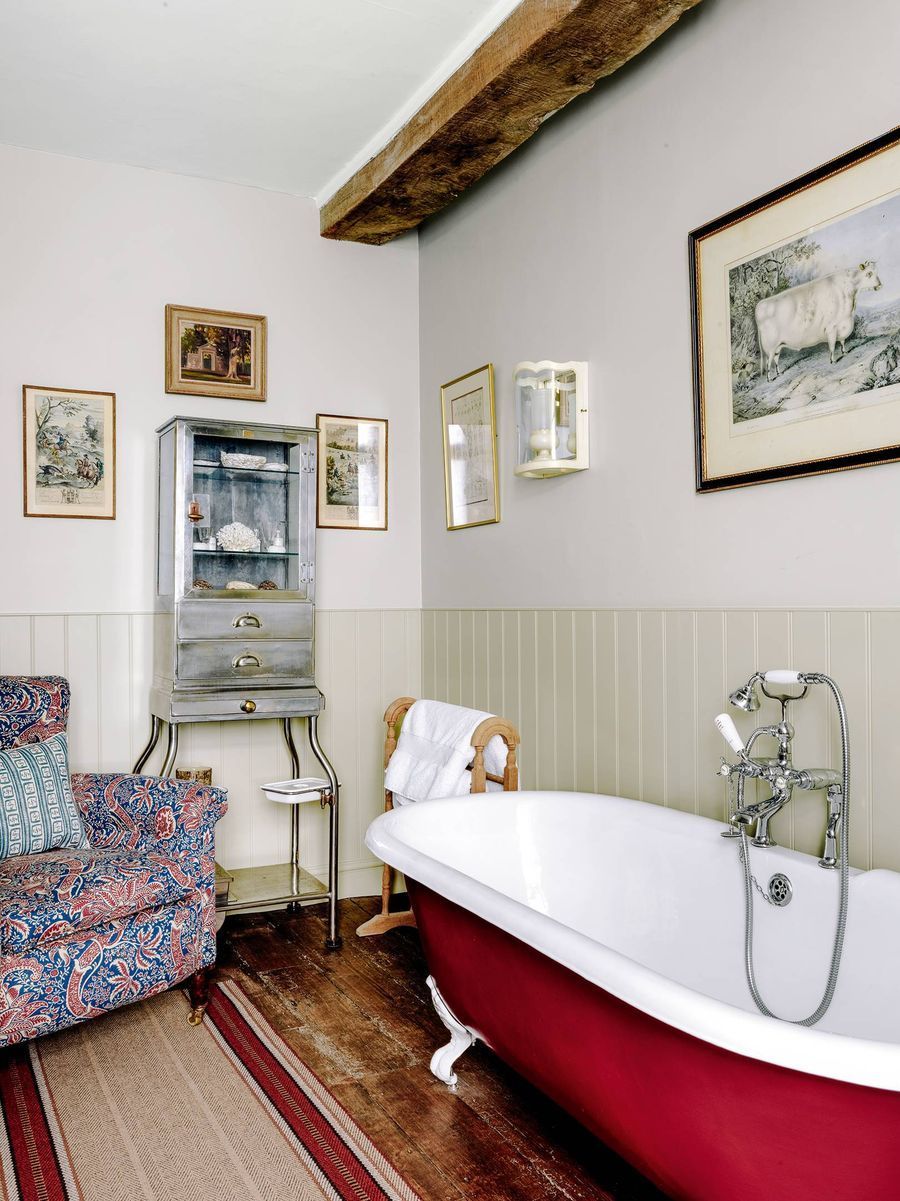 Marble Bathroom Sink Vanity
How gorgeous is this marble bathroom sink vanity?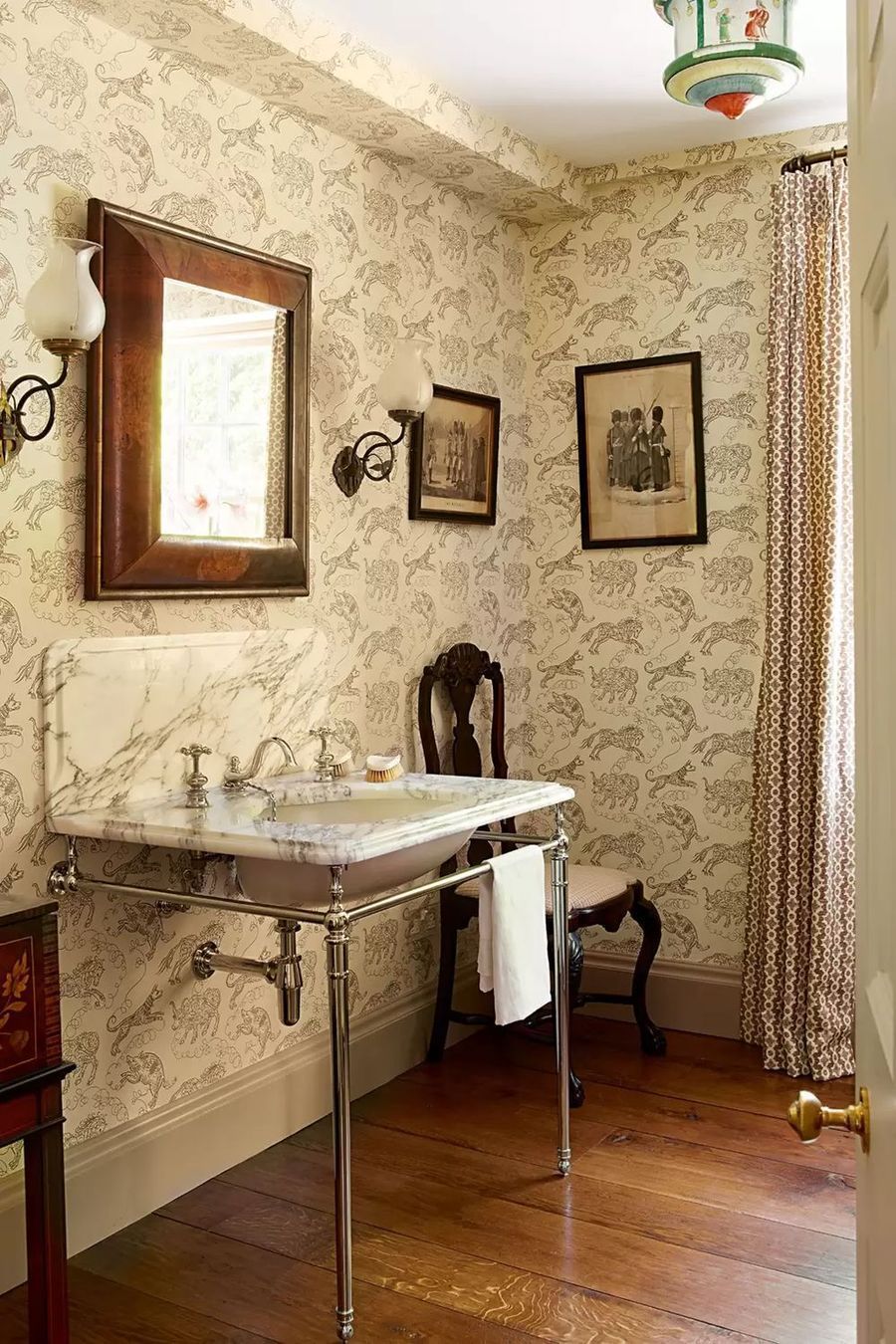 Thick Curtains
It gets quite cold in the English countryside, so be sure to install some thick curtains to keep your bathroom warm during the harsh English winters.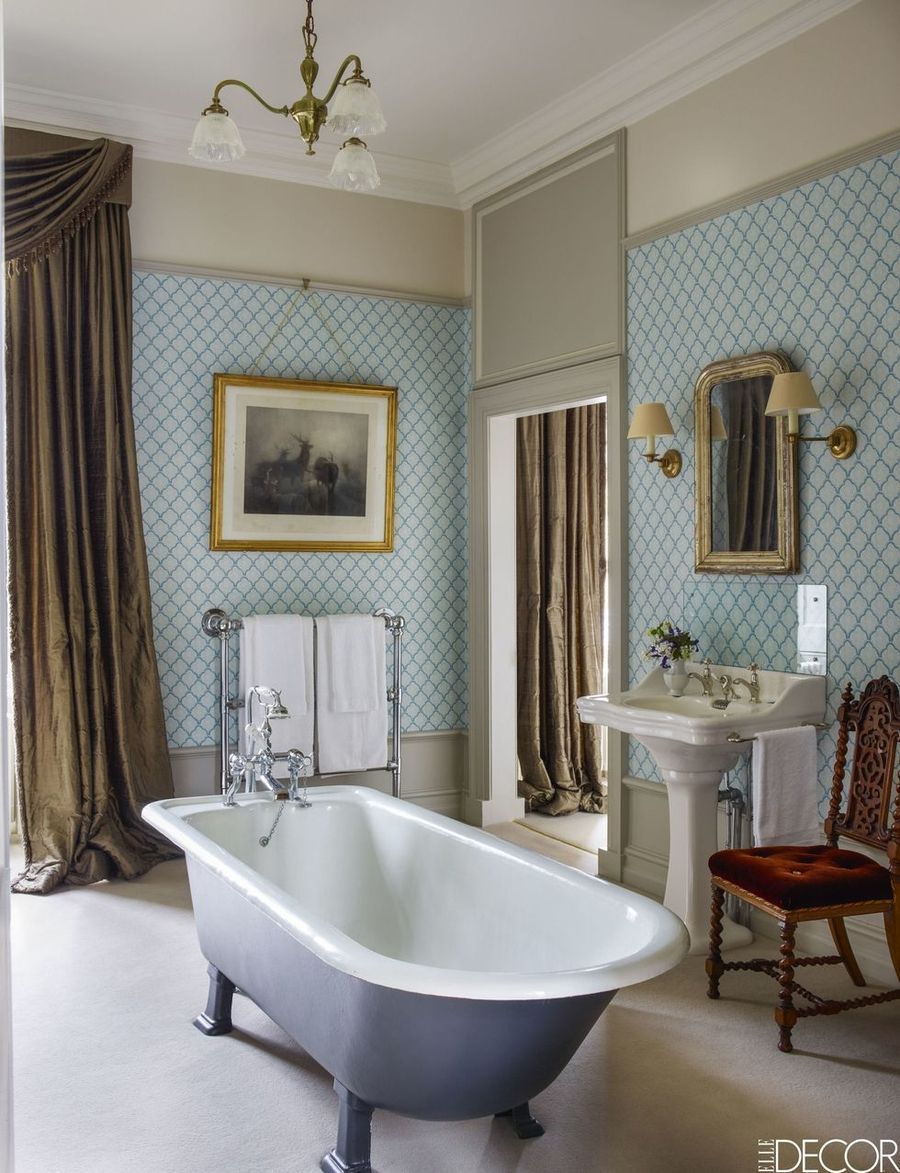 Blue and White Damask Wallpaper
This bold damask wallpaper has navy blue and cream white tones.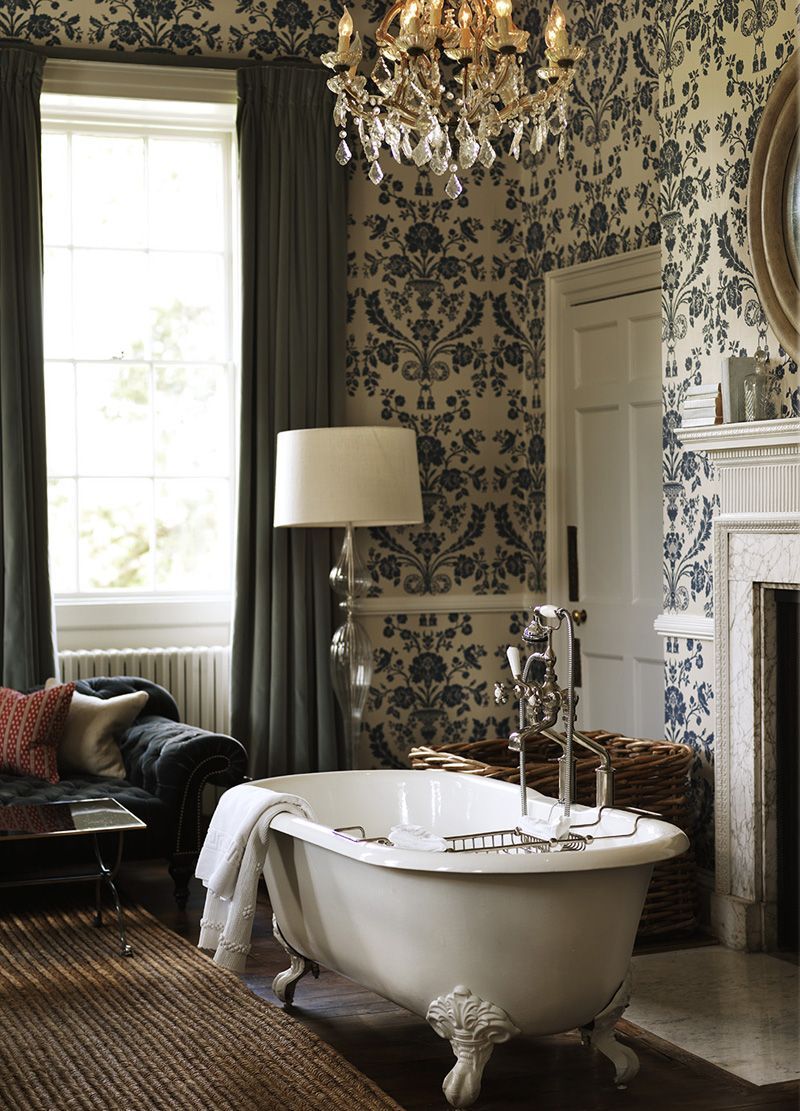 Gray English Bathroom
Gray is a smart choice for a modern English bathroom design.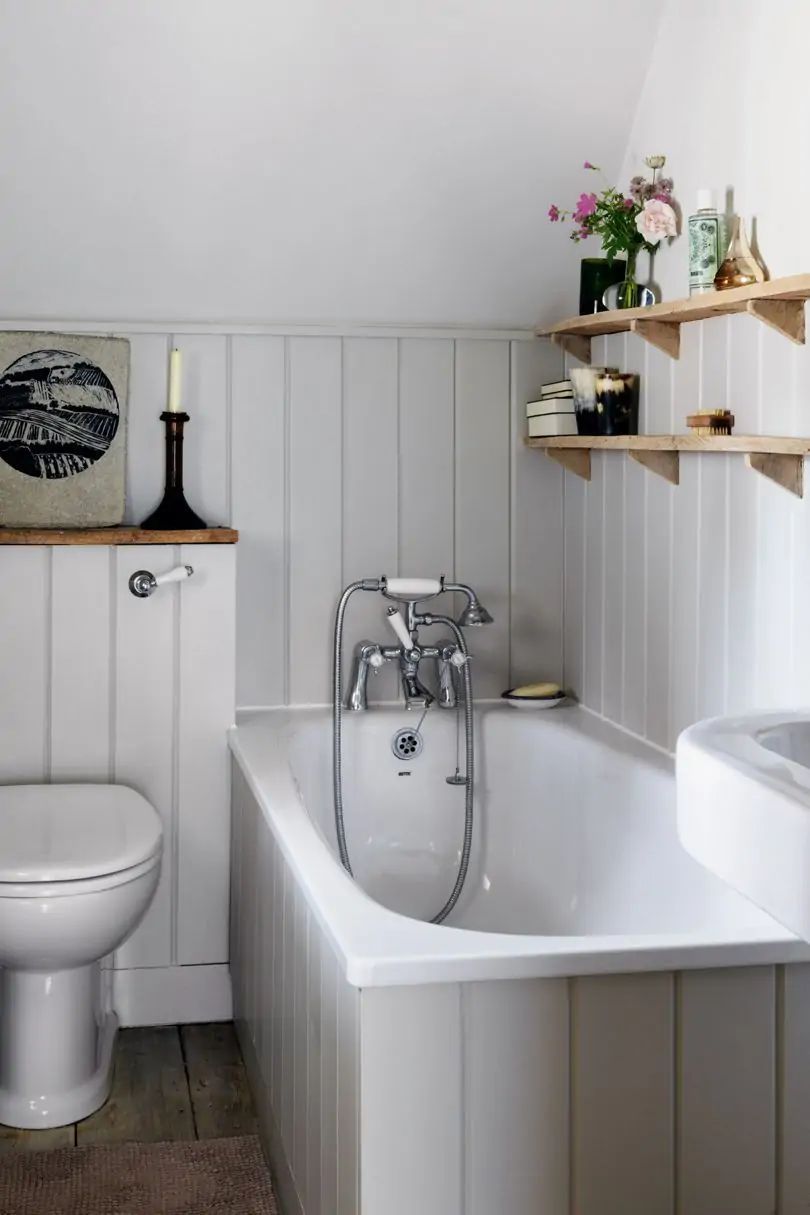 Vintage Mirror
This modern bathroom design has a single vintage mirror giving it extra unique charm.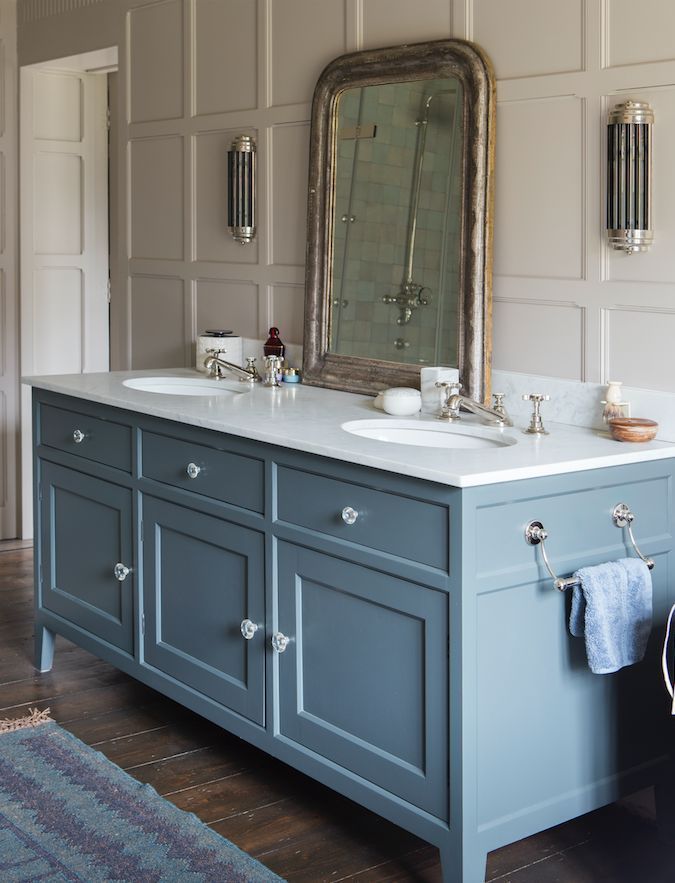 Marble Bathroom Fireplace
Winters in England can be quite cold so having a fireplace in the bathroom is a very practical choice for heating the room where we take our clothes off to bathe!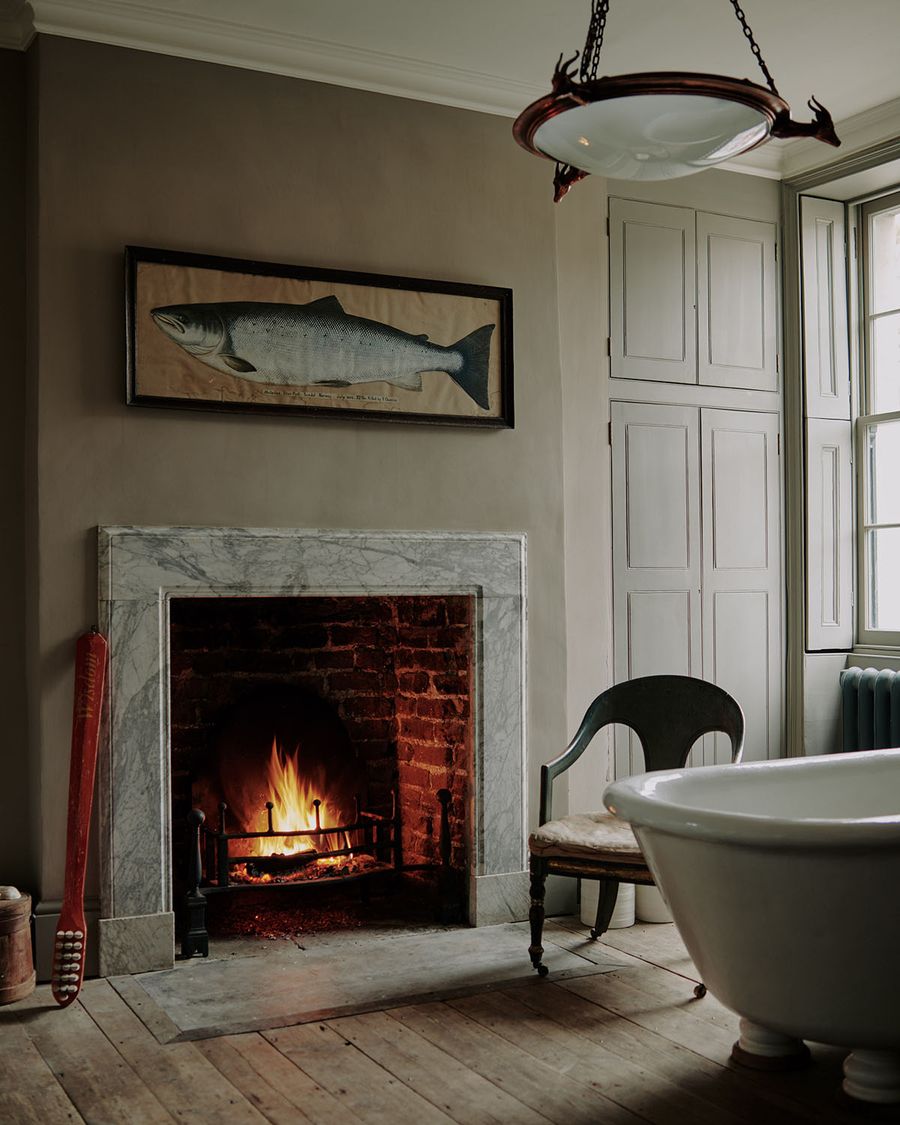 Green Walls
Many English country rooms have colorful walls to brighten up the dreary cloudy winter days!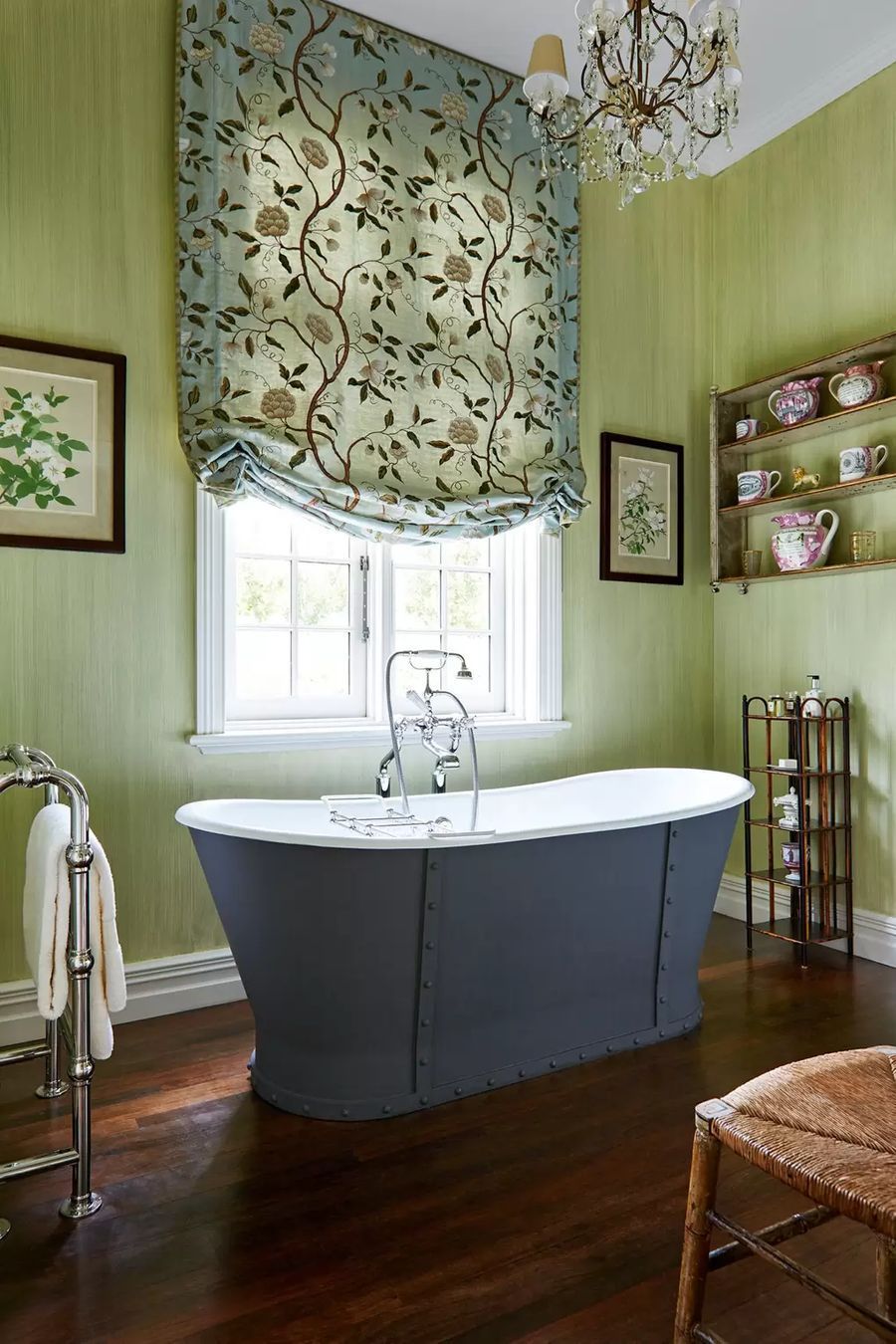 Charming Clutter
Since many English cottage bathrooms tend to be small, I noticed that many of them are quite cluttered! I think that this gives them so much charm, however Having little bits and bobs stashed in every nook and cranny shows that the house is truly "lived in" and not just a showroom for a magazine or pretentious family.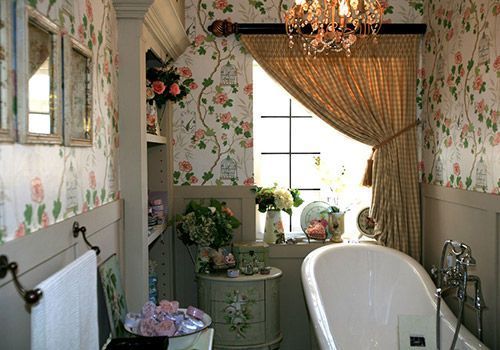 Floral Wallpaper
You can't go wrong with floral wallpaper! Put some family photos and a gallery wall display over it to create an interesting wall decor design.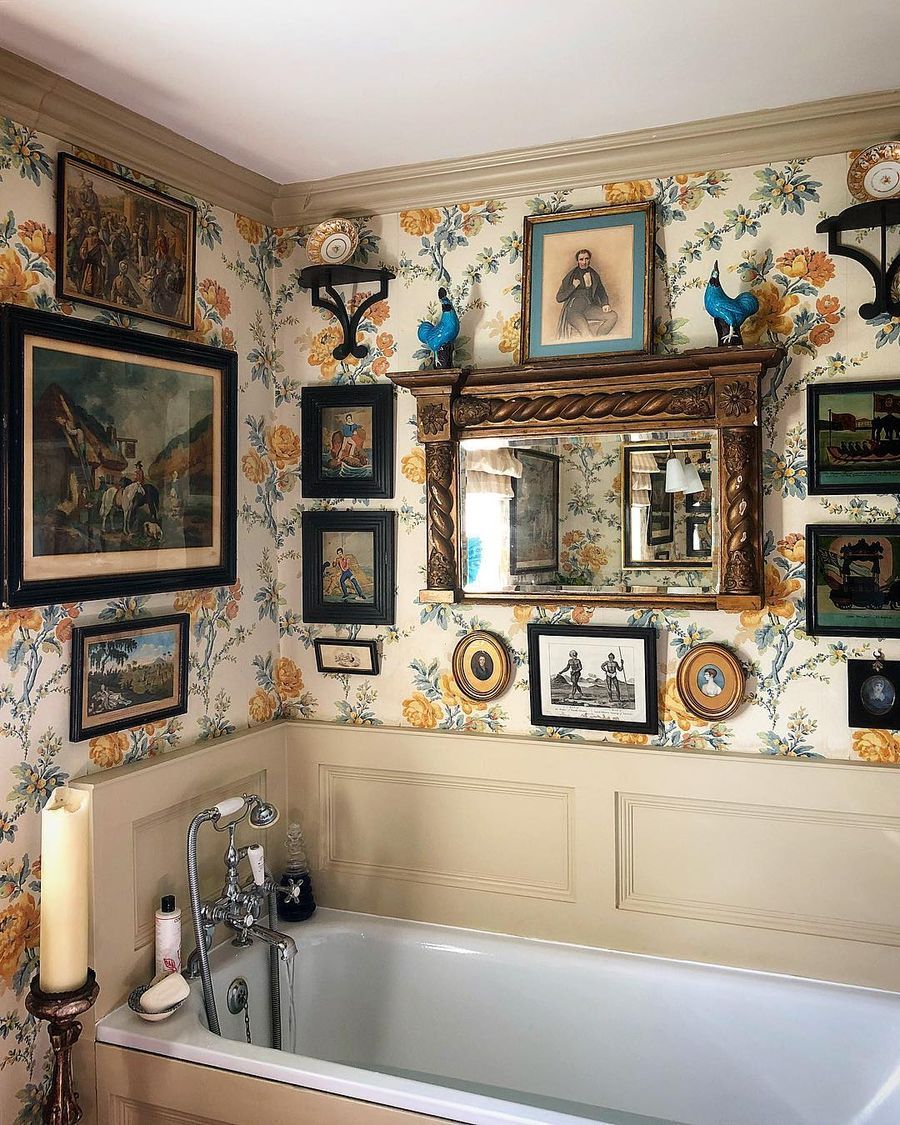 Bath & Closet Combination Room
This English bathroom doubles as a closet! The owners garments hang from the armoires and built-in closets against the wall, making this a double purpose space – a dressing room and a bathroom!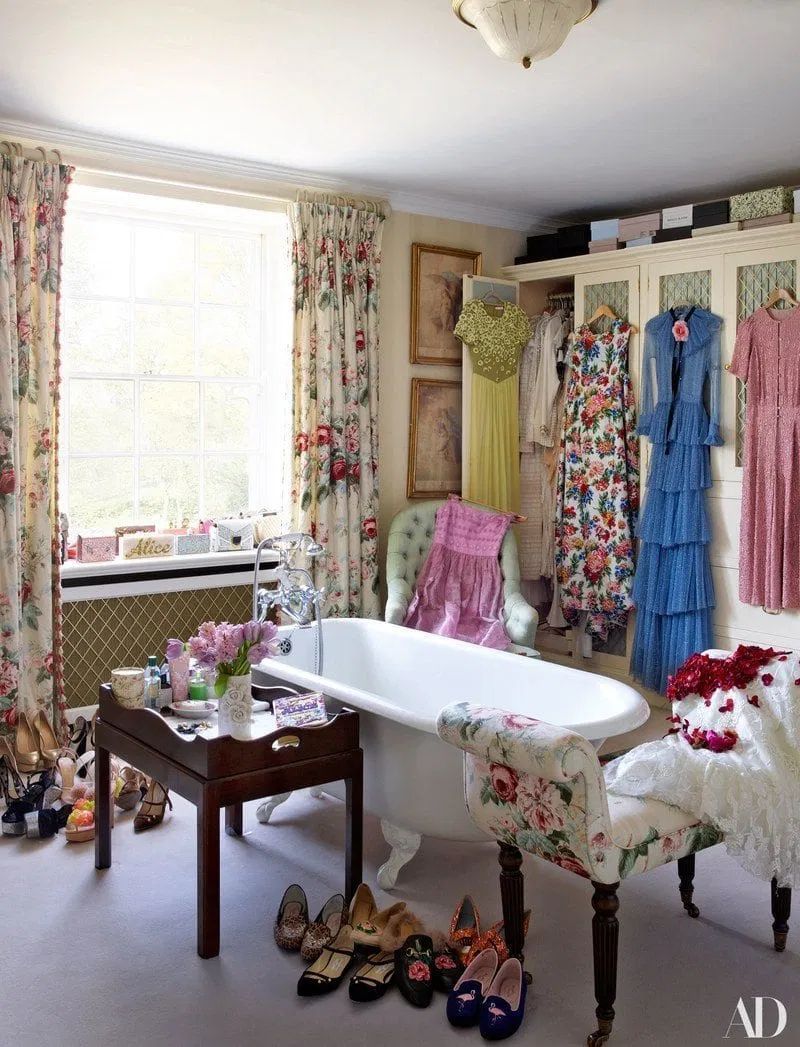 Traditional Chintz Walls
You can't have an English country decorating article without traditional chintz wallpaper!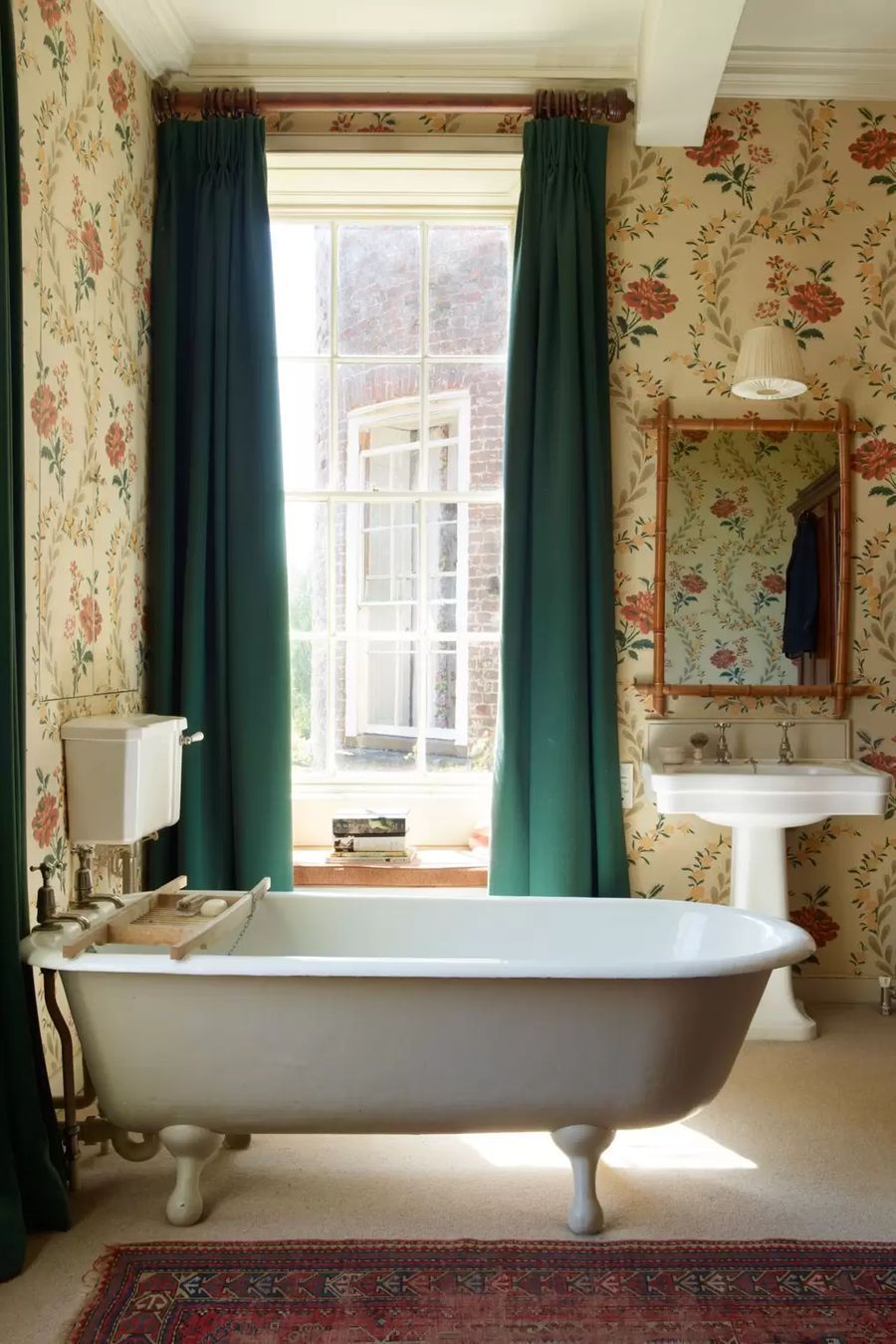 Gallery Wall
This gorgeous English bathroom has nan extensive gallery wall filled with old photos and botanical drawings. It certainly gives you something to look at while soaking in the tub!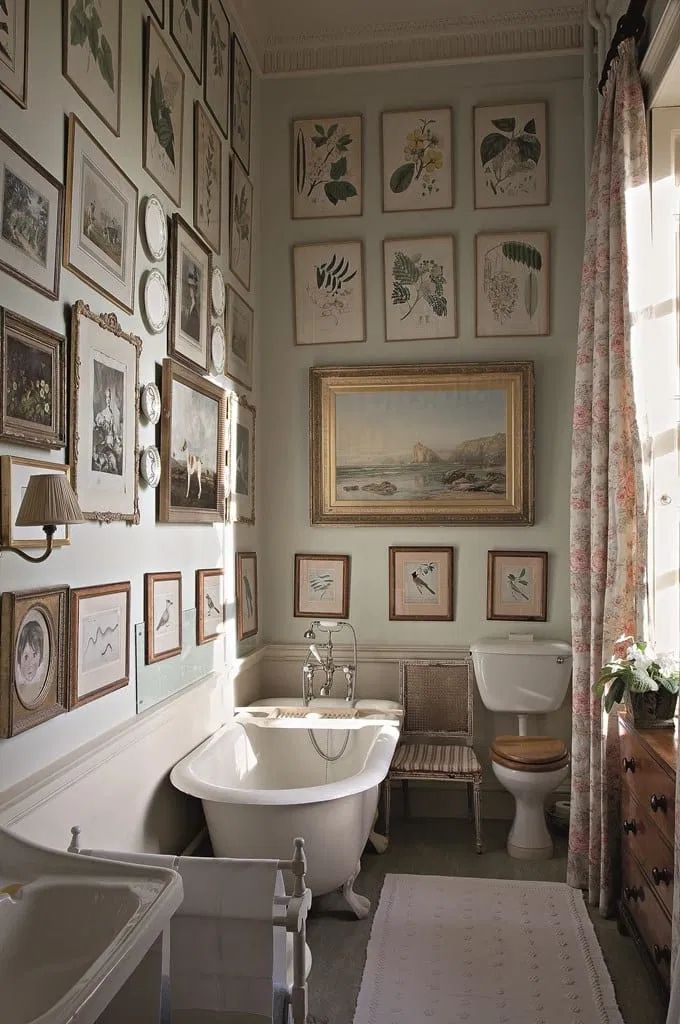 Wainscoting Walls
Wainscoting is a beautiful English wall design element.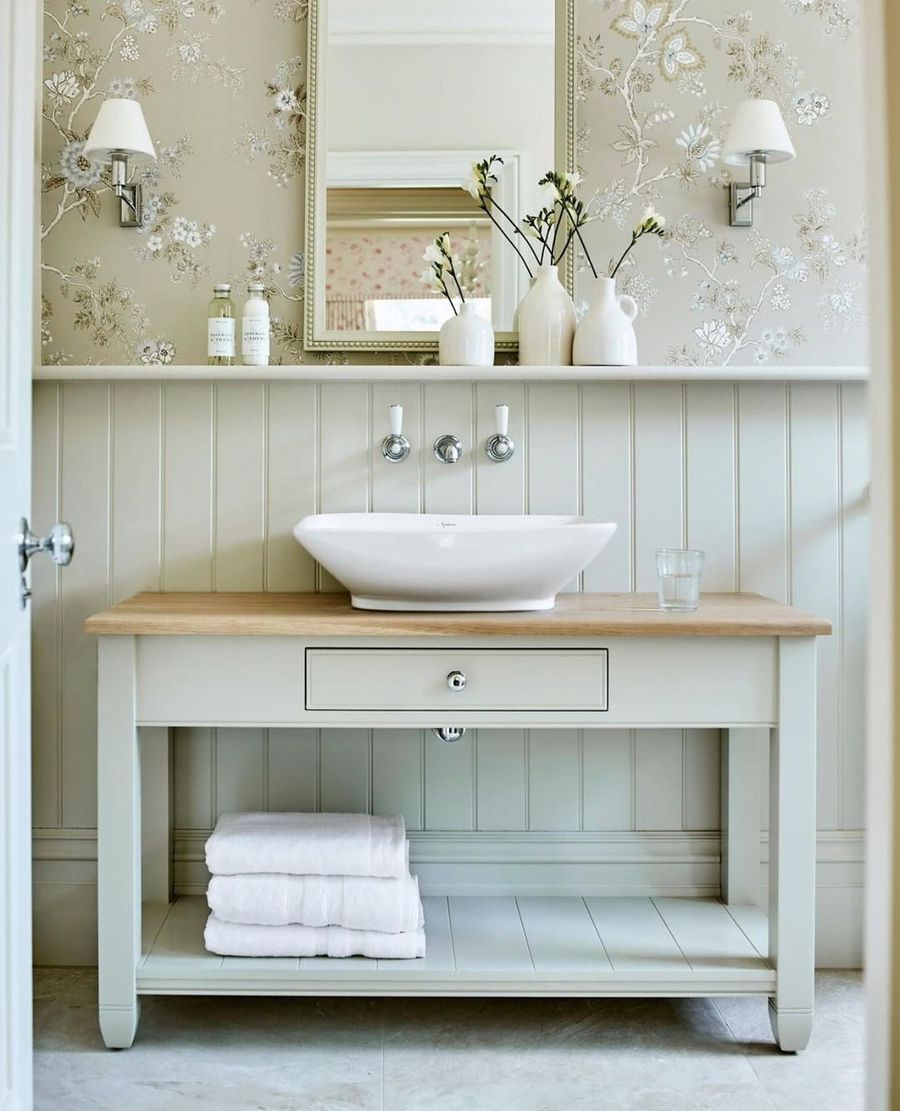 Shower Stall Design
Have you ever seen a more glamorous shower stall? This bathroom with pale green walls has a clawfoot shower stall with brushed nickel hardware.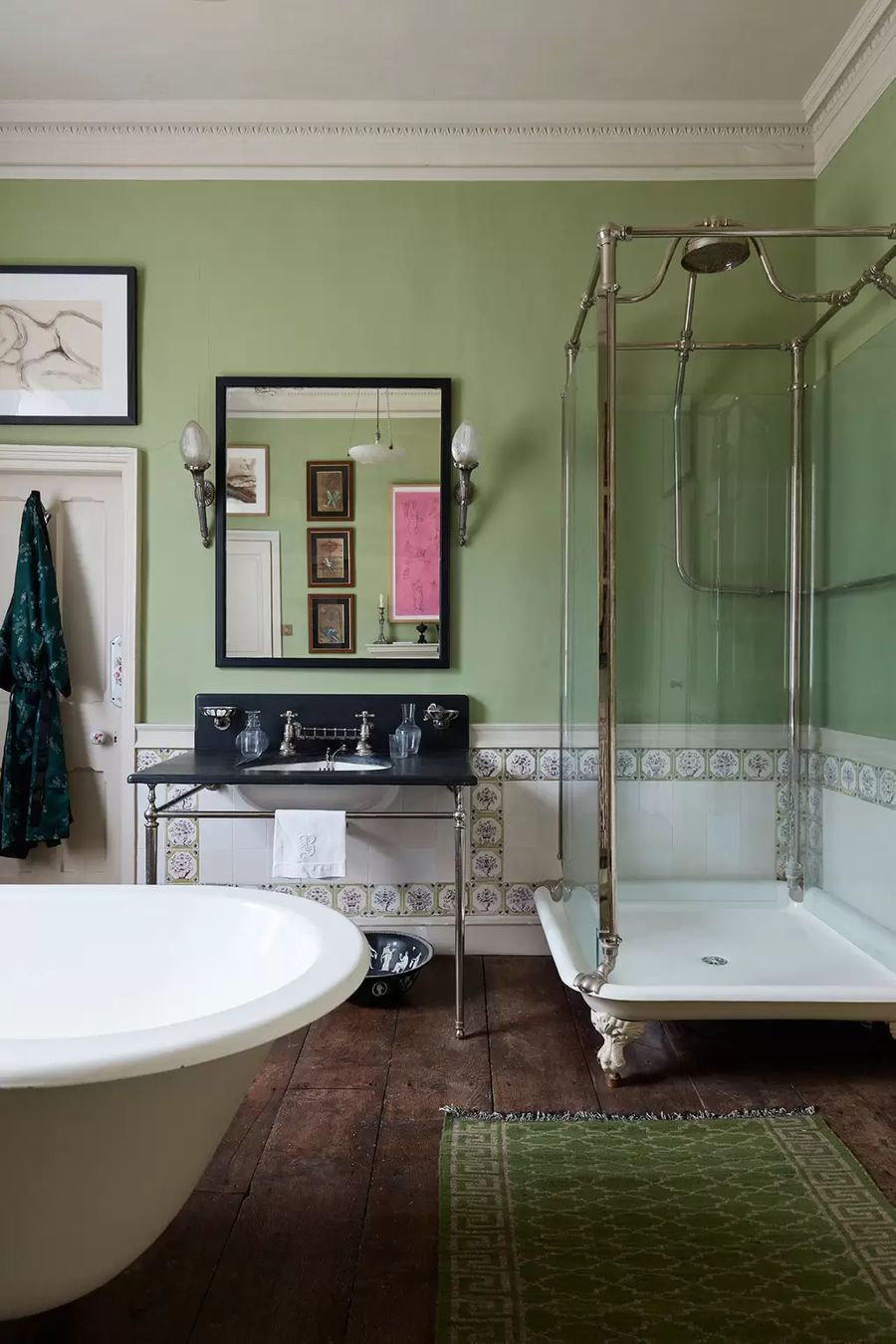 Traditional Floral Curtains
This traditional English bathroom has thick floral curtains, polka dotted pink floral wallpaper, and a makeup vanity with a small mirror.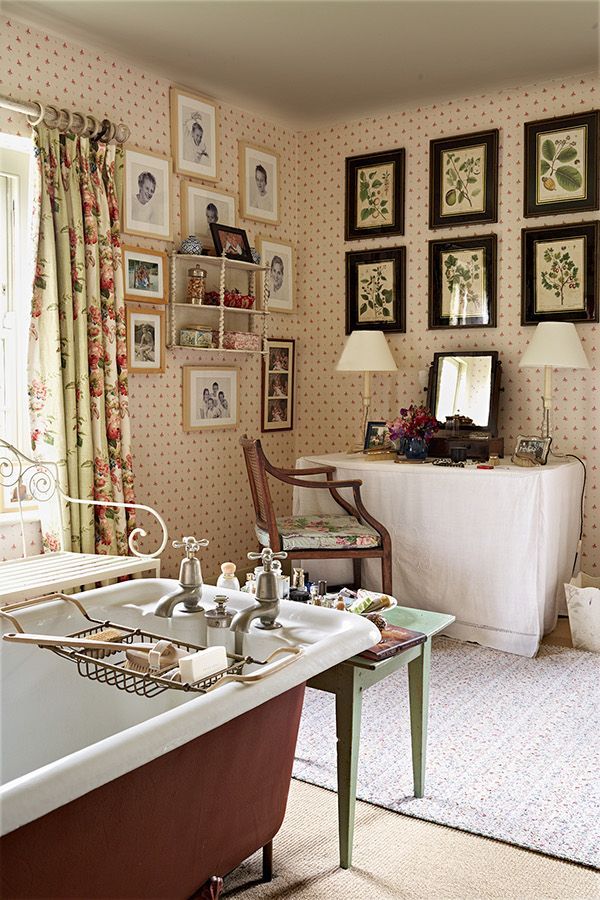 Wood Stool
Every country bathroom needs a rustic wood stool to keep bathroom accessories!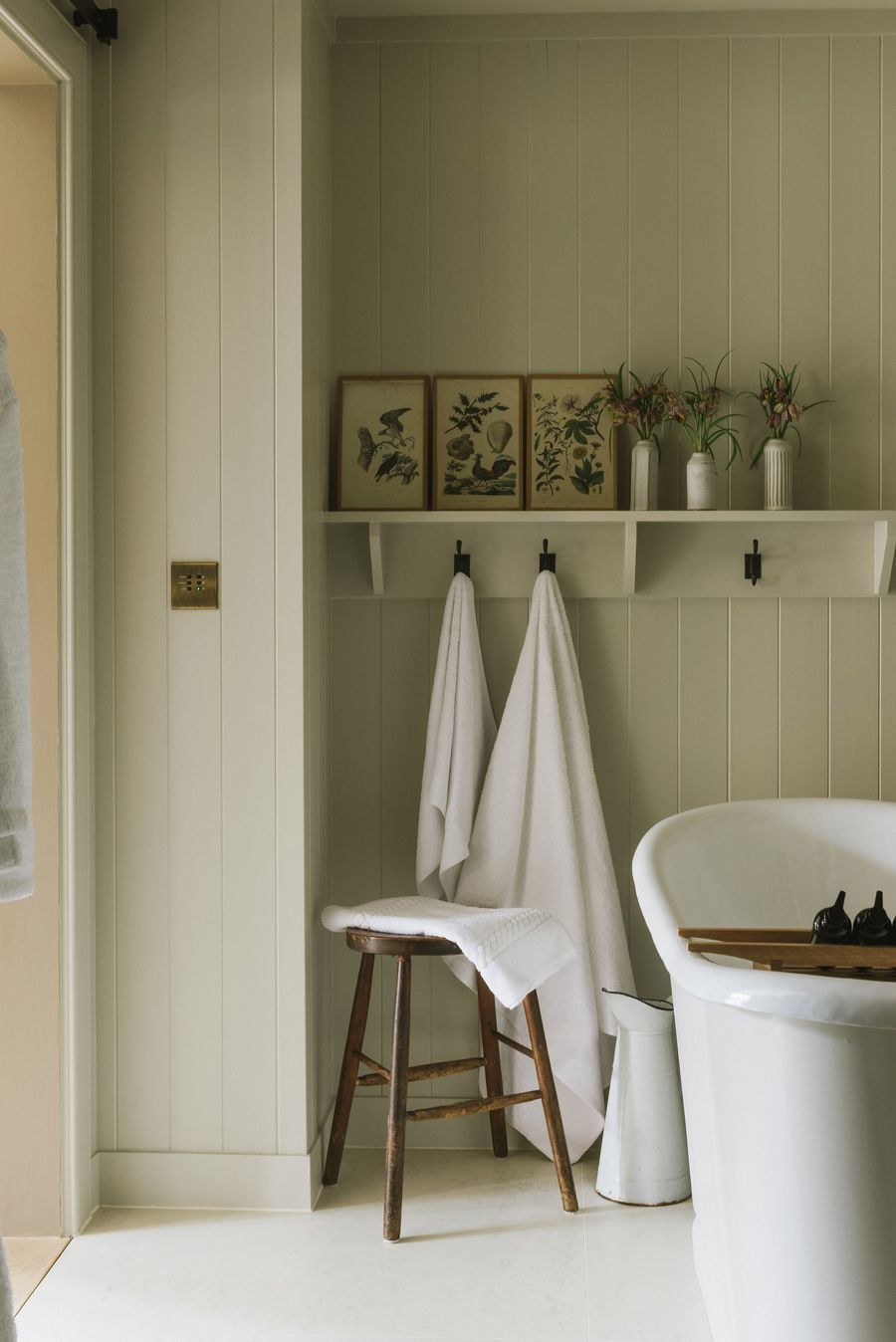 I hope you liked these English country bathroom ideas from the UK! As you can see, British bathrooms have a lot of charming elements that we can all take some design inspiration from.
More English Country Home Ideas
If you are looking for more ideas on how to decorate an English country home or an English cottage then please continue reading our guides on this topic! Here are some related articles on British decorating and UK home decor:
Happy curating!