If you're looking to transform your living spaces with sleek lines, modern aesthetics, and sophistication, you're in for a treat. Today, we take a deep dive into the world of modern home decor and furniture stores, where minimalism meets functionality and style.
Whether you're furnishing a new home or looking to refresh your current interior, these stores are a treasure trove of inspiring designs and innovative pieces that will elevate your space to new heights. Join us as we explore the best modern home decor and furniture stores in America, and prepare to be amazed by the endless possibilities that await you.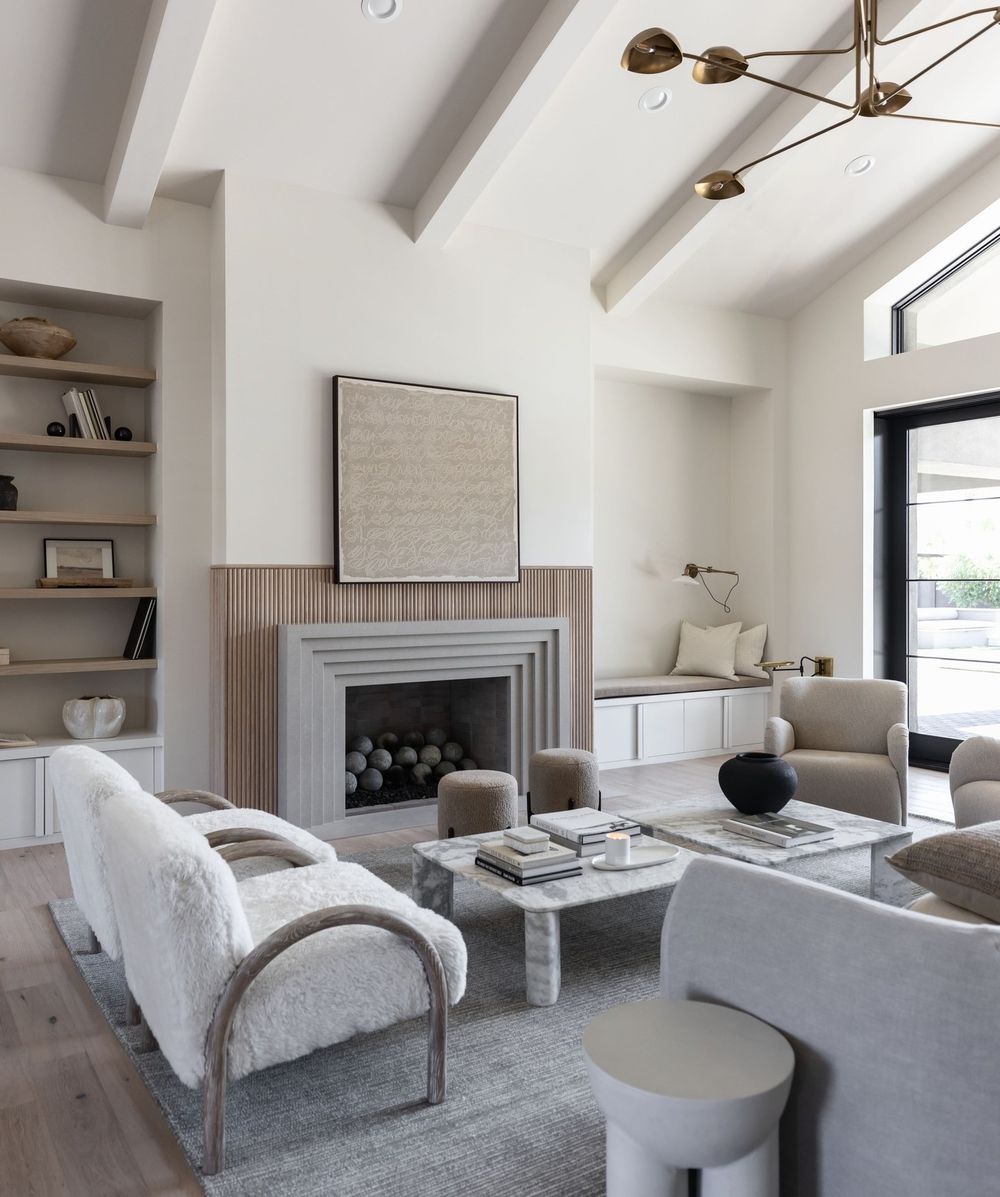 AllModern
AllModern is a well-known e-commerce platform specializing in modern and contemporary furniture and decor. It is a subsidiary of Wayfair and is known for its vast selection of everyday items, from furniture and rugs to lighting and decor, all with a chic and sleek design aesthetic. AllModern has a user-friendly website, competitive pricing, and regularly updated inventory, which often includes trending styles and innovative designs.
Some of AllModern's best-selling furniture pieces include:
CB2
CB2 is a modern home furniture and decor brand owned by Crate & Barrel. It's aimed at young adults and is known for providing high-quality contemporary and stylish products. CB2 offers beautiful furniture, lighting, and decor to outdoor products and accessories. Their offerings are praised for their minimalist aesthetic, high-quality materials, and innovative designs.
Some popular pieces from CB2 for a modern look include:
West Elm
West Elm is a retail store that specializes in contemporary and modern design furniture and home decor, and is a branch of Williams-Sonoma, Inc. West Elm offers an array of products including furniture, bedding, bathroom accessories, rugs, window treatments, lighting, and other home accessories. Their products are known for their quality, design aesthetics, and for being environment-friendly, with a commitment to Fair Trade and sustainability.
If you're seeking a modern look for your home, here are a few popular West Elm pieces:
Burke Decor
Burke Decor is an online retail boutique specializing in unique home furnishings, gifts, and home improvement products. It was founded by Erin Burke in 2007 with the aim to bring designer home decor to the everyday consumer. The company offers a variety of products, from furniture and lighting to wallpaper and home accessories. The style of Burke Decor ranges widely, offering options for almost any aesthetic, including modern.
Some top-selling Burke Decor home decor and furniture pieces include:
Crate and Barrel
Crate and Barrel is a renowned retail company that specializes in housewares, furniture, and home accessories. The company was founded in 1962 by Gordon and Carole Segal after the couple was inspired by the simple, well-crafted European household items that were functional and affordable. Today, Crate and Barrel is recognized for its modern, timeless, and somewhat classic style that appeals to many.
Crate and Barrel offers a vast array of modern home furniture and decor that are both stylish and durable. While the retailer also offers some other styles, many of their pieces do fit a modern aesthetic.
Some popular modern pieces from Crate and Barrel include:
Blu Dot
Blu Dot is a Minneapolis-based designer and maker of modern home furnishings, spanning multiple home and office categories. It was founded in 1997 by friends John Christakos, Maurice Blanks, and Charlie Lazor, who were inspired to create their own furniture when they didn't find what they wanted on the market. Blu Dot's design philosophy is to create a useful, affordable, and desirable modern furniture.
Blu Dot is highly regarded for its contemporary and minimalist design ethos. Their pieces are often simple but unique, with careful attention to detail, resulting in quality furniture that stands out.
Here are some popular Blu Dot pieces that could complement a modern home:
Article
Article is a direct-to-consumer furniture company that specializes in modern and mid-century designs. Launched in 2013, Article focuses on providing high-quality, well-designed pieces at reasonable prices by eliminating showrooms and salespeople, and shipping directly from manufacturers.
Article is well-regarded for its modern, stylish, and durable home furniture. Customers often praise the brand for its quality and simplicity, which aligns with the principles of modern design.
Here are some popular pieces from Article that can help create a modern look at home:
Sven Charme Tan Sofa: This piece blends a mid-century modern aesthetic with the comfort of full-aniline leather.
Senja Storage Bed: A functional and stylish piece, this bed provides ample storage with its integrated drawers while maintaining a sleek design.
Embrace Rocking Chair: Combining comfort with a modern aesthetic, this chair features a unique, curved design.
Tana Stool: Made from solid teak, this versatile stool can double as a side table, adding a natural touch to modern decor.
Tic Toc Chair: With its sleek, minimalist design, this chair can add a modern touch to any room.
Taiga Oak Dining Table: This piece combines the warmth of wood with a clean, simple design for a modern yet inviting dining space.
Room & Board
Room & Board is an American modern furniture and home decor retailer based in Minneapolis, Minnesota. It was founded in 1980 by John Gabbert, with a mission to offer modern furnishings that are beautiful, affordable, and made to last. Room & Board focuses on sustainability and uses natural materials and a significant portion of its products are made in the USA.
Many customers appreciate Room & Board and are happy with the quality. The company's furniture is generally well-reviewed and seen as a good investment due to its durability and timeless design.
Here are a few popular modern pieces from Room & Board:
Jasper Sofa: Known for its classic mid-century design, the Jasper Sofa offers a perfect balance of comfort and style.
Adams Extension Dining Table: This solid wood table has a clean design and the functionality of an extension for extra guests.
Linear Storage Collection: Offering a variety of configurations, this collection allows for a modern, customized storage solution for any space.
Hirsch Chair: With its simple design and a variety of customization options, the Hirsch Chair can complement any modern decor.
Copenhagen Office Collection: A stylish and practical collection of office furniture, featuring clean lines and durable materials.
Hudson Bed: Crafted from solid wood, this bed combines durability and modern design for a timeless look.
Joybird
Joybird is a furniture company specializing in customizable, mid-century modern inspired furniture and decor. It was founded in 2014 by Alex Del Toro, Andres Hinostroza, Chris Ouzounian, and Josh Stellin. Joybird was created with the belief that people should never settle when it comes to their home furnishing, but rather have the freedom to be boldly original.
Joybird is a good source of modern home furniture and decor. Their pieces are often bold, colorful, and highly customizable, allowing customers to select the perfect fabrics, colors, and wood finishes to match their style.
Here are some popular Joybird pieces for a modern look:
Hughes Sofa: A perfect embodiment of mid-century aesthetics, this sofa is beloved for its tapered legs and tufted back cushions.
Soto Chair: This sleek and angular chair is known for its craftsmanship and comfort, making it a statement piece in any room.
Hollis Coffee Table: Combining wood and metal, this table offers a striking modern look.
Eliot Bed: This bed brings a retro feel to the bedroom, with its wooden frame and button-tufting detail.
Landon Wall Unit: A modular shelving unit that combines functionality with mid-century design.
Preston Desk: This desk offers a clean, simple workspace with a nod to mid-century design.
As always, it's essential to review the specifics of each piece and consider the dimensions, material, and color before purchasing. Joybird also offers a 365-day home trial to ensure you are completely satisfied with your pieces.
ABC Carpet & Home
ABC Carpet & Home is a home furnishing retailer based in New York City, known for its distinctive, eclectic selection of furniture, rugs, home accessories, lighting, and more. The business was originally established as a carpet shop by Sam Weinrib in 1897. It has since evolved under the direction of Sam's granddaughter, Paulette Cole, into a destination for unique and artisanal home goods from around the world.
ABC Carpet & Home is widely recognized for its wide array of items ranging from modern to vintage, traditional, and unique artisan pieces. Its eclectic and extensive inventory allows customers to find items that suit various interior design aesthetics, including modern.
Here are some popular furniture pieces from ABC Carpet & Home that could suit a modern home:
Remember, when shopping for furniture online, it's essential to consider dimensions, colors, materials, and read customer reviews to ensure the product will meet your specific needs and expectations!