The headboard is a component of the bed that is typically placed on top of the bed as a decorative element, along with providing head support while sleeping or reading in the bed. French headboards will enhance your bedroom beautifully. They add charm and personalization, so the room feels more like your home. They come in many shapes, sizes, and materials. Choosing the best headboard may ultimately affect your space for years to come.
French country headboards fit the romantic and elegant ambiance of their bedrooms. Curved beautifully, these headboards strike a balance between classic and contemporary styles. They can create a unique look in any bedroom and work well with a variety of other furniture styles.
French Country Headboards
It is common to find a variety of French headboards. Some are quite ornate and lavish, while others are more modern, and still others look as if something from a fairytale. The availability of limitless headboard options makes it easy to select one that meets a personal preference, whether for a personal bedroom or a guest room.
French country headboards speak to both classic and current tastes. If you desire to decorate your bedroom in a truly French way, consider this piece to be worthy of your very first move. Headboards are great for relaxing in your bed comfortably.
As you can see, there are many cute French farmhouse style headboards. I really love the headboards that have an upholstered tufted back that are framed in wood, and the ones that I have a white slipcover with little bowties on the side. Came back headboards are another popular trend in French furniture design. You can also go with a classic iron headboard. Stick to the classic French country design color palette of faded blue, creamy white, light gray, and warm brown or beige.
Is the French Country style right for you?
True classics are often the best inspiration when it comes to home decor. With a relaxed approach to luxury, the French style is rich and sumptuous, but not overwhelming. It places a strong emphasis on comfort and convenience, making it a style that anyone can enjoy.
French country decor in particular has been a consistent favorite of interior designers for the warmth, classic look, and feeling of homeliness it lends to nearly any space. No matter whether you're looking for ways to give a single room a facelift or your entire home a fresh look, you'll find countless unique ways to incorporate French country decor into your home with your own personal touch.
Commonly, French country style is characterized by the placement of soft and warm fabrics, such as silks, velvets, and velours, into the space. In addition to embroidering, lace and ribbon, these textiles may have subtle appliqués. The expression of these values can be found in decorative elements ranging from the upholstery of furniture and pillows to the curtains decorating large, generous windows.
Traditionally, materials used for this style of decorating are wood and bright metals. Wicker can also be found in French country baskets, chests, chairs and tables.
Soft and soothing colors like white, cream, light blue, beige, soft pink, and yellow express elegance in fine French décor. This style of interior design is particularly well suited for areas of rest, such as a master bedroom. Here, comfort and elegance come together beautifully under the French style.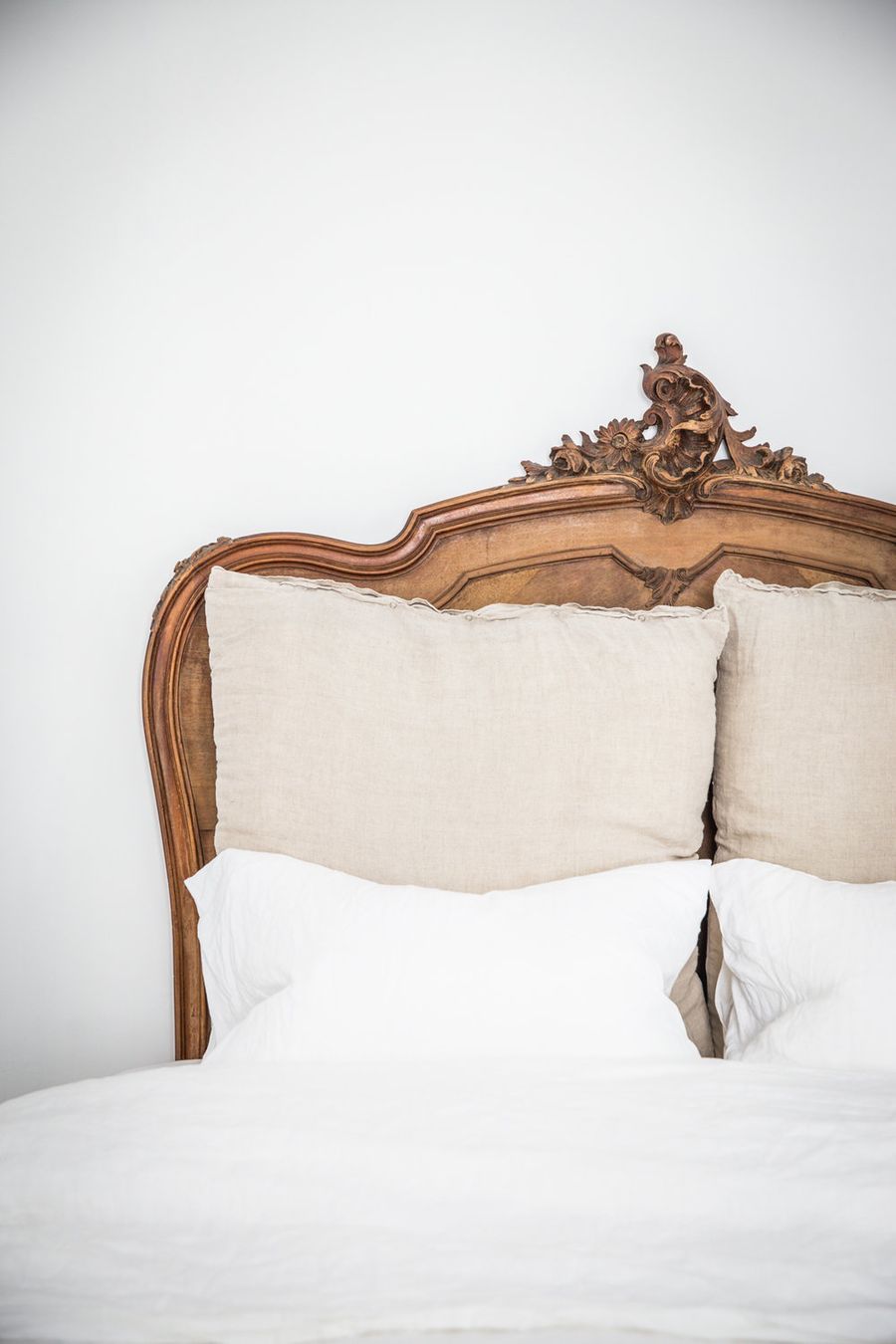 The Characteristics of a French Bedroom
French country bedrooms are luxurious and romantic decor. The decorating style is defined by the ambiance created through the bedroom furniture and decor.
French bedrooms are distinguished by their raised beds featuring a headboard and footboard, a dressing table, as well as a French armoire or wardrobe. The traditional bed, typically elevated and sometimes with a canopy (called baldaquin by the French), is usually lined with crisp linen. For comfort, a comfortable upholstered armchair or sofa is often provided.
Tall Boys, Chests of Drawers, and Chiffoniers: Among these wardrobe styles, tallboys are usually the largest, standing at least 6 feet (183 cm) tall with the intent of upright storage. Chiffoniers are usually wooden or metal and are particularly associated with French country bedrooms.
Nightstands: Nightstands serve as small, simple tables placed alongside the bed to house a lamp, a clock, and a book, or a vase of flowers for decoration.
Mirrors: Mirrors in bedrooms are essential, but they serve a purpose beyond admiring one's reflection. They redirect light, making the room look larger and brighter.
Vanity or Dressing Table: Small table holding essential daily items, such as jewelry, watches, perfume bottles, grooming items, and makeup.
Bed and Headboard. A bedroom is not complete without the bed. In French country décor, in particular, the bed often takes center stage. It is the primary feature of the room. Other furnishings and accessories will utilize the remaining space. A typical bed has an elevated design, often with a matching french country headboard and footboard.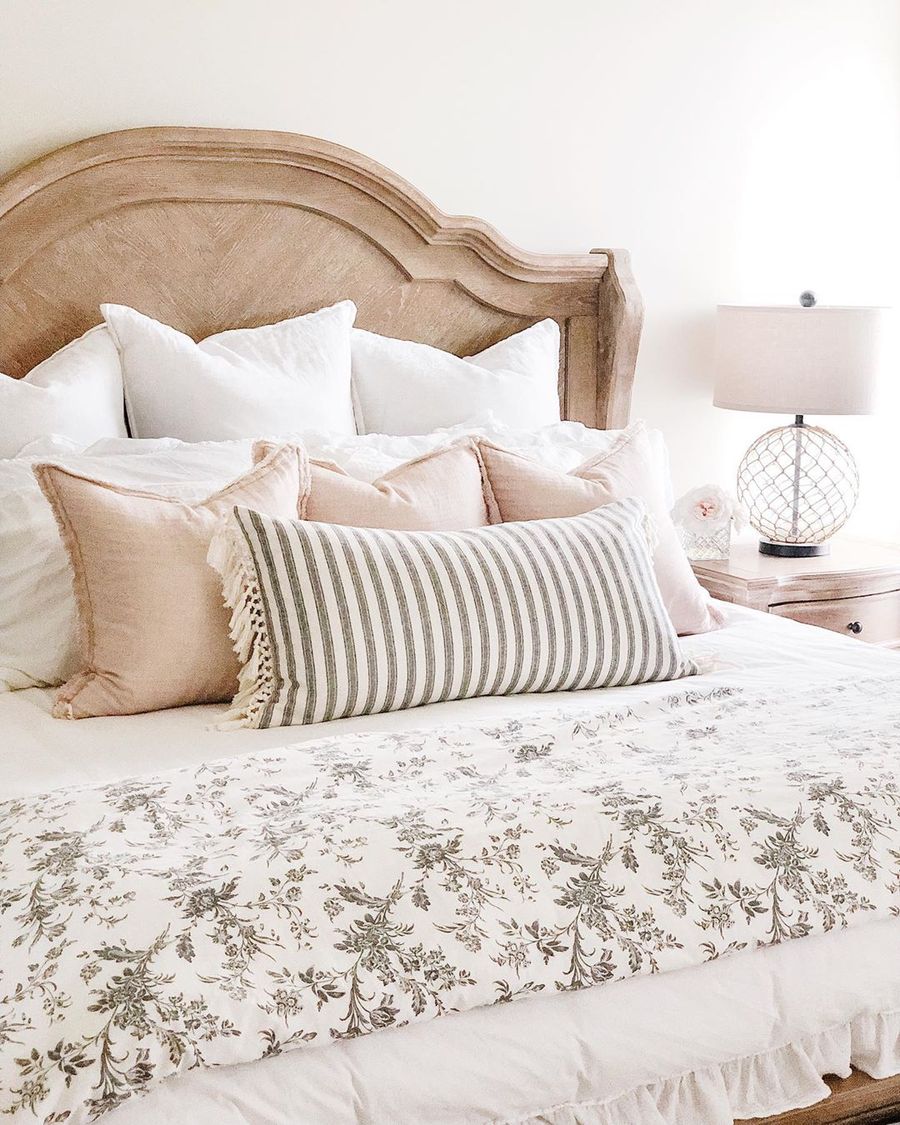 More French Country Decor Ideas
If you love the French country decorating style, then I'm sure that you will find many interesting posts on our website. Continue reading about how to get the French farmhouse look in your home by reading these related articles: