French country entryways are relevant to anyone who wants to decorate their front foyer with a touch of French farmhouse charm. If you're curious how the French decorate their entryways, then this article will certainly peak your interest.
The entryway of the home is often the first impression we have of a house. While it's mainly a passthrough space, and not a room we spend much time in, it does serve a very practical purpose and thus deserves just as much thought and attention as any other room in the house.
Entryways are where we welcome guests, put our shoes on before leaving, store our umbrellas, unpack our things upon returning home, and sometimes store our coats that we know we'll need the next morning. They can be used for receiving guests in a formal foyer or serve as a mudroom for keeping dirt away from the rest of the house.
If you live in a highly volatile climate, you may have to store multiple seasons' worth of outerwear in your entryway for easy access. You'll also want to make sure the area can be easily cleaned in case you track in the elements from outside! French entryways are great at all this as France is a country that experiences all four seasons quite intensely.
French Country Entryway Decor
What does a French country style entryway look like? That's what we're going to explore today in this post. French country decor is inspired by the old-world charm of country homes. It takes traditional French design, master craftsmanship, and classic style to get the perfect French country look in your home. From antique pieces to artisan-made objects inspired by French design, there's something here for everyone when it comes to French country style!
Upholstered Furniture
Comfortable, upholstered furniture is a must in every French country home. For the entryway, you could go with a beautiful sofa bench upholstered in blue gingham, as seen here, or opt for a large accent chair. These types of seating pieces are great for putting your shoes on and off as you enter and leave the house.
This entryway has so many great interior elements like a vintage artwork on the wall, lots of wall hooks for coats, hats, and bags, and of course a central wood entryway table for quickly dropping things as you come home. To the side is a wicker basket which I imagine will be used for umbrellas. This is a beautifully designed space.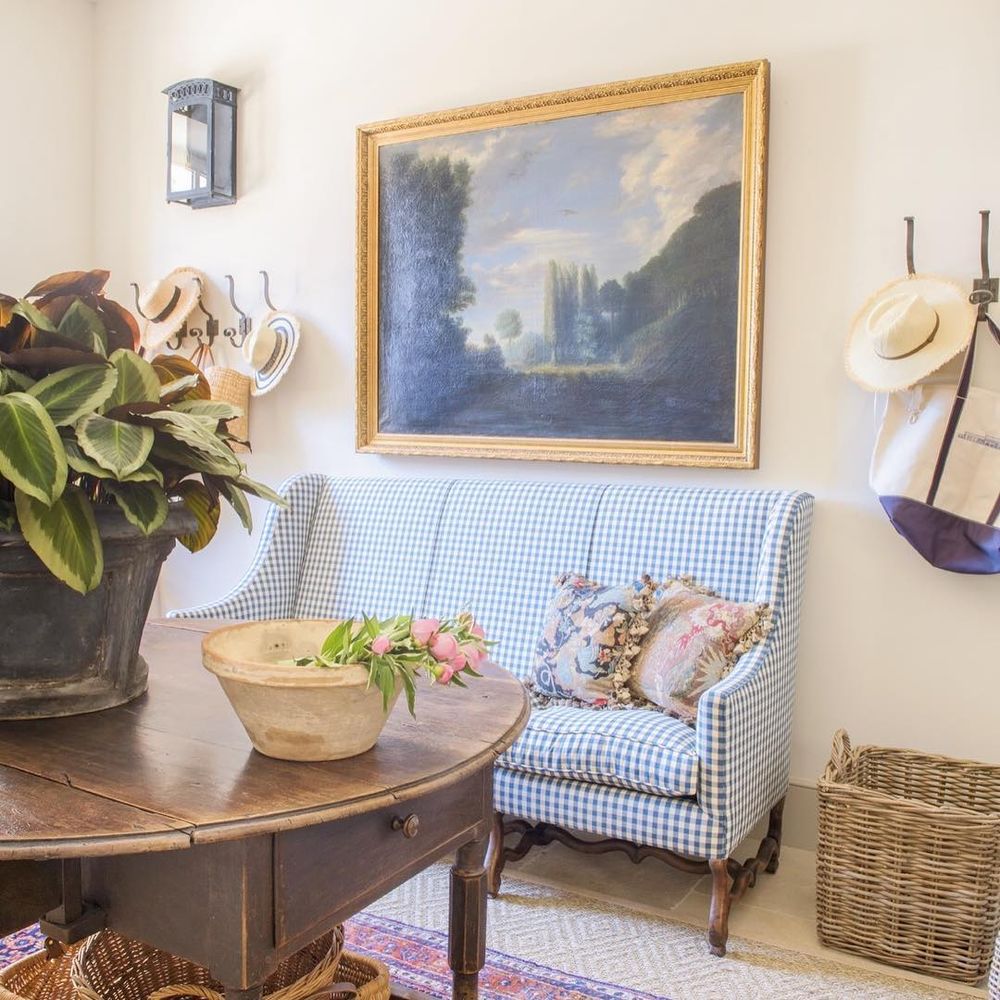 Half Moon Console Tables
There is so much to love about this French country entryway design. From the thick wood front doors outfitted with a classic iron metal twisting lock to the double gold mirrors hanging on either sides of the entrance hallway, to the beige checkered floor tile. What I especially love – and what I think is very easy to recreate – are the two matching half moon console tables on either side of the hallway. Their curved edges and turned wood legs are so French! Now, if I only could somehow copy the stunning green countryside view from this house…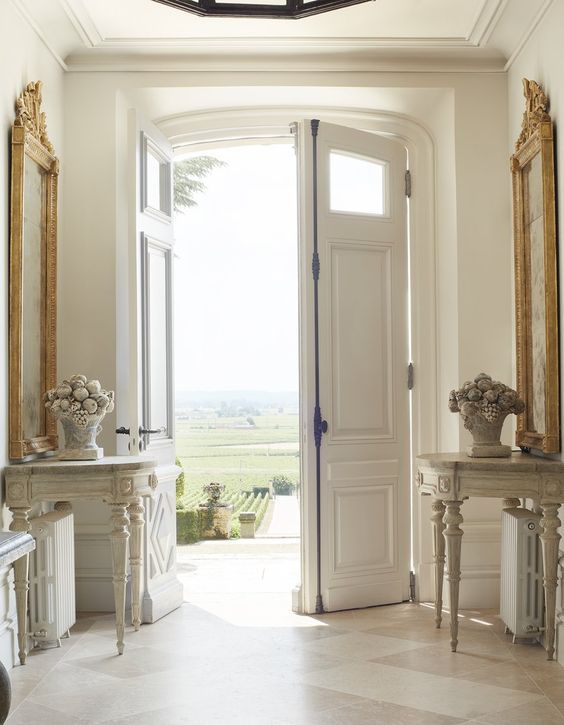 Vintage Artwork
A vintage piece of artwork that has been passed down through the generations is often found in French country homes. The entryway is a great place to show off your family's heritage in the region. Beyond the art, this small entryway has great design elements. The wood staircase banister gives it a rustic feel. The long wood bench provides a quick spot to sit. The black and white checkered floor tile makes it elegant. Finally, the wicker and glass decorations under the bench give it charm. Antique artwork is a great French country entryway decor idea for any home.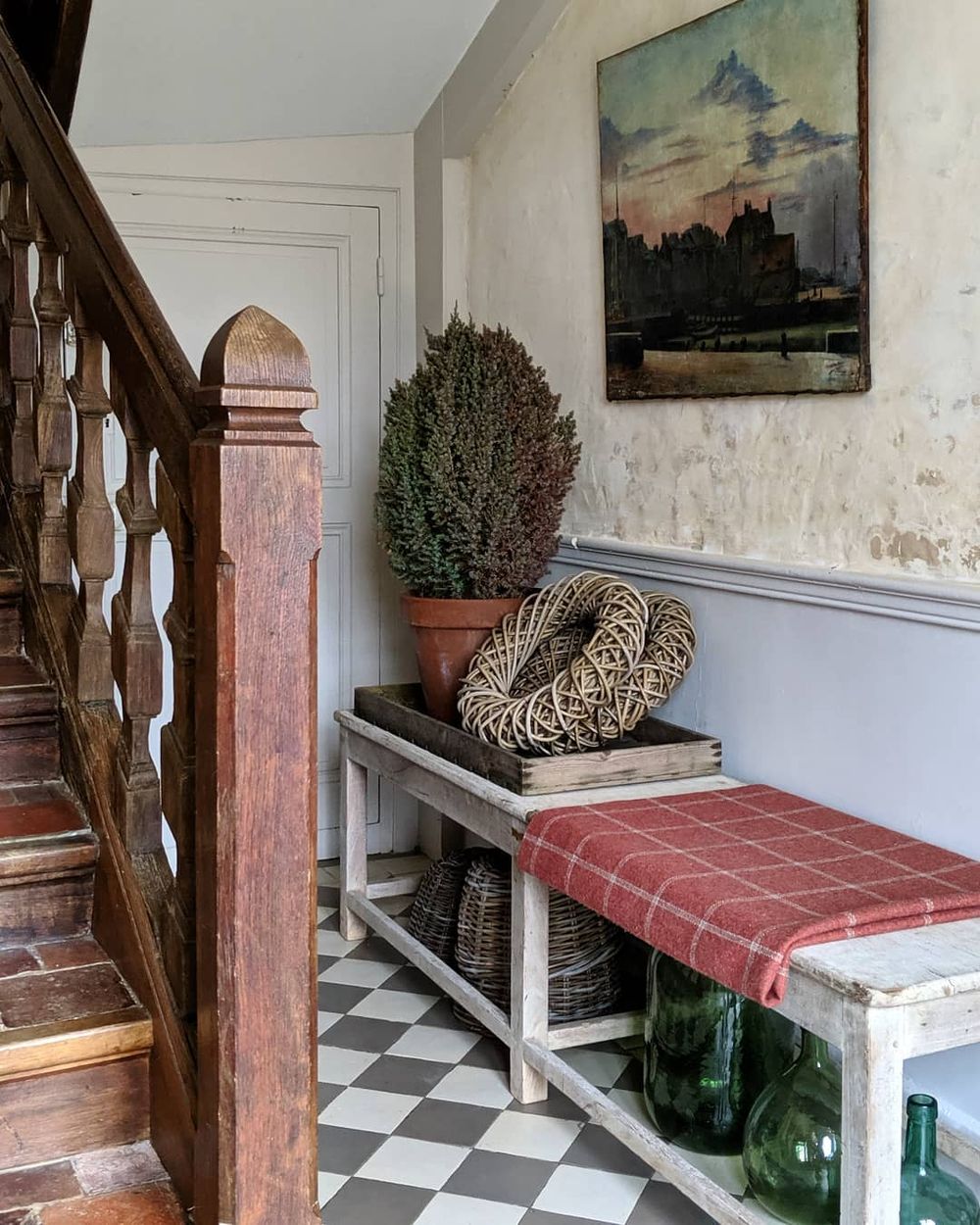 Curved Staircase
Warm wood is always welcome in country homes. This beautiful curved staircase is a fantastic architectural detail that gives this French country entryway so much character. Nearby, a round pedestal table with a white marble top keeps the space practical and fresh. A vase of fresh flowers and a set of candles are all that is needed to decorate beautifully.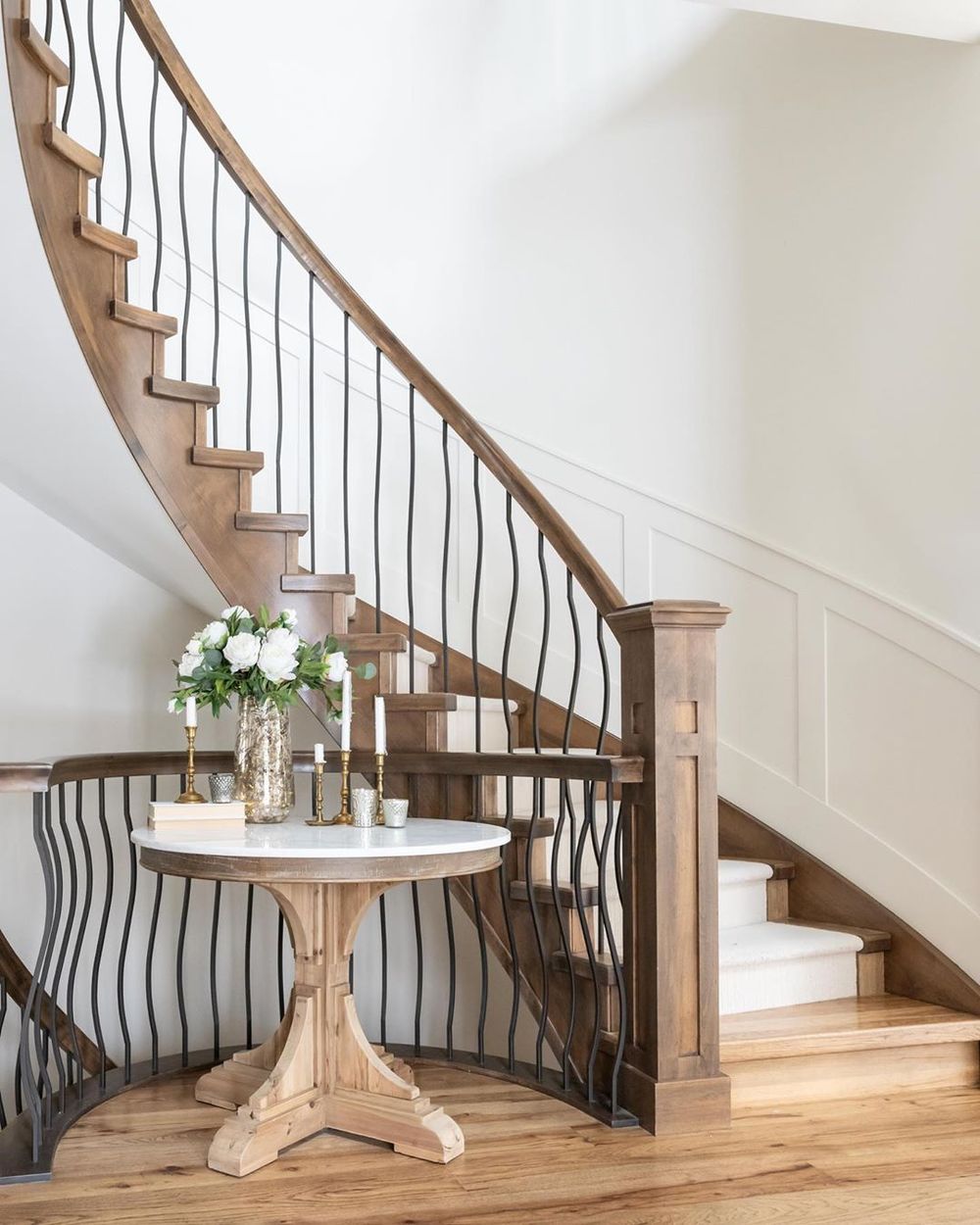 Crystal Chandelier
When it comes to lighting your entryway, the crystal chandelier is a lighting fixture matched by no other. It's one of my favorite elements of French country entryways – it's almost always a feature in the best ones ! A vintage chandelier with a base of aged brass or brushed nickel will illuminate your space while keeping the style on-trend. It is certainly an eye-catching piece in this small entryway with black and white checkered floors, a big black armoire, and bright white stairs.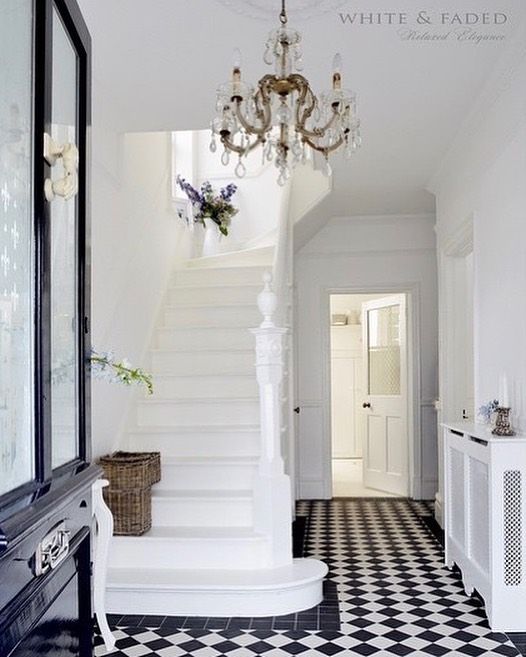 Gold Mirror
A vintage-inspired gold Parisian mirror is a classic element of many Parisian and French homes. Since the times of King Louis XIV, the French people have been fascinated with gold framed mirrors with beautifully intricate engravings. You can use a gold mirror like this in any room in your home, but it's especially useful in the foyer or entryway to check your makeup and outfit before leaving for the day.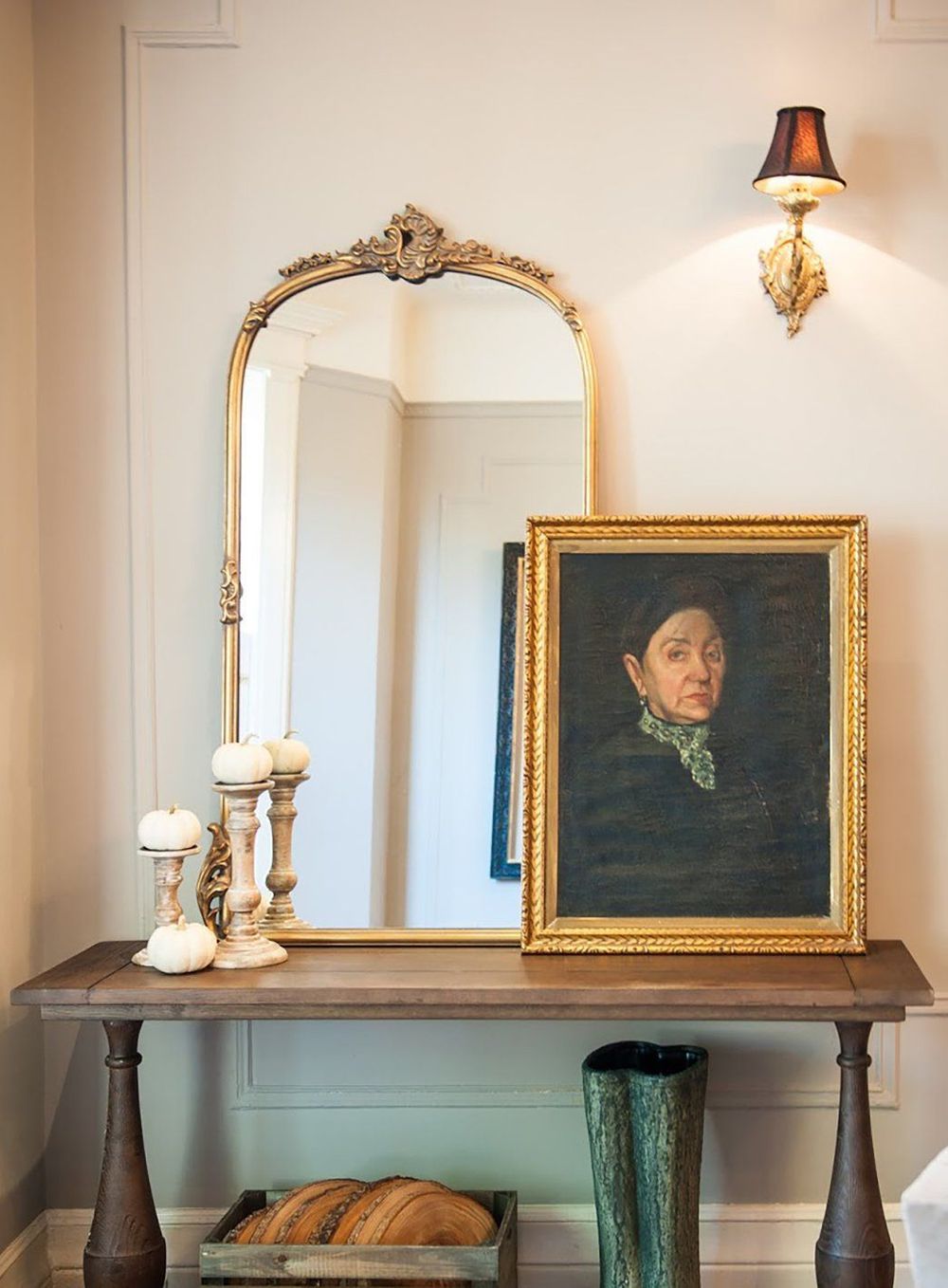 Louis Chair
The Louis side chair is another quintessential piece of French furniture, celebrated for many centuries for its beautiful design and practicality. Here, a side chair is placed near a round gray pedestal table beneath the stairs. This simple entryway design is so chic. A small French straw market basket is placed at the food of the table, ready to be grabbed on the way to buy groceries!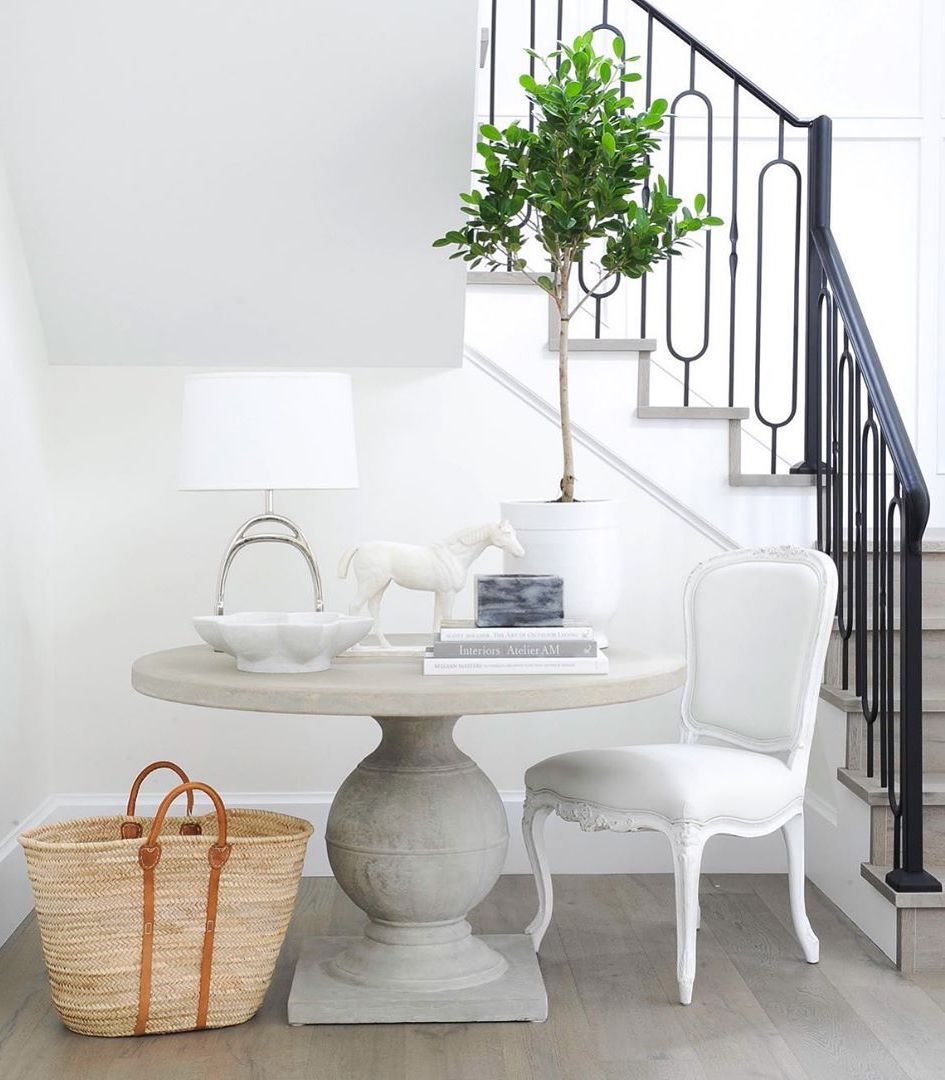 French Double Doors
French doors are a classic architectural element in many French homes. Featuring two matching doors with an arched curve, these glass-paned doors are perfect for your front door. The only concern is that people can peer inside, but if you live in the rural countryside, that shouldn't be too much of an issue! The polished white floor and gray console table make this foyer so dreamy. It's certainly a timeless French country entryway decor idea.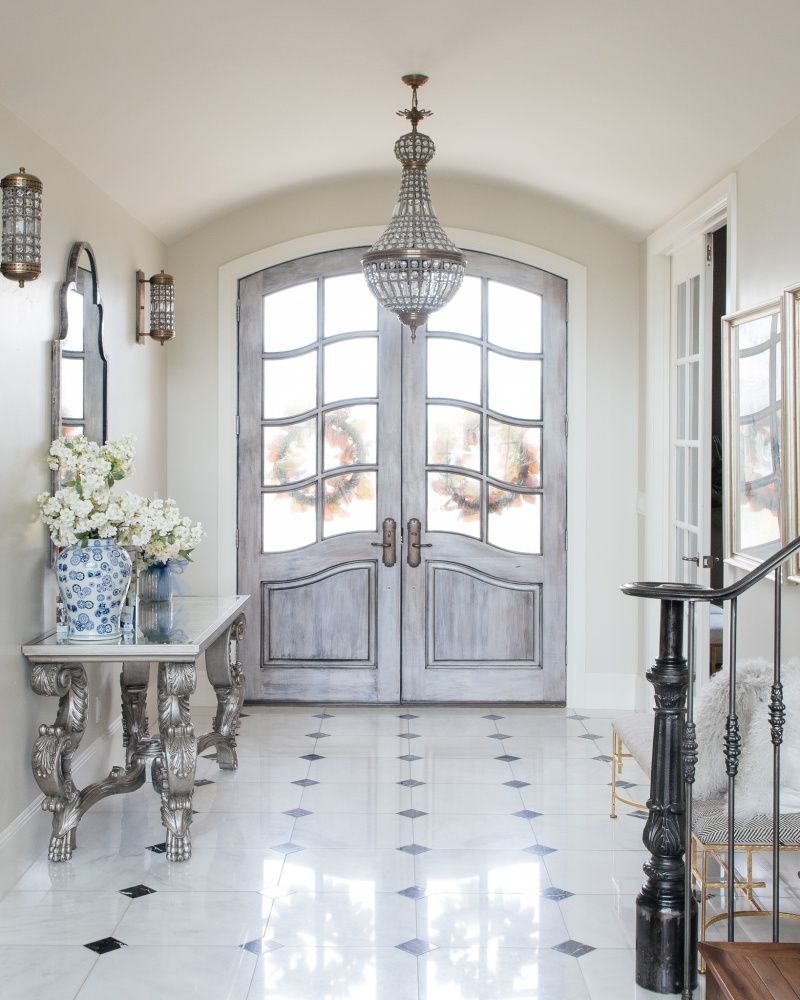 Distressed Wood
Distressed wood shutters flank the underpass in this small French entryway. The vintage look is very popular in French farmhouse design. You can add something that has been worn down over time to give your entryway character and charm. Flowers and wreaths help the space feel more alive so it's not too worn down.
French Cabriole Sofa
From antique furniture like an old French cabriole sofa to a vintage grandfather clock, old world charm is always present in French country foyers. This space beautifully blends old furniture with a newer staircase design. A giant vintage clock hangs on the staircase wall nearby.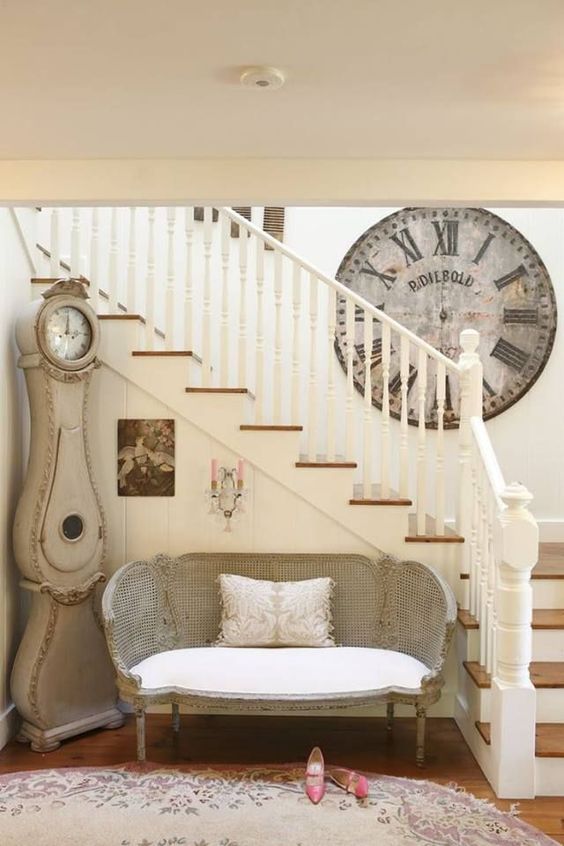 As you can see, there are numerous ways to welcome you, your family and your guests into your home. The foyer is not a room that should be ignored – it's a beautiful space with lots of design opportunities. I hope this post gave you a better sense of the design you'd like to take your home in. If you found it useful, please do let us know in the comment section below.
Happy curating!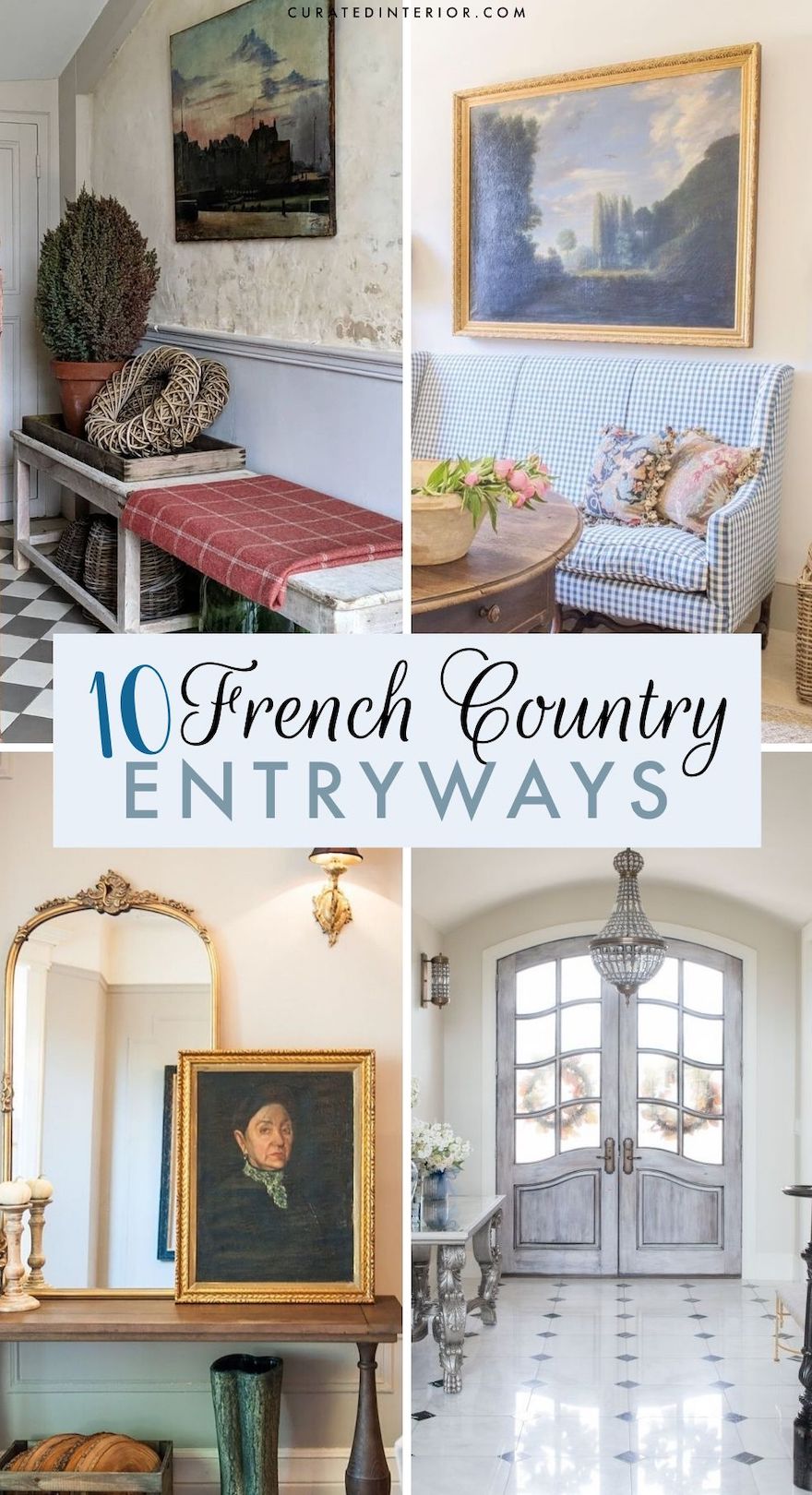 If you are looking for even more French country decor ideas for the rest of your home, then don't miss our related posts on this timeless European decorating style linked below.