If you are shopping for the perfect modern farmhouse headboards for your bedrooms and guest room, then you've come to the right spot. Bright, warm, clean, cozy, lived-in – that's the charm and the appeal of farmhouse decorating! The country farmhouse style typically includes a mixture of classic elements like wood, nature, white, wicker, iron – but also keeps it fresh with a pop of mid-century modern or vintage to keep the space a beautiful blend of antique and new.
Modern farmhouse decor can be personalized to any taste or interest level. The farmhouse style look in one house might be exposed wood beams, linen furniture, and a walk-in closet. Another farmhouse style home could have exposed shelves, subway tile, and country gingham curtains. The overarching aesthetic of the farmhouse decorating style is inviting, soft, and family-friendly. Common decor themes seen in farmhouse homes are exposed ceiling beams, reclaimed wood furniture, rustic decor accents, and of course, shiplap walls!
But today, we're going to focus on Farmhouse bedroom decorating, and more specifically, Farmhouse headboards that are both comfortable and aesthetically pleasing!
Farmhouse Headboards
There are a variety of styles and aesthetics when it comes to farmhouse headboards. These styles start with options that are almost completely wooden. Wooden farmhouse headboards can include a frame or ledge, or can be simply floating wood planks attached together at the seams without a hard boundary. The wooden farmhouse headboard will provide clean, straight lines. Sometimes this is in a pallet style, or it can be shiplap, herringbone pattern, or other unique design features with the wooden planks.
There are also options to get shelving or nooks as built-ins for your farmhouse style headboard. This is easily done with the farmhouse aesthetic because of the clean lines and wooden elements.
The stains traditionally range from a whitewash to a solid black, with everything in between. You can get a warm grey finish to offset the white and wooden elements of a farmhouse style. A mixture of iron with the wood frames, or even an altogether iron frame, is also considered farmhouse style. The iron bed frames surely hearken back to a classic rustic farmhouse look!
Farmhouse headboards, whether they are wooden or iron or a blend of the two, can often have a distressed look, a finished white paint job, a mixed paint aesthetic, barn wall blue, or even a classic pine or exposed wooden beam finish.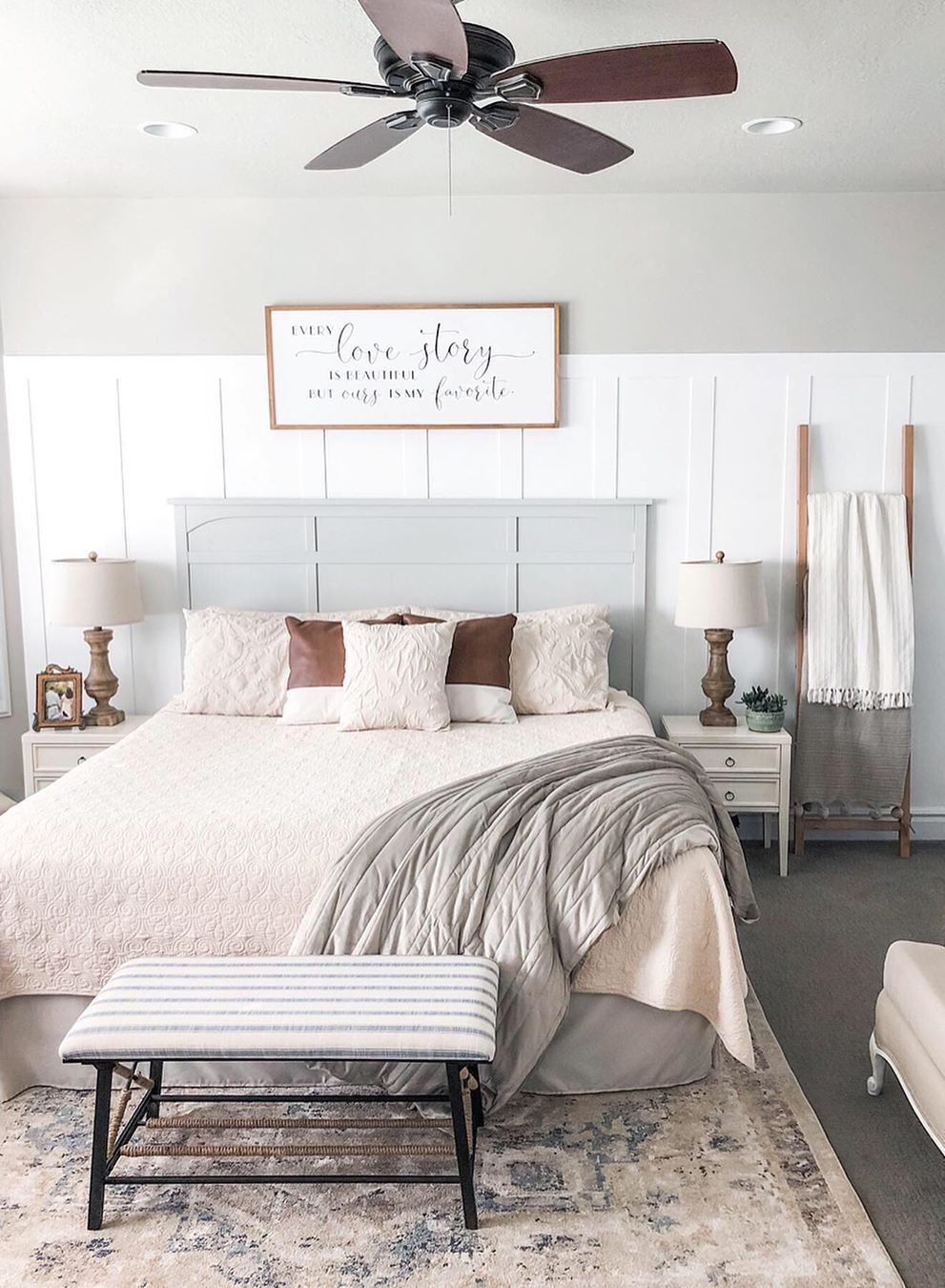 So, what did you think of our selection?
Headboards traditionally provide support for your bed and protect your wall against scratches, which are admittedly very practical uses. Not to mention, headboards provide a place where you can relax, rest, read, and be completely at ease. Since you're probably spending a lot of your time on your bed, having a unique headboard can be a stylish, personal touch.
Headboards can be sold or made independent of a bed frame, so you don't always have to get them together. Or, if you decide to change the style of your bedroom decor, they are not difficult to replace! Headboards are an easy way to make a statement with a staple piece of furniture!
Farmhouse Bedroom Furniture
Of course, headboards are just one aspect of designing the perfect Farmhouse bedroom! Are you furnishing a modern farmhouse home? We have lots of recommendations on shopping for farmhouse bedroom furniture.
Don't miss our guides to picking out the best farmhouse nightstands to store your bedside essentials. These farmhouse dressers will help store all your clothing. Finally, these gorgeous farmhouse wall sconces are the perfect wall lighting companion for reading in bed!