If you are looking to redesign the front entryway of your coastal beach home, then we hope this post will inspire you. We've gathered a selection of the most beautiful coastal entryways to guide your design decisions. The entryway is the first room that you, your family, and your guests will see as they enter your home. It has to make a good impression and provide a practical space for taking your coat on and off as well as your belongings.
Coastal Entryways
It's important to think about how you will use your coastal entryway in your home. A coastal entryway might be the place where you take off your sandy shoes after coming in from the beach. It's necessary to consider the purpose of your beach home entryway as you go about designing it. Will it get wet and messy? It might be good to keep a vacuum cleaner nearby and forego a nice rug. If you have a separate mudroom, then this might not be necessary. In any case, there are lots of coastal decor ideas that can inspire your decorating choices and make the space very beachy and fun!
Striped Rug
This modern coastal entryway has a bold blue and white striped rug to welcome guests. It has a vaulted ceiling, shiplap walls, and a faded blue front door all of which give a character. A rustic wood console table is against the wall. There are two blue matching table lamps, a shell that holds indoor plants, and a round white mirror attached to the wall.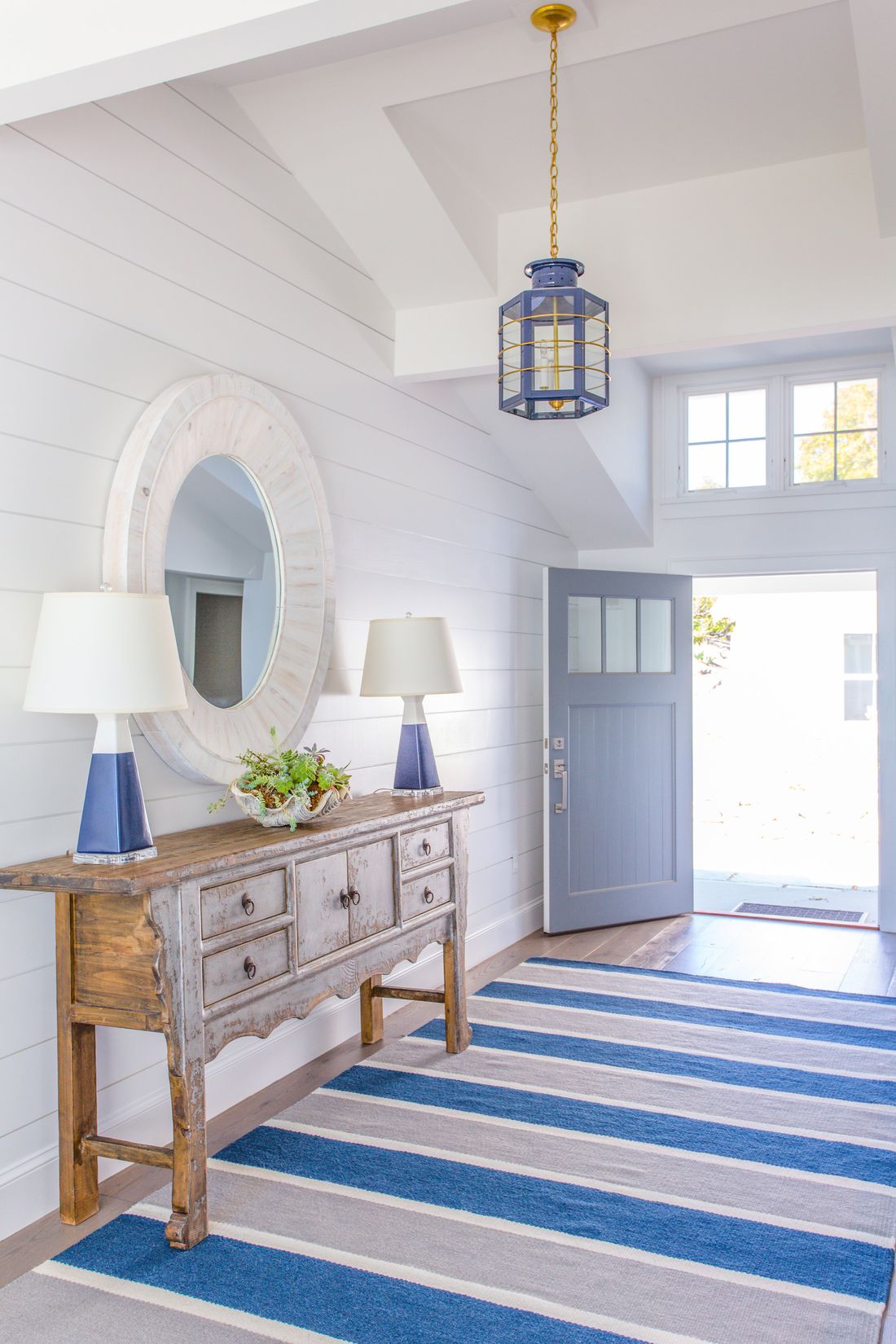 Traditional Console Table
A striped area rug is a great way to make a bold statement at the entrance of your home. Here, a blue and beige striped rug is placed over the tile floors to welcome guests. A traditional wood console table with drawers holds a few coastal decorations. A large ocean painting hangs on the wall.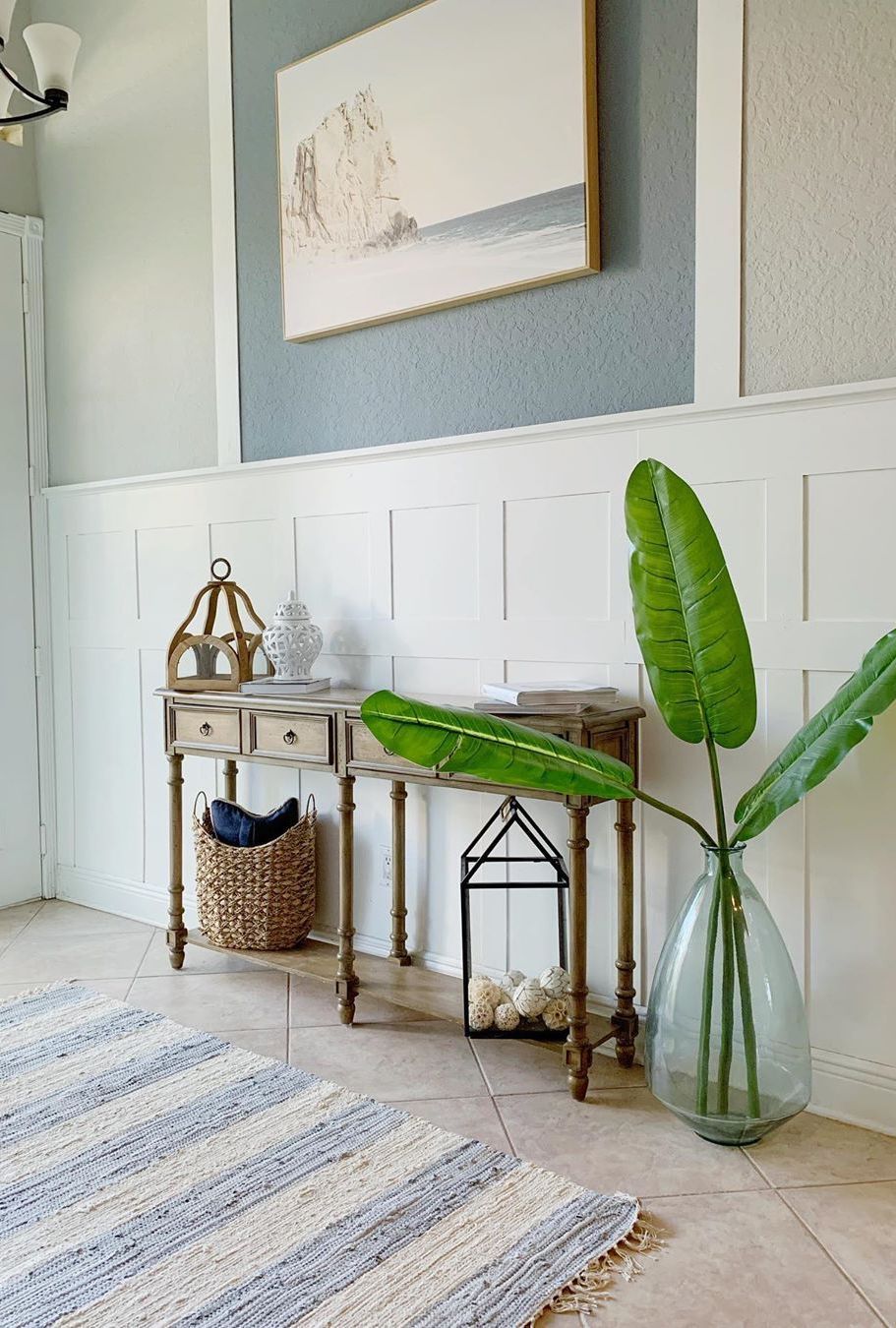 Mudroom with Teal Cabinets
This coastal mudroom has bold teal cabinets with brass handles. A gray cone pendant lamp hangs from the ceiling to light up the mudroom space. There is a small goldfish attached to the wall.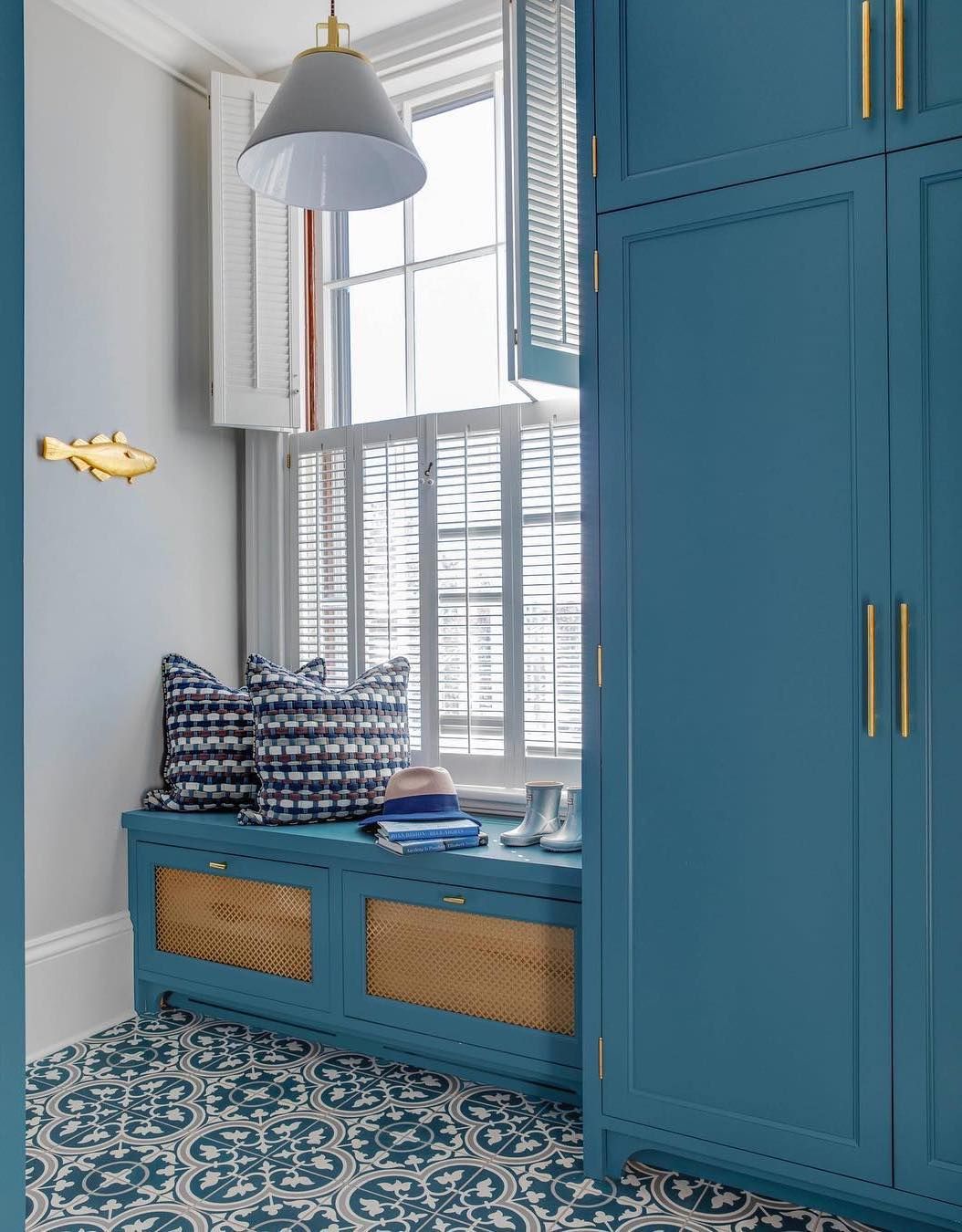 Sitting Bench and Gallery Wall
This airy coastal entryway is large and inviting. A white sitting bench is available for people to take a seat. Across from the bench is a neatly arranged at gallery wall filled with family photos.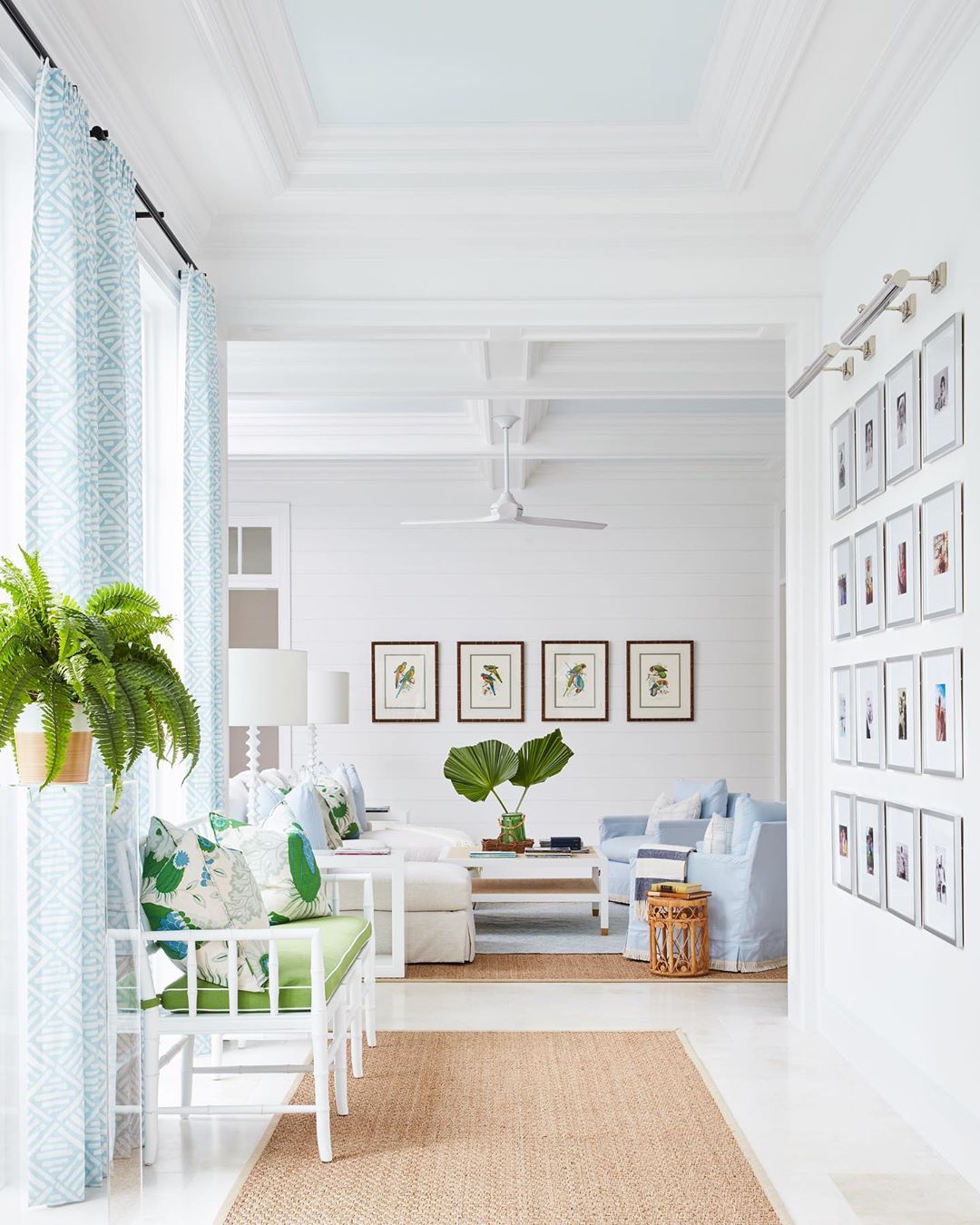 Blue Built-in Benches
This modern coastal entryway has built-in benches with blue seat cushions. The upper shelf has plenty of woven jute baskets for hidden storage like beach towels, swimsuits, and more.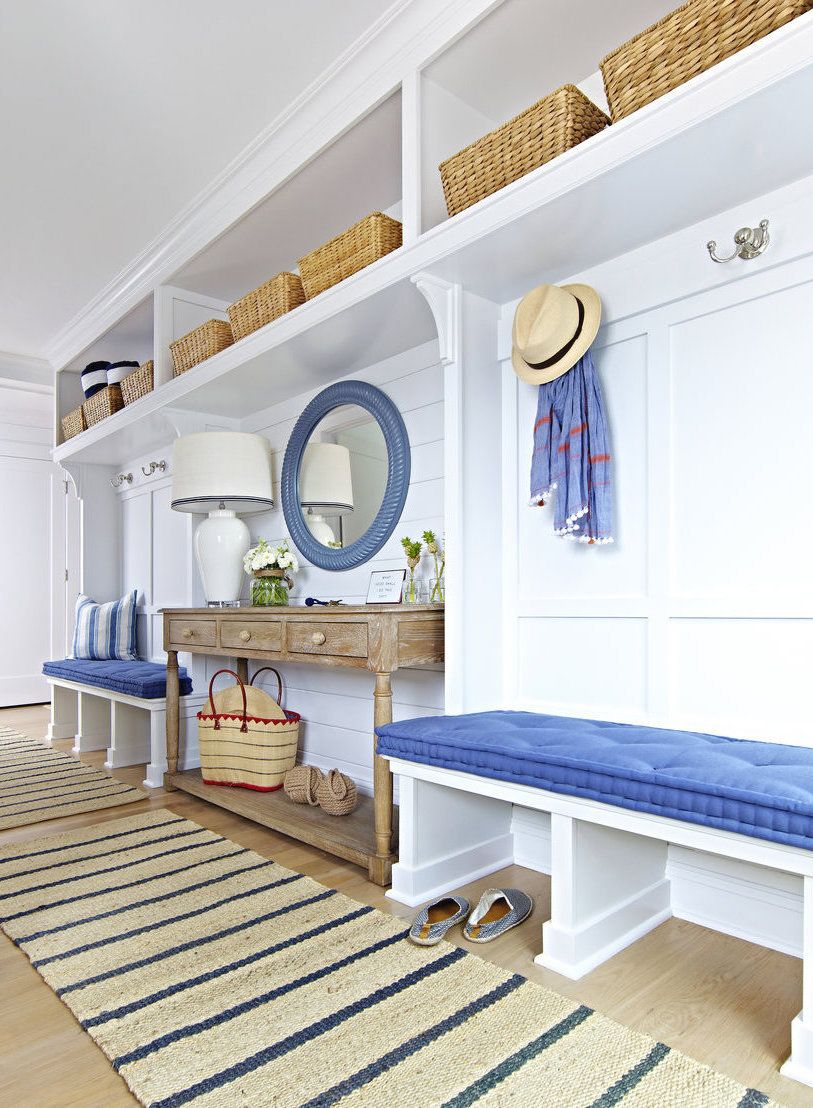 Driftwood Console Table
This ultra modern coastal entryway has a gorgeous driftwood console table in front of wraparound shiplap walls. A stunning black minimalist round mirror hangs on the wall, flanked by two black metal sconces. Two large white modern bases set on either side of the table. In the center a Pacific Natural book holds a vase full of palm leaves.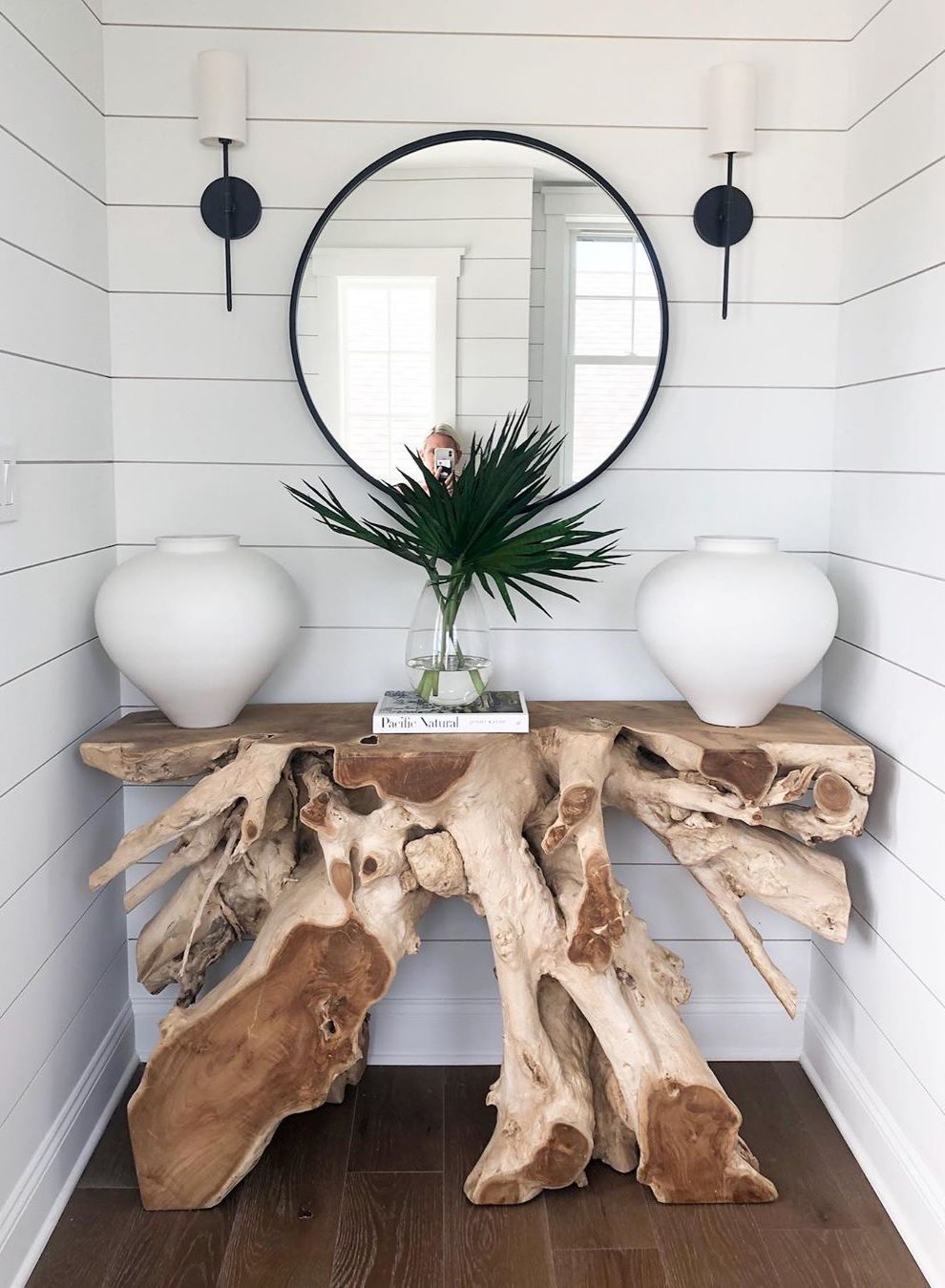 Starfish Baskets
The starfish baskets at a nice storage element to the simple small entryway. Twin table lamps and a round silver tray sit on top of a modern white console table. Simple palm leaves that were added to a clear vase filled with water. A gray round mirror hangs on the wall.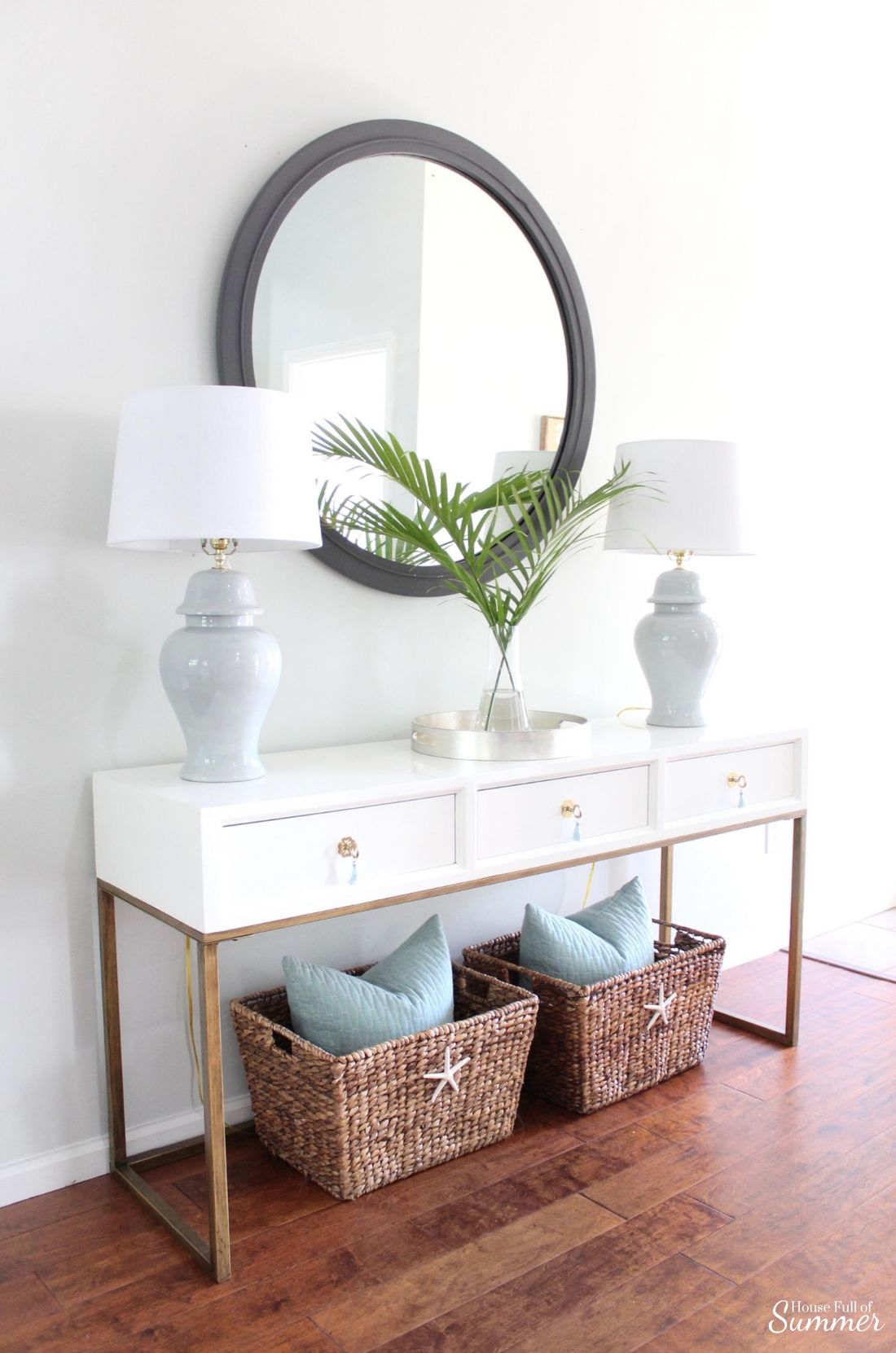 Circular Rope Mirror
This neutral entryway makes great use of natural materials like rope and jute.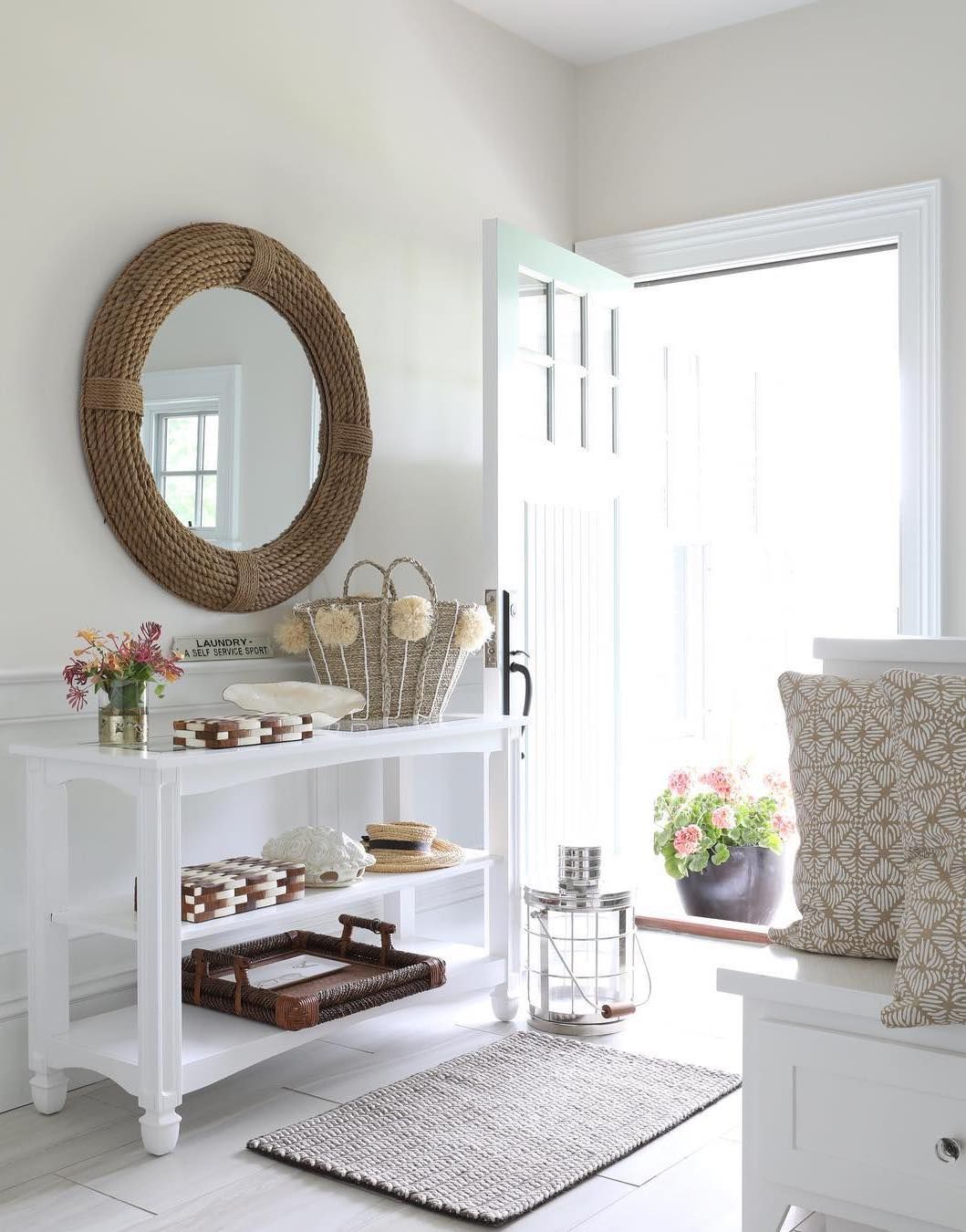 Navy Door
For a nautical entryway, consider painting your front door and beautiful marine blue. This space has a lovely white accent cabinet, a navy blue table lamp, and a gallery wall full of family photos.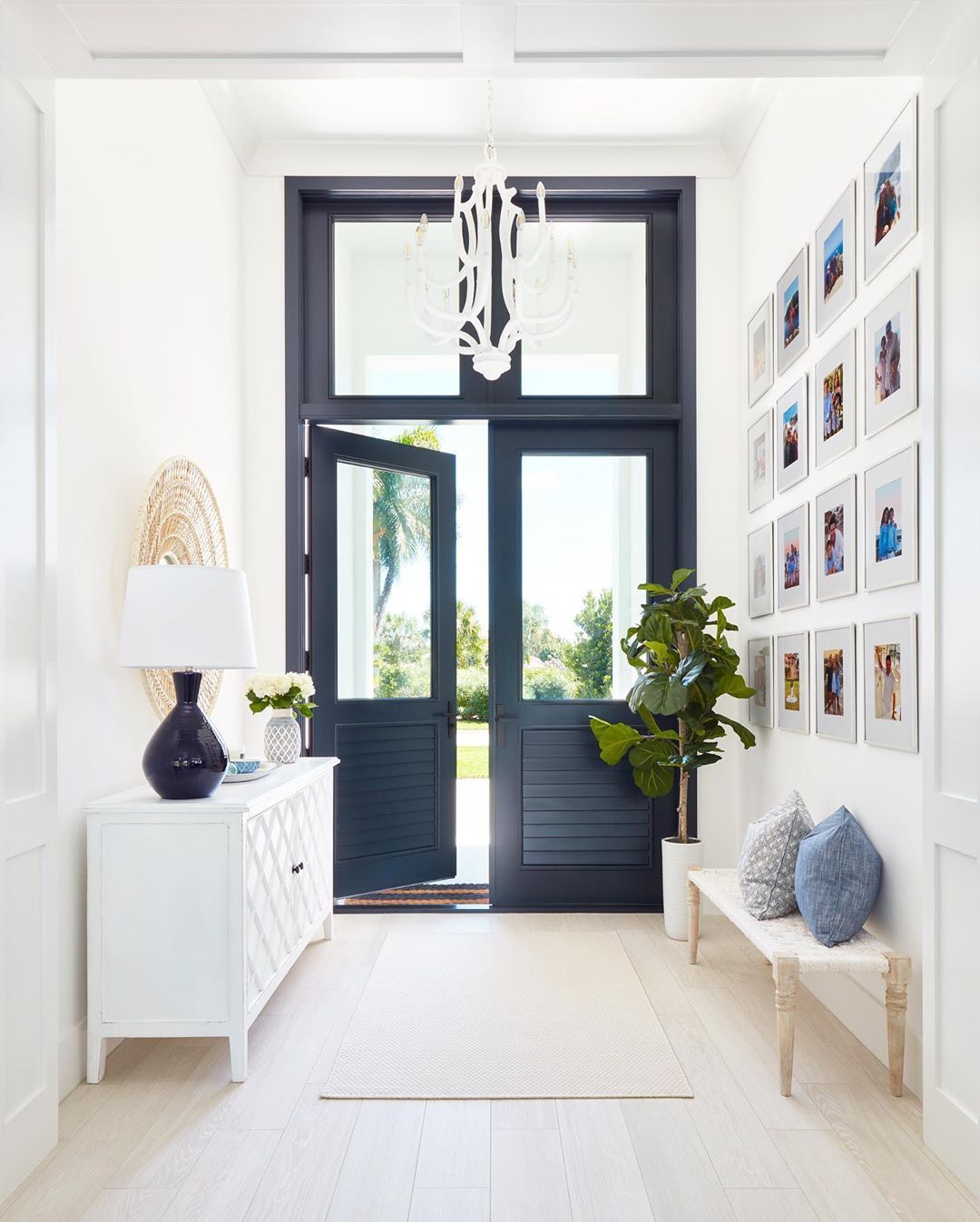 Blue Front Door
This simple lemon tree decoration makes this space pop. From the light blue door to the simple striped rug, this entryway has so much charm to it!
Oars Wall Art
Attaching oars to the wall is the perfect idea to decorate a lake house.
Shiplap Ceiling and Rattan Chandeliers
A creative way to decorate your entryway is to use shiplap on the ceiling. Wicker globe pendant lights and abstract coastal artwork will add a lot of charm.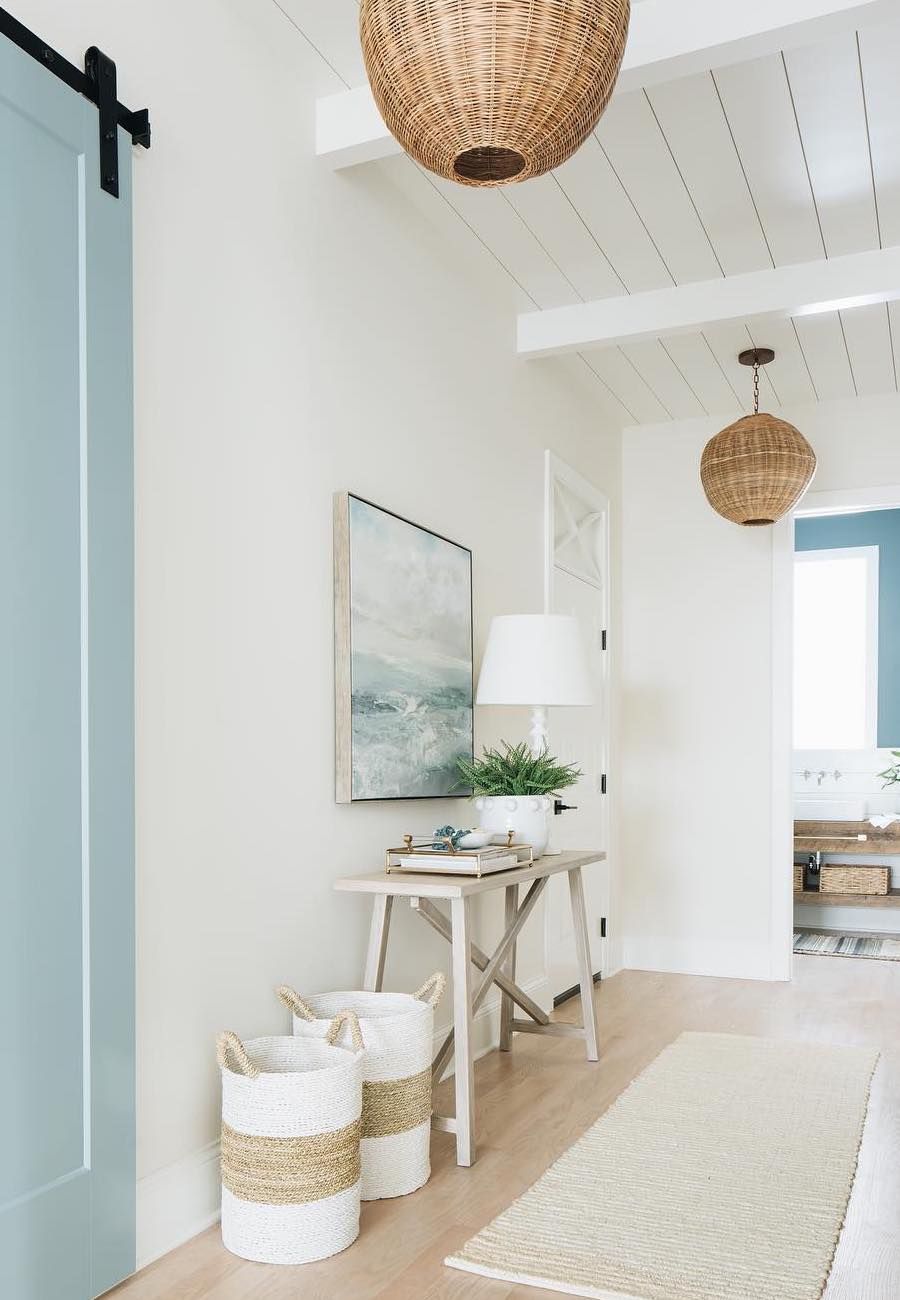 White Coral Decor Accent
Sometimes you just need a touch of coral in your entryway. I love the blue tufted bench beneath the wood console table in this space.
Beaded Chandelier
A bold blue rug can work wonders. A white beaded chandelier is always a good idea, too!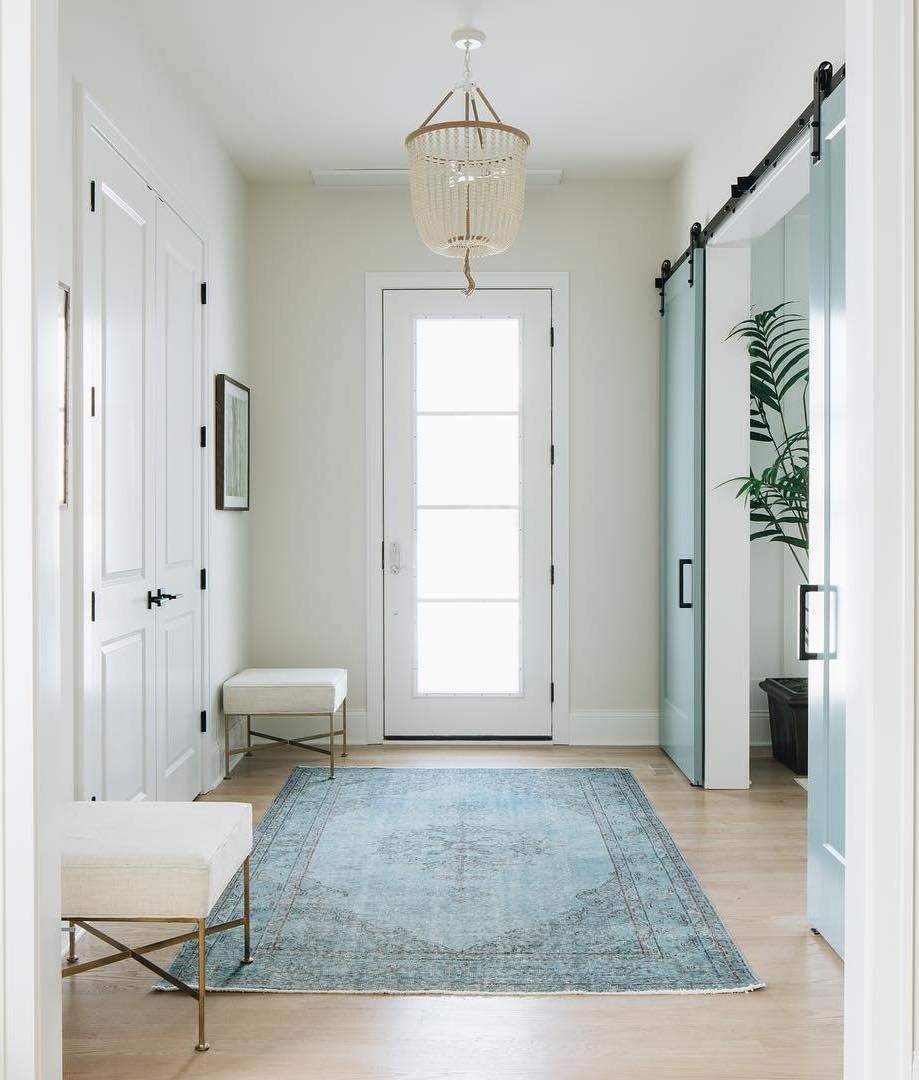 Palm Leaves Decoration
Palm leaves are a very common theme in coastal entryways. I like how this homeowner put a large floor-length mirror behind a wood console table. That's not something you see every day!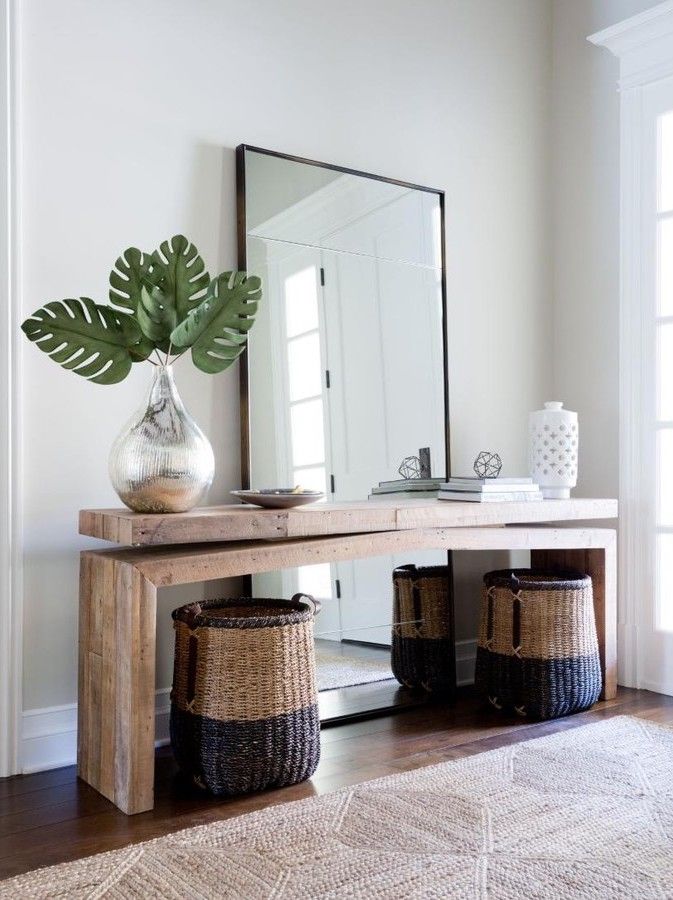 Pastel blue wall paint
Painting the wall of your entryway a bold blue will surely make a statement. Then use neutral furniture and decorations to lighten up the space.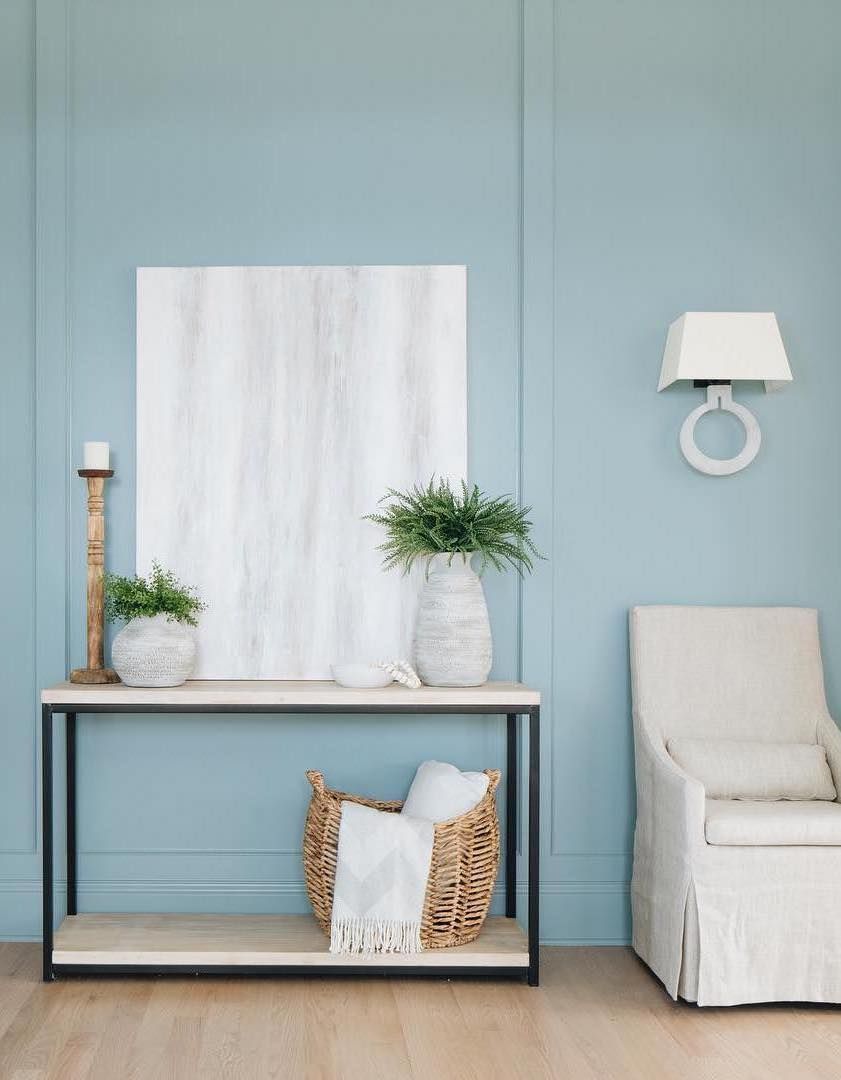 Beachy Throw Pillows
Give your entryway some character with fun throw pillows. A wide wood bench is also very useful for taking in that gorgeous view of the ocean.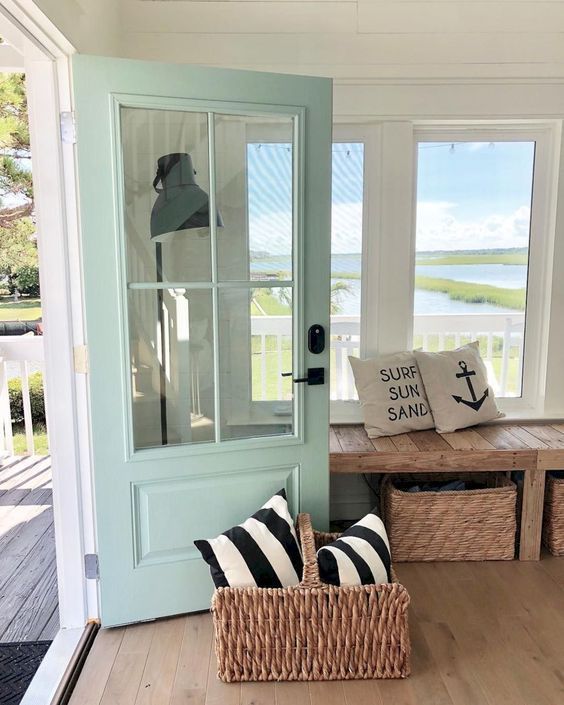 What do you think of these coastal-inspired entryways? As you can see, there are so many different coastal furniture and decorations that you can use to create that perfect beachy vibe in your front entryway room. I hope you found one that works in your home!
More Coastal Room Decor Ideas
If you are looking for more coastal decorating ideas for other rooms in your home, then don't worry, we've got you covered! Check out some of our other beach home decorating guides by room:
Happy curating!