I don't think there's a cozier place in the house than a reading nook. Whether you have an entire room to dedicate to reading and installing a grand library, or you just want to create a quiet corner to get away from things, a reading nook is a great idea for all homes.
You may be wondering how to design and decorate a reading nook. What are the popular trends for reading nooks? Well, that's what we're going to talk about today. Let's get started with the best reading room ideas for your space.
Reading Nook Essentials
Before we dive into the decorating ideas, let's talk about some of the very basic essentials that you must have in your reading nook. The bare minimum reading nook essentials, if you will! To create the perfect reading corner, you should have the following furniture and home accents.
Here is what we think you need in order to create a practical reading room:
Comfortable Chair
Side Table
Good Lighting Source
Storage for Your Books
That's it! Do you think something else is necessary for this reading space? A few bookmarks perhaps? A candle to set a relaxing mood?
Reading Nook Ideas
There are lots of different ways you can configure a reading nook in your home. Here are the most popular ideas and designs when it comes to reading nook inspiration. Whether you are an avid reader or just an occasional browser, we're sure you'll be inspired by these reading rooms!
Go with a Giant Egg Chair
This egg chair creates the perfect nook for a long reading session! A pouf sitting nearby is perfect for popping your legs up on.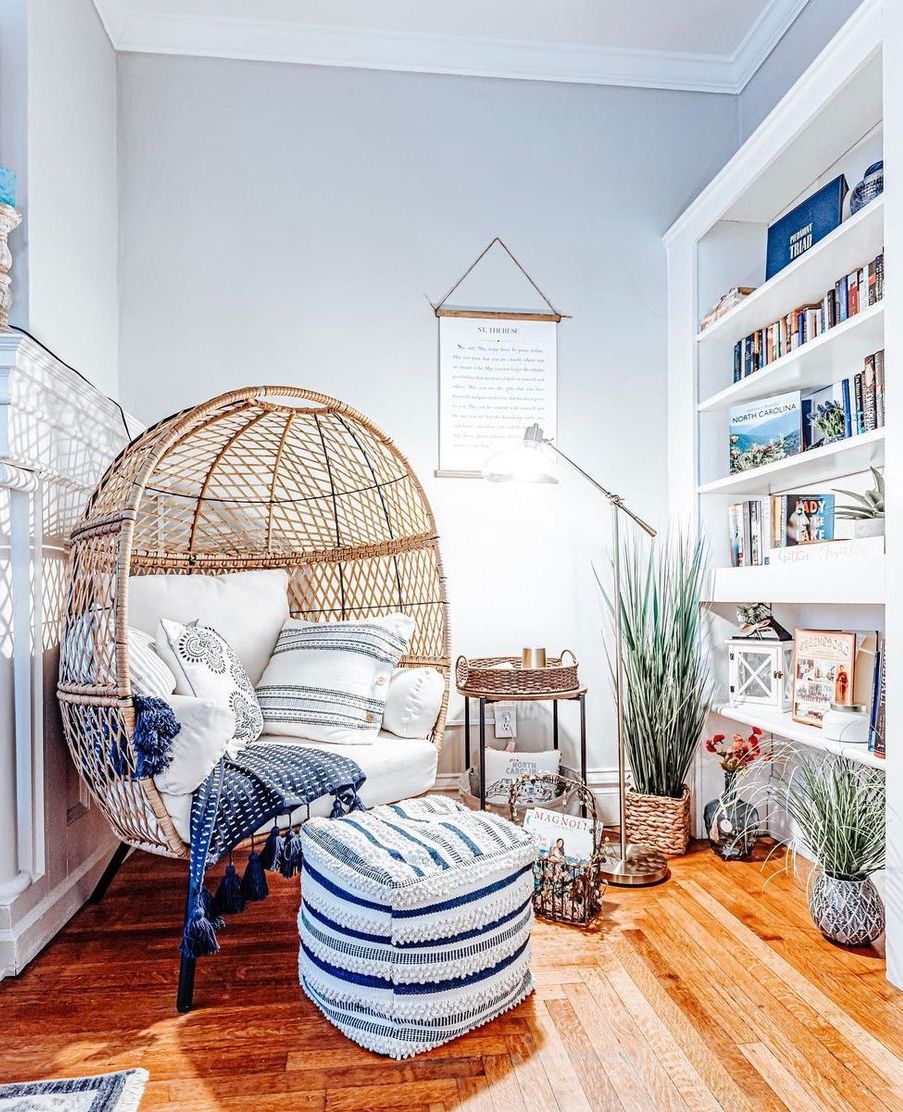 Pick a Plush, Oversized Accent Chair
The most simple and easy way to create a cozy reading nook is to get a comfortable, padded accent chair with armrests and stick it in an empty corner of your home. If you have bookshelves installed, all the better. Otherwise, throw some books on a side table next to the chair!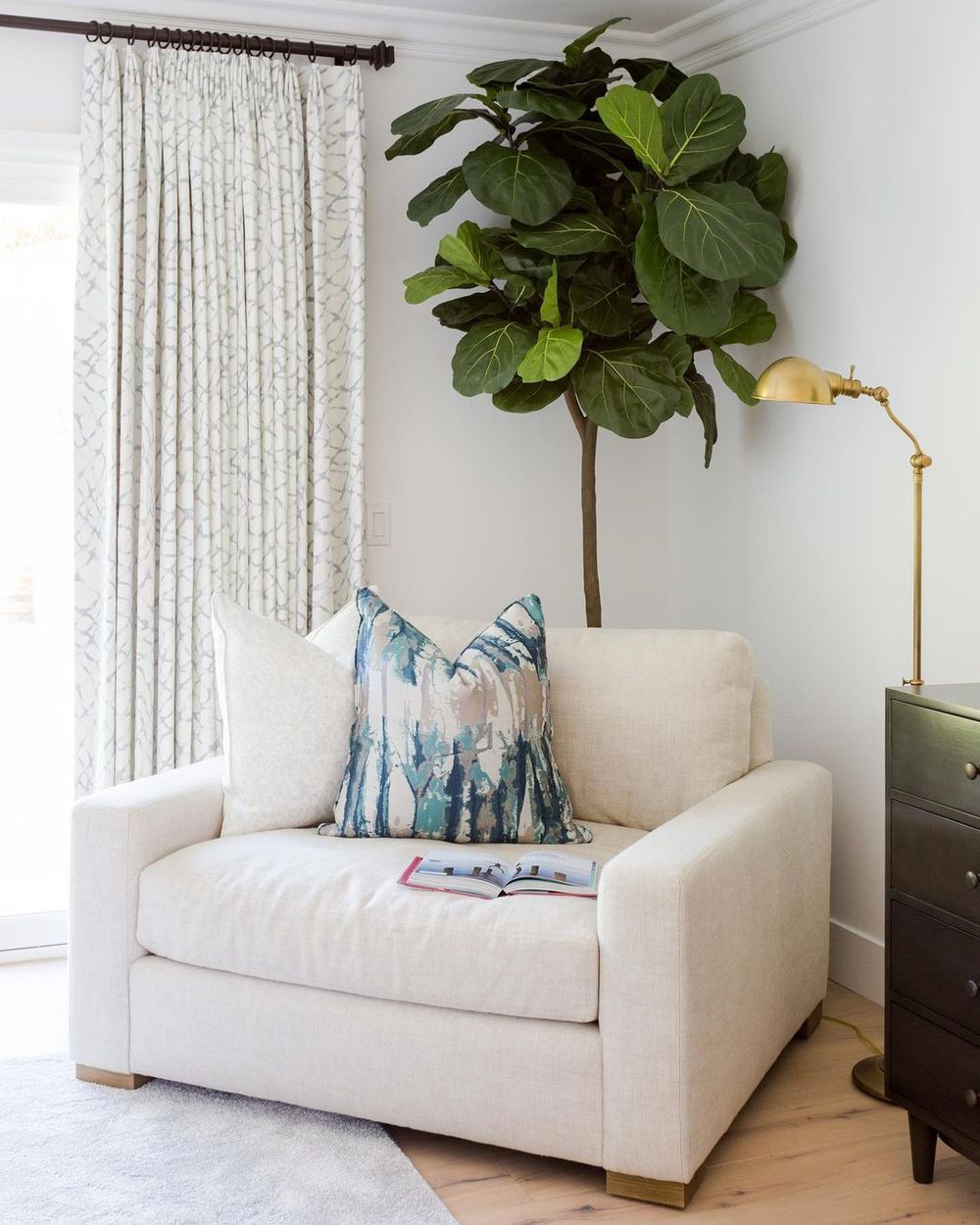 Organize Your Books by Color
You can organize your books on shelves by color to create an eye-catching arrangement. Pair it with neutral sitting chairs to keep the place friendly.
Sway in a Hanging Chair
I dream of installing a hanging chair like this one in my home! It's the perfect place to hang out and read. Swingasans make great seating for reading corners.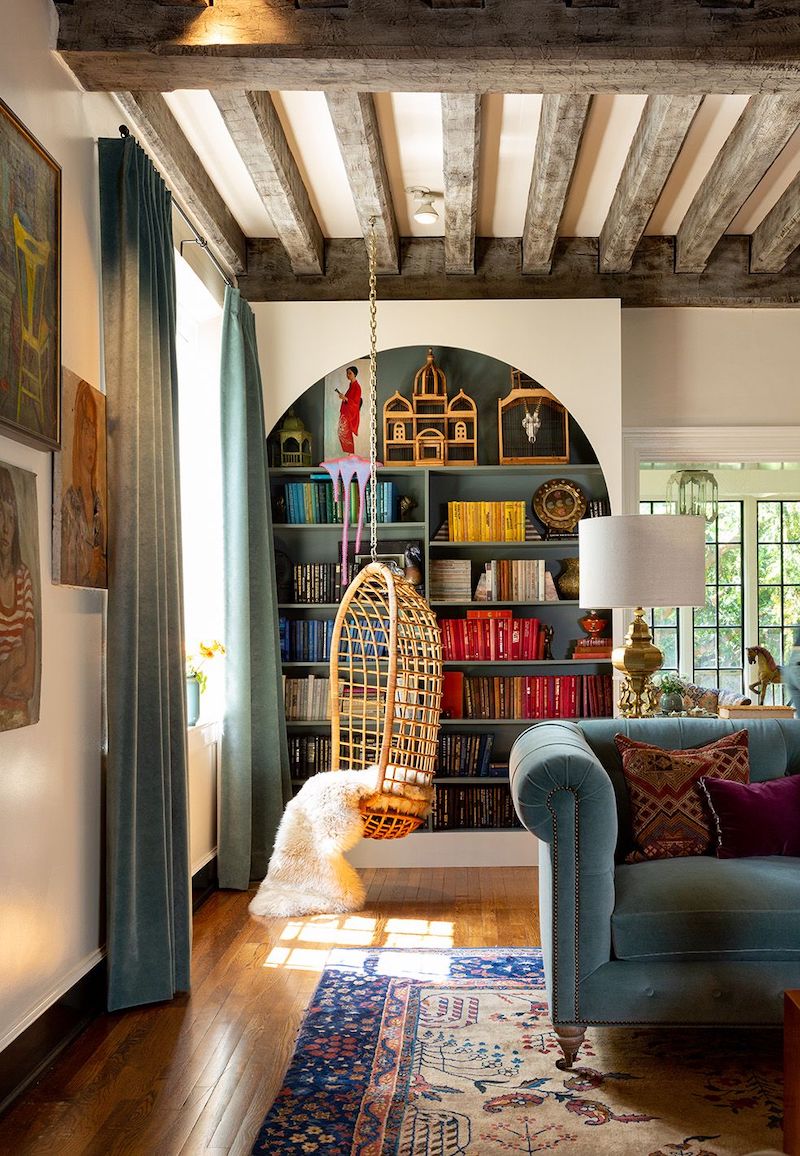 Recline Your Seat and Put Your Feet Up!
Take a break by using a reclined chair and matching footrest to create the ultimate relaxation mood in your reading nook.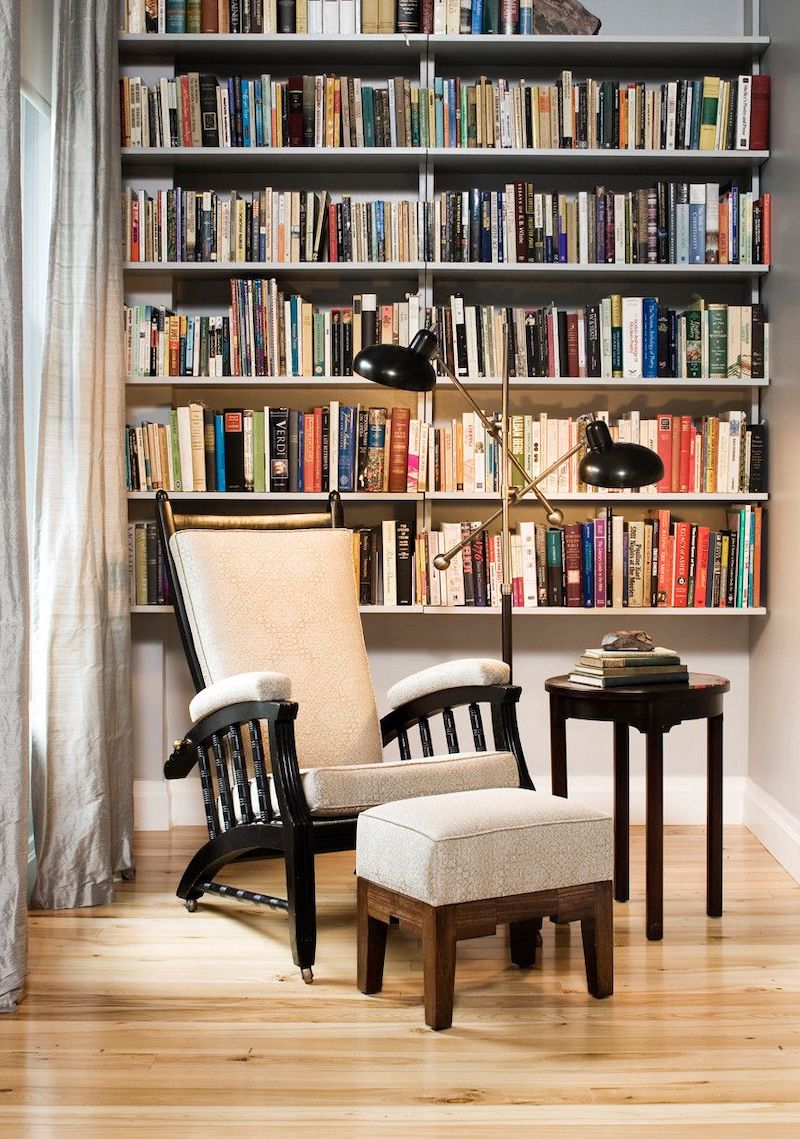 A Neo-Traditional Nook with Bright Colors
This neo-traditional home got a gorgeous upgrade with lime green built-in bookshelves and a blue tufted accent chair. The leopard print carpeting and floral wallpaper give the space character.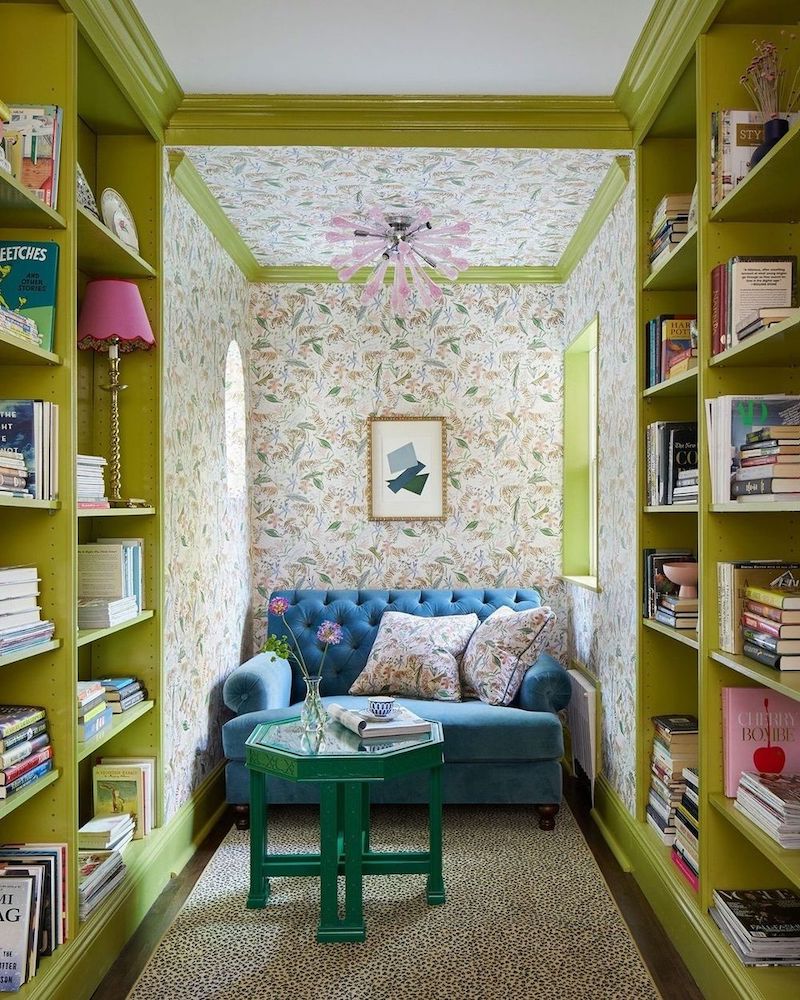 Add Some Throw Pillows
For a quick transformation, add some throw pillows to a corner in your home and stack the tallest bookshelf you can find next to it!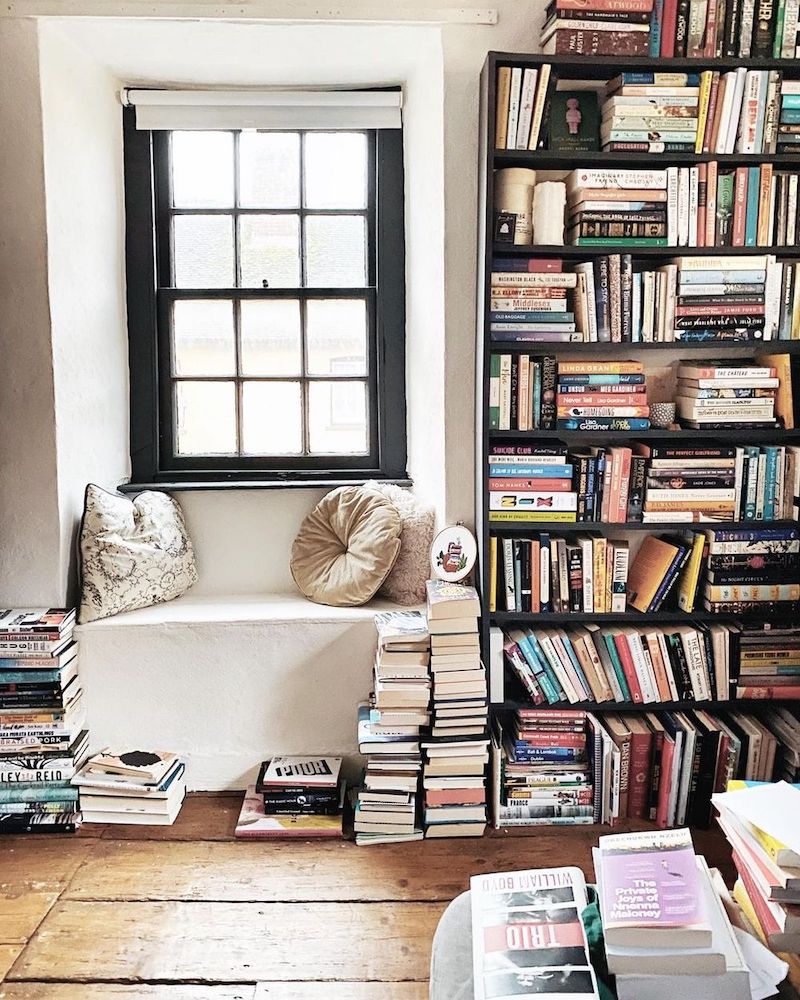 Opt for an Extra Wide Sofa and Ottoman
This extra wide and extra deep sofa looks divine in front of a bright window and tall bookshelves. The ottoman in front is a great place to rest your feet and curl up with a throw blanket.
Double it as a Breakfast Nook
This multi-purpose space works great as a breakfast nook and a reading nook at the same time. You can munch on avocado toast in the morning, and catch up on your favorite books in the evening.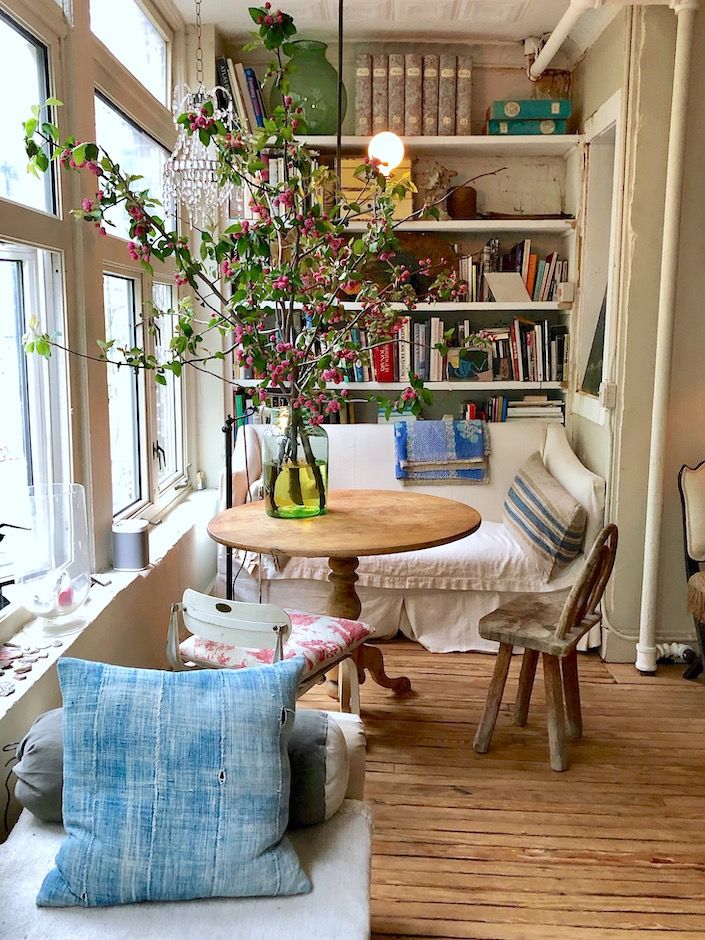 Make Use of that Empty Corner in Your Home
If you're not sure what to do with an empty corner in your home, then create a cozy and warm reading nook with floating shelves and a cushioned corner banquette!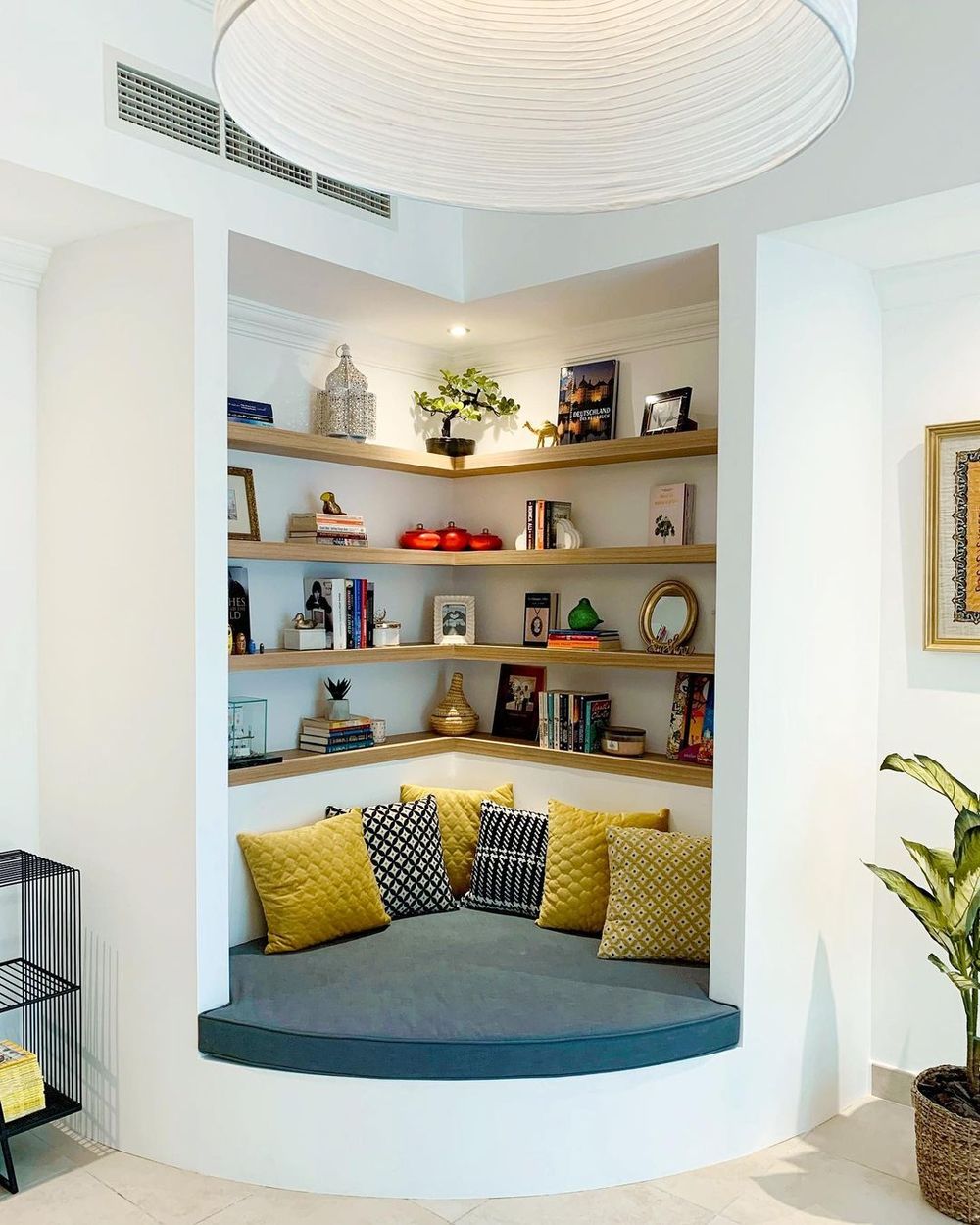 Transform the Attic
Many people let their attics gather dust, but you can be savvy and install bookshelves to create a cozy reading nook in your attic to get away from it all.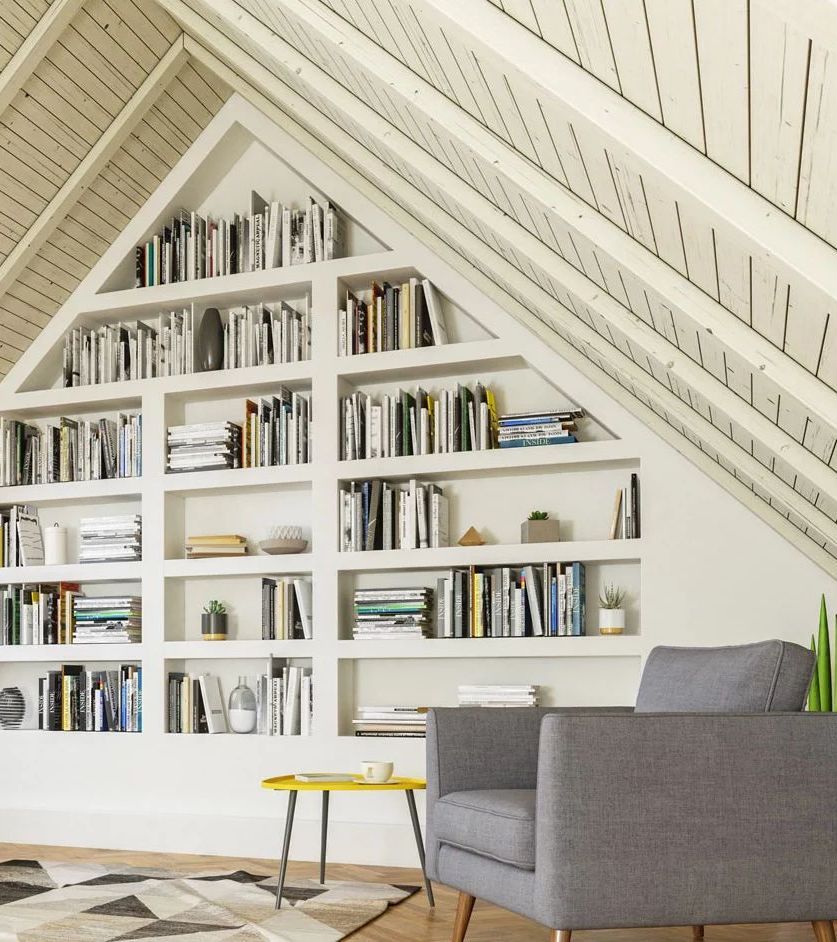 Construct Built-in Bookshelves Near a Large Window
You can install built-in bookshelves and built-in benches to create a gorgeous reading nook. Built-in reading nooks are becoming more and more common in new home builds! I love how this one has a large window overlooking the swaying trees outside.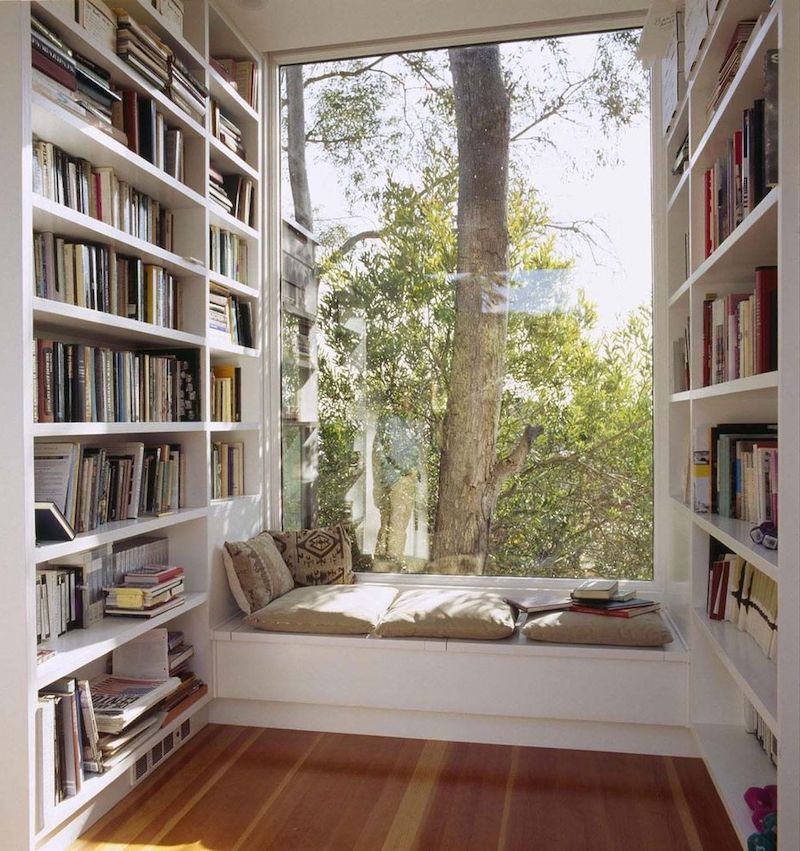 Go With an Oversized Pink Tufted Accent Chair
For a girly look, go for an oversized pink tufted accent chair. Pair it with a small white accent table and some built-in bookshelves.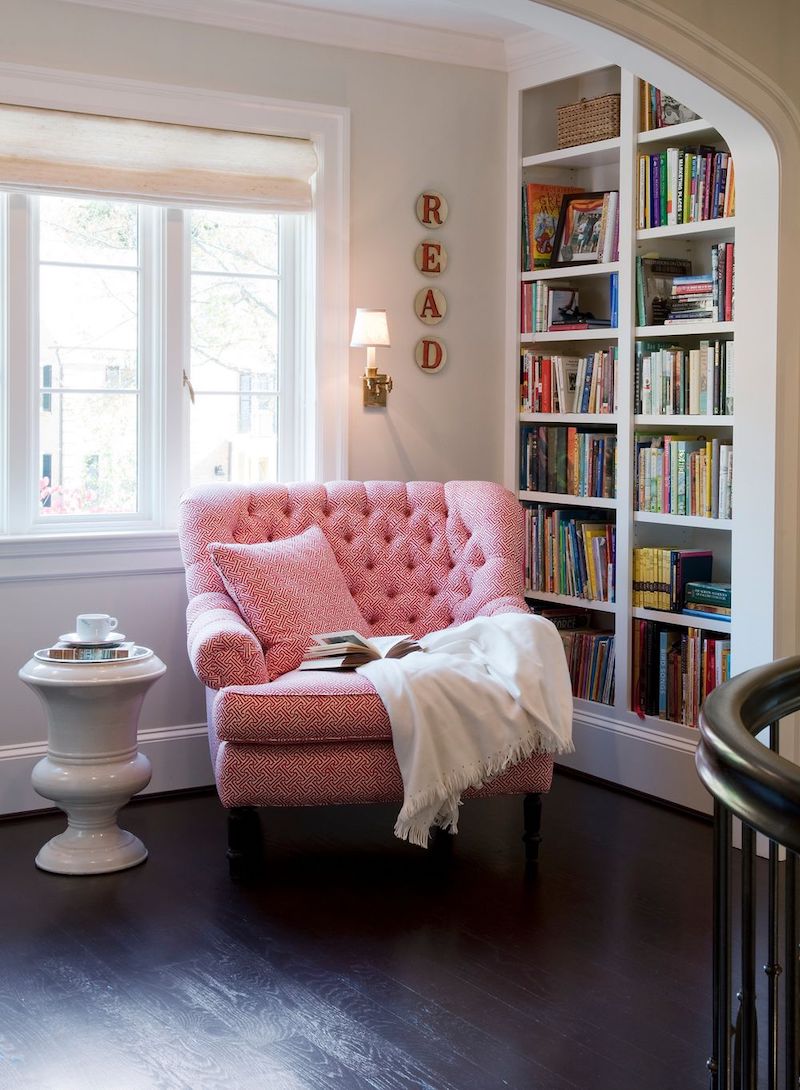 Make Use of the Wide Window Light
If you have an extra wide window, think about installing some built-in benches and creating a cozy reading nook like this one. Add a wall sconce above the shelves for easy light.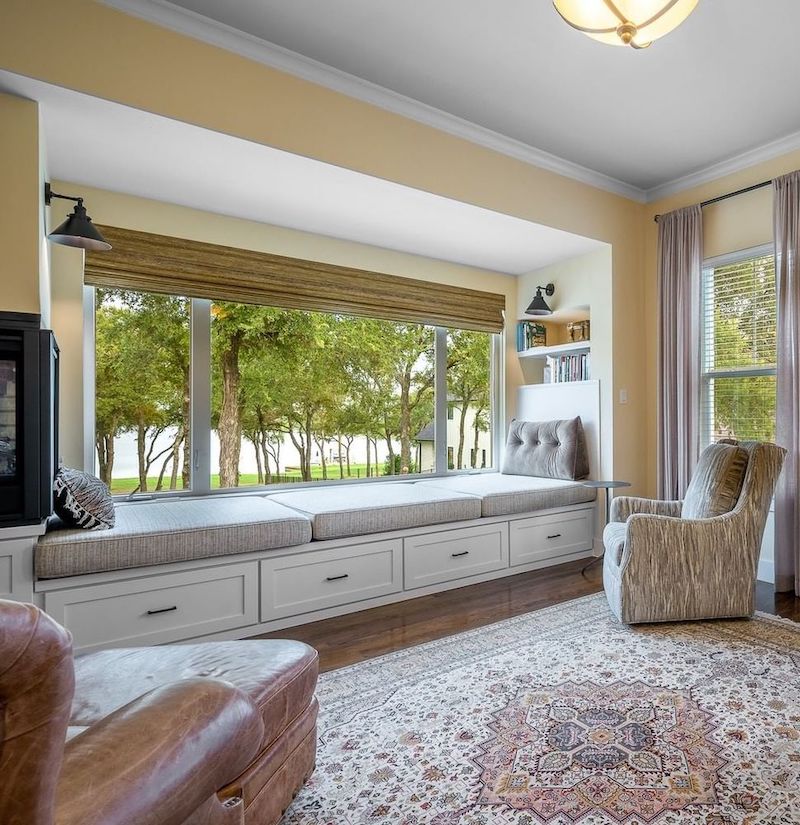 Put Quotes on the Stair Backs
I love this charming idea of adding a written quote on the stair backs of your home!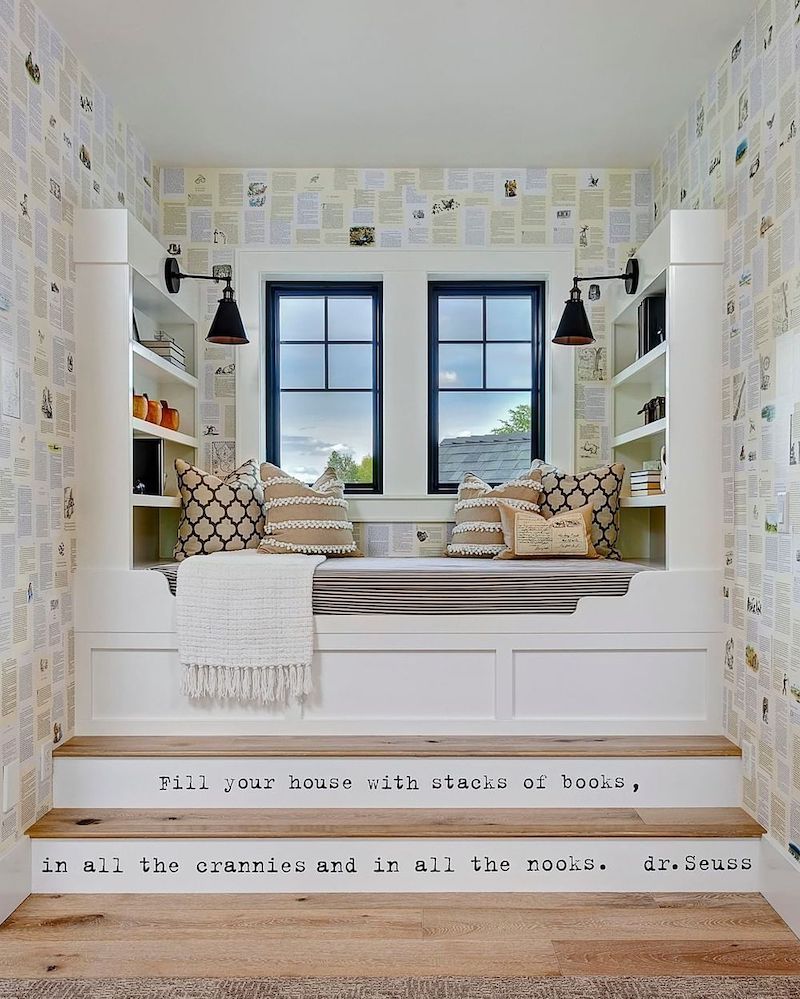 Cozy Up in a Shearling Accent Chair
I would love a cozy Scandinavian shearling accent chair in my reading nook with warm wood shelves.
Install Bookshelves in a Corner
Create a cozy cushioned nook with floating bookshelves in a corner of your home.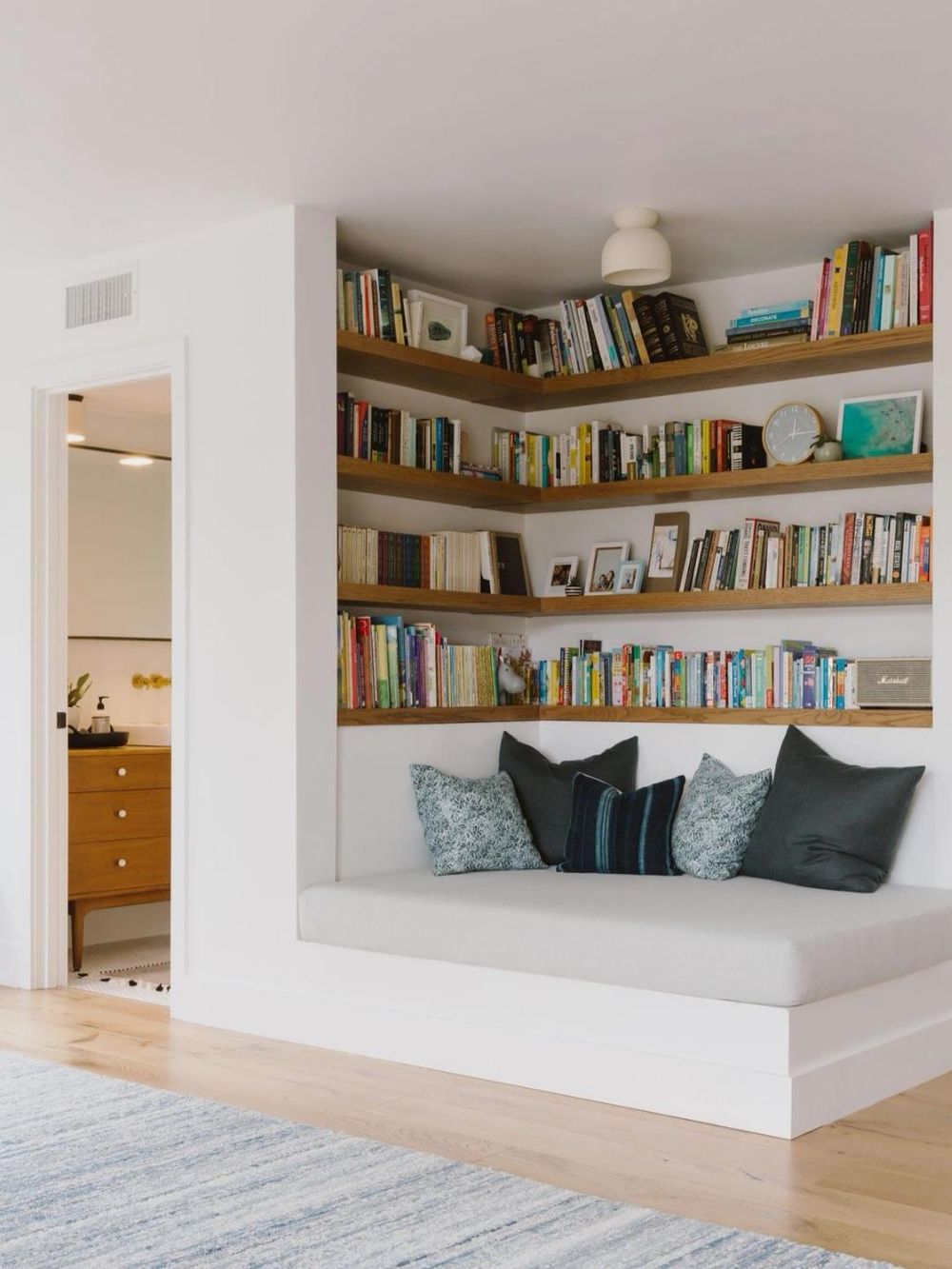 Chaise Lounges
Stretch your feet out and relax with a chaise lounge. You can also create this look with a comfortable chair and matching foot rest to stretch your legs out! A magazine stand to the side lets you store a variety of publications.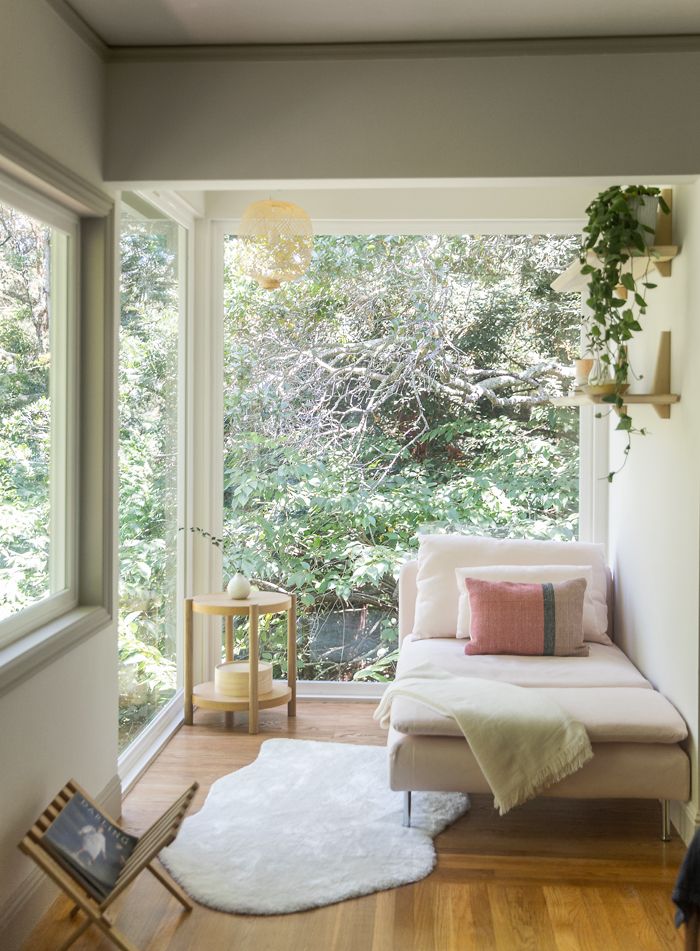 Go Monochrome
This bright yellow monochrome nook is impossible to miss! The matching throw pillows create a sunny corner for reading.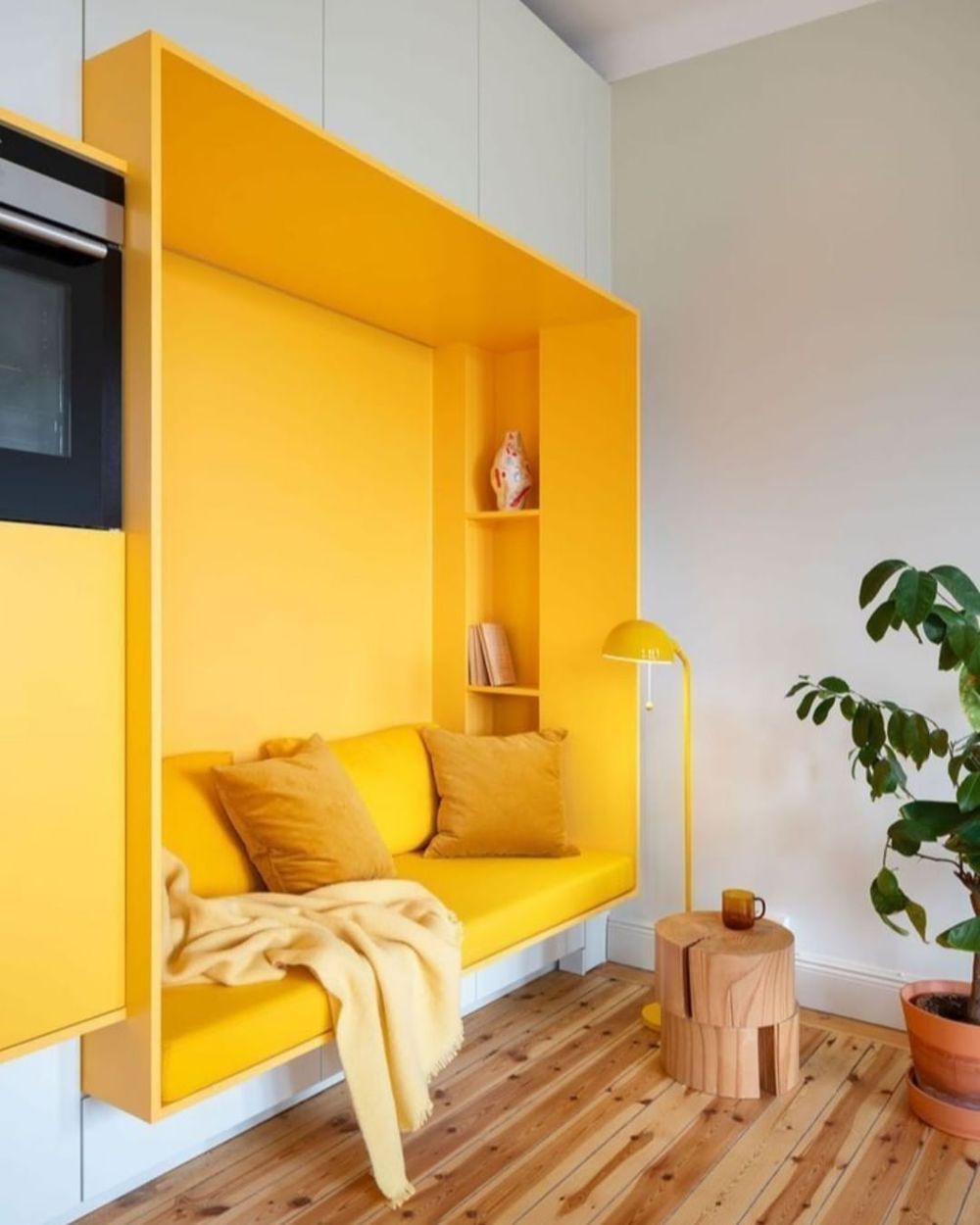 Store Books on Rolling Metal Cart
This neutral reading nook is easily served by books on a rolling metal cart!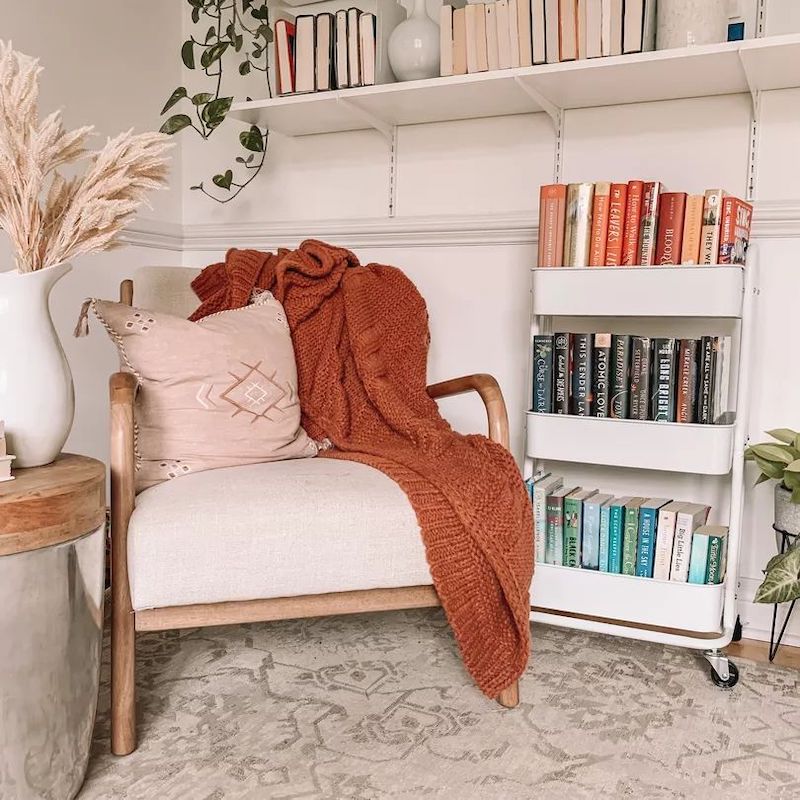 Hang Out in a Brown Leather Chair
Brown leather chairs are the perfect addition to any reading nook. Abstract art and a black wall are optional!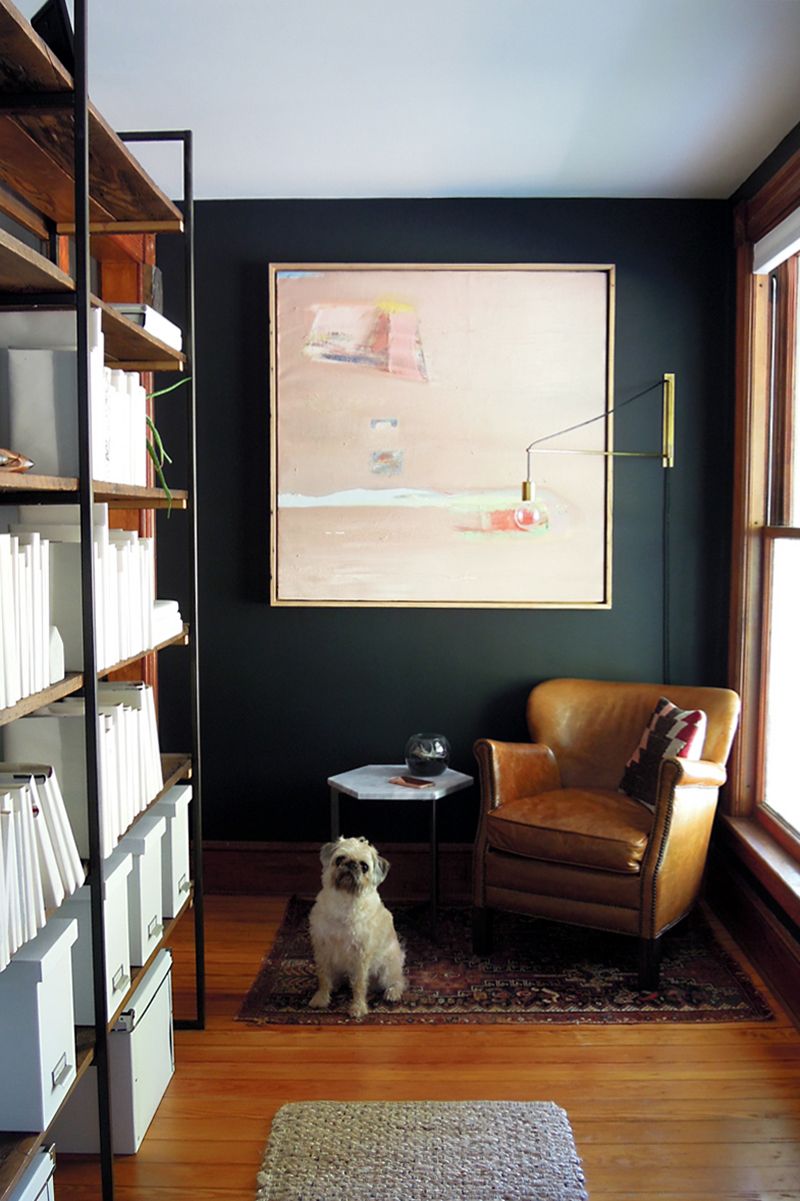 Use the Floor!
Don't be limited to just chairs. You can create a cozy floor nook with rugs, blankets and floor pillows, too. It's simple and budget-friendly!
Go with Upper Bookshelves
If you want to keep your books high and make the most of a space, install a banquet beneath upper bookshelves in a corner of your home. Add wall sconces for additional lighting!
Opt for a Minimal Design
If you find it hard to focus, then go with a really simple and minimal design like this one for your reading nook. The white and cream tones will help reflect light so you can see what you're reading, too!
Hang a Swingasan
If you love the boho look, then consider a swingasan for your home, next to a long wall of bookshelves!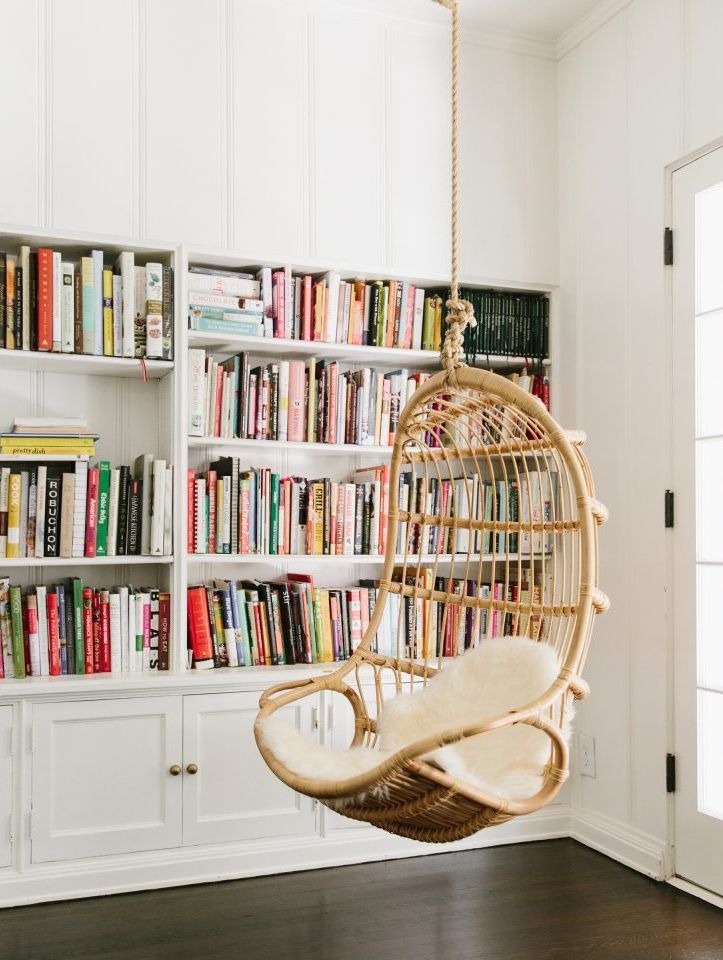 Re-Purpose Your Upstairs Loft
If you have an upstairs loft, why not install a bench, small table, and bookshelves to create a cozy nook?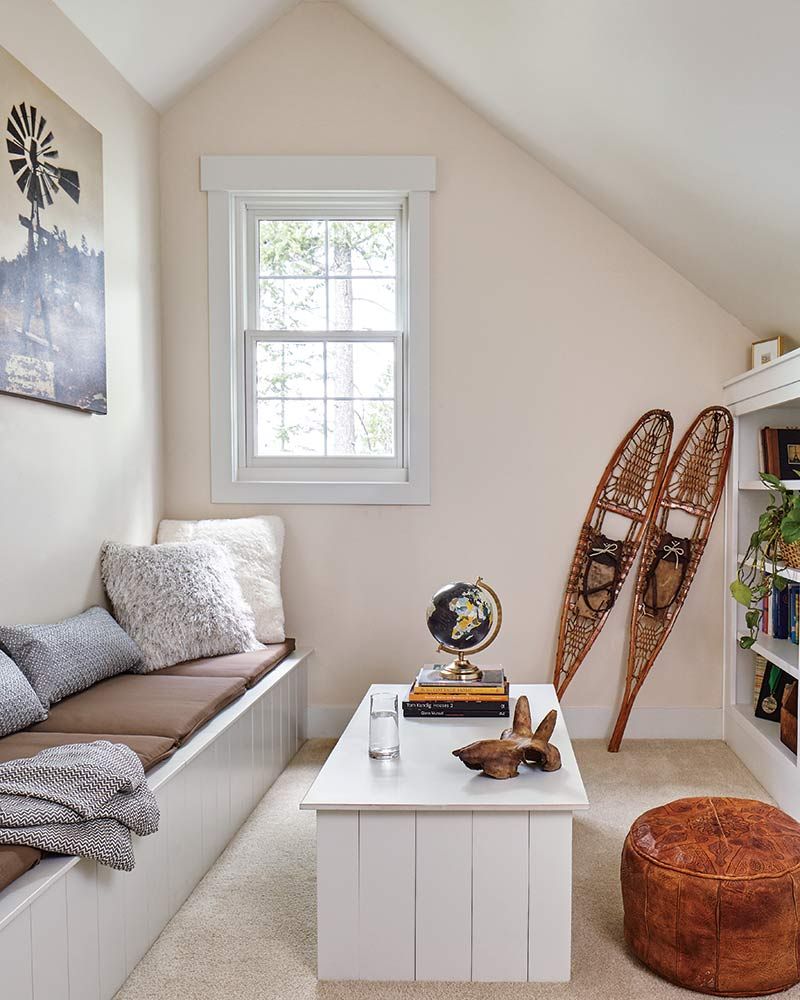 Put it Under the Staircase
Your nook can fit snugly under the staircase of your home. Lower storage drawers can store your favorite books. Add some tube throw pillows on each end and you're good to go!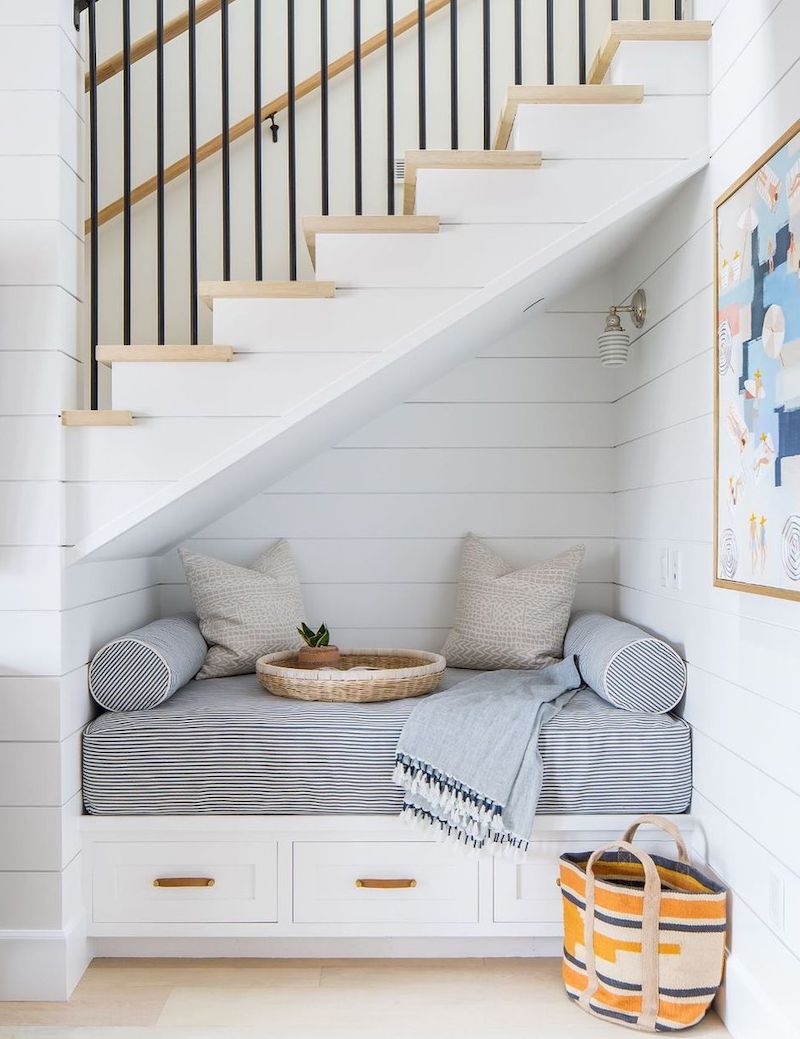 Install a Built-in Banquette
This U-shaped banquette has turquoise cushions for several people to sit and read. The little space is opened by bookshelves and an indoor stepping ladder for reaching the high shelves.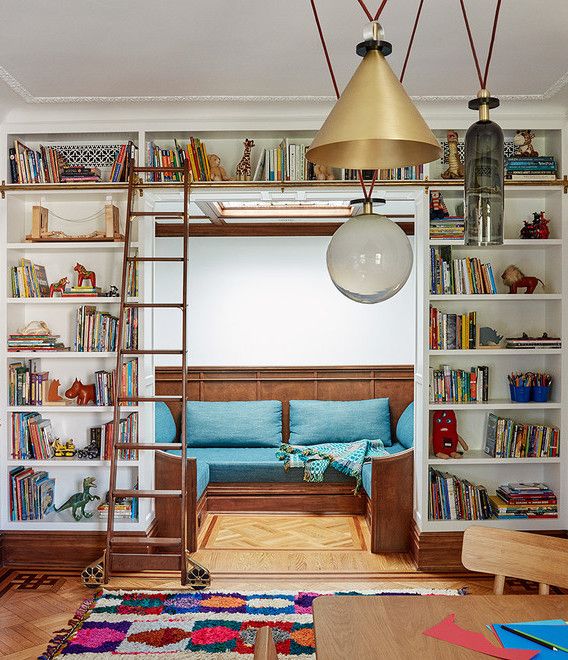 Put a Pop of Color
Add a pop of color to attract people to sit in your little nook! The yellow cushion catches the eye in this window reading nook, inviting people to come sit and read.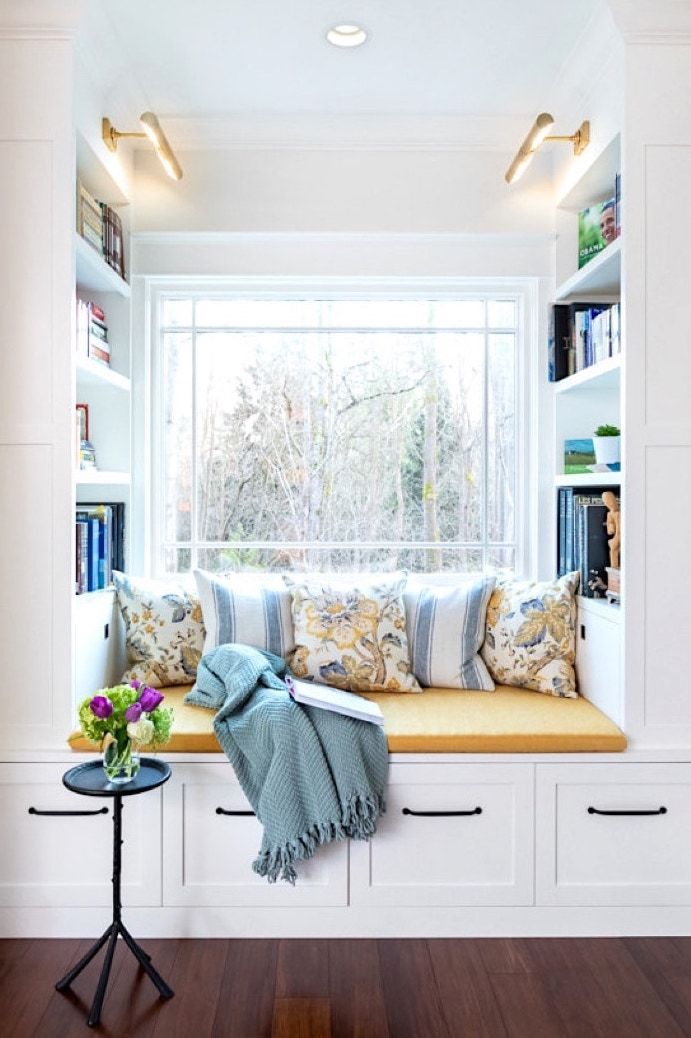 Re-Purpose Your Staircase Landing
Don't let your staircase landing be empty and boring. Instead, turn it into a reading nook staircase landing! You can stop to read by a window when you like, no matter what floor you're on!
Use a Ladder to Get to Your Built-in Reading Bench
I love this design of this space, with a cute ladder to reach a high reading nook near the window.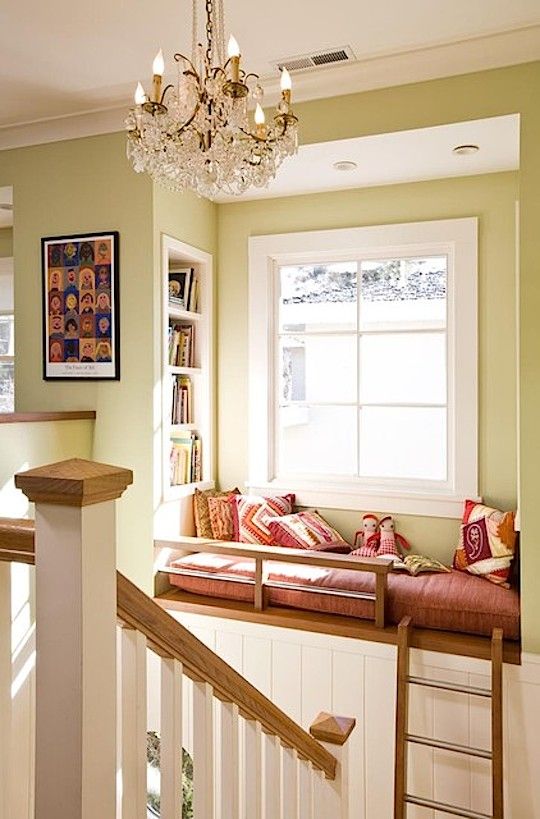 Put a Nook in Your Hallway
The hallway is a great place to install bookshelves if you have the space. The white side chair and wood accent table with a chess board create a welcoming atmosphere to read.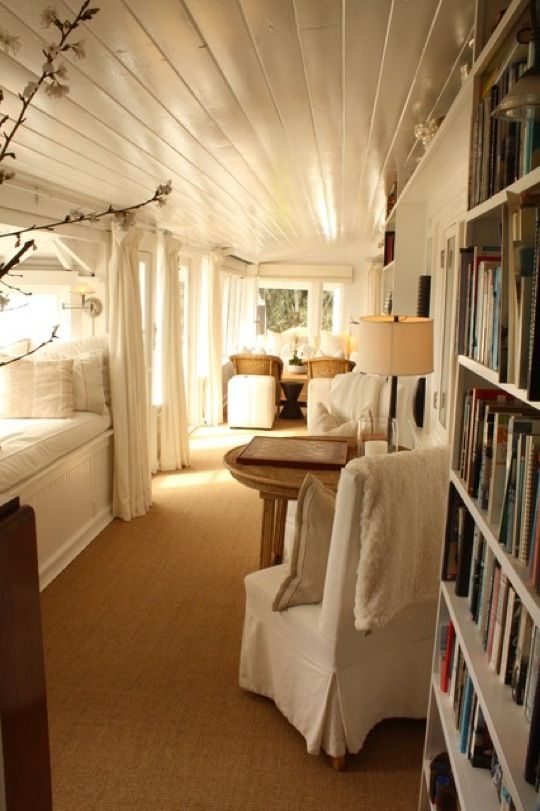 Decorate with Farmhouse Shiplap Walls
This modern farmhouse reading nook is inspiring with its black lighting accents and white shiplap walls!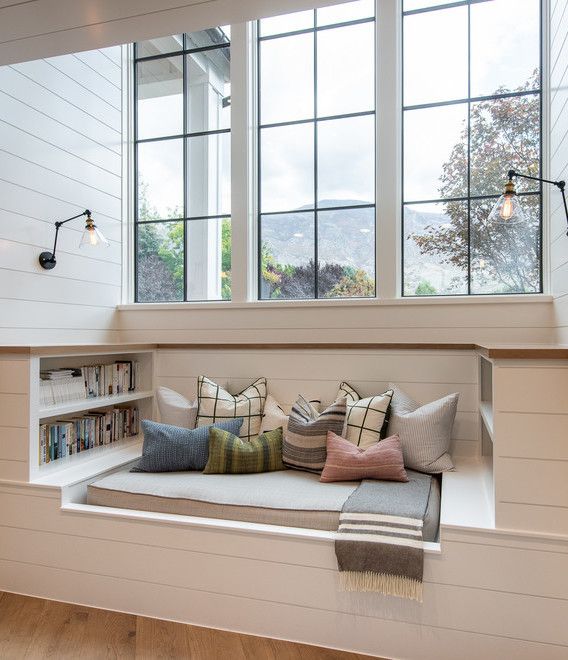 Add a Nearby Fireplace
Is there anything better than reading near a warm fireplace? If you can install a fireplace near your reading nook, I'm sure you'll spend all winter long there!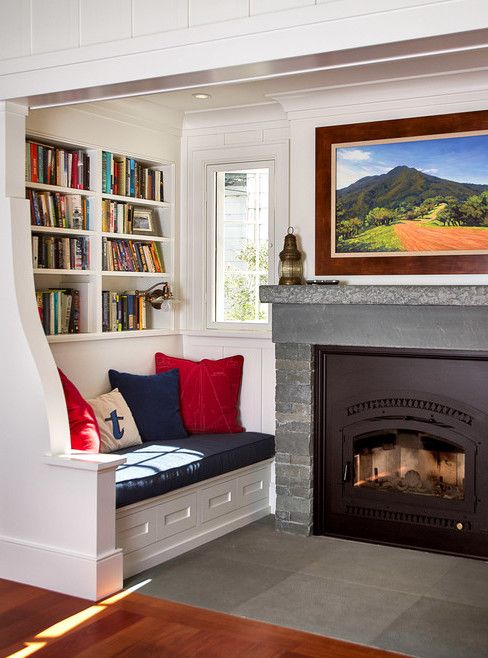 Have it Double as a Built-in Daybed
This reading nook doubles as a built-in day bed, where you can lounge in or have guests spend the night.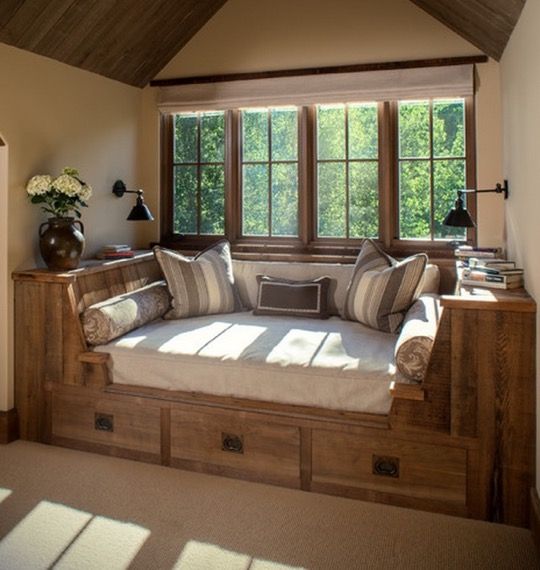 Furnish It With Matching Green Accent Chairs
The matching green accent chairs in this staircase landing reading nook are a cozy choice. One is draped with a faux fur blanket and both are surrounded by black bookshelves.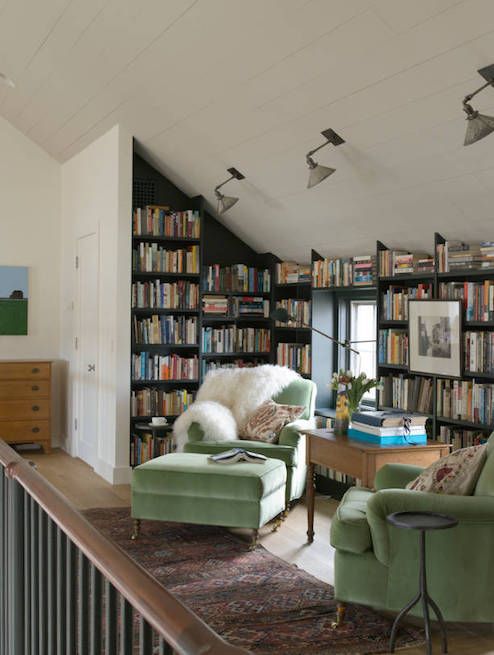 Make Your Guest Room Reading Friendly
These two twin beds in a guest room are placed below several shelves with books. If your guests love to read, they will welcome the lovely surprise!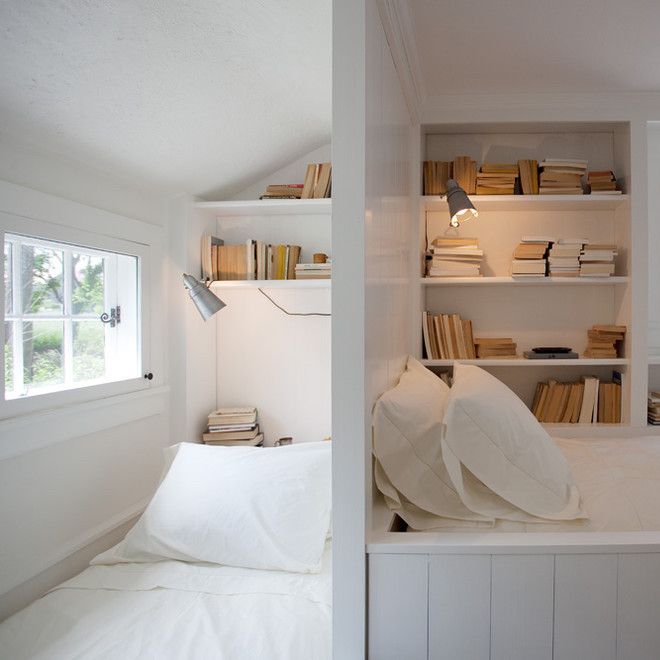 ---
I hope this post gave you plenty of ideas on how to decorate a reading nook! I hope you found these reading rooms as inspirational as we did. They would make a voracious reader very happy, but they can also serve as a relaxing oasis for someone who just likes to read once in a blue moon, too.
Reading Nooks by Style
Since many people already have a particular decorative style in their home, we have created specific guides for designing a beautiful reading nook according to your home's aesthetic.
You can also follow our Reading Nook board on Pinterest for more ideas!
Since we all have more time to lounge around the house these days, creating a cozy reading corner of your home is a smart idea that will serve you well!
Let us know your favorite reading room idea in the comments below.
Happy curating!