Neutral rugs are a go-to decor solution for homeowners who want to create a flexible design space to work with. I personally have a neutral rug in my bedroom which allows me to change the color of my bed sheets much more easily than if I had chosen a bright color.
The same concept is true for the living room, where you would have to coordinate the color of your sofa if you decided to go with a non-neutral colored rug. Neutral decor is so easy to work with, which is part of what makes this style so popular!
Rugs can help create a comfortable, cozy ambiance in any room. I love the feeling of walking on a soft rug every day! They are quite large though, so you need to be sure to pick the right one as it will totally change the look of your space!
Neutral Rugs
With that in mind, it's so much fun to pick out neutral rugs for your space! You can play around with simple patterns, texture, shades of beige, and much more. Neutral does not have to mean 'boring' by any means!
Let's take a peek at the different neutral rugs available to shop online.
Here are a few neutral rugs in living rooms for your inspiration! This first space makes great use of a neutral rug to brighten up the dark wood floors. A beige sofa and glass coffee table further enhance the earthy nature of this room. On the wall, simple black line art depicting facial forms creates a minimalist aesthetic. A ceramic floor vase and white table lamp are sitting off to the side.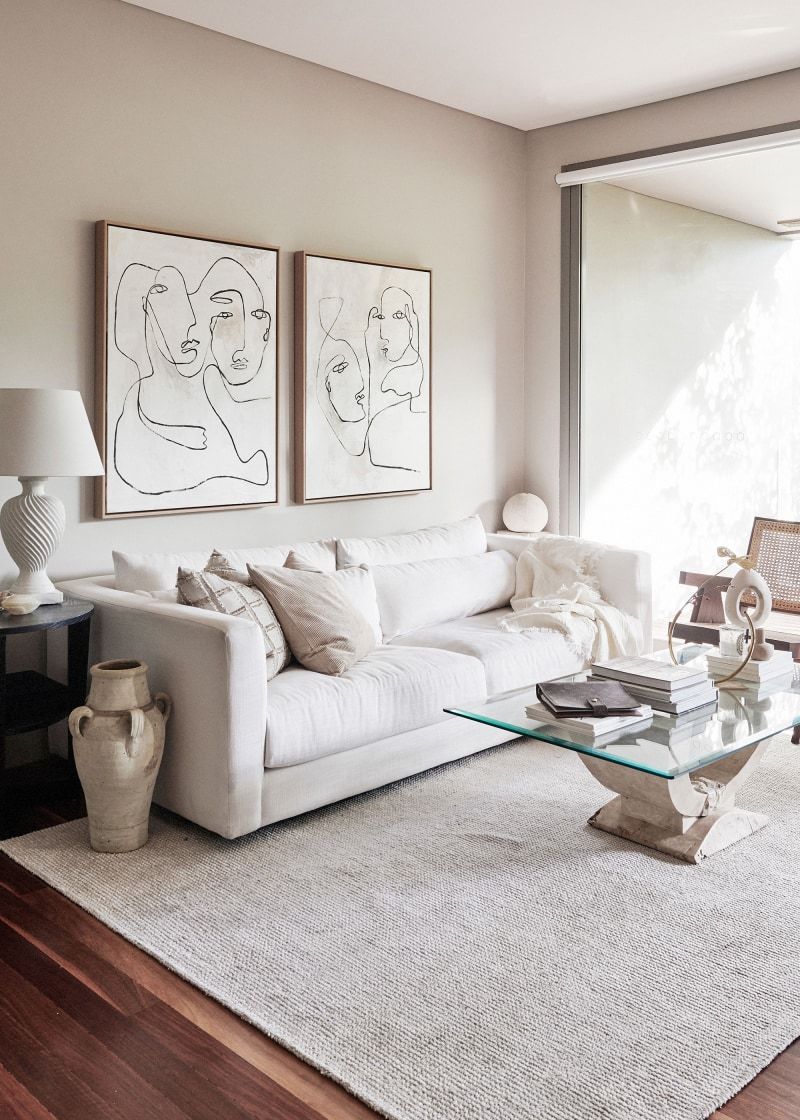 This next space also makes use of a solid neutral beige rug above honey-brown wood floors. The rug is not too distracting allowing the coffee tables, accent chair, and sofa to shine. This super long light beige sectional sofa sits beautifully against white walls with abstract art. There are two solid marble block coffee tables that can be passed through, creating an airy space.
As you can see, it's always a good idea to go with a lighter color rug than the wood finish on your floors. I hope this article helped you find a great neutral colored rug for your home.
More Neutral Decor Ideas
If you love soothing neutral decor as much as we do then please continue reading our other articles on this decorating style! We can help you curate the perfect neutral space in your home: