These neutral home office ideas will inspire you if you love calming beige tones and creamy shades. More and more people are working from home nowadays because of the pandemic, and also because of the availability of remote jobs.
If you are working from home too and want to update your home office, we have a lot of good tips for you! From finding the right office desk to selecting the perfect office chair, there are many things to consider when designing a practical and functional home office space.
Neutral decor is perfect for the home office because it won't distract you. It will simply create a serene atmosphere for getting your best work done. Neutral interior design is one of our absolute favorite home styles. It involves mixing different shades of brown to create the perfect layered neutral interior.
Neutral Home Offices
Let's take a look at the best neutral home office decor ideas!
Cane Office Chair
This beautiful neutral office design has a cane back office chair, a wide blond wood desk with drawers, three bulletin boards attached to the wall, and a light wood bookcase to the side.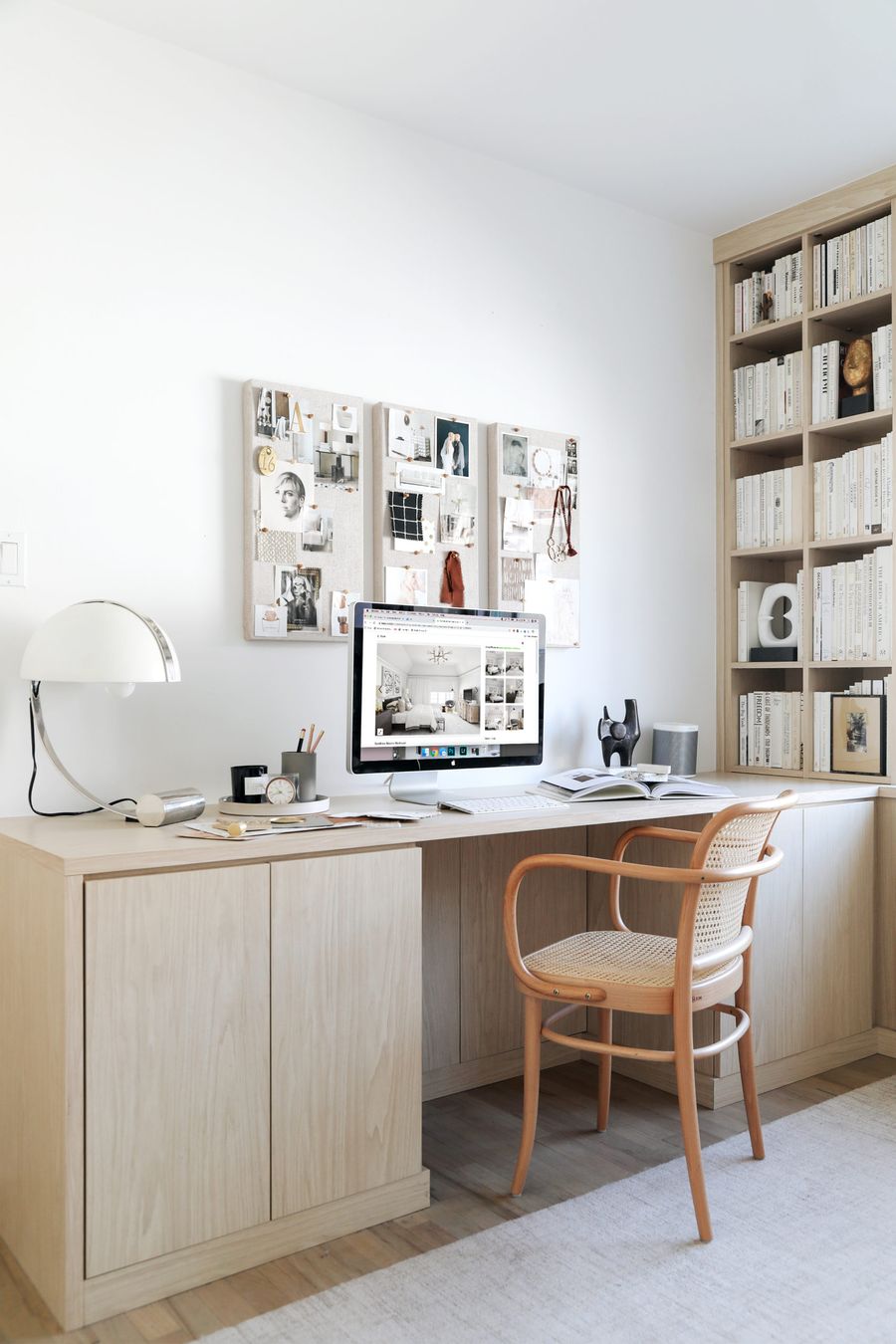 Beige Linen Desk Chair
I love this beige linen desk chair looks great paired with a modern white office desk. A vases filled with dried flowers sits in the corner for added neutral accent decor.
Live Edge Wood Desk
I adore this European style home office with a rich wood live edge office desk and brown leather office chair. A brass task lamp sits on top.
Vintage Executive Desk
This vintage executive wood desk has several drawers for storage. It's been paired with a rust velvet office chair.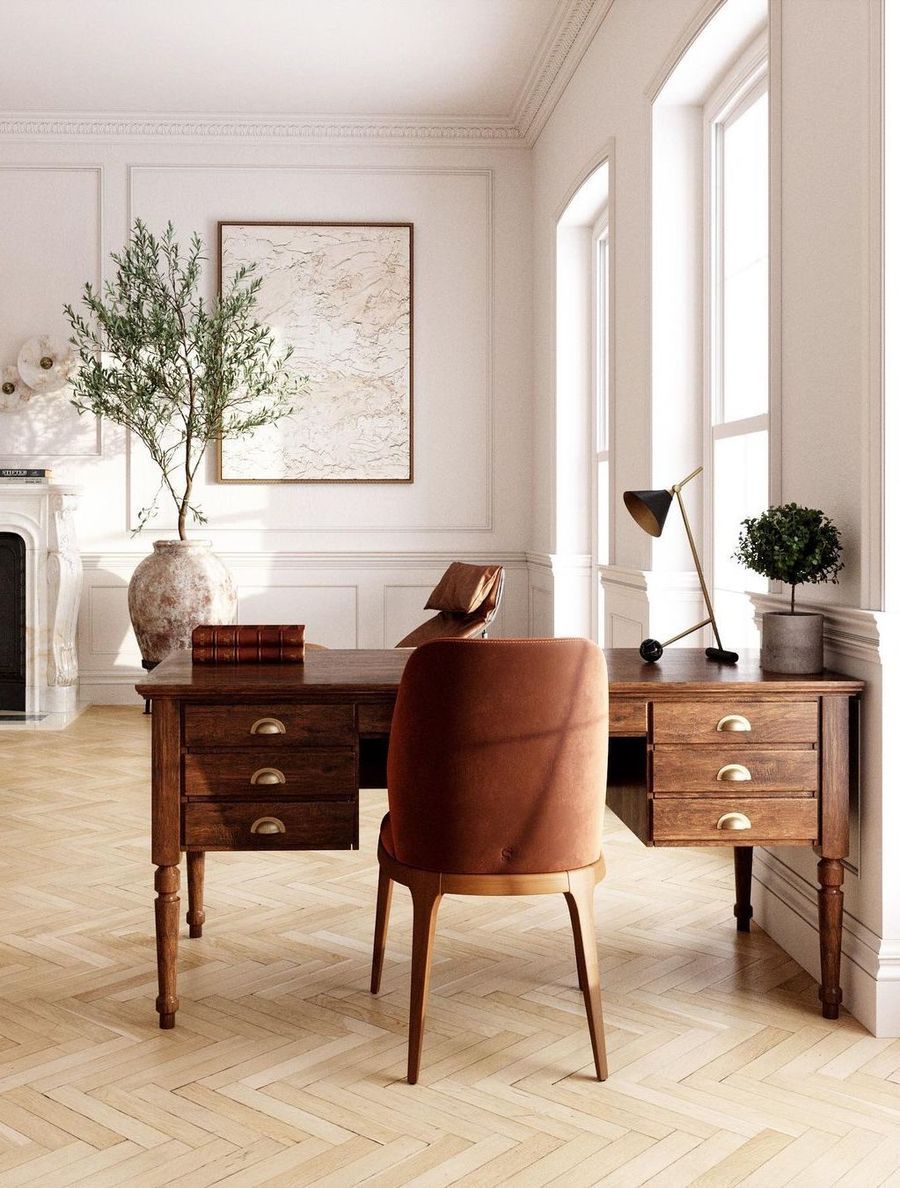 Built-in Bookshelves
Installing built-in bookshelves is a great idea for a home office. You can store lots of books and papers for inspiration as you work. Be sure to install some upper lighting so you can see the contents of the shelves!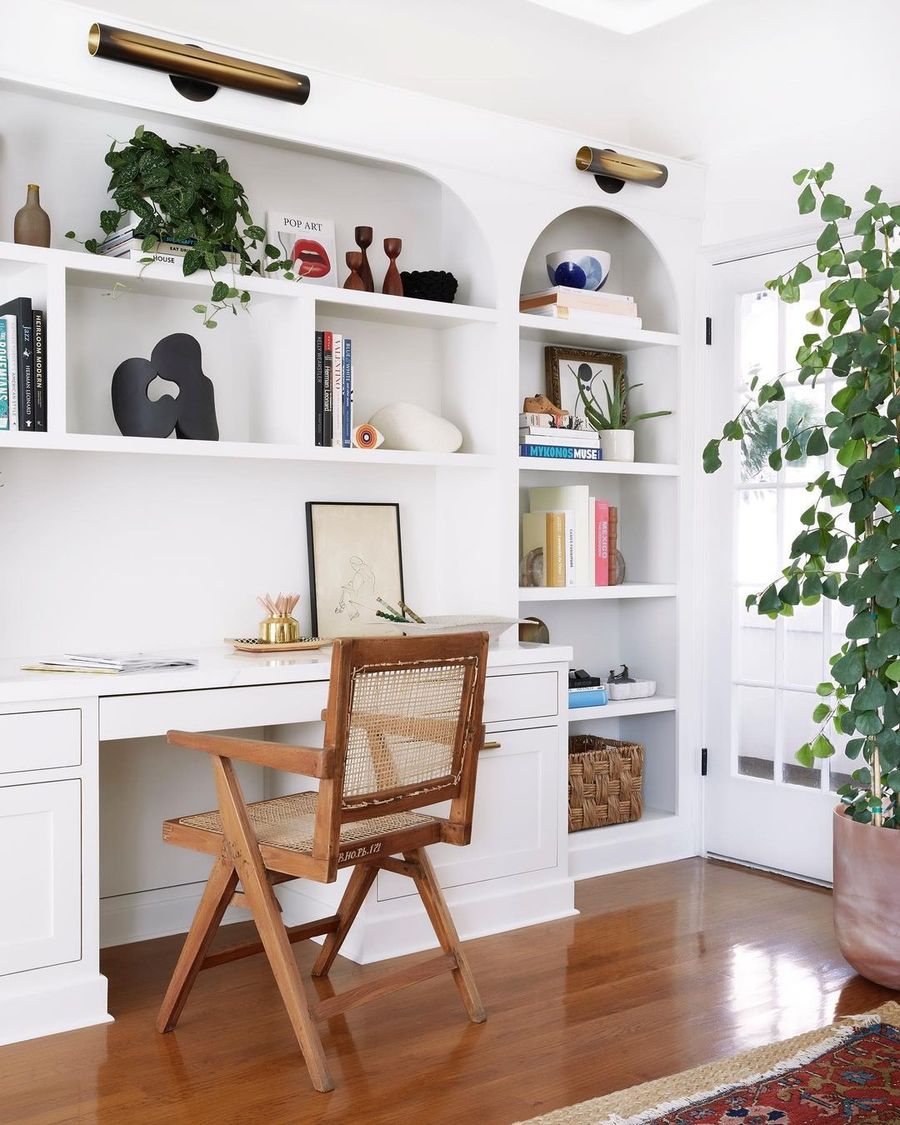 Brass Task Lamp
When it comes to warm neutral office lighting, think about choosing brass lighting fixtures. This gorgeous brass task lamp fits in perfectly with this neutral home office design.
Built-in Desk
Some people prefer to install a built-in desk in their home office. This usually means that you are facing a wall since the desktop must be installed against a wall. This is a good idea if you know you will stay in your home for a long time!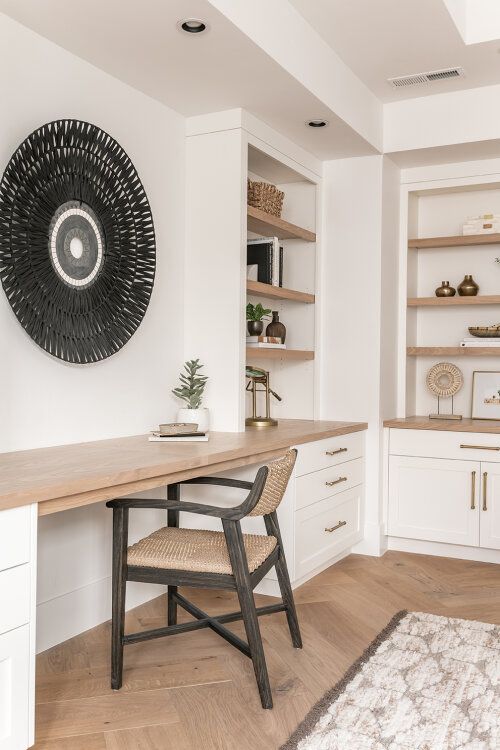 Mahogany Wood Furniture
This sophisticated neutral home office has mahogany wood furniture and creamy walls. It's a very upscale design that has been created by a professional!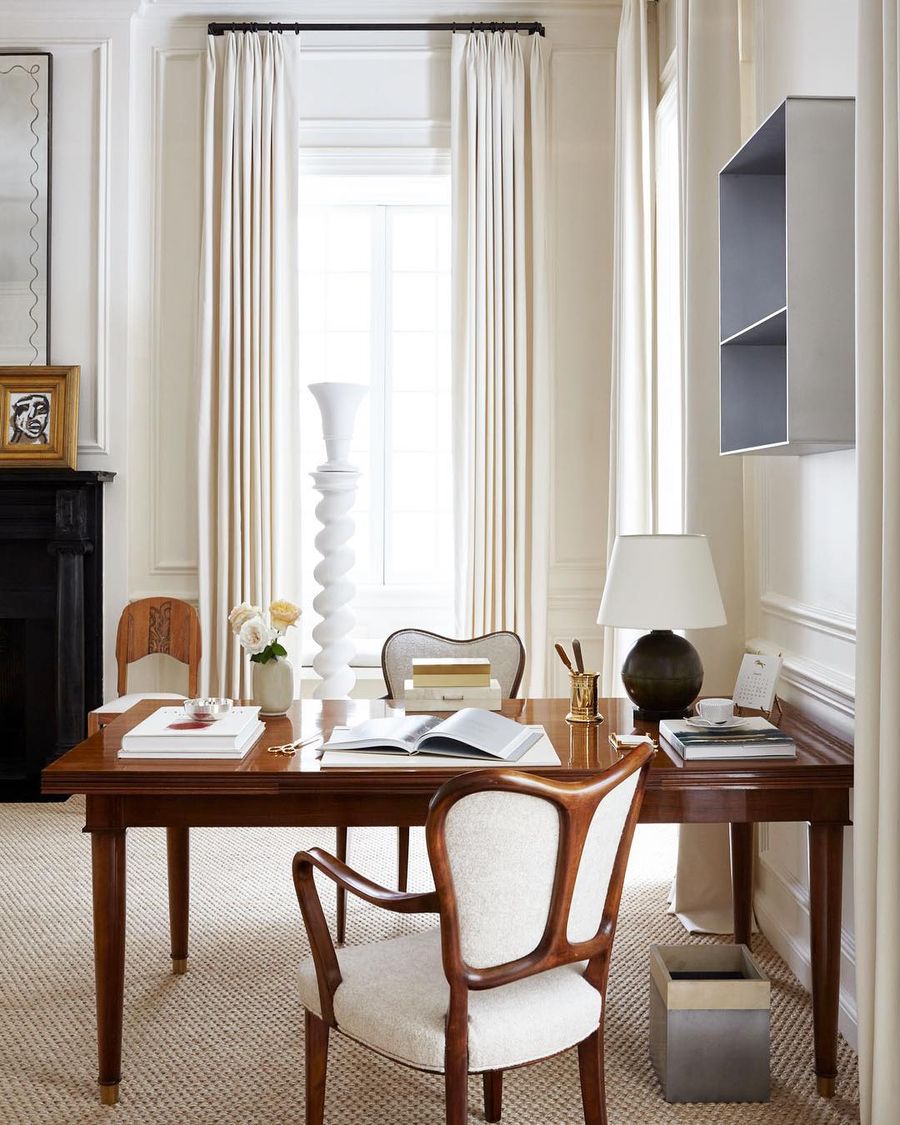 Wood Stools
This drawing table and work station has natural light flowing in from the window. A built-in desk is attached to the wall. Two round wood stools are ready for seating.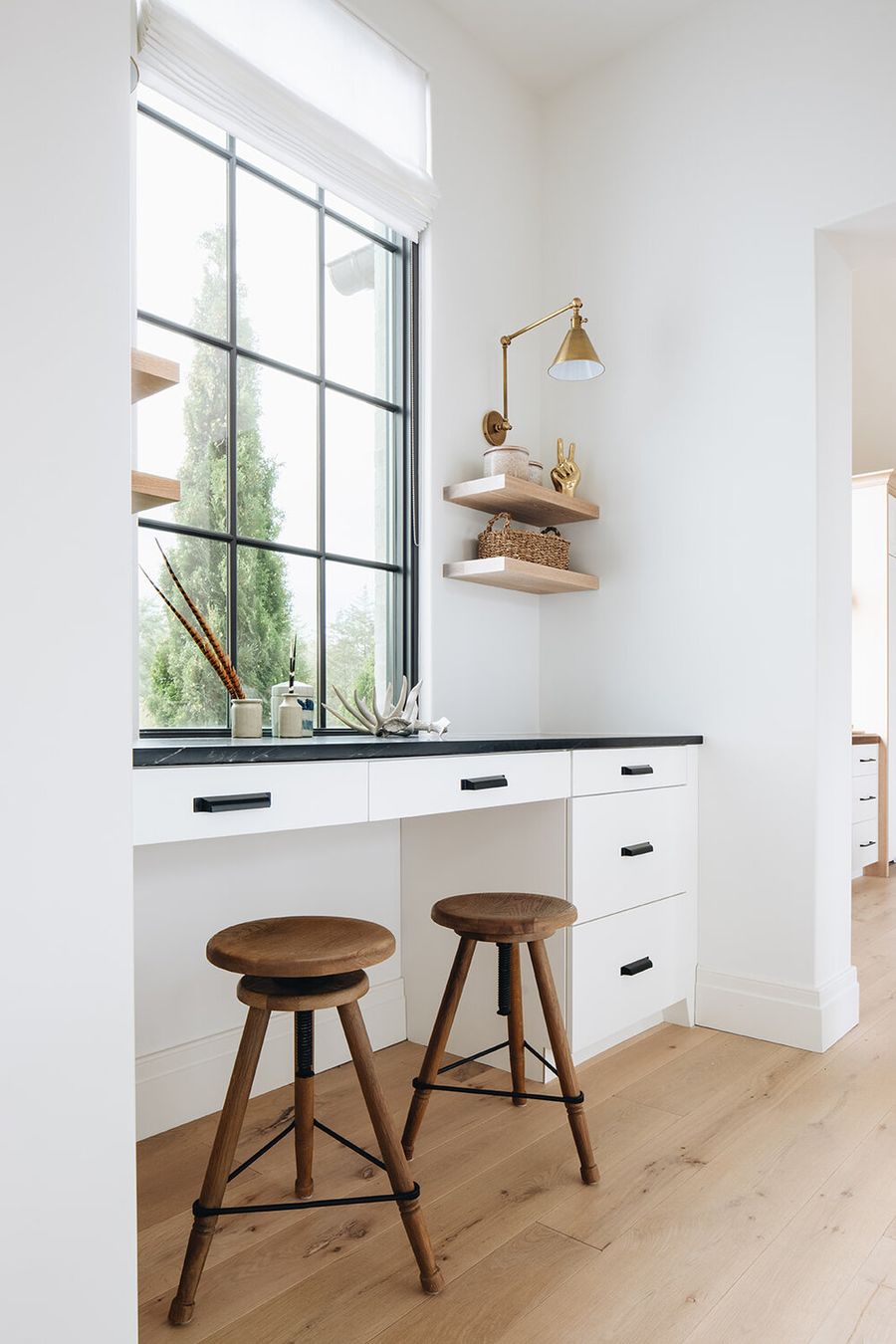 Creamy Whites
This creamy white home office is a different take on neutral decor. It's very bright and clean looking. A simple French style office chair has been added to a white executive desk.
I hope these neutral home office designs gave you lots of inspiration for your home office design project! As you can see, there are many ways to do 'neutral' in the home office. You are not limited to boring designs or just one color. The key is to layer many different shades of neutral furniture and decorative accents!
More Neutral Decor Ideas
If you love neutral decorating then please continue reading our related articles below!
Happy curating!