*This post has been kindly sponsored by Wayfair.*
If your desktop is starting to get cluttered, you probably need one of these amazing desktop organizers for your home office ASAP! Desktop organizers can be used to neatly store and organize a host of desktop essentials like your paperwork, your files, books, writing materials, and more.
By the way, I'm happy to announce that the annual Wayfair Way Day Sale will take place April 27-28! I didn't want you guys to miss the limited flash deals and free shipping that will happen. If you've been looking for a reason to upgrade or improve your home office, or any other room in your home, now is the time to buy the furniture and decor that will make you happy!
During the Way Day sale, you'll benefit from 80% off a huge selection of home decor goods and furniture for every room in the home! Wayfair is offering some of the lowest prices of the year across dozens of categories. There are also limited-time flash deals to keep an eye for! Lastly, you'll get FREE shipping on everything!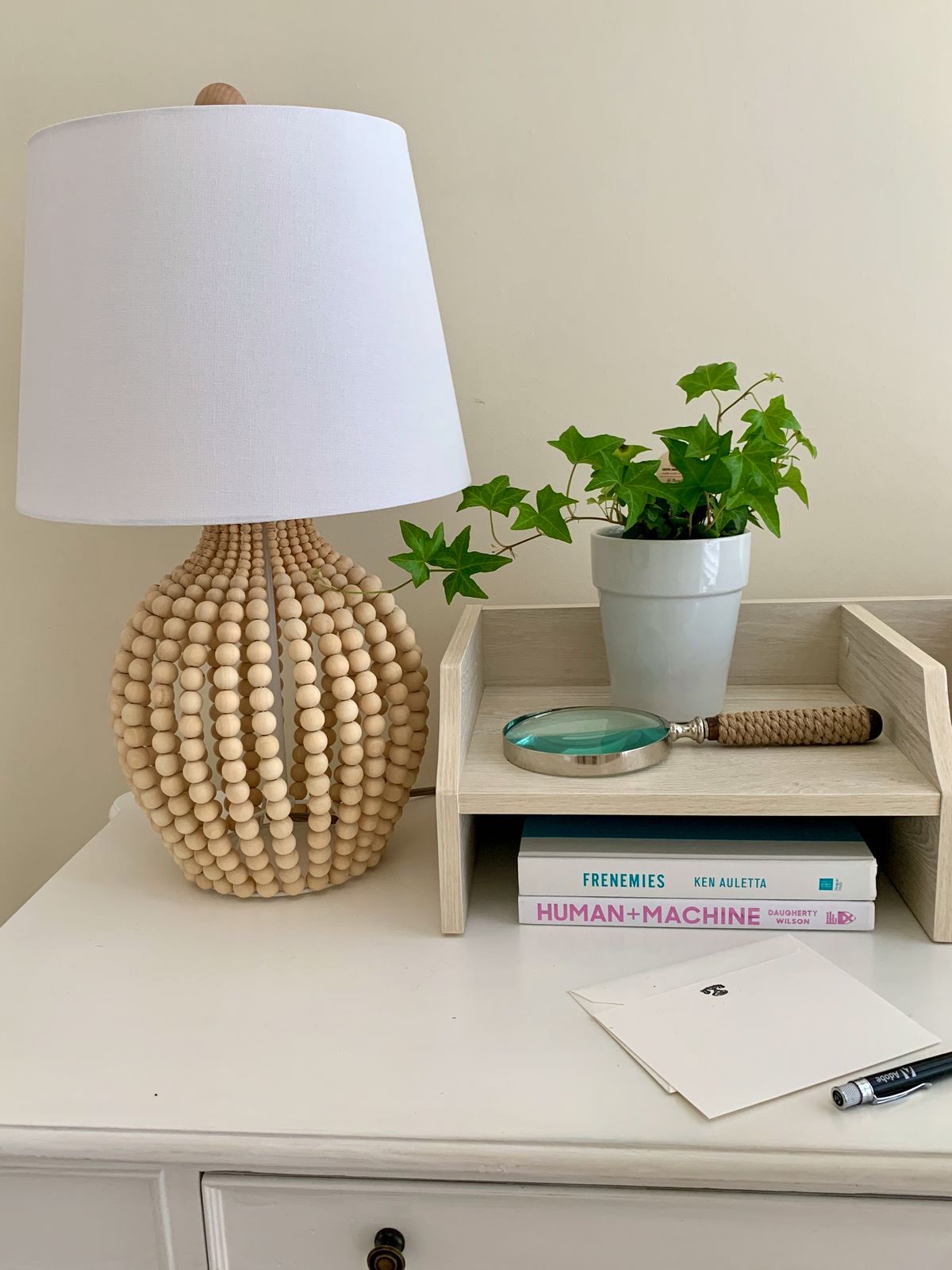 Thanks to the Wayfair home office furniture section, I was able to pick up this beautiful linen white desktop organizer for my coastal-themed home office space. It comes with vertical and horizontal slots for storing my home office essentials.
Desktop Organizers
These desktop organizers will keep your writing desk tidy and clutter-free. You can store books, papers, magazines, files, and much more inside these beautiful desktop organizing stations.
Best Budget Desk Organizer: Wayfair Basics® 6 Piece Desk Organizer Set
If you're on a budget, this black desktop organizer set is for you! It comes with a simple trash can, a 2-part paper filing station, a sticky pad holder, a business card tray, a pen and pencil cup, and a paperclip holder. Each piece is made of sturdy steel and has a wire to last you a very long time.
Mid-Century Desktop Organizer: Dezstany Adjustable Desktop Organizer
Geometric shapes and a vertical design are what make this mid-century desktop organizer stylish and practical. Display pretty mid-century decorations or store your paperwork in a retro, mod way.
Coastal Desktop Organizer: Cadell Desktop File Organizer
This is the Coastal organizer pictured in my office! With three vertical slots and one upper horizontal level, this large wood desktop organizer is perfect for coastal homes. I love the different finishes this organizer comes in, but the "linen white" color really gives it that coastal feel.
Feminine Desktop Organizer: Red Barrel Studio Desk Organizer Set
If you want to add a touch of feminine glam, this is the best organizer for your home office. With a shiny gold finish, you'll love sitting down to work every day!
Farmhouse Desktop Organizer: Inbox Zero
This rustic Farmhouse organizer is compact, making it great for organizing small spaces. With one large drawer and two smaller drawers, this organizer keeps your things out of the way and hidden from sight. This helps prevent the desk from looking too cluttered. There is an open shelf on top for storing things with easy reach!
I hope you found your perfect desktop organizer from Wayfair!