Today, we delve into the heart of every home—the kitchen. As we all know, the kitchen is not just a space for cooking and preparing meals; it's a place where cherished memories are created, conversations flow, and the aroma of delicious dishes fills the air. Whether you're a seasoned chef or an occasional cook, having a kitchen that reflects your personal style and meets your functional needs is essential.
Today I want to explore some of the most popular kitchen styles that have captured the hearts of American households. From sleek and modern to cozy and rustic, we'll uncover the unique elements that make each style stand out.
So, get ready to be inspired as we take a virtual journey through these stunning kitchen designs that are sure to ignite your creativity and transform your cooking space into a true sanctuary of style.
Modern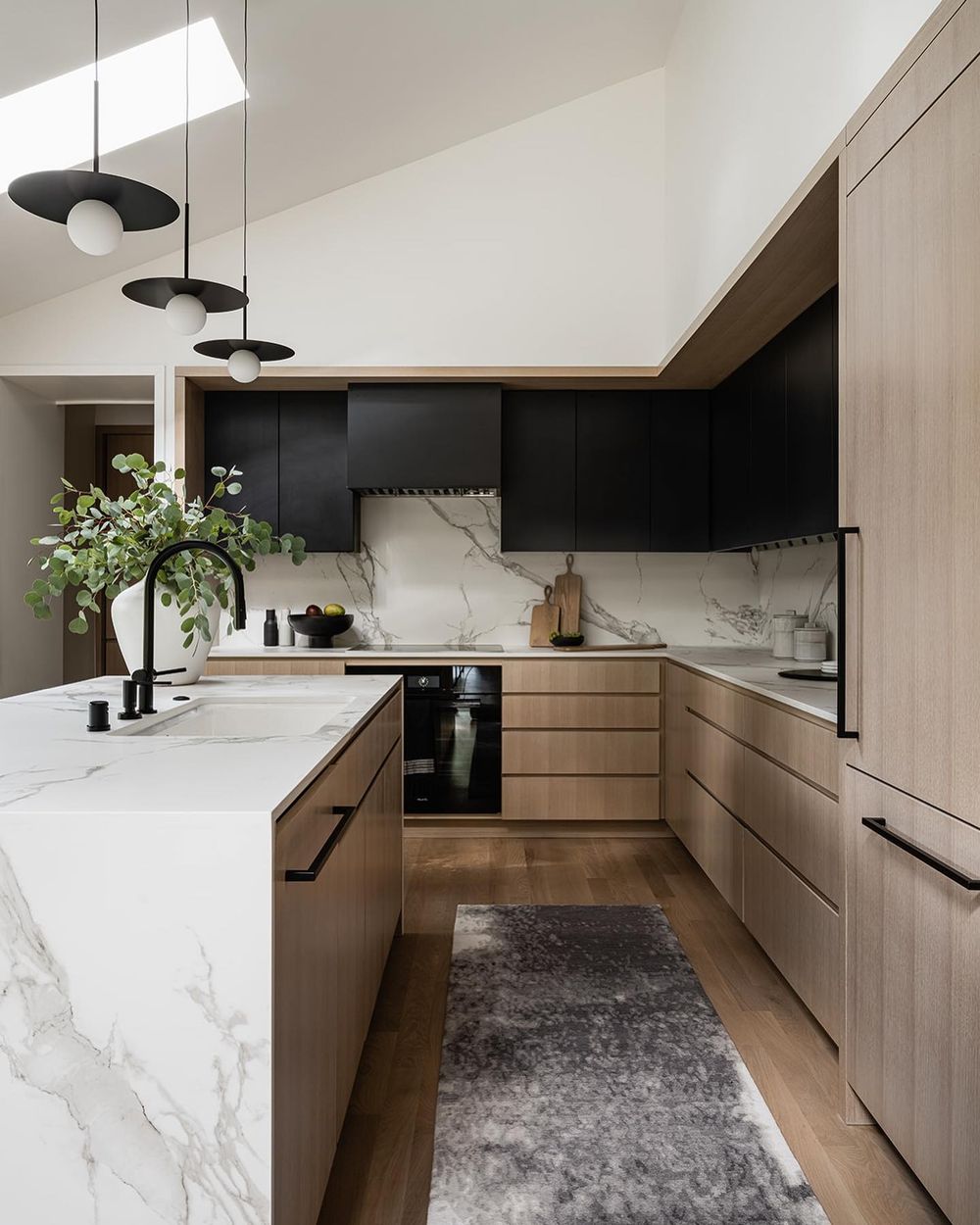 The modern kitchen style embraces clean lines, minimalism, and a sleek aesthetic. It often features smooth surfaces, glossy finishes, and a monochromatic color palette. Modern fixtures include stainless steel appliances, handleless cabinetry, and waterfall countertops. Decorations in modern kitchens tend to be minimalistic, with a focus on statement lighting fixtures, geometric patterns, and abstract artwork.
Modern kitchens are marked by their sleek, minimalist aesthetic. They often feature flat-panel cabinetry, metallic accents, high-gloss finishes, and a restrained color palette.
Transitional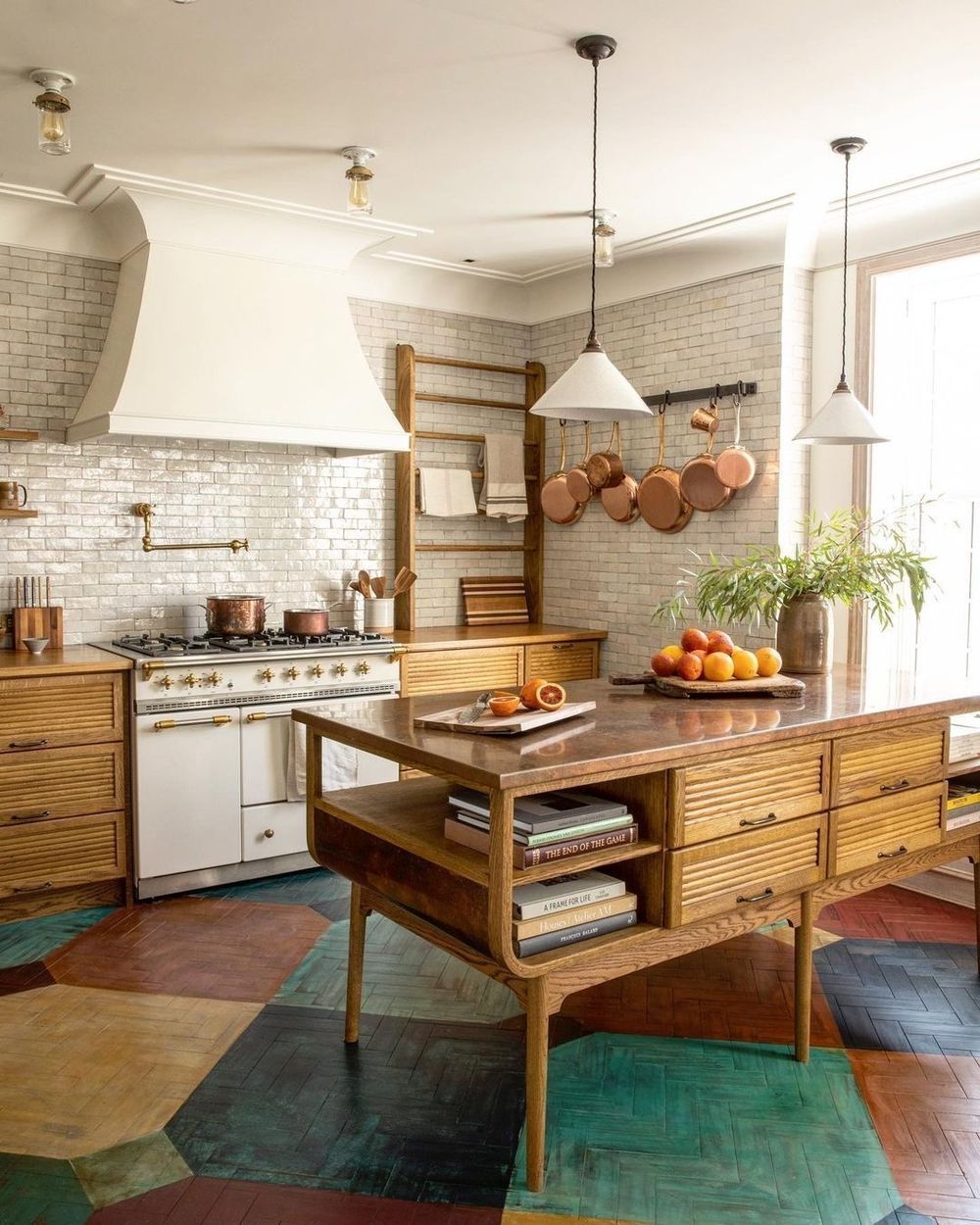 Transitional kitchens seamlessly blend traditional and contemporary styles, resulting in a mixed design. This style often combines the warmth and welcoming feel of traditional designs with the clean, simple lines of contemporary style.
Blending the best of both worlds, the transitional kitchen style combines elements of traditional and contemporary designs. It offers a harmonious balance between classic and modern features, creating a timeless and inviting space.
Transitional kitchens often feature a mix of natural materials, such as wood and stone, along with clean lines and neutral color schemes. Transitional fixtures include Shaker-style cabinets, a farmhouse sink, and pendant lighting. Decorations often include a combination of vintage and contemporary accessories, such as open shelving with curated displays and textured rugs.
Contemporary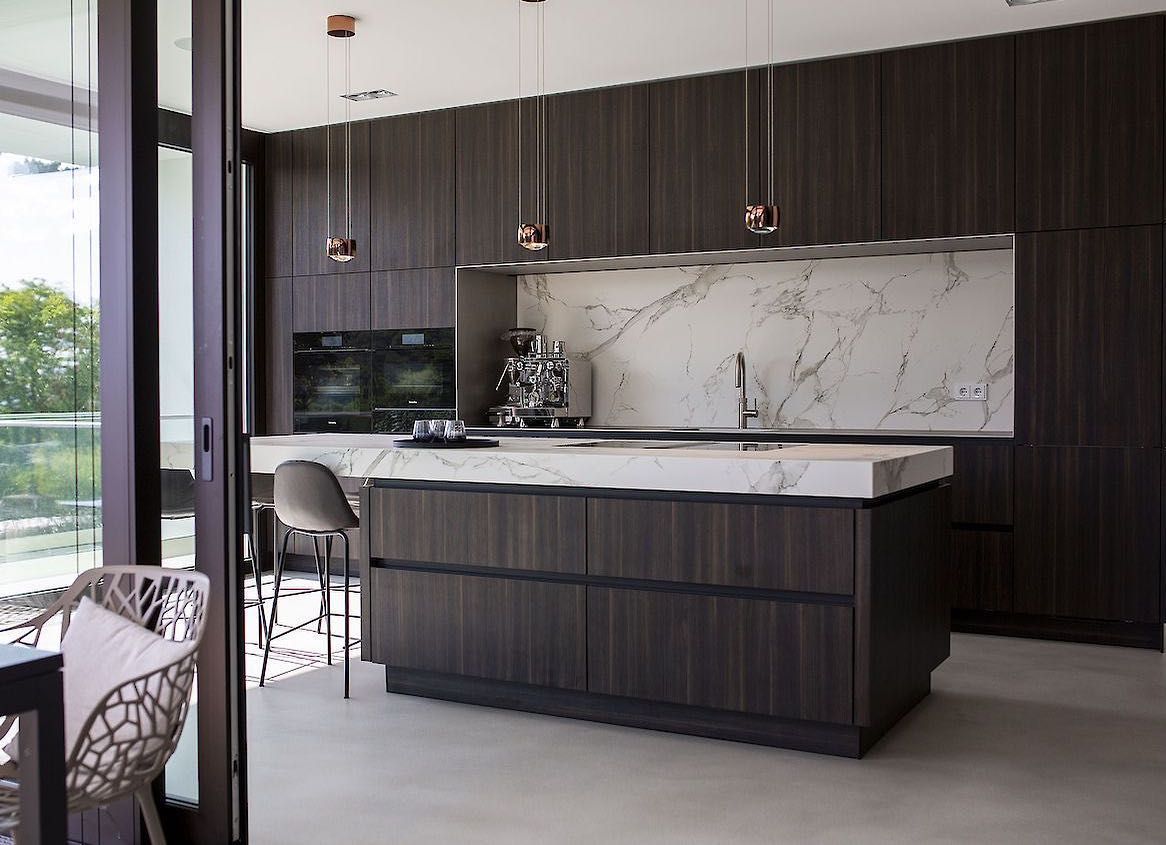 Contemporary kitchens are often confused with modern kitchens, but they are subtly different. While modern refers to a specific time period and design movement, contemporary style is more fluid and reflects the trends of the present day.
The contemporary kitchen style reflects the current trends and offers a fresh and up-to-date look. It embraces a mix of materials, textures, and colors to create a dynamic and stylish space.
Contemporary kitchens often feature flat-panel cabinets in neutral colors, quartz or concrete countertops, and sleek, integrated appliances. Decorations can vary but often include bold and conceptual artwork, statement pendant lights, and unique countertop materials like glass or recycled materials.
Traditional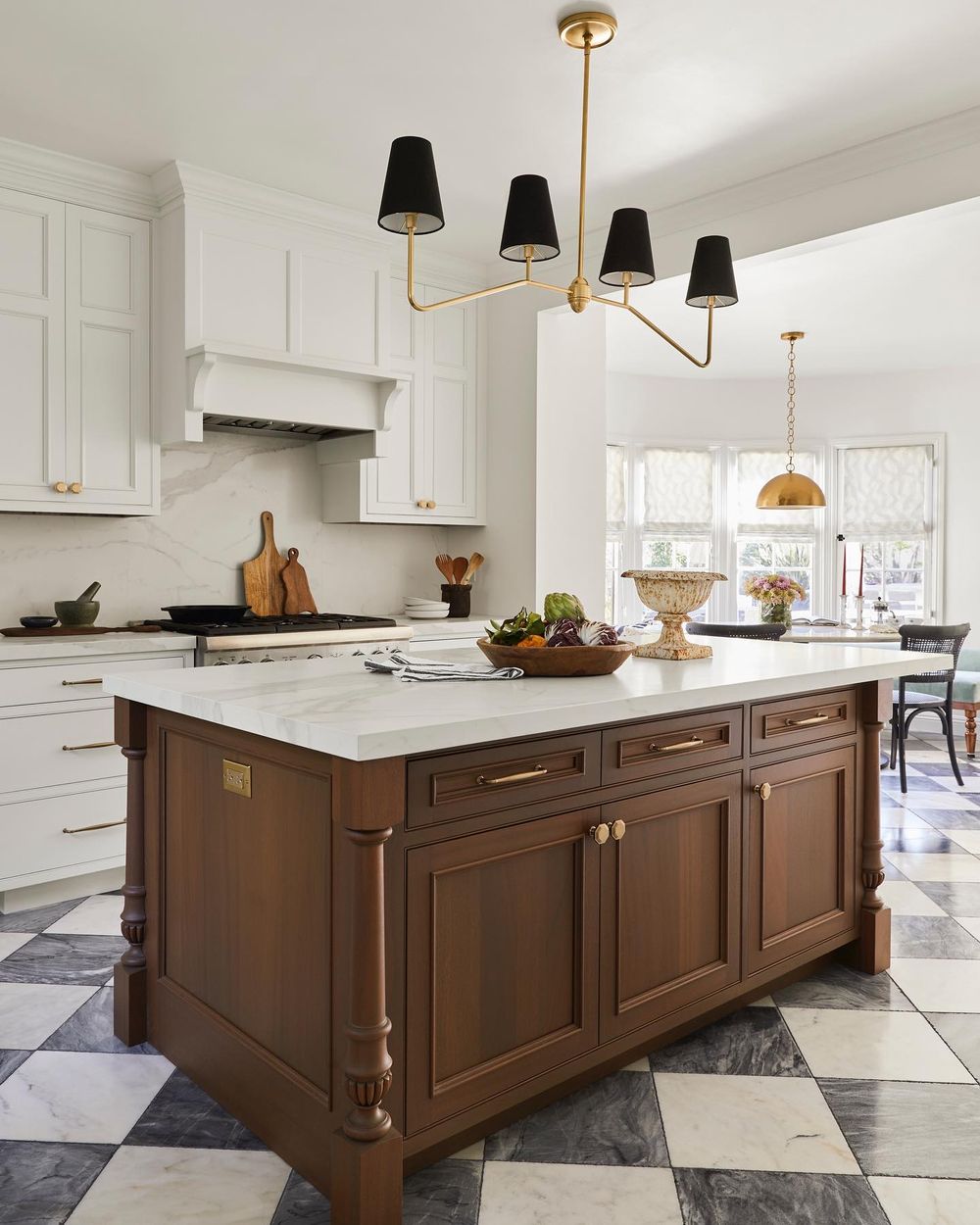 Traditional kitchens are characterized by their detail and ornamentation. They often feature ornate molding and trim, elegant cabinets, and antique finishings.
The traditional kitchen style exudes elegance, warmth, and a sense of timelessness. It embraces ornate details, rich woods, and intricate patterns. Cabinets with raised panels, crown molding, and decorative hardware are characteristic of this style.
Traditional kitchens often feature granite or marble countertops, a farmhouse sink, and classic brass or bronze fixtures. Decorations include decorative tile backsplashes, antique-inspired accessories, and soft, muted color schemes.
Coastal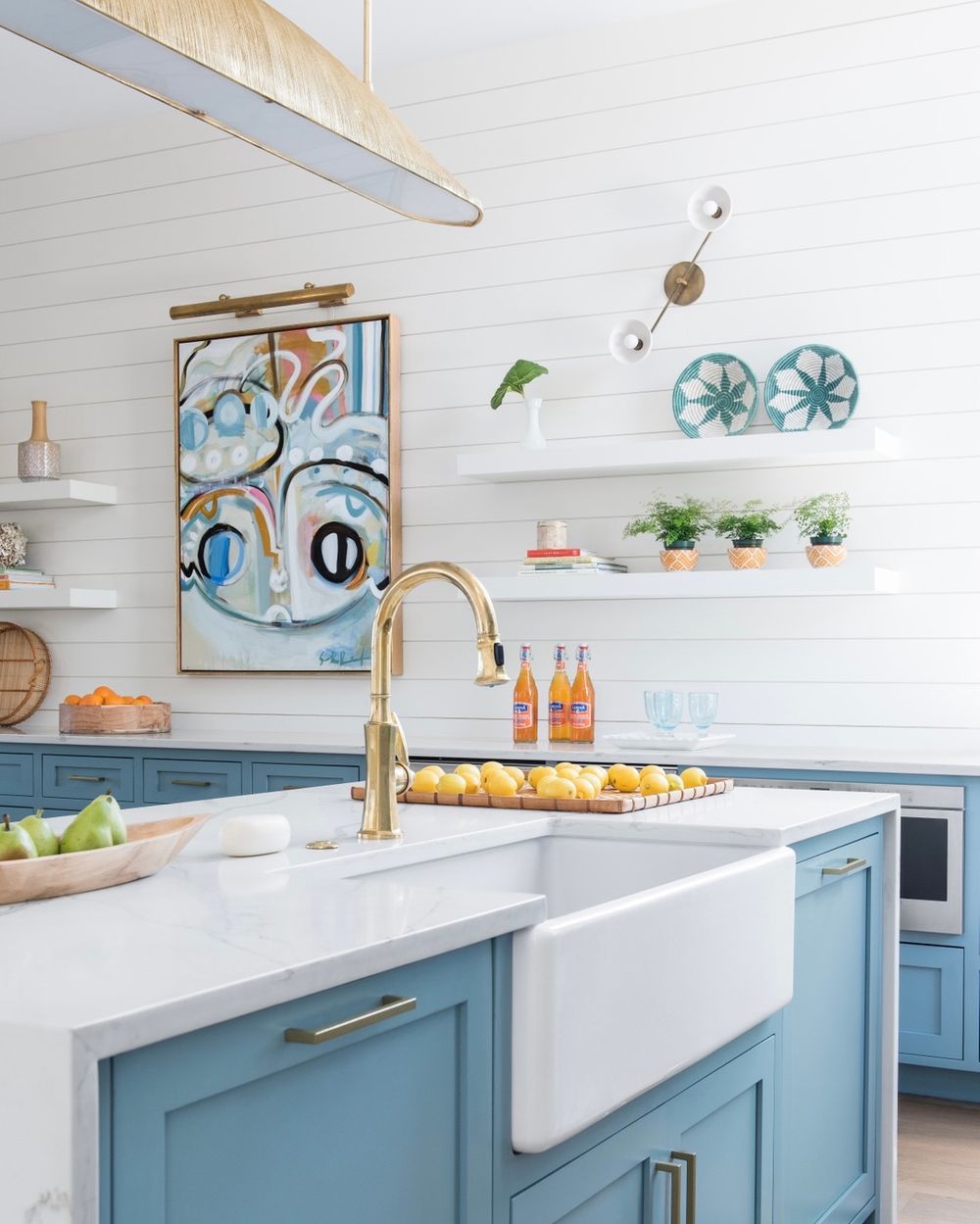 The coastal kitchen style brings the tranquility of the seaside into your home. It features a light and airy color palette, often with shades of blue and white, to create a relaxed and breezy atmosphere.
Coastal kitchens often have shaker-style cabinets in light-colored finishes, subway tile backsplashes, and quartz countertops. Decorations include nautical-inspired accessories like rope accents, seashell motifs, and driftwood elements.
Farmhouse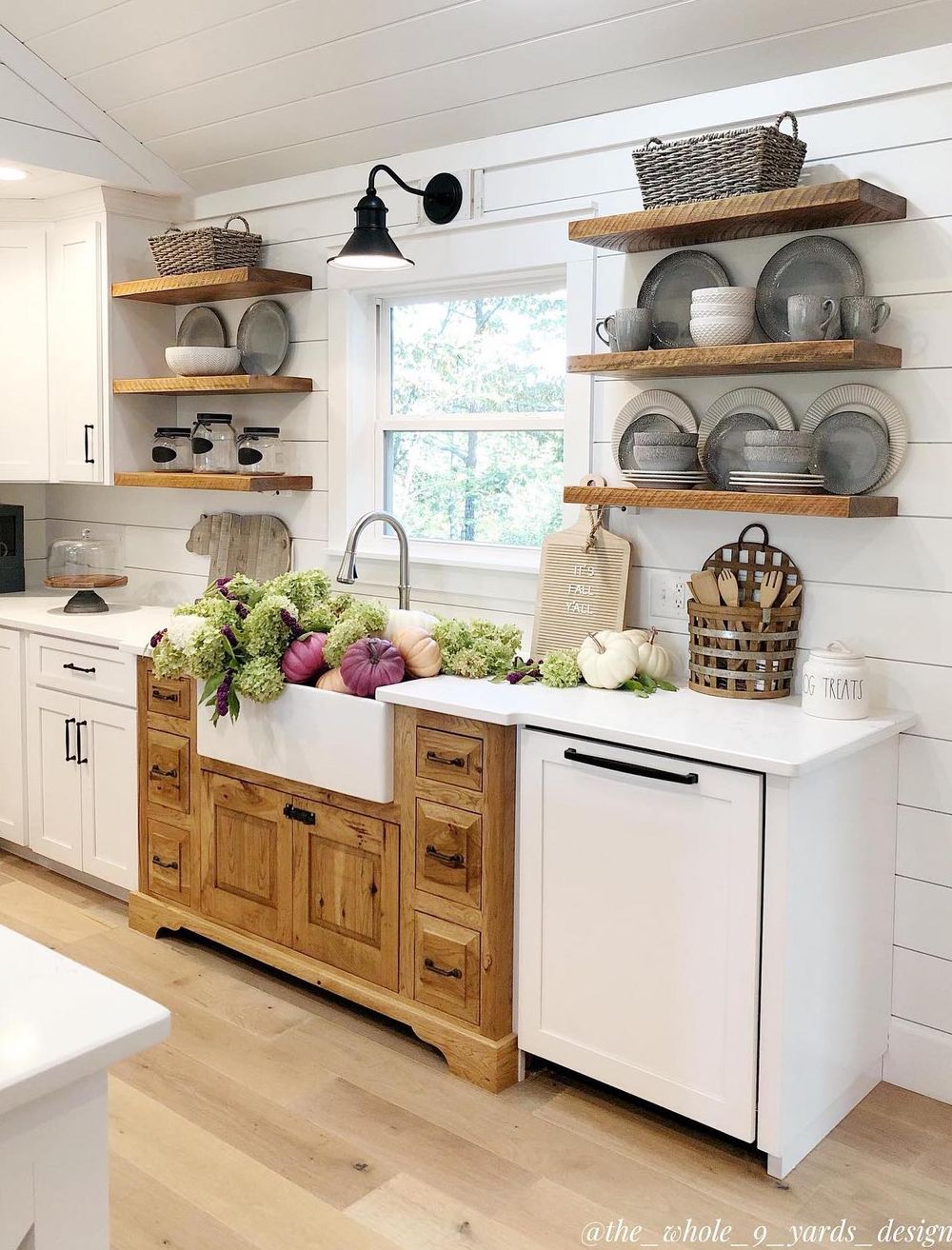 Farmhouse kitchens are warm, cozy, and inviting, with a focus on natural materials. They often feature open shelving, wide sinks, classic flooring, and a big kitchen table.
The farmhouse kitchen style captures the essence of rustic charm and coziness. It embraces natural materials, such as reclaimed wood and iron, and focuses on functionality and comfort.
Farmhouse kitchens often showcase open shelving, a farmhouse sink, and distressed or painted cabinets in soft, muted colors. Decorations include rustic accents like mason jar pendant lights, vintage-inspired signage, and woven baskets.
Mid-Century Modern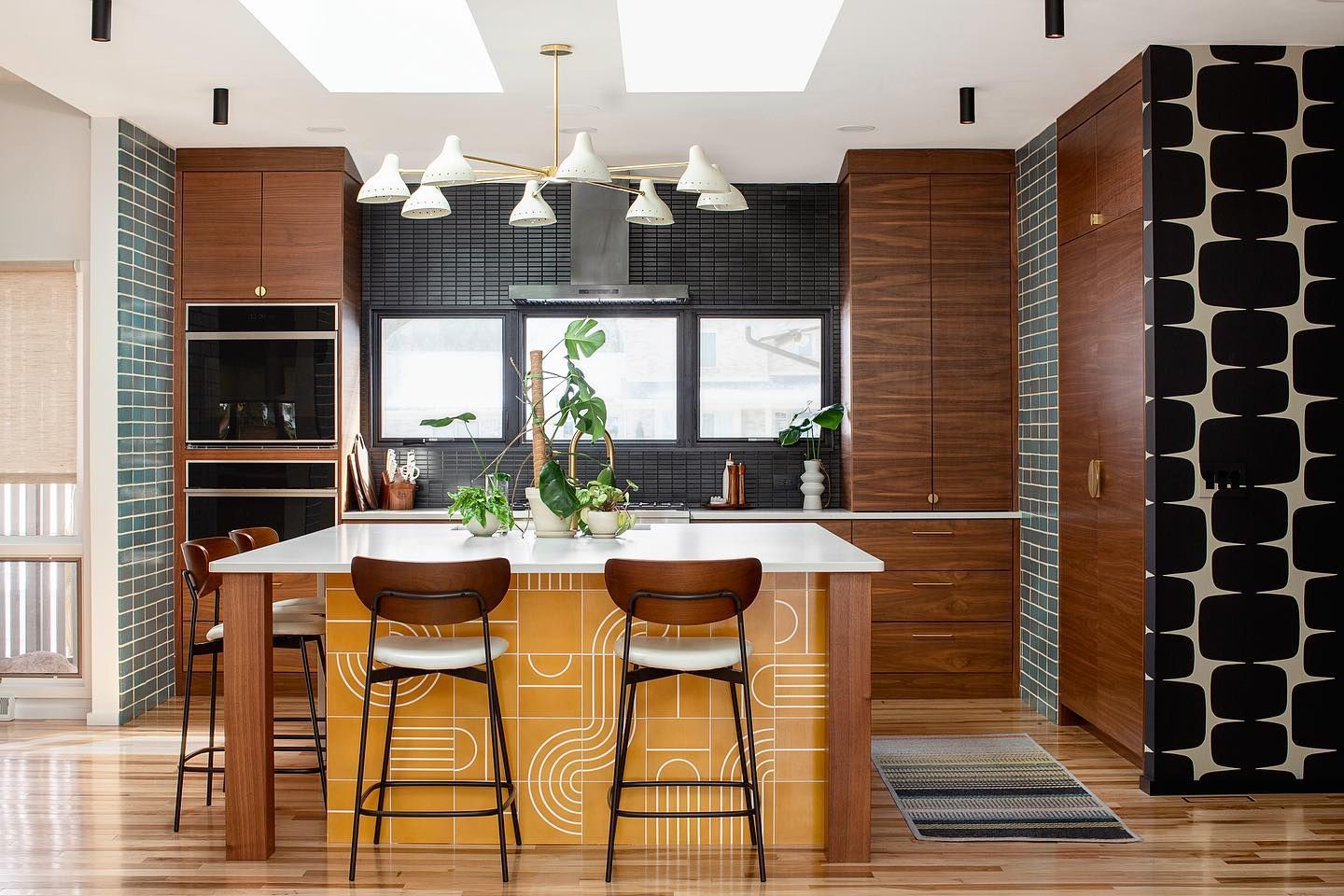 The mid-century modern kitchen style takes inspiration from the design trends of the 1950s and 1960s. It showcases a retro aesthetic with clean lines, bold colors, and futuristic elements. Mid-century kitchens often have simple, flat cabinets in vibrant hues like orange or teal, retro-inspired appliances, and sleek, geometric patterns.
Decorations include vintage accessories like bar stools with tapered legs, kit-cat kocks on the wall, atomic-inspired light fixtures, and bold, abstract artwork.
Industrial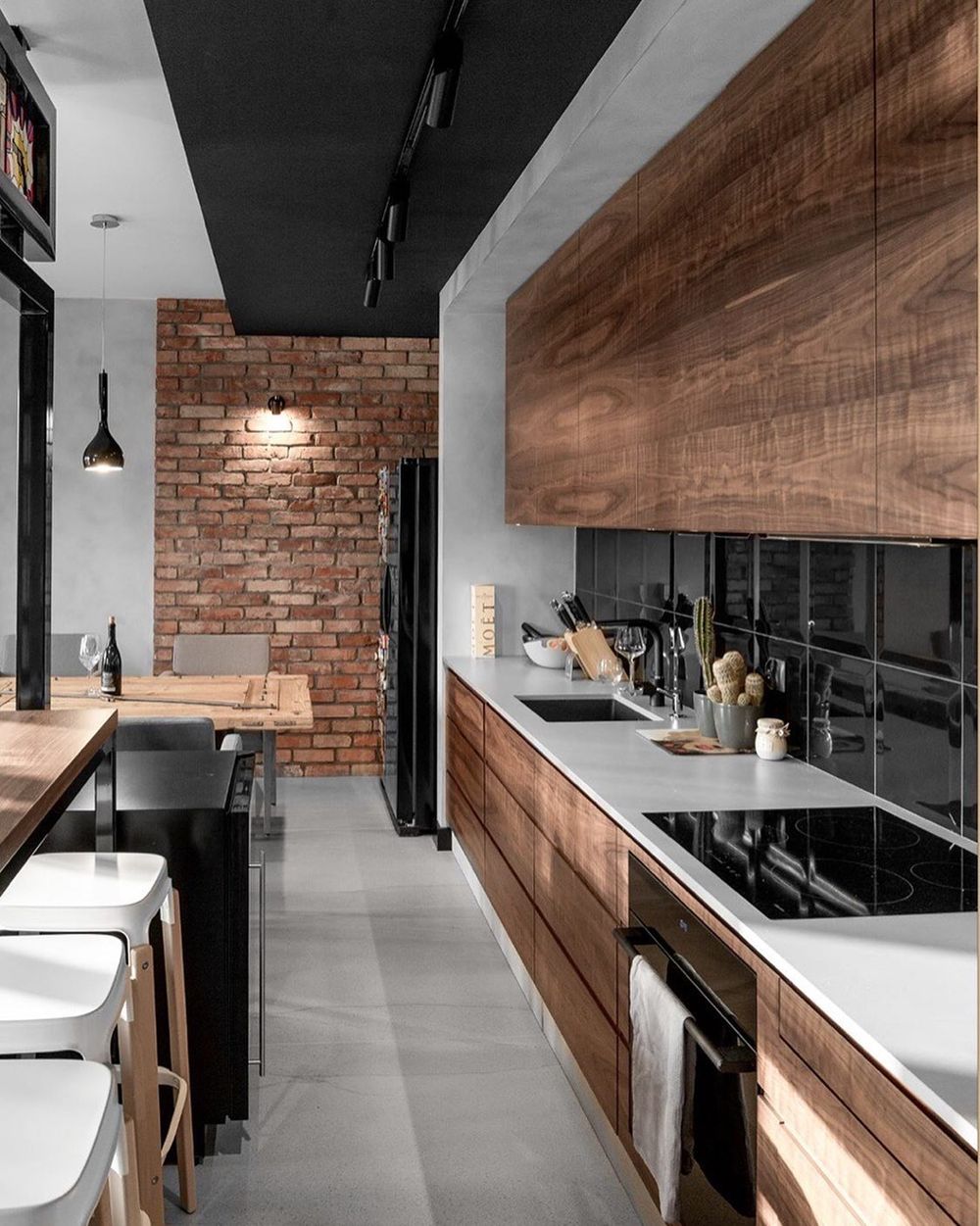 Industrial kitchen design takes inspiration from old factories and industrial spaces. They feature stainless steel appliances, brick walls, rustic wood elements, and exposed pipes.
The industrial kitchen style embraces raw and unfinished elements to create a cool and edgy look. Exposed brick walls, concrete floors, and metal accents are common features of this style.
Industrial kitchens often have open shelving and pendant lights with metal shades. Decorations include vintage-inspired signage, industrial-style bar stools, and exposed pipe fixtures.
Cottage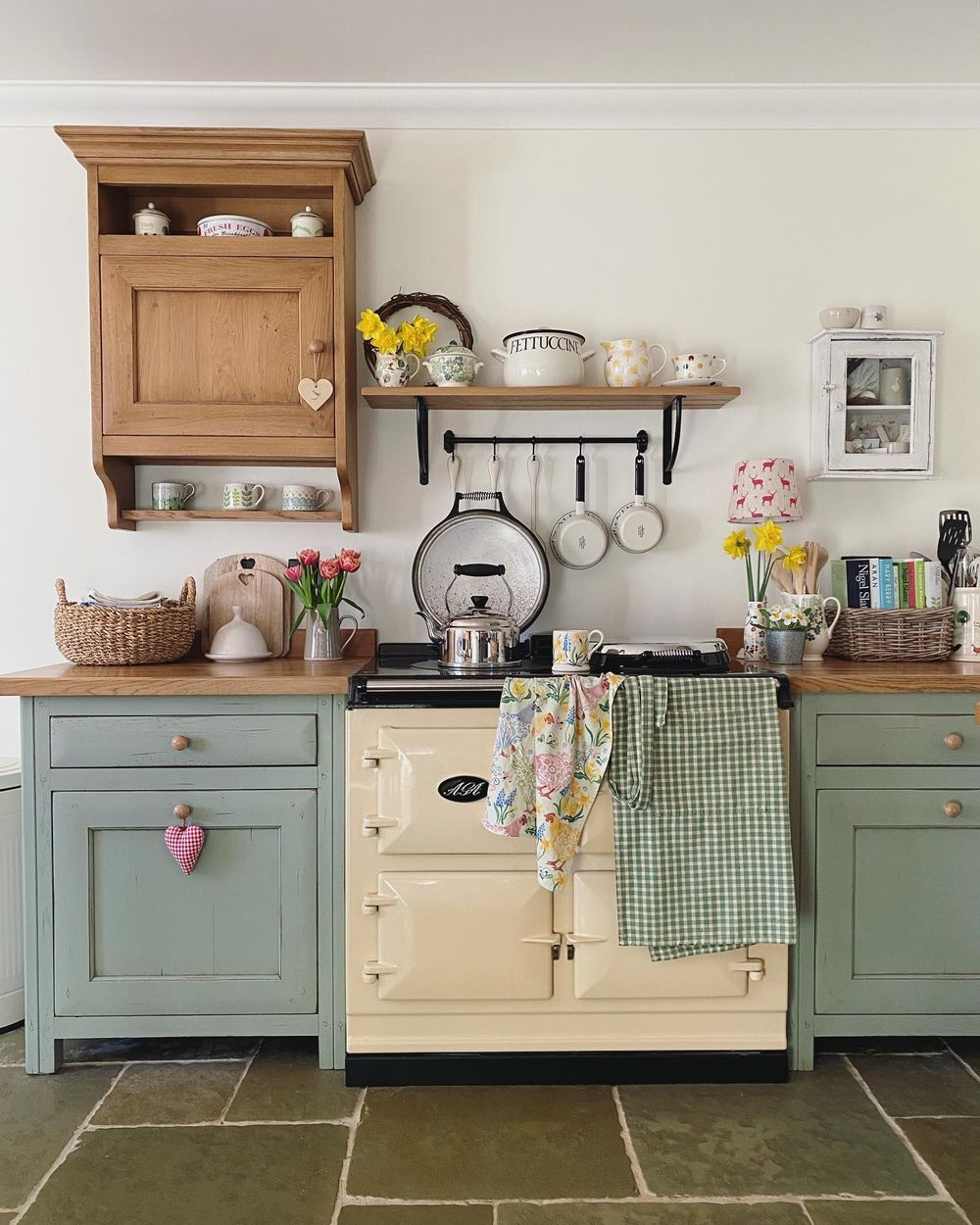 The cottage kitchen style radiates a charming and cozy ambiance with its quaint and whimsical elements. A mix of vintage and rustic features creates a warm and inviting space.
Cottage kitchens often have beadboard cabinets, open shelving with colorful dishware, and a farmhouse sink. Decorations include floral patterns, vintage-inspired accessories like flowery teapots, mason jar canisters, and cozy textiles like gingham towels or floral curtains.
Cottage kitchens are comfortable and unpretentious, evoking a sense of easy, carefree living. This style often includes open shelving, hardwood floors, simple detailing and soft color schemes.
Mediterranean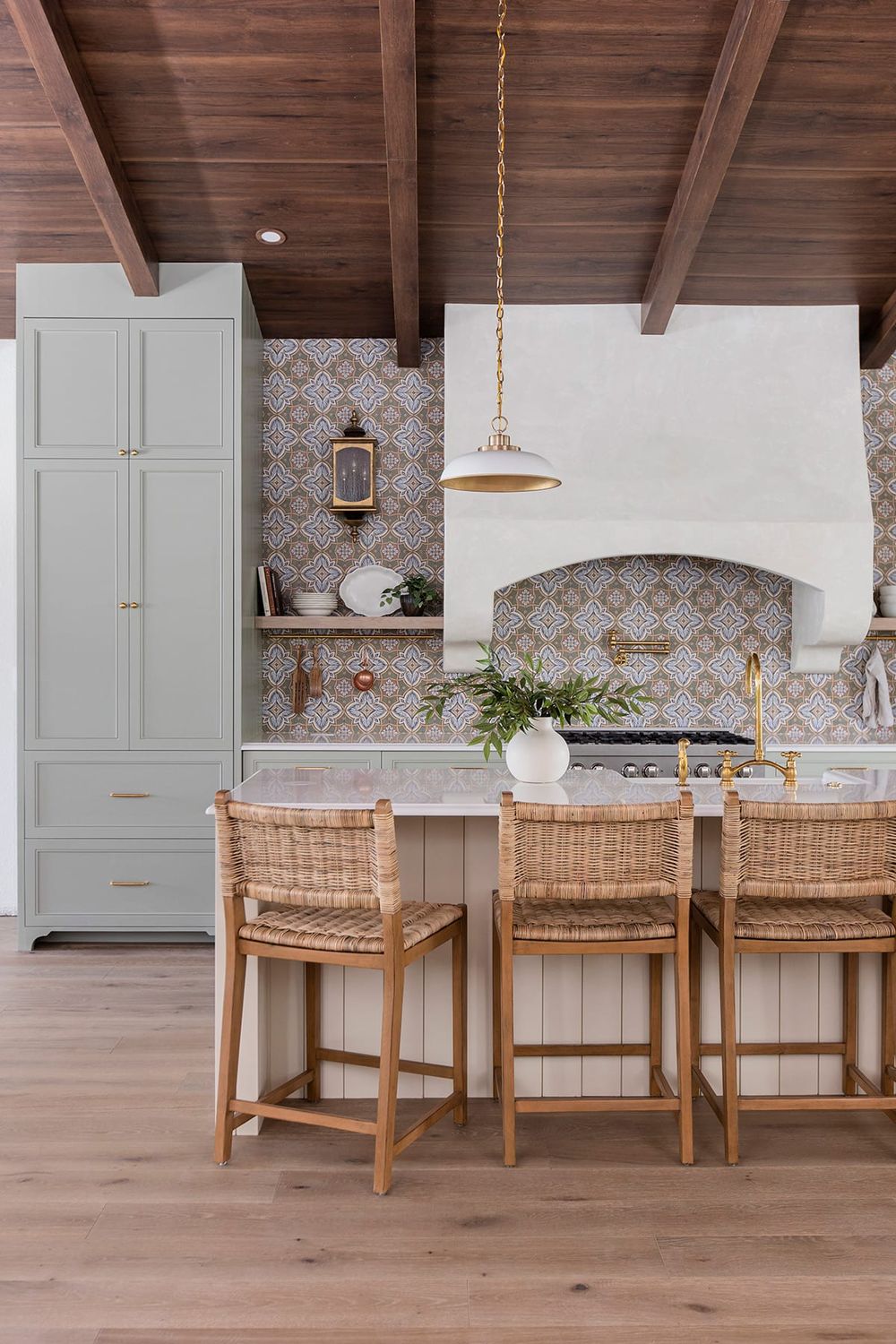 Inspired by the coastal regions of Spain, Greece, and Italy, Mediterranean kitchens often feature warm color palettes, terra cotta materials, arches, and rustic finishes.
The Mediterranean kitchen style transports you to the sun-soaked regions of Europe, even if the house itself is located in the US. It exudes warmth, richness, and a touch of Old World charm. These kitchens are often found in former Spanish territories such as southern California and New Mexico.
Mediterranean kitchens often showcase dark wood cabinets, intricate tile backsplashes, and ornate range hoods. Decorations include colorful ceramic accents, wrought-iron fixtures, and natural elements like terracotta pottery and plants.
---
Of course, these are broad categories and each individual kitchen can combine different elements from multiple styles to best reflect your personal tastes and the home's overall architecture. Design trends can evolve over time but these kitchen styles seem to be here to stay!