Creating a space dedicated to caffeine is fun and can save money too. While placing a coffee maker on your kitchen counter will do the job, you can be more passionate about your brew. If a fresh cup of coffee is part of your morning routine, you can carve out a coffee bar in your home. Our simple tips will help you get started with designing a beautiful coffee bar at home.
Where to Put a Coffee Bar
You can put a bar in a working kitchen pantry, on the countertop, in a small closet, or even in the dining room. If you have an area with open shelving, you can display the mugs to enhance your decor. How about fitting in a table at the side of your fridge?
Even the smallest console of a table can function as a coffee preparing bar. As we all know, you need a place to stash a few home café essentials. Whether your bar is integrated into the kitchen design or in a standalone space, you can create a wow factor focal point with a coffee station.
On the Countertop
You can create a cute coffee bar on your kitchen countertop. The benefit of this spot is that it's close to a water supply. You can design the coffee space to fit your needs. Update it seasonally to fit your family preferences.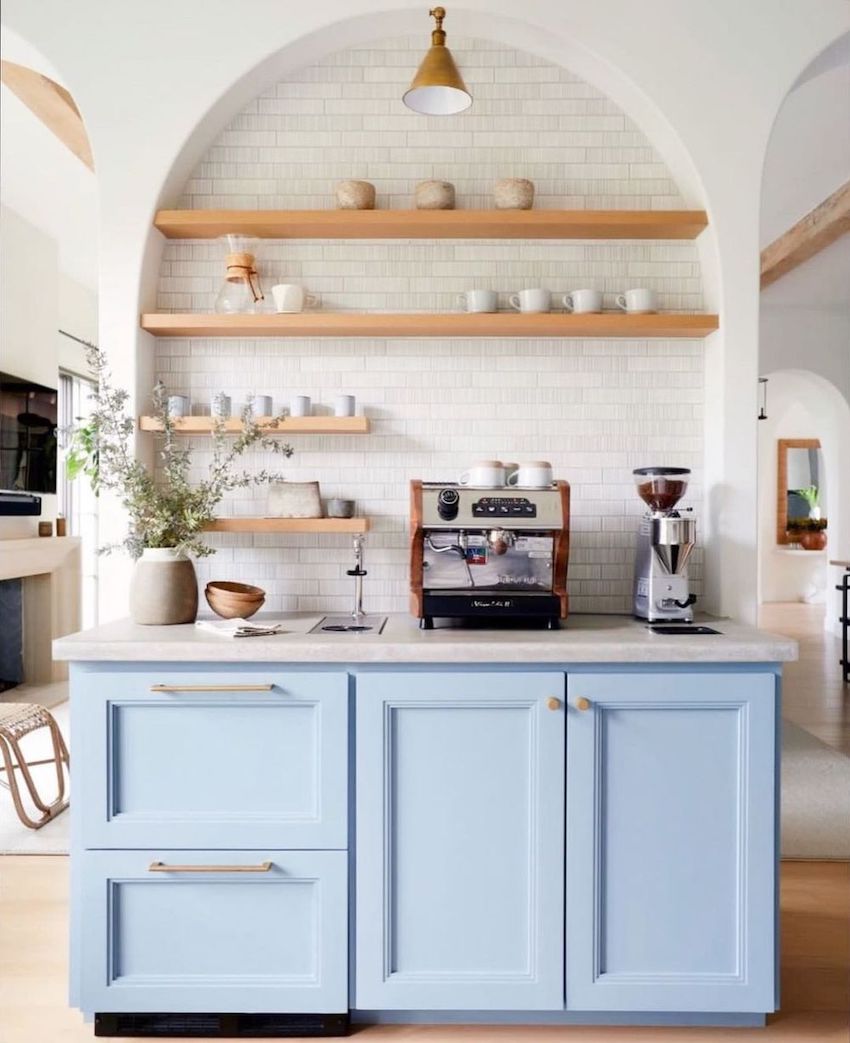 In a Tall Kitchen Cabinet
A tall, slender kitchen cabinet is suitable for single coffee machines. You can customize it to reveal a well-lit coffee station.
Many people believe that a coffee cabinet should be in a crowded coffee corner. The truth is, you can design the cabinet in your home and make it feel like your favorite coffee shop.
On a Rolling Cart
A rolling cart could be the right spot to display your caffeine gear. Mobile kitchen carts are pieces small homeowners have been obsessing over. You can style your cart with cake stands, mugs, caffeine canisters, and more. You can give it a more personalized touch with artwork, photographs, chalk walls, etc. The cart decor combinations are endless.
One benefit of the rolling cart is that you can make delicious coffees without pulling equipment or sifting through kitchen gear. It's a versatile idea in small spaces and can create a captivating element of excitement.
On a Small Shelving Unit or Storage Cabinet
The smartest idea to enjoy coffee is to set up a shelving unit in your home. You can surround it with wine glasses and organizers to give it a subtle feel. This provides a clean space to make your coffee.
DIY Coffee Bar Setup
You can create the perfect bar in your home by following simple DIY tips. First, you should pick your favorite spot. Then, you should stock it and personalize it to fit your lifestyle. When setting up a bar, you should bring a café-like touch. With endless DIY ideas, anyone can customize a hub for their space.
How big should a coffee bar be?
The recommended space is at least two feet. This is enough for a small mug collection, a coffee maker, and assorted coffees. If you put your bar in the dining room, you'll display more space. You should consider whether there's a cozy place the bar can sit.
There are no rules to creating the perfect shelf – it can be fancy or minimalist.
Essential Coffee Bar Supplies
Are you looking to recreate the taste of your favorite coffee at home? A regular bar should have your favorite coffee beans/pods, a grinder, a coffee maker, sugar, and other add-ins. Here are home bar accessories that will help you brew delicious coffee from your kitchen or living room.
Coffee Machine
You need a coffee machine that pulls its weight. When you invest in a coffee machine, you should make sure it can meet your daily demands. It should also be enough to produce large batches when visitors come to your home.
For instance, the Nespresso coffee machine is simple to set up and use. You can use flavored pods to get the taste you want. If you work from home, you don't need to miss out on your favorite coffee. This gadget will recreate your favorite coffee experience.
What's better than being able to make your espresso cup or cappuccino with the push of a button?
Coffee Beans or Pods
Today, there are so many coffee beans and pods to try, but the pods you buy must be compatible with your machine. There are also different sizes available to make different amounts of coffee.
Coffee beans have a distinct texture, so experts recommend that you store them in an airtight container.
Coffee Grinder
If you want to make the freshest coffee possible, a grinder can make all the difference in the aroma and flavors of coffee. It also works in homes that don't have enough space for an espresso machine.
With a quality coffee grinder, you can make flavorful coffee every day. You'll definitely need one if you have unground coffee beans. Make sure that you place your grinder close to the coffee machine – it might make a mess if you have to transport the grounds too far.
Coffee Cups
If you're a true coffee enthusiast, you want to savor the taste and flavor. You need coffee cups that keep your drink hot and delicious. It's a simple idea that solves many problems. Whether it's a hot or cold brew, you'll continue to enjoy the drink at a specific temperature. A few mugs are a must-have for your coffee bar. You can prepare the night before and save more time. If you want to create a more colorful theme for your space, you can display cups that add a pop of color.
Spoons
If you want to add cream or sugar, something to mix it up can be helpful. A modern and sleek spoon forms a special set of dishes. For those who prefer antique or rustic, you can make an ornate spoon part of your bar.
Sugar
If you want to add some taste to your coffee, you may want to add some sugar. It's also another way of adding some design elements to your home bar. If you prefer a natural sweetener, you can add some honey.
Serving Tray
A round stylish tray can be the centerpiece of your coffee bar. It can also be the dominant piece that holds everything together in your coffee space.