Kitchens have come a long way from just being utilitarian spaces for cooking and cleaning. Today, they are often the focal point of the home – a place for gathering, entertaining guests or simply spending quality time with family members.
A well-designed kitchen can add value to your property while also making life easier by providing efficient storage solutions and smart appliances that save time and energy. Kitchen design has evolved over time to meet individual preferences, lifestyles, and needs.
From traditional styles with ornate details to sleek modern designs that prioritize functionality over aesthetics – there's no limit to what you can achieve in your dream kitchen. Whether you're remodeling your current space or building new construction from scratch, choosing the right style for you is crucial in creating a living environment that serves as both a functional workspace and a cozy haven.
Kitchens can be classified in different ways, such as by layout, design style, or functionality. Here are examples of each classification!
Types of Kitchen Layouts
Here are the types of kitchen layouts most commonly found in residential homes and apartments.
One-Wall Kitchen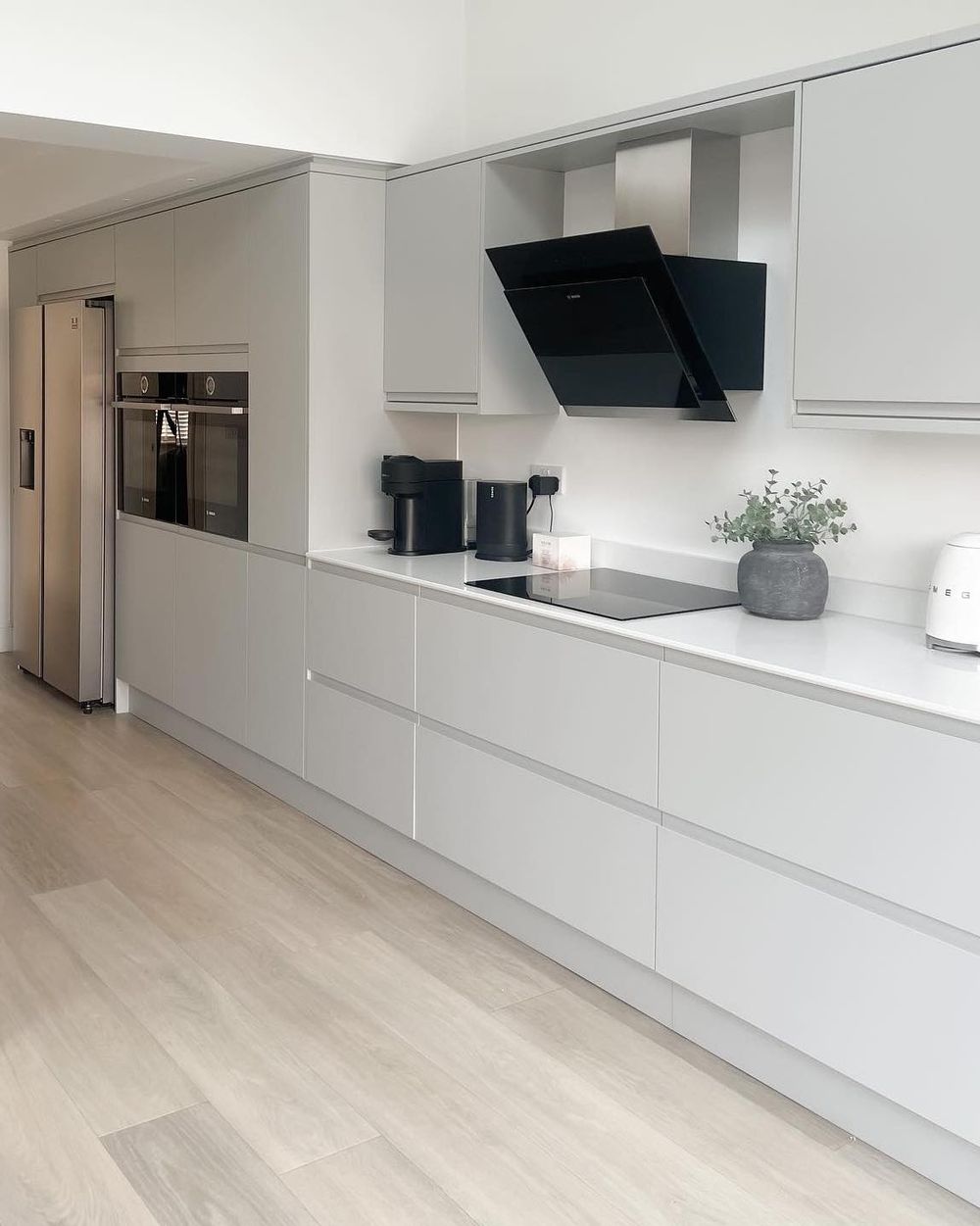 This simple layout lines up all cabinets and appliances along one wall. It's commonly found in studio or loft spaces with small square footage to work with! You'll typically see the kitchen range, the sink, the dishwasher, and the refrigerator directly next to each other. Upper cabinets may or may not be present.
Galley Kitchen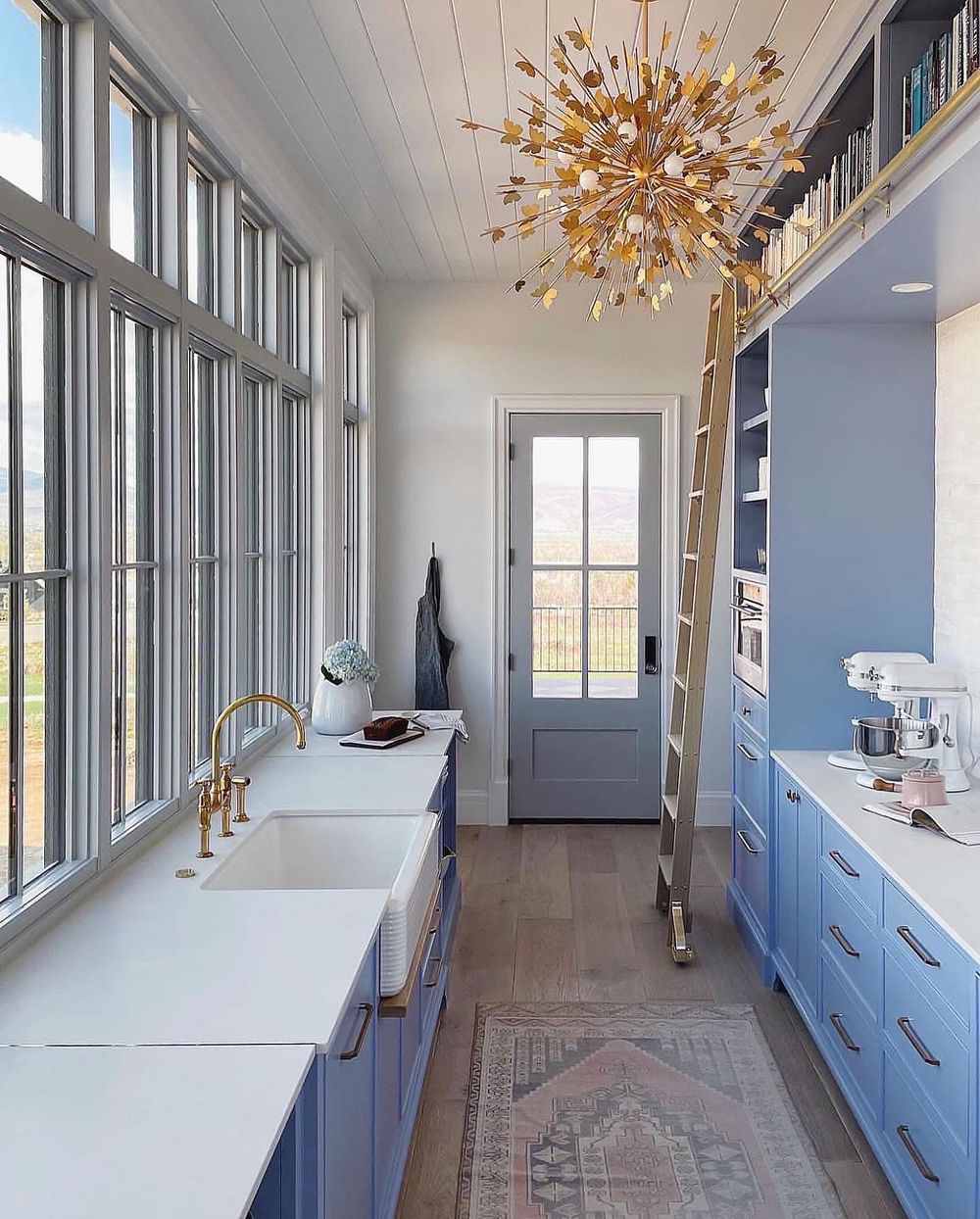 Also known as a walk-through kitchen, this design has two parallel countertops with a walkway in between them.
L-Shape Kitchen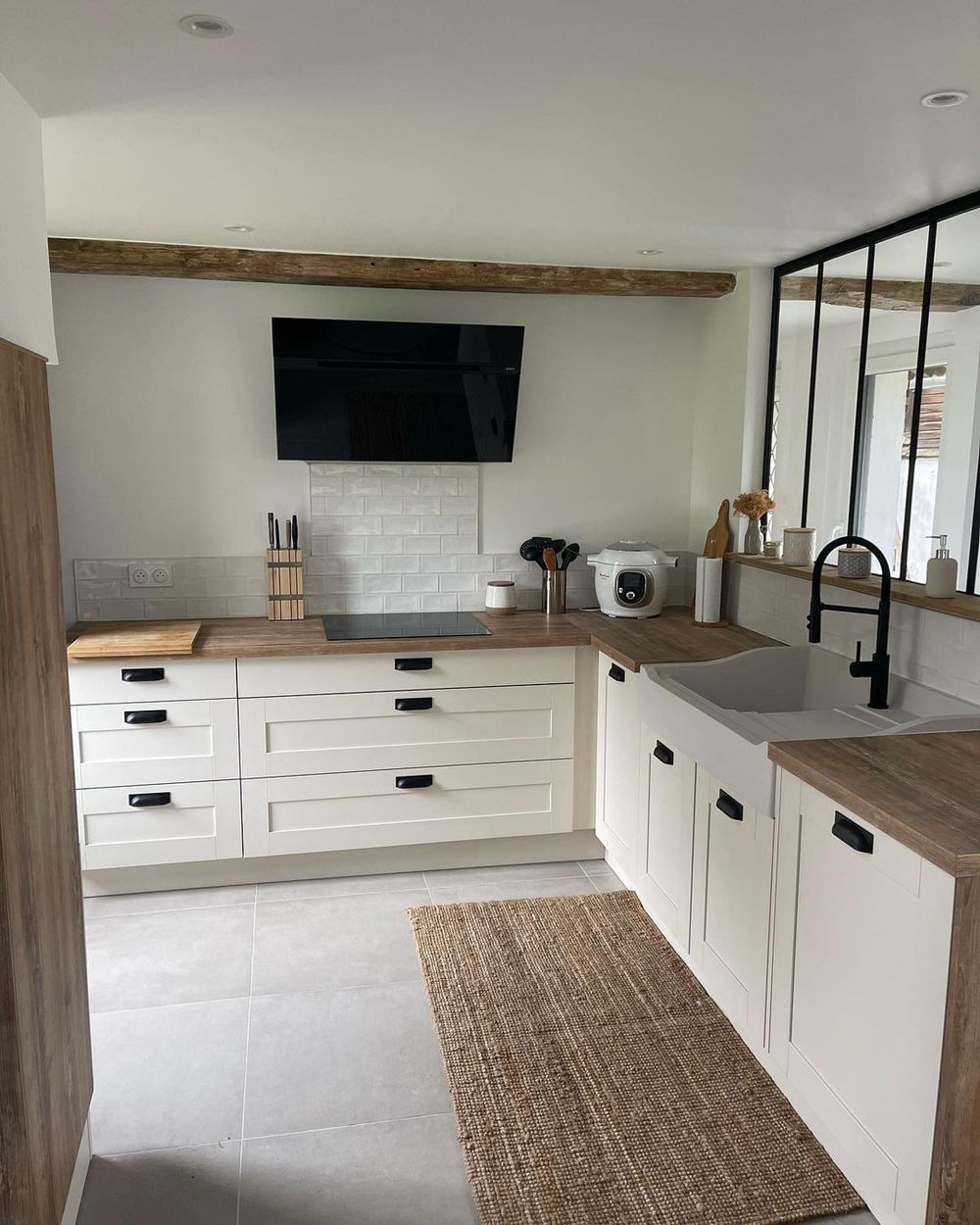 This layout utilizes two walls of the kitchen for cabinets and appliances. It often creates a more efficient workspace with the "work triangle" between the sink, refrigerator, and stove.
U-Shape Kitchen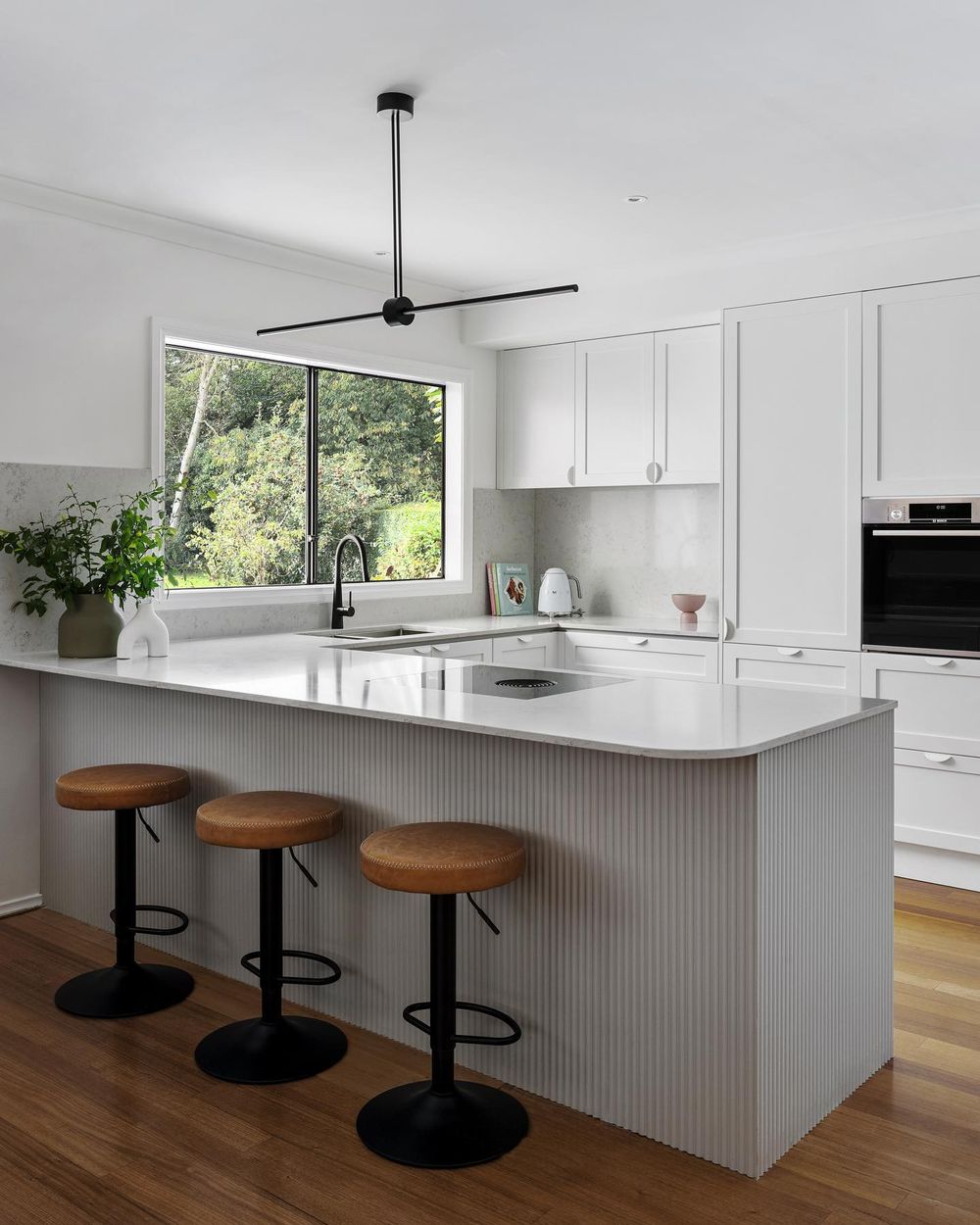 This kitchen layout utilizes three walls for cabinets and appliances. It's a very functional design that can maximize storage and workspace.
Kitchen with an Island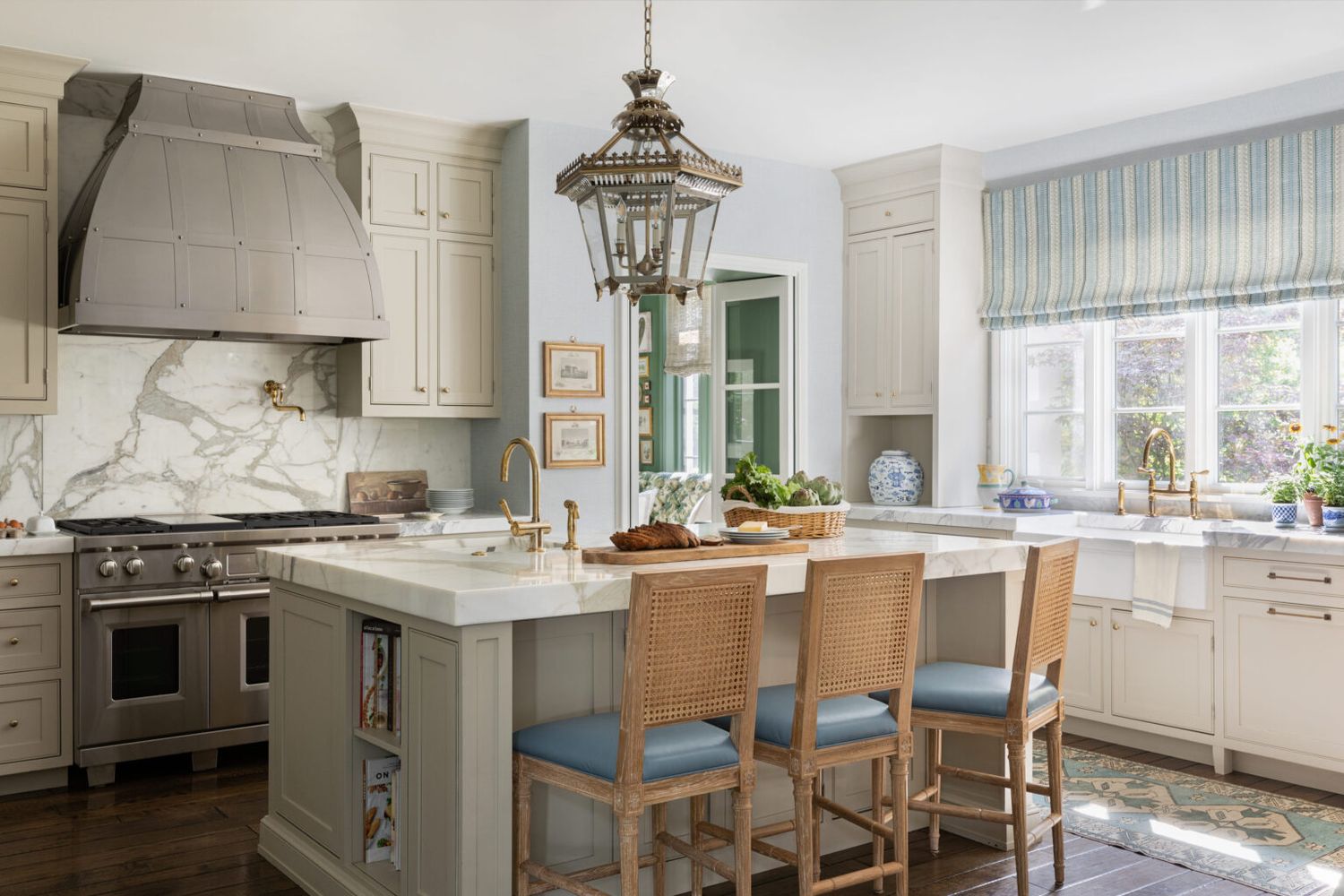 A kitchen island layout includes a freestanding workspace in the middle of the kitchen. Kitchen islands can be used for prep work, dining, or storage.
Kitchen with Peninsula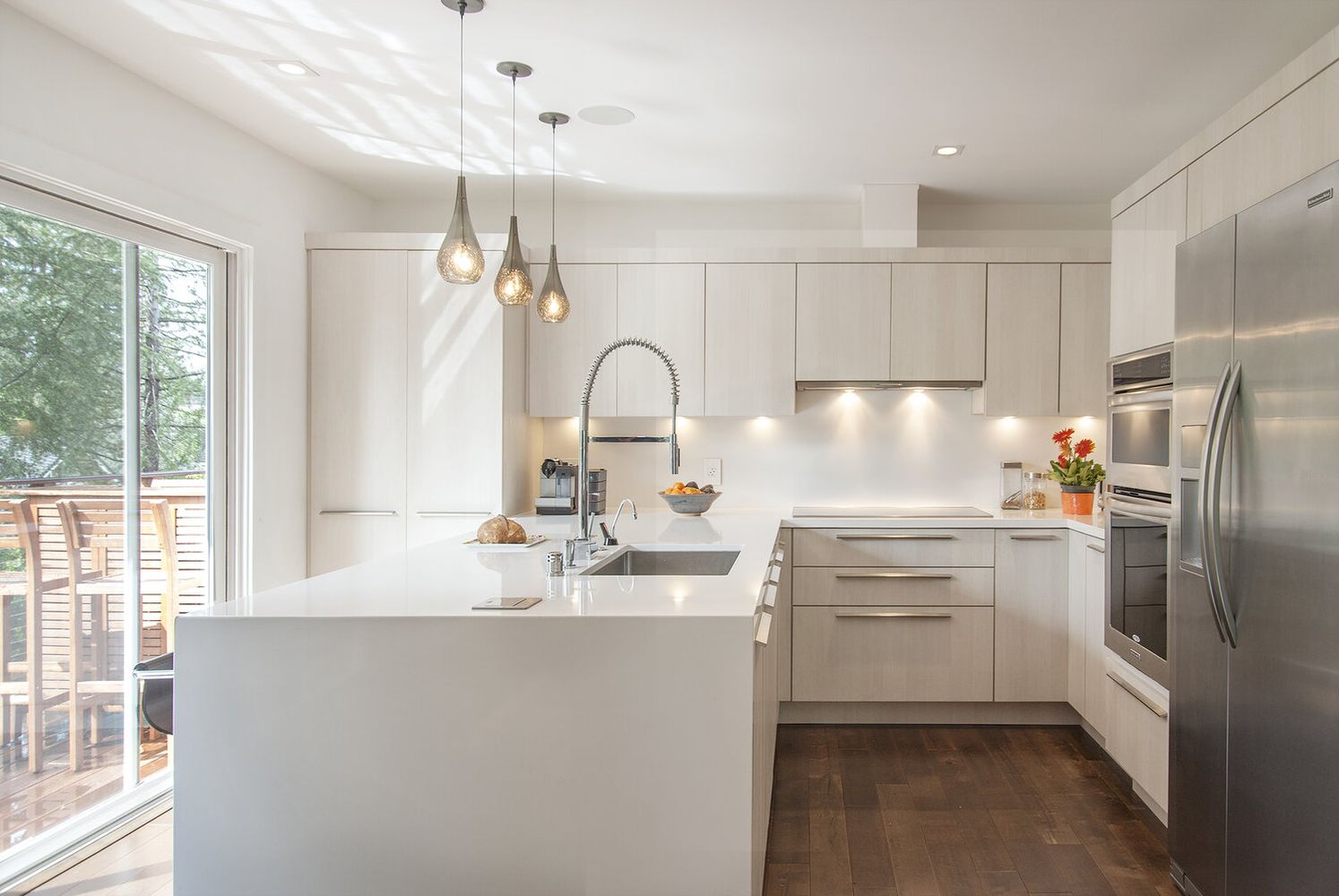 Similar to an island kitchen, a kitchen with peninsula layout includes an attached workspace that extends from one wall. Kitchens with peninsulas provide extra workspace without the need for a full island.
Tiny Kitchens
Tiny houses have become a very trendy option for people who want to simplify their lives, reduce their environmental impact, or live in more affordable housing. As a result, tiny kitchens are also on the rise.
The challenge with designing tiny kitchens is to make the most of every inch of space without sacrificing functionality or style. Luckily, there are many creative and practical solutions that can transform your small kitchen into an efficient and attractive space.
To begin with, storage is key in tiny kitchens. You may need to get creative with storage solutions such as adding shelves above cabinets or using magnetic strips to hang knives and utensils on the walls.
Using multi-functional furniture like a coffee table that doubles as a dining table or storage bench will help maximize your kitchen's potential. Be sure to choose a color scheme that makes the space feel open and airy; avoid dark colors which can make any room feel smaller than it really is.
While big kitchens may be desirable for some homeowners, small kitchens can be just as functional (and stylish) with careful planning. Don't let limited square footage hold you back from creating the cooking space you truly desire!
Kitchen Design Styles
Here are the most popular kitchen design styles for American homes.
Traditional
Characterized by detail and ornamentation, with features like moldings, raised-panel cabinets, and antique finishes, traditional kitchens are the most popular style of kitchen found in American houses. When you think of traditional kitchens, you might picture wood cabinetry, ornate details, and classic colors like beige or white. These design elements are all hallmarks of the traditional kitchen style.
Wood cabinetry is usually made from a darker type of wood, like cherry or mahogany, and often has intricate details like carved panels or decorative molding. Traditional kitchens also tend to have more decorative features than modern ones.
There may be a lot of patterned tile work on the backsplash or floor, or glass-fronted cabinets to display fancy dishware. Ornate light fixtures with metal detailing are also common in traditional kitchens.
Modern
Modern style kitchens showcase clean, simple lines and a minimalist approach. Materials often used include stainless steel, glass, and glossy finishes.
Modern kitchens are all about sleek, clean lines and minimalism. They emphasize functionality and organization to create a clutter-free workspace. These design elements are what make modern kitchens so popular in today's fast-paced world.
The use of technology is also a prominent aspect of modern kitchen designs. Smart appliances, touchless faucets, and automated lighting systems are just some examples of how technology is integrated into modern kitchens.
The Scandinavian kitchen style is one popular example of modern design that prioritizes functionality over aesthetics. Minimalist, bright, and airy spaces with neutral colors dominate the Scandi aesthetic in the kitchen.
Coastal
If you're lucky enough to live by the beach, then your home likely has a coastal-style kitchen inside it. These kitchens are all about taking advantage of the beautiful ocean views you may have.
Coastal style kitchens reflect the ease and comfort associated with beach living. They draw inspiration from the sea and are characterized by a bright, airy ambiance.
Coastal kitchens usually have a soft, muted color palette that echoes the hues of the beach. Expect to see shades of white, cream, beige, and blues from the pale sky to deep navy. Accents in coral, turquoise, or sea glass green can also be found.
Natural materials are commonly used in coastal kitchens. This can include wood (often in light or weathered finishes), stone, and glass. Countertops might be in light granite, quartz, or butcher block.
Tiles might be in a subway or a mosaic pattern, often in white or sea-glass colors. It's not uncommon to see backsplashes or floor tiles that incorporate shells or fish-scale shapes.
Country
Rustic and homey, country kitchens often feature open shelving, butcher block counters, and traditional details. Country and modern farmhouse kitchens typically have a lot of rustic elements like distressed wood surfaces and vintage-inspired fixtures. Another common country kitchen style is colonial.
Industrial
On the other hand, industrial-style kitchens take inspiration from urban architecture to achieve a more edgy look. Known for its utilitarian elements like stainless steel, exposed brick, and open shelving, industrial kitchen designers often use natural materials like wood or stone to bring warmth to the space's clean lines.
Exposed brick walls, concrete floors, metal pipes as shelves or lighting fixtures – all these elements are used to create an ambiance that feels both raw and refined. But just like any other type of kitchen design, industrial kitchens have their pros and cons.
One advantage is their focus on function over form; this makes them very practical for daily use as they are designed with easy-to-clean surfaces that resist stains or scratches. Their minimalist approach also means that there's less clutter around to distract you from cooking, allowing you more mental space to focus on creating culinary masterpieces.
However, this simplicity can sometimes feel cold or sterile compared to its traditional counterpart- which many homeowners find off-putting.
Types of Functional Kitchens
Family-friendly kitchens might have an open layout with a lot of seating or play areas for kids, and surfaces that are resistant to stains and scratches.
Chef's kitchens are professional, restaurant-style kitchens with high-end appliances, plenty of prep space, and specialized storage.
Entertainment kitchens are designed for hosting, these kitchens often include features like large islands, warming drawers, wine fridges, and multiple seating areas.
These are just some of the types of functional kitchens you can build at home!
Outdoor Kitchens
Lastly, outdoor kitchens have become a hot trend over the last few years, especially for homeowners who love to entertain guests. Outdoor kitchens add an extra layer of convenience to outdoor events, enabling hosts to prepare and serve food without having to run back and forth between the indoor kitchen and the backyard.
Outdoor kitchens can enhance the aesthetic appeal of your outdoor space, creating a beautiful environment where you can relax with friends and family.
When designing an outdoor kitchen, it is important to use materials that are durable and weather-resistant. Stainless steel appliances are perfect for an outdoor setting because they are rust-resistant and easy to clean.
Countertops made from granite or stone provide a sleek look while also being able to withstand harsh weather conditions. Built-in grills should also be considered as they provide more cooking surfaces which make cooking easier especially when preparing meals for large groups.
While there are many benefits of having an outdoor kitchen, some cons should not go unnoticed either. For instance, the initial investment required for building an outdoor kitchen can be quite high compared to traditional indoor kitchens.
There may be added maintenance costs associated with keeping outdoor appliances in working order due to exposure to natural elements like rain and wind. However, if you love entertaining outdoors or want additional space for cooking outside your house then investing in an outdoor kitchen could bring value in terms of entertainment options as well as home value appreciation in future resale.
---
The kitchen is the heart of any home, where family and friends gather to cook, eat, and create memories. It's where we start our days with a cup of coffee or end them with a glass of wine. That's why it's so important to design a kitchen that fits your lifestyle and meets your unique needs.
No two kitchens are the same, and there is no one-size-fits-all solution for kitchen design. To help you make an informed decision about what type of kitchen will work best for you, be sure to consider all the different types of kitchens available.