Keeping your kitchen in order can be tough, but following the capsule kitchen methodology, you can ensure your kitchen space is stocked with only the must-haves. Having the cooking utilities, supplies and other materials you need to make delicious meals every day is essential. Everything from ingredients to serving dishes needs to be readily available and stored within your kitchen where it's handy to reach them.
Having too many unnecessary utilities in your kitchen can clutter the space and make it difficult to find what you actually need, so it's essential to cut down to the basics of what you require inside your kitchen. "Capsule kitchen" mentality will keep it functional and minimal.
With this in mind, let's go over how to create a capsule kitchen complete with everything you could need.
Create a Capsule Kitchen
Making your capsule kitchen is actually pretty fun. It allows you to check what you need and don't need for your kitchen, only keeping the kitchen essentials and food ingredients that you can wonderfully mix and match to provide a lovely meal. Having too many kitchen appliances, utilities, cookbooks, and food ingredients that you would not need can make your kitchen look cramped and messy. Aside from keeping things in an orderly manner, a capsule kitchen has a lot of benefits; this particular style and method can help you better in terms of knowing what to buy and what you need and can help you mix and match your food ideas which give you a delicious and creative meal.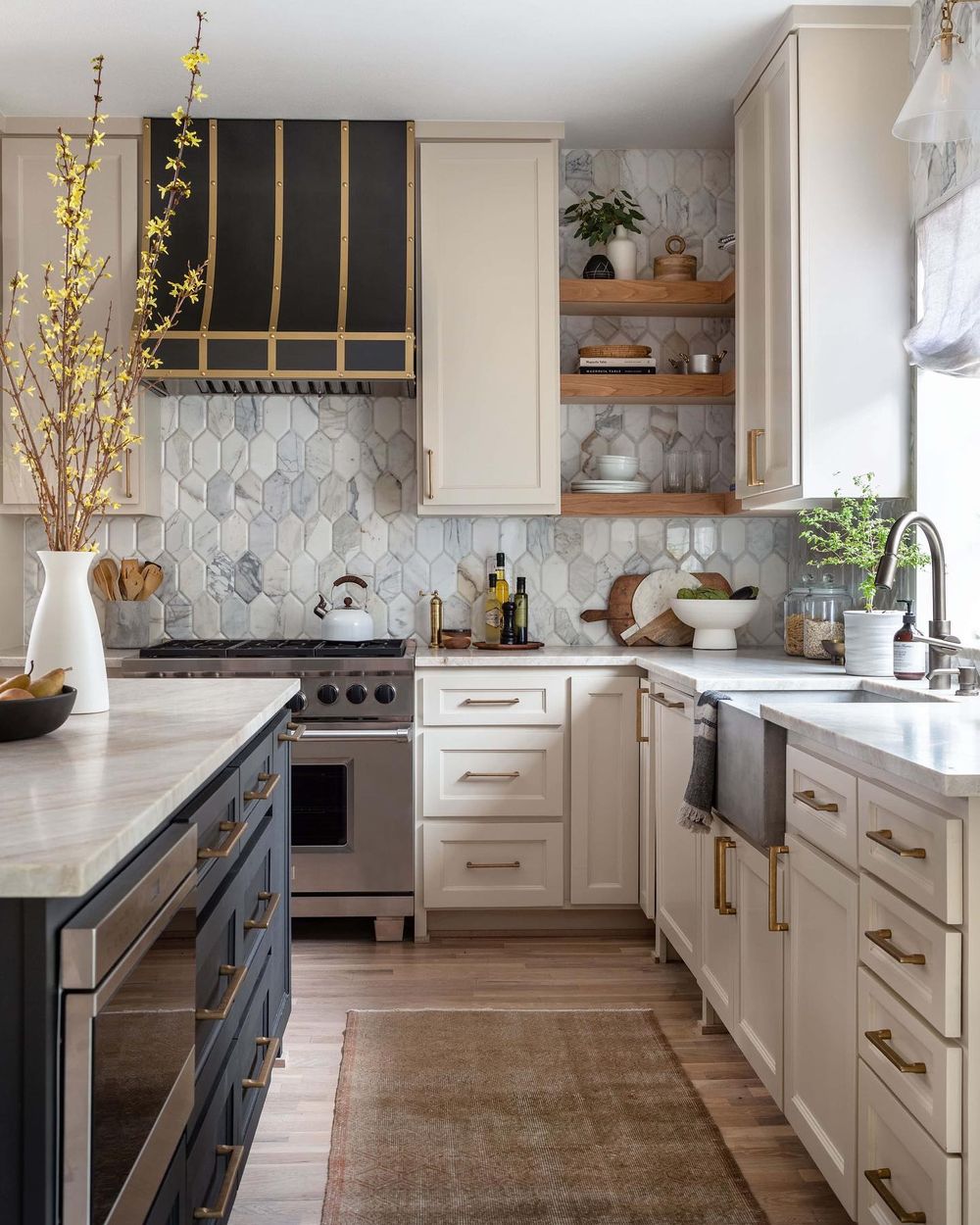 Cooking Equipment
Having proper cookware cooking equipment is essential for your kitchen to be functional and fun to use, but having too much cooking equipment can make your kitchen crowded and unorganized. With so many neat and handy cooking equipment readily available nowadays, it is essential to check and think about what cooking equipment you would use and what would be handy in your kitchen. Here are some cooking essentials that we find necessary to one's kitchen that would greatly benefit your kitchen. These cookware brands have your back when it comes to top-notch cookware.
Small and Large Pots
Pots are great for many things like boiling pasta, cooking meat, mixing soups, and more. Small and large pots are essential to one's kitchen. They offer a lot of food choices that you and your loved ones can enjoy. Like the baking pans, these pots usually come in different sizes, so be sure to pick the ones you would commonly use not to have too many pots in your kitchen.
We recommend: Caraway Cookware Set
Nonstick Skillets
Nonstick skillets are fantastic to use and are a piece of essential cooking equipment you should have around in your kitchen, being able to fry various fried food options while managing to have the food not stick or attach to the nonstick skillet.
We recommend: Our Place Always Pan
Baking Pans
Baking pans are one of the standard food equipment essential to one's kitchen, and baking pans are commonly used for baking food in the oven. Baking pans usually come in various designs and sizes, but they all serve the same function within the kitchen, be sure to pick the size and design that would best suit the cooking recipes you have in mind and the aesthetic of your kitchen.
We recommend: Williams-Sonoma Nonstick Baking Set
Mixing Bowls
Mixing bowls are essential cooking equipment that you should always have in your kitchen; it is an excellent tool for mixing ingredients for various food choices or baking. Mixing bowls come in different sizes, so be sure to select sizes that you think are essential to your food ideas and kitchen.
We recommend: Williams-Sonoma Stainless-Steel Restaurant Mixing Bowls
Colander
Another helpful cooking equipment, a colander, is excellent for rinsing vegetables and food choices that would involve pasta. Colander allows liquid to drain out while keeping your pasta and other food ingredients safely inside it.
We recommend: Williams Sonoma Stainless-Steel Colanders
Cutting Board
A cutting board is a piece of essential cooking equipment that helps you have a good and steady place to put various food ingredients in. Cutting boards are great for cutting, slicing, and mincing food ingredients.
We recommend: PB Chateau Handcrafted Wood Cutting Boards
Kitchen Knives
Having knives in your kitchen is essential. Kitchen knives are significant in terms of slicing and cutting food ingredients that you would be required to do in almost every food recipe cooking method.
We recommend: Misen Essentials Knife Set (3, 5, or 7 Piece)
Measuring Cups
Measuring cups are great cooking equipment that helps your cooking be exact in terms of ingredients. If you like to follow cookbooks and keep the process in the book, measuring cups can help you achieve the precise amount you would need from an ingredient.
We recommend: CB Acacia Wood and Gold Measuring Cups
Liquid Measuring Cups
Unlike the measuring cups from earlier, liquid measuring cups are designed to handle liquid ingredients such as cooking oil, water, and more.
We recommend: Pyrex ® 2-Cup Glass Measuring Cup
Measuring Spoons
Measuring spoons usually come in various sizes that have different measurements on them such as tablespoons, teaspoons, and milliliters. Measuring spoons can handle multiple ingredients that are solid and liquid and are great for measuring ingredients.
We recommend: Le Creuset ® Stainless Steel Measuring Spoon Set (marked in both tablespoons and milliliters)
Prepping Tools
Essential cooking equipment such as whisks and spatulas are great for baking and cooking. A spatula is versatile cooking equipment that removes and places food and ingredients on cooking utensils, splits food, and more. You need the proper prep tools to keep in a kitchen utensil jar such as a spatula, whisk, mixing spoon, slotted spoon, spoontula, tongs, ladle, pastry brush, and peeler.
We recommend: Misen Complete Prep Tool Set
Strainer
Excellent cooking equipment is primarily used to separate liquid from solid food ingredients and occasionally sift food ingredients from other ingredients.
We recommend: CB Stainless Steel Strainer-Sifter
Kettle
A kettle is a great piece of cooking equipment that is just a pot that specializes in boiling water in a quick manner. You can use one to heat up water to make tea or coffee!
We recommend: Cuisinart PerfecTemp Cordless Electric Kettle
Kitchen Electronics
Now that we have tackled the cooking equipment that is essential for your kitchen, we shall now talk about the kitchen electronics that are essential in your kitchen in terms of food preparation and cooking. Having these kitchen electronics can make your capsule kitchen better.
Microwave
A microwave is a versatile kitchen electronic that is great for a lot of things, but a microwave is primarily used for reheating cold food and other items. Most microwaves nowadays come with various suggestions and functions that are great for defrosting and reheating multiple food choices and ingredients.
We recommend: GE Countertop Microwave
Toaster
If you love eating bread, then a toaster is a great way to keep your bread hot and toast. A toaster is a kitchen electronic that is great for keeping your bread choices hot and crunchy.
We recommend: CB Haden Putty Dorset 2-Slice Toaster
Blender
In terms of mixing liquids, soft foods, or turning ingredients like fruits and vegetables into liquids, a blender is a kitchen electronic that blends and turns any food ingredient into liquid.
We recommend: Vitamix ® Ascent A2500 White Blender
Food Processor
A food processor is a very versatile kitchen electronic that can chop, shred, slice, puree, and grind almost any food ingredient you would put in it with relative speed and ease. It's a great kitchen electronic that gets the job done fast.
We recommend: Cuisinart Elemental 8-Cup Food Processor
Stand Mixer
A stand mixer is a kitchen electronic that is great for baking and generally mixing food ingredients. A stand mixer offers a fast and robust mixing process that is great for cooking up new food ideas and general baking.
We recommend: KitchenAid Artisan Series 10 Speed 5 Qt. Stand Mixer
---
I hope this capsule kitchen guide helps you create the perfect kitchen of your dreams!