Working from home means you'll need a comfortable office chair to sit in for long periods of time. Luckily, you don't have to sacrifice style for comfort. If you love French farmhouse decor, then you'll love these French country office chairs we've rounded up for the French country-style office in your home.
French country office decor can be subtle. You don't have to ship your furniture straight from the countryside of France in order to get this look. You can easily add one or several pieces to give your office that elegant French touch. We also have a round up of French country office desks if you are interested.
If you've been eyeing a French style office chair, then this post will surely inspire you. Office chairs must be functional and stylish. Good back support is necessary especially if you work from home full time. Some office chairs are adjustable in height, perfect for people who fall on the shorter or taller end of the height scale! If you have a corner office desk, then you may wish to opt for a swivel office chair. Some office desk chairs will have armrests, and others won't, making them easier to get in and out of.
French Country Office Chairs
Let's take a look at some of the most beautiful and highly rated French country desk chairs you can shop online. Neutral colors and linen are popular elements of French country decorating, so you'll see many chairs in this style. We hope you'll find the perfect desk chair for your home office from our list!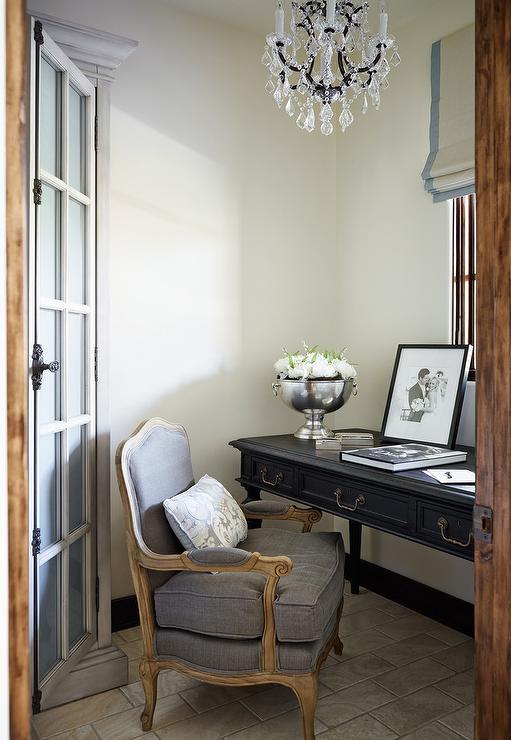 Like that chair? Learn about French Bergère Chair history.
More French Country Decorating Ideas
If you love French country decorating, then we have a lot more articles for you to read! We love this style of French farmhouse decorating, even beyond your home office. Check out our other recent furniture and decor guides for French style below!
Happy curating!