Do you ever wonder how to use the space under the staircase in your home? This tiny and sometimes uncomfortable area may be converted into a practical living or workspace you enjoy with a little ingenuity. Don't miss this collection of creative staircase storage ideas for your next remodeling project that will give your home a new reading nook, library, closet, or bathroom!
Ideas for the Space Under the Stairs
Let's go over some creative ways to make practical use of the space beneath the staircase of your home! These tips will help you clear up that age-old question of what to do with the space under the stairs. Check out more creative storage ideas here.
Reading Nook
The space under your stairs is probably the perfect spot for a mini library or cozy book nook. Simply install some cabinets or shelves and fill them with all of your favorite reads. Add some comfy cushions or pillows and a nice bench with some cool lighting and your reading nook will become a favorite place for you to chill.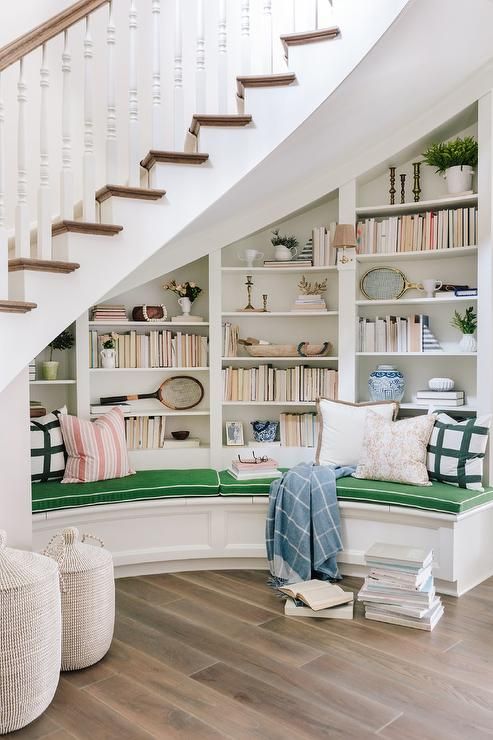 Office Space
An under-the-stairs office is a great way to conserve space and get the most out of your home. You or other family members can work from home, complete school work, or pay bills. Make a flat workspace where you can put a desk, add a comfy chair, stock some office supplies, put in some lighting, and you are ready to go.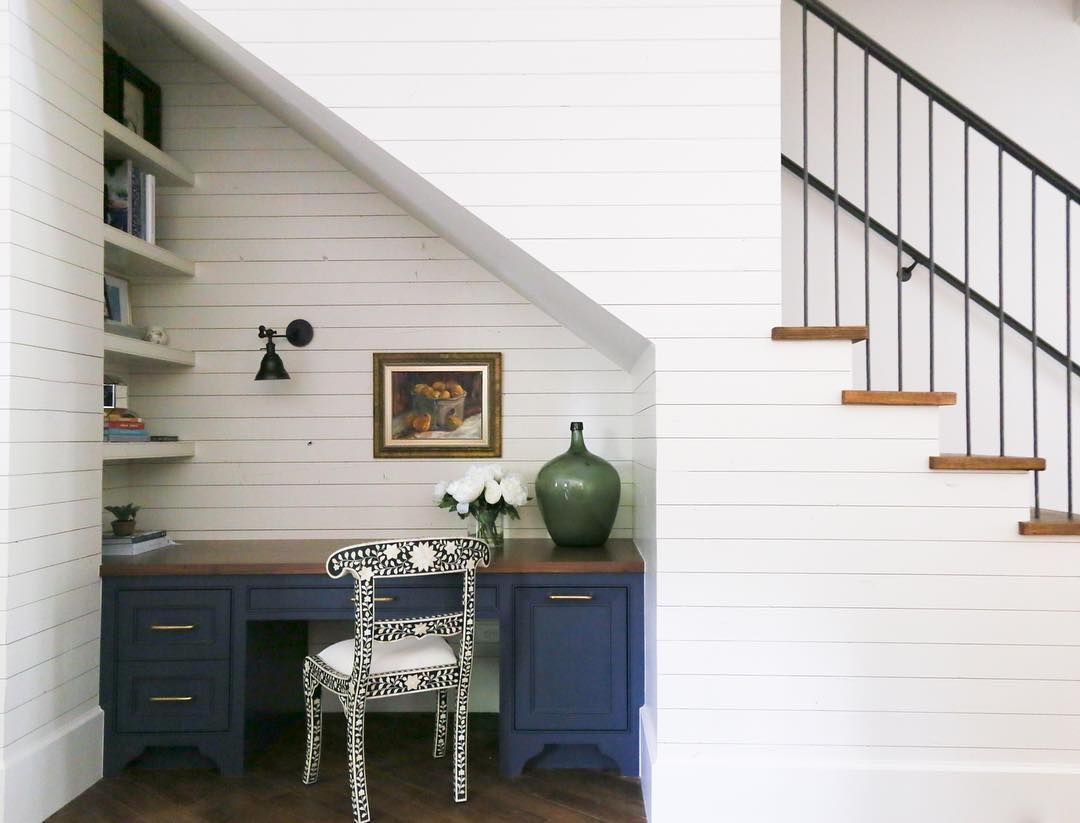 Kitchen Pantry
If your staircase is near the kitchen, you may utilize this area as extra kitchen pantry storage for non-perishable foods. This allows you to make your present kitchen or dining room more comfortable. You will need to be strategic in how you place cabinets, shelves, and maybe some other furniture like rolling drawers, especially if your place under the stairs is small!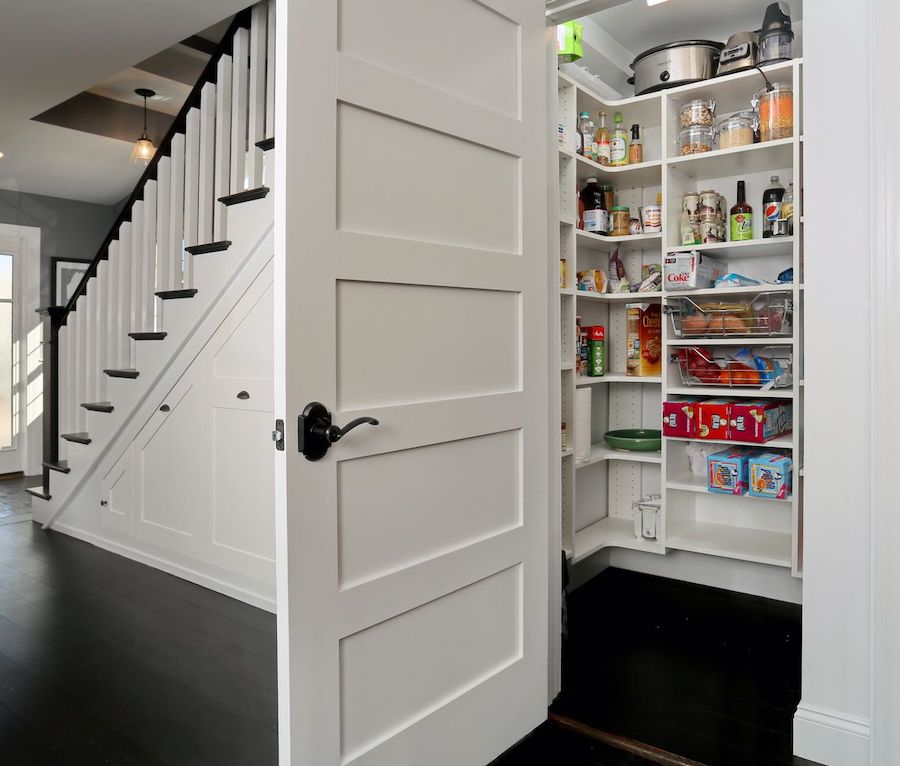 Shoe Storage
Do you have a shoe fetish? Or do you just not have enough storage space for all of your different kinds of footwear? No worries! You can purchase a shoe organizer at any store to conserve space and create more space for your shoes. You might even be able to build some cubbies, shelves, or racks if you have enough room.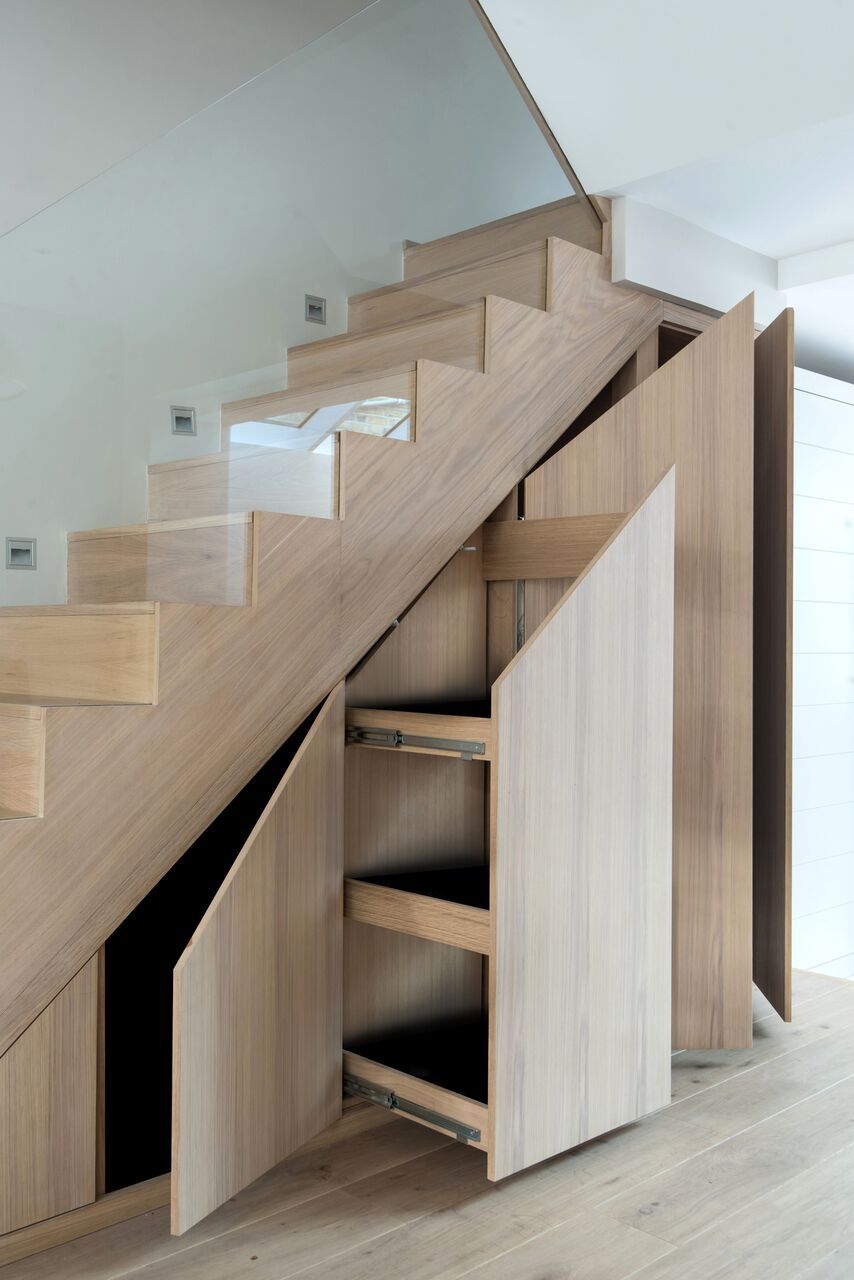 Laundry
Finding a spot for the washing machine and dryer is always a struggle, especially in smaller homes where you don't have a dedicated laundry room.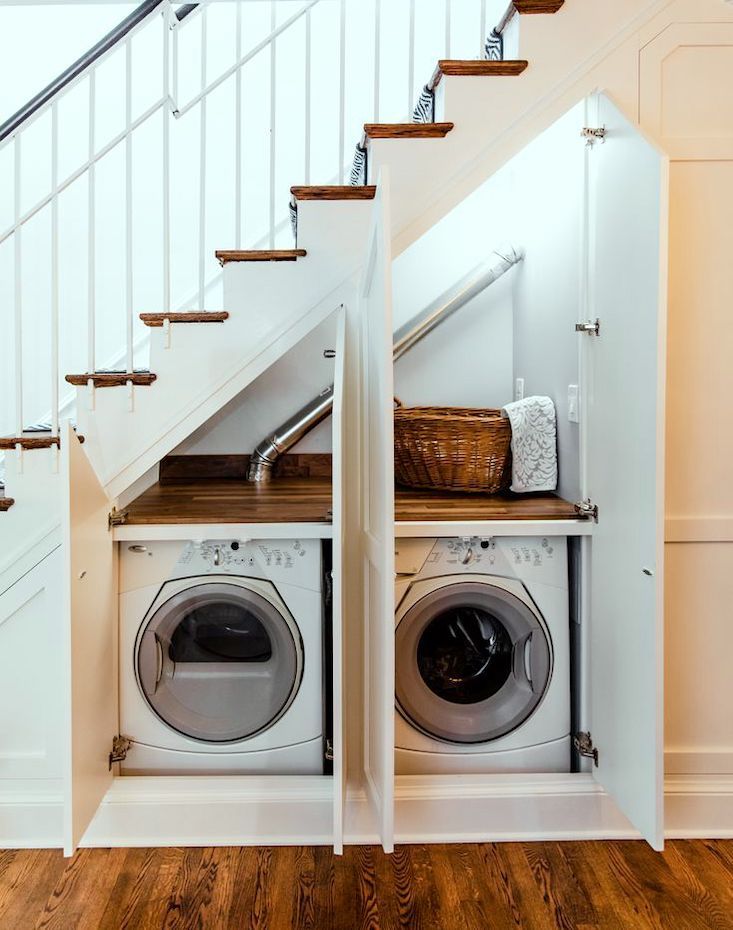 Playhouse
You will really need to plan this one out. There are some awesome ideas online for great playhouses. First, you should determine whether you actually have enough space for a playhouse. If you do, next you will need to sketch some basic blueprints of your playhouse's design. If you don't have room for actual windows, create some fake ones with trim. Cut your door between two studs and use that space between them to avoid creating more work or having to use special tools. To build the door, cut some plywood. Finally, paint and trim your playhouse to your liking.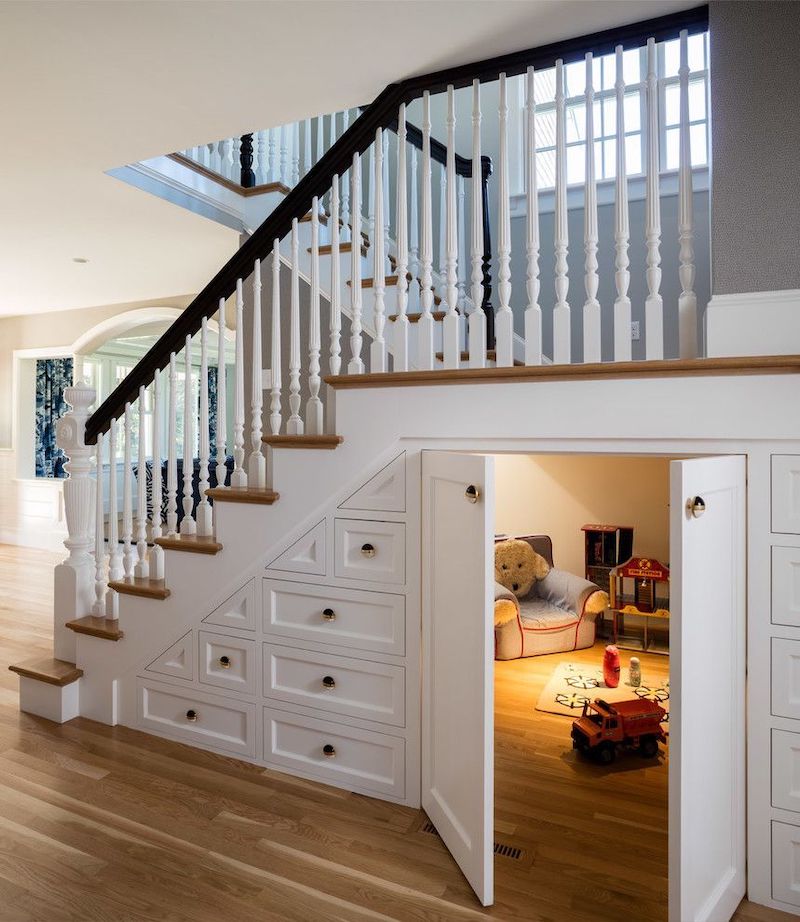 Dog House
A dog house makes great use of the space that already exists under your stairs. You can make an elaborate domicile for your domestic canine or you can be very simple. From DIY ideas to just sticking a mat and a bone under the stairs, you can make a little house that will make your dog feel welcome. After all, it can't stay outside forever. Add some toys, a pet bed, a dish or two, and a gate or door.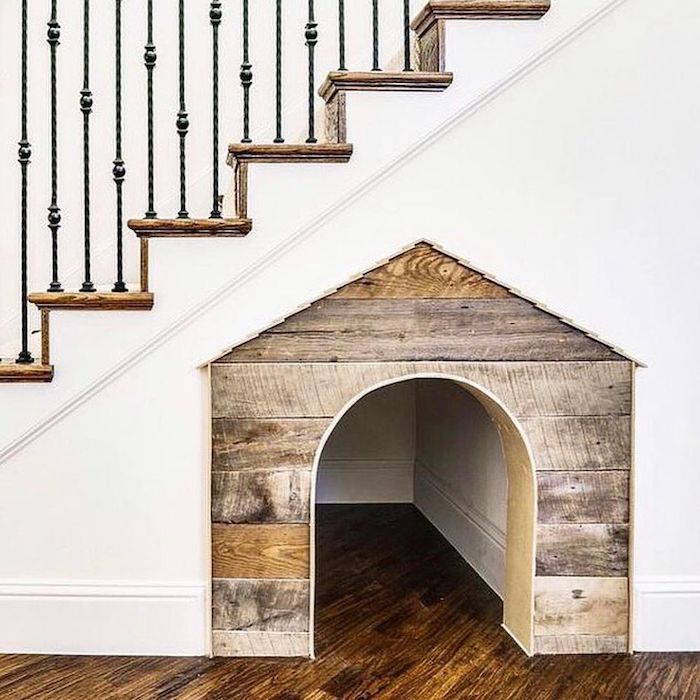 Closet
If you have limited space in your home, the place under the stairs can be an excellent spot for a closet. You could go for a coat closet, cleaning closet, linen closet, utility closet or something else. Just get some hooks, hangers, rods, and shelves, and you can store dozens of things! Add some cubbies below the hooks and hangers, and you have a place for shoes that are too wet to tromp through the house – boots, galoshes, and the like.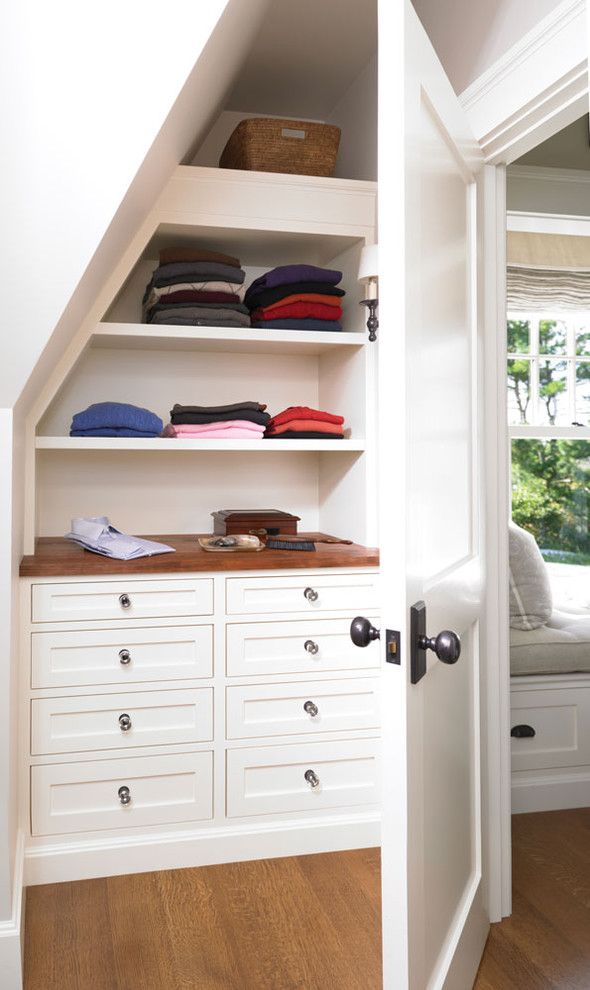 The hooks can also make a handy place to hang umbrellas or backpacks. In fact, your coat closet could also double as a mudroom. If you opt for a clothing closet, you can install some racks, rods, shelves or cabinets, and a few hooks to give yourself a great deal of extra space for your clothes.
You might want to add some cubbies or containers to store clothes you aren't going to wear for a while. If you have enough space and you are creative enough, you might also find room for holiday decorations, miscellaneous items for which there is no other room in the house, and even a place to hide surprises!
Half Bathroom
Another wonderful way to use the space under your stairs is to make a half bathroom. This idea can definitely come in handy if you happen to have a lot of company. It is compact, out of the way, and fits well without utilizing extra space. You can really have fun making a color scheme, adding attractive features like picture frames or other exotic ornaments, and some cool lighting to make your half bath inviting to guests.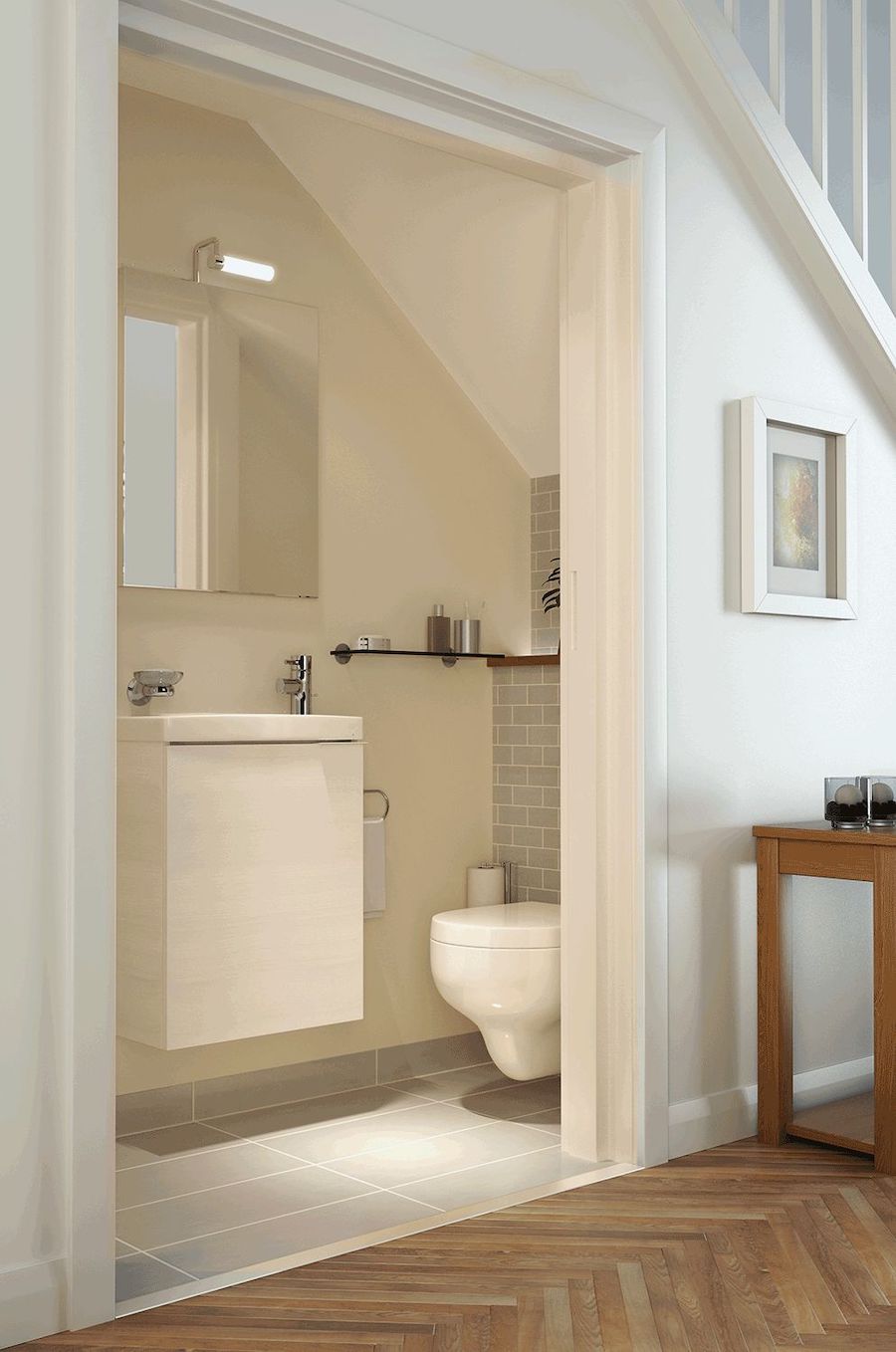 Home Bar
You can create your own happy hour by building a home bar under your stairs. Just have a countertop installed, for mixing and serving the drinks. You can also add a little fridge or some extra shelving or cabinet space to store your liquor. You can even have plumbing installed to put a sink in order to clean up. Of course, you could always opt for a wine cellar, but that requires extra thought and planning.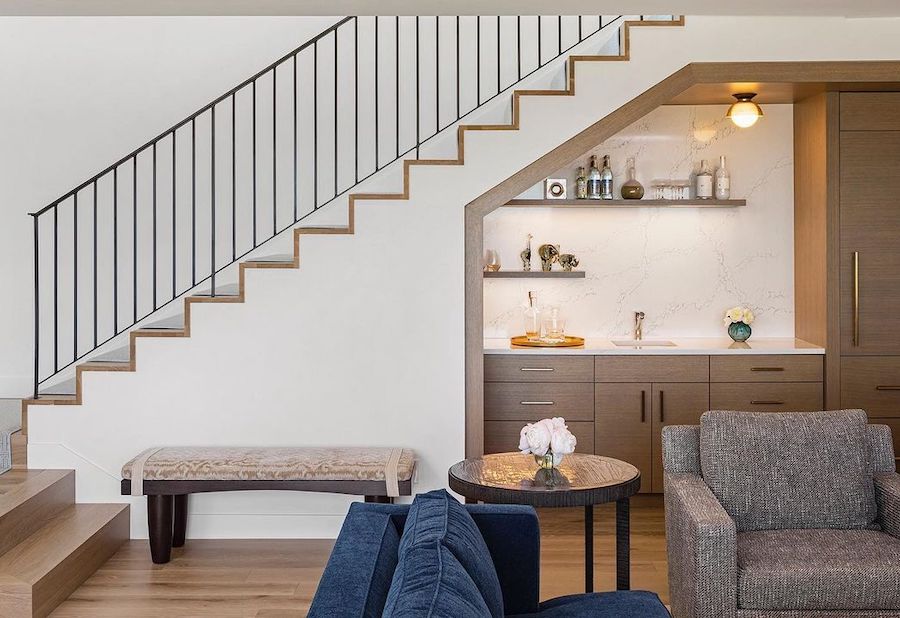 You can optimize all your space in your house with elegance with these innovative storage solutions beneath stairs. Regardless of what you'd like to keep, you may make this area work for you, frequently neglected and underused! Looking for additional ways to use your house efficiently?
More Amazing Staircase Decorating Ideas
Keep reading about staircase decor with these related posts: