Staircase landings often represent somewhat of a tricky spot when it comes to interior design. They are often small enough to very easily clutter up with even the smallest pieces of furniture, but can also come in sizes big enough to feel empty if you don't do anything with them.
Fortunately, there are no shortage of ideas for what to do with your landing, all you need is a little inspiration, which is exactly what I aim to provide here. So let's get to it!
What is a Staircase Landing?
Before I get into what to do with your landing, let's take a moment to clarify what a landing is. A staircase landing is an area of floor that can be at the bottom, top, or part way up a flight of stairs. In the case of a landing that is part way up the stairs, it may be to enable a smooth change of direction, such as 90 degrees to the side, or 180 degrees back on itself.
In the case of top landings, they will usually be the place from which many or all of the upstairs rooms are accessed, and there can often be quite a lot of void space there.
Staircase Landing Ideas
So, about those ideas. Below are nine of my top picks for how to fill that space at the top of your stairs. Of course, not all landings are the same, so you'll need to disregard some of them as necessary. But even for some of the ideas that aren't quite right for your landing, you should be able to find inspiration in there!
Gallery Wall
Gallery walls are perhaps one of the most common ideas for a landing, not to mention the rest of the staircase. On top of making the walls look less sparse, personal photos bring an undeniable element of yourself into the space. As far as the interior design goes, a gallery wall is very inexpensive to achieve.
You can repurpose old photo frames if needed, or even get creative and make your own. Of course, you don't have to use family photos. Your favorite posters or artwork will look just as good up there.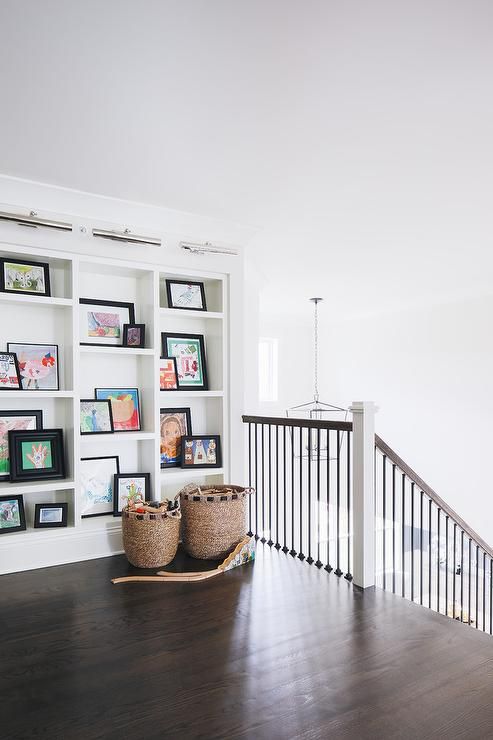 Small Reading Nook
One of the great things about reading is that it is an activity that takes very little space. Your mind may be off in fantastic and exotic places, but your body needs little more than a comfortable chair. If you have enough space on your staircase landing for a small bookcase and the aforementioned comfy chair, you'd be doing yourself a disservice by not turning it into a cozy little reading nook. If you can position your chair (or small sofa, for that matter) so that it gets plenty of sunlight, even better!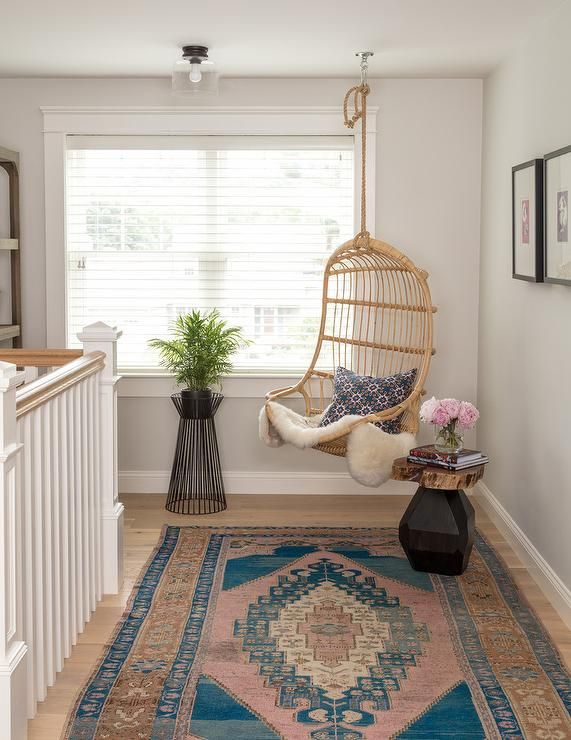 How beautiful is that hanging chair?
Built-in Bookshelves
Perhaps you don't have space on your landing for a full bookcase and chair to sit and read away those lazy Sunday afternoons, but you still like to read and those books need a home! Landings typically have a lot of wall real estate going free, so it's a good bet you'll be able to find a suitable spot to put up a few shelves to rehome your beloved books.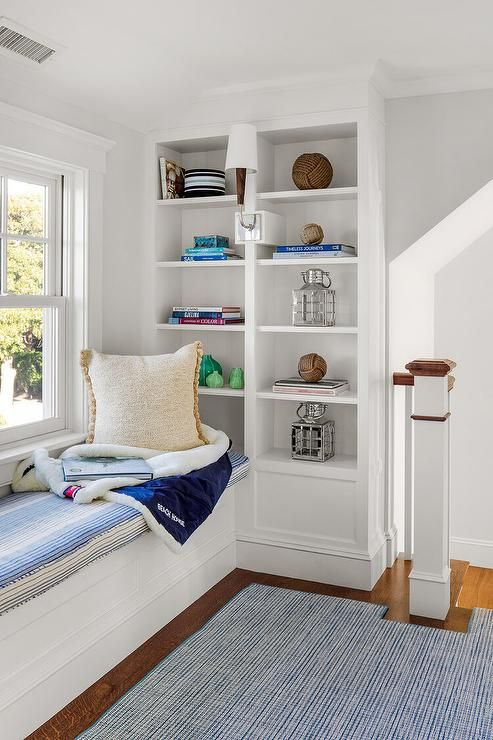 Window Seat
Landings are often home to a window of some kind, and for those of you lucky enough to have a nice, large window on your landing, the possibility of a window seat beckons. Window seats give you a great space to sit and enjoy the world beyond your windows, and can be built to incorporate storage for a little extra utility. You can even combine your window seat with the reading nook idea.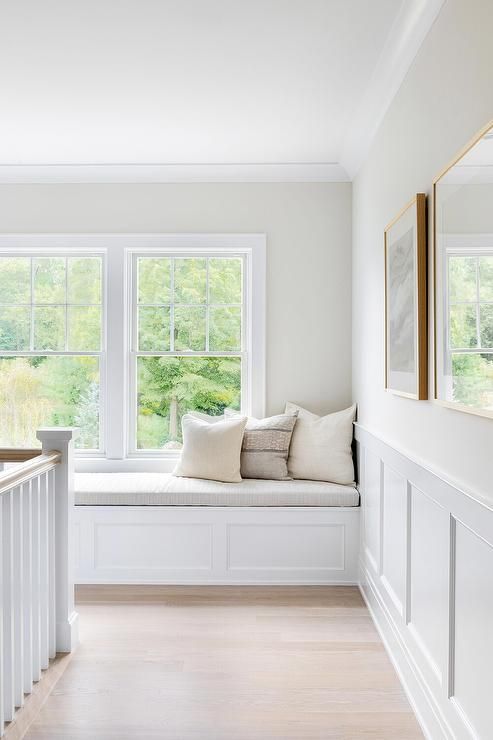 Office Space
This one may seem a little out there at first, but bear with me. You don't need a massive amount of space to set up a small office. Really all you need is enough space for a chair and a surface to put your laptop, computer, notepad, or sketchpad on. Anyone who has worked from home for long enough will understand the benefits of separating their work and home life, but not everyone has the space for a dedicated home office. Landing to the rescue!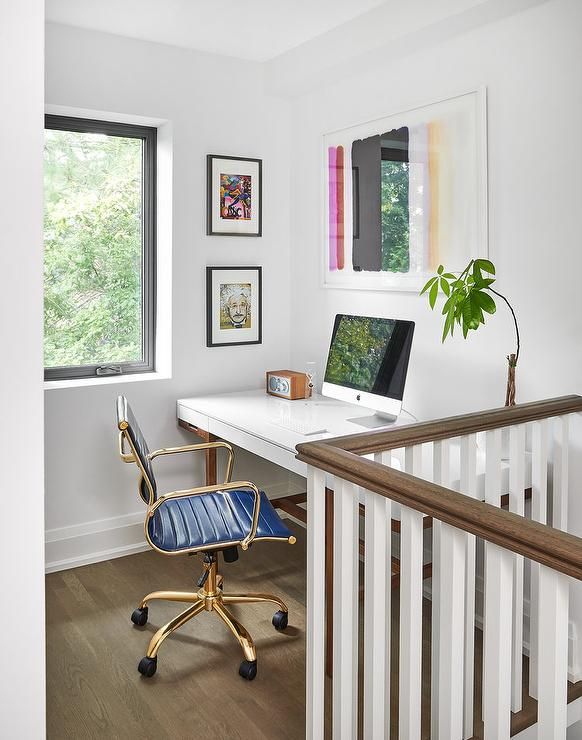 Den
Unlike the landing office space, this one does require a pretty substantial landing, but if there is plenty of space at the top of your stairs, you might consider turning it into a comfortable space to relax. You can think of this option as the reading nook writ large, and with more than just books.
Console Table
For those of us with smaller landings who like the den idea, you can get something close with a nice console table. You might not be able to kick back and relax at a console table, but you can store things there and liven up the space with some nice pictures and ornaments. If there is space, you could even include a small chair or stool and turn your console table into a spot for working at.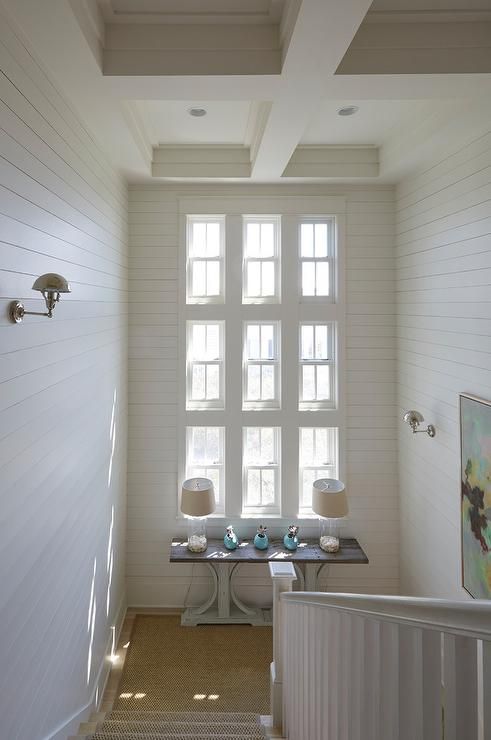 Fireplace
I'm getting into big landing territory here, but if you have space for a bit of furniture on your landing, you might consider having a luxurious fireplace fitted, giving you a nice space to relax in.
Armoire for Extra Storage
You may not be able to (or want to) turn your landing into a space that you actively use, but that doesn't mean that space has to go to waste. An armoire will allow you to turn some of that space into useful storage, and look great while it does so.
There is no shortage of creative designs you can incorporate into your landing and you may have noticed that many of the ideas I shared here today can be mixed and matched. In other words, it is possible to create something truly your own, that is both functional and aesthetically pleasing.
Always remember to think about what you actually want from the space. There is no sense wasting your landing on a reading nook if you hardly ever read books! Most of all, be practical. If you have a small landing, don't make it almost unusable by stuffing a huge desk in there.
Happy curating!