A well-designed kitchen pantry should be functional, stylish, and organized. Here is a simple guide on how to design a kitchen pantry at home.
Determine How Much Space You're Working With
You can create a kitchen pantry without much square footage. To make this work, you should adjust the shelves to make them fit together. Small vintage kitchens may lack space, but there are ways to get creative. One way is to add a built-in cabinet.
The available space will depend on the type of pantry you need – pull-out, walk-in, or reach-out starts. A walk-in pantry offers more storage space and can be created separately from the kitchen. If you want to stock a large quantity of food, a walk-in pantry is the best option.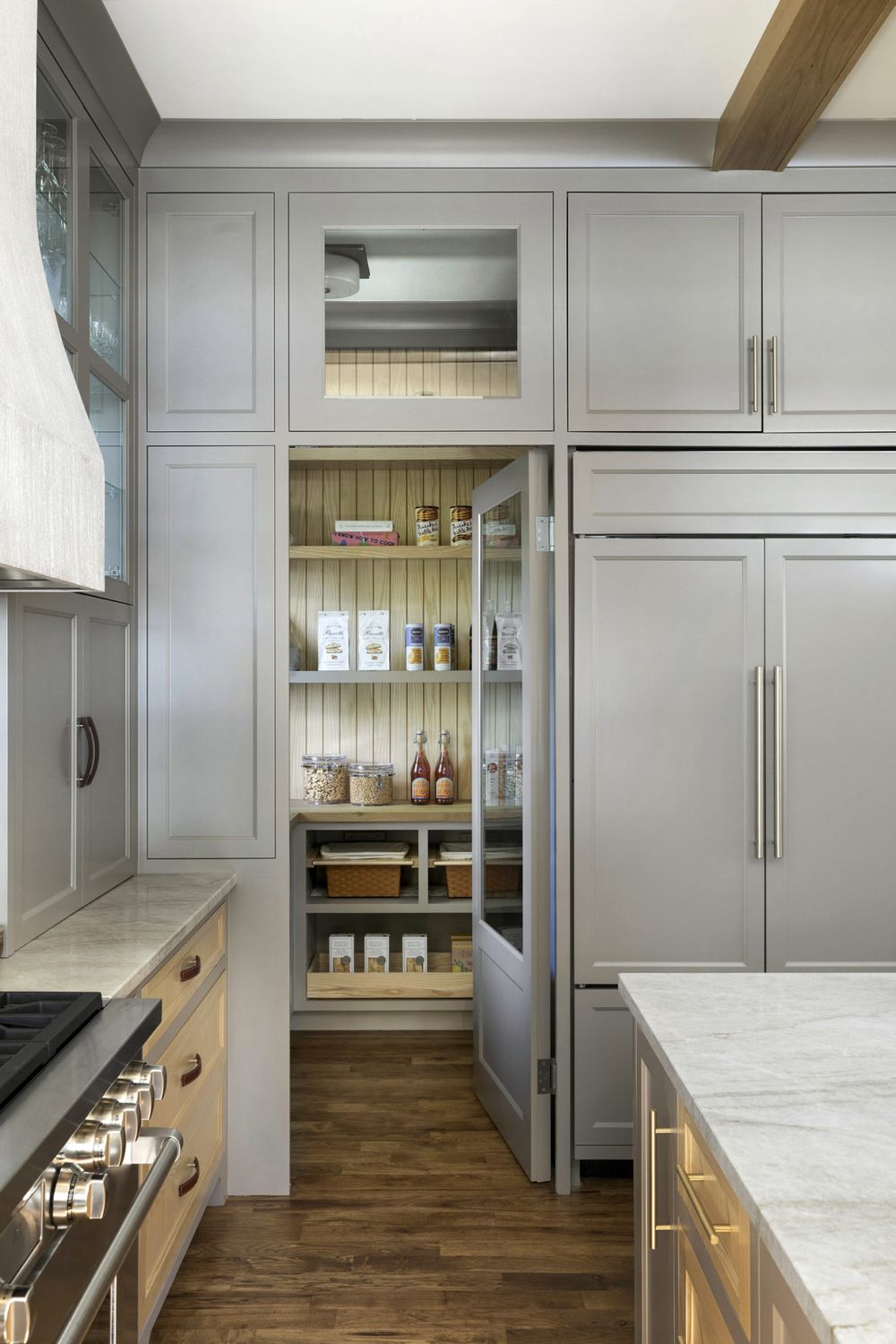 Where Should Pantry be Placed in Kitchen?
When you think of a kitchen pantry, the first thing that comes to mind is a big room with supplies of food. However, it's more of a personal choice in modern kitchens. Whether you plan to build a new pantry or renovate an existing one, the placement requires planning.
A pantry can be placed close to the food preparation area. If your kitchen has a baking area, you can install a pantry too. If you live in an area with a tropical climate, your pantry should be in a well-ventilated area to control the odors.
Types of Kitchen Pantries
A pantry helps to keep your kitchen clutter-free. The pantry you choose will depend on your space. Here are the popular types of kitchen pantries found in modern-day homes!
Slide-out pantry
A slide-out pantry can be a space saver in your kitchen. It can be installed within the cabinets and blends well with your kitchen layout.
Walk-in pantry
A walk-in pantry can be the right choice if you have an area designated as pantry space. It can be incredibly helpful for homes with large families. Some homeowners opt for walk-in pantries to organize kitchen supplies.
Standalone pantry
If you have limited space, a standalone kitchen pantry cabinet is always a good idea. Apart from providing storage flexibility, they can serve as an accent piece. A major benefit to choosing a standalone pantry is that it can be customized in terms of color and design.
Butler's pantry
A Butler's pantry offers many entertaining benefits. This type of pantry provides additional cabinet space and offers a private room to prepare food. The butler's pantry is located to the side of the kitchen where cutlery, tableware, appliances, and workplaces were placed in the past.
Wall pantry
As the name suggests, this pantry is built to the wall of the kitchen. It provides an immense amount of storage space while remaining conveniently out of sight.
Create a Layout for the Pantry
The layout of a pantry is somewhat overlooked. Here are a few tips to make your pantry space practical.
Take stock of what you need to store when designing your kitchen pantry layout. You don't have to wait until the pantry is in place to plan your space. Start by figuring out what you want to stash.
Ensure the depths are just right. While this may look like a small detail, the depth will determine if the storage can be useful. On average, the depth of pantry shelves should be 16-20 inches.
Designate storage zones. You can designate the zones for different items, including the seasonal ones. Still, you can add some color coding to make your pantry easier to find the items.
Use the pantry door to its full potential! You can turn the back of your pantry doors into more storage. If you have a small kitchen, you can install a sliding pocket door to save space. The door can also serve as a visual barrier for secondary storage.
Organize Storage with Cabinets, Drawers, and Open Shelving
Since the kitchen is one of the busiest rooms in the house, you should keep it organized. If you want to bring order to a cluttered pantry, you should focus on a mix of cabinets, drawers, and open shelving.
We have lots of kitchen cabinet organization ideas to help you out. One way to organize the kitchen cabinet is to label the contents. To maximize the vertical space, you can add shelf risers. If you want to make your pantry feel twice as big, you can maximize it with drawers and open shelving.
What to Keep in a Kitchen Pantry
Many people like to keep nonperishable food items such as pasta, whole grains, cereal, and granola in their kitchen pantry. You can also store extra cookware, cooking machines, and surplus beverages.
Kitchen Pantry Costs
How much does it cost to build a pantry? On average, you should expect to pay $500 to $5,000 for the project. A small reach-out pantry can cost $300 to build. And depending on your location, one square foot can cost $20 to $40. If you're building a high-end pantry, the cost per linear foot can add up to $450. The main expenses of a pantry construction are walls, shelving, electrical, permits, and design. You should expect to pay more to accommodate high-end materials and features.