Let's talk about how to design the perfect home bar for hosting and entertaining. A home bar can be an inviting place to socialize, unwind, and watch the big game on Sunday. Adding some personality to your home bar will make it a more welcoming space that you'll want to spend time in with friends and family on a regular basis. Keep reading for a few simple ways to add charm to your home bar design and make it the social hub of your house!
We'll share a few different types of home bars, some home bar design ideas, as well as some essentials you'll need for a well-stocked wet bar.
Decide Where You Want the Home Bar
If you're trying to create a home bar, but don't have a space dedicated solely for it, consider setting up shop in your living room. It might not be exactly what you imagined—after all, home bars are supposed to have polished wood or marble countertops and bottles of top-shelf liquor lining their shelves—but it can still make for a great experience.
The trick is getting creative with your storage and presentation; some cleverly hidden shelving could go a long way toward creating an ideal home bar setup.
Another common place for a home bar is the dining room, so you can easily make drinks for your dinner guests.
If you have a large house, you may want to install a home bar in your finished basement, in your husband's "man cave," or in a sunroom that leads to your outdoor pool. The possibilities are endless for where to put a home bar in your house!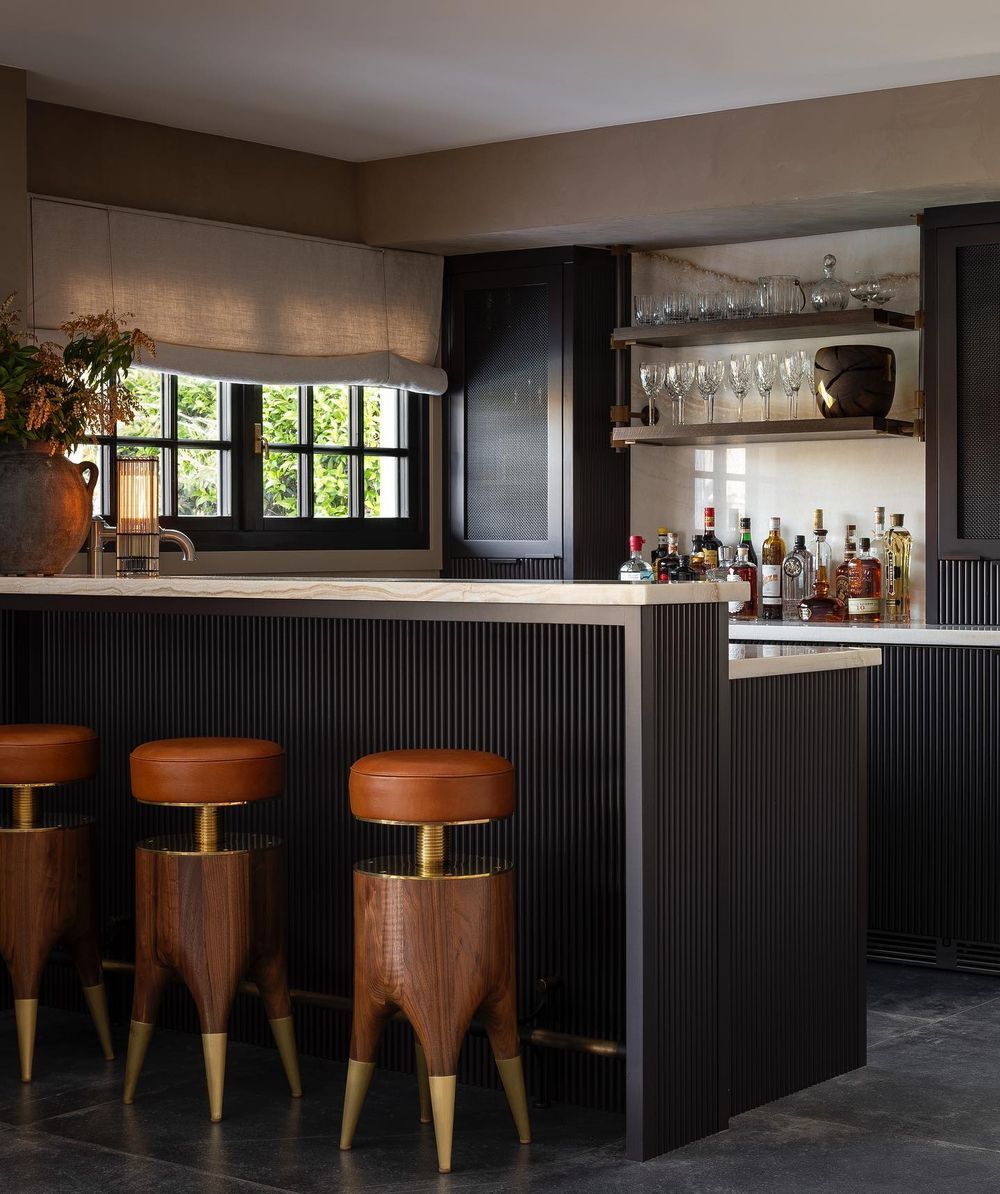 Install A Fridge and Sink If You Can
A well-outfitted home bar includes a small beverage refrigerator, a small wine fridge, and a small sink. Of course, not everyone has the budget or space for these things. If you do, they're perfect for easy entertaining at home, however!
Pick a Style that Suits Your Taste
Home bars come in many different design styles. You can go with a rustic farmhouse home bar or a contemporary, modern home bar according to the style of your interior design!
Modern Home Bar
If you have an empty space in your home that's begging for a drink station, consider making it a modern home bar. This contemporary design scheme is all about clean lines and simple shapes, so start by adding shelves or cabinets with straight edges.
Then add contrast with a monochromatic color scheme (using white or black) and possibly a geometric pattern on your floor, carpet, or rugs. Finally, round out your design with metallic accents like your glassware—this will give off a bit of shine when light reflects off it.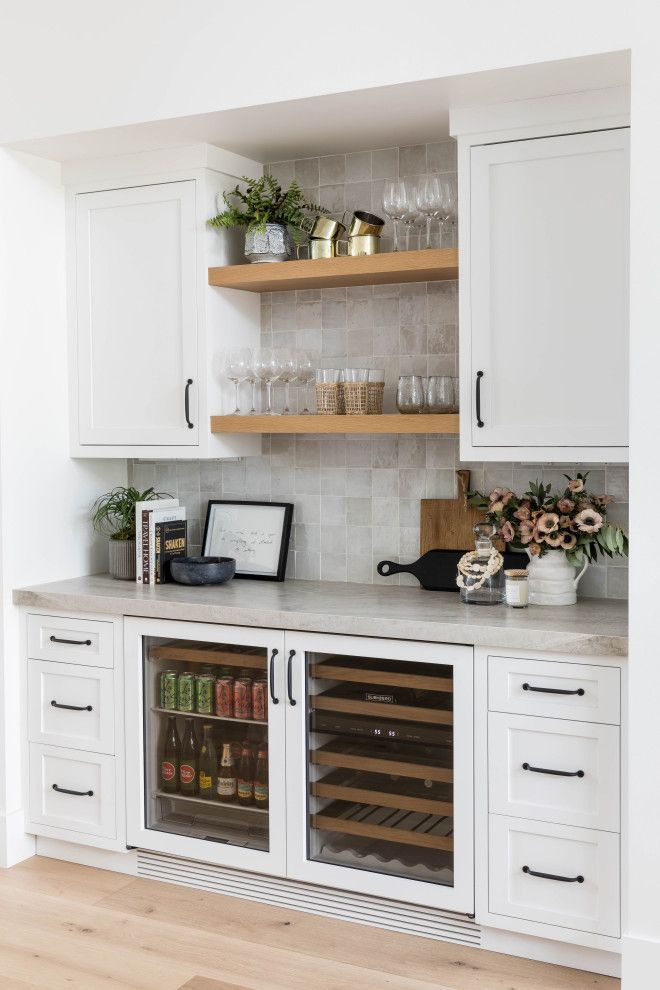 An overhanging shelf also works really well if you don't have room for one mounted on a wall. (Bonus: It also opens up counter space.) For many people, their refrigerator doubles as a home bar with bottles chilling inside—but there are lots of options when it comes to cabinets that double as beverage coolers too!
Rustic Home Bar
If you like rustic-themed homes, a home bar is a great place to incorporate this styles into your decor. Wood tables and chairs are both popular home bar ideas, as are antique pieces and accessories.
Look for metal furnishings in bright colors like orange or red that add a festive look. Even more personalized home bar ideas include bits of family history. You can hang photos of family members on tap handles, framed as artwork, or displayed under glass on shelves, among other possibilities.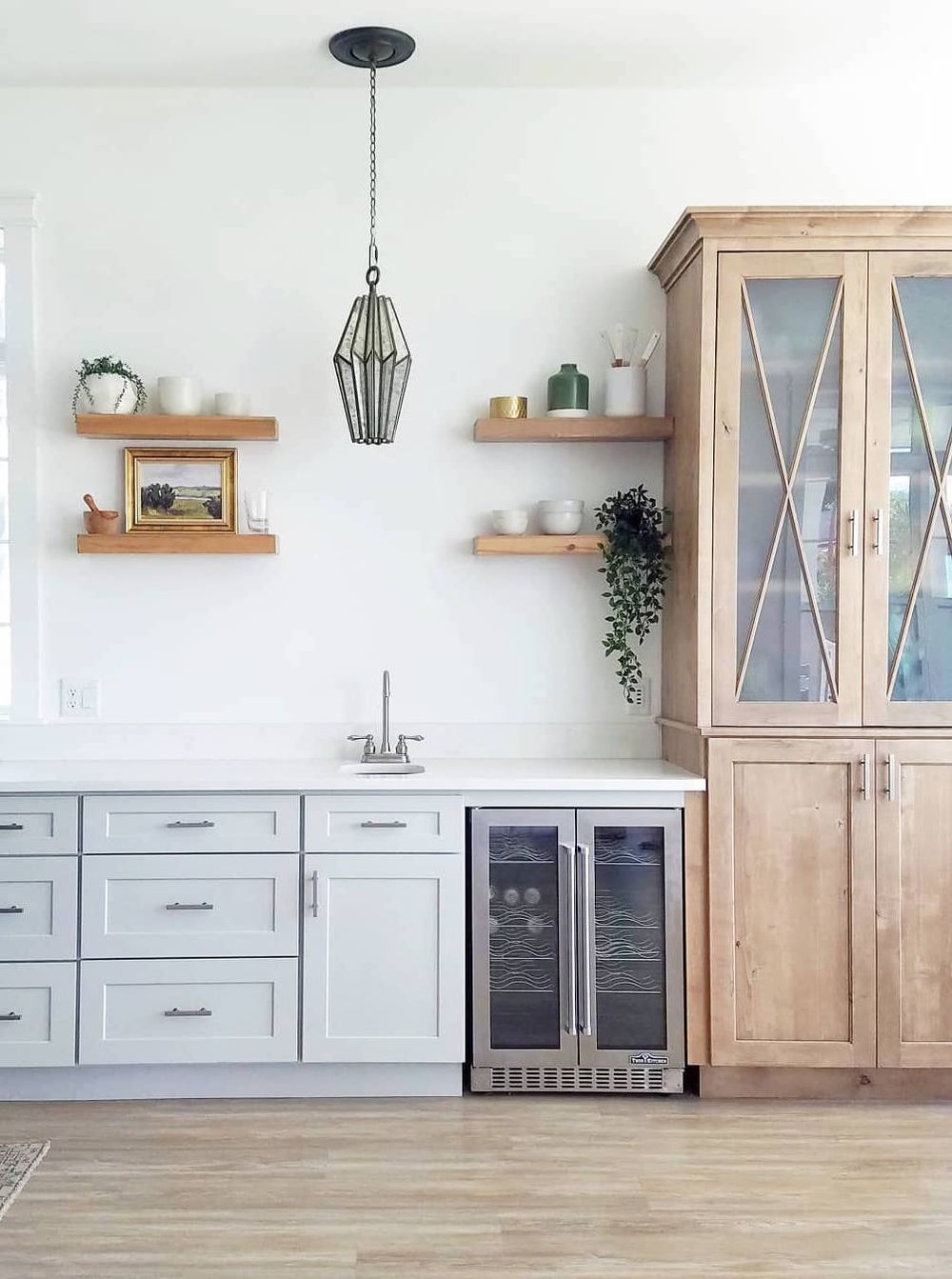 Remember that each person you invite over will see these decorations; making them personal can really bring out your style while also making them feel like special guests at your exclusive home bar.
Add Targeted Lighting
Be sure to add targeted lighting below the cabinets which shines down on the countertop surface. If you don't have a ton of space in your home, try creating an apartment-style bar by stashing liquor bottles and glasses into open shelves or cabinets. It might be more work than having a bar that sticks out from your wall, but it's much better than giving up your dream of having a home bar! When it comes to small rooms, think vertical.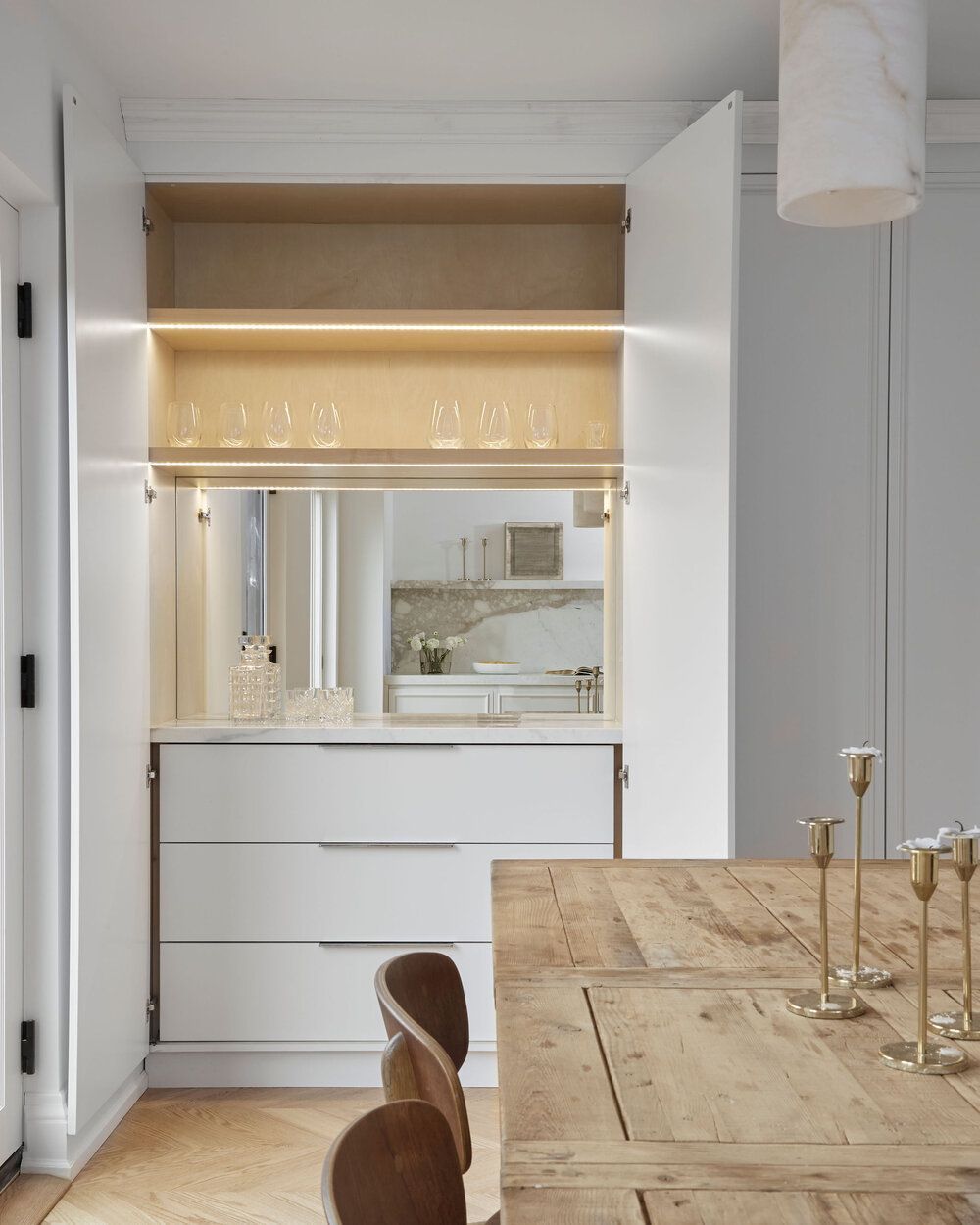 Stock Up on the Essentials
You'll need a few basics to ensure your home bar is properly stocked for hosting parties and entertaining. A few of the home bar essentials you'll need are:
a tumbler
champagne, wine, and martini glasses
standard drinking glasses
ice bucket
alcohol
Home Bar for Small Spaces
If you live in a small space, it can be challenging to create an awesome home bar. However, there are some things you can do. If possible, opt for a cabinet or wall-mounted home bar. Mounting your home bar keeps it off of your floor and creates some much-needed space in your kitchen.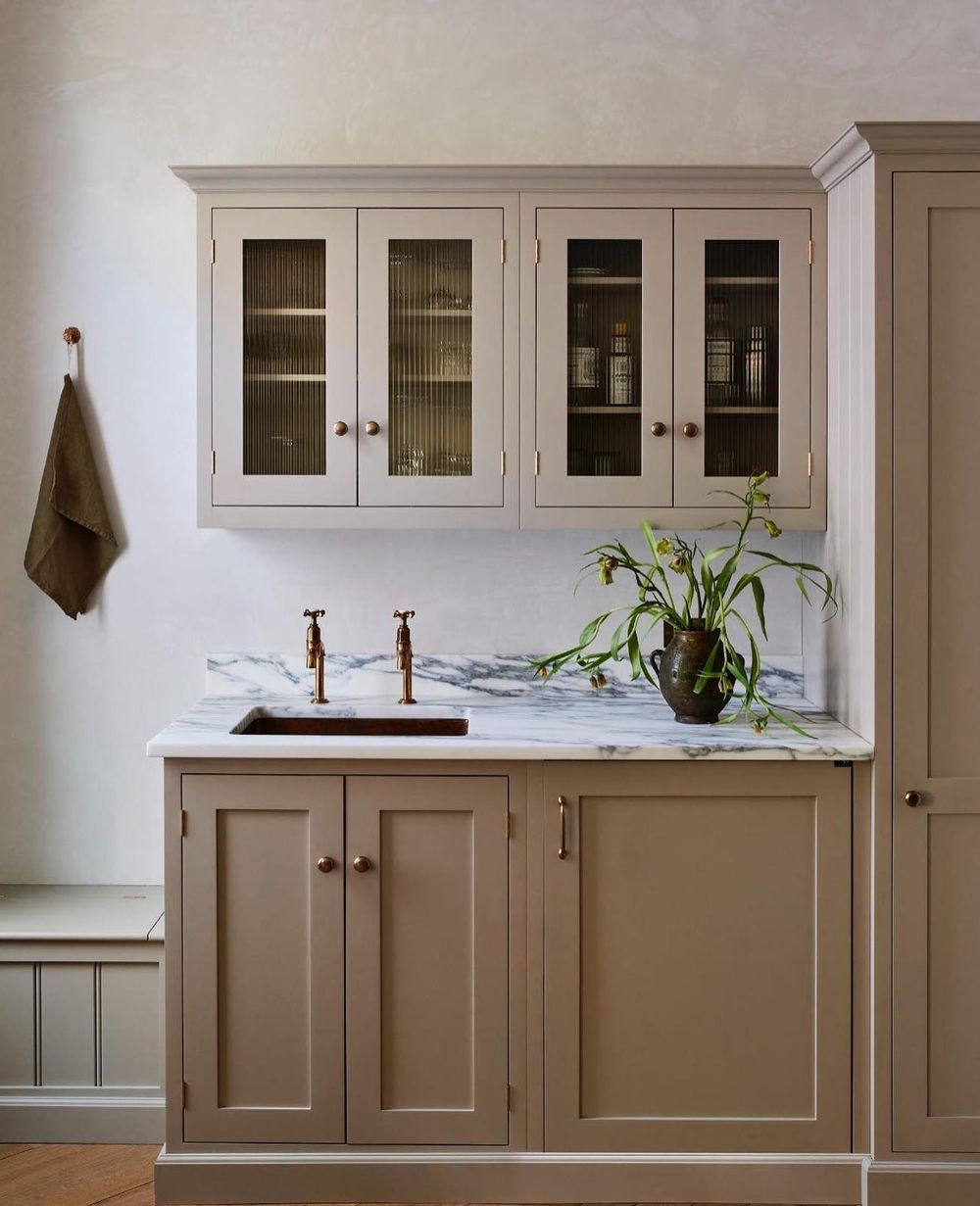 Home Bar on a Budget
There's no need to spend a ton of money on designing your home bar decor. A simple brass bar cart could be all you need! Even a few dollars will go a long way towards adding some functionality to your home bar, which is one of your greatest assets when entertaining. You can add character to your home bar on a budget by making masking tape murals, using colored light bulbs, and wine bottle candle holders.
If you prefer cheap freestanding bar carts over built-in options, there are plenty of ways to give them some personality. You could also buy a standalone bar cabinet (they come in all sorts of sizes and styles) and fill it with glassware and liquor bottles.
---
I hope these home bar design tips inspired you!