Scandinavian kitchens are designed with form and function in mind. From sharp edges to minimalist designs to that famous 'Scandinavian blue' hue, there is much to learn from the kitchens of nordic countries.
Scandinavian decor refers to the interior designs found in countries such as Sweden, Norway, Denmark, and sometimes Finland. These countries celebrate minimalism and practicality inside their homes. The color palette is often quite neutral with white, black, gray, and beige being the primary hues.
Scandinavian Kitchens
When it comes to the kitchen, you want to create a practical space that is conducive to cooking, preparing meals, and serving beverages. At the forefront of this space is nourishment. We all need to eat healthy to survive and live full lives, and the kitchen is at the heart of our physical health.
With that in mind, there are a number of ways to design a kitchen inspired by Scandinavian interiors. We are here to share the best nordic kitchen design ideas with you today!
Scandinavian Blue Cabinets
There is one color strongly associated with Scandinavian design. It's a muted blue that has been mixed with gray to give it a toned down, desaturated look. It's called "Scandinavian blue" and you can find it in many places in the home. I think it looks best as cabinet paint in a Scandi style kitchen. Here is a great example of this blue, with square white tile backsplash, and a gray wood kitchen island table.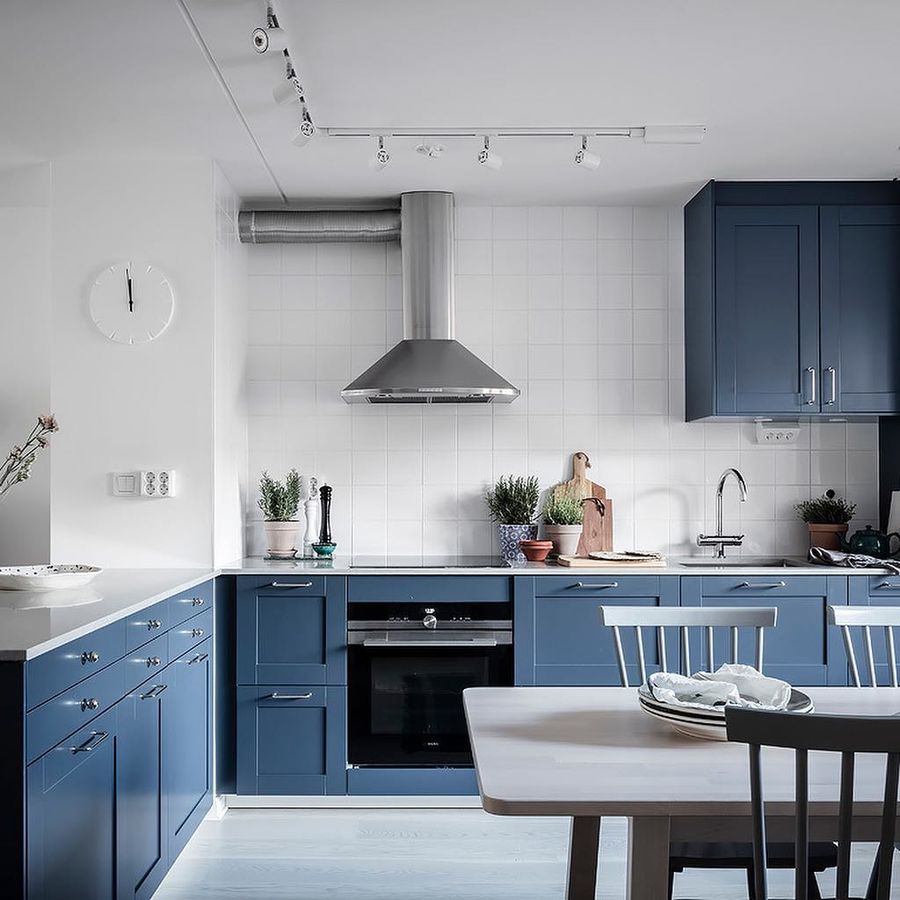 Vintage Range in Modern Kitchen
Scandinavians love to mix one or two vintage touches in their modern spaces. Here you can see a contemporary kitchen with a vintage style black range for cooking.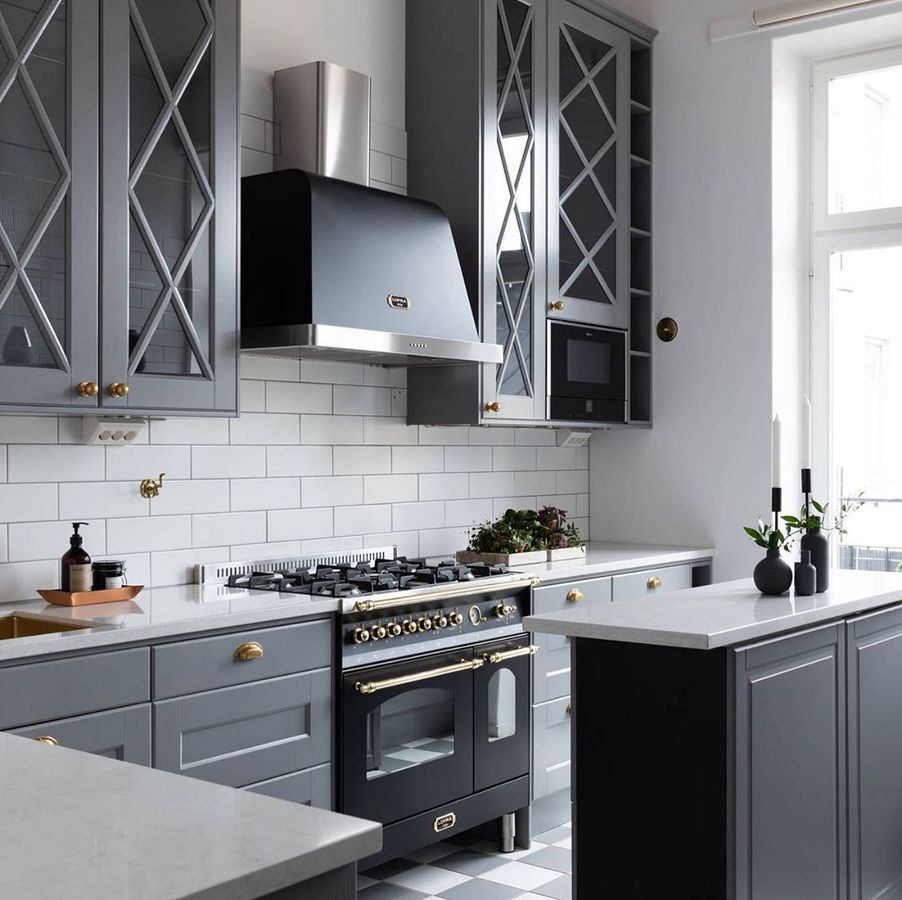 Black, White and Gray
This is a great way to mix primary Scandinavian colors. This kitchen features gray cabinets, white subway tile backsplash and black wall sconces for lighting. The marble countertops of this kitchen further contribute to the chic grayish color scheme.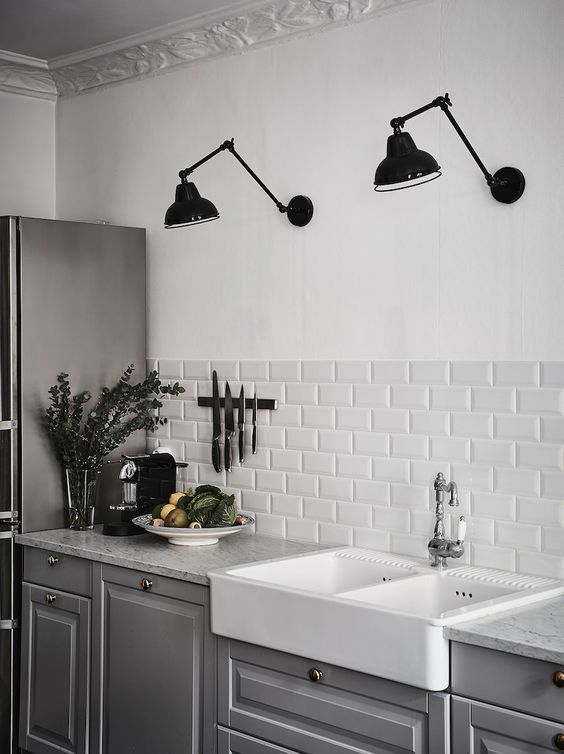 Wood Table Kitchen Island
Like many European countries, the Scandinavian region often employs the use of rustic wood tables to serve as kitchen islands. Wishbone chairs are placed around this island for seating. As you can see, it's a great spot to read a bit and enjoy your breakfast in the morning.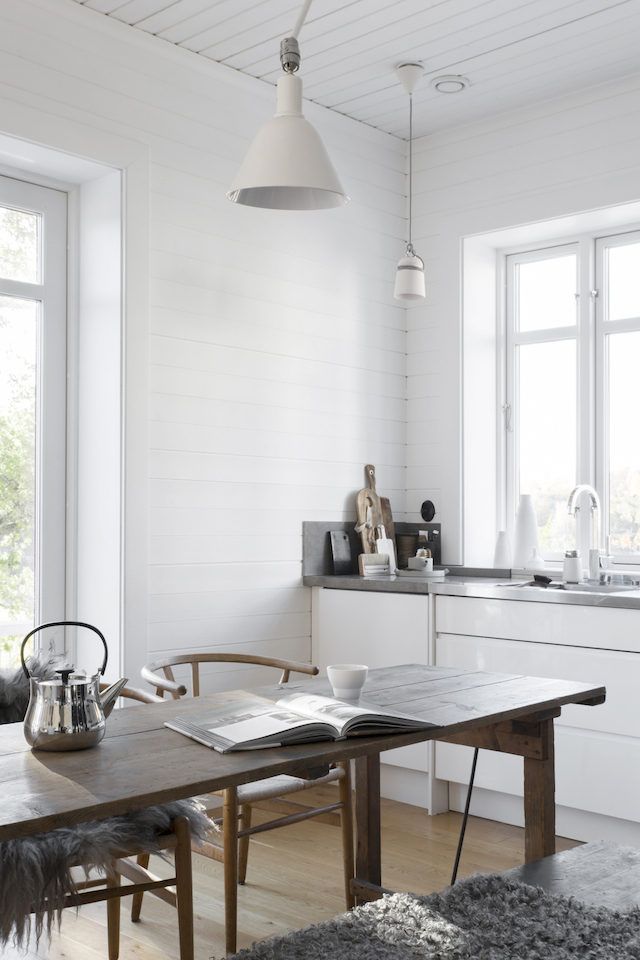 Small Scandinavian Kitchen Design on One Wall
Here is a great example of a small Scandinavian kitchen design using only one wall. Pale blue cabinets have been installed against the far wall. They are so minimalist that they don't even have visible cabinet pulls or handles! The backsplash and countertop are made of marble. The sink faucet is brass. This small kitchen packs a lot of storage into one single wall.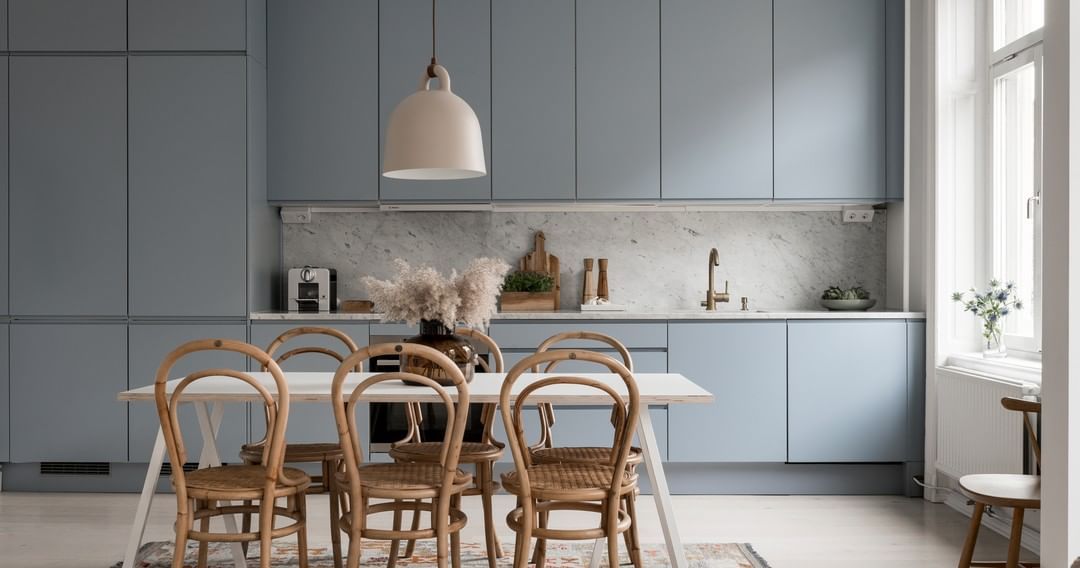 White and Gray Scandinavian Kitchen
This is a beautiful minimalist Scandi kitchen designed using white and gray hues. I love the simple gray bar stools sitting by a white kitchen island. The cabinets look like they are painted a very, very light gray color. The ceiling pendants are simple white domes.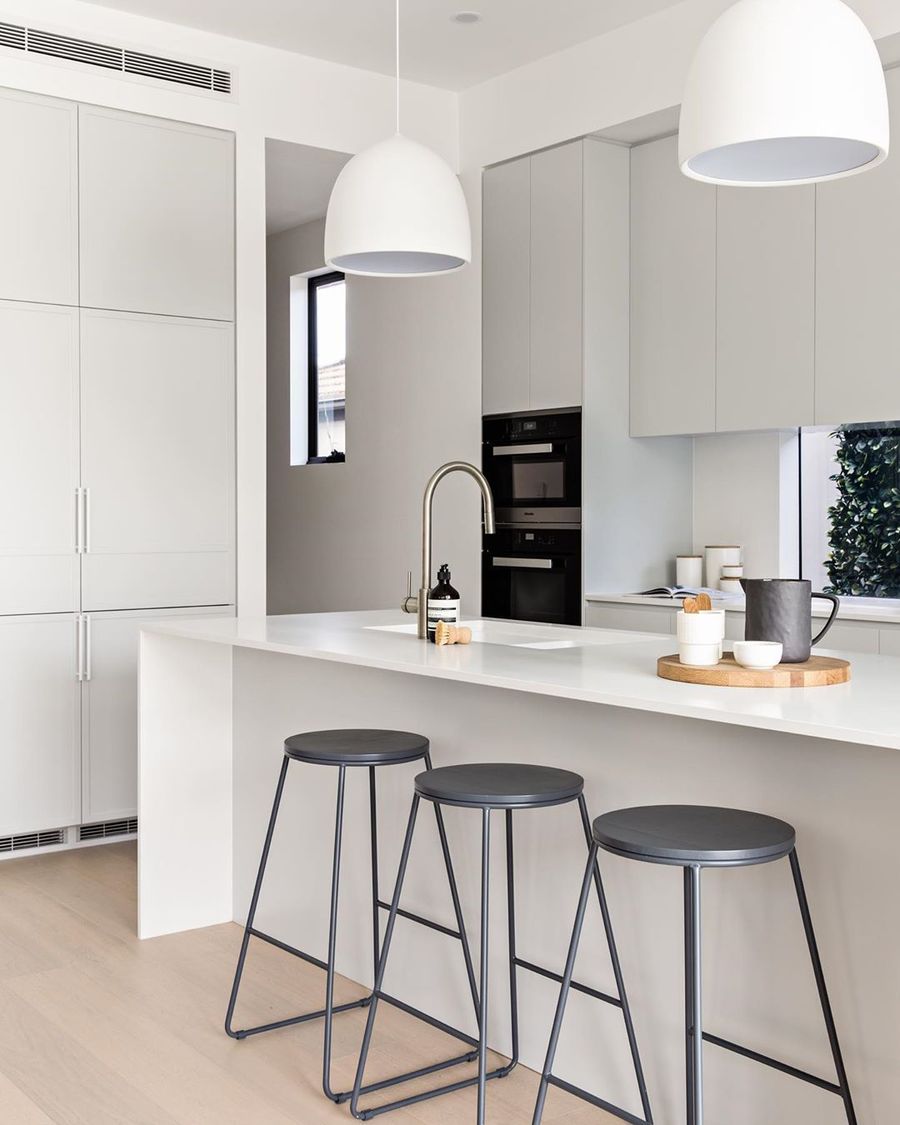 Marble Kitchen Island with Black Hardware
I love this high-contrast Scandinavian kitchen design. The marble kitchen island is definitely an eye-catching piece. It has three simple black counter chairs with square backs nearby. In the back, solid gray cabinets have been installed with tiny black pulls for handles. Two black ceiling-mounted lighting rods hang down, lighting up the kitchen island.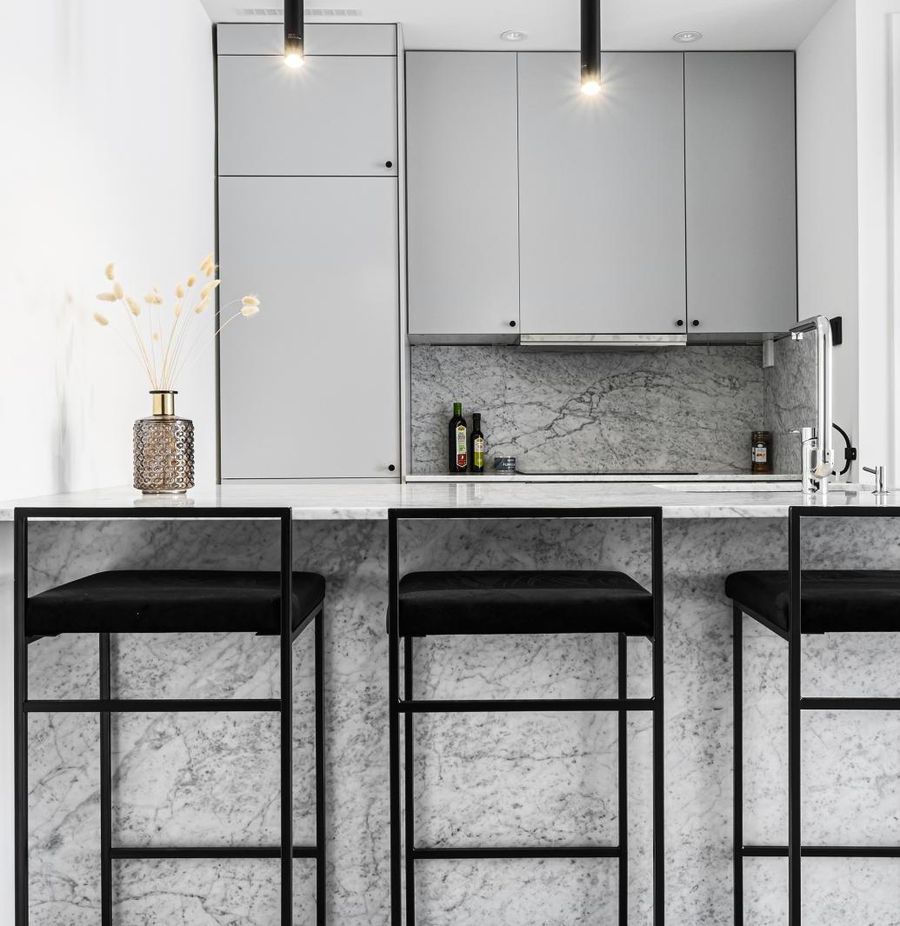 Wood Bar Stools
This is one of the warmer Scandinavian kitchen designs we've seen. Three wooden bar stools, a wood frame kitchen island, and beige wood floors help warm up this otherwise cool space. The faint blue kitchen cabinets and stark white countertops keep it looking clean and fresh. The dome pendants above the island are minimal in design. A large photography print showing ocean waves gives the room a calming atmosphere.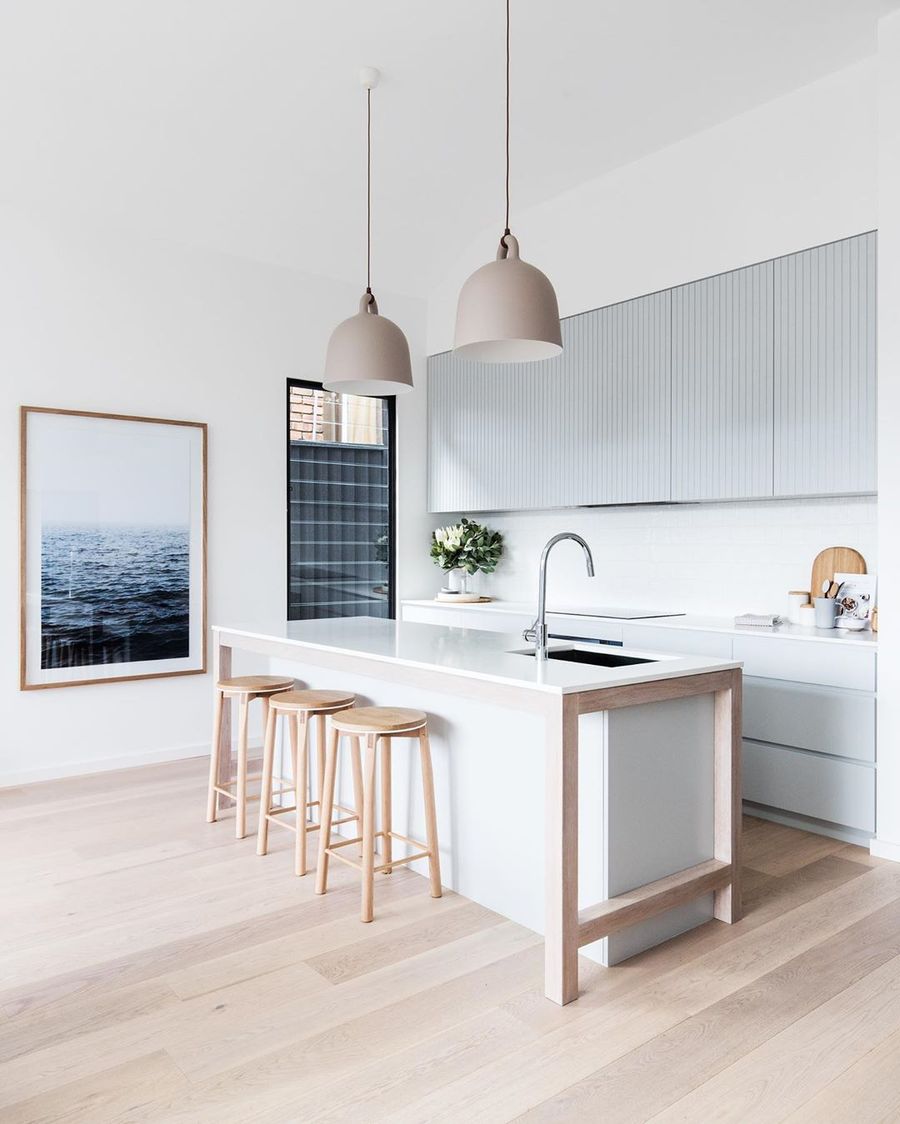 White Subway Tile Backsplash
White subway tile is a very common design choice for the kitchen backsplash in Scandi kitchens. It is often sealed with white or gray grout.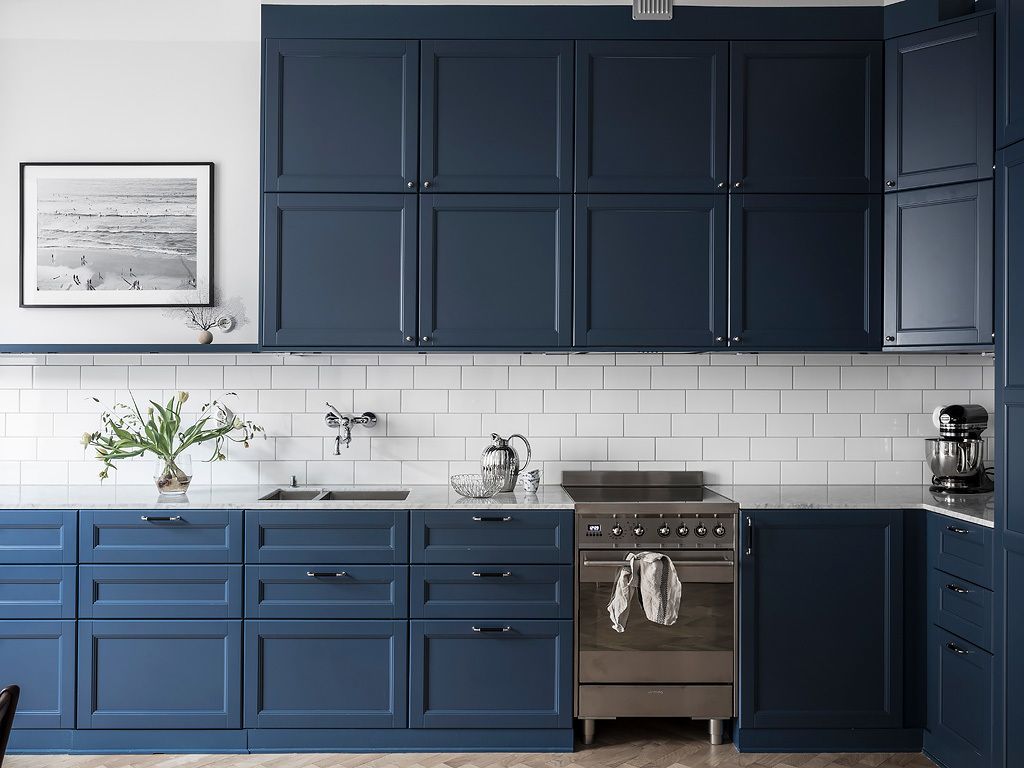 Striped Rug
Since Scandinavia is quite cold, many kitchens have a small area rug to keep them a bit more cozy. This is an example of hygge, the Danish lifestyle concept of living well with simplicity and coziness at home. Little touches of comfort can go a long way in helping you live a long and happy life.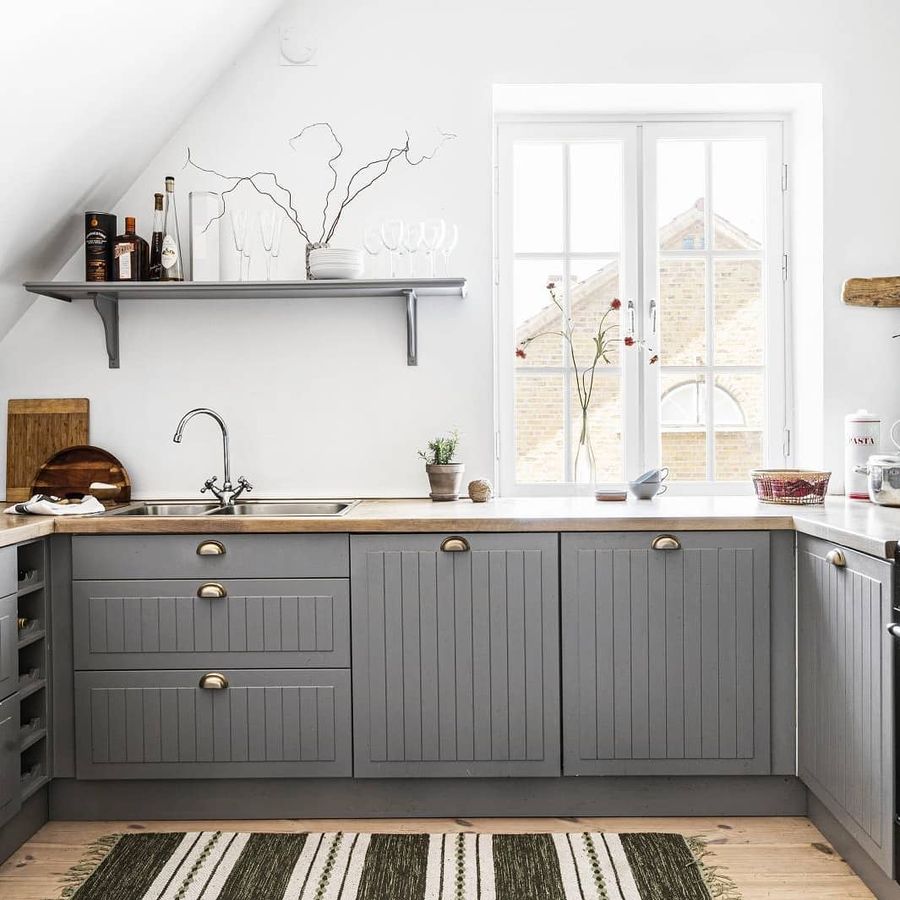 I hope these Scandinavian kitchen design ideas gave you lots of inspiration for your own kitchen. The Nordic countries may be far away but I think we Americans have a lot to learn from their simple interior design. It seems like they have a profound appreciation for the simplicity of everyday life and find joy in the little things.
More Scandinavian Decor Ideas
If you want to explore more Scandinavian decor and furniture ideas, then please read our other related posts on this decorating style:
Happy curating!