Are you a beach and tropics lover? Missing relaxing by the pool in hot weather but not in a position to? Introduce tropical home office decor and make your workspace summerlike, cheerful and relaxed. The essence will raise your spirit whenever you are in the room. Let's talk about how to stylishly incorporate such tropical decor into your home office.
Tropical Home Office Decor Ideas
The home office is a place to get work done, but that doesn't mean it has to be a boring space! Take a look at the best tropical home office decor ideas for the home:
Banana Leaf Wallpaper
For an indoor jungle look, banana leaf wallpaper is perfect for tropical home office decor. This home design is trendy, vibrant, and a concrete escape for those with no gardens. It brings the presence of an actual jungle with beautiful tropics. The swaying leaves bring beach memories, while the Monstera plants bring an exotic touch. Banana plants take us to the rainforest in the dark depths, where they grow rampantly.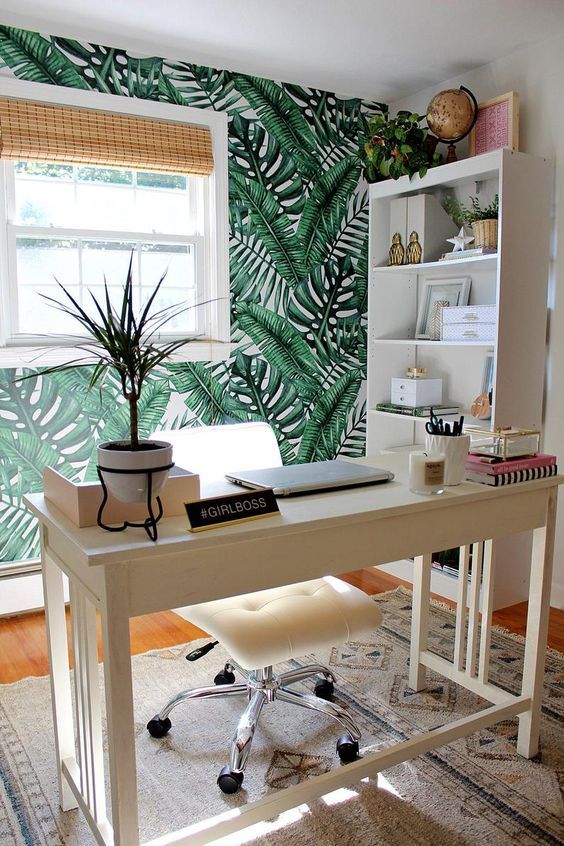 Banana leaf wallpaper can be found in various types of tropical leaves that will inspire you. They include: bold and beautiful banana leaf, bright green jungle banana leaf wallpaper, psychedelic floral and blooming bananas, bamboo chic, mysterious and dark leaf prints, swaying palms with an urban escapism presence, the tiger in the wild wallpaper, perfect pink wallpaper, pink flamingos in banana leaves and palms, leaves that inspire imagination, statement wall with contrasting flamingos, and autumn tropics recreation wallpaper.
Bright Colors
Illuminating your home office with bright colors gives a relaxing feeling. The cool blues and bright yellows with lush greens and big, bold colors can give you a beach and island paradise imagination. Since the tropical colors are bright and lovely, they pop out at everyone in the room, just as the brightly feathered parrots do.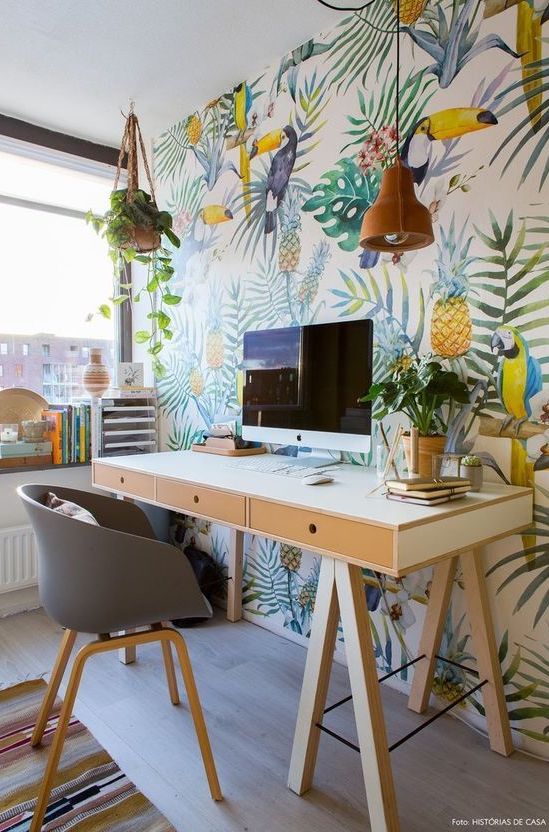 Go for a small portion of bright tropical color matching your furniture and other decorations. You might not like it painted in the entire wall, probably intense bright points whose presence will be felt in the entire space. Make your color count in a brilliant burst by assigning it somewhat prudently.
Indoor Plants
Having a plant in your home office not only improves the air quality but also enhances your room's look and boosts your mood. Having plants in your space makes it look cool and cute hence catching your colleagues' eyes and attention. For a cubicle or open desk, here are some ideal plants perfect for tropical home office decor. Snake plant, ZZ plant, English ivy, Staghorn fern, Echeveria, and Zebra plant are popular tropical indoor plant ideas.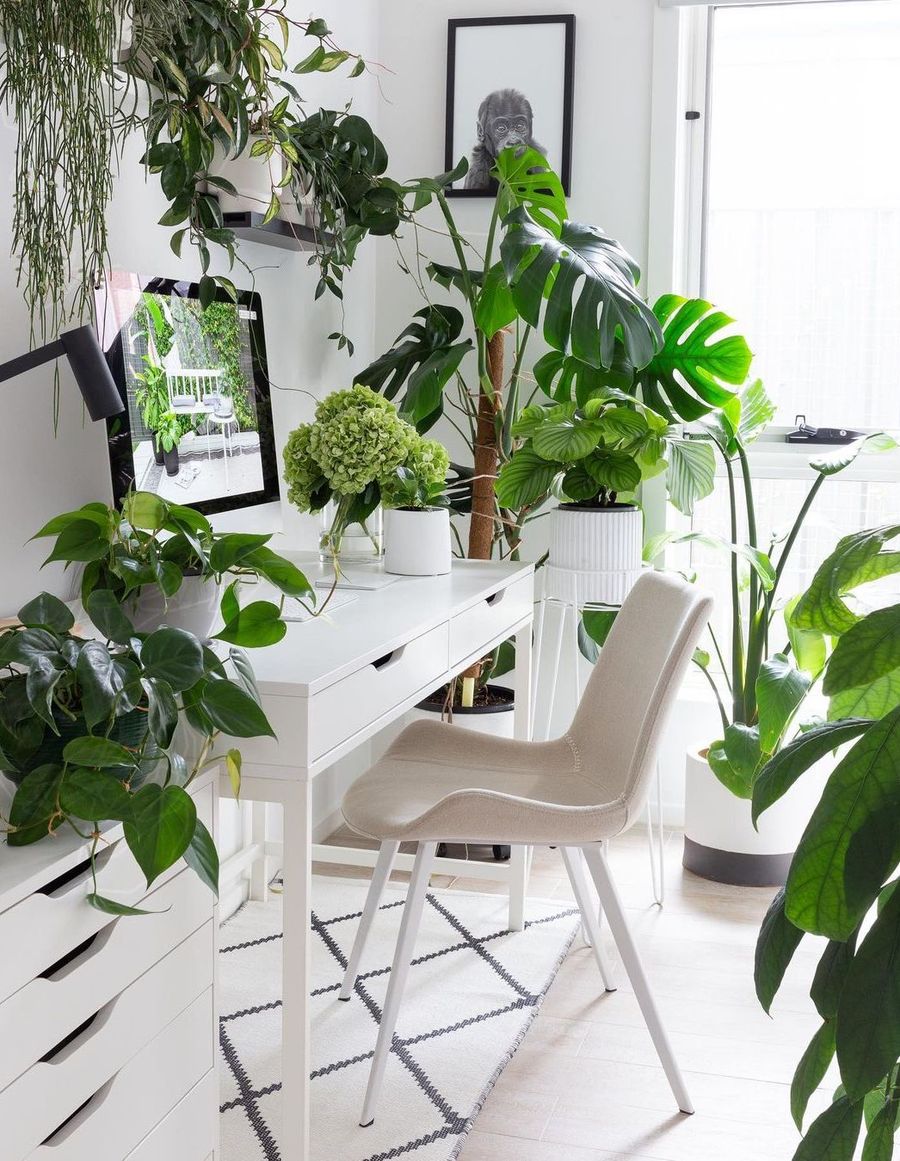 Tropical Wall Art
If you are into brightly colored accents, animal prints, and oversized foliage, then you will love tropical art. This type of decor does not need to be overdone. An airy and light look and layer in popping natural elements, animal print accents, and large tropical plants can do. Artwork helps in setting tones. For instance, watercolor images and botanical illustrations portray coastal fishing and jungle scenes.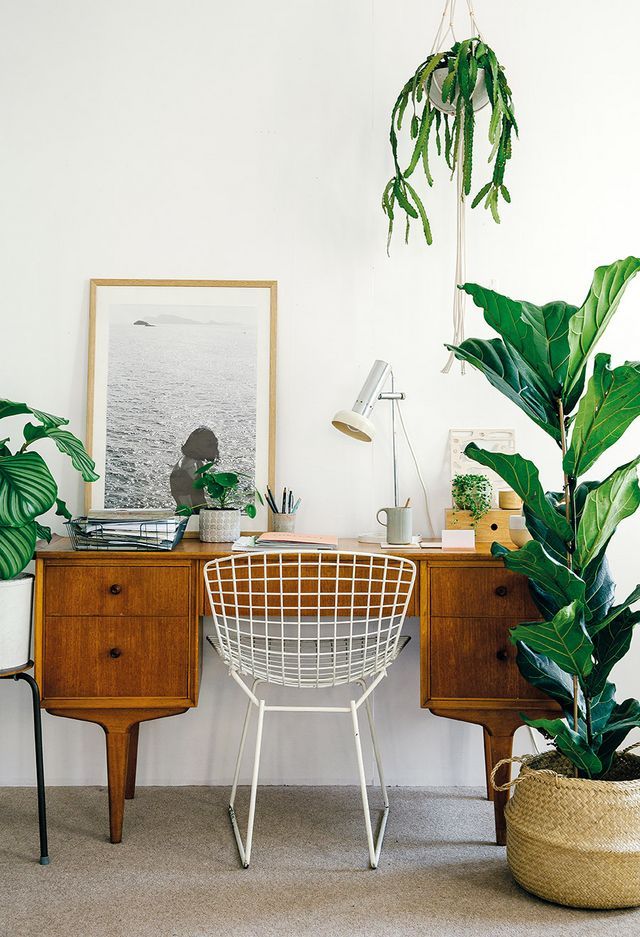 Rattan Furniture
Rattan can construct any furniture type like folding screens, accent tables, chairs, and sofas. Since rattan is lightweight and available, it is less expensive hence budget-friendly for tropical home office decor. It has an inviting and casual feel, perfect for a home office. Rattan chairs are great tropical office chair ideas.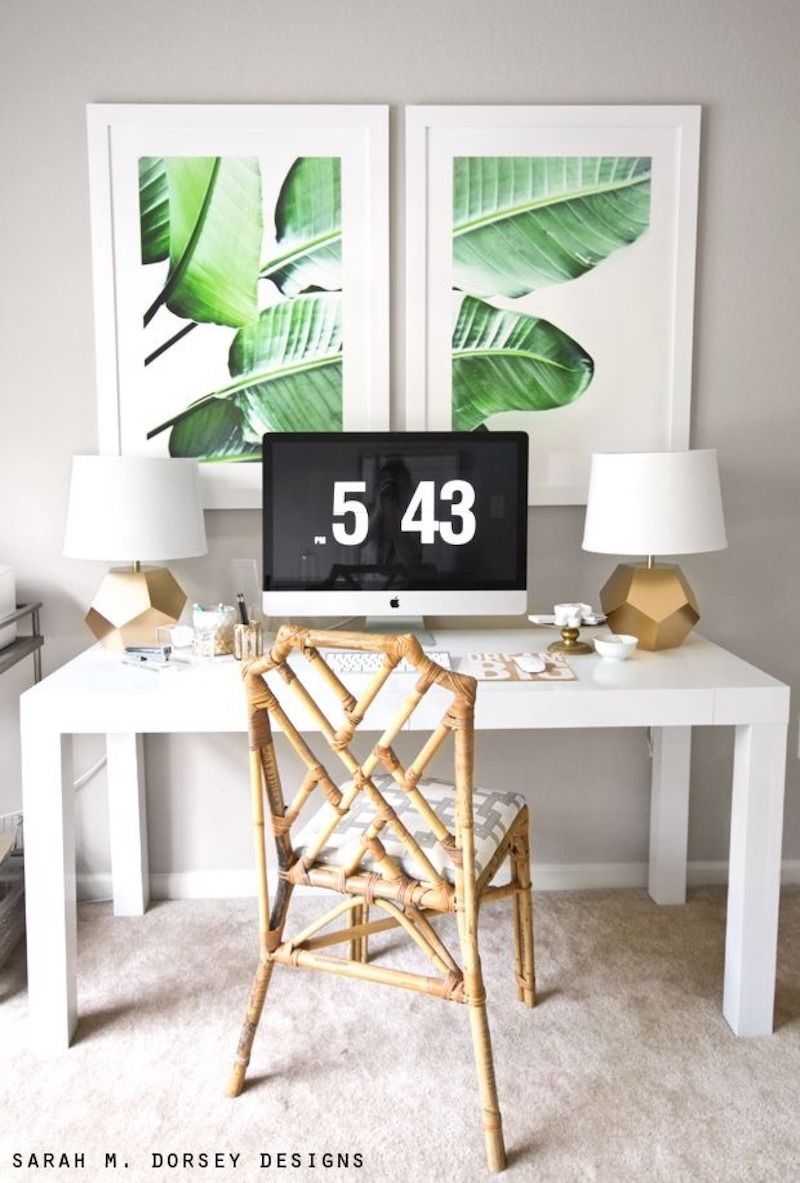 Turquoise Accent Wall
Make a bold statement in your modern tropical home office with a bright turquoise accent wall.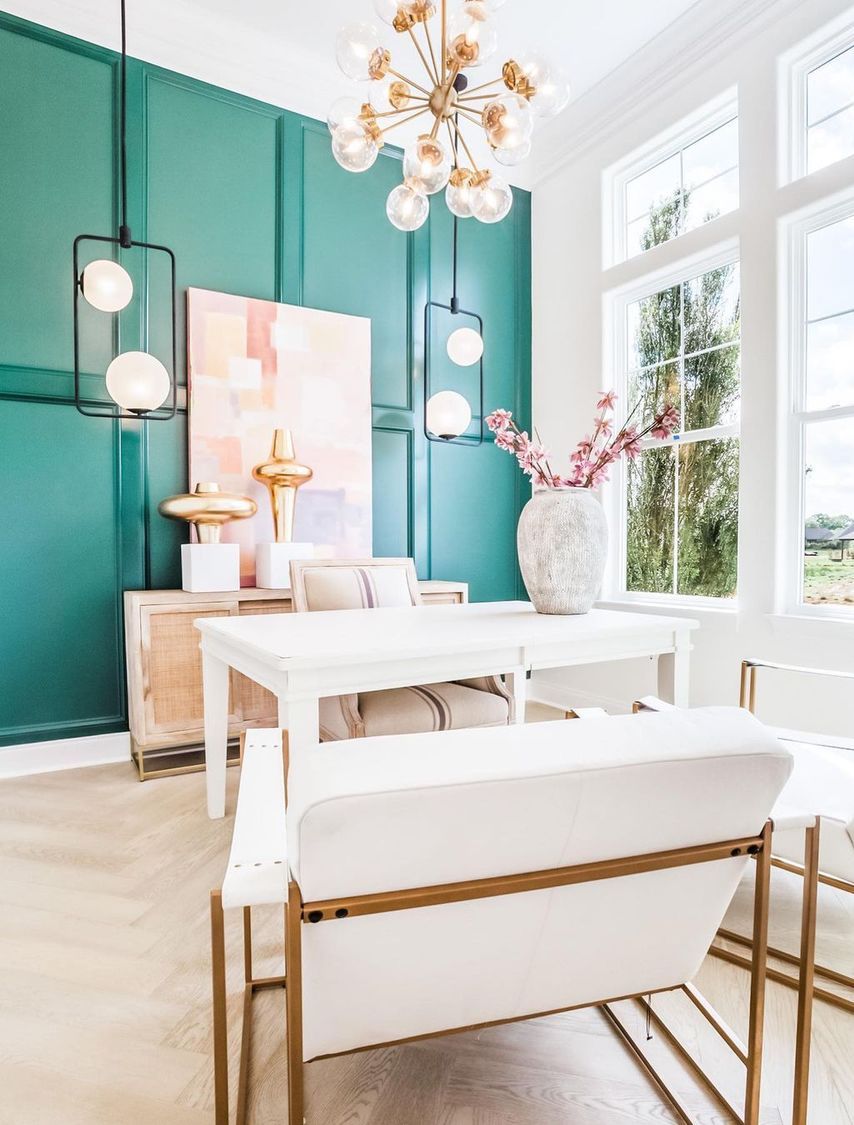 Dark Tropical
For a unique tropical home office, consider painting one wall black and decorating with a dark floral painting. You can still include tropical decorations like indoor house plants.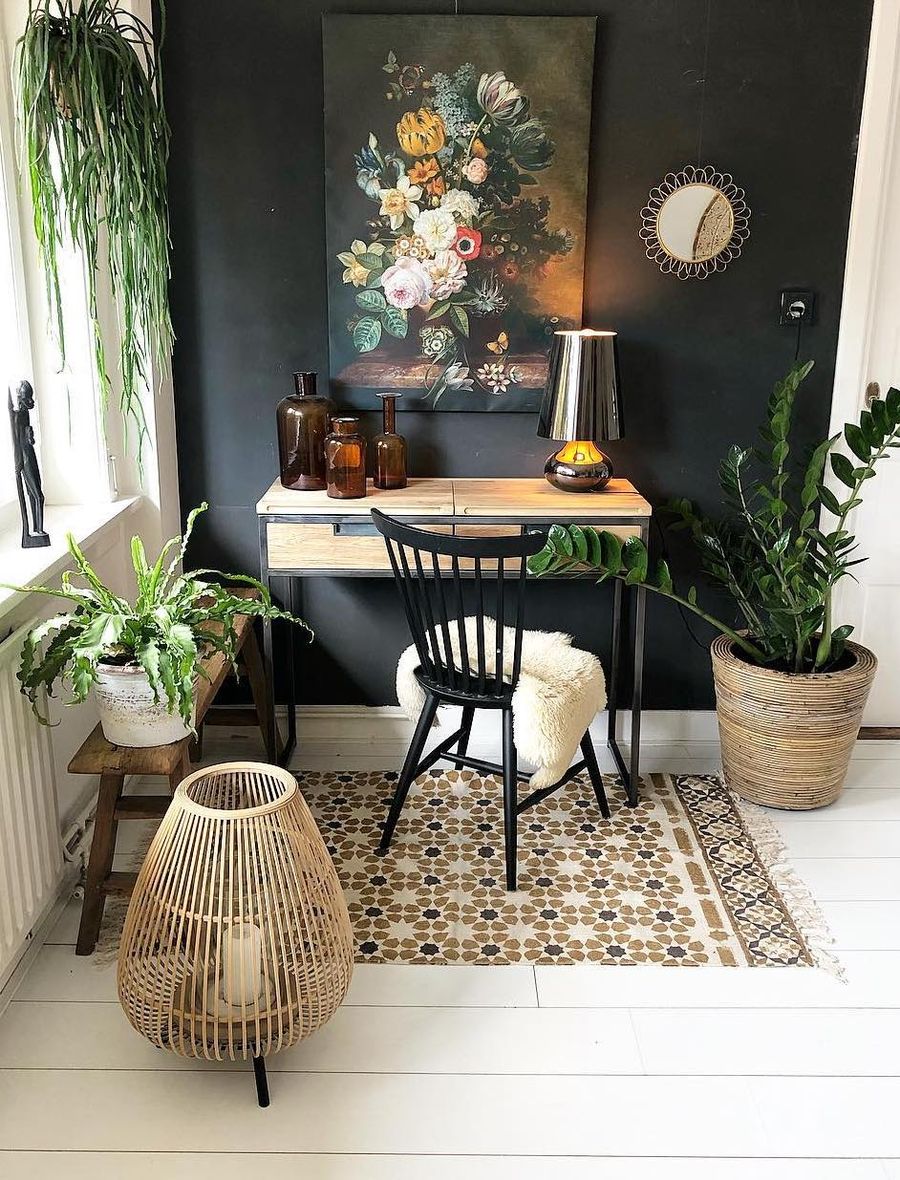 Wood Desk
Wood is the perfect material for tropical home offices. It brings out the earthy elements of a natural tropical landscape.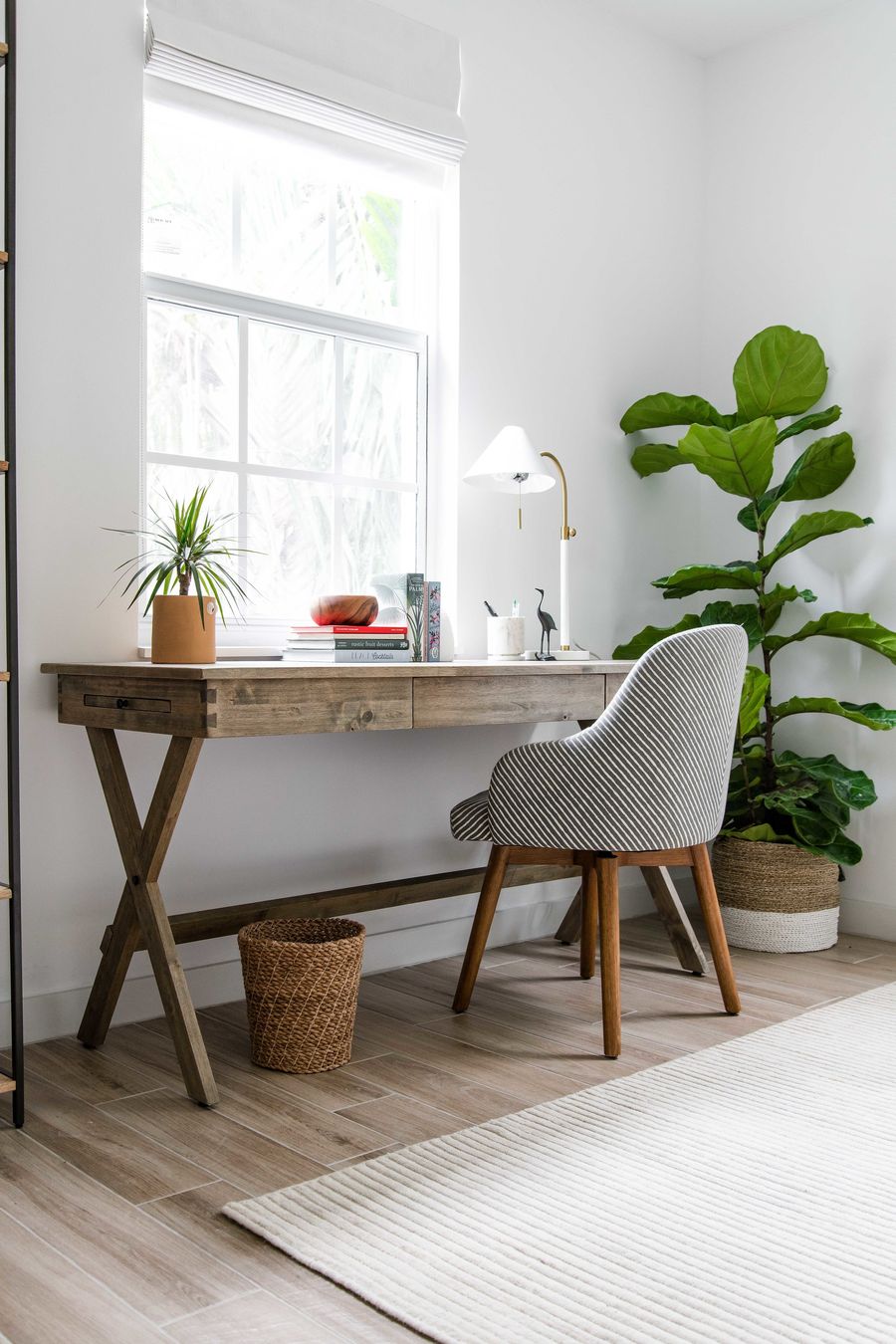 Glam Tropical Office Decor
Tropical decor can be infused with glam decor, too. Here, a gold desk, office chair, and planter create the perfect metallic, glamorous atmosphere in this tropical office space.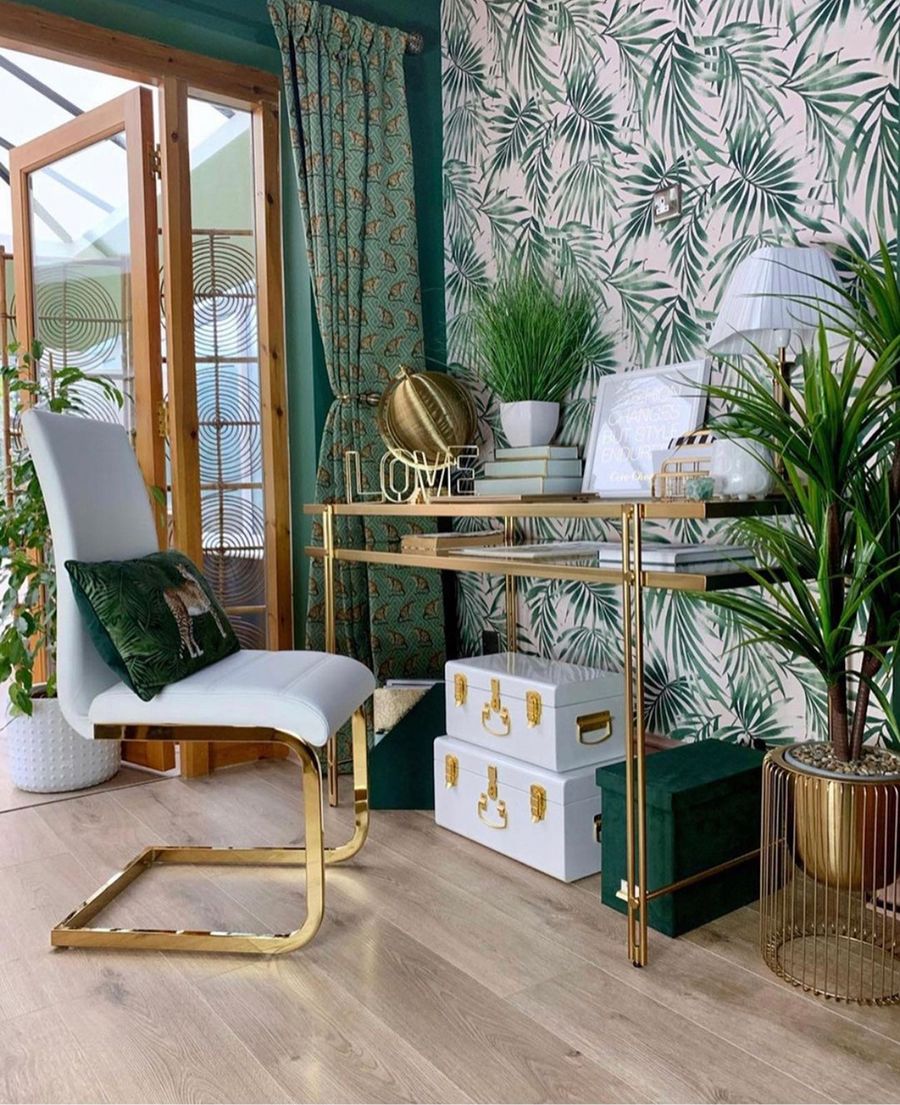 Flamingo Decor
Your tropical interior must have at least one flamingo decoration! Here an aqua blue flamingo rest at the foot of this simple white office desk.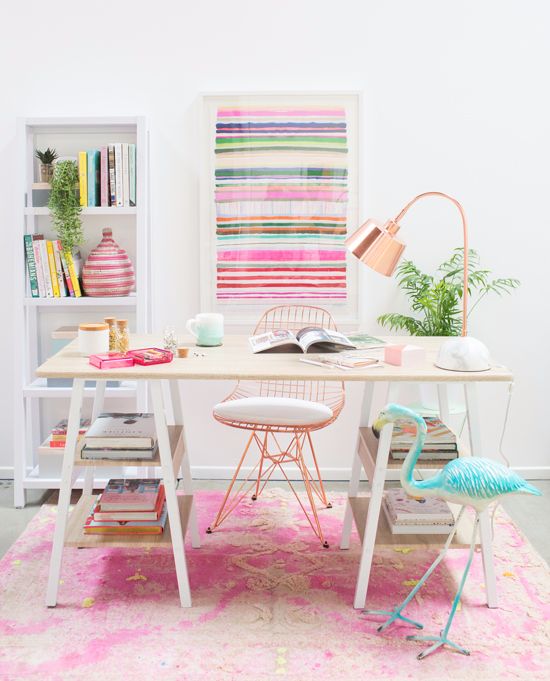 More Tropical Decor Ideas
Keep decorating with these tropical decorating ideas:
Happy decorating!