Statement furniture such as tropical-themed sofas is a good way to spice up any room. It helps add a splash of color, while also showcasing the owner's personality.
If you want to achieve paradise in your own home, here are some great examples of ways to decorate your rooms using tropical-themed items.
Tropical Living Room Decor
Tropical plants are always a good addition to achieving that summer vibe. The greenery makes everything look livelier and radiant. Using ceramic pots or vases to house your plants creates an earthy feel. Try decorating your ceramic pots to add more life to your space.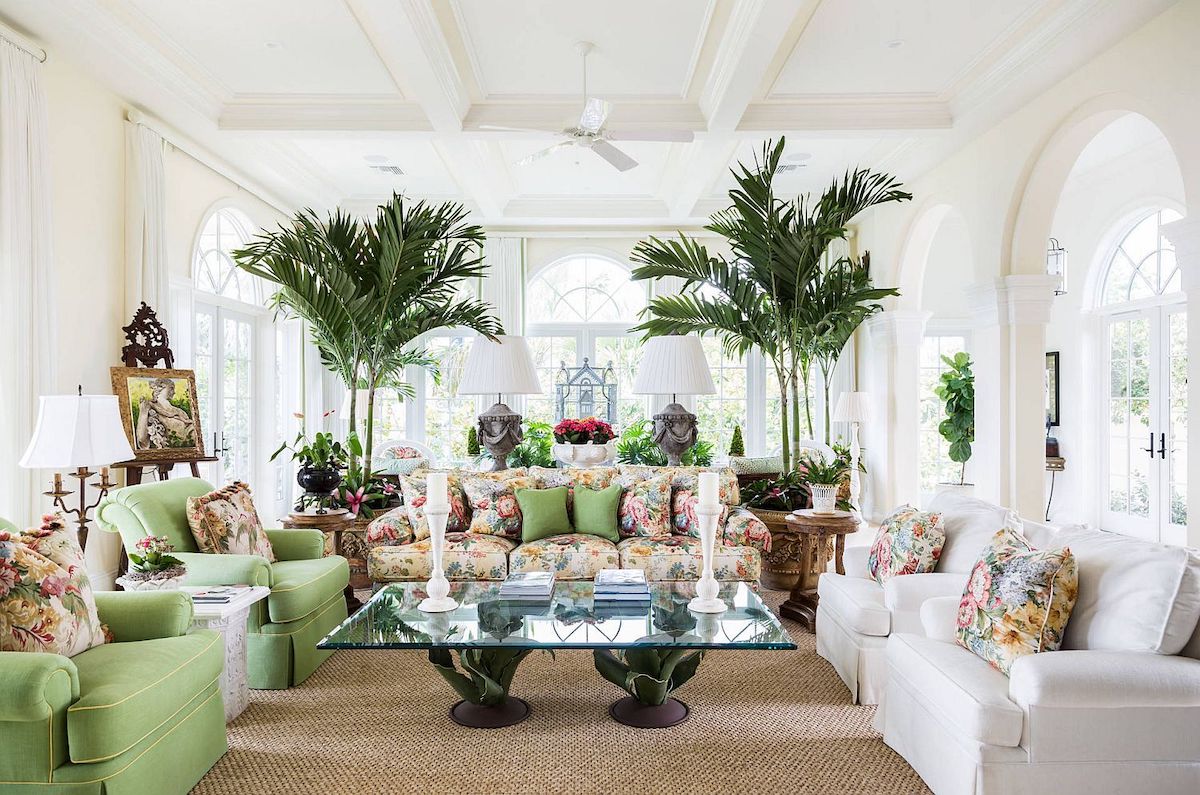 Using earth tones will really put together the whole look of the room. White, beige, khaki, or sage green is always a good combo. Creating good contrast between the walls and your furniture will make your room pleasant to the eye.
Make use of works of art that emphasize the tropical theme such as coral sculptures, ocean paintings, and other coastal trinkets.
Best Tropical Sofas
The best tropical sofas to buy come in beautiful tropical colors such as baby pink, kelly green, and sky blue. Otherwise, you can stick with a neutral sofa such as beige linen or ivory white. Be sure to get a sofa made of breathable fabrics like linen or cotton.

Tropical Print Sofas
Tropical print sofas are eye-catchers so it's best to pair these tropical sofas with plain or minimalistic printed throw pillows. If the sofa is adjacent to a wall, make sure that the wall's color greatly complements the sofa to create harmony in the room.
Be mindful of the overuse of textures, prints, and patterns when going with a statement sofa such as this because it might make your room too noisy for the eye.
Tommy Bahama Sofa
The arms and legs of Tommy Bahama sofas usually have a good texture and plain cushions that can be paired with more colorful accent pillows. Try adding a fun colored or a textured rug in front to create some rhythm and variation.
Tropical Sleeper Sofa
Sleeper sofas are usually designed with plain armrests and cushion so adding a tropical twist is a good idea in creating a stunning tropical-themed room. Pair your sofa with comfortable minimalist throw pillows and backrest pillows, as well as a minimalist blanket.
Tropical Living Room Furniture
This is where you can truly unleash your creative side. Try using graphic prints on your sofa blankets or on carpets if your furniture is of plain colors or design. This creates some beautiful contrasts. Statement chairs such as peacock chairs accentuate tropical plants and earth-toned walls very well with their boho-like style. These types of chairs are usually made out of rattan or bamboo to give off that coastal vibe. If you live in a hot climate, this chair will give off an airy feeling based on its design.
Rattan living room furniture is also a good touch in adding accents to your tropical interior. Textures made out of natural fibers such as jute rugs or wicker baskets create a sense of being one with nature.
Tropical Decor Ideas
There are so many ways to decorate using the tropical interior design if you live in a warm climate.
Interior design is fun when there is a clear theme you have in mind. Go wild with your creativity in achieving paradise in your home. Mixing and matching various patterns and textures will surely bring the dreamy tropical vibe to fruition.