While everyone is thrilled about making their interior spaces as comfortable as possible, it may be a bit difficult to know your exact style. Some (or most of us) are not that knowledgeable in that field, but there are a few pointers that could help you decide.
The perfect dining space should be a reflection of your personality, as well as be welcoming and relaxing for both you and your guests. Dining chairs should be sturdy, comfy, and beautiful.
If you are the fun, jolly, cheerful type and you love playing with color, if for you the words "perfect space" make you think of a sunny beach resort in Hawaii, then you might want to try out a tropical decor theme.
It is almost like a coastal theme, but with a much bolder color and feel. It consists of bright colors and fun patterns like palm and beach motifs and lots of natural plants and animal sculptures!
Tropical Dining Chairs
Oceanic colors: use blue hues, lime greens, and bright whites for that beachy look. Natural fibers: tropical design appreciates natural and woven fibers for the rustic feel of nature in the ocean. Use tropical woods for the chair material- woods like pine, mango, and bamboo are perfect for tropical chairs for their unique feel and beachy look. White cover-ups: tropical dining chairs feel classy and exotic in those bright white shades.
How to Create a Tropical Atmosphere
Color palette: tropical design is a fun, bold, and bubbly theme. It involves bright and bold shades of hot pink, ocean blue, lime green, turquoise, and warm yellow.
Furniture: For a tropical design, you'll never go wrong with rattan, bamboo, or warm-toned wood furniture. Natural plants: these help your space feel more airy and fresh. Barkcloth, florals, and leaf motifs: no tropical theme is complete without these exotic features.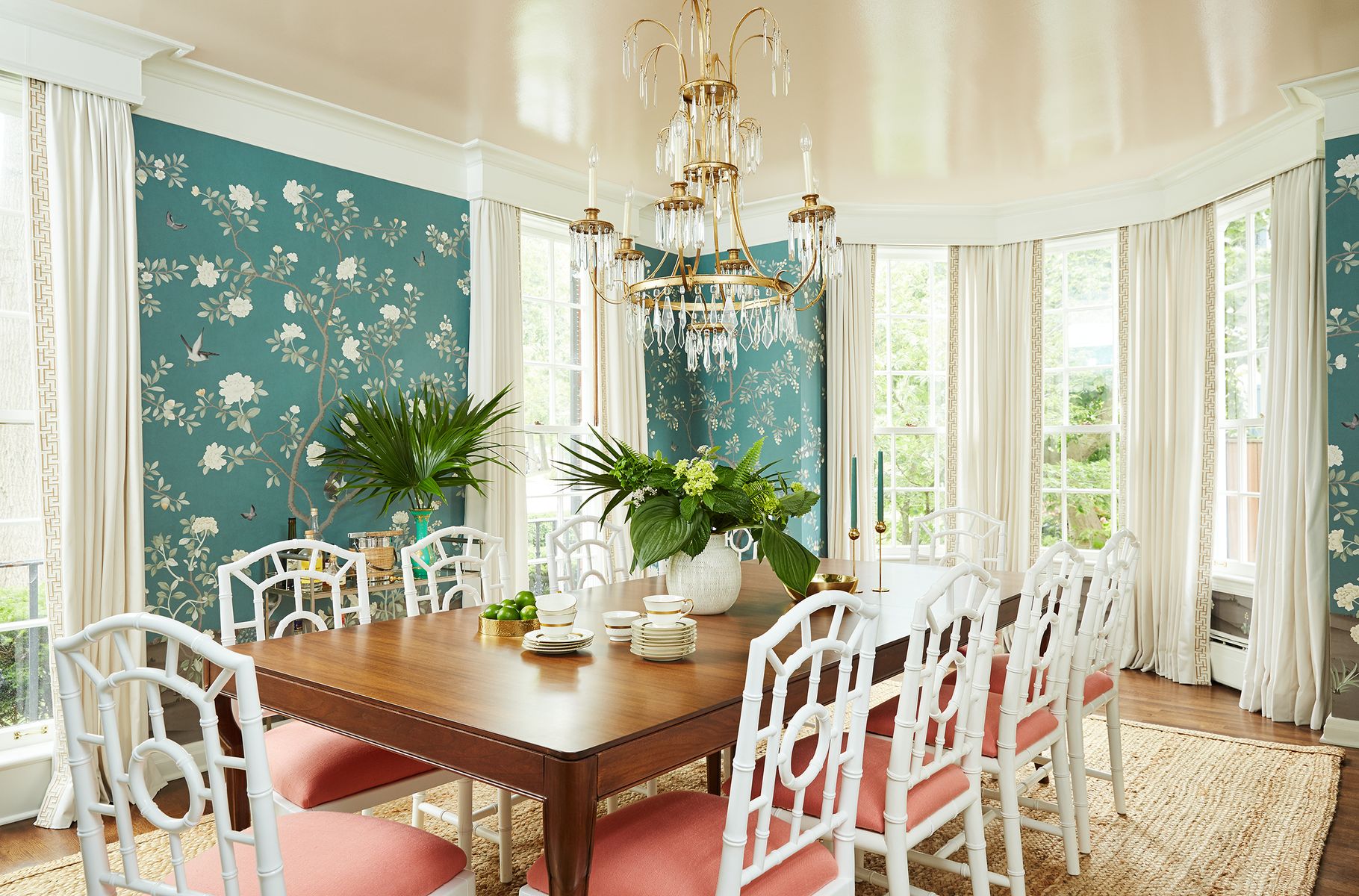 Choosing the Right Dining Chairs
A lot of time is spent at the dining area whether it's for eating, bonding with friends, or even just chatting or getting work done. Before choosing your dining chairs, consider that they need to be functional and aesthetically pleasing primarily.
The perfect dining chair should be comfortable enough for everyone to sit in for a long dinner session. A few factors to consider when choosing dining chairs are:
Seat height: Is your family tall? Go with taller seats.
Space available: measure out your space and make sure your seats aren't too cramped and people can move easily
The look and feel you desire: It must match well with your tropical dining table!
Ease of maintenance: choose a fabric and colors that can be cleaned easily
More Tropical Home Decor Ideas
Don't miss these related tropical home decor guides and ideas: