Looking to get the minimal Scandi vibe in your home office? These top Scandinavian home office decor ideas will inspire you as you decorate. As always, these Scandinavian interiors will lean towards the feminine side, but many can work in just about any style of home. I'm sure at least one of these Scandinavian home offices will inspire you!
With more and more people working from home due to a pandemic and the emergence of new technology, the home office is becoming an important room in the home. If you are looking to redesign your home office, our hope is that these ideas will guide you!
Scandinavian Home Offices
A Scandinavian-style home office puts practicality and function before all. Scandinavian decor is often minimal, using basic colors like white, black, and gray to create a space free of distraction and clutter. These Scandi home offices reflect the core aesthetic of Nordic interiors and specifically, nordic home offices.
Scandinavian Desks
First up, I'll share some Scandinavian desk ideas for your home office. The most important quality of a Scandinavian desk is that it is minimal in design and very functional. You'll rarely find bulky executive-style desks in Scandinavian homes. Scandinavians prefer to keep their workspaces as minimal as possible, opting for either a simple writing table desk or a desk with just two or three drawers.
White Desk
A minimal, white desk is a classic choice for the Scandi home office. It's simple, versatile, and most of all, practical! You can decorate it as you like, and it serves as a clean workspace to design around. Here, a small cream area rug has been placed beneath this simple white desk. A black armchair with a dark gray cushion sits nearby. This desk has two drawers and holds a large Mac screen comfortably.
A minimal black task lamp sits in the corner for targeted light. Several floating wall shelves have been installed on the wall. A white cabinet with drawers for papers and journals sits nearby. Finally, a large greenhouse plant adds a bit of nature to the corner of this home office!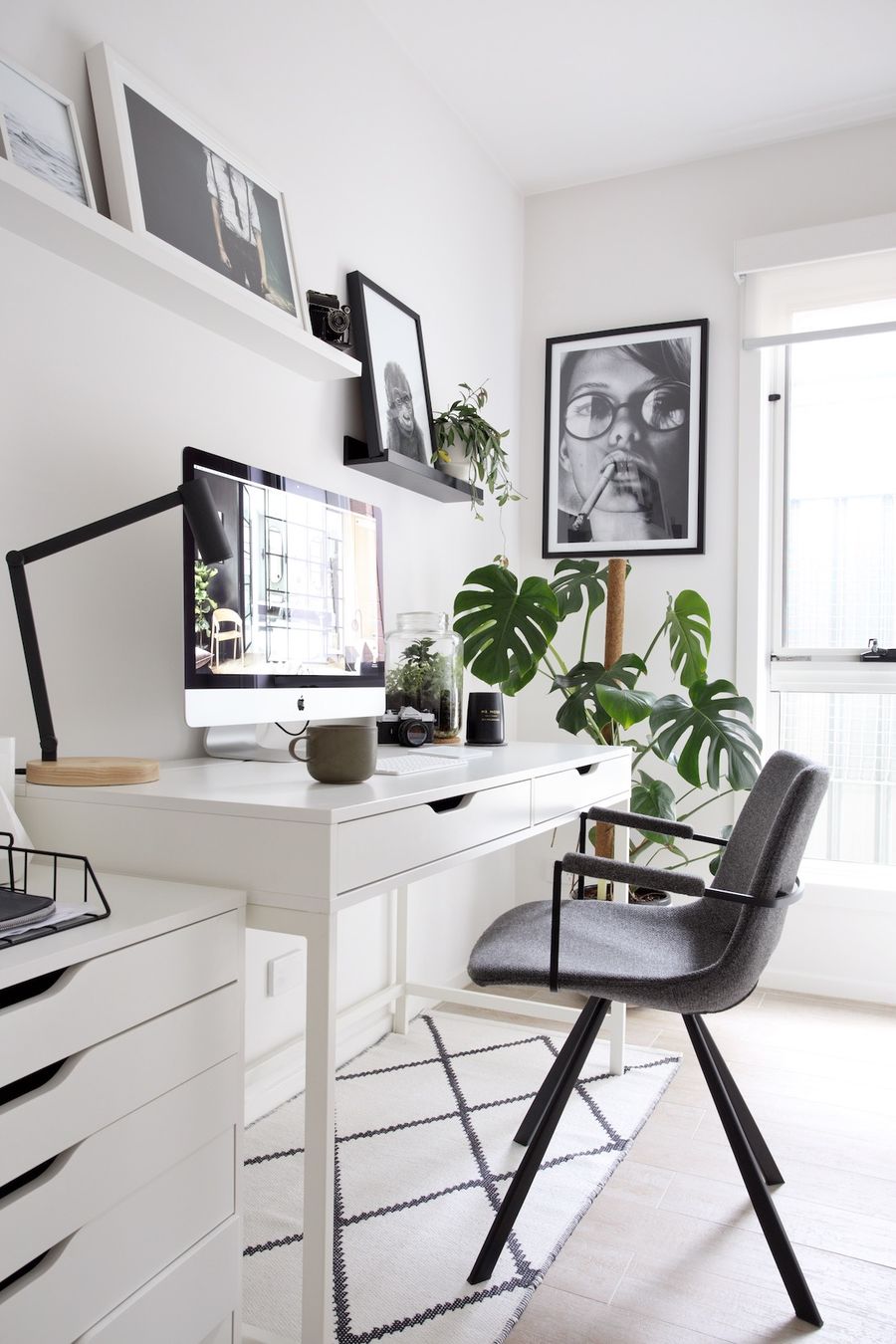 Mid-Century Wood Desk
This is a much warmer Scandinavian home office with a mid-century wood desk placed right in front of the window. I love placing my desk in front of a window so that I can get as much natural light as possible, and look out at the view, of course! This desk has a rattan office chair with a white faux fur throw tossed over it. A minimalist black table lamp and a bare light bulb pendant add additional lighting for evening work sessions.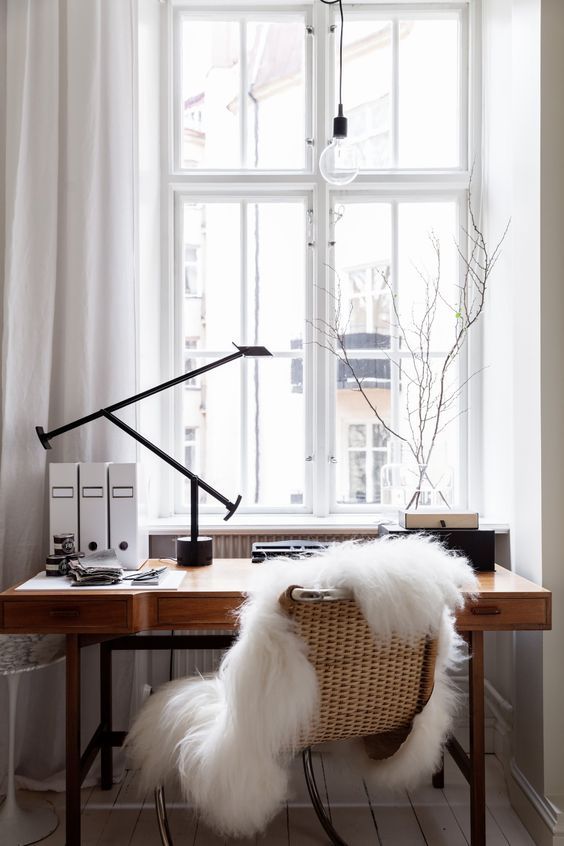 Built-in Blue Desk
This unique Scandinavian home office has turned the corner into a workstation. A shelf has been built-in to the wall serving as a surface for writing, reading, using a laptop, and other tasks or activities. The shelf curves slightly, integrating with the space. Two floating shelves have been installed on the wall above to display small artworks. What I really love is how everything including the wall has been painted a beautiful Scandinavian blue color!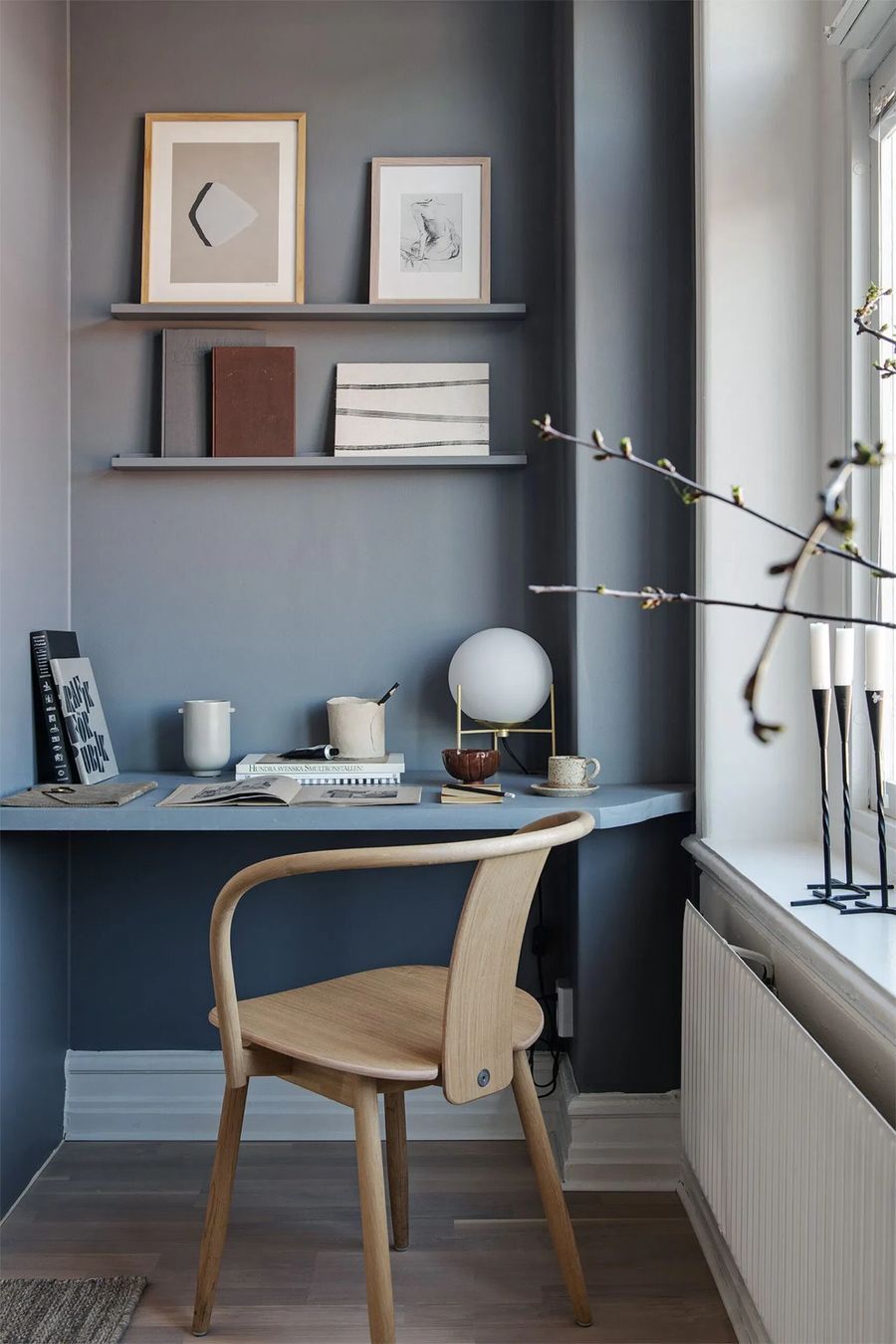 Scandinavian Office Chairs
You'll definitely need to think about seating when it comes to your Scandinavian home office design. Every desk will need a solid seat for you to sit down and work from. Here are a few great Scandi office chair ideas.
Black Office Chair
This first office has a simple black office chair paired with a neutral wood writing desk. I've noticed that the color of the office chair in Scandinavian home offices are often in contrast with the desk color. You could pair a light-toned desk with a dark chair, as seen here.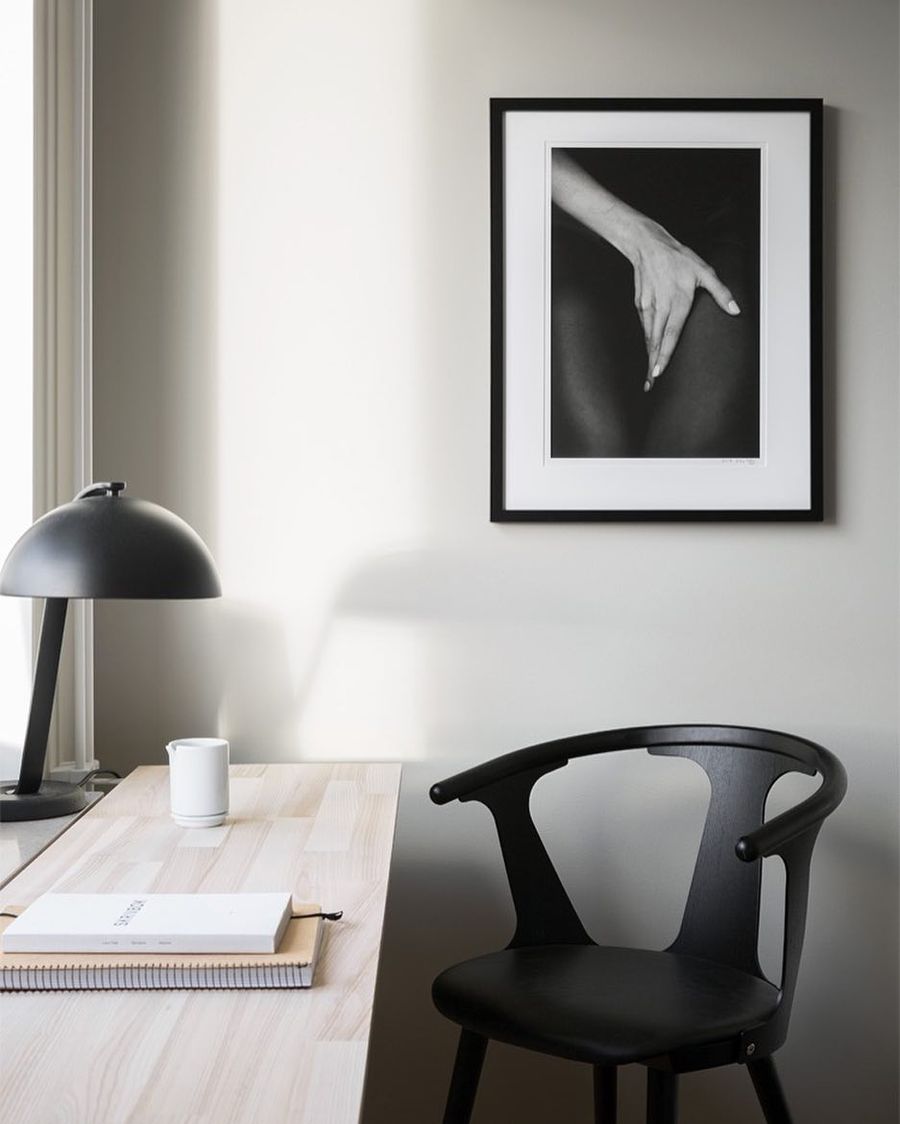 White Shell Chair
Of course, there are exceptions as we see here with a white shell chair paired with a white desk! This is a classic mid-century Scandinavian chair design that has been used in countless homes across the world. Here, the plastic shell chair has four wood brown legs. I would add a small pillow or blanket to this chair to make sure I'm comfortable for long work sessions!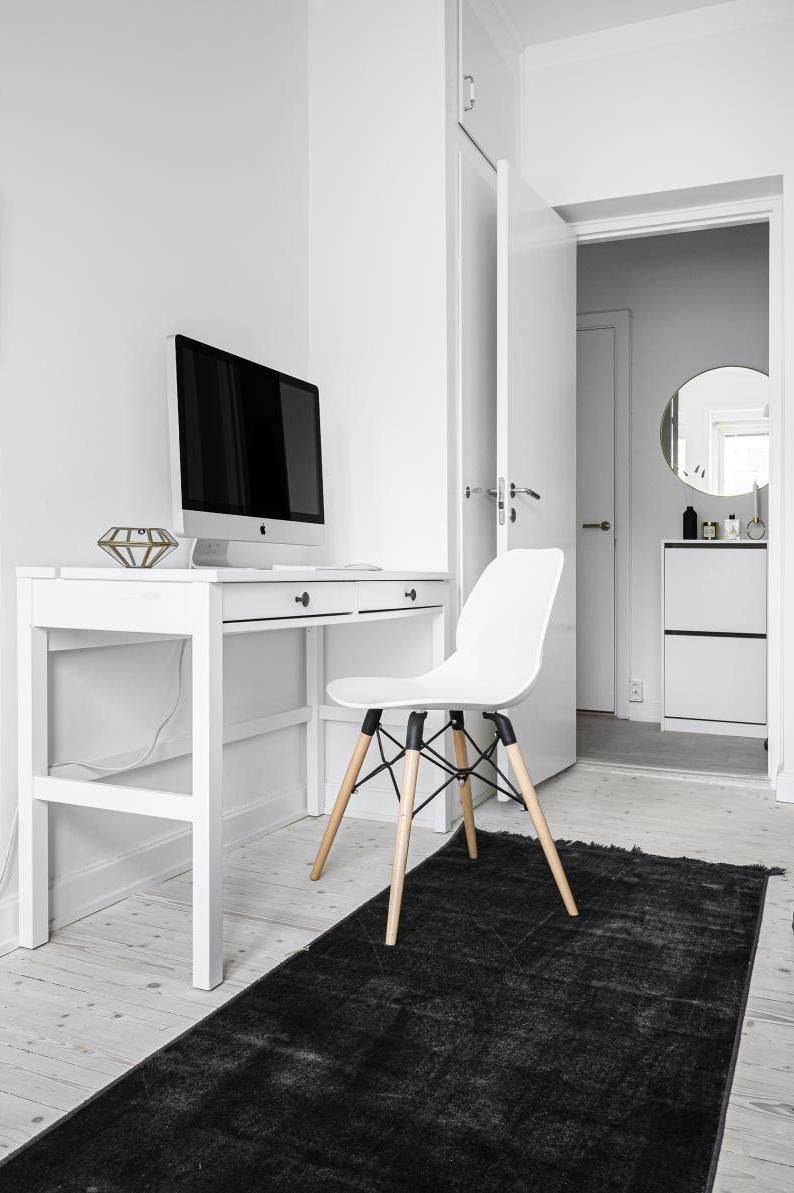 Wishbone Chair
The very classic Scandinavian chair – the wishbone chair – is another popular seating choice in Scandinavian offices. Here, this natural wood wishbone chair has been paired with a minimalist stark white desk. A white table lamp sits on top, and this office fits nicely in this little window nook. It probably overlooks a gorgeous nordic city!
Black Stool
A more quirky idea is to use a simple black stool with your neutral-toned desk. I can't imagine that having no back support is conducive to long working periods, but if you prefer to have less bulky furniture then this is a good choice for you. Scandinavian home offices are all about simplicity, and this room really exemplifies that philosophy!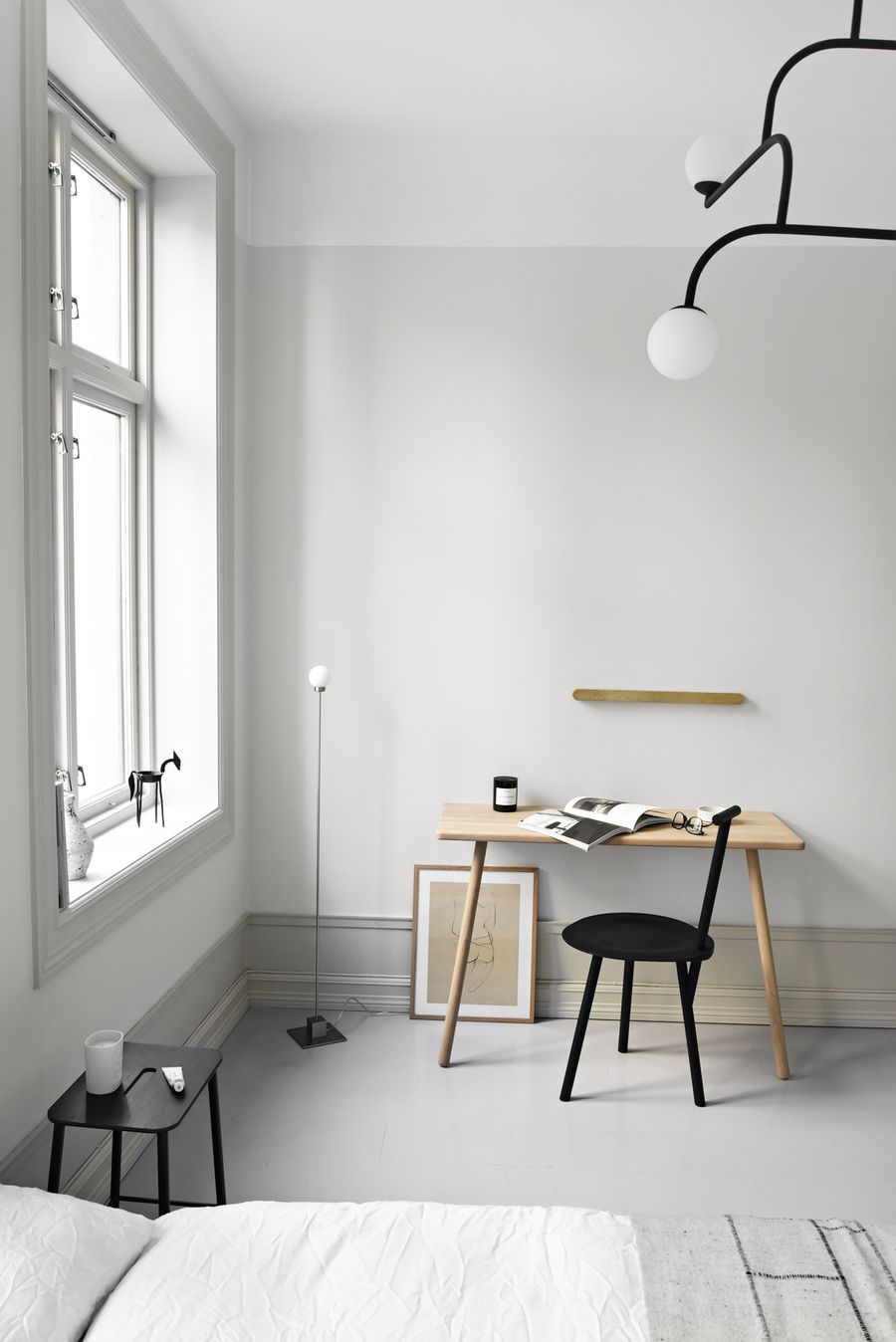 Scandinavian Office Decor Ideas
Once you have the office furniture picked out, it's time to think about how you want to decorate your Scandi style office. From shelving to wall art, there's so much to consider. Adding small accents and office supplies will make the workspace really feel like your own!
Shelving
Home office shelving in Scandinavian homes can be installed in several ways. You can go with floating shelves, attached directly to the wall, or you can buy a bookcase to create shelving that can be rearranged wherever you need it. This Scandi home office has plenty of open shelving for easy access to books and other office supplies!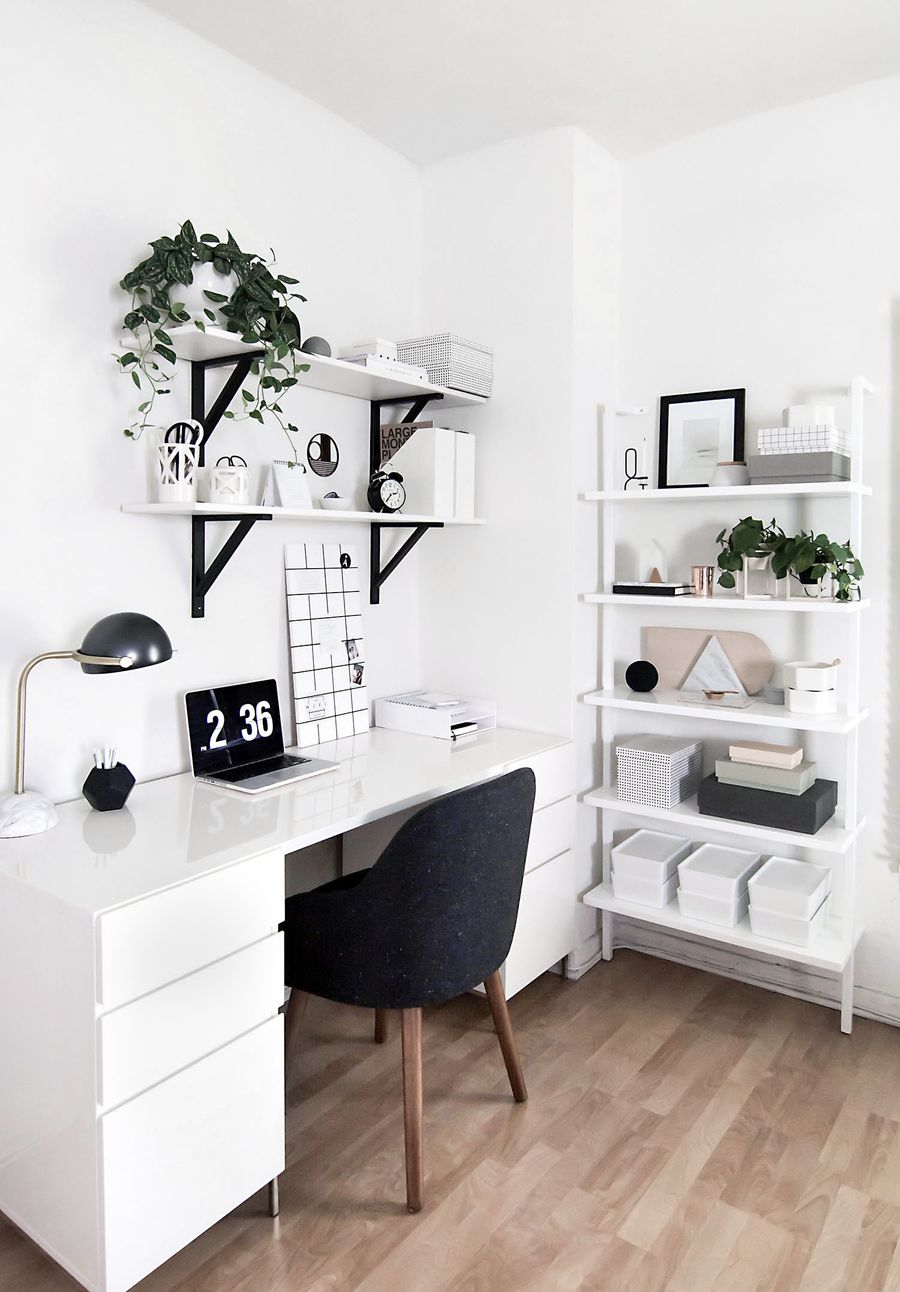 Black and White Photography
You may have already noticed that many of these Scandinavian home offices feature beautiful black and white photography prints with either black or white frames! Black and white photography helps create a subtle mood for the space and inspires whoever is working at the desk. Here, a ballerina photo print hangs on the wall above a simple white writing desk.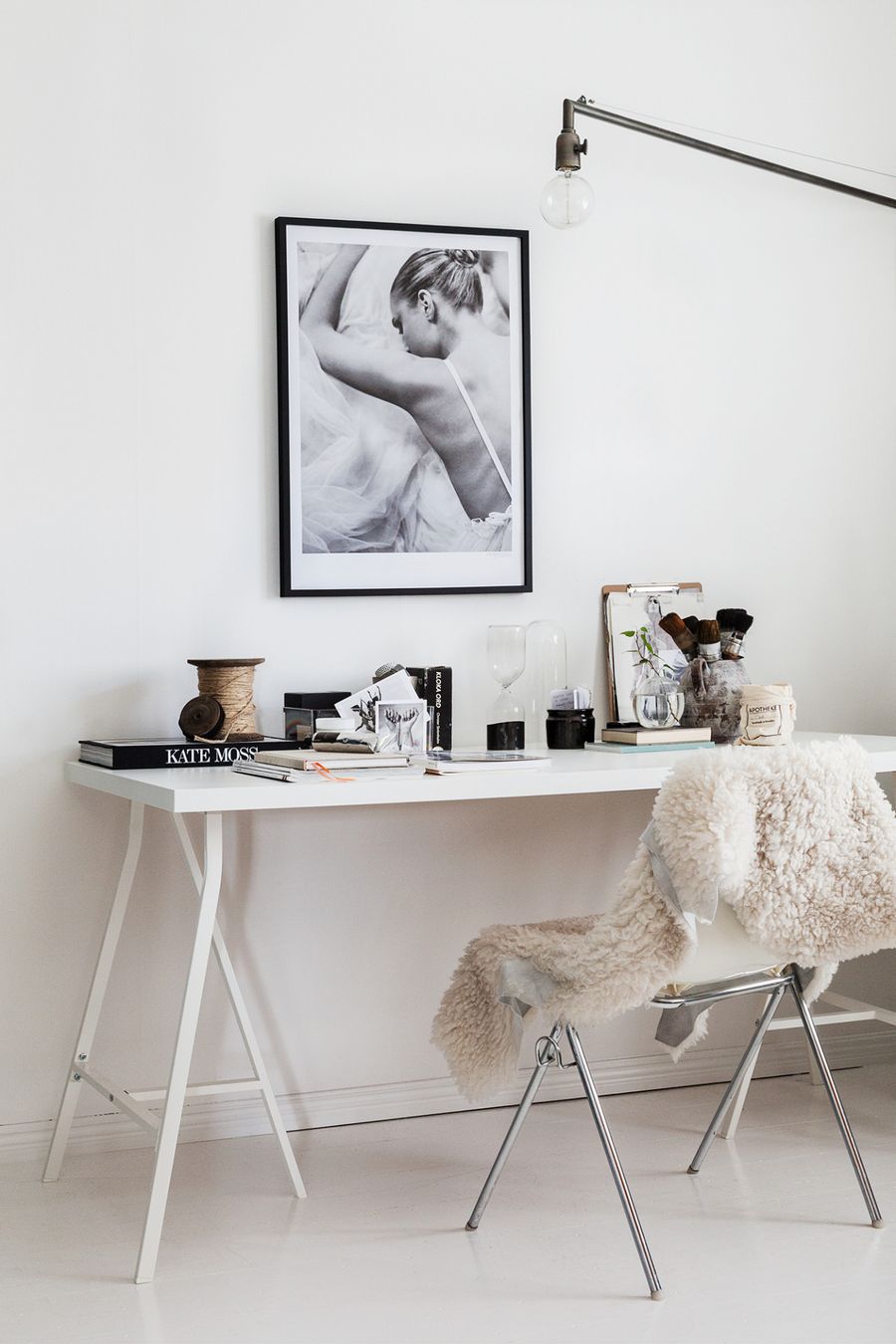 Black Task Lamp
The task lamp is a popular lighting choice for working at a desk. You can direct targeted light where it is needed without using too much electricity. This minimal Scandinavian home office has a cone-shaped black task lamp which looks beautiful against the white wall behind it. A white desk and spindle back chair are placed beneath it. It matches the black-framed prints on the wall, as well.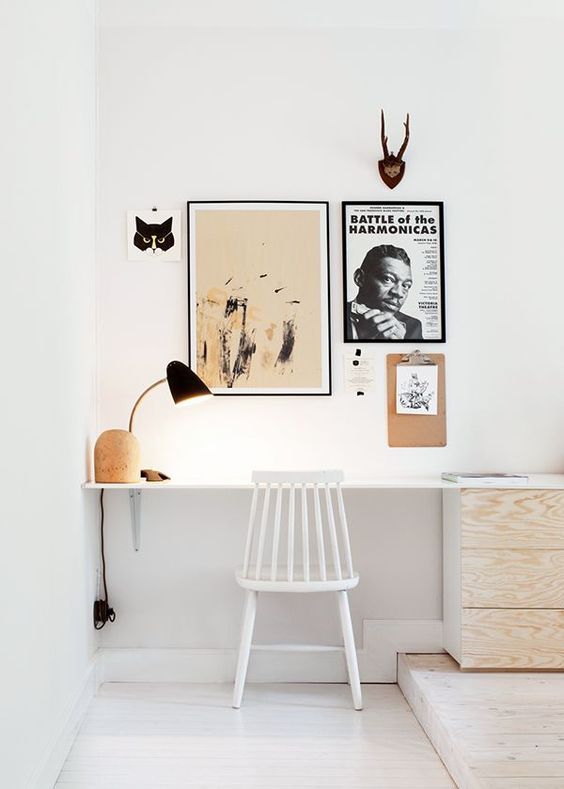 White Minimal Task Lamp
On the other end of the spectrum is the white task lamp, seen here. This Scandi office has a few warmer tones to it, like the shell sculpture on the window and the beige throw blanket on the office chair.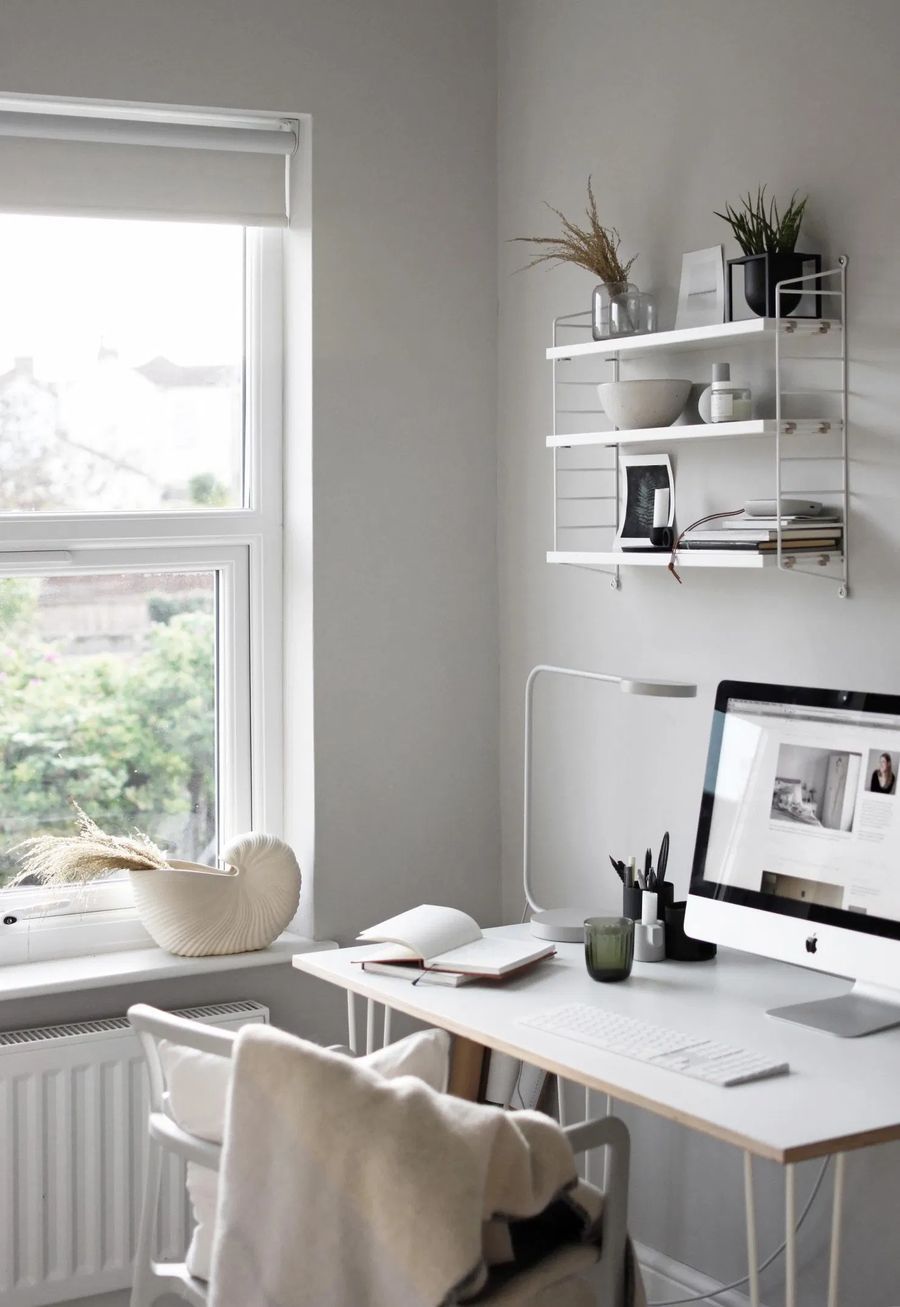 Black Vase
Another Scandinavian office decorating idea is to use a small black vase to keep flowers or indoor greenery and cheer up your minimal Scandi space. The nordic winters can be brutally cold and long, so having some greenery indoors is key to staying in a good mood!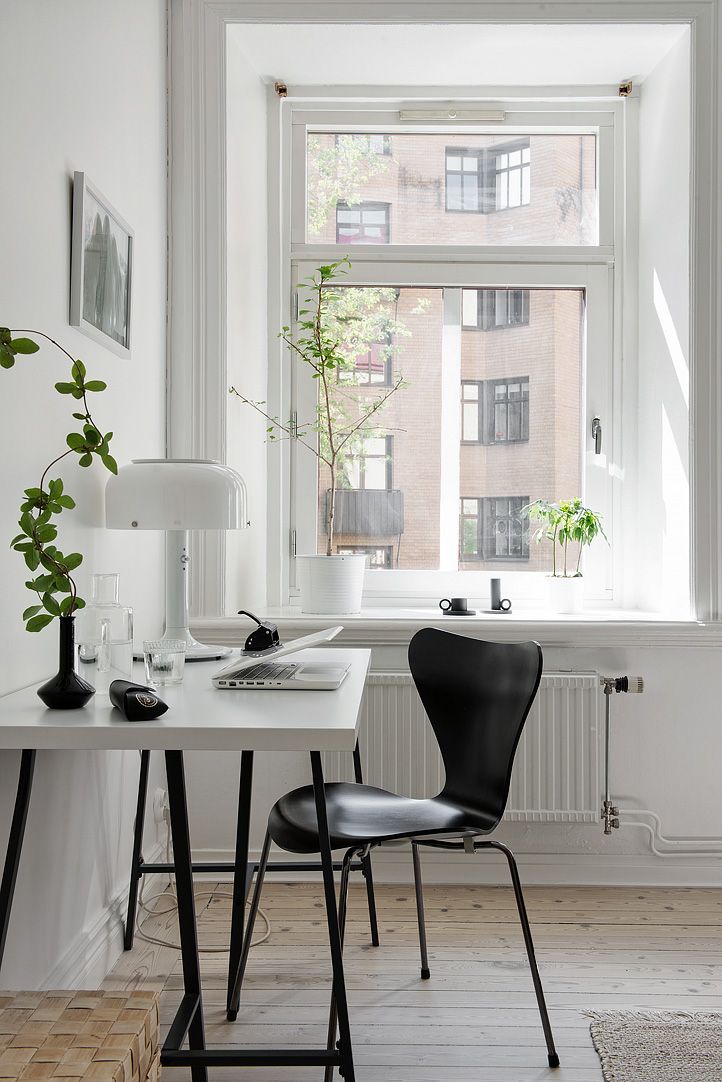 Scandinavian Office Wall Ideas
These are a few wall decor ideas you can use to inspire your office wall design. 
Working with a Small Space
If you are looking to create a small Scandinavian office space, then this photo might inspire you. Here, a small desk has been built into the wall, and several upper shelves have been installed for storage. It's important to take advantage of vertical space in your home when you're working with a small office space! A simple cane back side chair can be used for seating.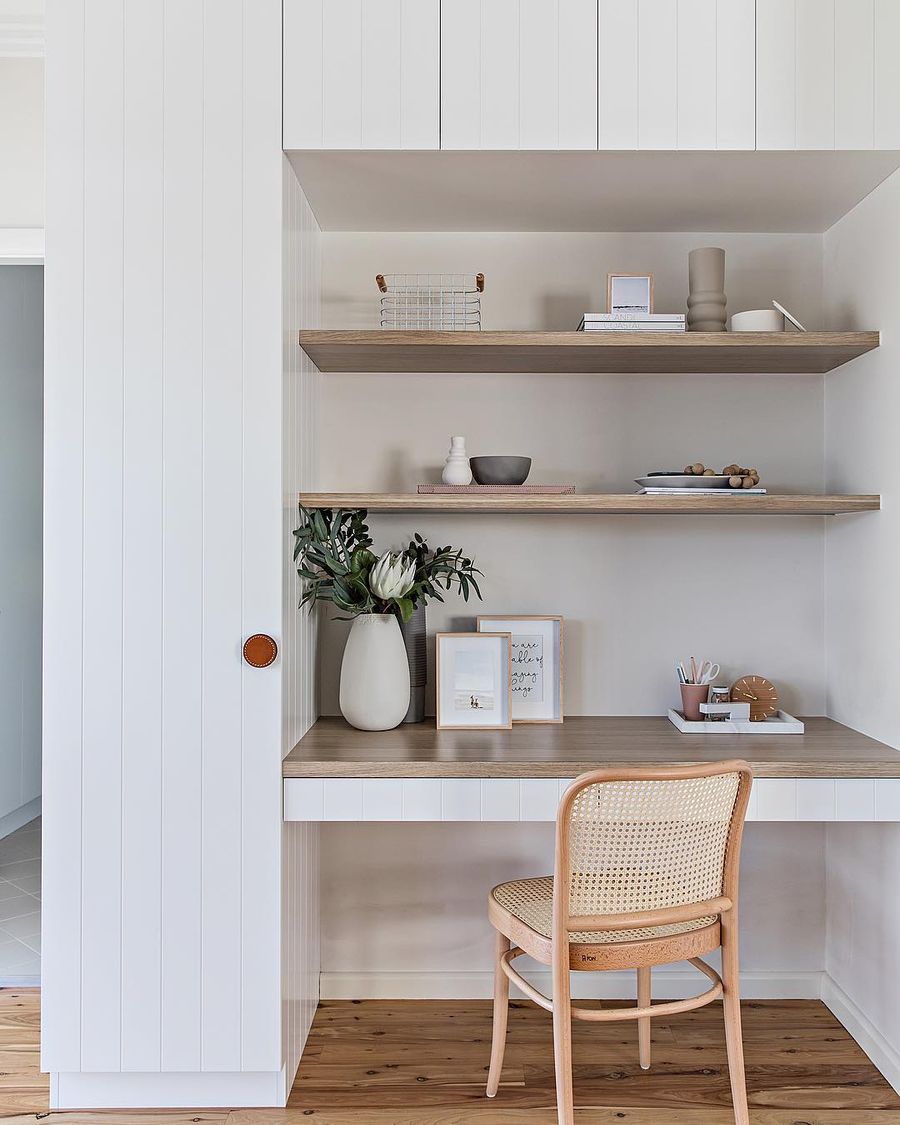 Muted Pink Walls
This is one of the more colorful Scandinavian home office decor ideas we're sharing today! This room has been painted a muted pink color and then decorated with Scandinavian furniture like a woo desk and a white wishbone chair with a faux fur seat cushion. A pink throw blanket is tossed across the seat. As you can see, it's ok to use some color in your Scandi home office and still stay within this design style!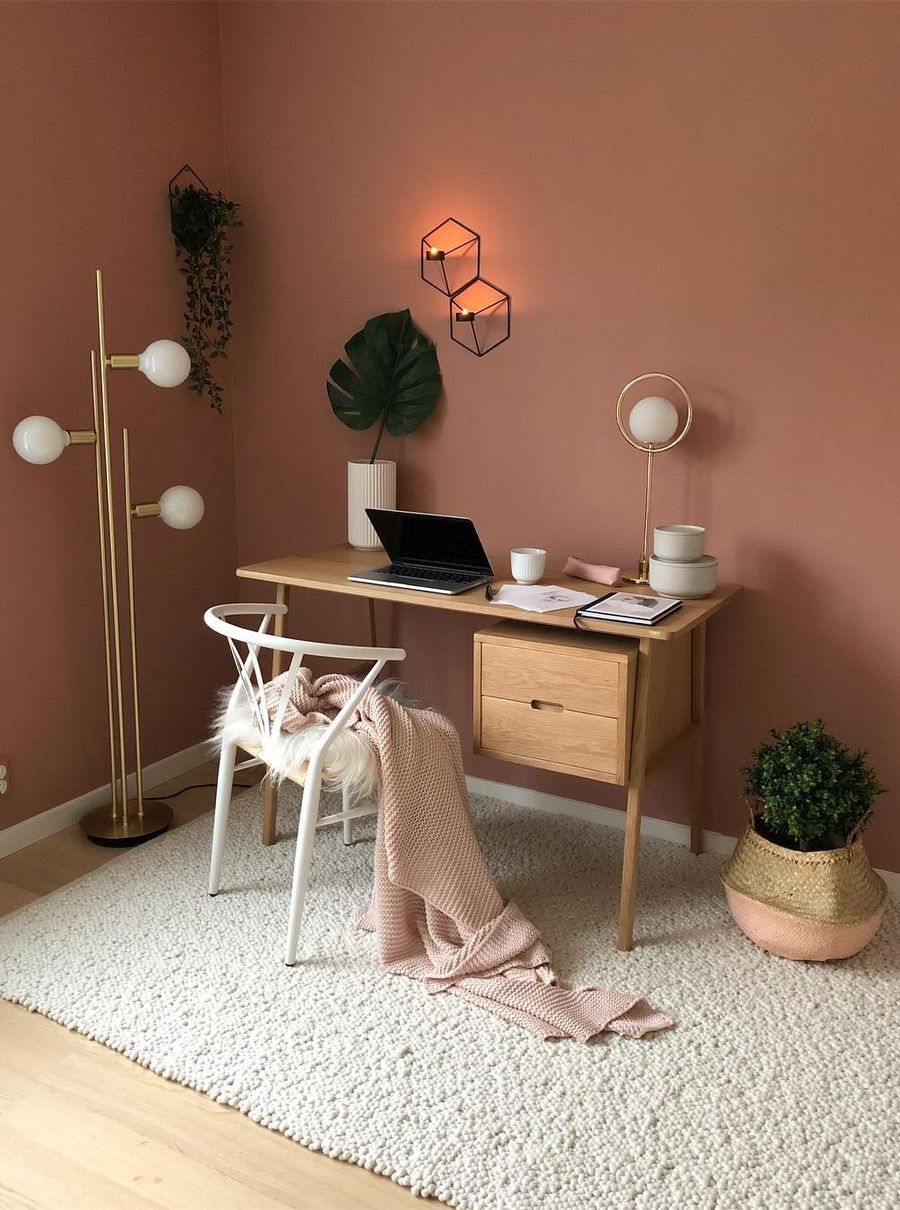 Blue Striped Accent Wall
Another more daring idea is to paint a few Scandinavian blue stripes on the wall to add some character to your office. Be sure it's that muted 'Scandinavian blue' color, of course! Nothing too bright or fluorescent. Add a simple white desk and dark gray side chair and you're good to go!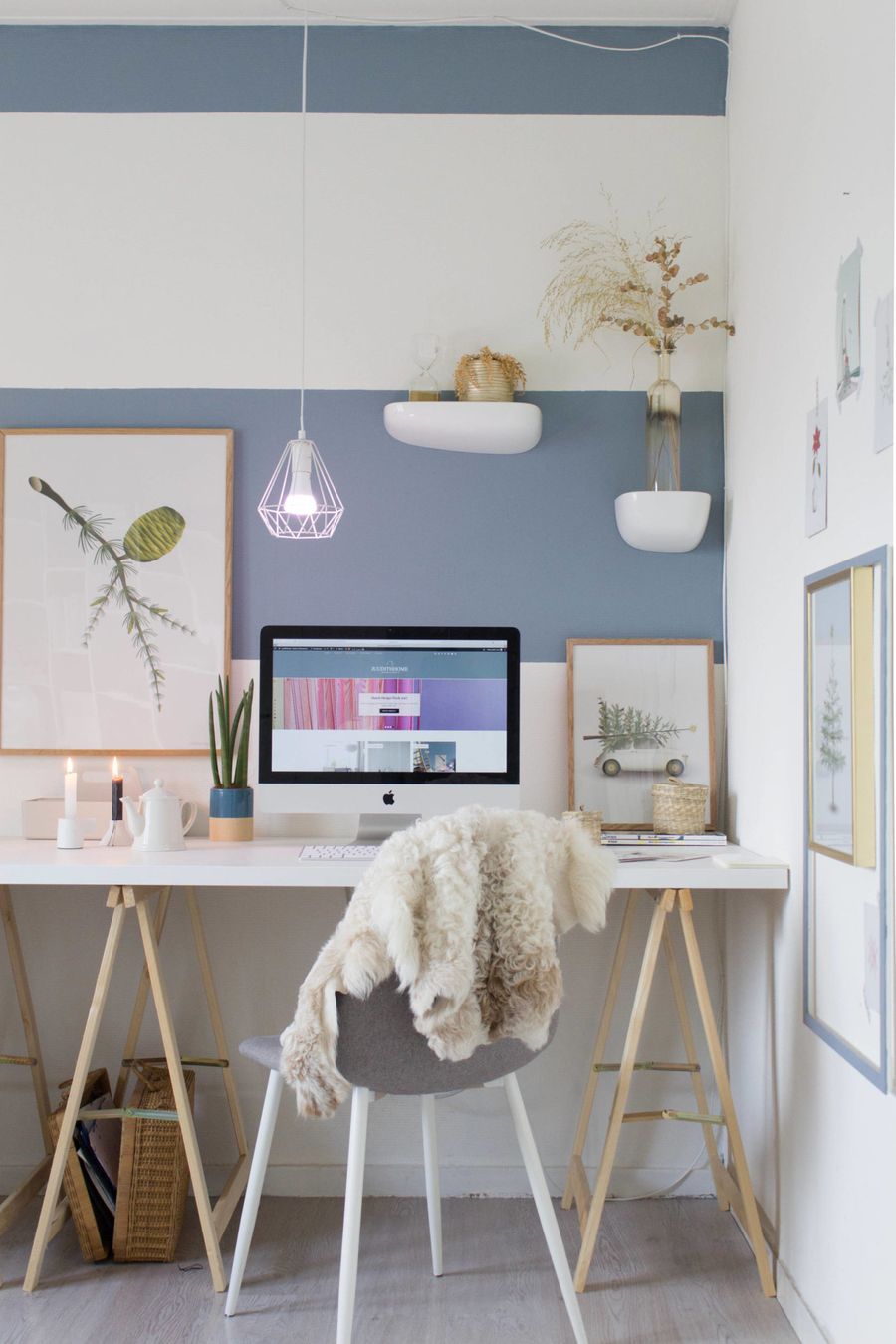 I hope our Scandinavian home office decorating ideas inspire you!
As you can see, black and white seems to be a popular theme among these Scandinavian home office ideas. You can find pops of beige, gray, or blue, but keeping your colors as toned down as possible is the way to go to get that nordic office design look!
More Scandinavian Interior Guides
If you would like to decorate your home in the Scandinavian style, then we have several more guides that may interest you. Please check out these related posts on Scandinavian interior design by room right here:
For more Scandinavian home offices and other nordic design ideas, please follow our Scandi design board on Pinterest!
Happy curating!