Scandinavian design is all about creating a warm, inviting, and comfortable space. Scandinavian style decor favors clutter-free interiors and minimalist furniture design. What better way to achieve this calming interior design style than with some beautiful Scandinavian bedroom furniture?
Essential Scandinavian Bedroom Furniture
Scandinavian bedroom design is typically characterized by its simplicity, functionality, and natural materials. So when it comes to furnishing your Nordic-style bedroom, look for pieces that are clean-lined and made from natural materials like wood.
Here are some Scandinavian bedroom furniture essentials that will help you create the perfect Nordic retreat.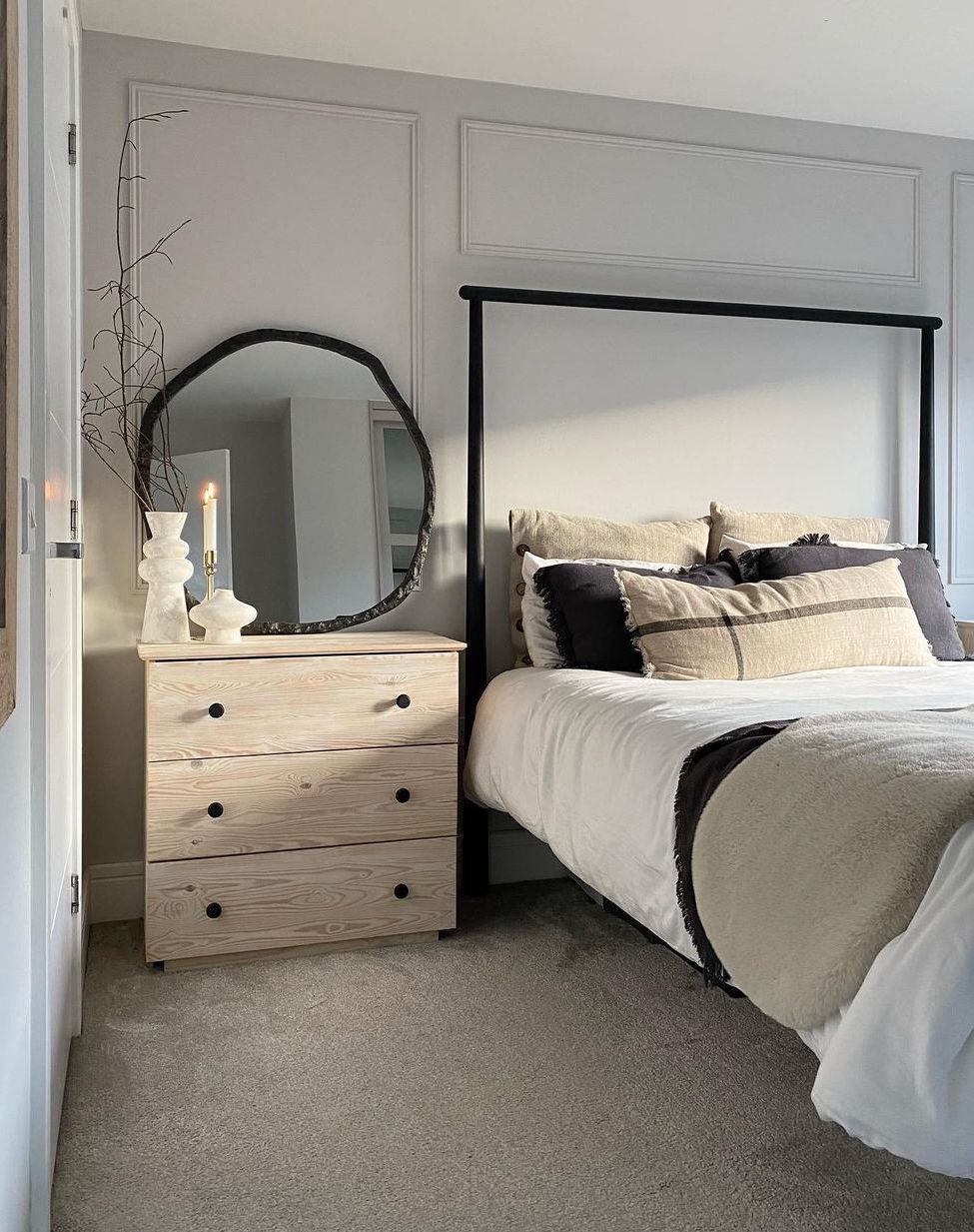 Minimalist Black or White Bed
The most important piece of furniture in any bedroom is the bed. And when it comes to Scandinavian bedroom furniture, you can't go without a comfortable and stylish bed frame. The design should be simple and minimalist. Check out these Scandinavian beds for ideas.
Black or White Scandinavian Dresser
Every bedroom needs somewhere to store clothes and other belongings. A Scandinavian dresser or chest of drawers is the perfect piece of bedroom furniture for this purpose. You can go with a rustic wood chest for a Nordic country look or a sleek modern black or white dresser for a city vibe.
Scandi Style Nightstand
A bedside table is a must-have in any bedroom, and Scandinavian bedroom furniture is no exception. A Nordic Scandi nightstand is the perfect place to keep a lamp, alarm clock, and other bedroom essentials within reach.
Ikea Pax Armoires
Ikea Pax Armoires are a popular choice for cheap Scandinavian bedroom furniture. These budget armoires look great and offer plenty of storage space for clothes, linens, and other bedroom belongings.
Modern Mirror
A modern Scandinavian mirror is a great way to make a small bedroom appear larger. It's also a necessity for getting ready in the morning. When choosing a mirror for your Scandinavian bedroom design, look for a simple and stylish frame.
Those are the basic pieces of Scandinavian bedroom furniture you need to create a flawless Nordic-style bedroom! Now let's talk about where to shop for Scandi bedroom furniture.
Where to Shop for Scandinavian Bedroom Furniture
If you live in the US, there are a few great online stores that sell Scandinavian bedroom furniture. Our favorite retailers include:
With these essential pieces of Scandinavian bedroom furniture, you'll be well on your way to creating the perfect Nordic bedroom.
Check out the key Scandinavian interior design elements for tips on designing other rooms in your home!