There are many types of sofas to be found on the market these days, each coming with its own distinct merits and flaws. It's no wonder then that you would want to ensure that the sectional sofas you get are carefully crafted and of high quality.
Scandinavian sectional sofas are one of the most popular modern sofas on the market. Greatly influenced by mid-century modern design, Scandinavian home decor focus on clean lines, natural tones, and beautiful craftsmanship. In this guide, we'll look at the best Scandinavian sectional sofas on the market today.
Scandinavian Living Room Style
Scandinavian style furniture combines influences from Denmark, Finland, Norway, and Sweden. It's one of the most popular design styles in the world today, and for a good reason.
Focuses on clean lines and a modern feel, with a lot of emphasis on simplicity. This will almost always be in dark tones, including black, brown, or grey. Vibrant colors are reserved for accessories like pillows and throws.
Natural materials are also used in Scandinavian interior design, so it's not uncommon to see wood or leather complemented by earthy tones like browns or oranges.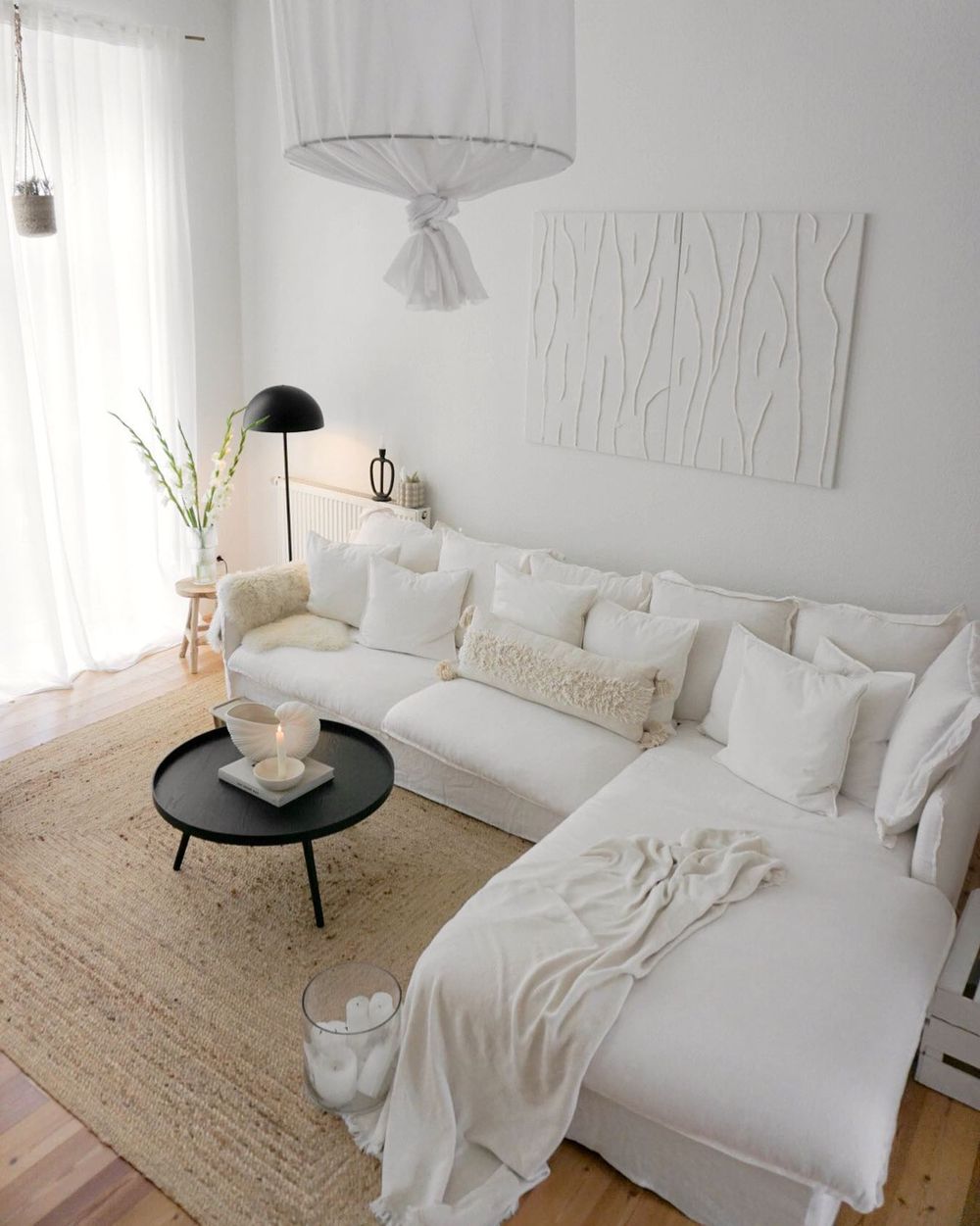 Scandinavian Sectional Sofas
Even though we already have a guide on standard Scandi sofas, these are the best Scandinavian sectionals you can buy today!
Sectional Sofa Benefits
Sectional sofas come in various shapes and sizes, ranging from small two-person couches to large king-sized sofas. They're designed to complement the rest of the room with curved lines, glass tables, and clean, simple lines. A contemporary Scandinavian sectional sofa is a great option for anyone aiming for an urban look with a minimalist feel.
Common Scandinavian Style Sectional Sofa Ideas
The most important thing about choosing a sectional sofa is to make sure it fits in with the rest of your room. Most often, a Scandinavian-style sectional sofa will be the focal point of the room, so make sure that it complements other furniture and accessories and your wall colors and flooring.
Minimalist White Sectional
A beautiful Scandinavian living room design often has an ultra-sleek sectional sofa with a gorgeous minimalist white finish. A minimalist sofa is designed to open up into a large sitting area, an excellent feature for anyone with an airy space. Like most Scandinavian sofas, this design features clean lines and simple styling that's easy to match with other furniture in your room.
Light Gray Sectional
A classic Scandi living room design may feature a light gray sectional sofa and ottoman. A light gray sofa is perfect for smaller bedrooms, offices, or small living spaces. This piece features neutral tones and simple styling to match any color scheme in your home.
Warm Beige Sectional
A quintessential Scandi family room design might feature a sectional sofa in warm beige upholstered fabric. This sofa has clean lines and simple styling to match your room's color scheme. The beige tones mixed with the microsuede fabric make this an elegant piece that's fun and functional to add to any room.
Creamy White Sectional Sofa
Another dreamy Scandi living room design could feature a modern cream-colored sectional sofa in the center of a family room with large floor-to-ceiling windows, which keep the room bright and breezy while providing plenty of natural light.
---
Scandinavian sectional sofas are very popular in the US right now, which is why we've included a number of options to choose from. With clean lines and simple styling, these designs are excellent options for anyone looking for simple, elegant, and modern designs that they can flaunt in every part of their home.