I have noticed an uptick in popularity around the NYC pre-war apartment style of home decor on Instagram. A group of young New York renters has decided to fix up their pre-war Upper West Side, Upper East Side, or Brooklyn apartments with vintage-style furniture and fresh coats of paint while retaining the space's historical charm.
Pre-war NYC apartments are sought-after for several reasons. Firstly, they were built during a time when there was a lot of attention paid to architectural details and craftsmanship. Neo-classical features and French moldings were commonplace in apartment interior design. Many of these apartments feature ornate moldings, high ceilings, and other intricate design elements that are not commonly found in newer buildings.
Pre-war apartments often have a sense of history and character that is hard to replicate in newer construction. Many of these buildings were constructed in the early 20th century and have been witness to a great deal of New York City's history. They may have housed famous residents, or played a role in significant events, adding to their allure.
Another factor that contributes to the charm of pre-war NYC apartments is their location. Many of these buildings are located in established neighborhoods with beautiful tree-lined streets and easy access to amenities such as shops, restaurants, and public transportation.
The combination of architectural details, history, and location make pre-war NYC apartments highly desirable and captivating to many people.
If you have a pre-war NYC apartment or just appreciate this vintage style of interior design, get ready to be inspired by these spaces!
Ceiling Mouldings
The first thing you'll notice about many pre-war NYC apartments is their beautiful, intricate moldings. Often influenced by neo-classical design, these mouldings are sometimes very well preserved. You can play around with painting the mouldings a different color than the ceiling or wall paint.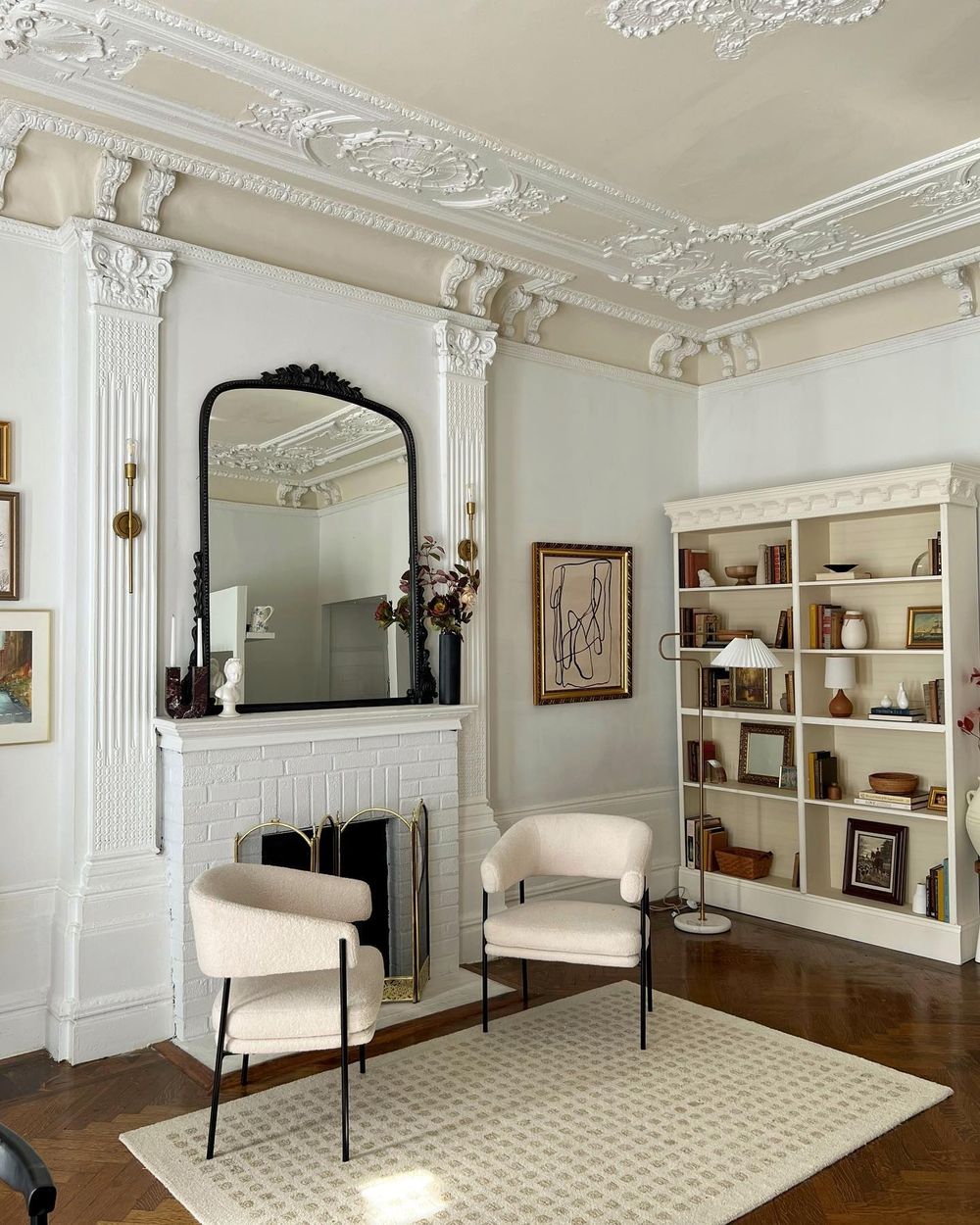 Brass Bar Cart
Since most homes didn't have televisions prior to the 1950s, people relied on entertaining each other and often hosted parties at their homes. A brass bar cart is therefore a necessary item for any fabulous pre-war apartment!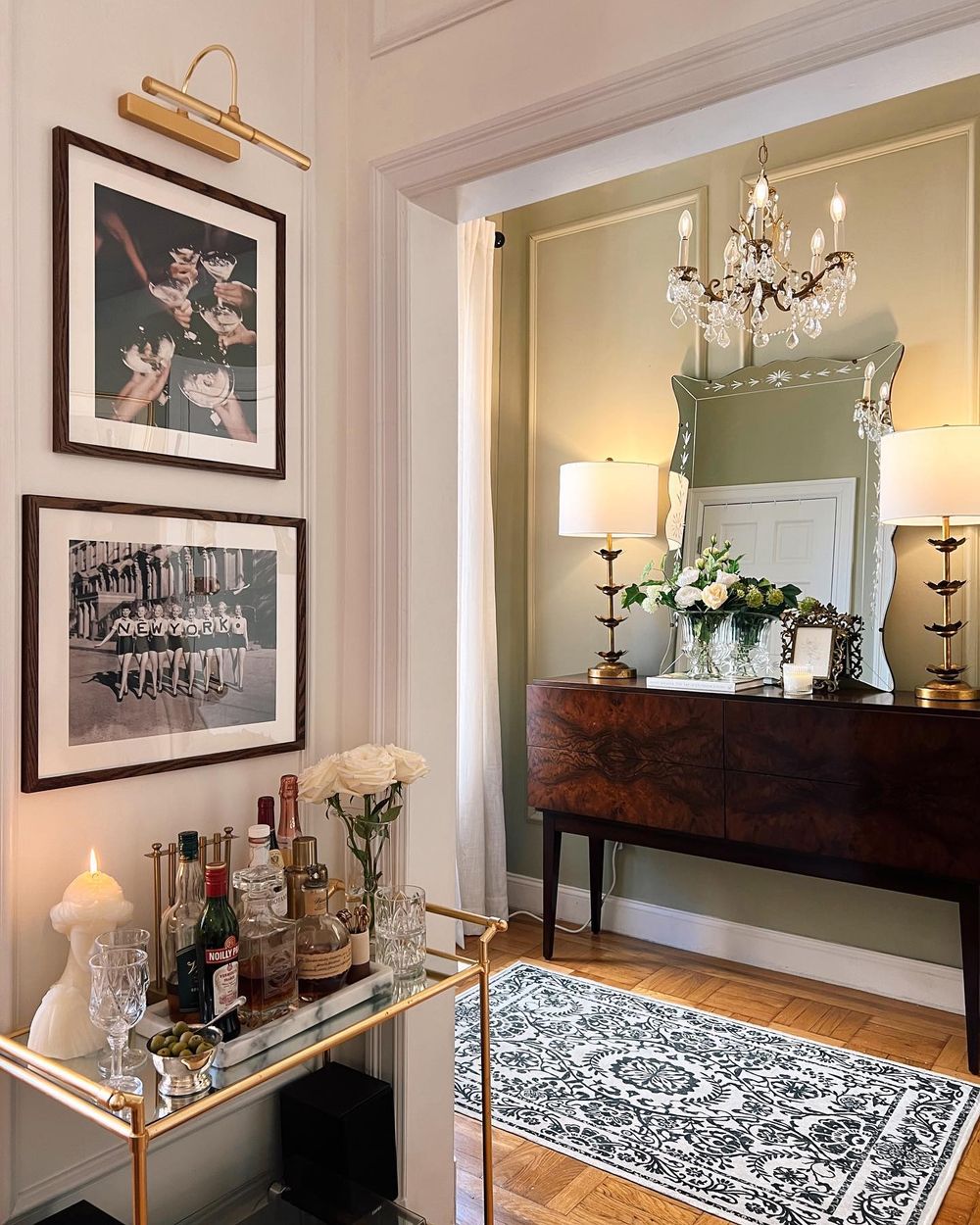 Gold and Brass Hardware
Antique gold and aged brass are the hardware finishes of choice for NYC pre-war apartments. As you can see, this living room has been lovingly decorated with a full-length gilded mirror, a vintage brass crystal chandelier, and a small French mirror on the fireplace.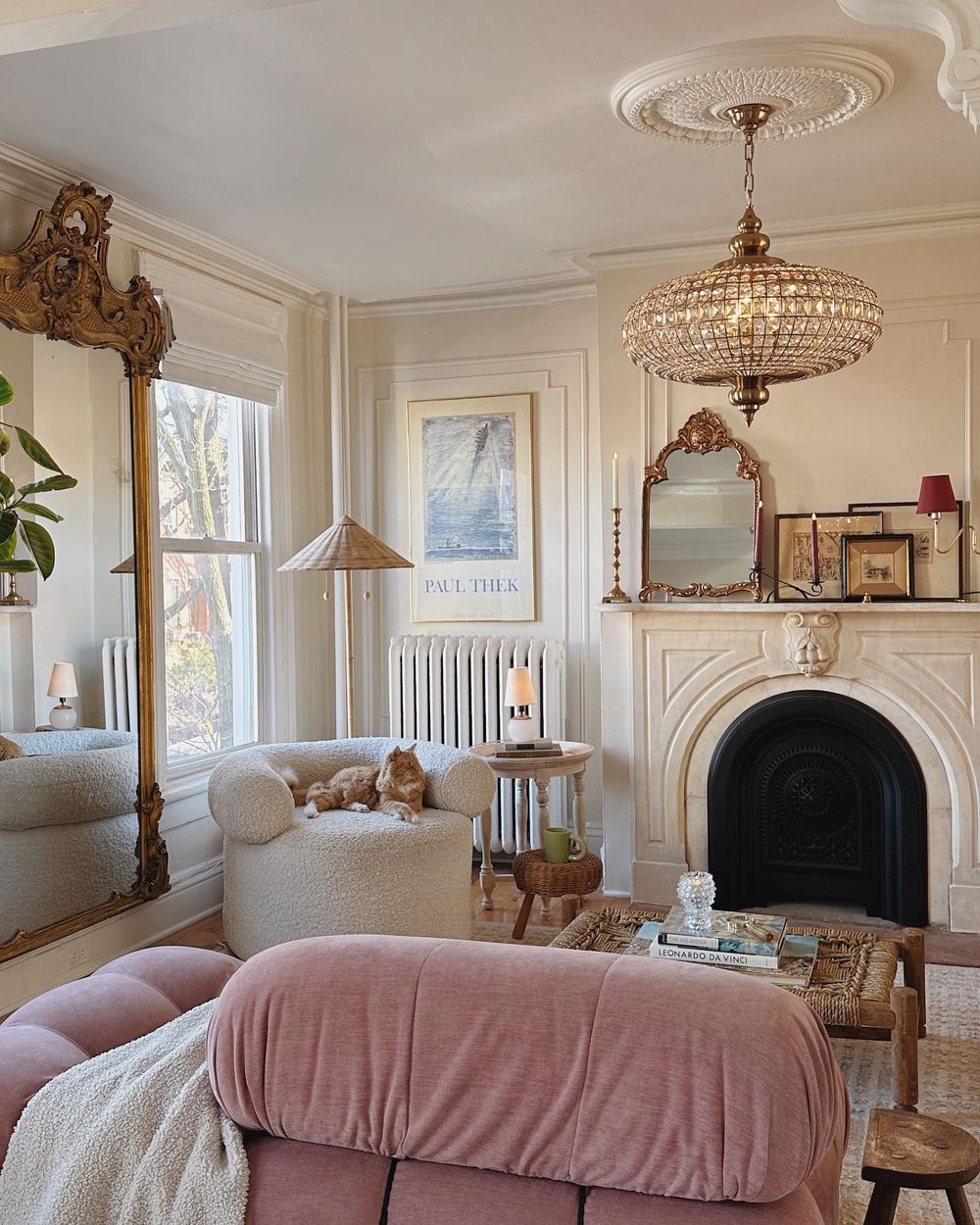 Antique Furniture
It's time to go antique furniture shopping! The older the better when it comes to pre-war apartments. Go for 18th-century pieces that have been finished in a dark brown color. Solid Mahogany wood is best.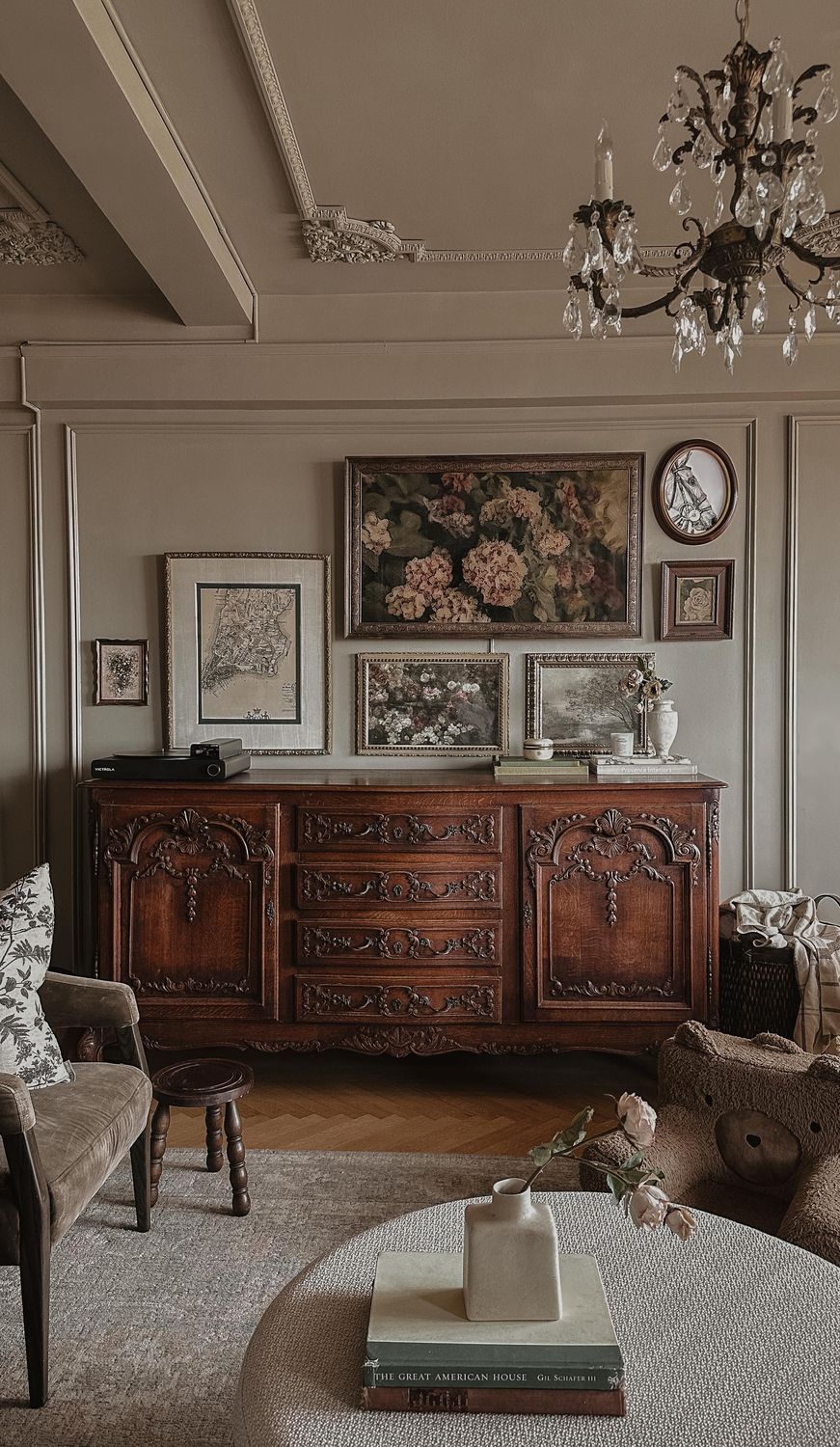 French Wood Fireplace
If you can snag a European style wood fireplace in your pre-war New York apartment, consider yourself extra lucky!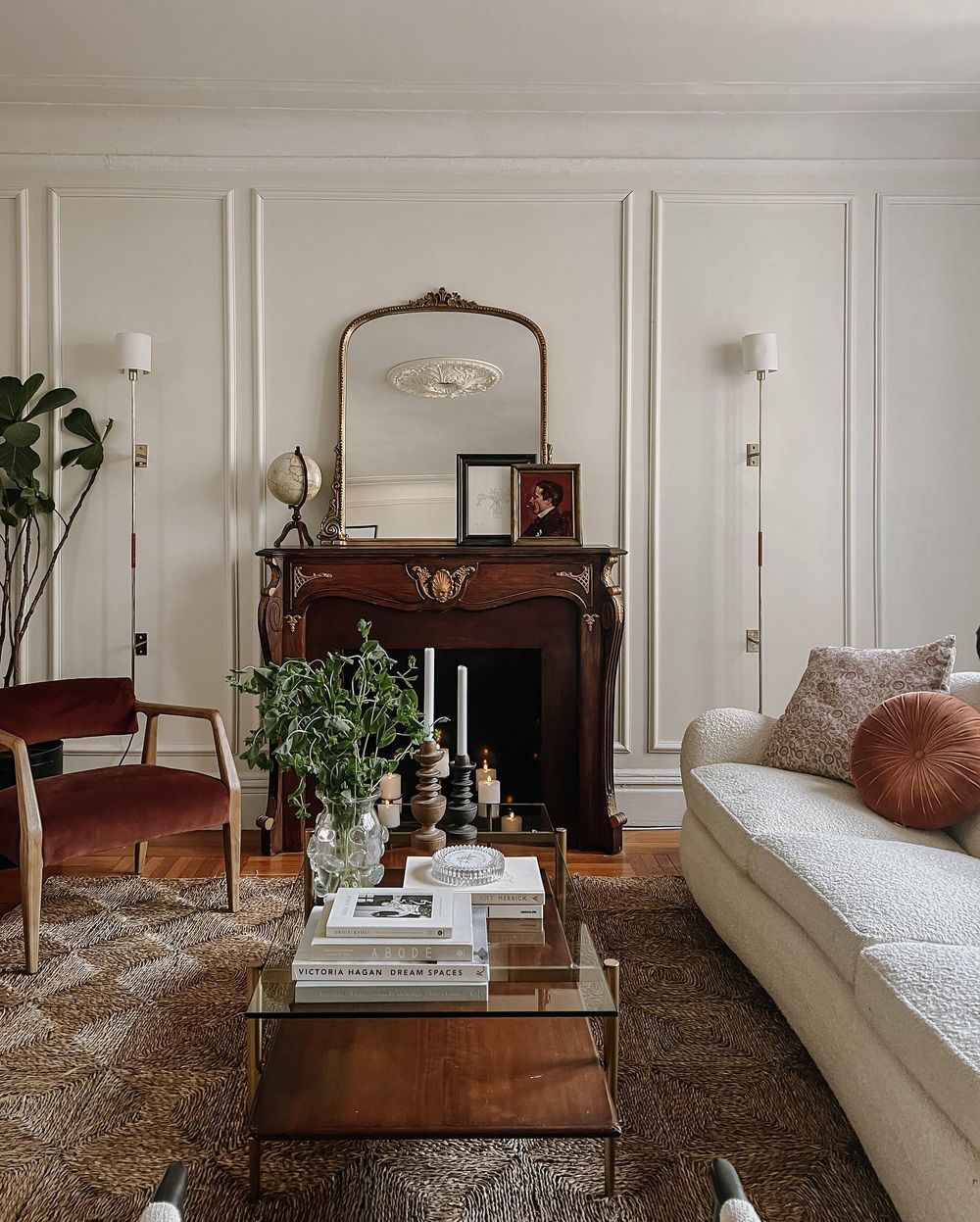 Faux Fireplace
If you don't have a real fireplace in your apartment, you can pick up a faux fireplace to do the trick. This faux fireplace surround can get the same look. No wood burning is needed!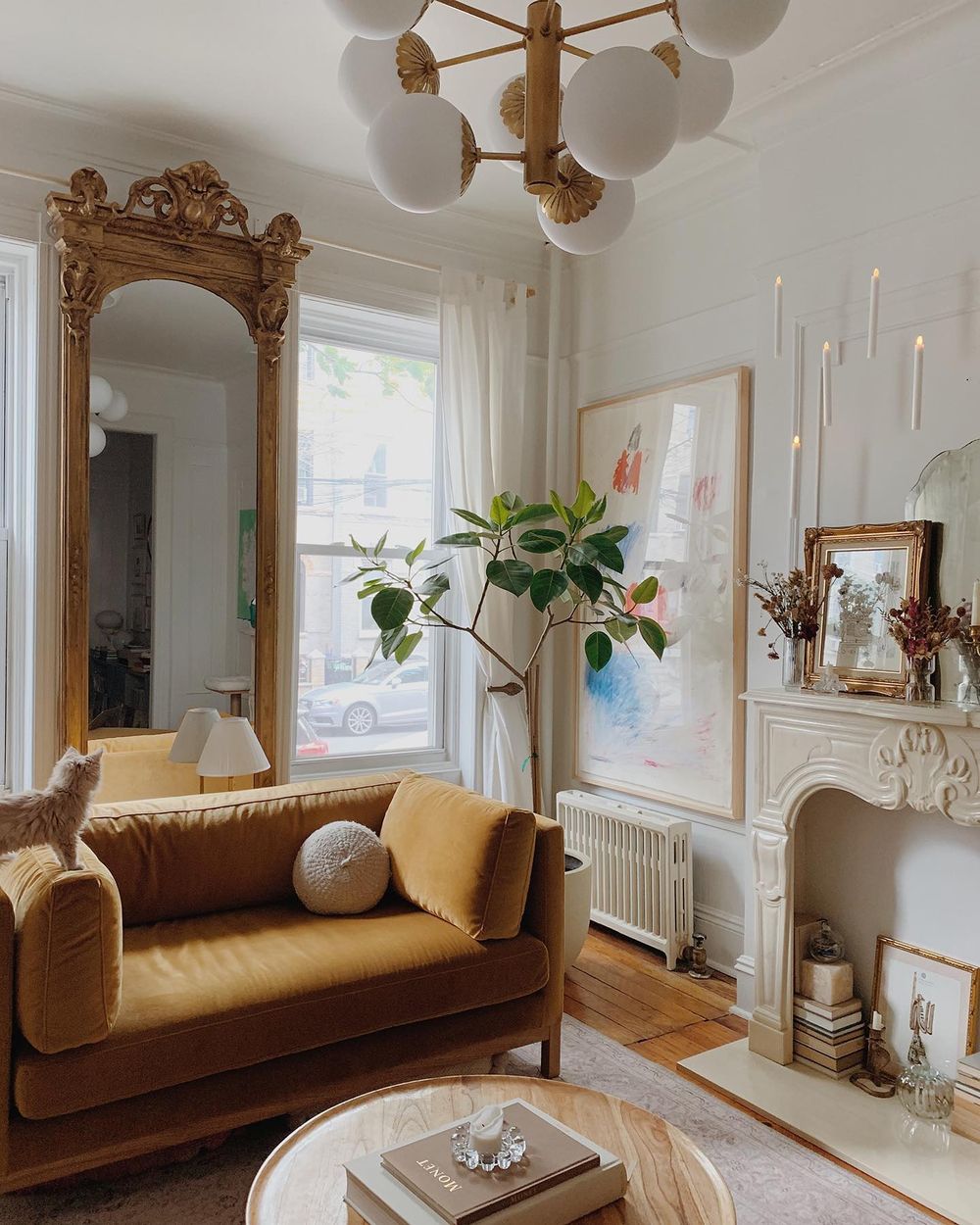 Vintage Art Gallery Wall
A vintage art gallery wall filled with old drawings and vintage paintings is the perfect way to decorate the empty walls of your NYC pre-war living room space. Add a half-moon table beneath to round out the design.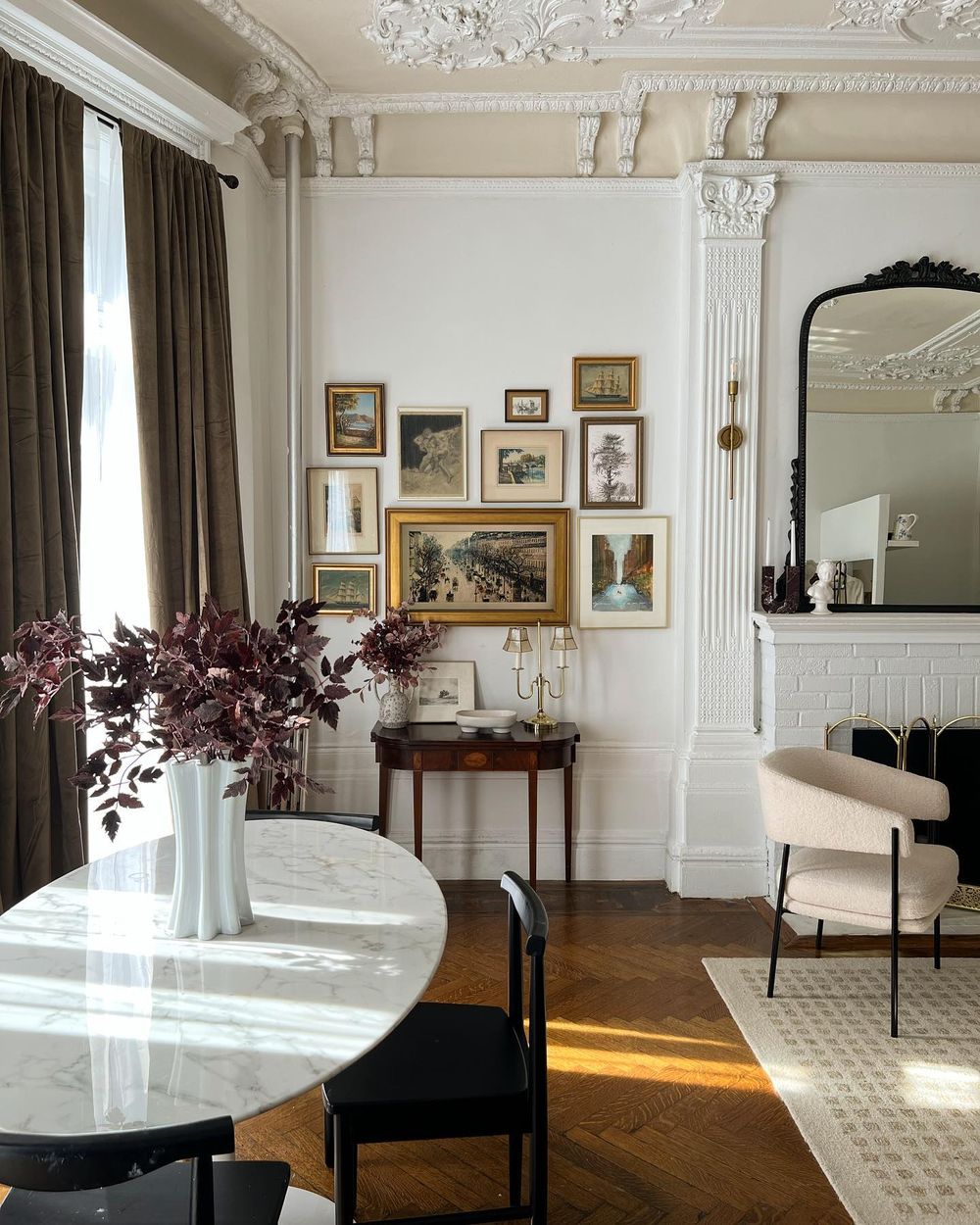 Velvet Curtains
Velvet curtains are the perfect, elegant way to add window treatments to your apartment.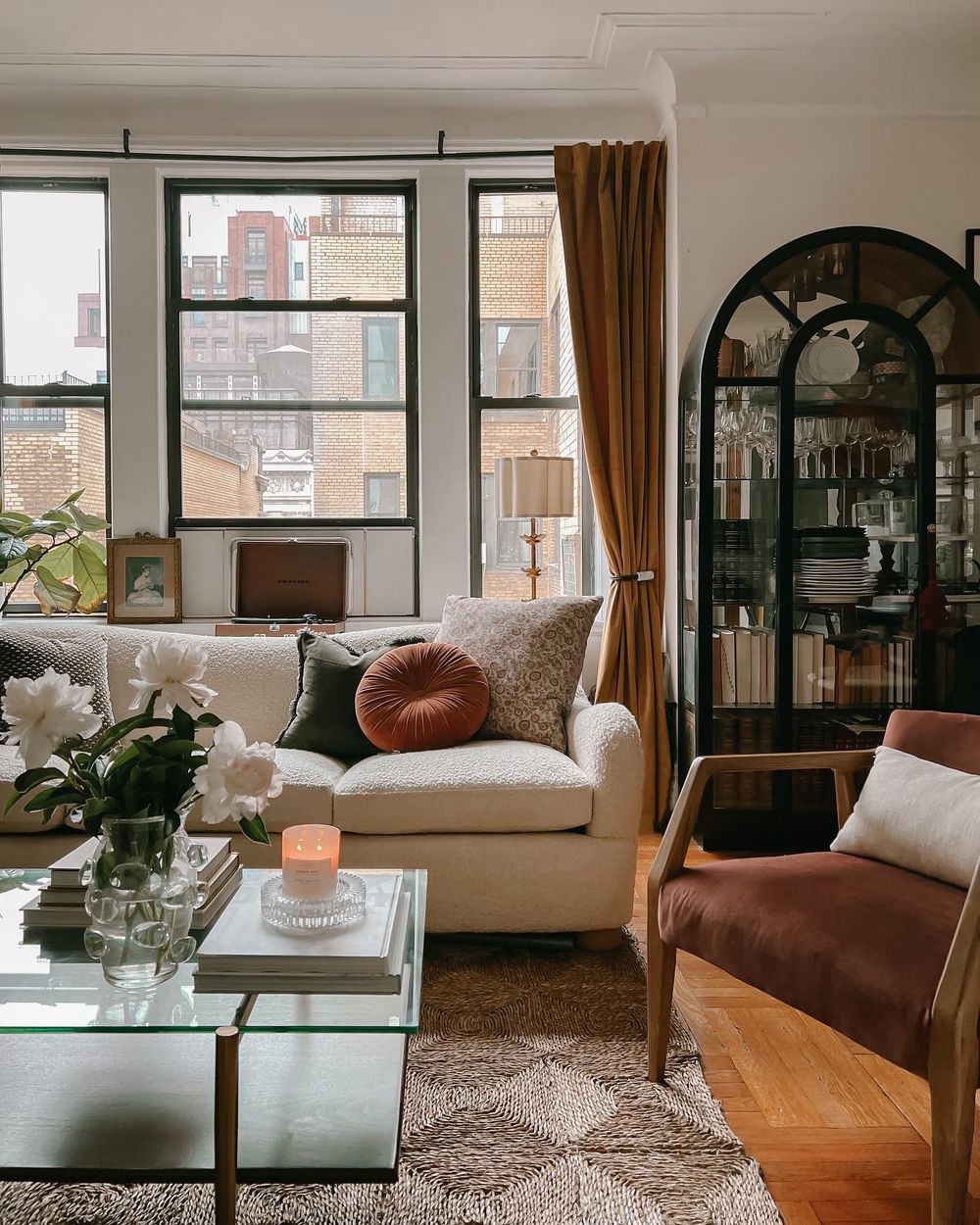 Wall Mouldings
Simple rectangular wall moldings are almost always added to these elegant NYC apartments. You can do this yourself in just about any open wall space with oak wood mouldings from Home Depot.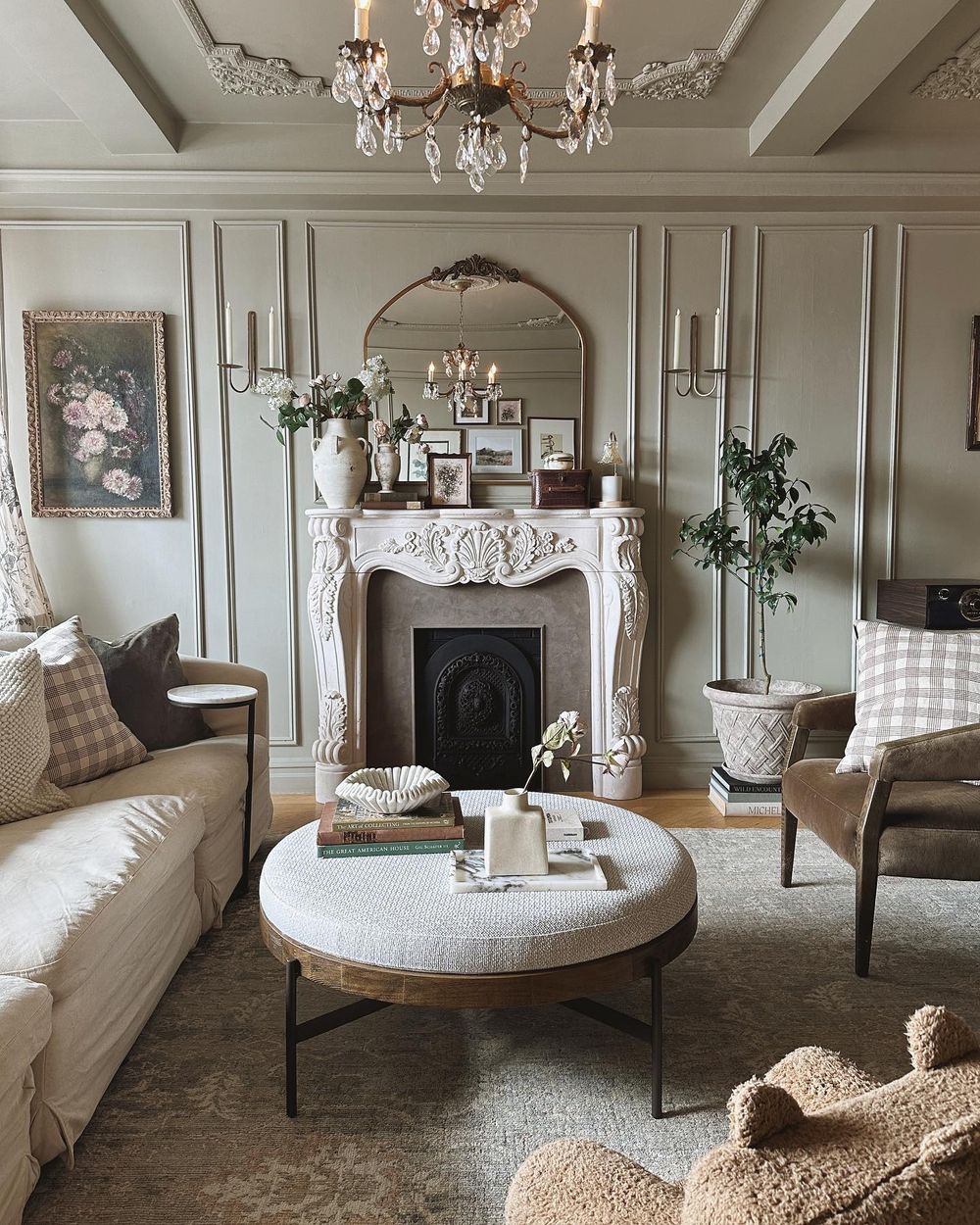 Painted Tin Ceilings
These ceilings were a popular decorative feature at the time because they were relatively inexpensive, durable, and easy to install. Tin ceilings were typically made from thin sheets of tin that were stamped with intricate designs and then painted with a variety of finishes, including metallic, matte, and glossy. The designs ranged from simple geometric patterns to elaborate floral motifs!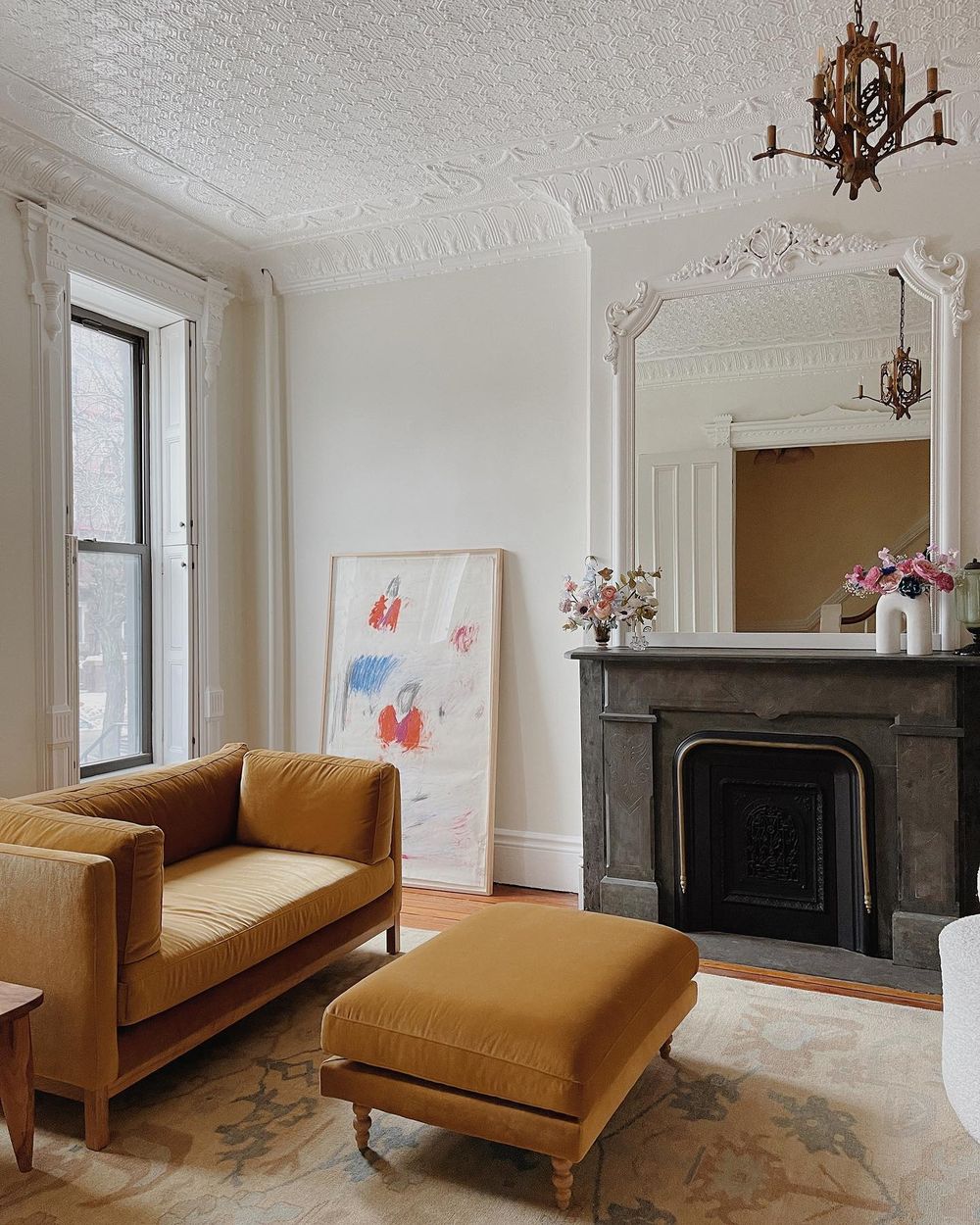 Oriental Rugs
In pre-war NYC apartments, oriental rugs are often used to anchor a room and bring together the other elements. They are commonly found in living rooms, dining rooms, and bedrooms, and are usually layered over hardwood floors.
Oriental rugs are typically handmade and feature intricate patterns and designs, often in rich colors such as red, blue, and gold. They are often made from materials such as wool, silk, or cotton, and can range in size from small accent pieces to large room-sized rugs.
Velvet Furniture
Tufted furniture, which features buttons or stitching that creates a tufted pattern, was popular during the time that many of these buildings were constructed and can complement the classic architecture and design elements of these apartments.
Velvet is a luxurious and soft fabric that can add a touch of elegance and sophistication to any space. When used on tufted furniture, it can create a plush and inviting look that is perfect for a cozy living room or bedroom in a pre-war apartment.
Darker colors such as navy, emerald green, or burgundy can create a classic look that is well-suited to pre-war architecture, while lighter colors such as blush or cream can add a touch of modernity.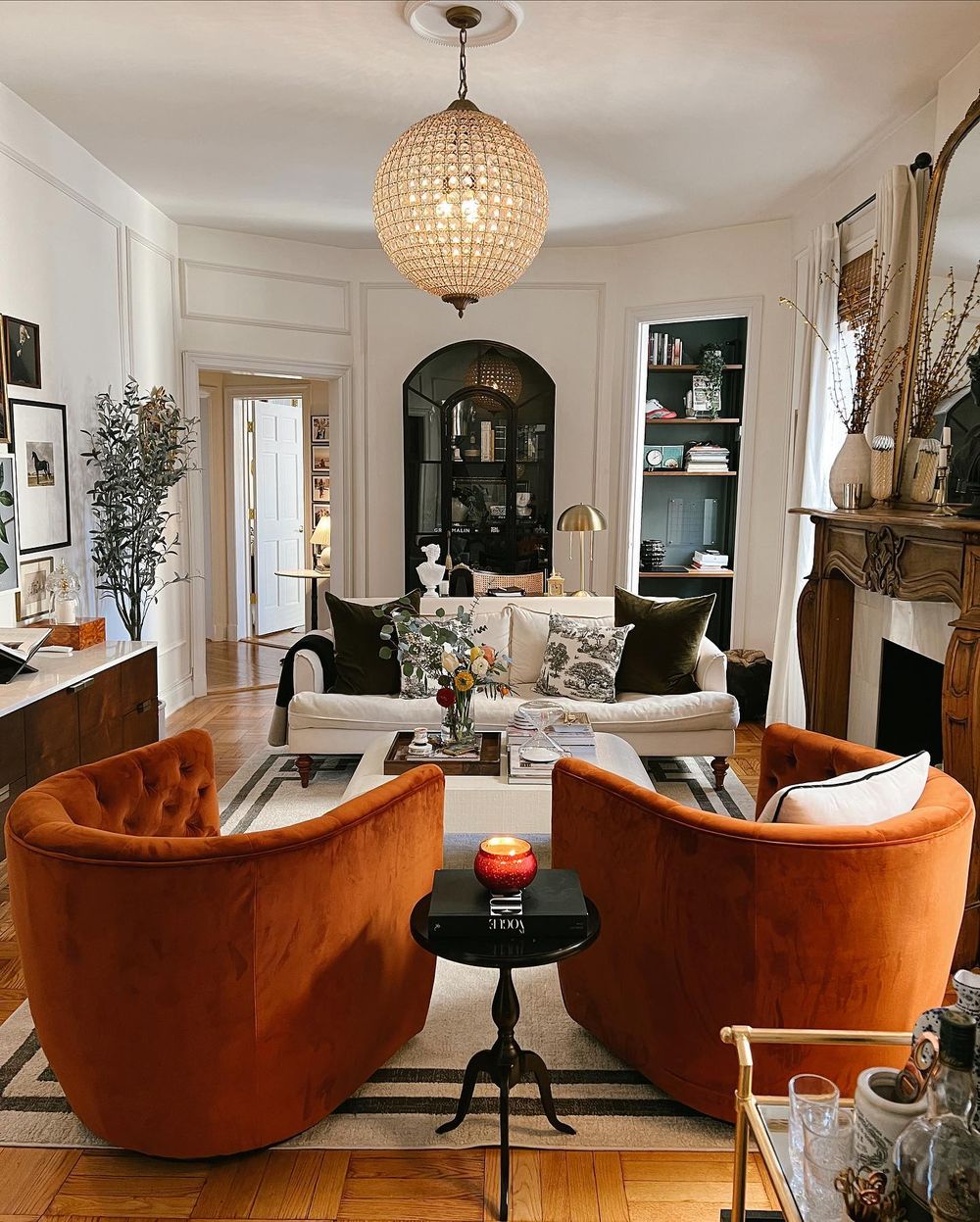 Vintage Style Fireplace Mirror
There's almost always a large, French style mirror in a classic NYC pre-war apartment interior design. Here is the Primrose mirror in an antique black frame.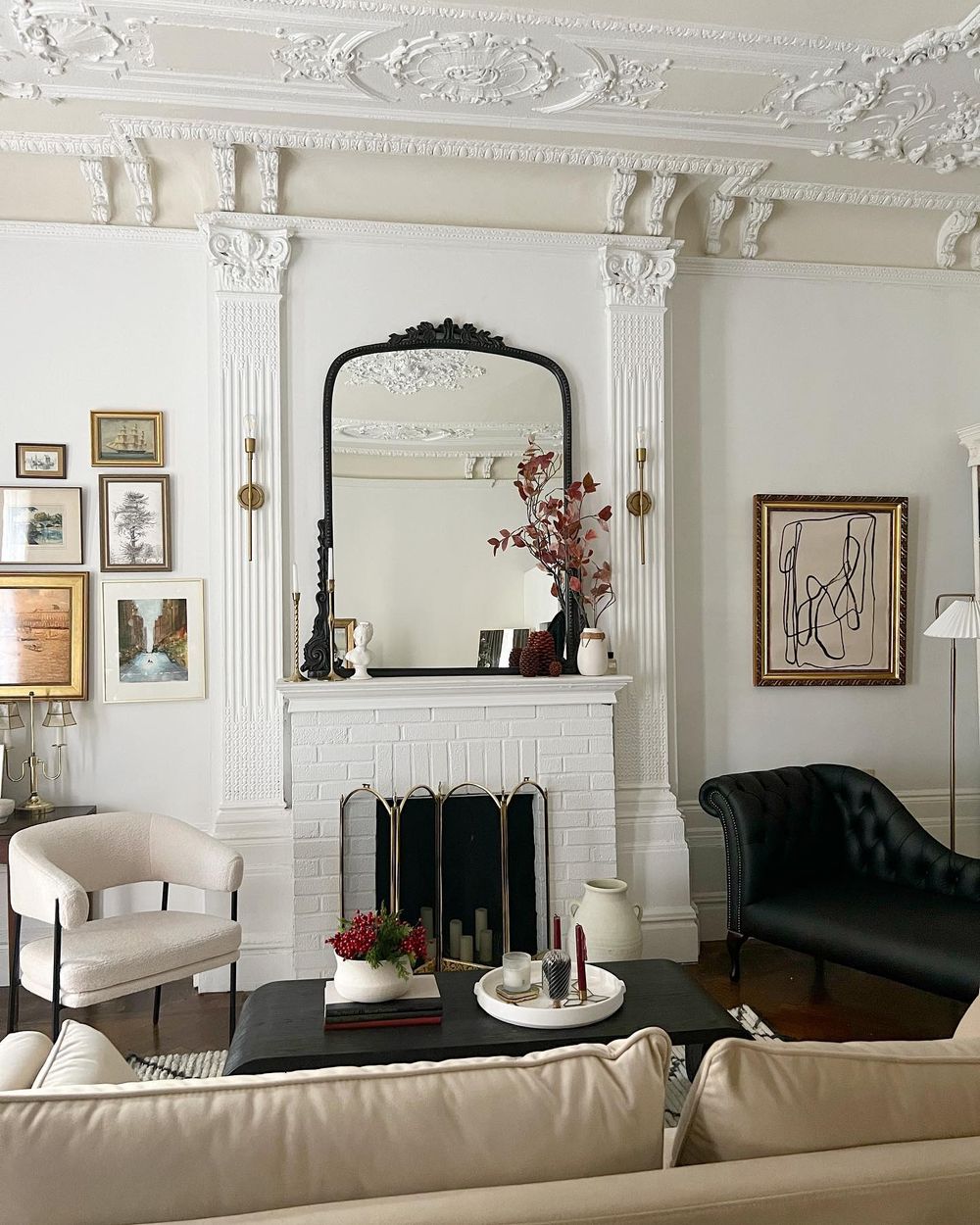 Mid-Century Furniture
To give these apartments a fresh take, you can add a mid-century modern sofa as seen here to the space. Mix it in with older furniture styles to keep the historical charm.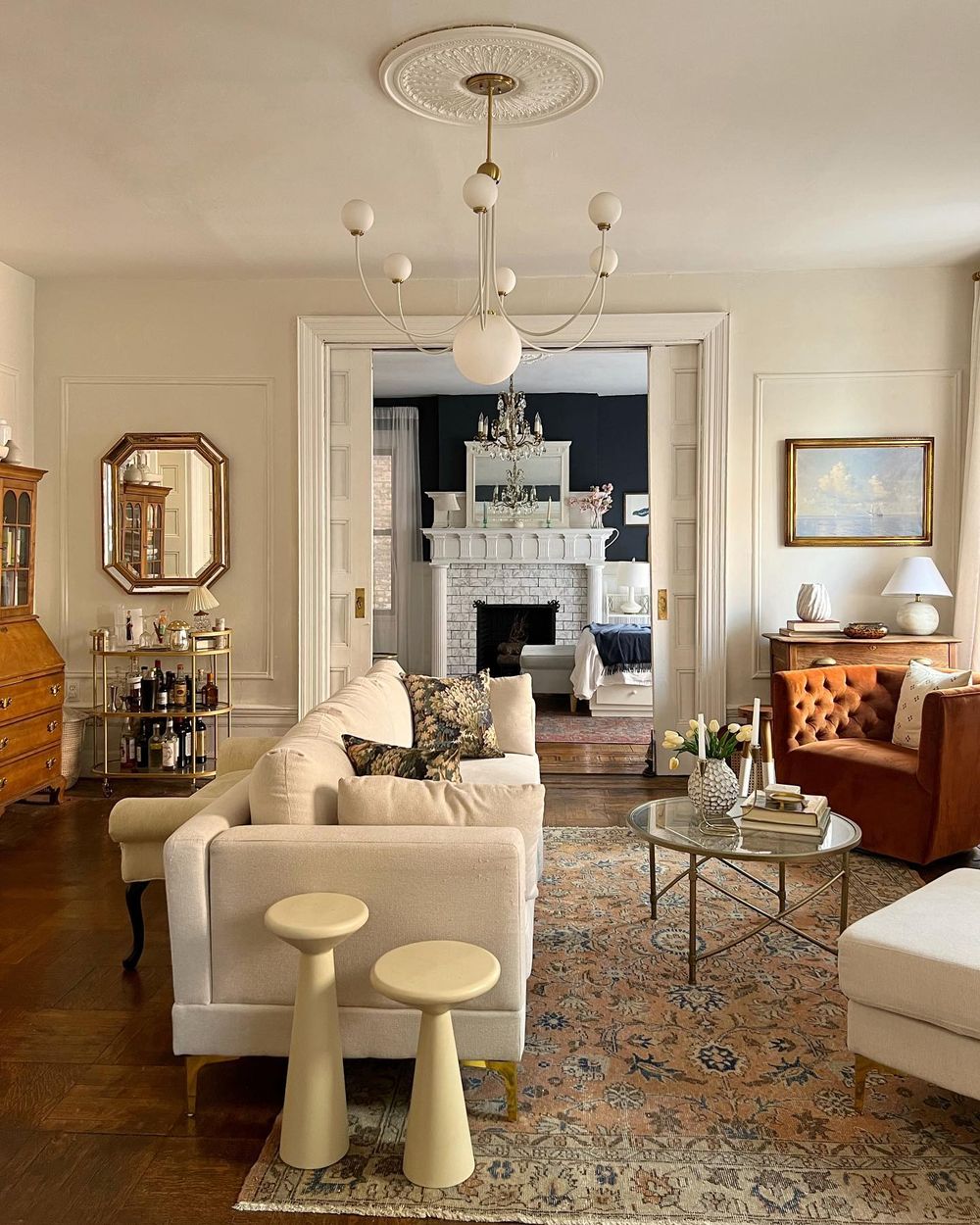 Boucle Accent Chairs
To keep your NYC pre-war apartment looking fresh, you could go with more mid-century modern furniture such as the white boucle accent chair seen here.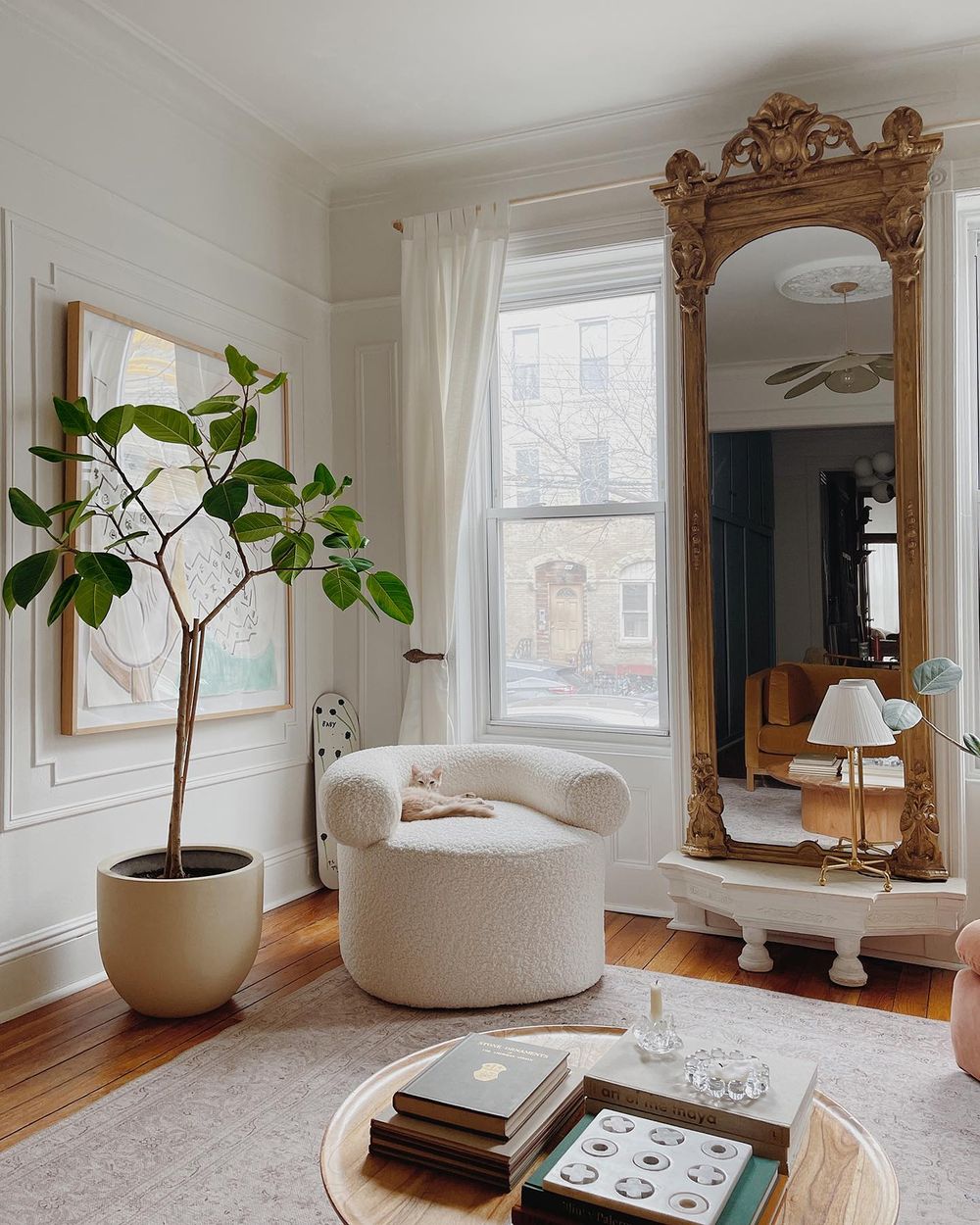 Sheer White Curtains
Since these apartments tend to have many interesting features, I would go with simple sheer white curtains when decorating the windows to prevent too many distractions!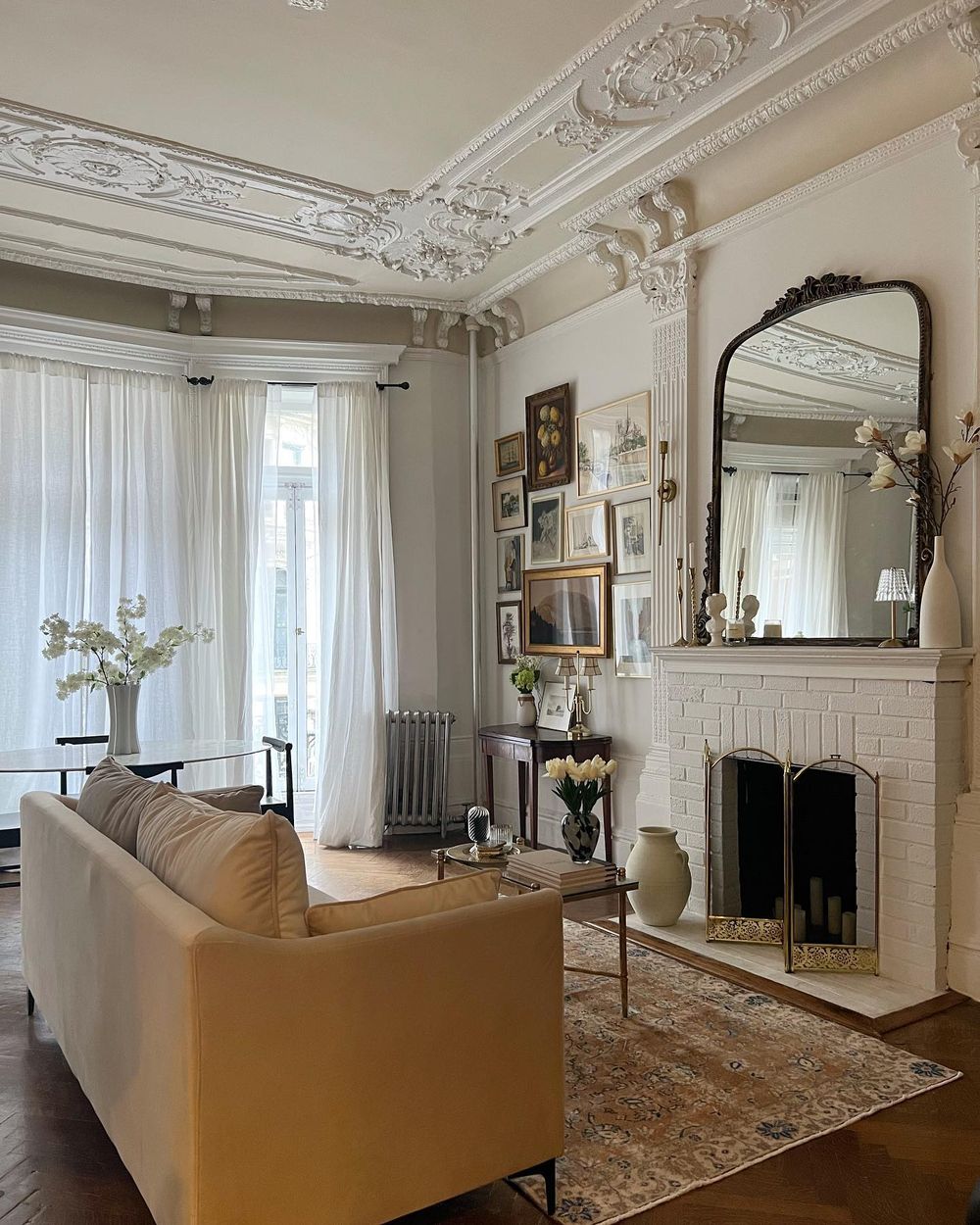 Campaign Dressers
Campaign dressers have a rich history dating back to the early 19th century when they were originally designed for military officers to use while on campaigns or during long journeys. These dressers were designed to be lightweight, portable, and easy to assemble and disassemble so that they could be quickly transported from one location to another.
The design of campaign dressers typically features a set of drawers that are mounted in a wooden frame, often with brass hardware and corner brackets for added strength and durability. The drawers themselves were often constructed with dovetail joints and were made from a variety of materials including wood, leather, and canvas.
Crystal Chandeliers
There's almost always a crystal chandelier in the ceiling of a pre-war NYC living room. It's usually hanging down from the center of a ceiling medallion, too.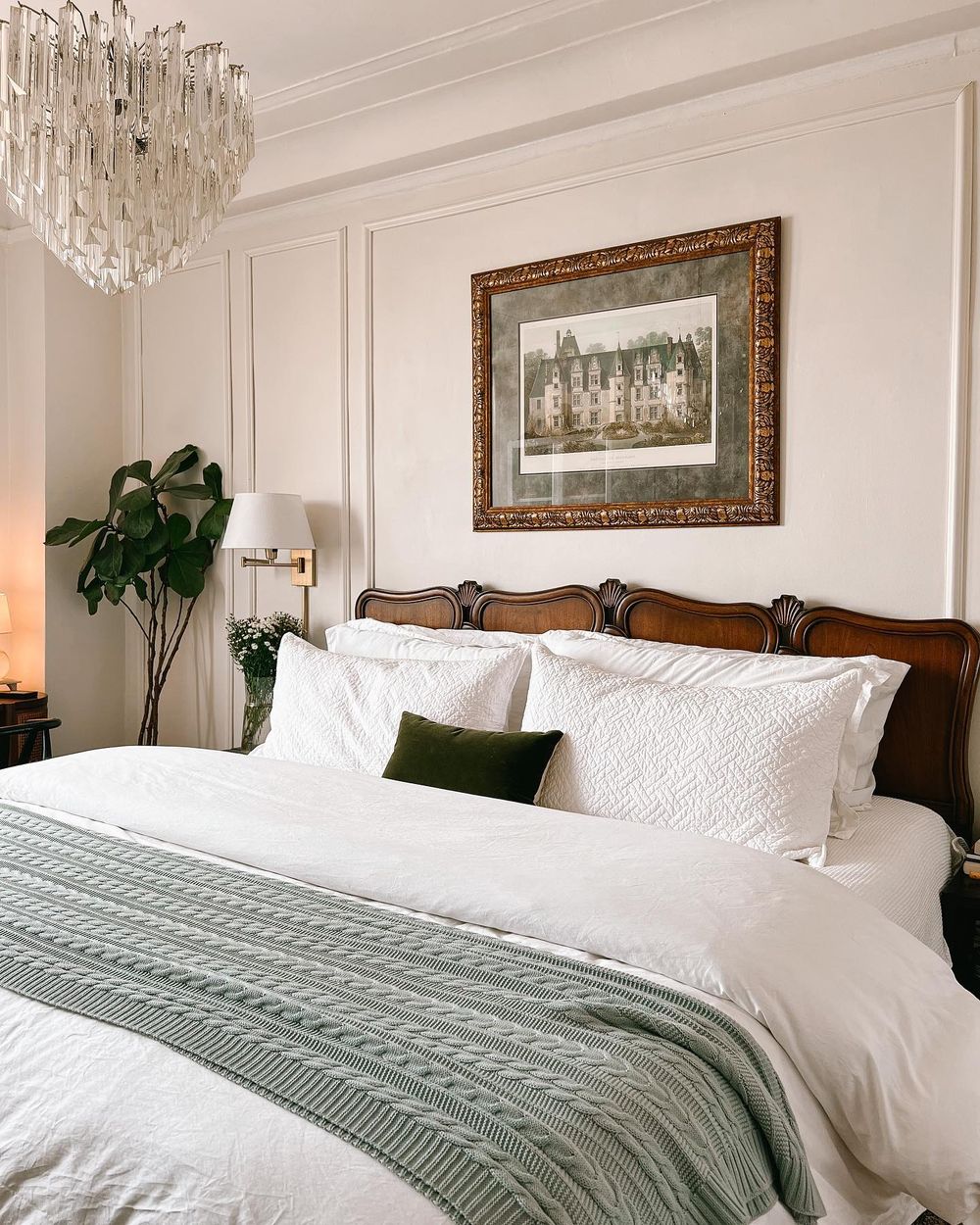 Neutral Color Palette
Go with a neutral color palette if you're just getting started with decorating a pre-war NYC pad. You can add colors in as you go, but stick with black, beige, ivory, and gold to start!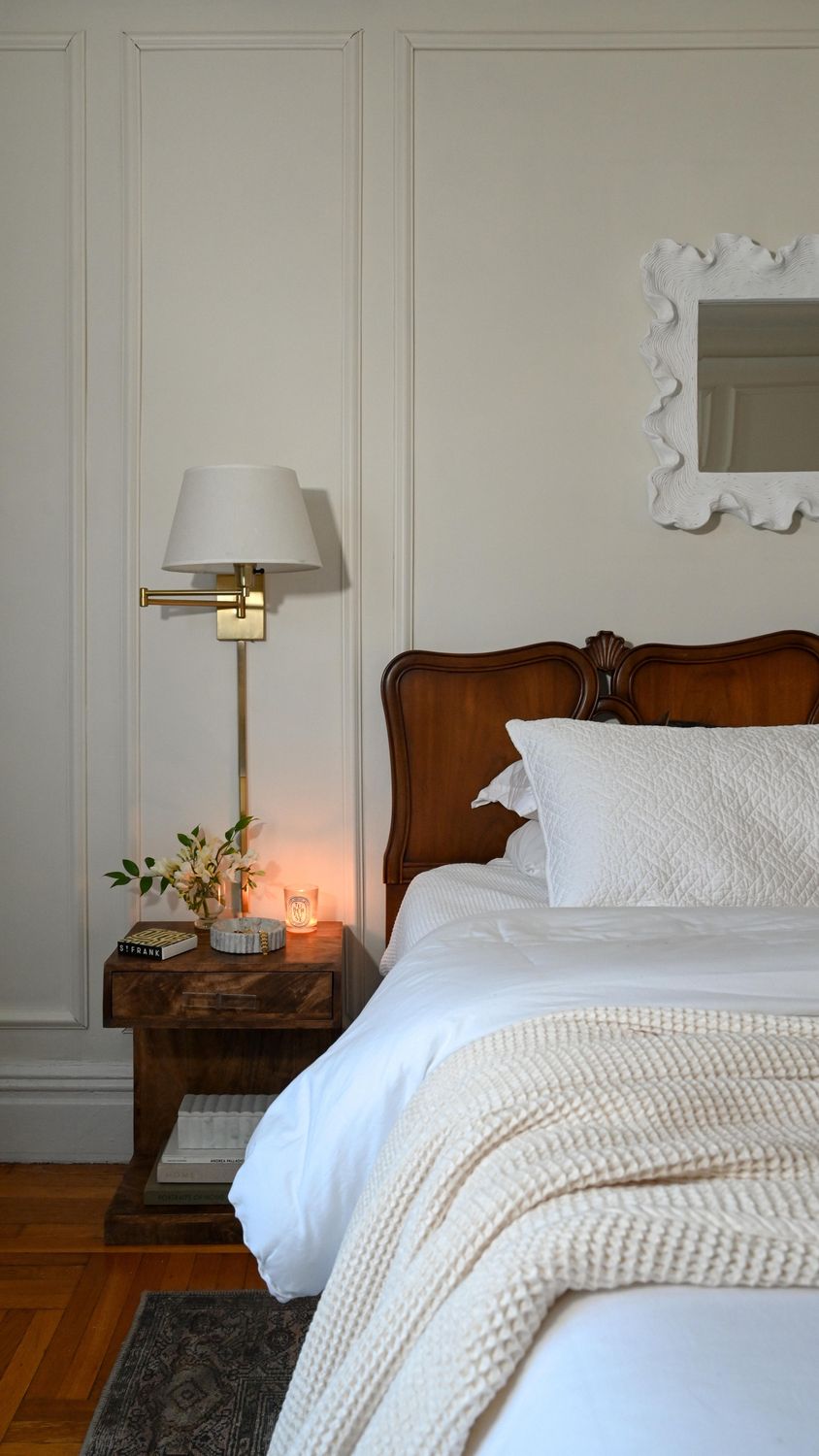 Earthy Colors
Muted, earthy colors can be added in slowly. I love the eggplant headboard of this pre-war NYC bedroom design.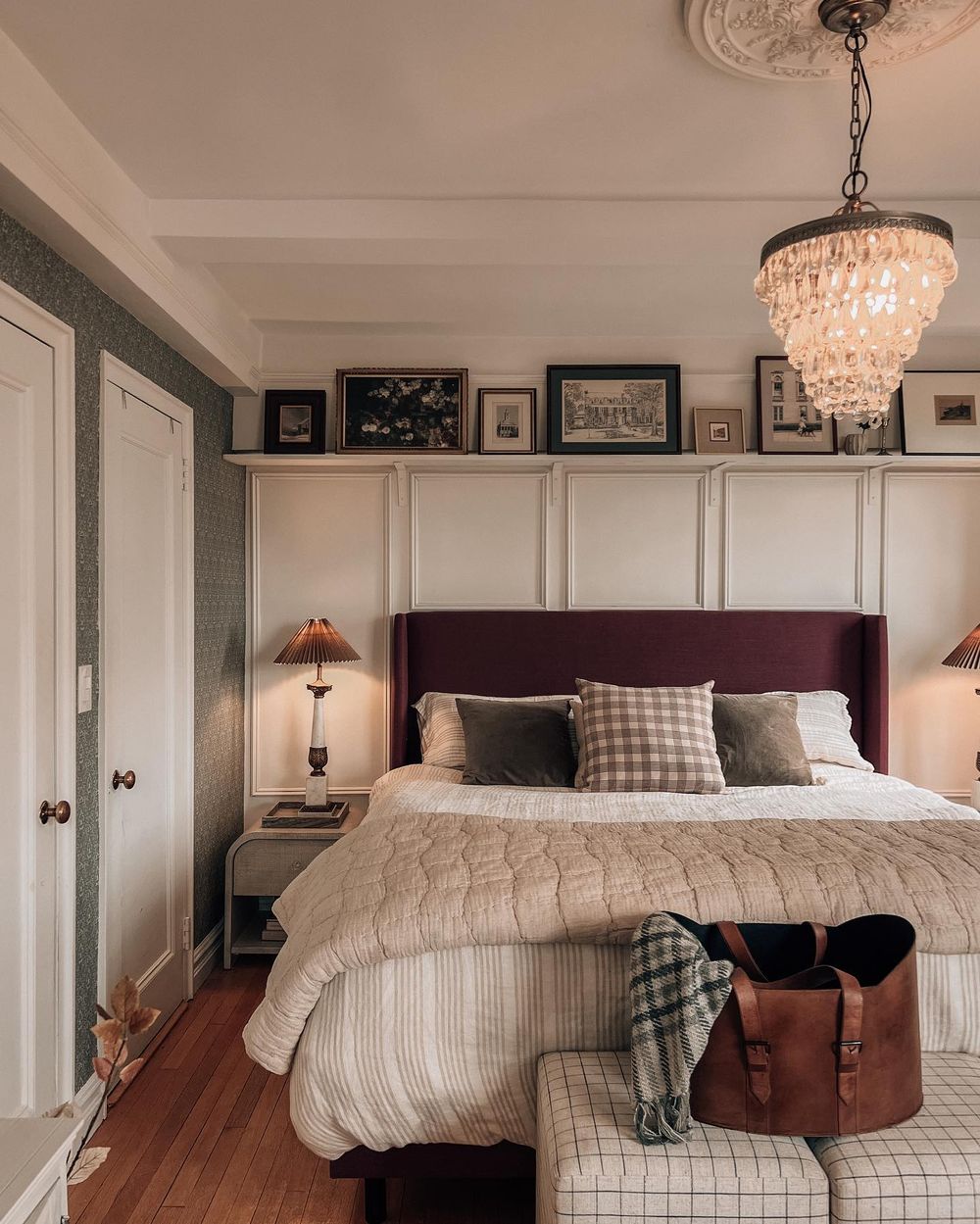 What do you think of these NYC pre-war apartment decor ideas? Do you love this elegant city look?