Creamy white and warm beige are two tones that make these neutral entryways so dreamy. Are you a fan of the textures and layers of neutral decor and design? If so, then you'll love the neutral entryway decor ideas we are sharing today.
The entryway is typically a pass-through space in our home. It's the last place we see before taking off for the day, and the first place we come home to upon returning. It needs to hold our essential items like our shoes, coats, keys, and bag. You may also have other things to keep handy at the entryway like an umbrella or extra set of keys.
Whatever your needs are for the entryway, there are so many ways to design one. You may want a closet, tabletop tray, drawers, or other storage for the area. Keep this in mind as you design the perfect neutral entryway for your personal home.
Neutral Entryways
These neutral entryways are great examples of how the different brown tones and textured layers of neutral decorating can work together to create the perfect entryway design that is practical and aesthetically pleasing. Keep reading to see our best neutral entryway decor ideas!
Brass Chandelier
Brass is a common metal used in neutral interior designs. It's warm and shiny tones are perfect for creating an inviting space. I adore those rustic hardwood floors!
Brown Vintage Rug
Mixing vintage and contemporary elements is a great design decision, as seen in this beautiful home foyer. The brown leather Louis chairs mean there is plenty of space for putting on your shoes!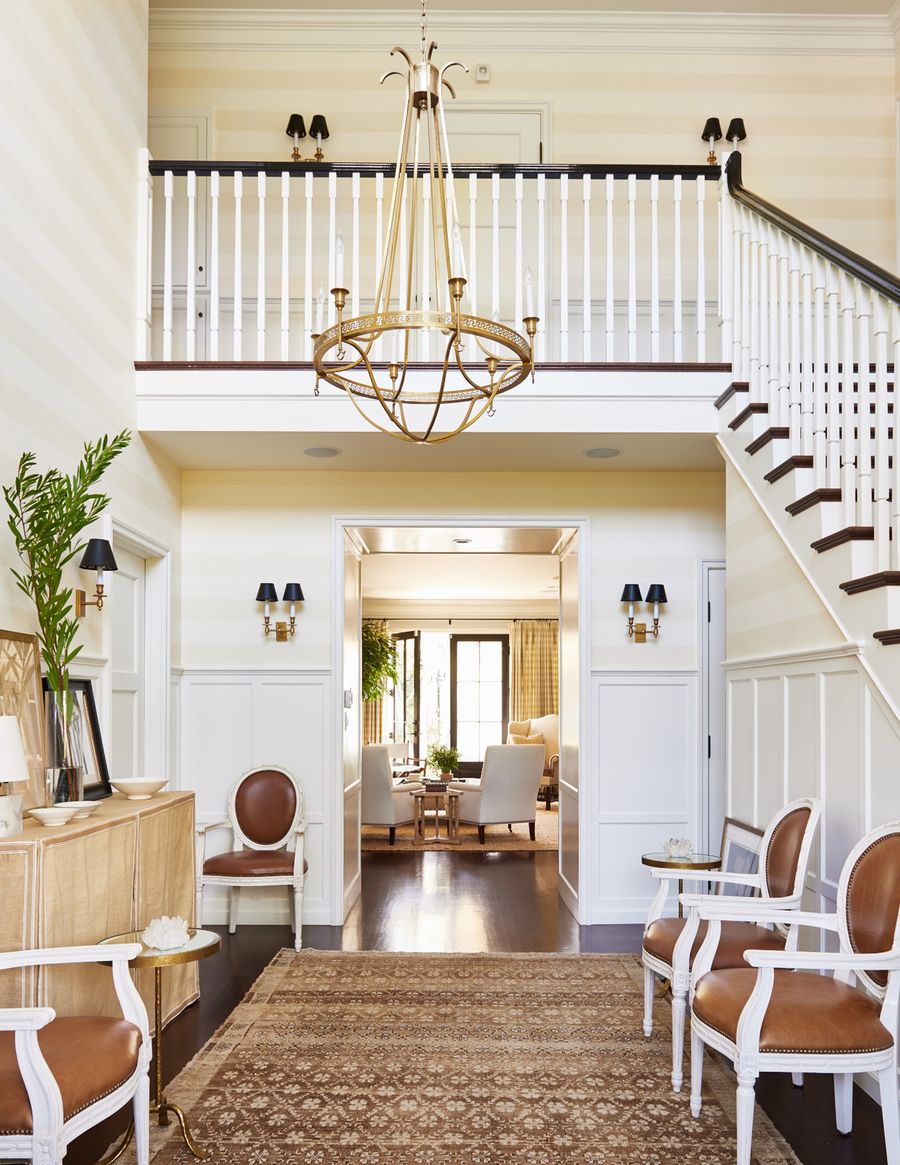 Clay Pottery Table Lamp
A warm clay pottery table lamp is the perfect way to create a cozy neutral foyer. The large black round mirror adds a darker balance to the color scheme.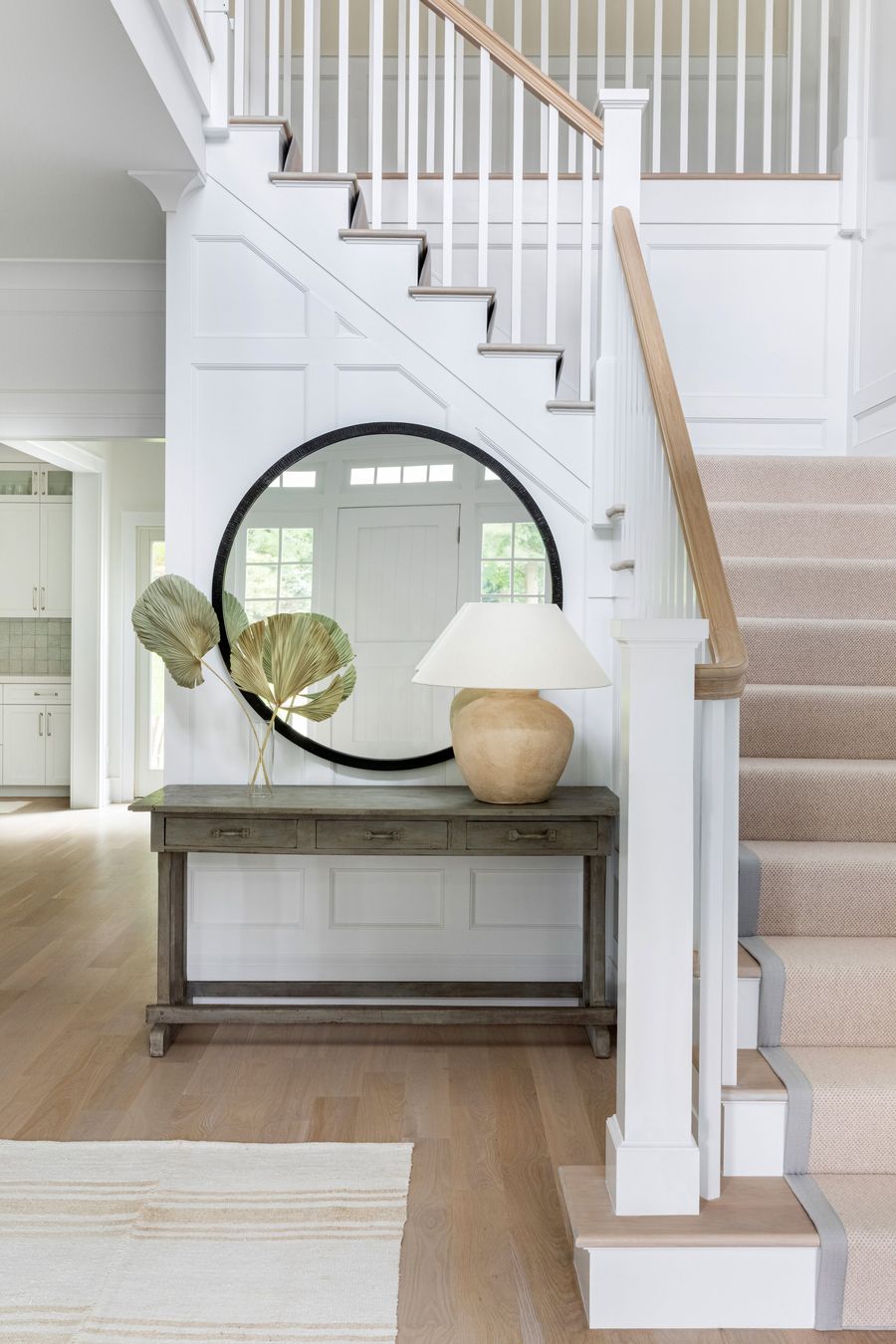 Beige Modern Vases
These modern vases in a light beige tone are perfect for eucalyptus and dried flowers. These vases are similar to the minimalist aesthetic of H&M home.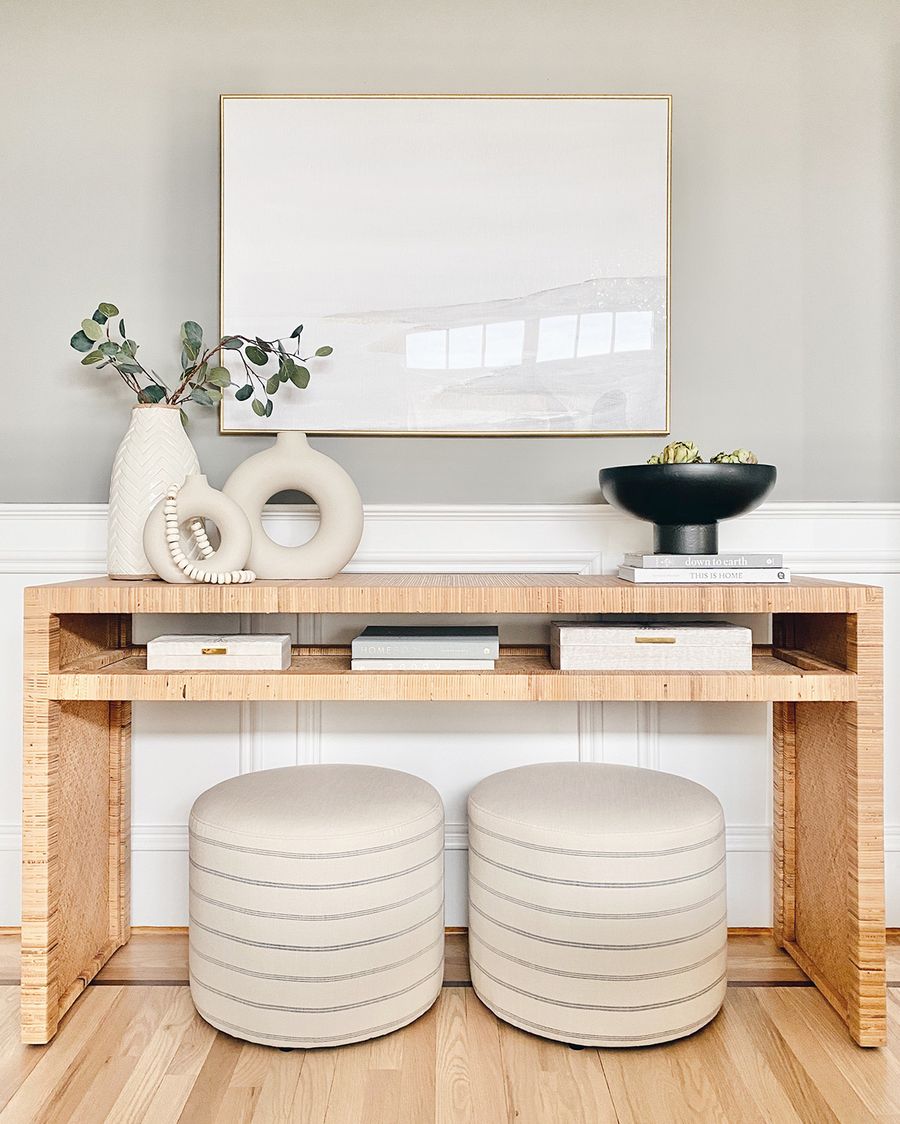 Round Brass Mirror
A simple round brass mirror is the perfect addition to an entryway for checking your makeup and outfit before leaving!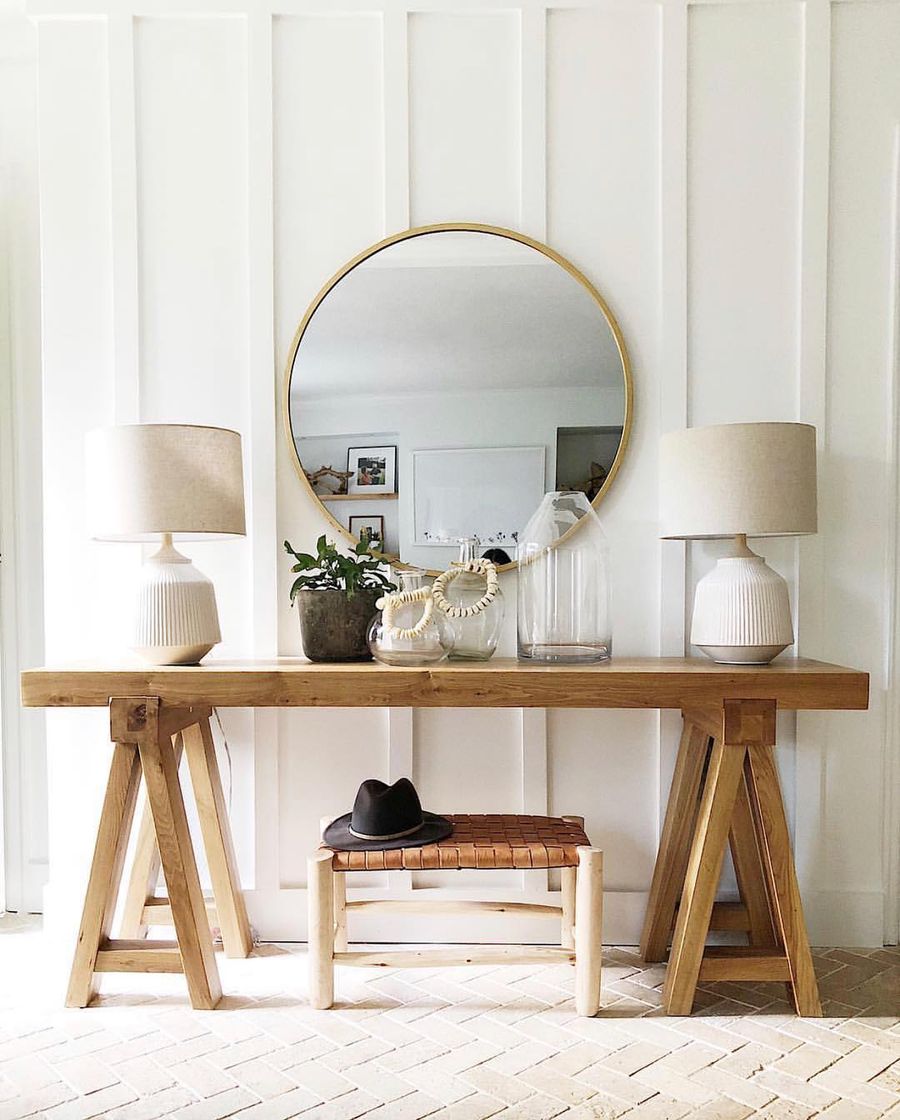 Wood Ceiling Beams
I adore the exposed wood ceiling beams in this pass-through entry. The brass pendant lights add additional warmth to the space.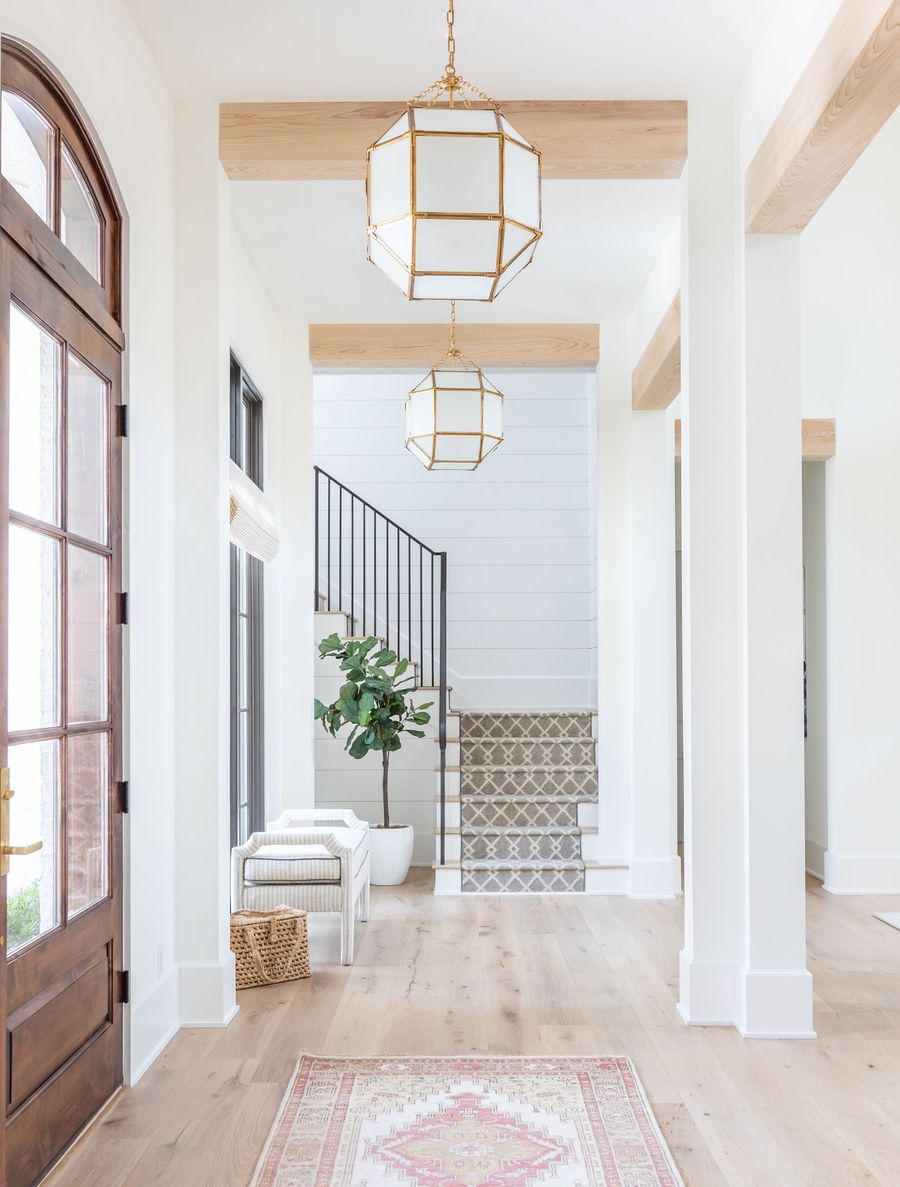 Wood Console Table
A mango wood console table in a mid-century design is perfect for this space. The white shiplap walls, cream table lamp, and jute storage basket below add the right neutral decorations to this look.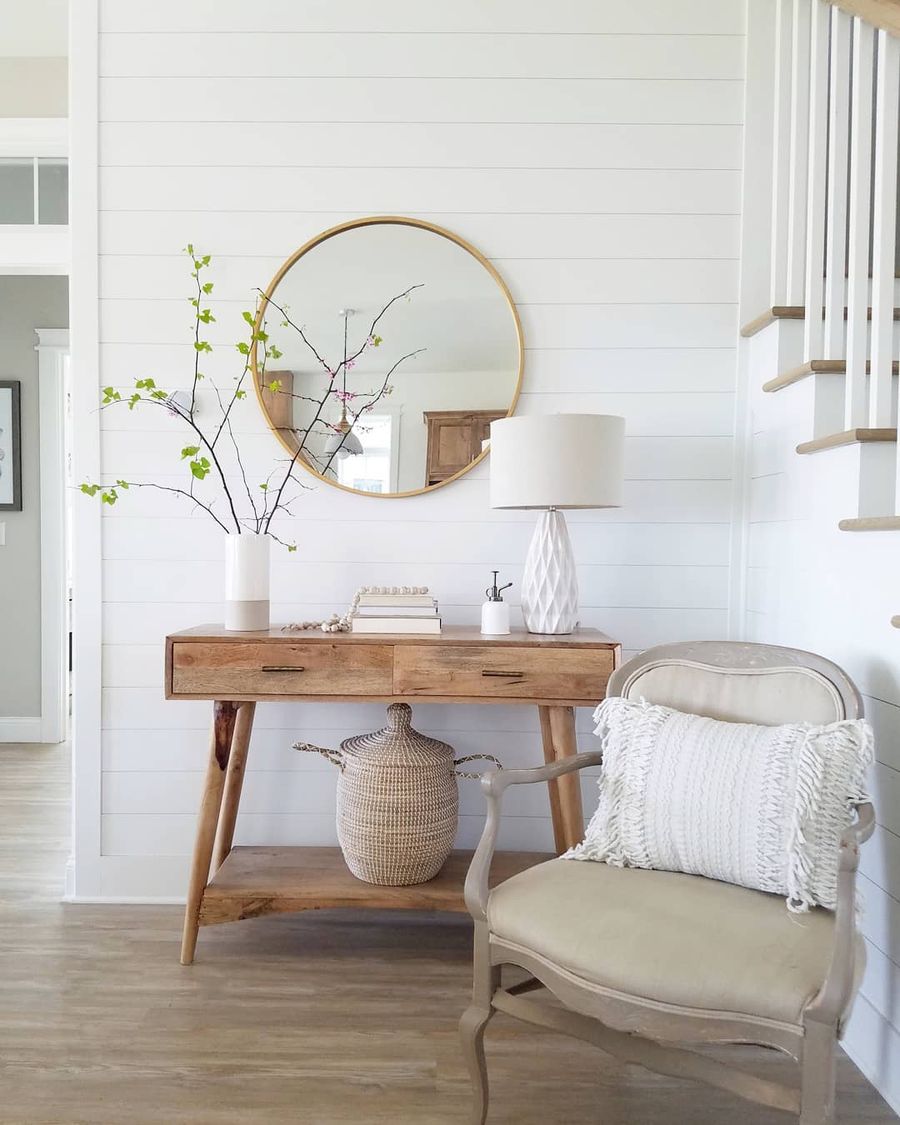 I hope these neutral entryway design ideas inspired you as you redecorate the foyer of your home! This cozy pass-through space should not be overlooked in your home renovation.
More Neutral Decorating Ideas
Happy curating!