Whether you are remodeling your bathroom or building a new house, one of the things you should not overlook is having the right bathroom vanity. The right vanity will do more than just serve as an extensive storage solution for you. Apart from storage, it is also a place to get ready in the morning, display decorations, and look good as one of the most eye-catching parts of the room!
Double bathroom vanities are a common bathroom design choice for people who live with one other person at home. They offer two sinks as opposed to one and they are often connected. Having two sinks means that both people can get ready at the same time. They can also store their personal belongings in separate areas making the space feel airy and uncluttered.
Best Double Bathroom Vanities for Residential Homes
We took the time to gather a data-backed list of the best double bathroom vanities we found online that have amazing customer reviews and look stunning. Check out our edit!
Best Contemporary Vanity: Newtown 60″ Double Bathroom Vanity Set
This sleek white double bathroom vanity offers two oval sinks and a marble top. The cabinet handles are included but the faucet is not. It is made of laminated solid wood and offers tons of space inside for bathroom accessories. The hardware has a smooth matte nickel finish. It has six drawers and four doors (two sets) which open to the interior storage. The top material is a solid white marble with gray veins. It is freestanding and doesn't require a complicated assembly.
Best Wide Vanity: Newtown 72″ Double Bathroom Vanity Set
If you're looking for a wider, but still contemporary bathroom vanity, then try the Newton 72-inch double vanity. It comes in several finishes but I love this dark gray paint.
Best Apron Sink Vanity: Charlotte Double Farmhouse Bathroom Vanity
Farmhouse-style apron front sinks aren't only reserved for the kitchen! You can get a great modern farmhouse style apron front sink bathroom vanity for your bathroom as well. This one has an authentic Italian Carrera marble countertop, white cabinets, and ceramic sinks. A lower open shelf adds easy access to storage.
Best Modern Farmhouse Vanity: Sausalito Vanity
We love this beautiful modern farmhouse double bathroom vanity! With a traditional design, honey wood, and a white marble top, there is so much to love about this vanity. It has been crafted from solid elm wood and rattan. The countertop is made from Italian Carrara marble. It has beautiful white and gray veining. The marble backsplash is included. The vanity top has been sealed with a protective lacquer to resist moisture damage. The two upper drawers are not functional, but the bottom cabinet is. Adjustable shelves let you store all your bathroom necessities.
Best Affordable Double Vanity
Looking for an affordable double bathroom vanity? We've got you covered. Be careful as you research as a lot of the cheaper double bathroom vanities don't have sinks or storage. Read the description before you buy in any case. This one has good reviews and comes at a great price!
What size vanity do I need for 2 sinks?
One other thing that you should think about is the size of your bathroom vanity to fit two sinks. A standard vanity should be between 30 and 32 inches. It is best for both adults and children. If you are thinking of luxury, you may consider the comfort vanity size around 36 inches in height. This kind of vanity is suitable for adults, especially for the comfort of tall people. Also, most double vanity sinks are 36 – 48 inches wide, and the extra spacious ones may stretch to 60 – 72 inches. You may also choose to have floating bathroom vanities that make a small space look and feel more spacious. The best size of the bathroom vanity sink will depend on your preference!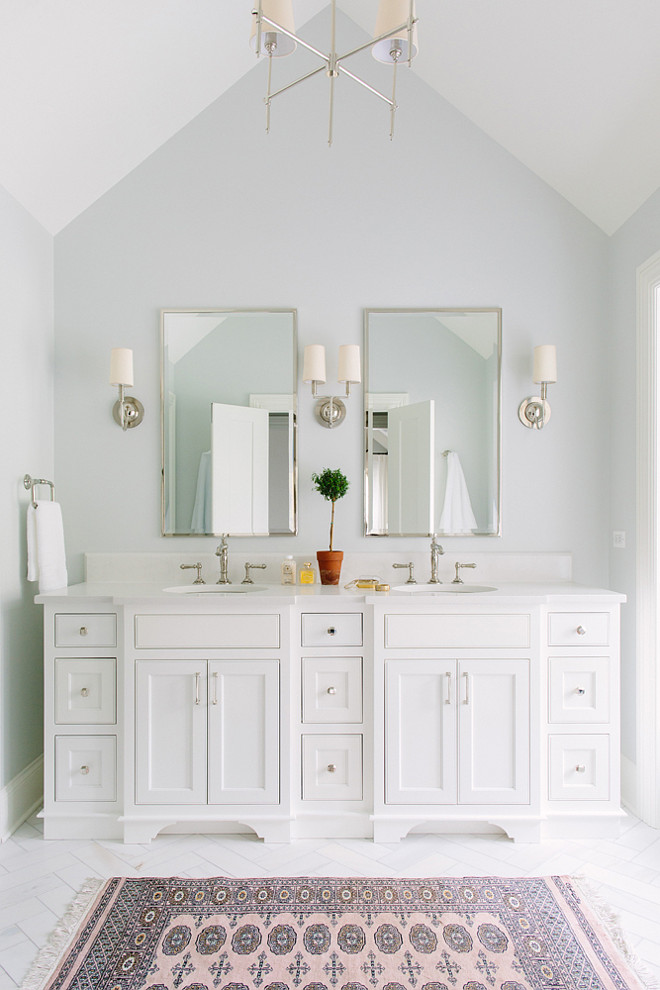 Benefits of Having Double Bathroom Vanities
It makes sense before renovating to seriously consider the vanity options that you have. Some of the options that you have are either a single vanity or double bathroom vanity. Here are reasons why a double bathroom vanity is probably a better option if you share the bedroom with someone else.
Space
A double vanity will provide more ample storage space than a single one. With a double vanity, you can put lots of stuff in the vanity drawers like towels and various toiletries. With ample storage space, your countertop area will look more organized than putting everything together in a single vanity. You can store hairdryers, Q-tips, tissues, bathroom products, shower essentials, and much more.
Time
Having two sinks can save you a lot of time. When you have two or more people in your home, the bathroom becomes quite busy when everyone is preparing in the morning. A double vanity can save you a lot of time when you have two or more people preparing to leave at the same time. Sometimes you may find the other person wants to brush their teeth, shave, or do any other preparations like hair drying when you are in a hurry. A double bathroom vanity becomes very handy during such hectic times!
Peace
Double vanities allow you to have peace of mind with your spouse or partner. When you have a sink all for yourself, you will not have to worry about what time the other persons want to use the space. Everyone will have their freedom, and sometimes couples want to be specific with the things they use in the bathroom. For that reason, it will be easy for you to store your items separately from one another's storage for peace of mind.
Home Value
Many people understand the importance of having a double bathroom vanity. Your double bathroom vanity may give your house a competitive advantage should you think of selling the home at one time. It will show that the area is spacious enough to work well for a couple!
---
I hope you found these double bathroom vanities useful in planning your own home bathroom design!
If you are a homeowner and considering a renovation of your home, it would definitely be smart of you to include double bathroom vanity in your plan. Several benefits come with this option and having it in your design will expose you to all those advantages!
There is nothing more important to a homeowner than living in a house with practical, well-thought-out elements. It is never fun to force yourself to wake up earlier than your usual time to make sure you have enough time in the bathroom!