Feminine home office decor ideas are not difficult to come by. Many women have created gorgeous spaces where they can do their best work. With the popularity of books like #Girlboss by Sophia Amoruso, women across the country are starting their own businesses from home and looking to decorate in a feminine way.
Of course, solo entrepreneurs aren't the only ones working from home these days! Remote work is expected more often from employers everywhere. This has many advantages, and one of them is that you have total control over how your office looks. With a wide array of choices, a lot of things need to be taken into consideration when it comes to designing the perfect home office. Budget, available space in the home, and decor aesthetic all have to flow together.
Feminine Home Office Decor
So what does a feminine office look like?
The factors that will decide what sort of office decor you choose will include age, taste and the other members of the household. A young single woman with no children will be able to have a lot of delicate pieces, such as decorative lamps and glass sculpture. A young mother will want furniture that is a little sturdier, as children will likely venture into the office… particularly if they are young!
If you love feminine decor, then these elegant furniture and glam decor accents will be perfect for your space.
Built-in Desk and Bookshelves
If you have the budget for built-ins, these can really make your home office a practical space. Built-in desks and bookshelves take advantage of all the available space in your room to give you the maximum amount of desktop space and storage. This is a gorgeous design with baby pink painted built-ins!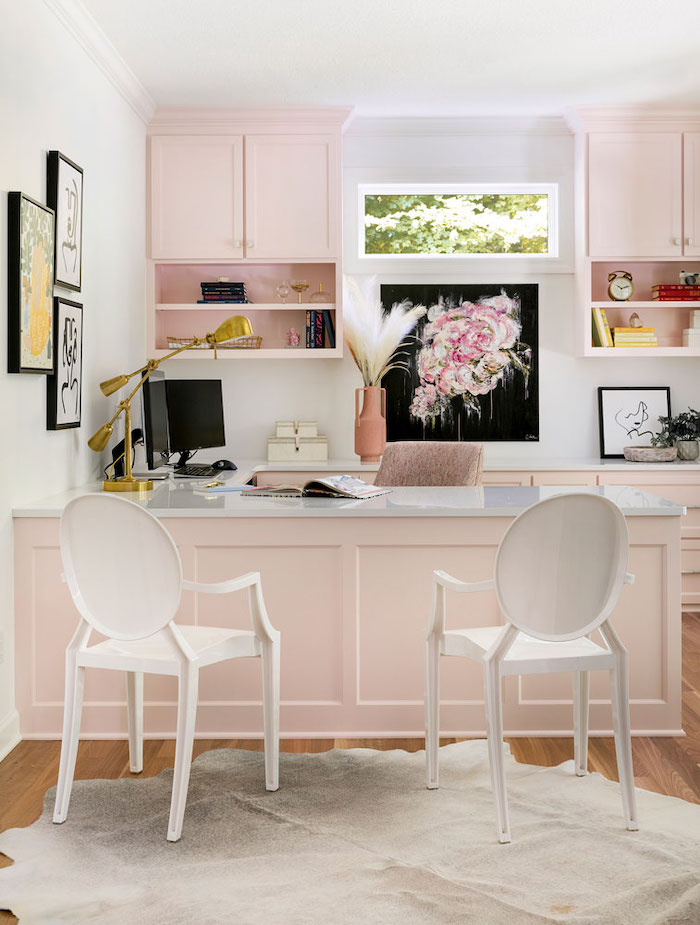 Pink Rug
Our first idea is to go bold with a bright pink patterned rug! This feminine office beautifully blends pink and white to create a feminine oasis with gold accents here and there. A white desk and white leather swivel chair sit centered in the room. To the side, there is a white storage cabinet. Pink accents like the filing folders on the wall, the ottoman storage stool, and the abstract wall art help to brighten this fun space. A gold throw pillow on the chair provides back support. Two gold prints on the wall make it elegant.
Floral Artwork
Florals are always popular in feminine interior design, and for good reason. Women love flowers! You can display a set of 3 or 6 floral prints or panels as seen below to create a feminine gallery wall in your home office. Center the desk below your arrangement, add a chair or two, and you're good to go!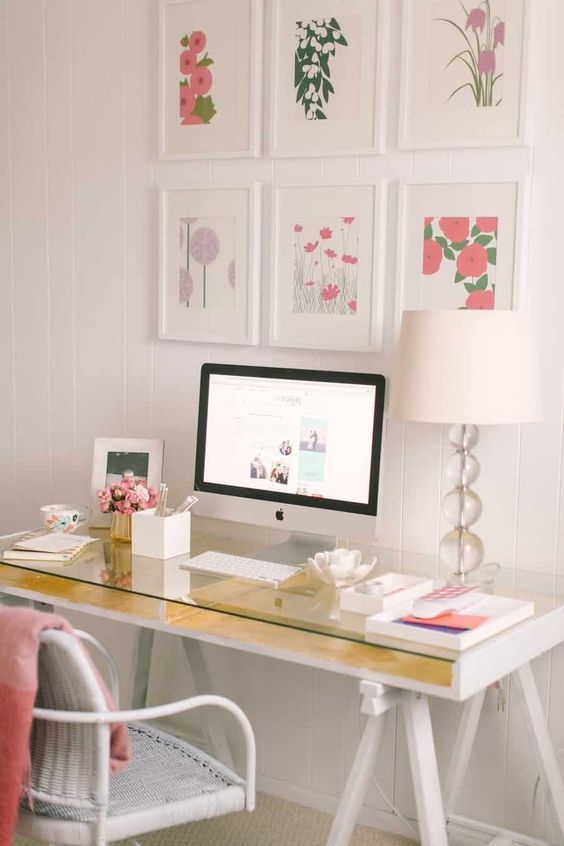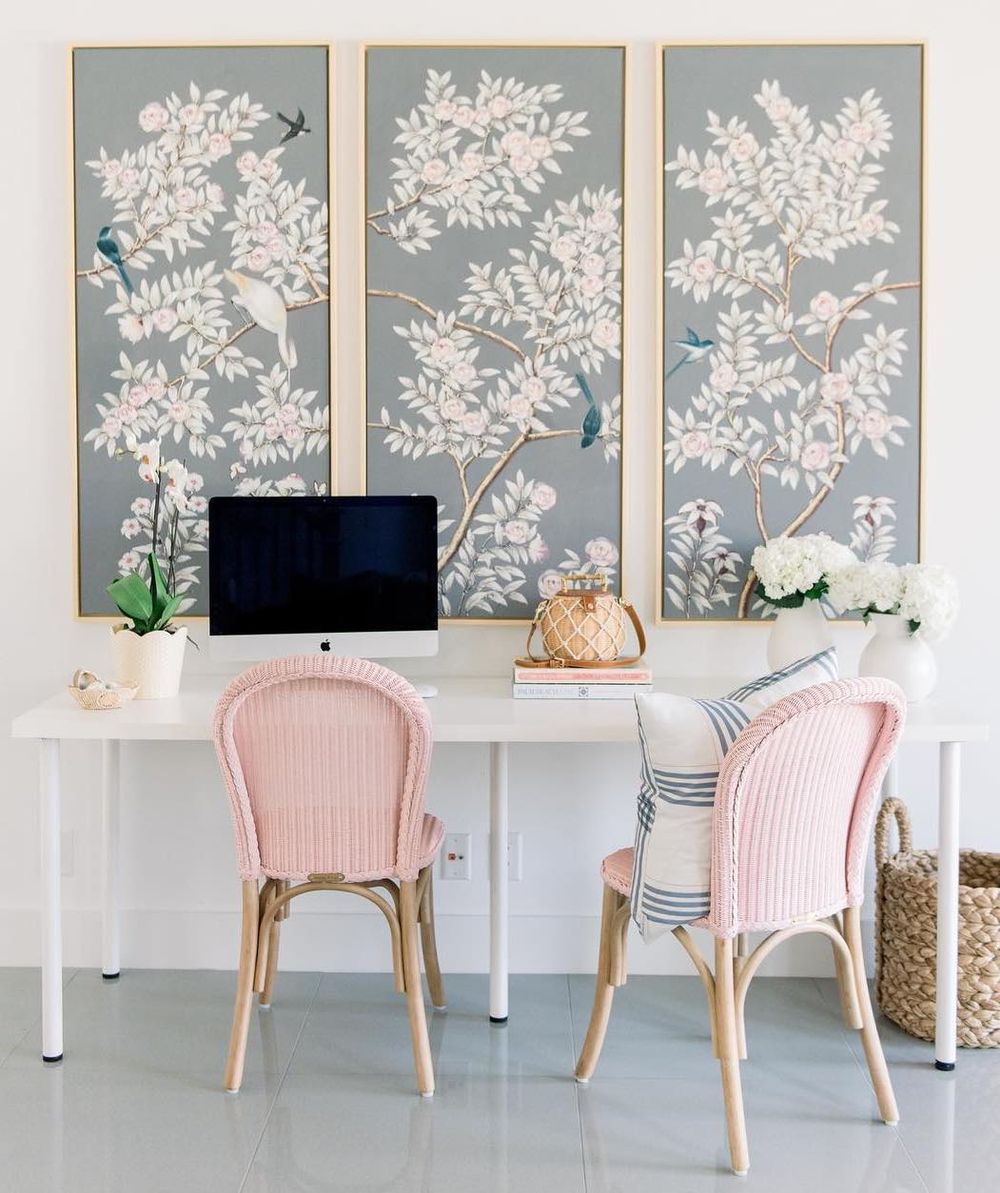 Acrylic Desk Chair
An acrylic desk chair is a great option for feminine offices because it allows your other decorations to stand out. It serves the purpose of giving you a place to sit, without overpowering the other decorative elements in the room. It will also allow you to transition the room to another style if you choose to do so in the future. These chairs are also called ghost chairs because they are transparent! The pink wall art in this space is the statement piece of the room, thanks to white and acrylic furniture that doesn't compete for attention.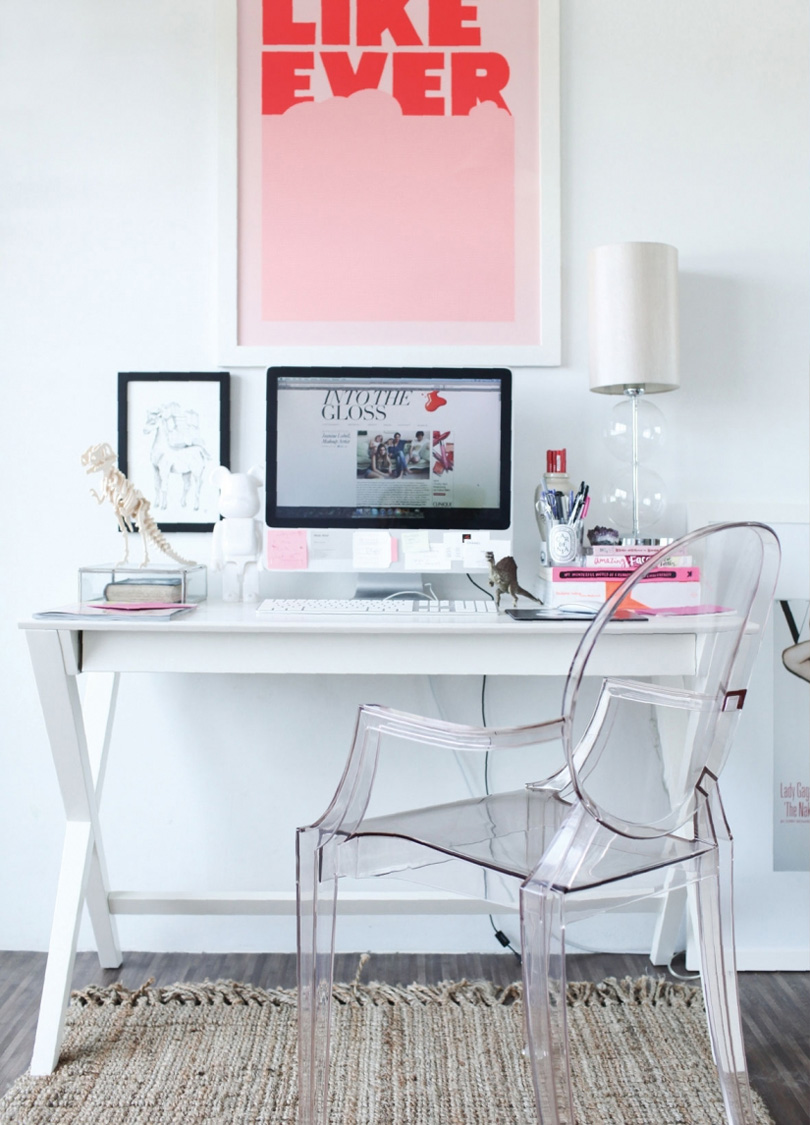 Pink Office Chair
On the other hand, your statement piece of the room could certainly be a bright pink office chair! Why not? The only thing to be concerned about is its comfort. I've seen some very beautiful office chairs… that are unlikely to be comfortable for very long. If you don't intend to spend hours at your desk, that is one thing. However, spending eight, nine or ten hours at the desk makes choosing the chair carefully more important.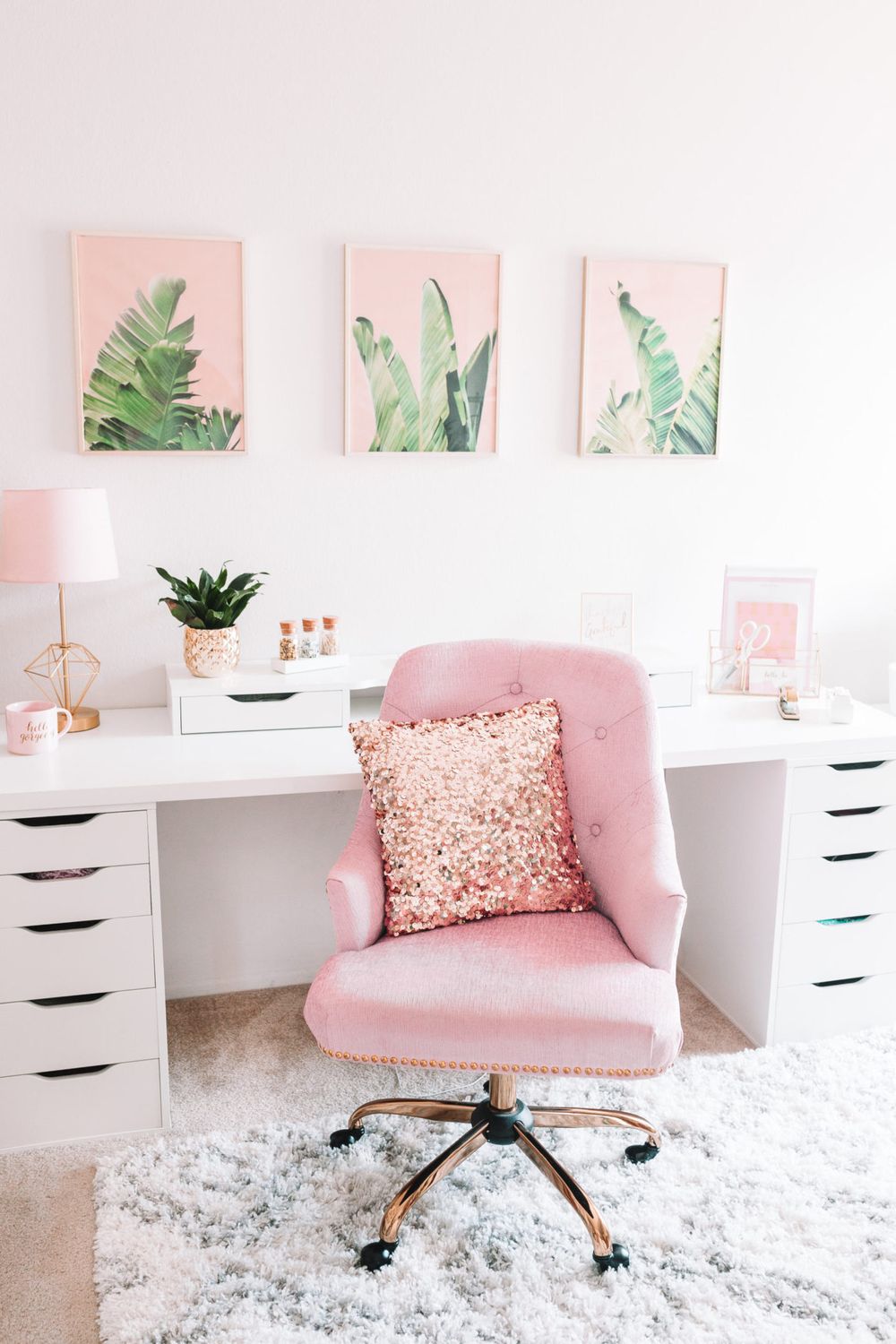 We use ergonomic office chairs with lumbar support. That's because we spend so much time at the desk. There are more feminine-looking chairs that offer that benefit. They aren't as pretty as the dainty chairs with tapestry backs and seats, but this is one area where the function should trump form! A good medium is a well-upholstered pink cushioned swivel chair like this one.
Pink Curtains
I like how this office decor scheme is mainly black, white and gray, with only a few subtle touches of pink here and there. Of course, the boldest design decision in the room is the blush pink curtains framing the window. Window dressings are a great way to create a unique feminine space. If you live where there are extremes of temperature, either hot or cold, you may want to make sure that your windows are insulated. It will cut down on electric and/or gas bills and keep the breeze out. Ours are subtle, but there are some that are quite dramatic, quirky and/or elegant. This is where your personal taste comes in. Aside from the curtains, a white desk and a white office chair tone down the space. The black framed art, metal etagere and black floral throw pillow give this room a dramatic elegance.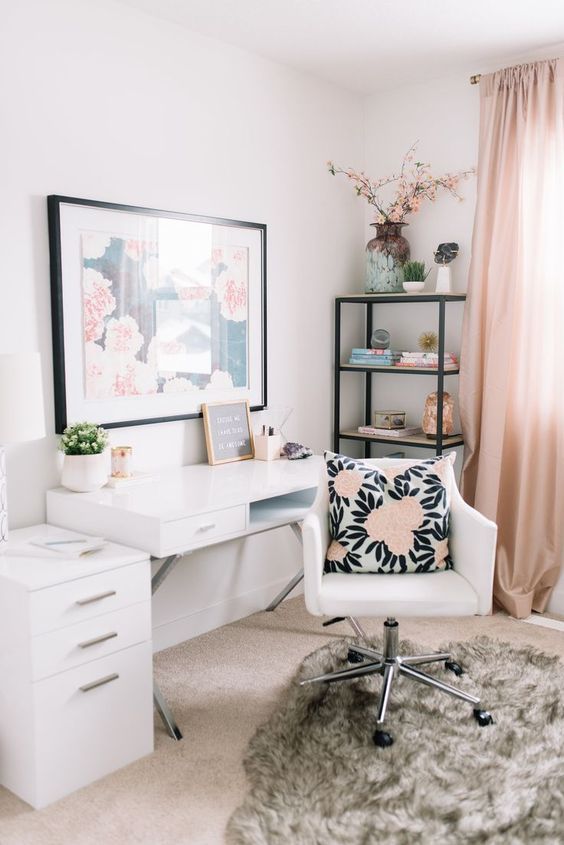 Gold Metal Accents
The legs of this desk are gold, offering the perfect touch of upscale elegance to this corner home office. A shiny gold chair offers a faux fur seating upholstery. Floating wall shelves show off minimalist art. This understated femininity works well.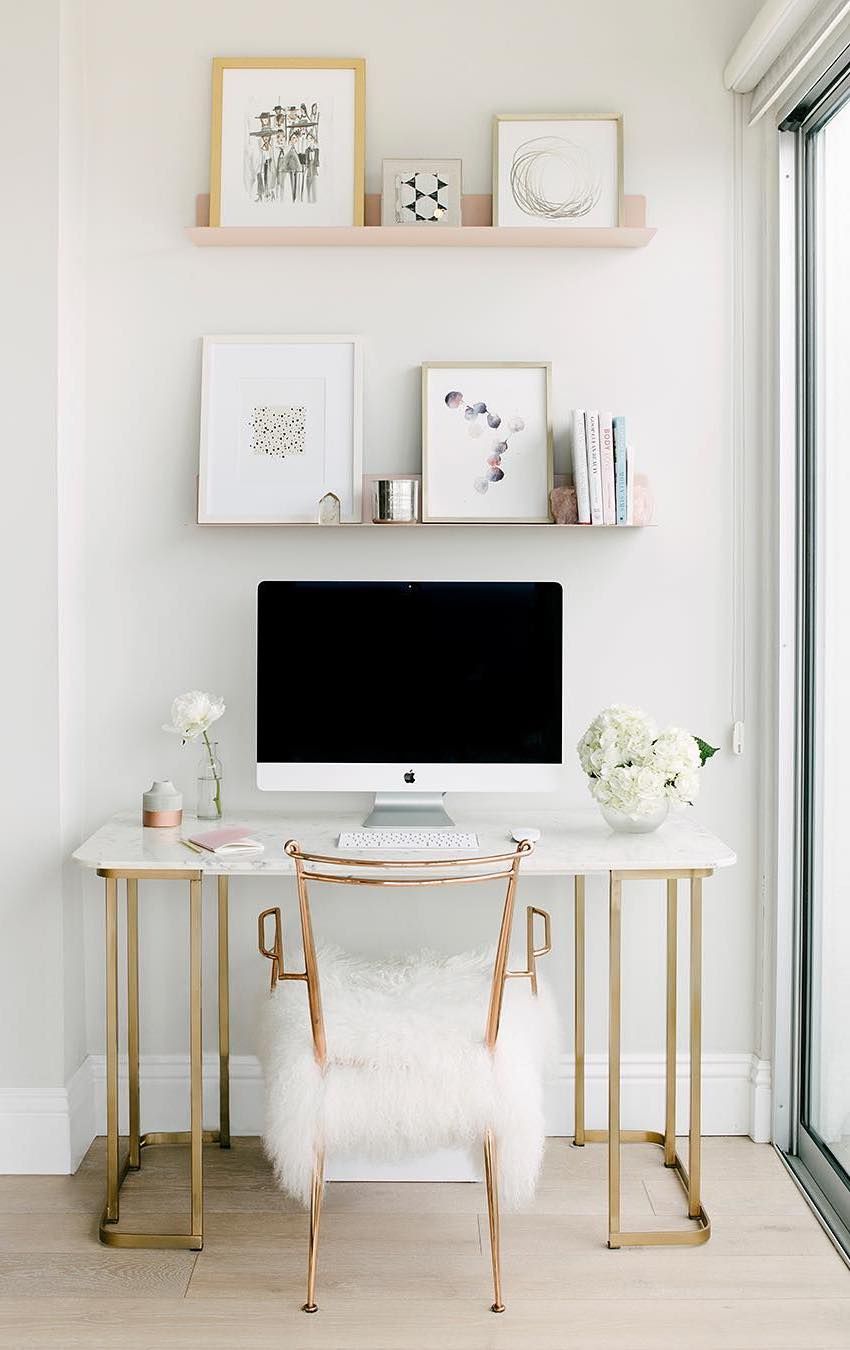 Floral Wallpaper
Make a bold statement with black and white floral wallpaper murals. No artwork is needed here as the wallpaper steals the show! A solid gray desk sits in front of the space. Wood and aged brass accents and furniture help to warm up the space. It certainly looks very cozy and welcoming to me!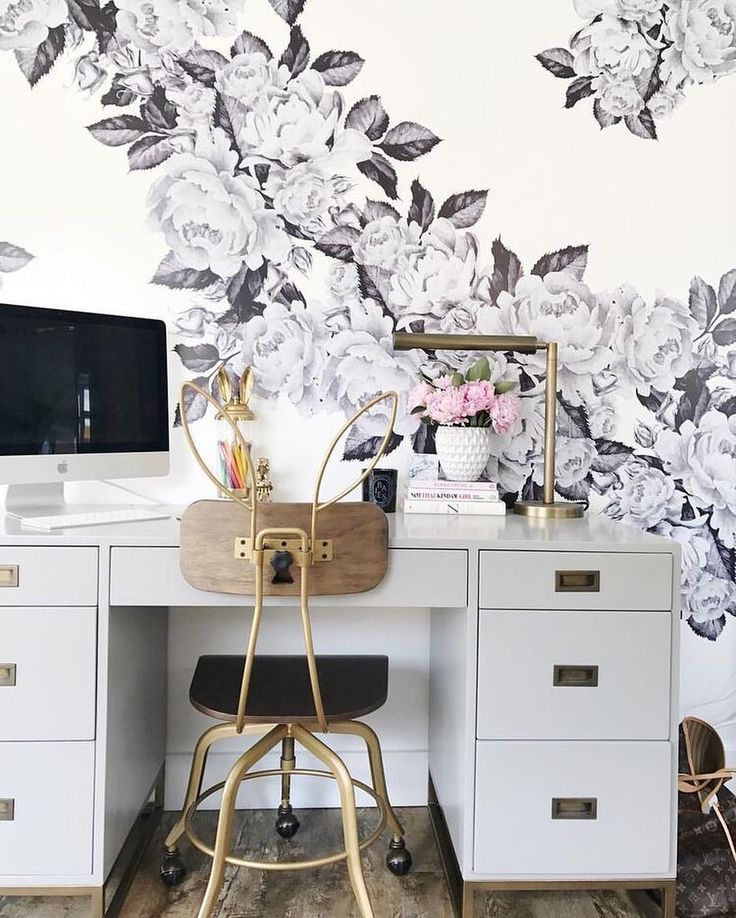 A Feminine Desk
As the largest piece of furniture in the room, a feminine office desk is a must. The desk is typically the central feature in the home office, and all eyes are drawn to it right away upon entering the room. One of the desks that appeals to me is an ivory white with brushed nickel pulls.
Bookshelves
For me, books are essential to life. One wall is covered floor to ceiling and wall to wall with bookshelves crowded with books! Shelves can also add to the femininity of a home office. On the higher shelves are some of the glass and more delicate pieces of art are out of any little ones' reach. Here is a great example of a large book collection organized neatly to the side in a tall bookshelf.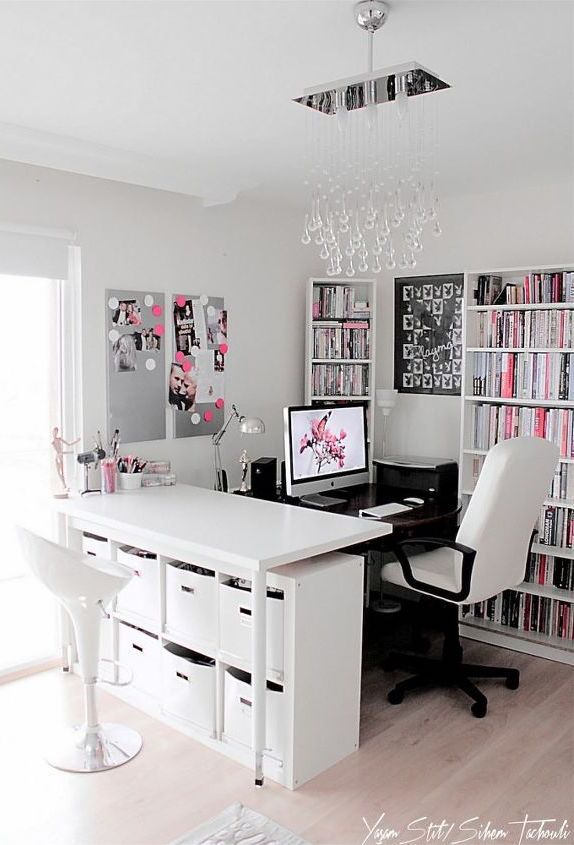 Storage
Our filing cabinets don't just store paper records. One drawer is full of electronics that go to the computers, monitors, mice and other gadgets we need to run the offices. A regular cabinet that matches your desk would work well for that type of thing. You could also build your own as seen here. The tutorial for this DIY Pink filing cabinet is linked below.
Feminine Home Office Supplies & Accessories
Here's a quick selection of easy feminine office accessories you can buy and use as handy office supplies!
Office Essentials
Even if your budget is lower than you'd like, getting the feminine home office you dream of is still achievable with our help. That in mind, there are things to insist on. A decent desk is a must. Good lighting is essential. And a sturdy work chair is required, too.
My office has your typical desk, chair and track lighting. Fortunately, the LED lights shed a goodly amount of light, plus I get to look out of an open window. Natural sunlight is always preferred! If it's dark out, I can close the curtains nearby. These also help insulate the office from the cold during the winter and the heat during the summer.
---
Your office is your space. When you decide to design it around your personal style, it's important to do lots of research. It might also be wise to consult an interior designer. Our hope is that either this site will help you design your feminine office or it will help you create a great mood board to bring to a professional designer.
More Feminine Decor Ideas
For more furniture guides and decor tips, don't miss our other related articles on feminine decor. Here are more ideas for decorating in the feminine style:
As always, let us know your thoughts on our selection in the comments below!