Bohemian bathrooms are gaining lots of popularity on Instagram and social media. Every time I open my app, I always seem to find a new boho home decor instagrammer with a gorgeous bohemian interior space! 
Bohemian decor is all about using natural elements to create an indoor oasis. Things like house plants and earthy tones can be used to bring an eclectic vibe to your home. You might have exotic textile towels or shiny metal pendant lights to create an international design. 
The bathroom is quite an intimate space that we use for cleansing and preparing ourselves for the day. Make sure that you have plenty of storage available for keeping your daily beauty essentials. At minimum, you should have room for a toilet, bathroom sink, and shower. If you have the space, a bathtub can be decorated in the boho style to create a relaxing atmosphere. 
Here are a few boho bathroom accessories:
Bohemian Bathrooms
Let's talk about how to decorate the perfect bohemian bathroom. I noticed a few common themes in the bathrooms below. Many of them feature indoor house plants, bamboo wood accents, and teal cabinets or tiling. Keep this in mind as you look for trends in Bohemian bathroom design. Use natural materials and keep your decorative accents as earthy as possible.
There are many ways to decorate a bathroom in the bohemian style – here are our favorites!
Woven Wall Baskets Boho Wall Decor
Woven baskets are a great accent for decorating the wall in a gypsy bathroom.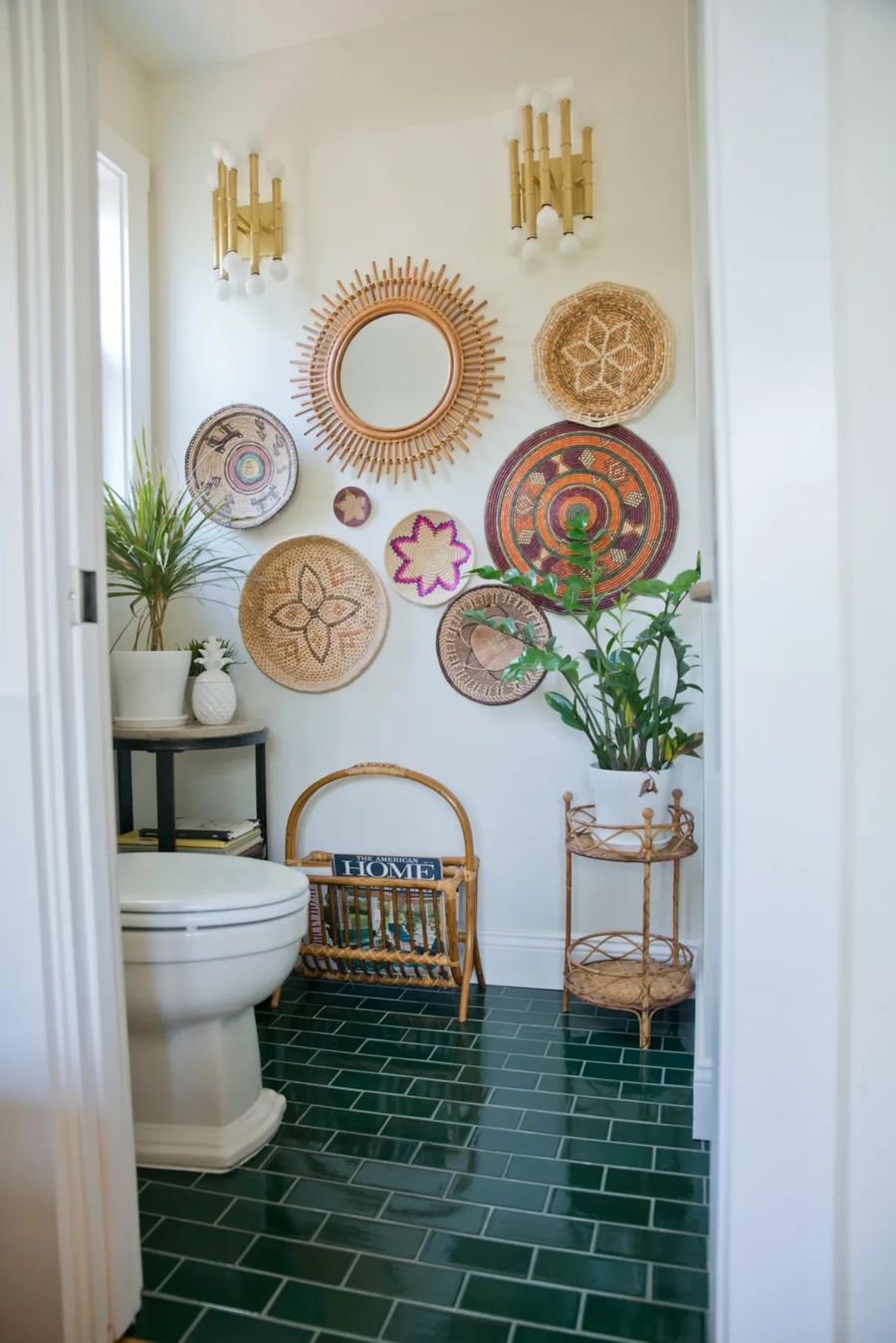 Plants in the Shower
Fill your shower with plants in the corners and hanging from the ceiling to create a natural jungle indoors!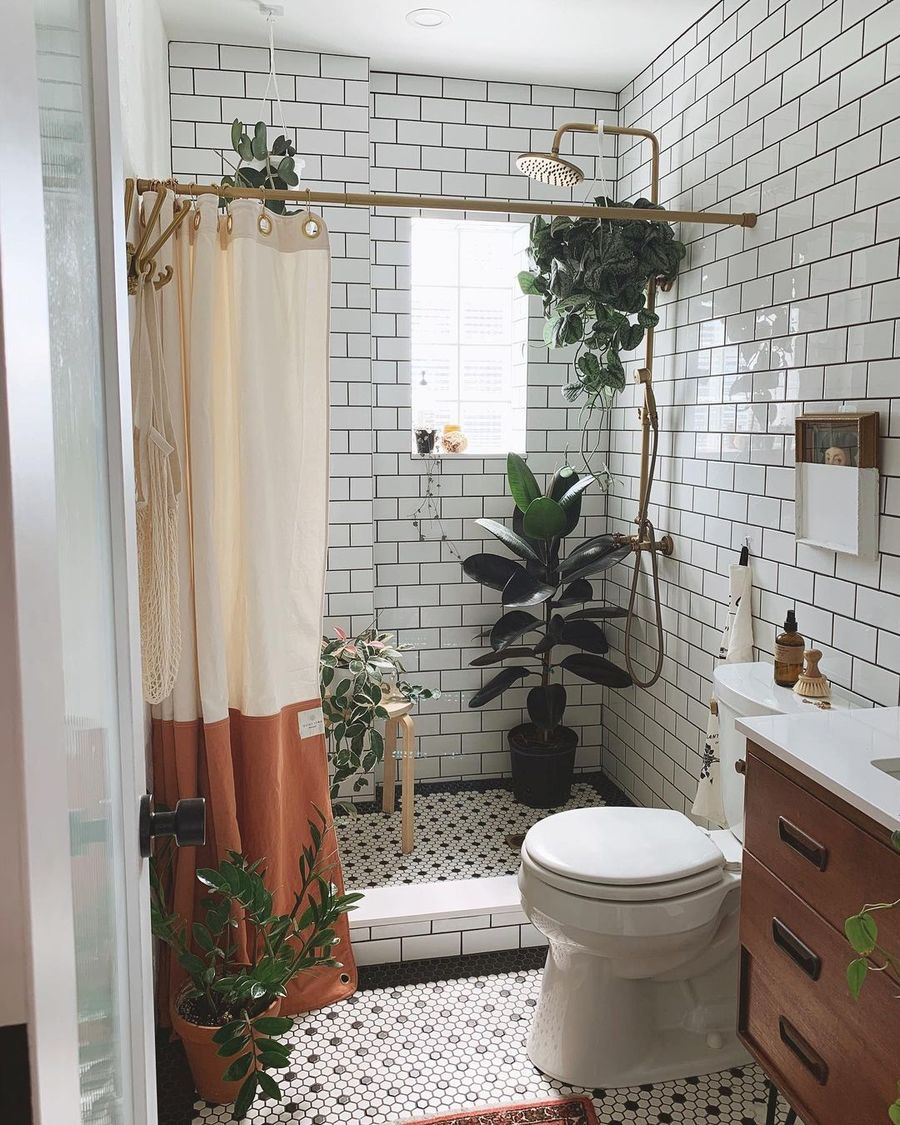 Teal Cabinets in Bohemian Bathroom
Teal cabinets are a bold design decision that can give your bathroom a colorful boho vibe.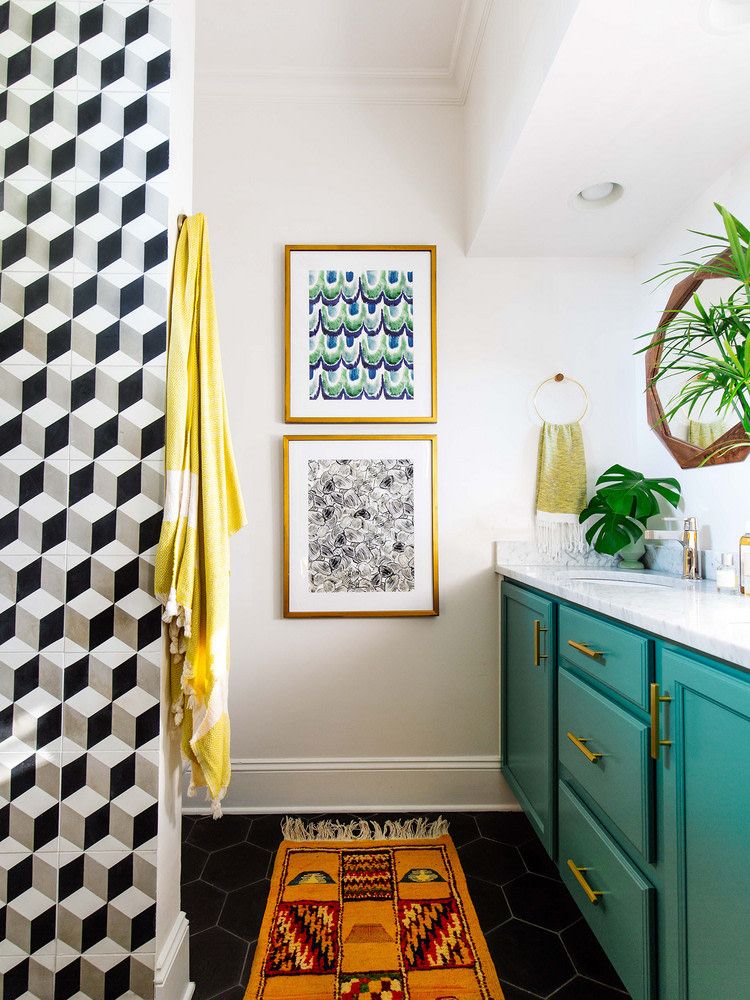 Peach Painted Bathroom Vanity Dresser
This modern boho bathroom has a peach bathroom vanity dresser and white subway tile with black grout.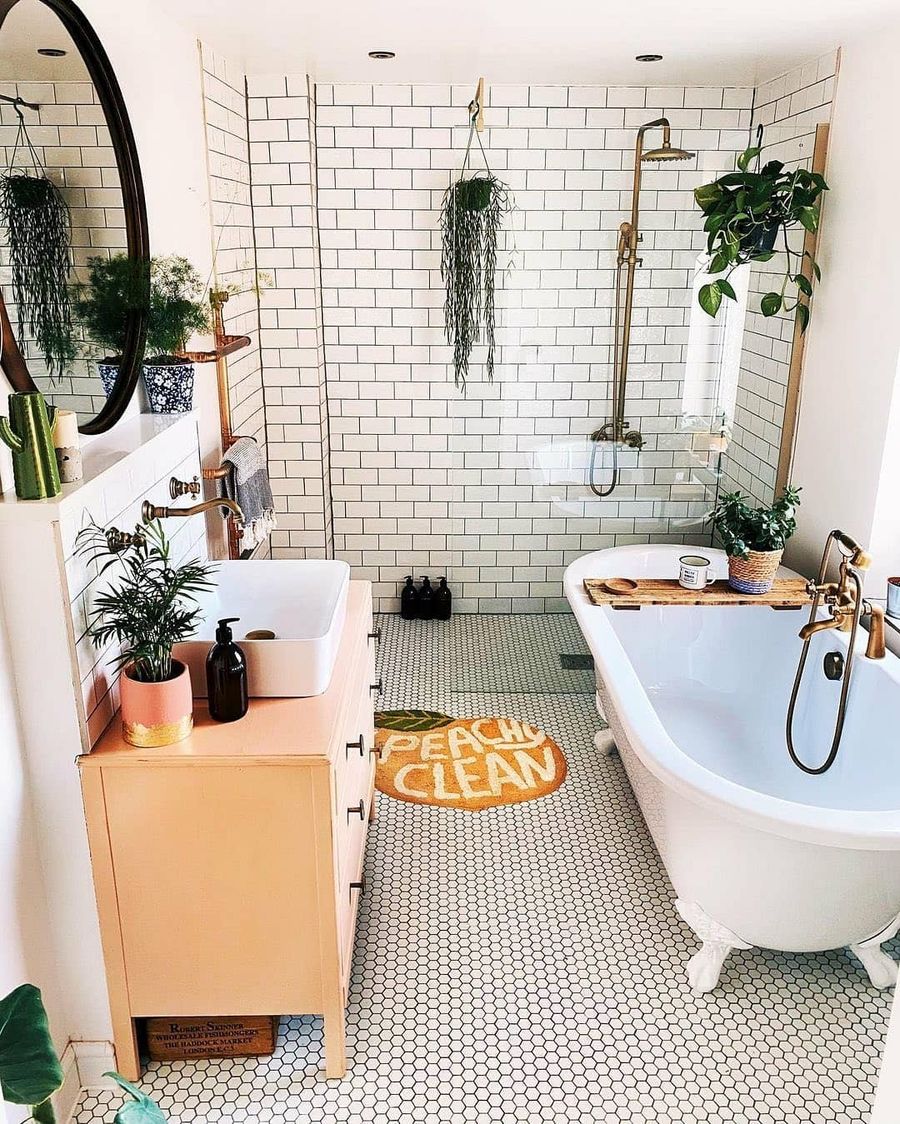 Teal Glass Sink in Boho Bathroom
There is so much beautiful boho tile in this bathroom design, but I really love the teal glass sink which makes up the bathroom vanity basin.
Painted Ceramic Sink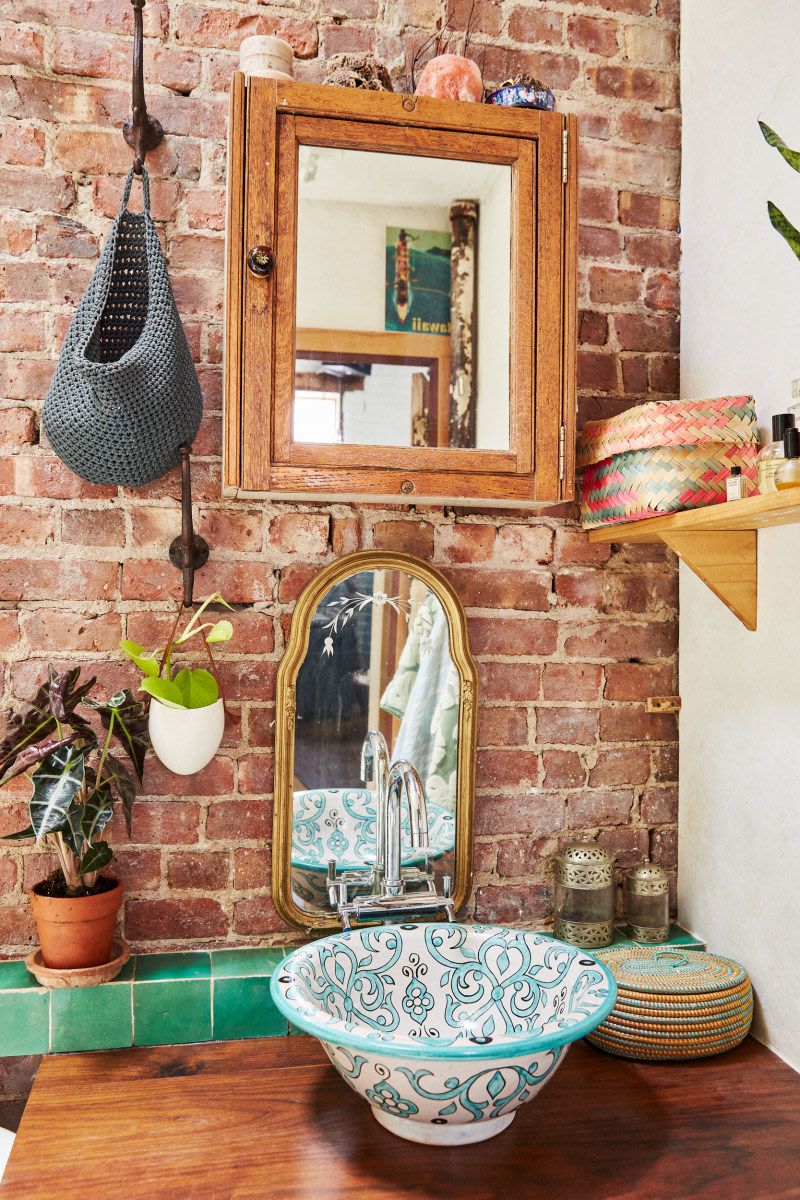 Clay Pottery Jug in Modern Bohemian Bathroom
This neutral boho bathroom design has lots of warm, earthy tones.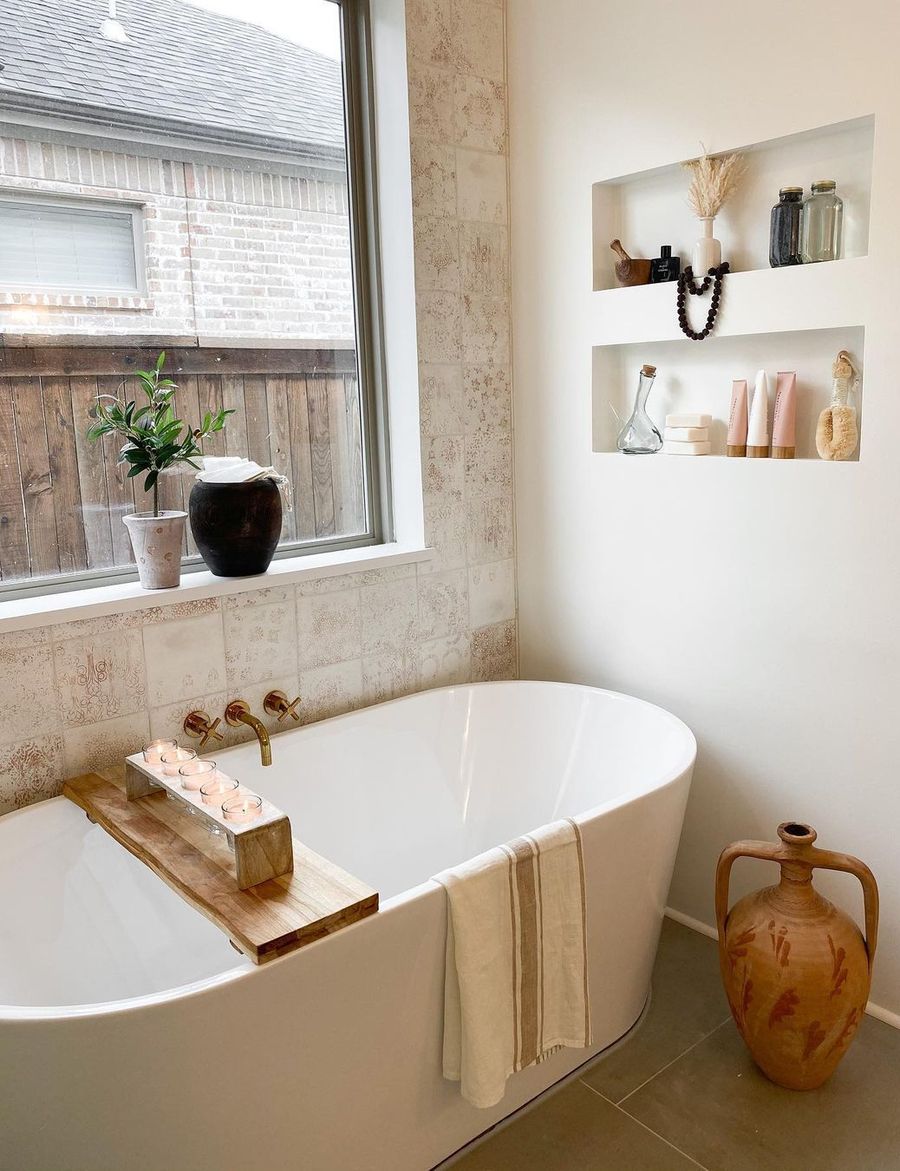 Silver Moroccan Metal Lantern Lights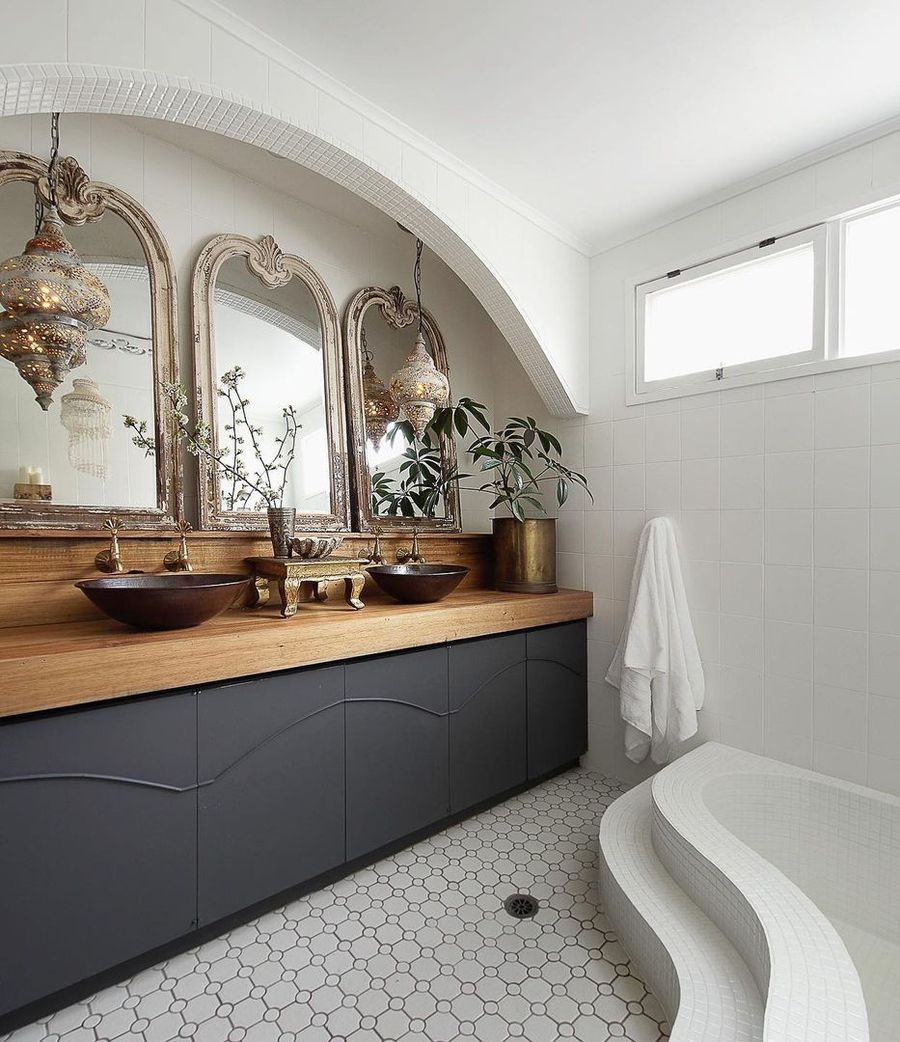 Bamboo Bath Caddy & Greenery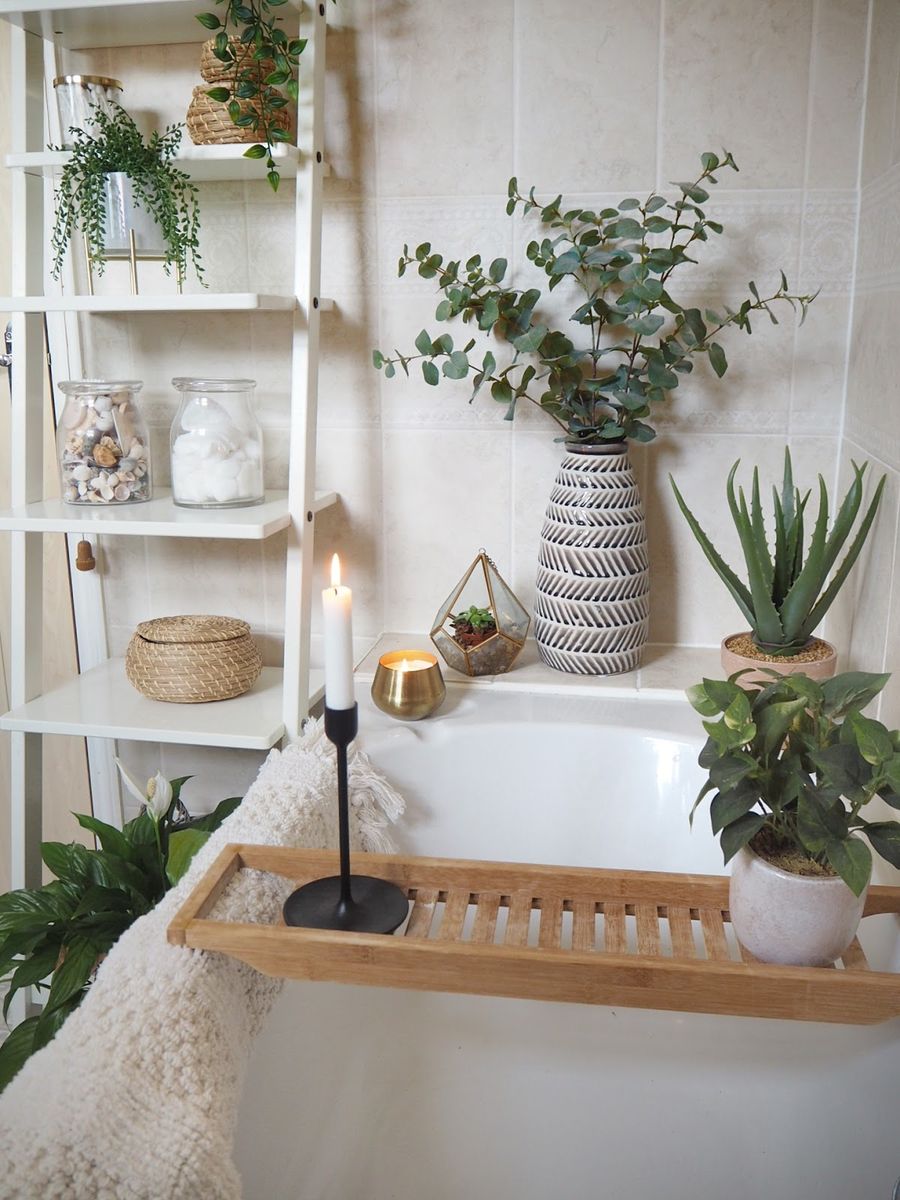 Teal Floor Tile
This is a great example of boho bathroom paint colors with a gorgeous teal accent wall. The teal floor tile is also inspiring.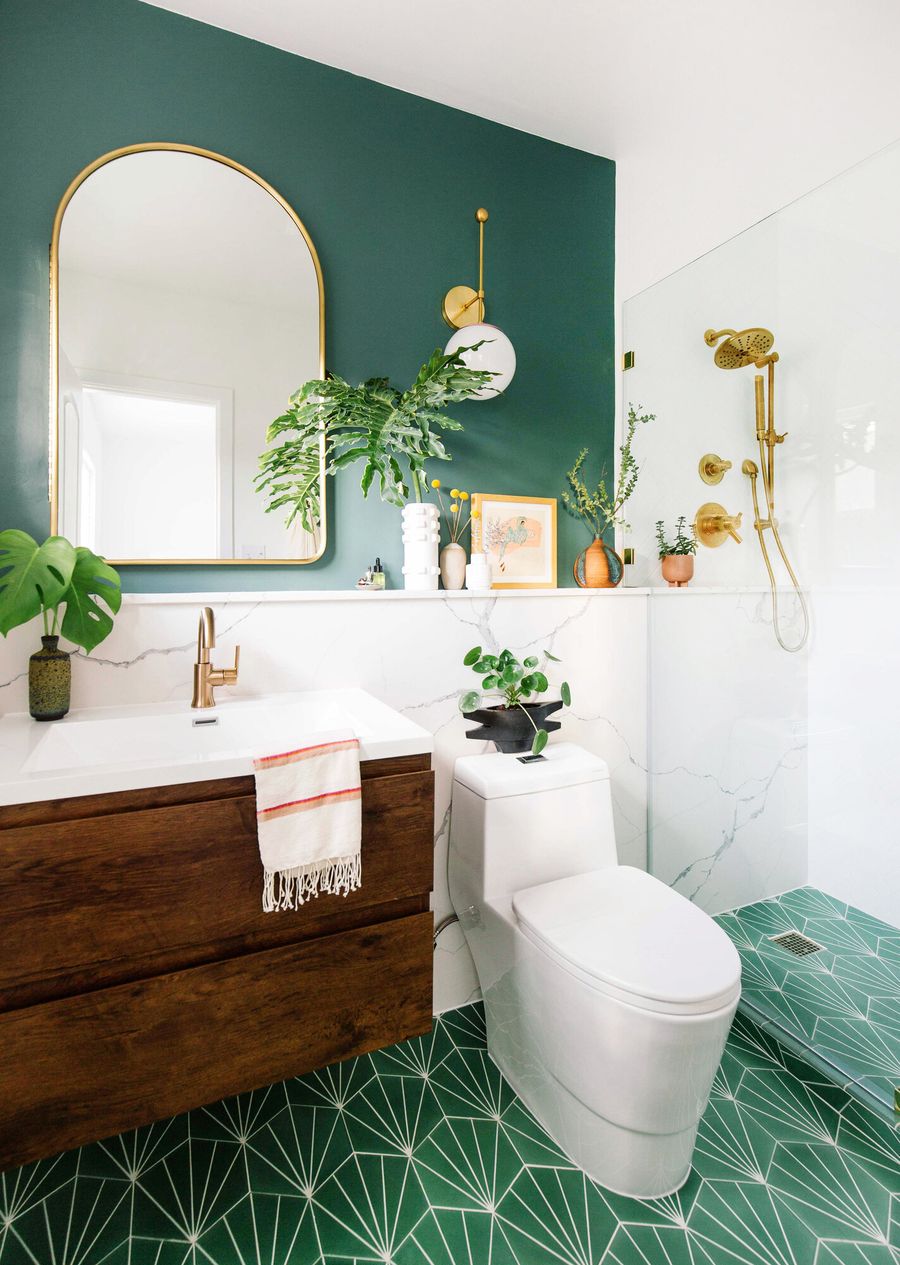 Turkish Bath Towels
For a boho chic bathroom, opt for striped Turkish bath towels and hang them on a bamboo leaning ladder.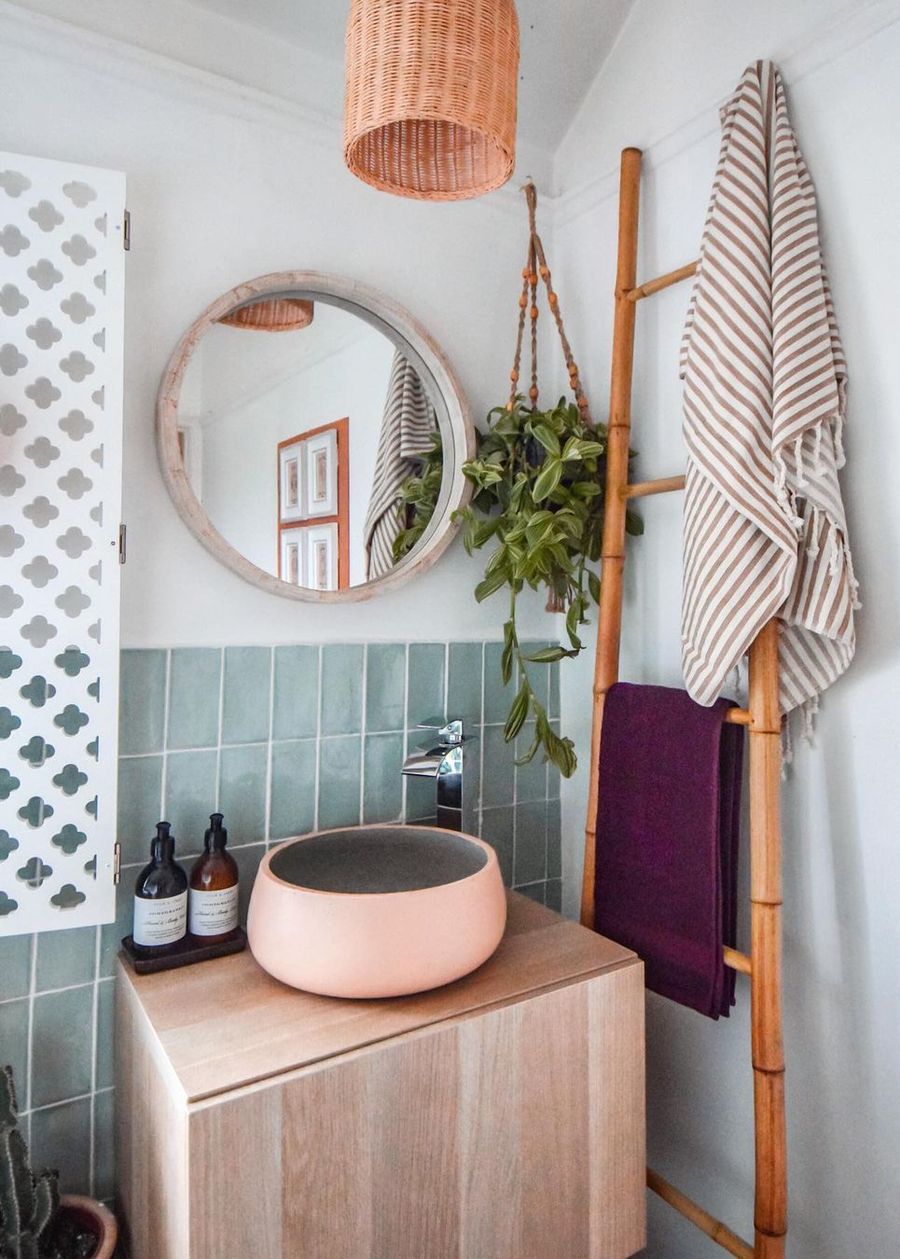 Teal Tile Backsplash Bohemian Bathroom Design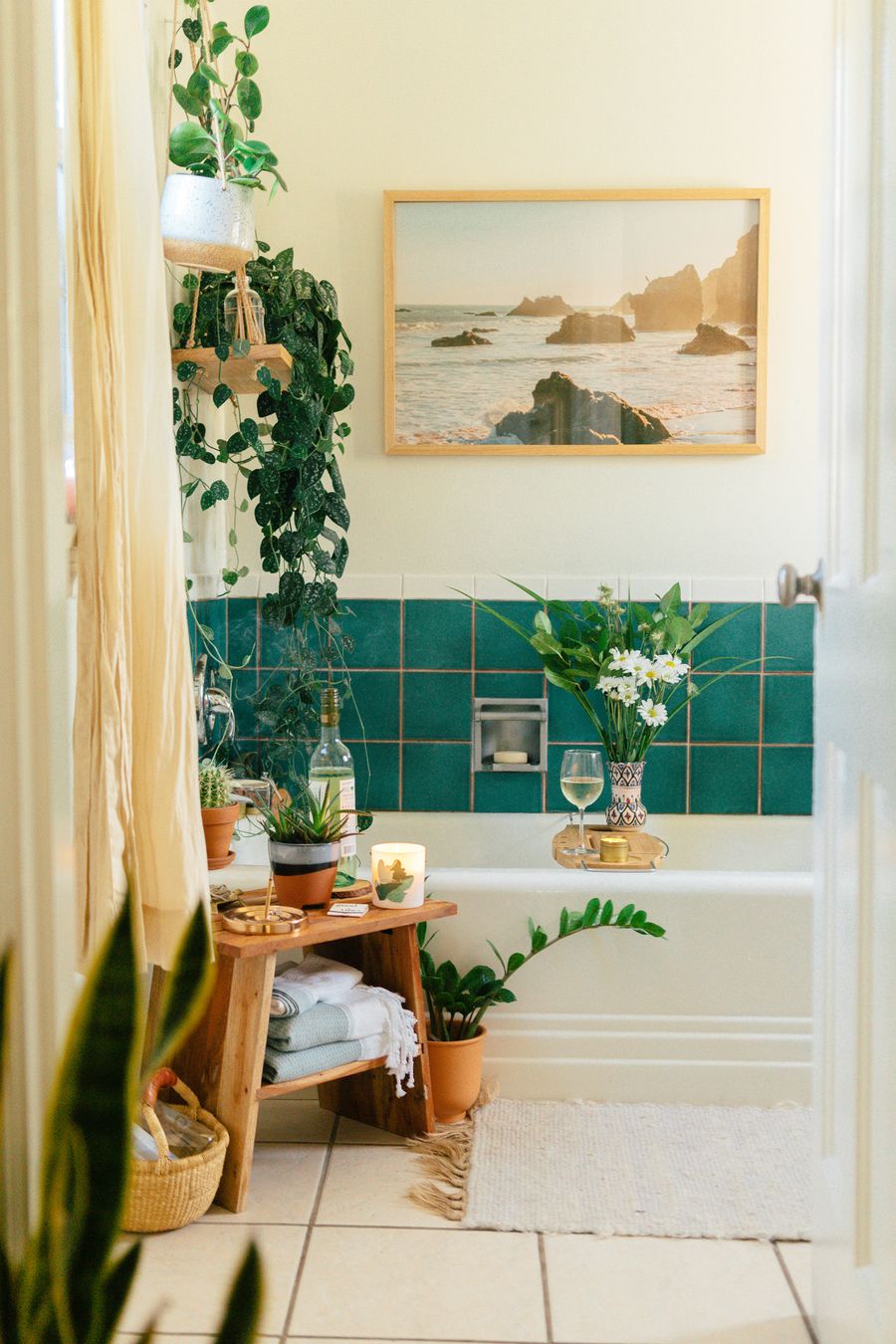 Neutral Beige Bohemian Bathroom Boho Decor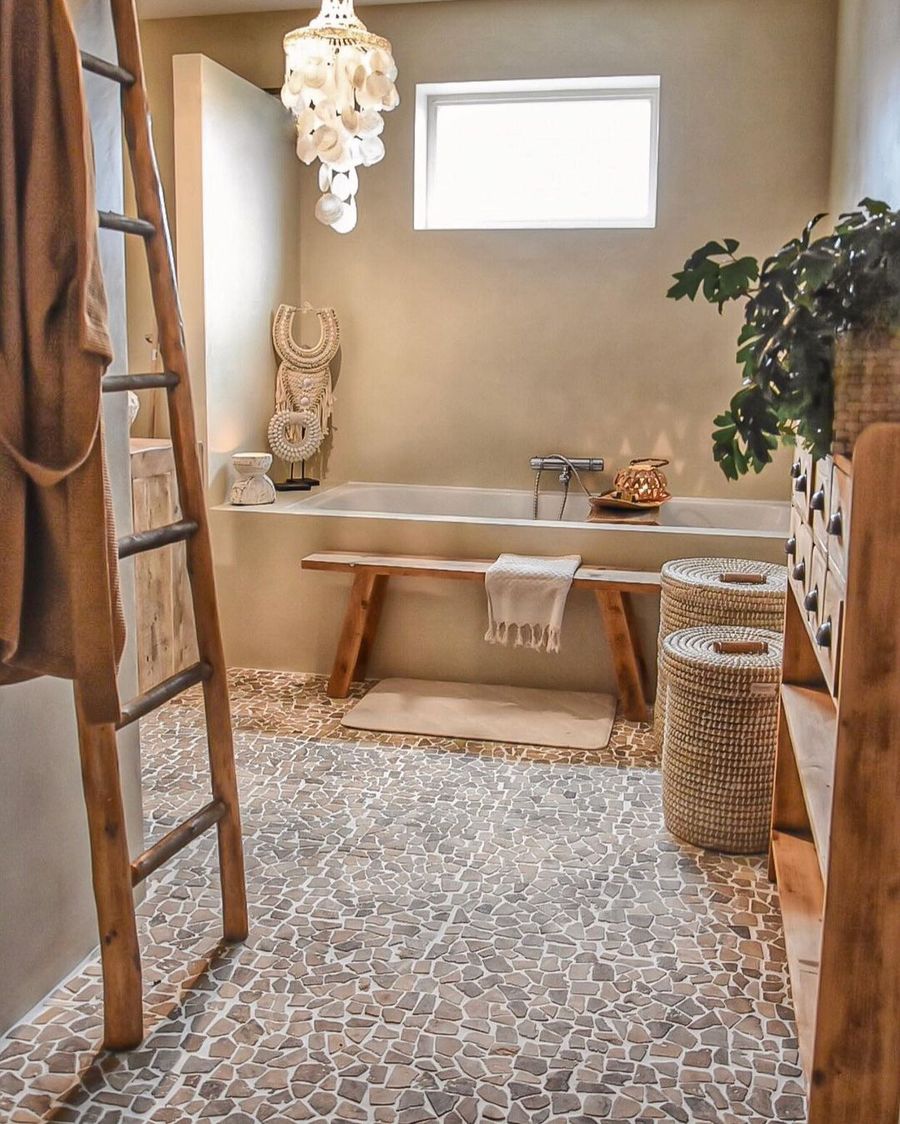 Hanging House Plants and Encaustic Floor Tile
This luxurious boho chic bathroom has a beautiful oil painting on the wall above the bathtub.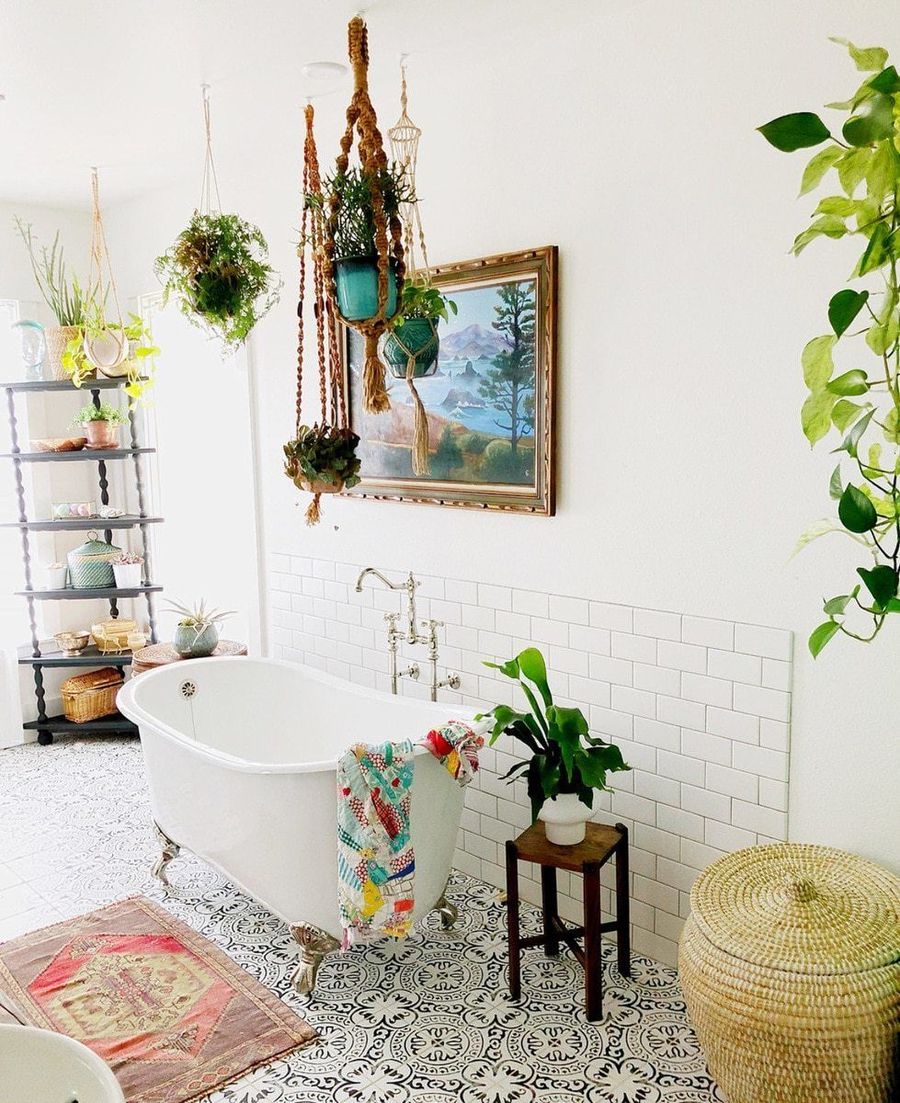 Small Space Bohemian Bathroom Design with a Slanted Ceiling
If you're for small boho bathroom ideas, check out this space with a slanted ceiling. It's possible to decorate a small bohemian bathroom using lots of plants!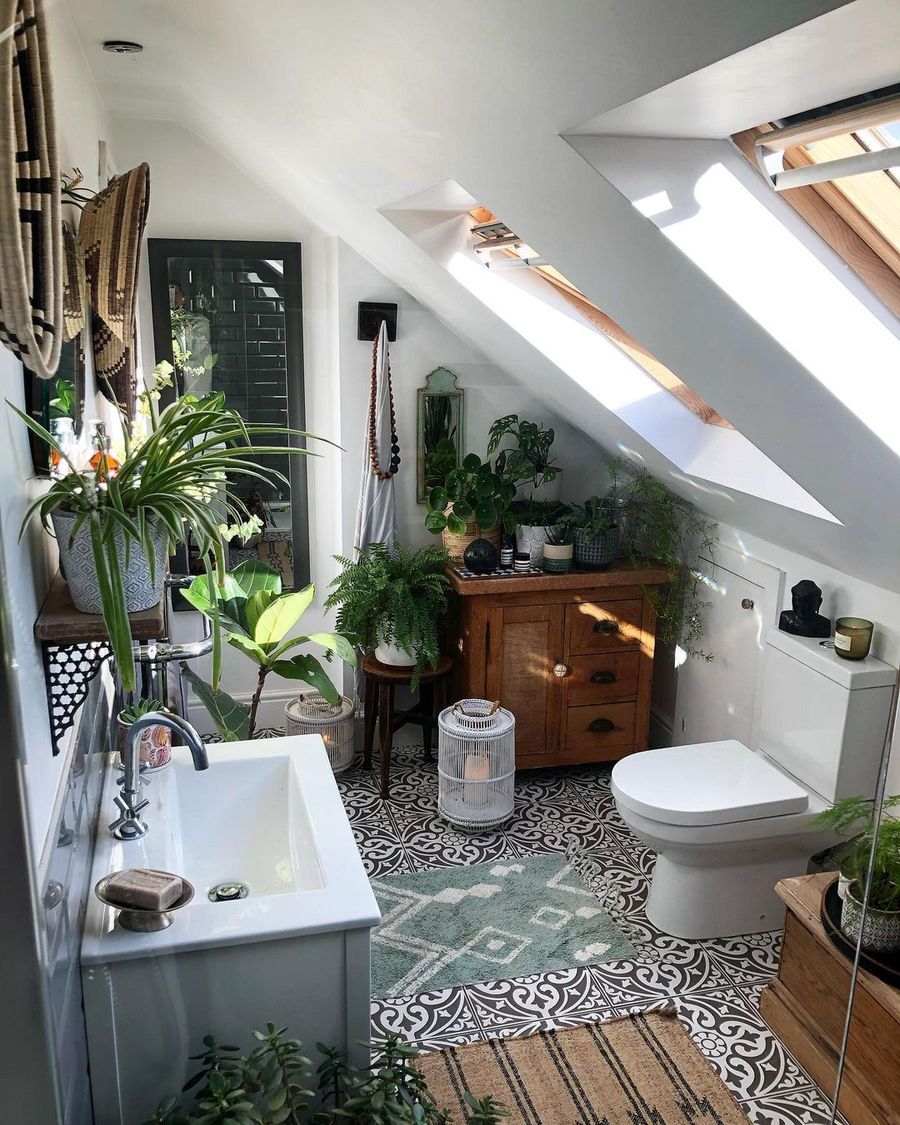 What did you think of our boho bathroom decor ideas?
More Boho Decor Ideas
Keep decorating the other rooms in your house in the bohemian style with our guides below:
Happy curating!