Rugs are one of the easiest ways to make a big impact in any room. The right area rug can pull a space together, add a pop of color or pattern, or make a room feel cozier. But with so many sizes, materials, shapes, and designs to consider, choosing that perfect rug can feel overwhelming.
In this rug buying guide, I'll walk you through everything you need to think about when shopping for an area rug. I'll cover determining the right size rug for your space, deciding on the best material for your lifestyle, choosing a shape to complement your room, and thinking about color, pattern and pile height.
I'll also provide tips on where to shop for rugs, how to care for them properly and when to consider a rug pad. With this comprehensive guide, you'll feel confident evaluating your options and selecting a rug you'll love living with for years to come. Let's get started!
Purpose of a Rug
What are rugs used for? Rugs are meant to soften the floor beneath your feet. Previously, homes would be fully carpeted so that floors were soft and easy to walk on. Carpets also absorbed a lot of sounds, so houses wouldn't be as noisy when multiple people lived inside.
Carpets fell out of style several years ago, and now many home buyers prefer the beauty of hardwood floors in their homes. As beautiful as wood is, a bare floor is noisy and hard to walk on. That's why most people opt to decorate their floors selectively with a beautiful rug.
The main job of an area rug is to connect all the main pieces of furniture in a space. In the living room, you'll generally have a sofa, coffee table, and accent chair touching the rug. In the bedroom, the rug should connect your bed and nightstands.
Runner rugs can soften your step in a hallway or kitchen area. A rug in the hallway or kitchen runner adds a little bit of warmth and character to a narrow space.
Rug Sizes
Area rugs should fill the space without touching any walls in your home. At least one foot of space should be left on all sides of a rug to prevent overfilling the floor space. Rugs should be large enough to rest underneath at least the front feet of all furniture they are placed under. Those are the main rules to consider when buying the perfect size rug!
Area Rug Colors & Patterns
Here's the golden rule when it comes to picking out a rug color: If the furniture above the rug is patterned, the rug must be solid-colored. If the furniture is solid-colored, you can get away with a patterned rug.
One of the benefits of patterned or dark colored rugs is that they will easily hide the inevitable crumbs that fall to the floor and stains that won't go away. Keep this in mind as you shop, especially if you have a large and/or messy family!
Common Rug Materials
Rugs made of natural materials will typically last longer than rugs made of synthetic or mixed fibers. While the latter can be more budget-friendly, you should take into account how long you want your rug to last, and if you can afford to invest in a higher quality one.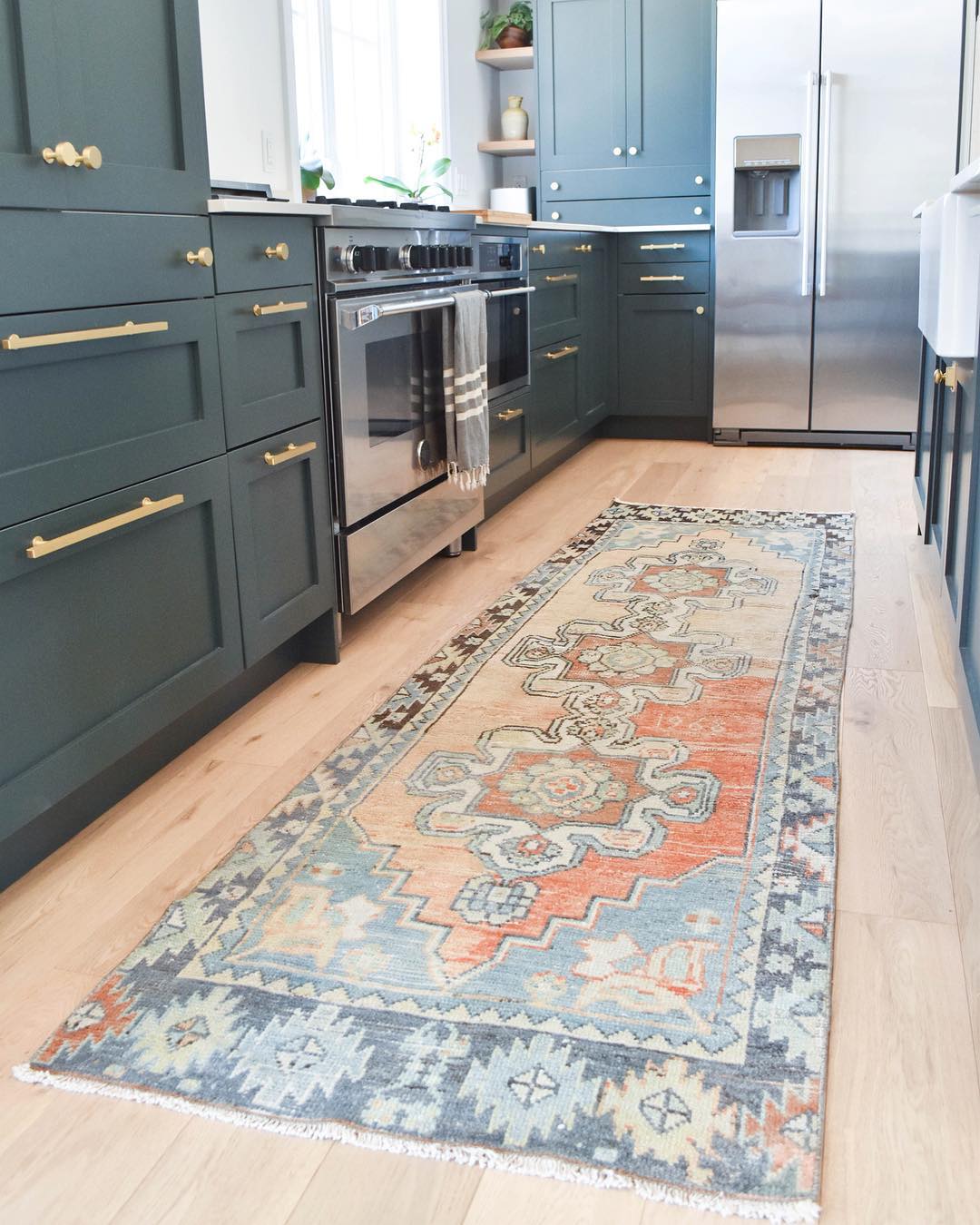 Washable Rugs
If you live in the countryside or near the beach and regularly track in mud and dirt, consider buying one of the best washable rugs for your home! An easy to wash rug will make cleaning up a snap. Just toss the rug in the washing machine and it's clean and fresh anew.
Trendy Rugs
Like most decorative pieces, rugs are subject to trends that come and go. There have been many rugs that have come in and out of style lately, but these are the rugs I have seen most often in homes throughout the years. (Keep in mind, just because it's a trend doesn't mean you shouldn't buy it!) Follow your heart and your personal style. Ask yourself: is this piece something I will want in my home for the next 10+ years?
Sheepskin Rugs
Oriental Rugs
Jute Rugs
Beni Ourain Rugs
Vintage Rugs
As you can see, there's no shortage of things to consider when picking out a rug. I hope this post was useful in helping you buy the right size, shape and color rug for your home!