These lovely tropical bathrooms are perfect for Caribbean-inspired interiors and coastal living aficionados.
Are you looking to redesign your bathroom? Many people want to update their bathrooms ahead of a home sale or just to give the space a facelift.
Feeling stifled by your current bathroom design? Did you move into a new home whose previous owner had no imagination for interior decorating? Do you want to lighten things up and create a breezy, airy, and fresh new look for your bathroom?
Whatever the reason, you'll probably want to start by looking for inspiration online. If your home is in a tropical region or you just love the tropical decor style, then these bathrooms are a good place to start looking for inspiration.
Tropical Bathroom Decor
Tropical bathroom decor can revitalize a plain and boring bathroom layout with just a few subtle changes. Replace that ugly flat colored backsplash with a pop of color, then pair it with a wood vanity to create a jungle/tropical feel. Old wallpaper? Tear it down and put up some palm tree covered paper that makes it feel like you're at the beach. Add some tropical flora, like ferns or aloe plants to provide a touch of life to your space. Finish things off with a fun tropical-style shower curtain that lets other people know you don't take things too seriously and have a sense of humor.
Check out our favorite tropical bathroom inspiration to use on your moodboard as you design your bathroom!
Palm Tree Wallpaper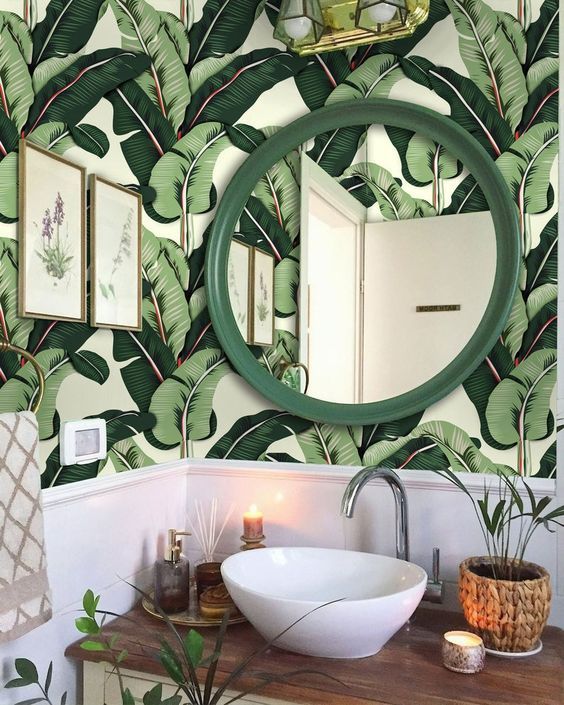 Indoor House Plants
Bring the outdoors in! You know what is better than images of plants? The real thing. Find a nice pot and put an aloe plant on the window sill. If you have the space for it, get a large fern for the corner that will add some life to your bathroom. Studies have shown that live plants in your home can make you feel soothed, comfortable and natural. And what better place to feel comfortable than in your own bathroom?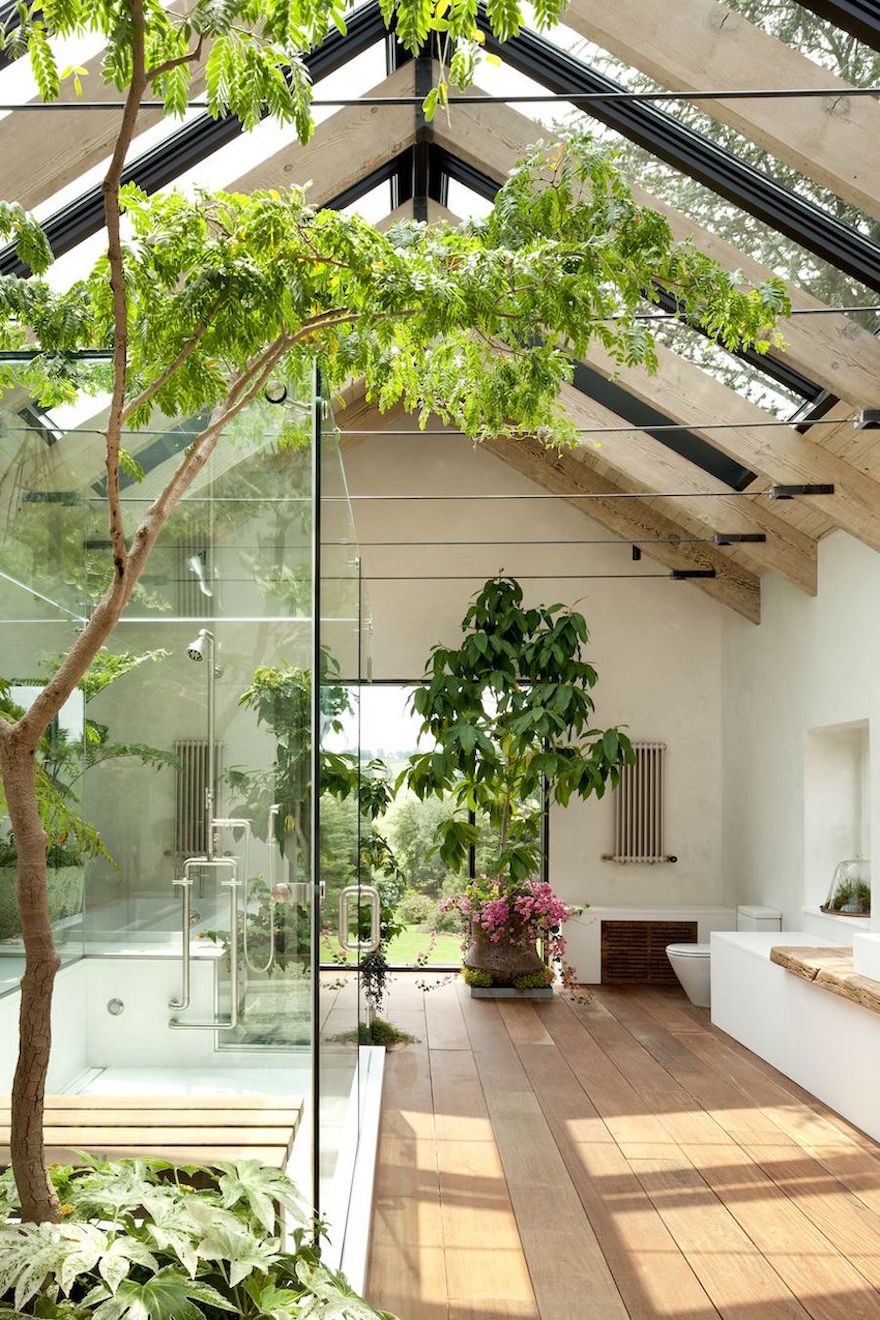 Turquoise Beadboard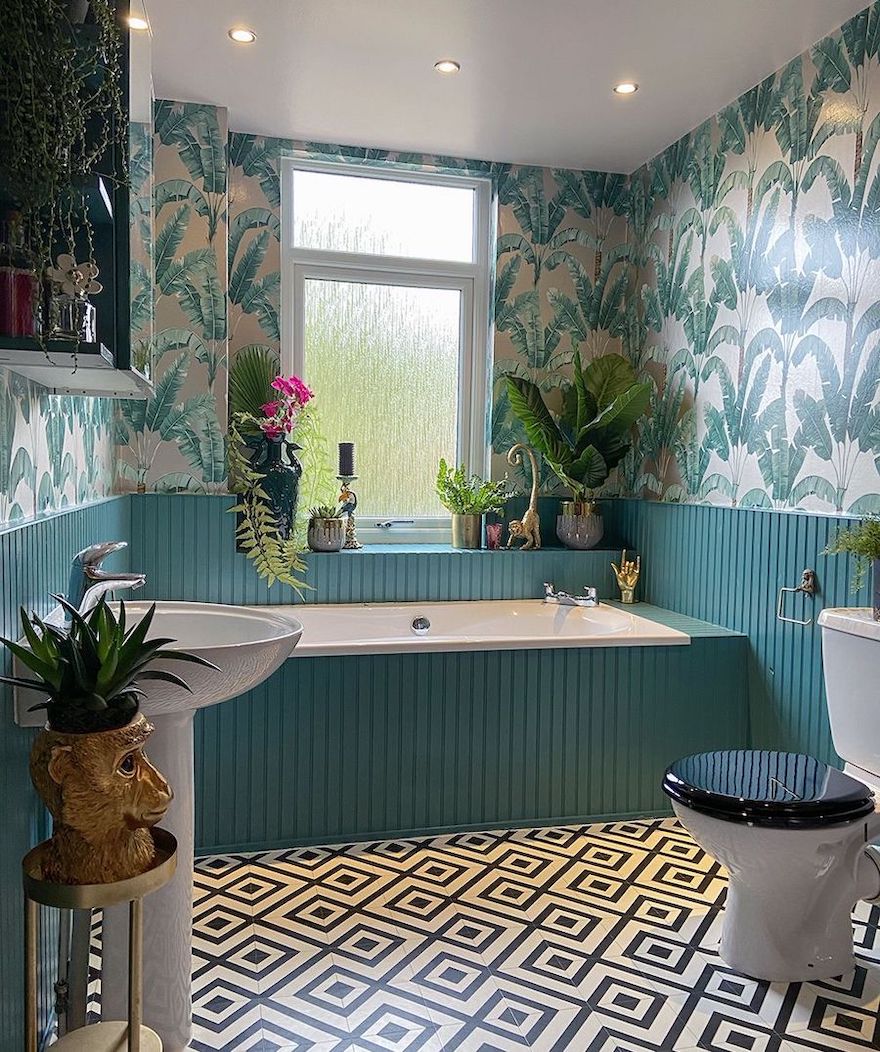 Palm Tree Wallpaper
Cover your walls with palm fronds, or even images of full sized palm trees. Patterned wallpaper can enhance the feeling of a tropical environment, whether you decide to cover the entire space, or even just an accent wall. Get a glimpse of the trees in the mirror behind you as you prepare for your day and imagine yourself relaxing on a beach while soaking in the sun. It certainly beats stripes or plain off-white walls.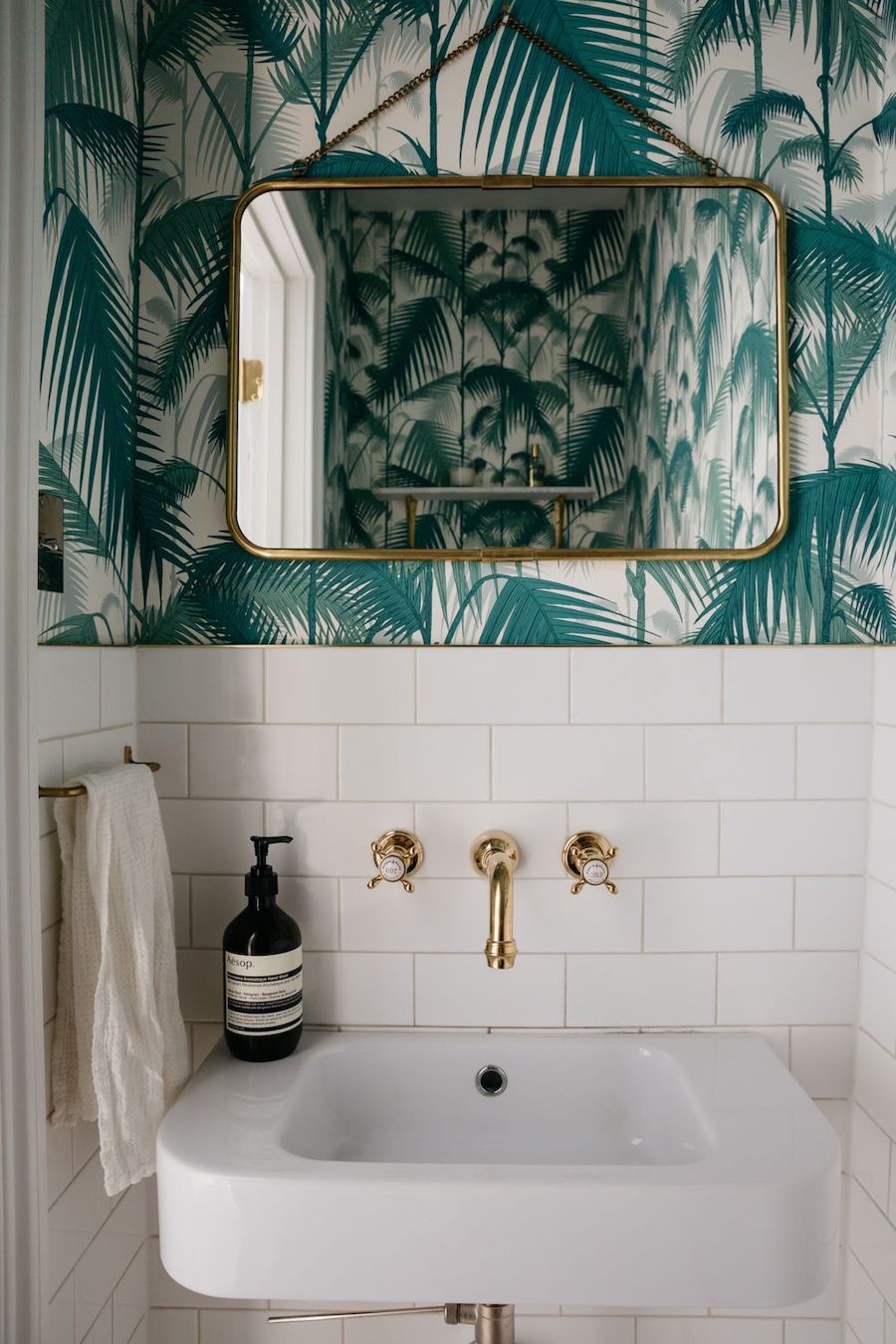 Pineapple Shower Curtain
Finally, finish off your new bathroom space with a light-hearted pineapple shower curtain. Maybe you'll choose a repeating pattern of fruit, or perhaps some cocktail inspired imagery as if you had pulled up to the tiki-bar and are looking for some refreshment. Let your personality shine through your choices and you can't go wrong.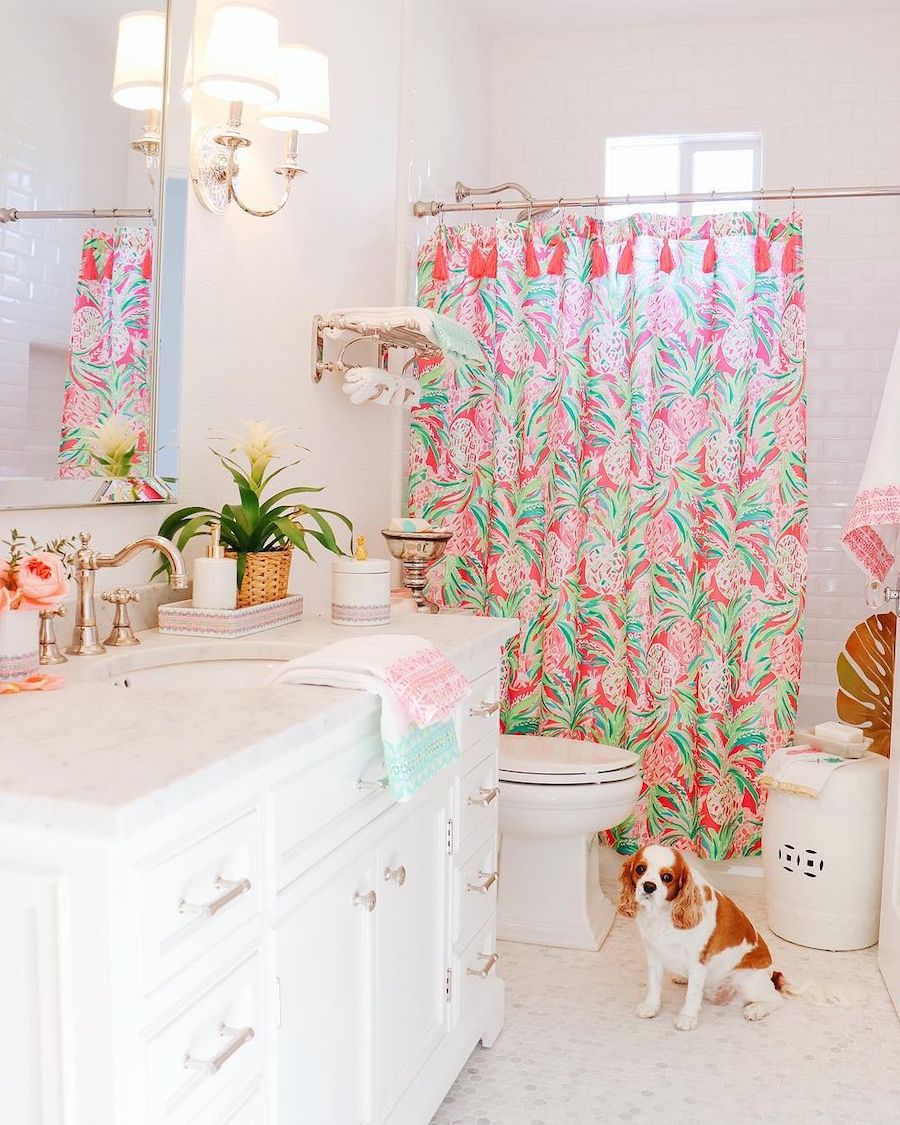 Wood Bathroom Vanity
Pair your new green tiles with a wood bathroom vanity. Replace those standard bathroom cabinets and laminate countertops with a bamboo vanity. The light wood grain would enhance the color from your tiles and create the impression of a bright space in your home. Add wicker cabinet doors to make it feel like you're in a jungle marketplace in search of exotic wares.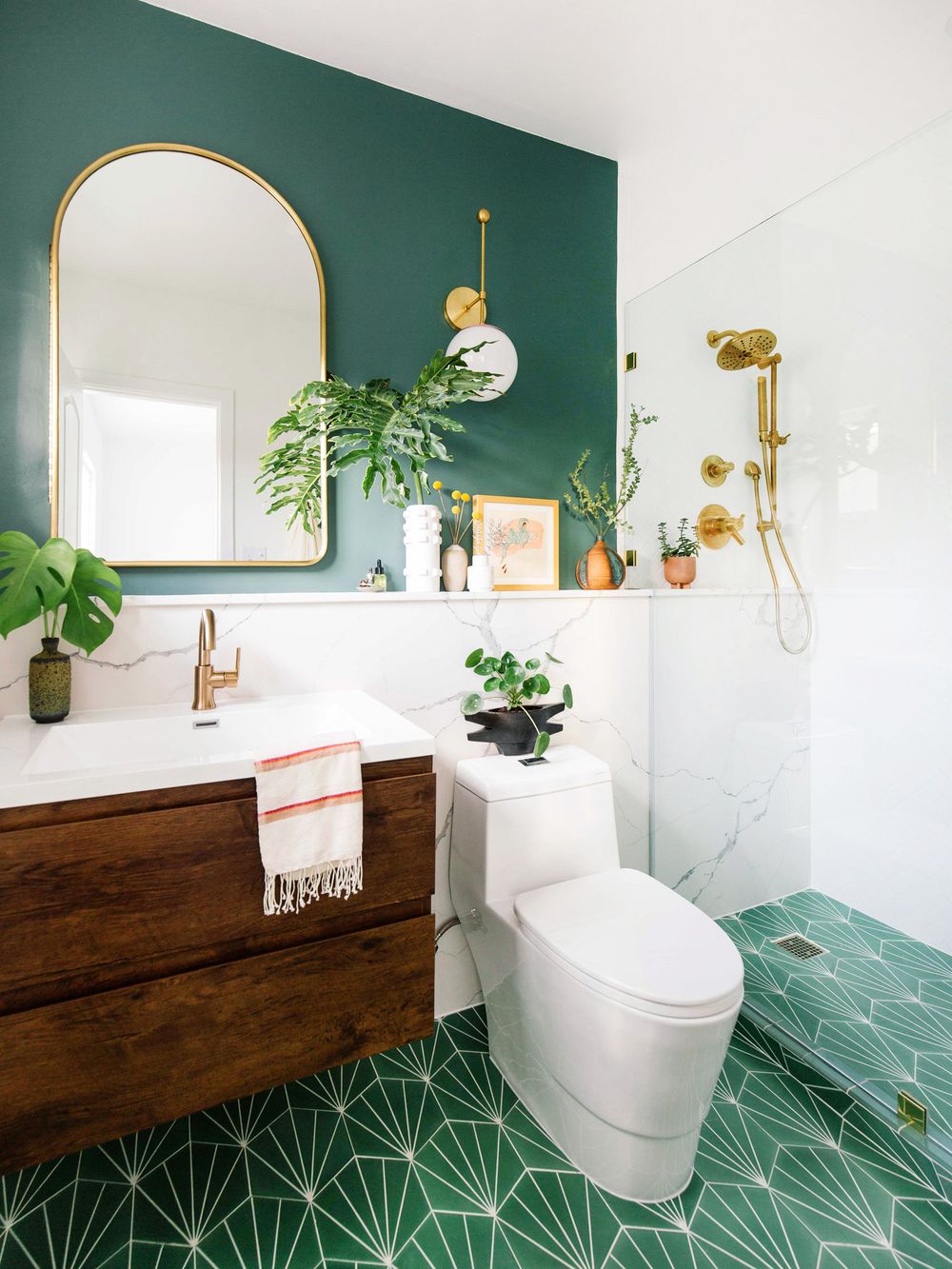 Green Backsplash Tile
Imagine wandering through the jungle and discovering an old abandoned building, the light filtering through the trees, illuminating the bright green moss covered walls. Recreate that feeling in your own home with some green backsplash tiles in your bathroom. White and grey tiles are all too common these days, but a multi-hued green brick pattern is unique and would stand out amongst your peers.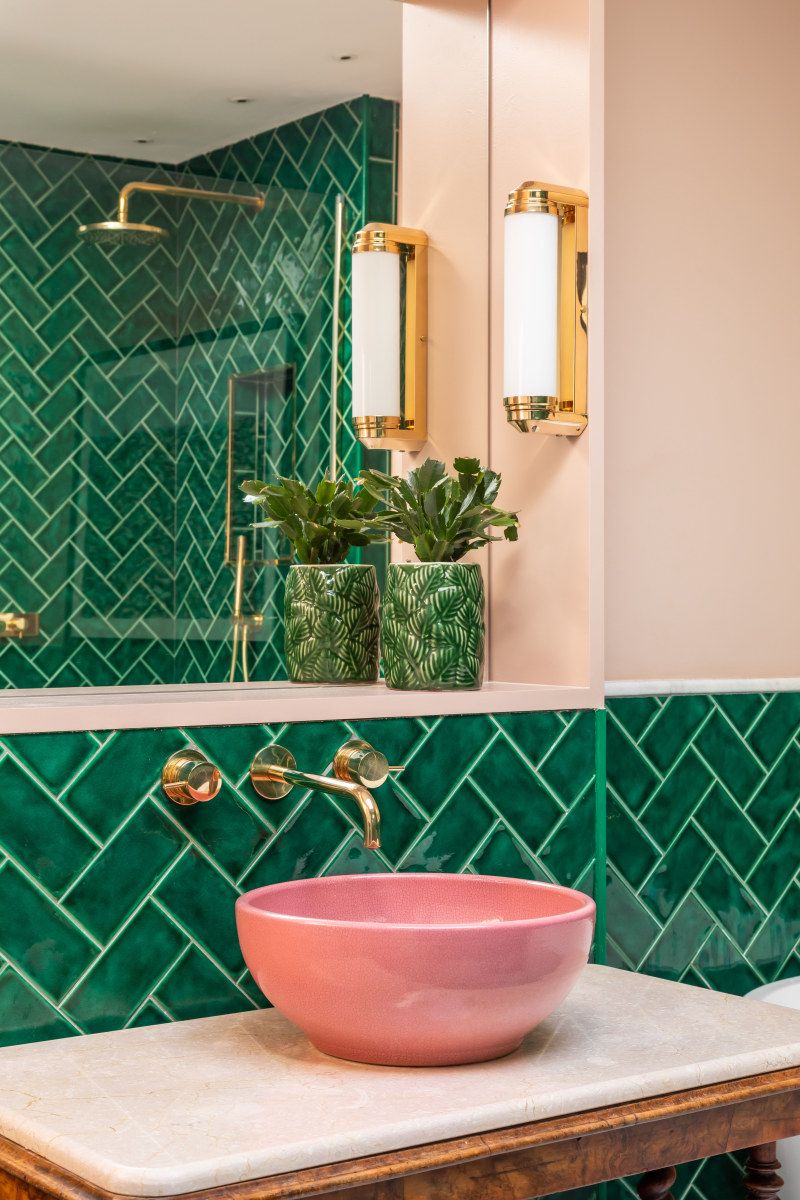 Shiplap Walls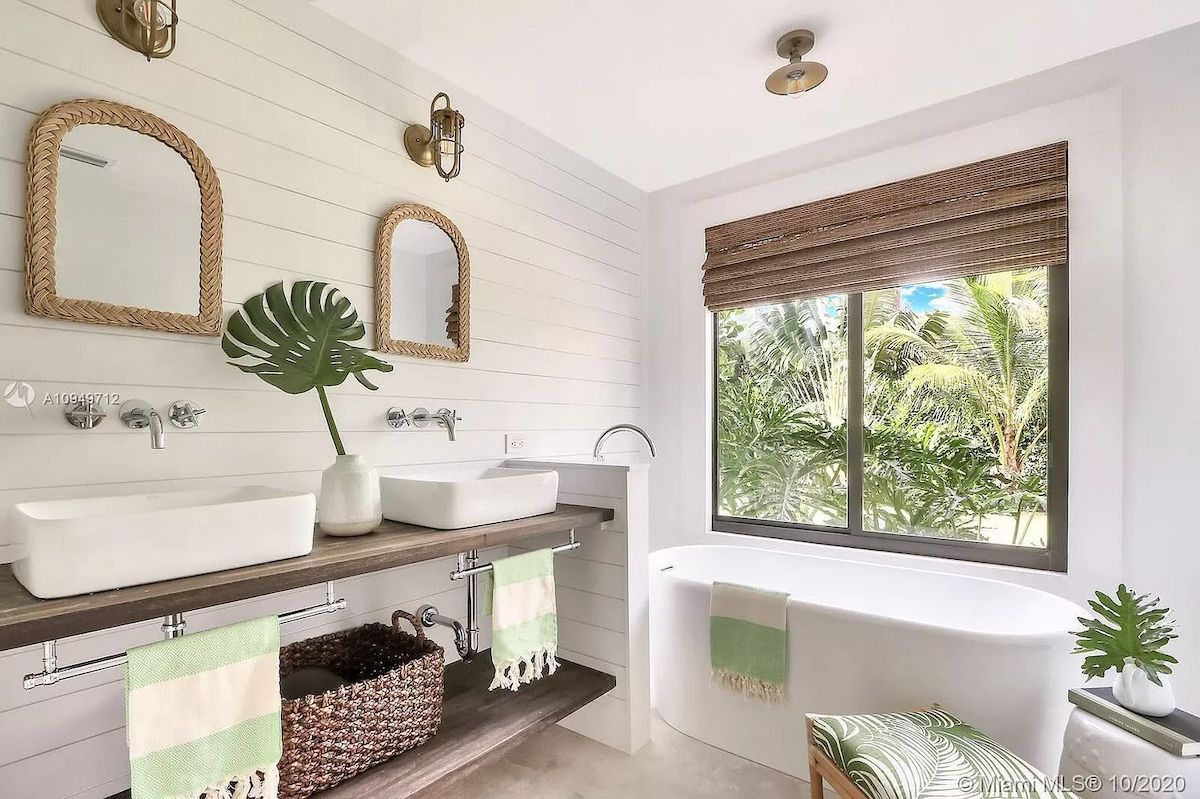 Green Bath Cabinets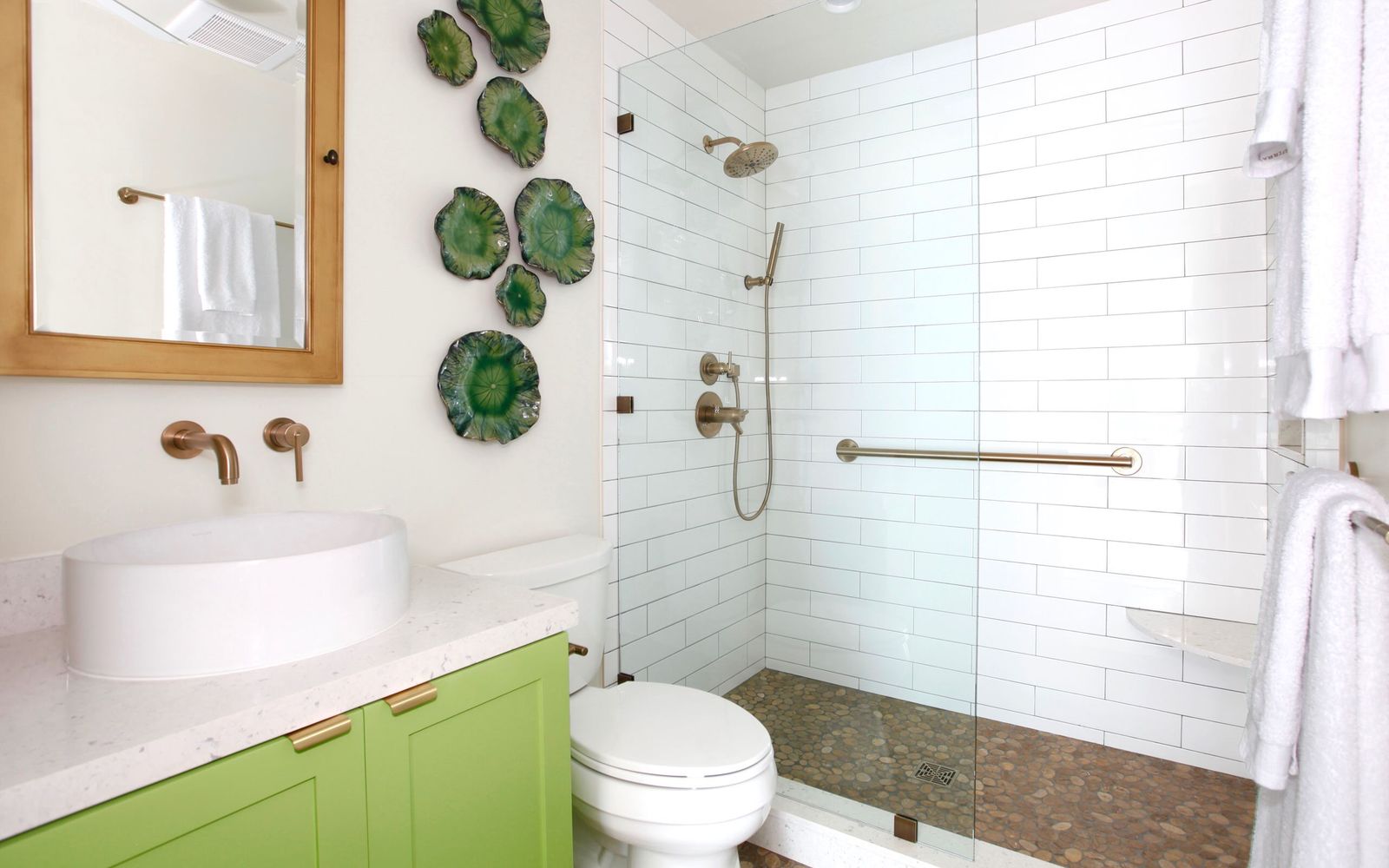 Blue Pineapple Wallpaper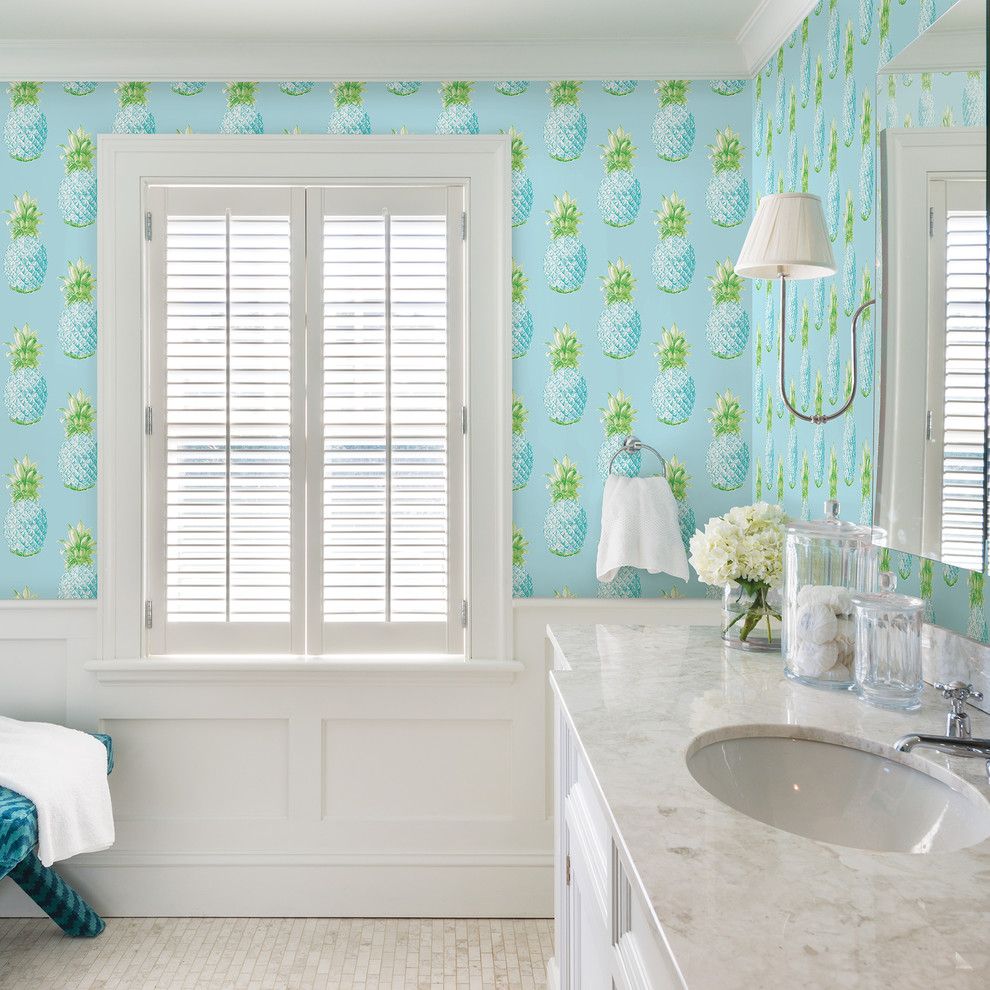 Modern Tropical Twist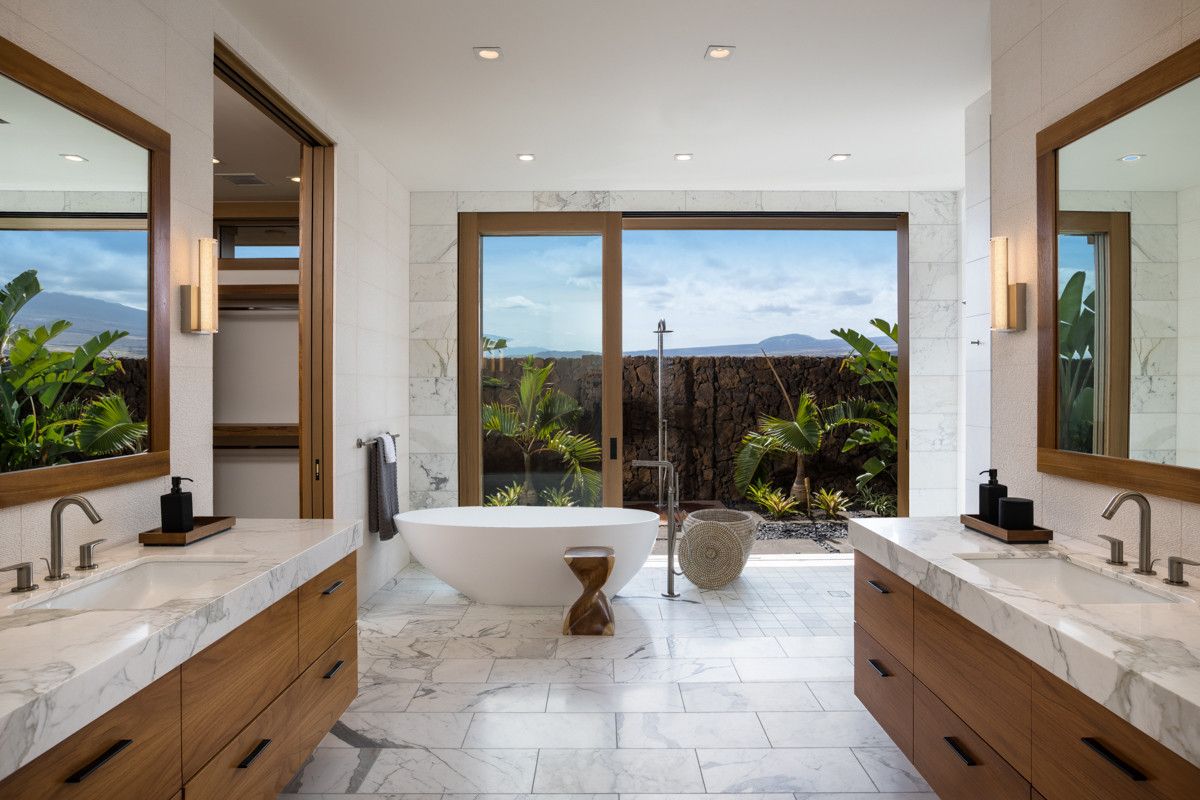 Bamboo Cabinetry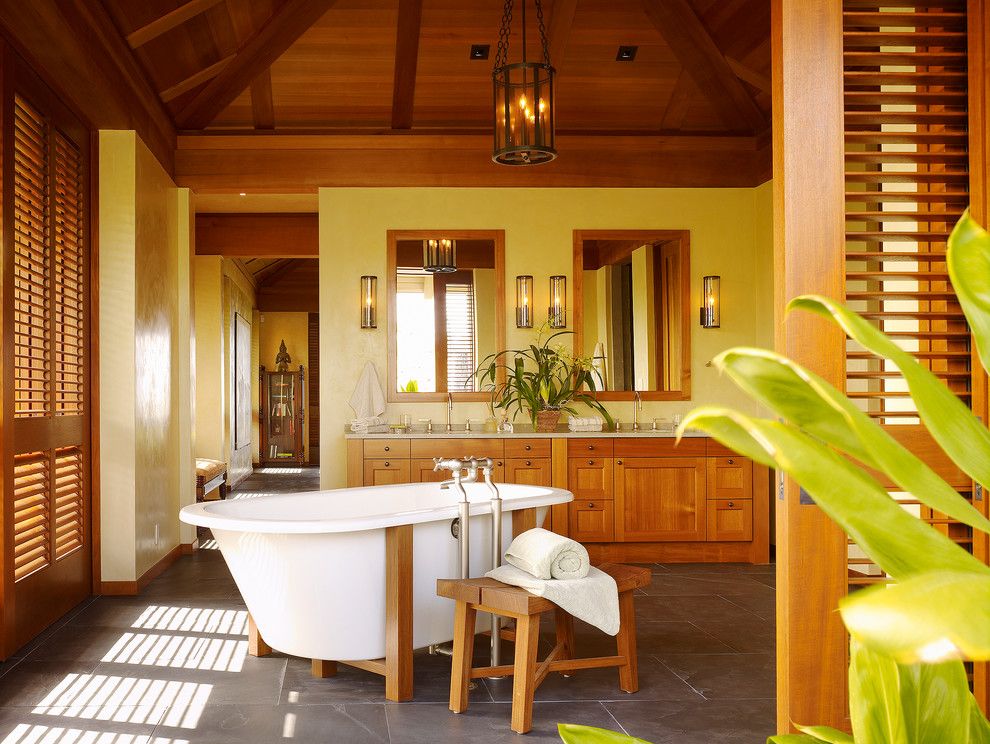 Pink Pineapple Wallpaper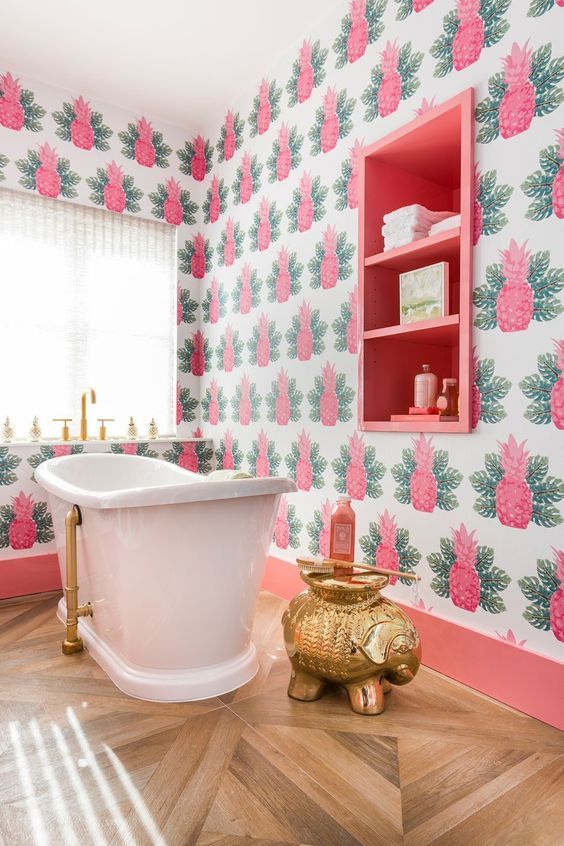 Bold Green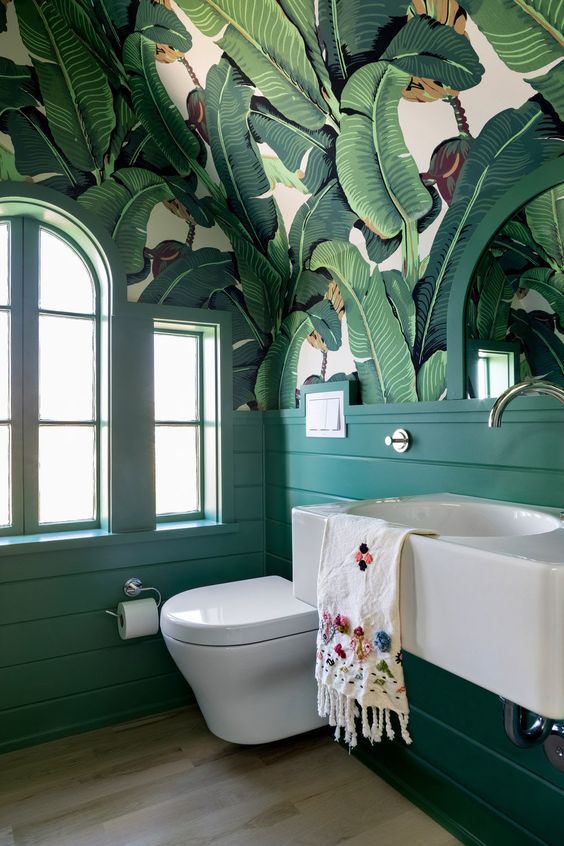 Classic Tropical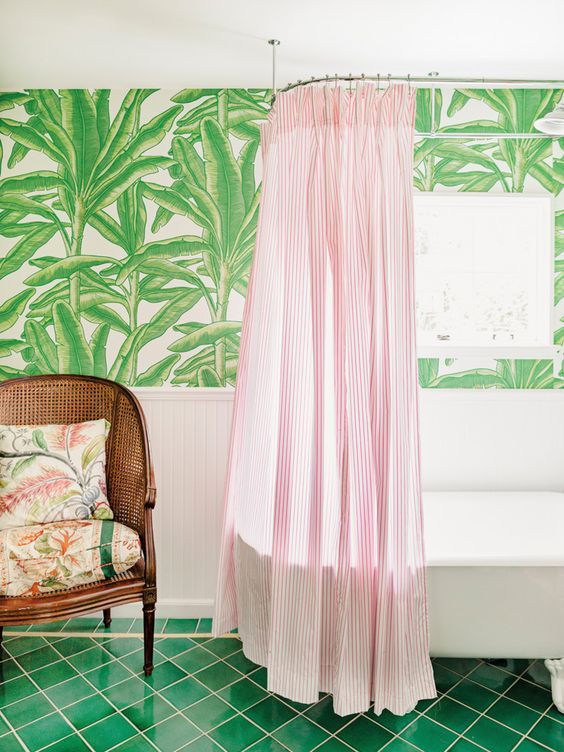 More Tropical Decorating Ideas
If you love tropical interiors, these posts will surely inspire you as well: