Looking for chic tropical nightstands to decorate your island bedroom?
The tropical decor style is popular in homes around the world. Whether you live on a beach or not, you can definitely take inspiration from this fun, coastal decorative style.
Wicker seems to be the most prevalent in tropical furniture design. The woven construction of wicker is enticing to the eye. Of course, tropical-style nightstands can be made from various plants, bamboo, willow, or abacá. They enhance a room and provide a welcoming vibe.
Other options to consider are rattan and mango wood. Rattan furniture is sturdy and with its woven wicker inserts, makes a lovely addition to any room. Rattan is a palm vine. Its stems are cut into sections to make sturdy furniture. Its inner softcore is woven into wicker for inset shelving or other uses.
Mango wood is becoming popular outside of India due to its durability. It looks very similar to teak, which is also very much in style. Mango wood is often combined with wicker in furniture. This is a great material to choose!
Tropical Nightstands: Breezy Beautiful Bedrooms
Wicker, rattan, and mango wood tropical nightstands come in all shapes and sizes. Styles abound, one drawer or three drawers. Or you can go with no drawers, just shelves. Some nightstands have wicker basket inserts, from one basket up to six.

Rattan and mango wood are often combined with wicker to give them a more tropical look.
Colors range from natural creamy beige, brown tones, white, black, or even coral. With sizes ranging from 16″ wide to 45″ wide, you will be able to find a tropical nightstand or two to fit your room.
Woven raffia cloth makes a beautiful addition to many nightstands. Raffia cloth uses fibers from palms or other tropical plants. It is easily dyed. Abacá plant, a species of banana, is used to make fabric similar to raffia. Abacá cloth is also used in many nightstands. These tropical nightstands add texture and bring an enjoyable warm atmosphere.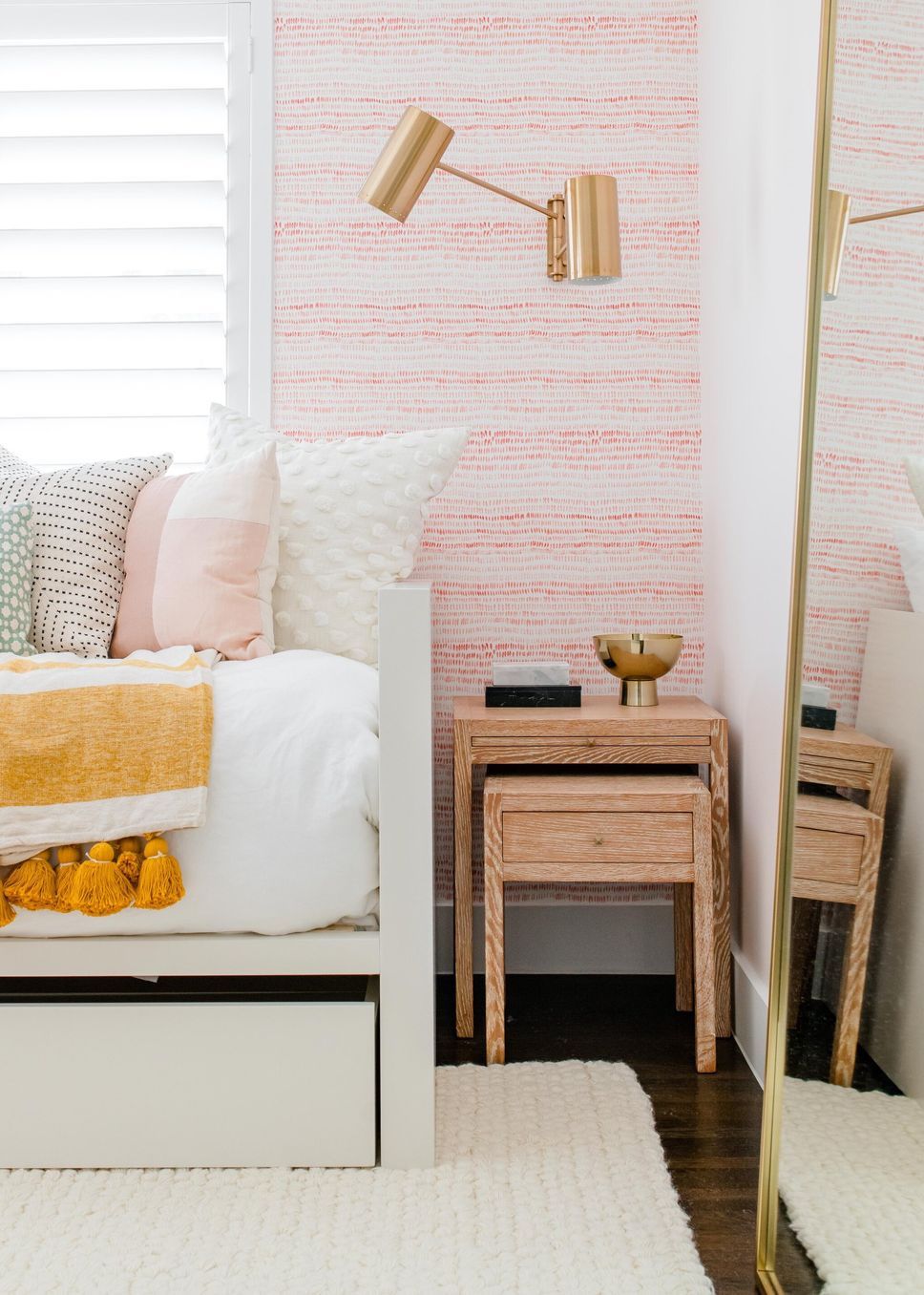 Why everyone loves Nightstands
Having at least a table next to the bed to hold your various nighttime items has become a must-have in modern homes. People have stored everything from alarm clocks, radios, telephones, and lamps on their nightstands. A dish or tray to hold change, watches, or eyeglasses is useful. If you drink tea before bed, a nightstand is essential to rest it on.
More recently people need a place to keep their tech gadgets like cell phones, tablets, and iPads on their nightstands. These modern items all need chargers, stands, and storage. Nightstands help you keep up with the latest and evolving needs of their nighttime users. A place for cords to pass through is a great convenience to have on your nightstand.
What can you keep inside the drawers of a nightstand?
You should keep all of your bedtime essentials in your nightstand! Hand lotion, a flashlight, and tissues are a few ideas. If you like to write, store a pen and paper. A book or magazine to read is nice before falling asleep. Beauty products find their way in as well. Everything from facial night creams to nail polish can be stored inside. Many other people keep gum, mints, and snacks in their nightstands. The possibilities are truly limitless.
Enhance your Nightstand with Tropical Decor
Woven raffia and abacá cloth can be purchased online. These can enhance the tropical look of your room. Here are some ways you can use raffia or abacá cloth.
Use tropical wallpaper as a backdrop behind wall sconces, mirrors, or clocks.
Swap out an old lampshade to give it a tropical look.
Put a jute runner along the top of your dresser.
Cover the headboard and footboard with some raffia or abacá cloth.
Adding a few tropical plants, natural or silk, should finish the look. These are just a few of the many ideas you can steal to give your bedroom a tropical vibe!
More Tropical Decor Ideas
Keep decorating in the tropical style with these related articles you may find inspiring: