Counter chairs are needed in the kitchen especially if you have a raised countertop or bar where people can sit when eating. These types of kitchen chairs are very tall and therefore can be used on elevated countertops and bars found in the kitchen. Other types of seating used in the living room or dining room may therefore not suit the kitchen because of their low height!
Counter chairs are easy to use in the kitchen and can be used by adults as well as children. Counter chairs are safer for children than ordinary chairs which can potentially hurt children if they fall over them as they try to drag them in the kitchen. Most people will also use counter chairs when cooking in the kitchen and avoid sitting for extended periods. They are easy to carry and quick to arrange so you will not need to bring another seat from the living room.
These chairs are made of wood, metal, or plastic. Most people prefer them because they are small and simple; hence they save kitchen space more than other types of seats and chairs used in the living rooms. However, metal chairs feel heavy and are somewhat expensive, although they are stronger and durable than the wooden types.
Since they come in different decorations and styles, they are also used to beautify the kitchen. Those with extra back support allow you to sit on the countertop and bars for a very long time. These are more preferable to stools used in the kitchen. They offer more comfort without adding any bulkiness or extra purchase cost. Children are also safer using these types. Those without the backrest are most suitable for temporal usage in the kitchen just like the stool.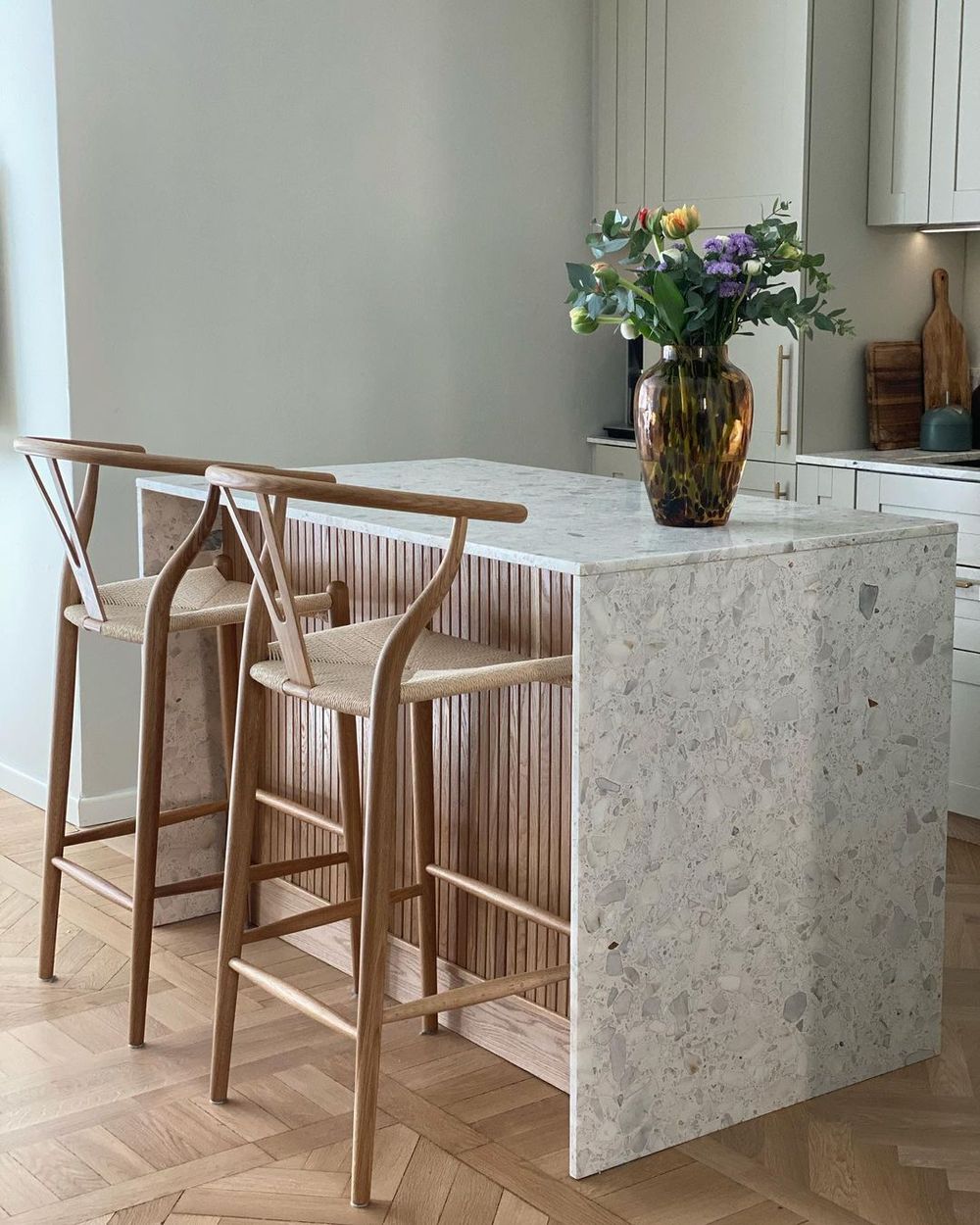 Scandinavian Counter Chairs
Scandinavian counter chairs are most suitable for small kitchens and living spaces. They are most suitable when you want to add small informal social seating areas within your kitchen. First, they are small and can be tucked under breakfast bars so they do not have to take a lot of kitchen footprint. Their simple design and lightweight allow you to quickly arrange and rearrange them the way you like. Some can even swivel at any side allowing a more flexible seating arrangement.
Like much Scandinavian decor, they feature a clean and simple design but very useful for the kitchen where you want to maintain cleanliness all the time. They are unlikely to pile dust and dirt given the simple design and excellent finishes. This is while adding comfort in your kitchen especially for those types made with a well-padded, soft, and faux leather seat. Besides, they come in different styles so you can select one that suits your home.
You can choose different colors and sizes to suit your home styling needs. Wooden seats can be used with wooden countertops to complete the style. Different shapes can also be used to compliment different countertop shapes. The metallic and plastic types are more suitable for other counters such as granite although you can still use wooden counter chairs.
For Scandi style modern homes with tile flooring, be careful with using chairs with metallic leg frames because they can damage the floor by scratching it with time. It's a good idea to buy Scandinavian counter chairs that have rubber under each leg. This not only makes them anti-scratch but also renders them non-slip hence they are safe to use within kitchen environments. The result is durable kitchen flooring that retains its tidy and scratch-free look.
I hope these counter chairs will help you curate the Scandinavian kitchen design of your dreams!
More Scandi Decor