Perhaps you have been searching for the most beautiful Scandinavian swing arm lights and wondering about the benefits they can provide in a home. Today I'll talk about the different ways that swing arm lights can be used, which will certainly show you why these kinds of Scandinavian lights are perfect for many homes.
The Scandinavian decor style is instantly recognizable by its minimalist aesthetic. Each object is carefully designed for function rather than form. To this end, many Scandinavian style swing arm lights are very minimalist in design and come in very basic colors like black, gray and white. They are a key part of your home lighting design.
Scandinavian Style Swing Arm Lights
Here are some ideas for Scandinavian style swing arm lights that you can use in your home.
Where to Put Scandinavian Swing Arm Lights
There are many places in the home where you can use a Scandinavian swing arm light.
Above a reading nook
You might have created your own reading nook or would like to create one soon, because you are an avid reader. But maybe the lighting in your reading nook area is not that great, which is why you have not yet sat down there to enjoy reading some of your favorite books. When you place Scandinavian swing arm lights above a reading nook, then you can have the confidence that you will be able to enjoy much reading pleasure without straining your eyes. Adding swing arm lights is truly a great way to increase the amount of lighting in the space that is required.
Above a nightstand
When you have nightstands and putting a lamp on them would take up too much space, then the good news is that you can place Scandinavian swing arm lights on the wall above the nightstands near the bed. Then you will have access to the extra amount of light that you need when you already have shut off the main light of the bedroom. When you place swing arm lights above the nightstands, this is highly convenient, so that you do not have to get out of bed to turn on the light in the middle of the night. Also, when having the overhead light on the ceiling would be too much light to disturb your partner if you need the light on, the right solution is to turn on the swing arm light.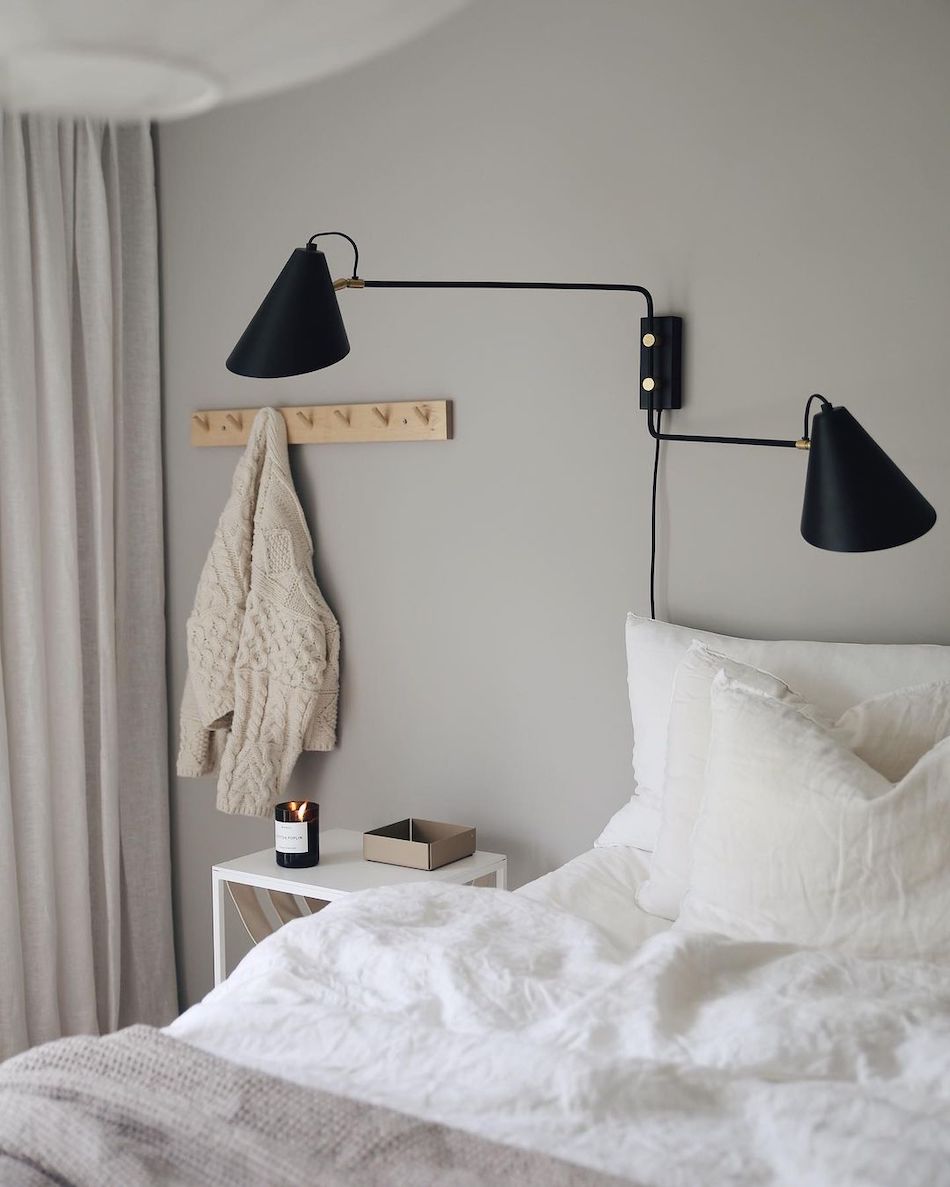 Near the dining table
It is a nice touch to your dining room to add Scandinavian swing arm lights against the wall near the dining table. This can create a sense of warm ambiance for the space, particularly if you have a large dining room that seems to have a lack of lighting and perhaps not enough large windows. Even if you have large windows in your dining room, it is ideal to place swing arm lights against the walls near the dining table to allow for more light if you entertain guests during the evening. Also, if you are working at a Scandi dining room table for work or for your hobbies, as many people do tend to work at their dining room table, then you will have access to ample light without the need to strain your eyes.
Consider Hardwired vs. Plug-in
Lastly, when it comes to swing arm lights, you can choose to use ones that are hardwired or ones that are plug-ins. The hardwired ones are connected to your electrical system the same way that the other light fixtures of your home are connected to it. Thus, you will not see any exposed wires from these lights and there will be no need for you to plug them in to make them work.
On the other hand, if your home is already constructed with enclosed walls, you may not want to go to the expense and mess of using hardwired swing arm lights when it would be necessary to make holes in walls for the wiring of the hardwired lights and then repair the walls afterward. In this type of scenario, you can still enjoy the advantage of using swing arm lights by getting ones that plug in. They will have exposed cords; but they still look nice, are easy to use, and provide the extra light that you need.
More Scandinavian Lighting & Decor
I really love Scandinavian decor and I think it's a great option for someone who wants to live in a minimalist home and values functionality. Here are some more Scandinavian decor ideas for you to get inspired by: