Having breakfast doesn't need to be a big affair. These Scandinavian breakfast nooks prove that sometimes all you need is a small dining table and some side chairs to eat a quick morning meal. I am so inspired by the interiors of places like Sweden, Norway and Finland, where they seem to embrace practicality and minimalism. It's well known that people who live minimalist lives tend to be happier and this is reflected in Scandinavian interiors.
Scandinavian Breakfast Nooks
Another interesting Scandinavian decorating concept is "hygge," which refers to the lifestyle of coziness and well-being that Scandinavian countries have adopted. It's about finding joy in simple everyday pleasures and living in the moment. I think these breakfast nooks celebrate the pleasure of eating a healthy breakfast every day.
Beige Linen Tablecloth and Bentwood Chairs
This is one of the warmer Scandi breakfast nooks you'll see. The walls are painted a calming beige color. The French bentwood chairs are a dark brown hue. The small round table has a beige linen tablecloth covering it.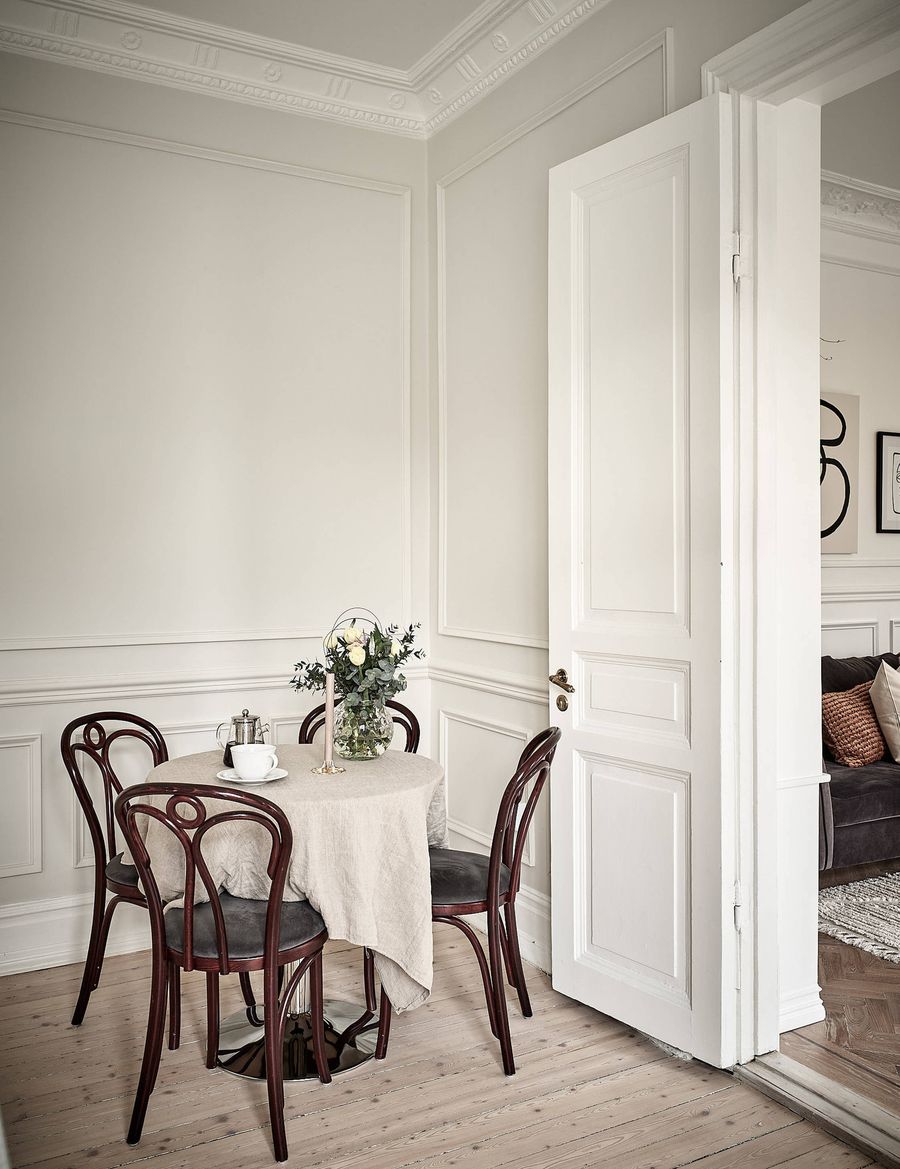 Mismatched Dining Chairs
This is a more eclectic Scandi breakfast nook, just off the kitchen area. It has a simple round white dining table and three mismatched dining chairs for quick meals.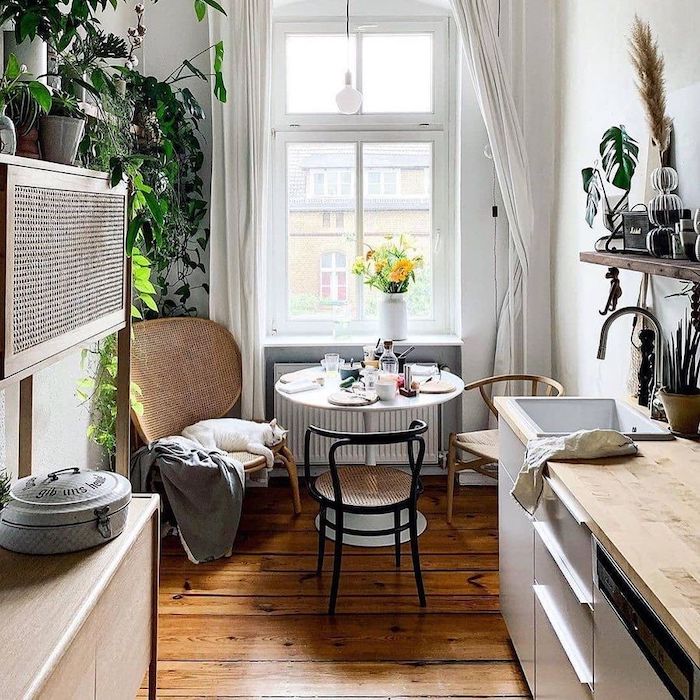 White Furniture and Pendant Light
When in doubt, go with all white! I love this simple nordic breakfast nook with spoke back dining chairs, a white pedestal table and a white cone pendant light hanging from the ceiling. A large blue ocean photograph hangs on the wall, keeping the minimalist vibe.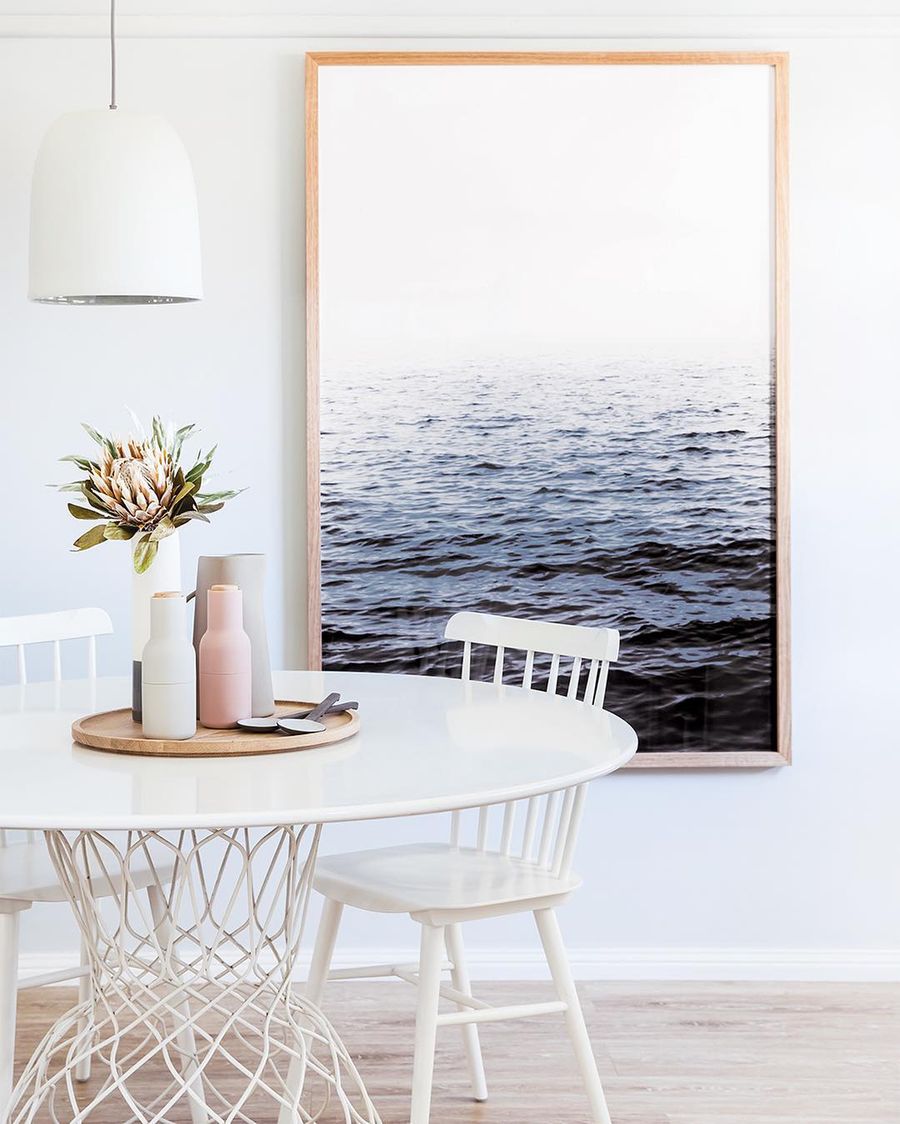 Bentwood Chairs and Tulip Table
Another great Scandi breakfast area – with the typical tall white candle in a glass candleholder. Very Scandi!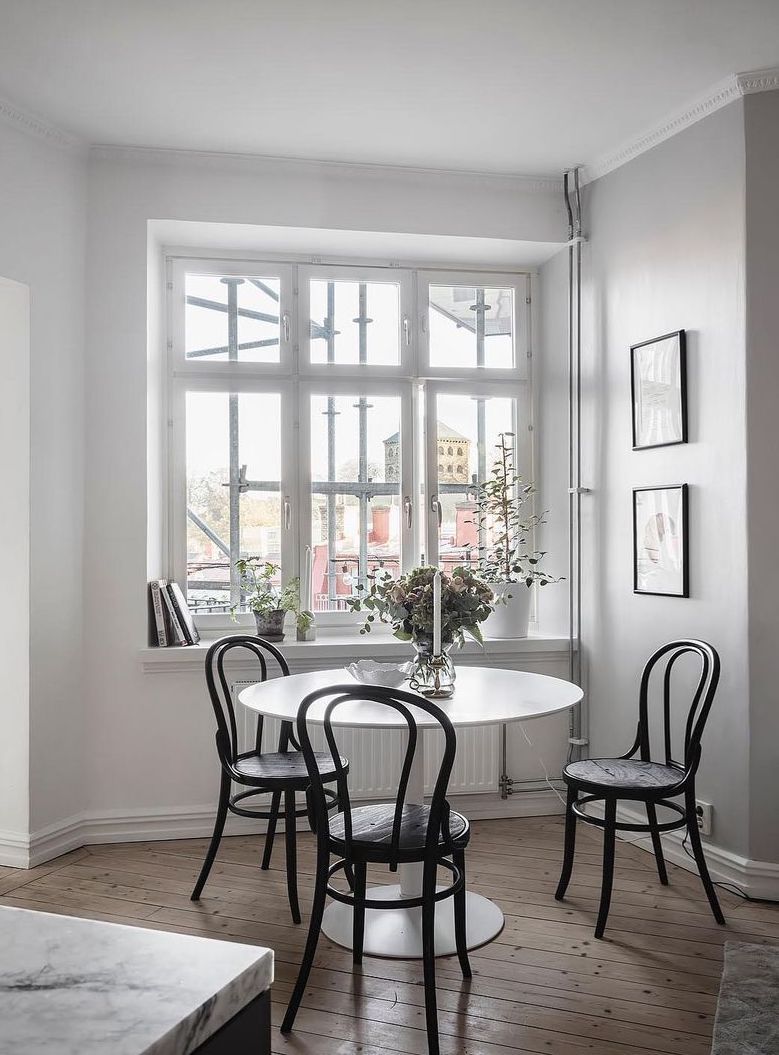 Beige Walls and Blond Wood Furniture
This is a great example of a warm, beige breakfast nook. A small blond wood dining table has several modern dining chairs around it. Black lighting fixtures create contrast.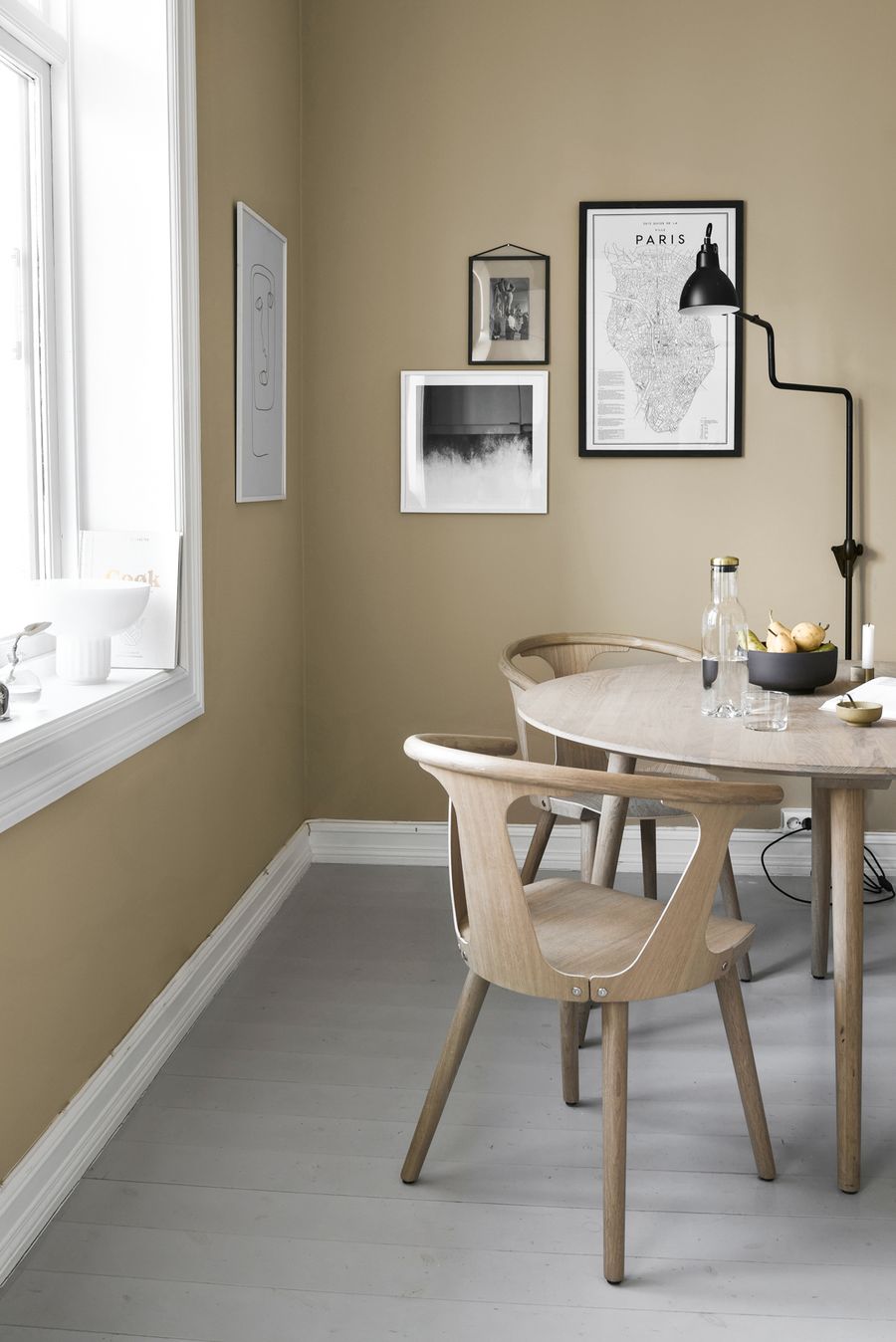 Gray Side Chairs and Gray Linen Tablecloth
Nordic design always has some gray in it! This gray breakfast nook makes use of this one color to design a gorgeous space.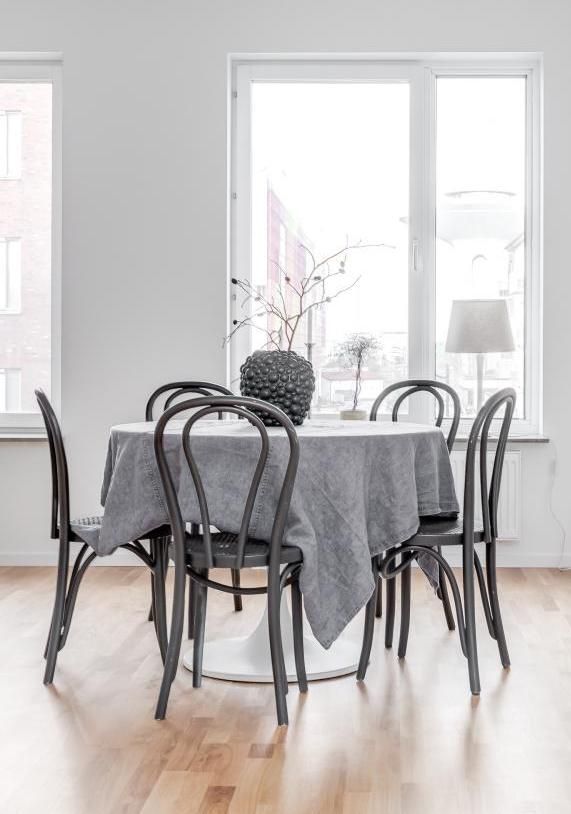 Wishbone Chairs in Scandinavian Breakfast Nook
You can't have a Scandinavian interior inspiration article without some wishbone chairs – that classic Scandi chair everyone knows and loves! These have some cushions on them for comfortable dining.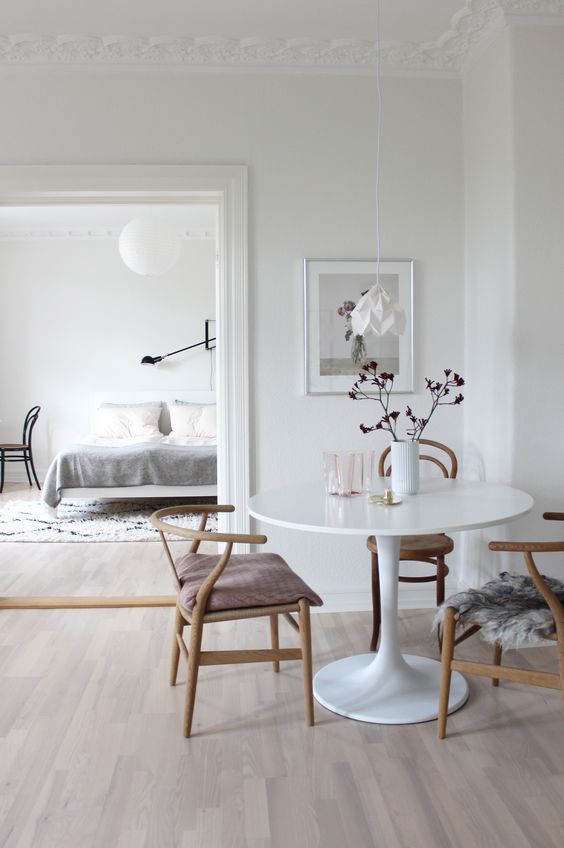 I hope these gorgeous minimalist Scandinavian breakfast nooks inspired you as you think about curating your own home! As you can see, white tulip tables seem to be a popular choice for a Scandi style breakfast area. I think anyone would be happy to sip their coffee at one fo these Nordic breakfast nooks. Would you agree? Let us know your thoughts in the comments below.
More Scandi Decorating Ideas