There are many materials to choose from when choosing countertops for your kitchen. Each with its own unique set of pros and cons. One popular option is marble. If you're considering marble countertops for your kitchen remodel, you should know a few things.
Marble kitchens have become extremely popular in recent years. Many people love the look of the gray veining on their kitchen countertop or their backsplash. Here are some things to consider when using marble as your kitchen countertop material.
Marble Kitchen Countertops Pros and Cons
First and foremost, marble is a natural stone, so each piece is unique. You'll also find that it's more heat-resistant than other materials like granite, making it a good choice if you do a lot of cooking. Marble is also very easy to clean. Just a little soap and water are all you need.
However, there are a few downsides to marble countertops as well. They are susceptible to staining, so you'll need to be careful with spillage. Marble is also a softer material so that it can scratch and chip more easily than other countertop options.
Despite these drawbacks, many homeowners still choose marble countertops for their kitchens because of their unique beauty and elegance. If you're willing to take care of it, marble can make a stunning addition to your home.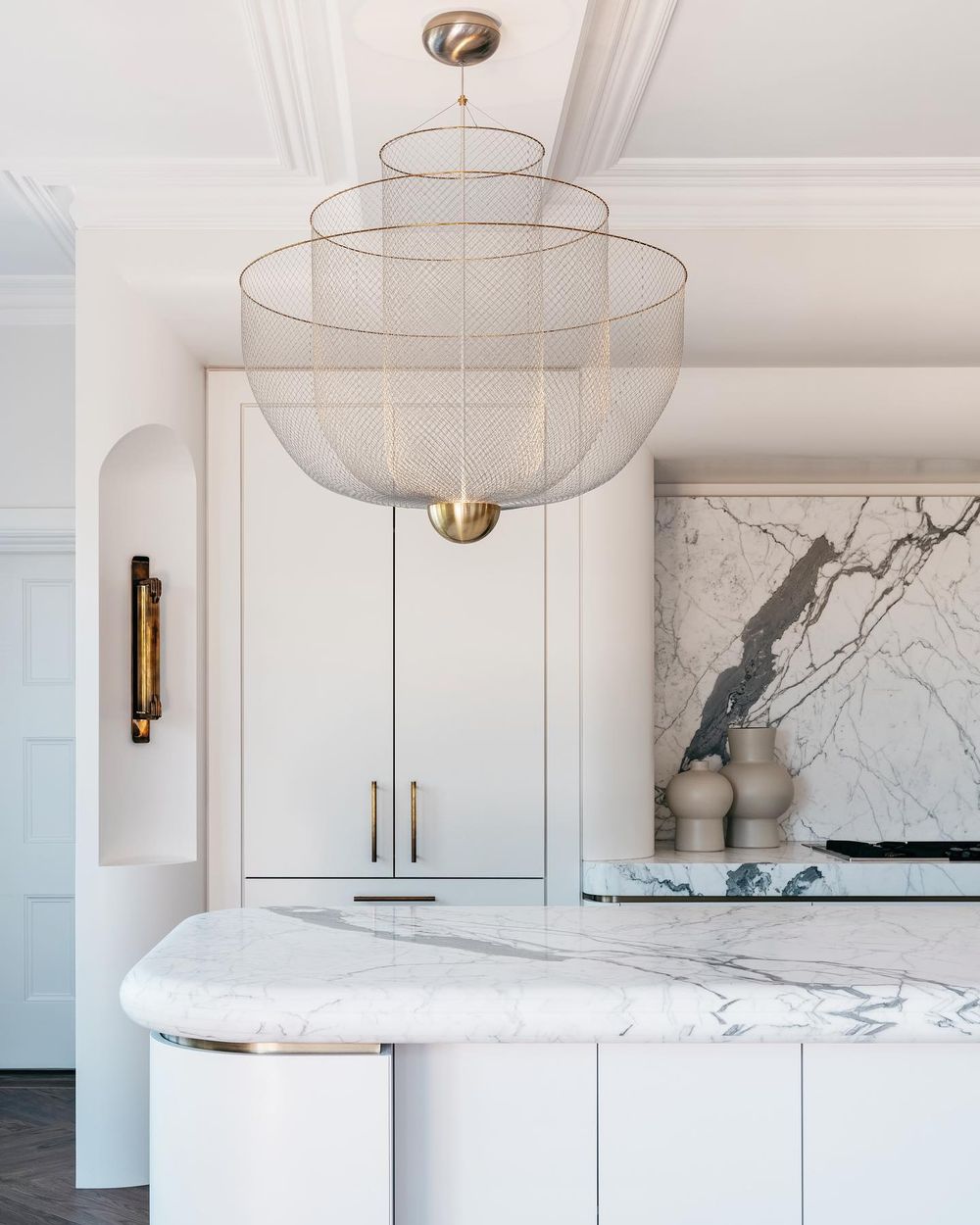 Types of Marble
When choosing marble for your kitchen countertops, you will likely be presented with three main types of marble: Carrara, Calacatta, and Statuario. All three types of marble are stunning and would make a beautiful addition to any kitchen. However, each type of marble has its own unique character and benefits.
Carrara marble is a white or blue-grey marble of high quality, famous for use in sculpture and architecture. Carrara marble has been used since the time of Ancient Rome. It is obtained from the Apuan Alps near Carrara, Italy. The city of Carrara is home to the famed quarry where Michelangelo sourced the marble for his sculptures.
Carrara marble is also used in flooring, stairways, fireplace surrounds, vanities, kitchen countertops, and backsplashes. Its popularity stems from its beauty and durability.
Another popular type is Calacatta marble, characterized by its white background and bold veining. Usually sourced from Italy, Calacatta marble is a luxurious choice for kitchen countertops. It's also one of the most popular types of marble on the market, so it's relatively easy to find.
However, because it's a natural stone, each piece of Calacatta marble is unique, so it's essential to be careful when choosing a slab for your countertop. You'll also want to factor in the cost, as Calacatta marble can be expensive. But if you're looking for a show-stopping countertop, Calacatta marble is a great choice.
Lastly, one of the most popular types of marble is Statuario marble, which is white with dark veining. Statuario marble is quarried in Italy and other parts of Europe, and it has a reputation for being the highest quality marble available.
In addition to its striking good looks, Statuario marble is also very strong and resistant to scratches and stains. However, it is essential to note that Statuario marble does require some special care, such as sealing and polishing, to keep it looking its best.
Statuario marble is a beautiful and high-quality option if you consider marble for your kitchen countertop. It also makes for a beautiful marble kitchen backsplash!
Cracks and Fissures
Marble countertops can be susceptible to cracks and fissures. These defects are usually caused by stressors such as thermal expansion, impact, or poor installation. Cracks and fissures can weaken the countertop and make it more susceptible to breakage.
In some cases, they can also allow moisture to penetrate the surface, leading to staining or mold growth. To avoid these problems, it is essential to inspect marble countertops regularly for any signs of damage. If a crack or fissure is discovered, a qualified professional should repair it as soon as possible.
Staining & Absorption
One potential issue with marble kitchen countertops is staining. Because marble is a porous material, it can absorb spills and stains immediately if they are not cleaned up. Another potential issue is etching. Etching occurs when acidic substances come into contact with the surface of the marble and eat away at the polished finish.
While etching is not usually visible right away, it can dull the countertop's appearance over time. To avoid these problems, it is essential to wipe up spills promptly and use coasters or trivets to protect the surface from heat and acidic liquids.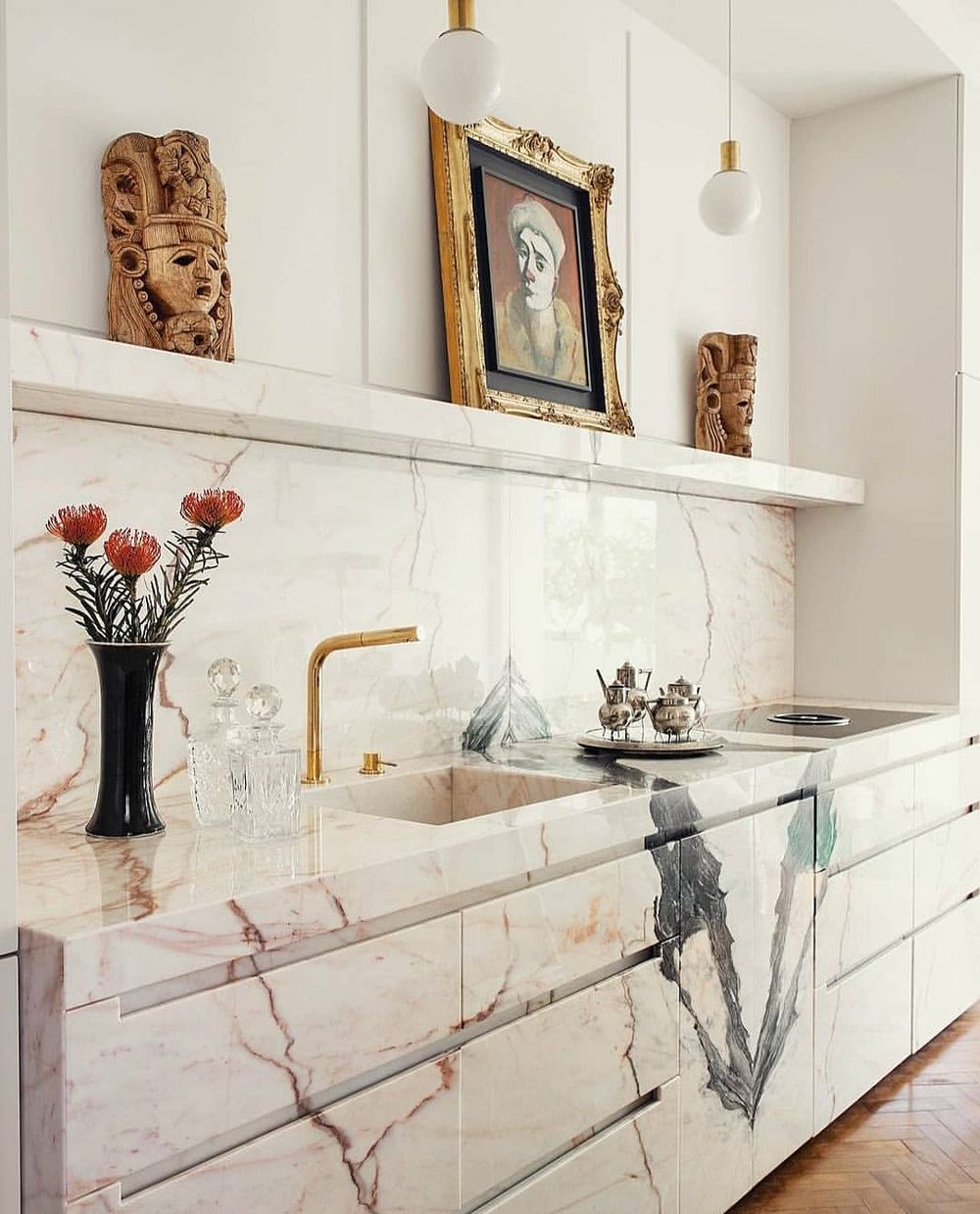 Marble Countertop Care
Marble kitchen countertops require special care to maintain their luster.
First, it is essential to dust or sweep away any dirt or debris before cleaning the surface. Otherwise, the dirt can end up being scratched into the marble. Next, use a mild soap and warm water to clean the countertop. Avoid harsh chemicals and abrasive cleaners, as these can damage the surface of the marble.
Finally, be sure to rinse away all soap residue with clean water. If your countertop is particularly damaged or stained, you may need to consult a professional for refinishing or resurfacing.
With proper care, your marble countertop will remain a beautiful focal point in your kitchen for years to come.
Sealing
As any homeowner knows, marble countertops take a lot of abuse. They're constantly exposed to spills, scratches, and heat damage. Over time, even the most durable materials can start to show wear and tear. That's why it's essential to seal your marble countertops regularly.
Sealing helps protect the surface from damage and makes it easier to clean. Plus, it can give your countertops a glossy finish that makes them stand out. If you're not sure how to seal your marble countertops, ask a professional for help. They'll be able to advise you on the best products and techniques to use.
Marble Countertops vs Granite
When choosing countertops for your kitchen, there are several factors to consider. Two of the most popular materials today are marble and granite. Both have their unique benefits and drawbacks, so it's essential to weigh all your options before deciding.
Marble countertops are prized for their classic beauty and elegant appearance. They can instantly add a touch of luxury to any kitchen, and they can be found in a wide variety of colors and patterns.
However, marble is a soft material, so it's more susceptible to scratches and stains than granite. In addition, marble countertops must be sealed regularly to keep them looking their best.
Granite countertops are also very popular, and they offer several advantages over marble. Granite is a hard material that is resistant to scratches and stains. It's also easy to clean and maintain. However, granite countertops can be quite expensive, and they are not as heat-resistant as marble.
So, which material is suitable for you? The answer depends on your needs and preferences. If you want a classic look for your kitchen, marble may be the best choice. Granite may be better if you're looking for a durable and easy-to-maintain countertop. Ultimately, the decision is up to you.