Most homeowners have shelves somewhere in their house, whether it's in the living room to hold books and family photos or in the kitchen to store spices and cooking supplies. Though shelves are functional, they can also be stylish – it's all about how you decorate them. While there are lots of shelving ideas for storage, here are some tips on shelf decoration to help you make them pretty! These shelf decor ideas are both beautiful and functional.
These shelf decor tips will help you when decorating floating shelves, built-ins, bookcases, and bookshelves around your home!
Pick a Style
If you want your shelves to look sleek and modern, try a monochromatic color scheme. Choose items that are all the same color or similar shades. You could display white ceramic vases and bowls, or small sculptures in various shades of gray for instance.
If you prefer a more eclectic look, go for a mix of colors and textures. This is a great way to show off your personality and style. Consider displaying items like colorful trinkets, ceramic vases, family photos in unique frames, or even vintage books.
Decorate the Edge of the Shelf
Don't forget about the shelf itself! You can use washi tape, stencils, or even paint to add pattern or color to the shelf's edge. This is one of the most clever shelf decor ideas to make your shelves pop and give them a little extra personality.
Use Negative Space
When decorating shelves, it's important to leave some negative space. This means that you shouldn't overcrowd the shelves with too many items. Leave some breathing room so that each item can shine. Negative shelf space can help to create a sense of calm and order.
Choose the Right Mix of Items
When selecting items for your shelves, try to mix things up a bit. The best shelf decor ideas include a mix of small and large items, as well as items with different textures. This will add interest and depth to your shelf display.
Use a Shelf Backdrop
Adding a shelf backdrop is a great way to make your decor pop. You can use fabric, wallpaper, or even wrapping paper to create a unique and eye-catching backdrop. shelf backdrops are also a great way to add color and pattern to your shelves. If you go with a patterned shelf background, be sure to use white or neutral decorations to prevent the bookcases or bookshelves from looking too cluttered.
Visual Balance
When decorating shelves, it's important to create a sense of visual balance. This means that the shelf should have a pleasing and balanced look. Try to spread out the bookcase decorations evenly. You can also use different heights and depths to create visual interest.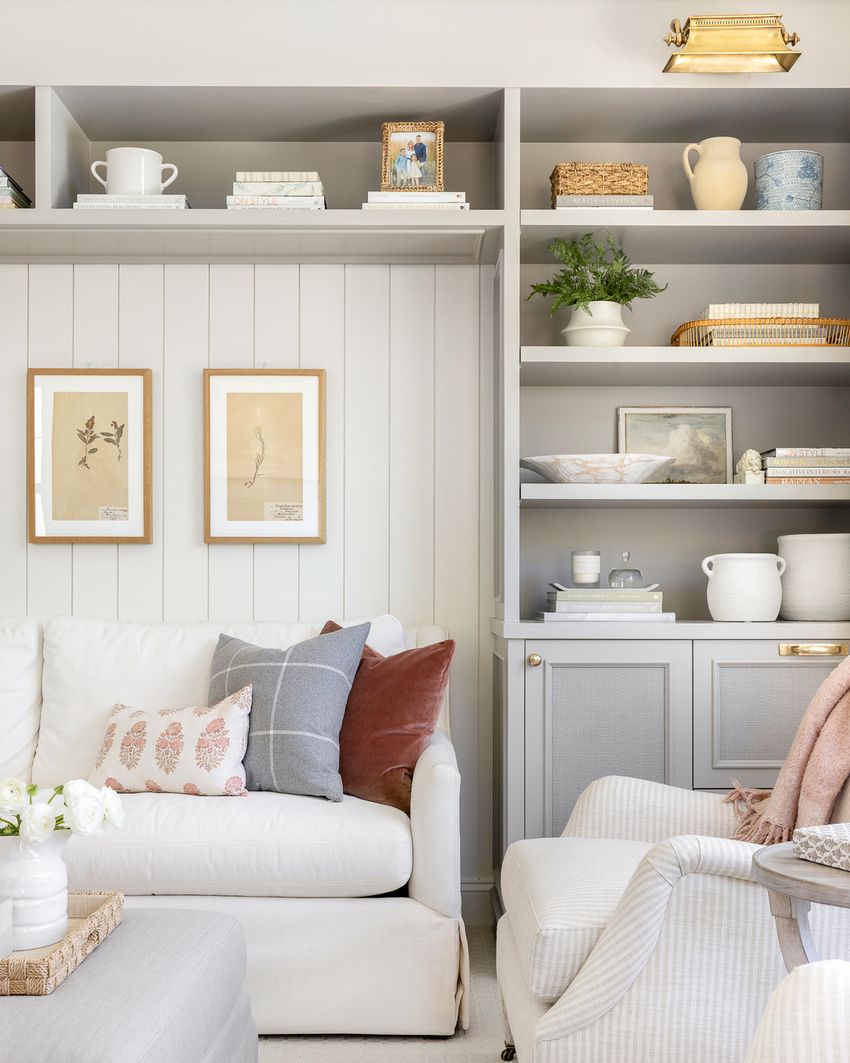 Stick to One Decor Theme
If you're having trouble coming up with shelf decor ideas, try sticking to one common theme. This will help to create a cohesive look. In a seaside home, you could choose a nautical theme and display items like seashells, coral, and starfish. In a rustic home, you could opt for a nature-inspired shelf and fill it with plants, stones, and wood.
Use Odd Numbers of Objects on a Shelf
When grouping items together on a shelf, try to use odd numbers. This will create a more pleasing and balanced look. For example, you could group three vases together or display five frames.
Don't be afraid to get creative with your shelf decor. Think outside the box and use items that you wouldn't normally think of as shelf decor!
Avoid Clutter
The shelf should be a place where you can easily find what you're looking for. To avoid clutter, try to keep the shelf organized and free of dust. You can use baskets or boxes to store items that you don't use very often. This will help to keep the shelf looking neat and tidy.
Add Lighting
If you want to take your shelf decor to the next level, add some targeted lighting. String lights or small lamps will create a warm and inviting atmosphere. Plus, they'll showcase your shelf display even more.
Include Greenery
Greenery is always a welcome addition to shelf decor. Whether you use real plants or fake ones, they'll add a touch of life to your shelf. Plus, they'll help to purify the air in your home.
What to put on shelves to decorate?
Here are some shelf decorating ideas:
family photos
colorful vases
vintage books
art objects
sculptures
driftwood branches
small plants
candles
lamps
string lights
shelf backdrops (wallpaper, fabric, wrapping paper)
How can I make my shelves look more attractive?
Here are some attractive shelf styling tips:
Use washi tape, stencils, or paint to add pattern or color to the shelf's background.
Incorporate items of different sizes, shapes, and textures.
Stick to one decor theme to create a cohesive look.
Use odd numbers of items to achieve a balanced look.
Add lighting to showcase your shelf display.
What are the best shelf ideas?
The best shelf ideas are the ones that suit your personal style and taste. However, some popular shelf decor ideas include:
vintage-inspired shelves
rustic shelves
minimalist shelves
colorful shelves
How do you decorate a shelf aesthetically?
To decorate a shelf aesthetically, try incorporating items of different sizes, shapes, and textures. You can also add greenery or floral arrangements to your shelf decor for a pop of color. If you want to style a shelf with books, consider arranging them by color or size. Another way to add personality to shelf decor is by adding personal items, such as family photos or souvenirs from your travels!
---
And there you have it! With these shelf decor ideas, you're sure to create stylish and eye-catching shelves that are also practical and functional.
These shelf decorating ideas will help you create a stylish and eye-catching display. With a little bit of creativity, you can transform any shelf into a work of art.
One of the most important aspects of shelf decor is choosing the right items to display. You want to choose items that are both stylish and functional. For example, you may want to display a few vases with fresh flowers, or some scented candles. If you have a lot of books, you may want to consider displaying some of your favorites.
Shelf decoration is a great way to add style and personality to your home. With these ideas, you can create gorgeous shelf displays! Lastly, don't forget to dust! Shelf decor is pointless if it's covered in dust. Make sure to clean your shelves regularly so that your decor can shine.