Looking for a cozy place to curl up with a book? These French country reading nooks are elegant, relaxing and the perfect place to dive into your next novel or home decor magazine. I love spending lazy Sunday afternoons reading by the window. I only wish I could do it in a French country chateau! 
French country decor takes its inspiration from French country homes and traditional French apartments. It's all about French design and vintage charm. Even if you don't live in the French countryside, there are many ways to incorporate the French charm of this interior design style in your home.
French Country Reading Nooks
A good reading nook has a few key pieces: comfortable seating, a good light source, and perhaps a side table for keeping your books or a warm cup of tea.
Let's take a peek at the most gorgeous French inspired reading nooks.
Vintage Side Table
I adore this traditional French style reading nook! From the vintage gold mirror to the vintage gold side table, there is so much to admire about this design.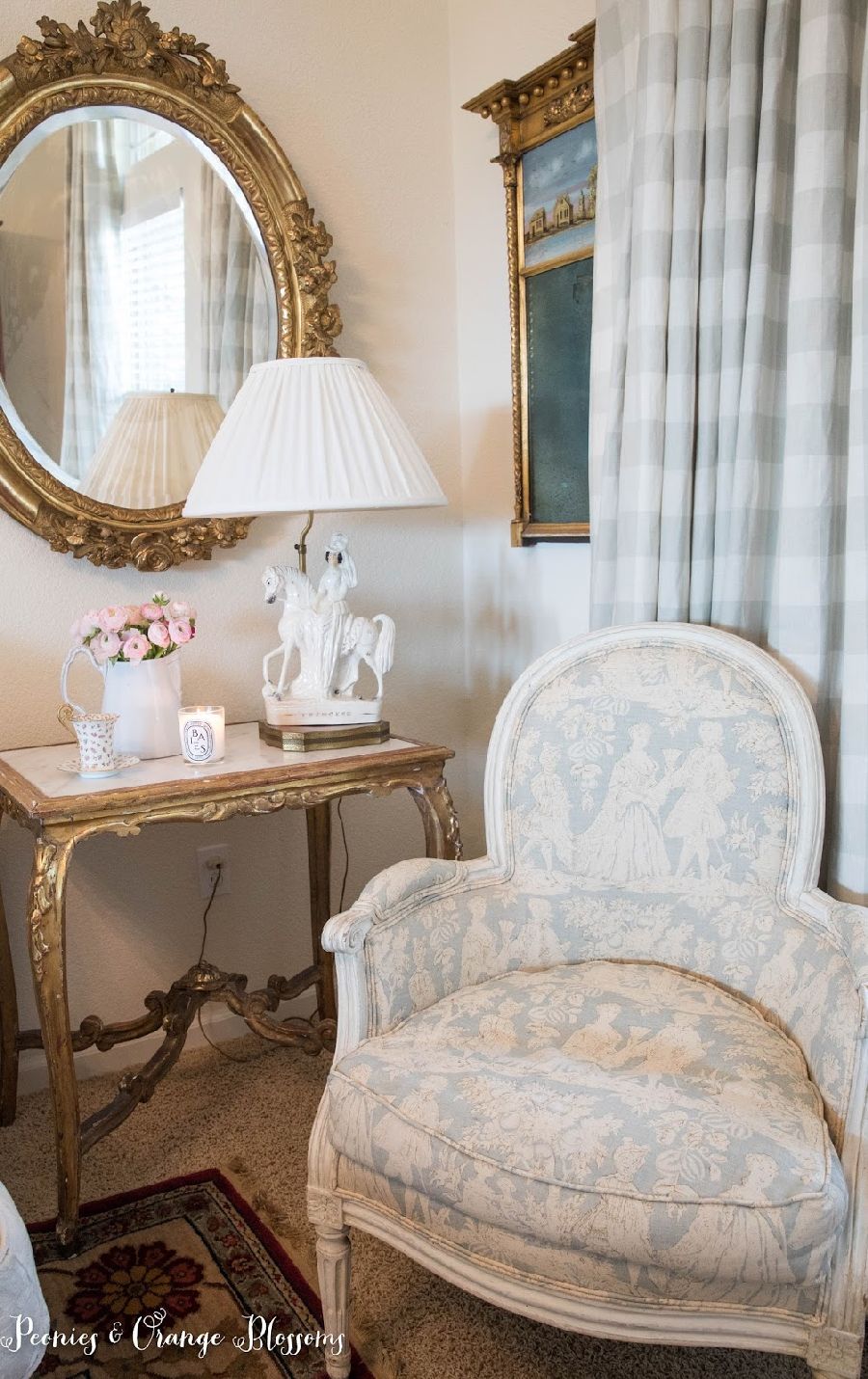 Toile Accent Chair
The toile upholstery on this accent chair is divine! I also think the rustic wood side table is perfectly paired with it. You could easily stack books on that table when you need to. The black iron chandelier provides ample lighting.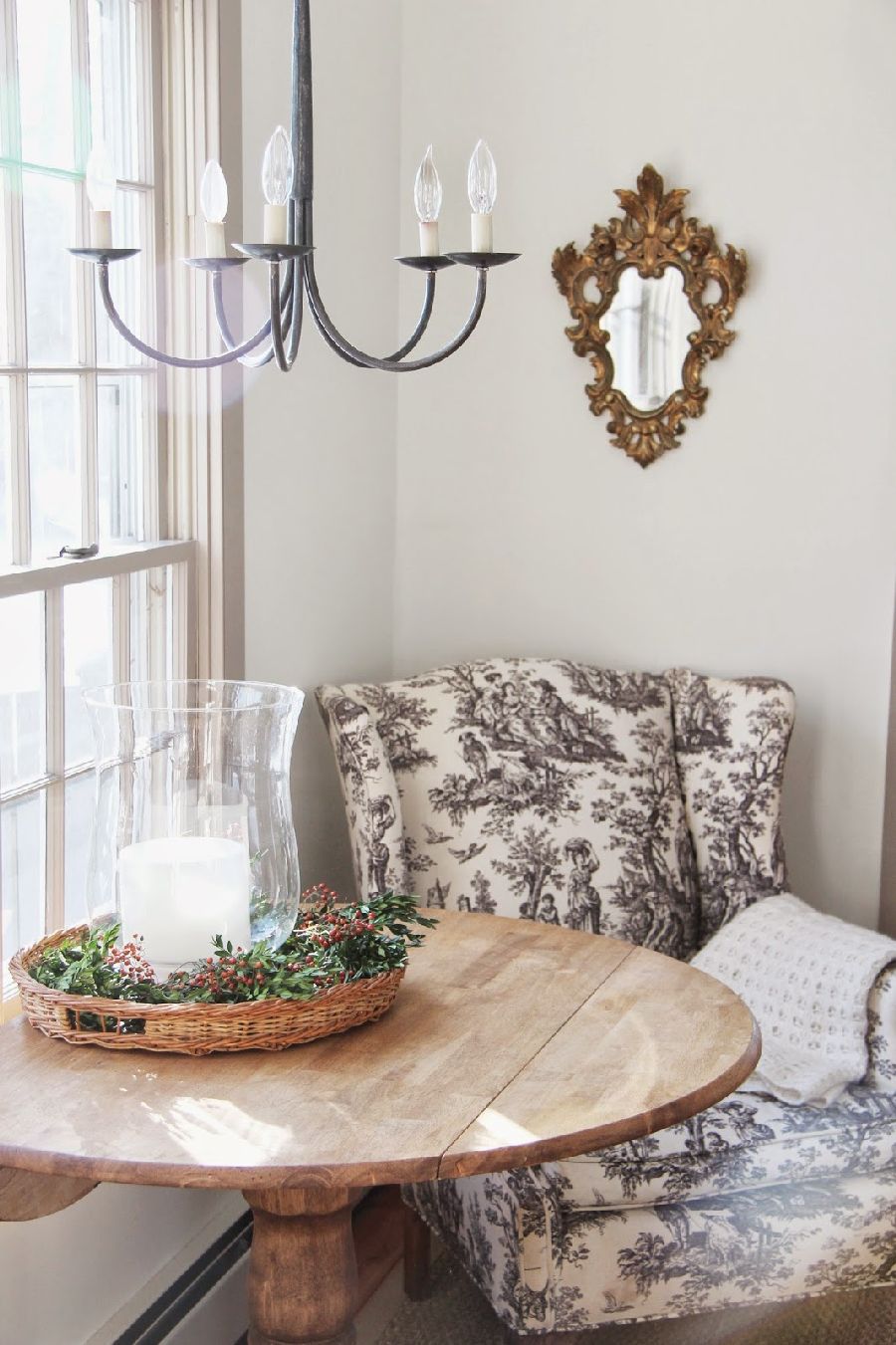 Built-in Bookshelves
This small reading corner has a simple Louis side chair paired with built-in bookshelves for endless hours to read. The crystal ceiling chandelier and nearby windows allow the space to flood with light.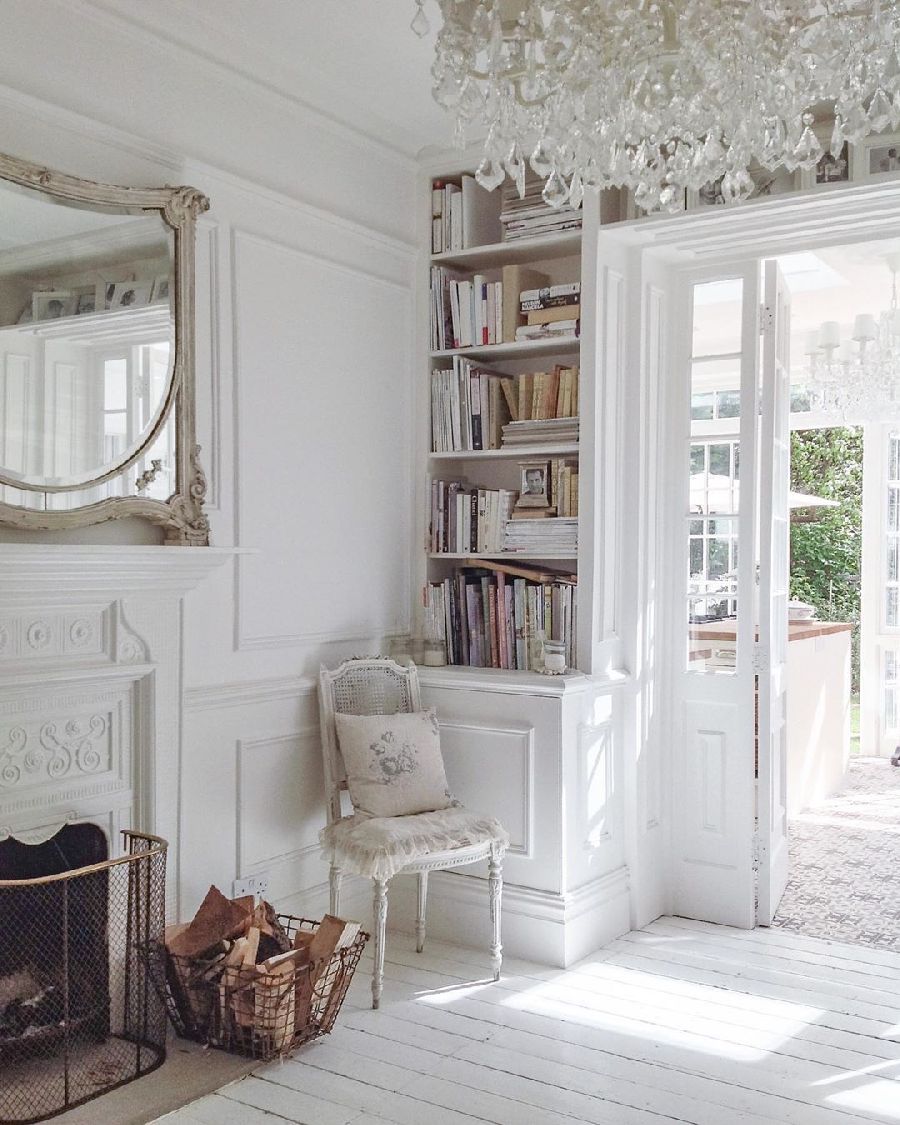 French Settee
This gray French settee looks wonderful with the small white side table, gallery wall of old architectural drawings, and brass floor lamp. It's the perfect spot to open up a French novel! The little vase of white flowers is the perfect decorative French touch.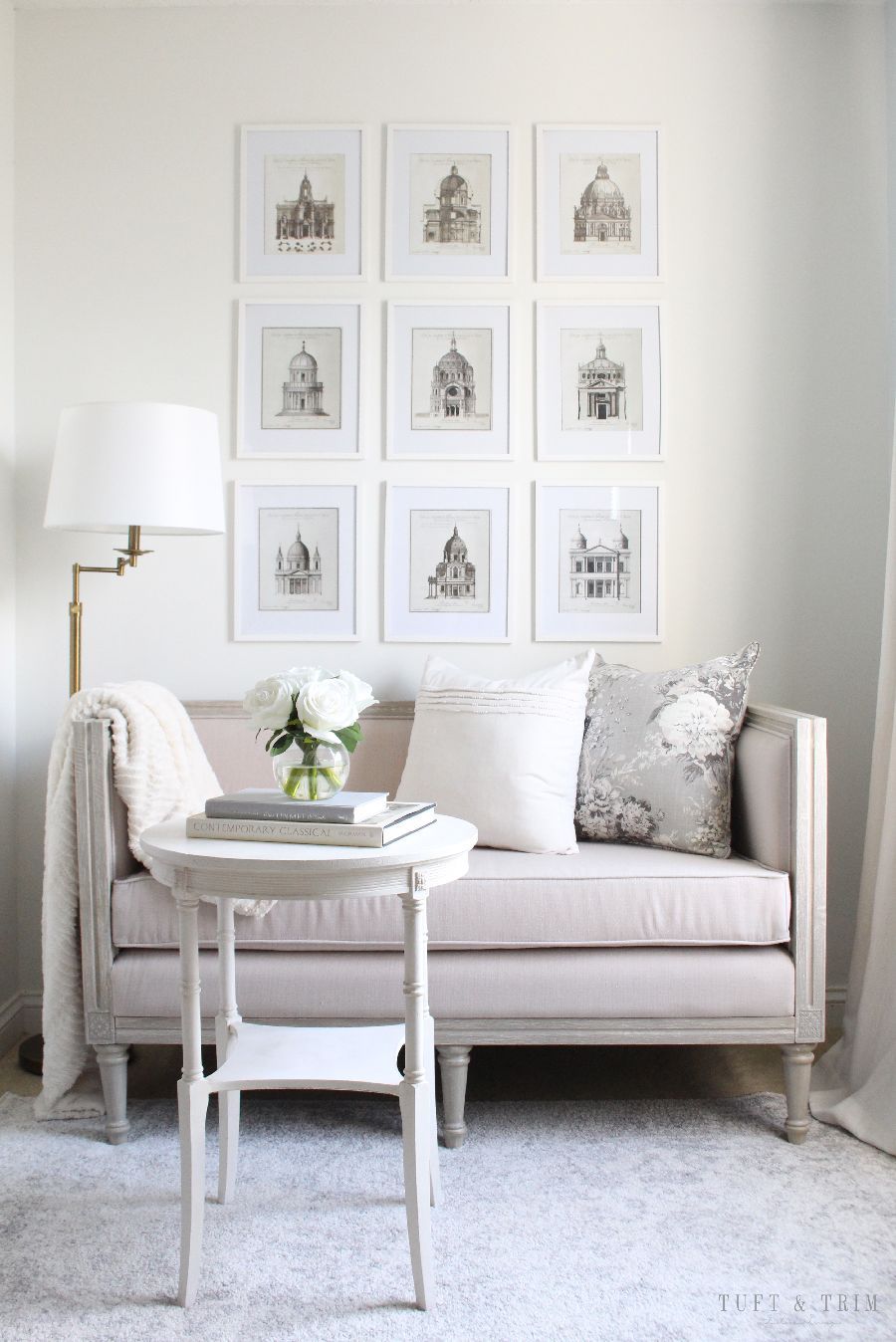 French Floor Lamp
A French floor lamp with a blue shade was the perfect choice to light up this cozy French reading corner with a green velvet accent chair.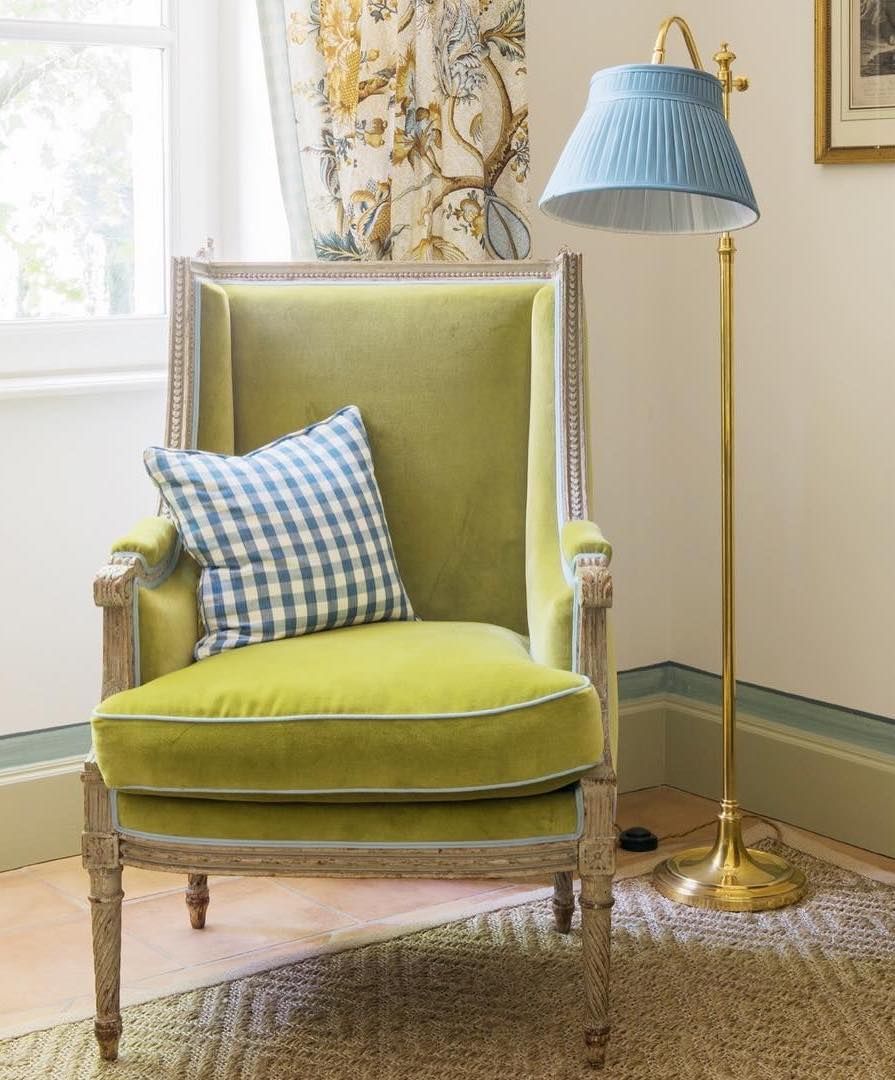 French Louis Chair
This vintage style French reading nook has a simple sitting chair and foot rest for long hours with your feet propped up while reading a good book! A plush French throw pillow provides back support when needed.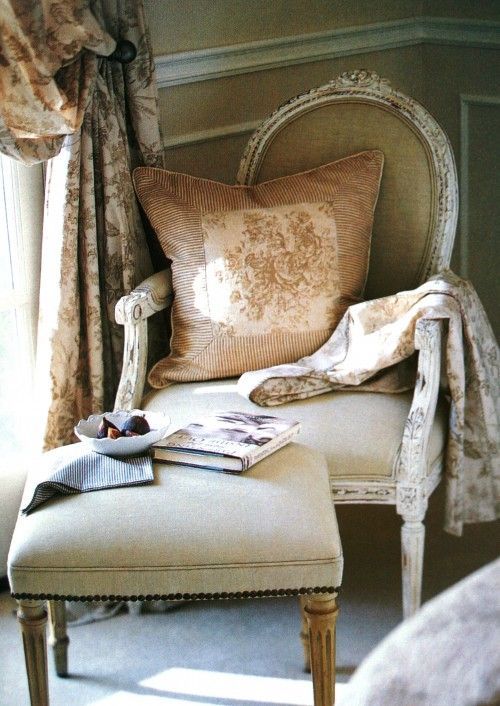 French Doors
I really like the design of this small French library and reading nook. The double French doors let natural light into the space which has a small sofa, and two sitting chairs. Built-in bookshelves hold dozens of books for easy access. I like that you can step outside for some air when you please.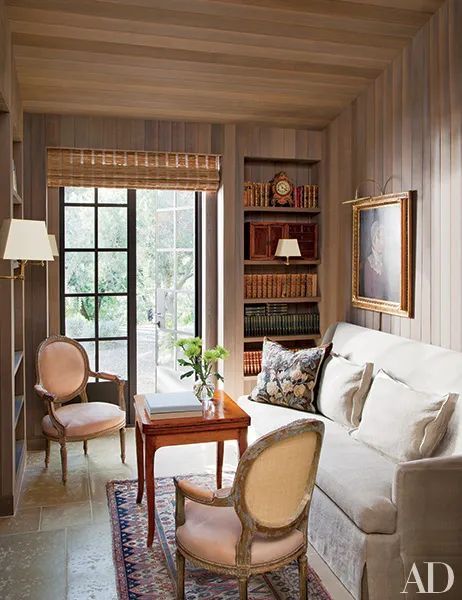 I hope these French country decorating ideas inspired you to create a cozy reading corner in your home! Let us know your thoughts in the comments below!
More French Country Home Decorating Ideas
If you want to continue reading our French country decor guides, then don't miss these related post on French countryside interior design:
Happy curating!