I've seen the phrase on countless blogs and interior design publications. But I never quite knew for sure: What is neo-traditional decor? Sometimes called the New Traditional interior design style, I set out to read as much as I could on this popular decorating style.
I started my search on Instagram as I so often do. I love that Instagram is search is still relatively untouched by blanket-fit algorithms, unlike Google. I get a mix of top posts and also recent ones – allowing me to see the latest photos of a particular decorating style and get a sense of the style in real life.
Well, apparently #neotraditional is associated with – TATTOOS – who would have guessed that? So I had to dig further into other platforms this time around!
Long story short, after a lot of digging, here is what I've learned. Quite simply, neo-traditional decor embodies a style that is rooted in traditional interior design, but with modern and contemporary updates throughout. It's an homage to traditional style with modern-day creature comforts that ensures we feel like we're living in our homes and not Grandma's.
You can check out the book called "The New Traditional" for more neo-trad eye candy, or keep reading along here.
Neo-Traditional Decor
Let's dive deeper into a few of the most common elements of neo-traditional interior design, furniture, and decorations.
Modern Design
Neo-traditional rooms are spacious with a modern design and layout. Furniture could have a modern form that keeps it looking fresh, however, it is usually upholstered with traditional fabric. Or, it could have a traditional design with modern upholstery. The key is to effortlessly blend old and new.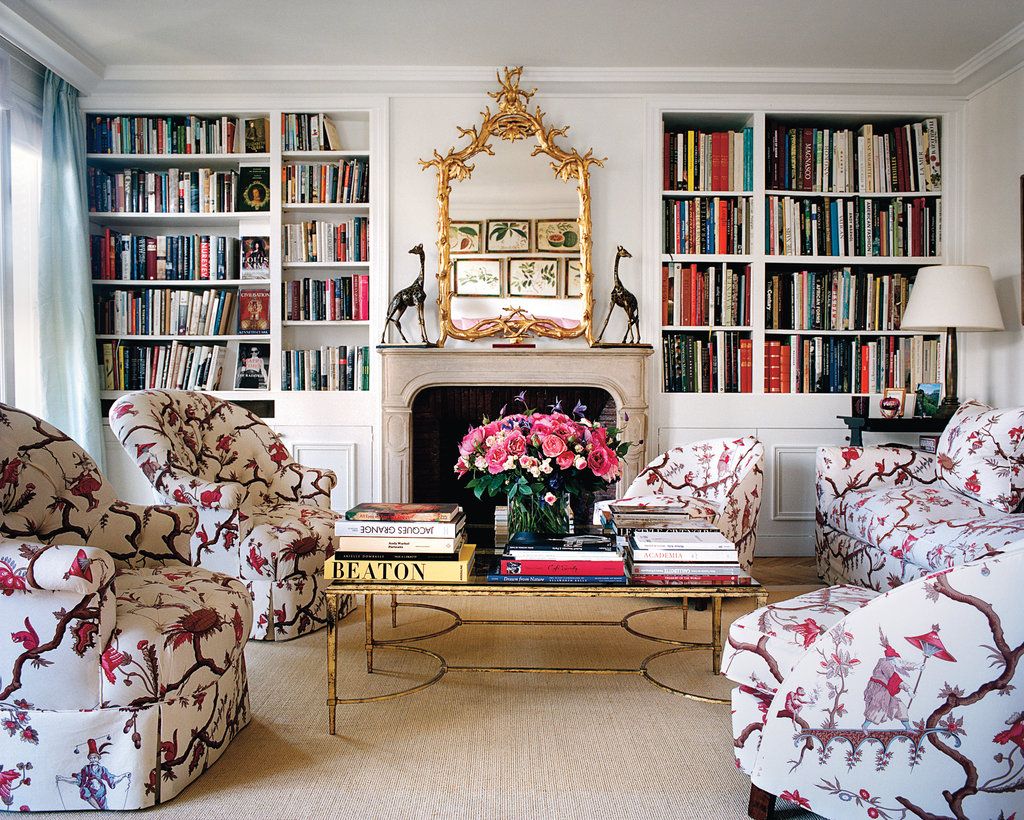 Painted Furniture
You'll see lots of painted furniture in glossy hues in neo-trad rooms. It's usually in a bold color. Take a look at this red nightstand against a green striped wall. Eye-catching, no?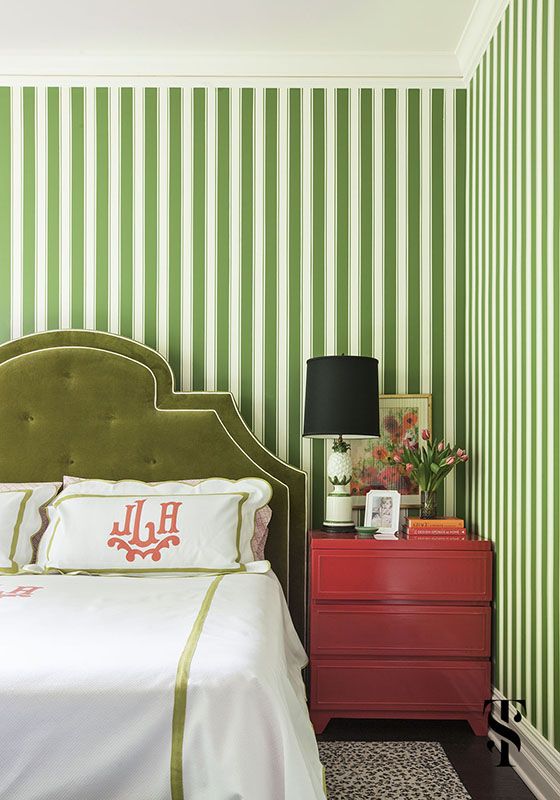 Monochrome Rooms
I often come across Neo-trad rooms decorated in different shades of just one color. Check out this monochrome green family room by Summer Thornton.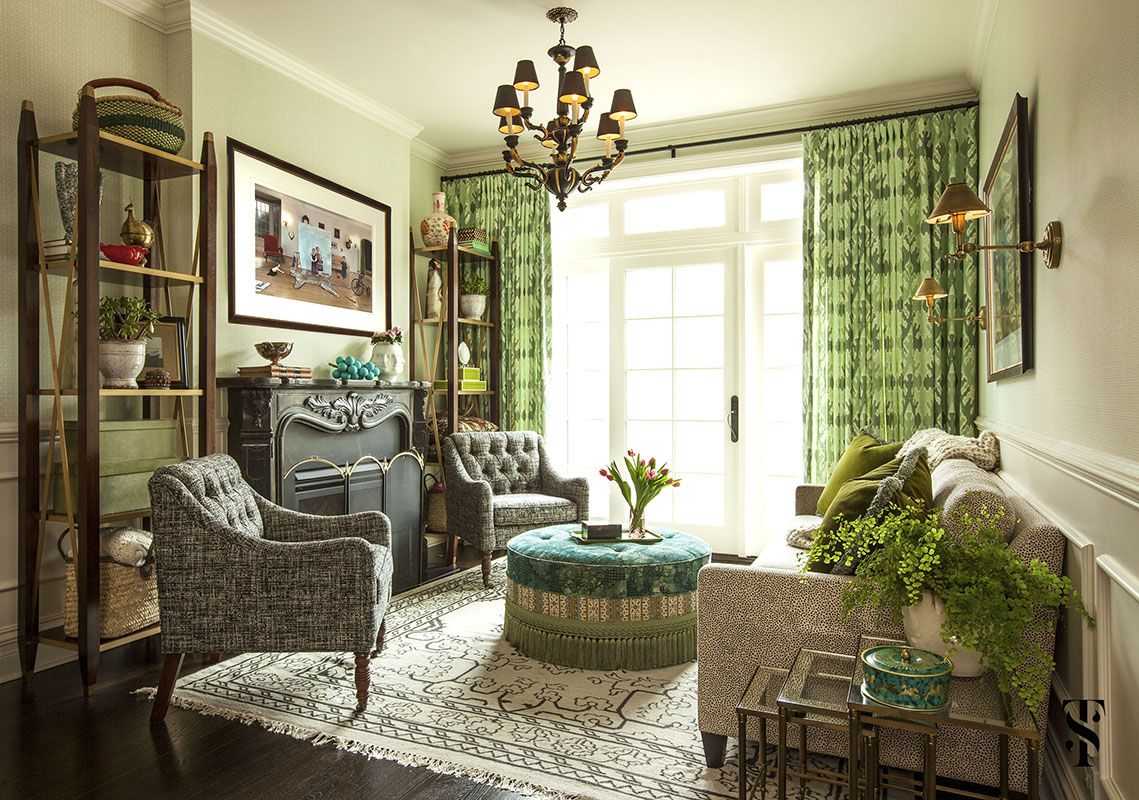 Dark Accents
Whether it's a black piece of furniture or a midnight blue bookcase, you can often find a dramatically dark accent in the room.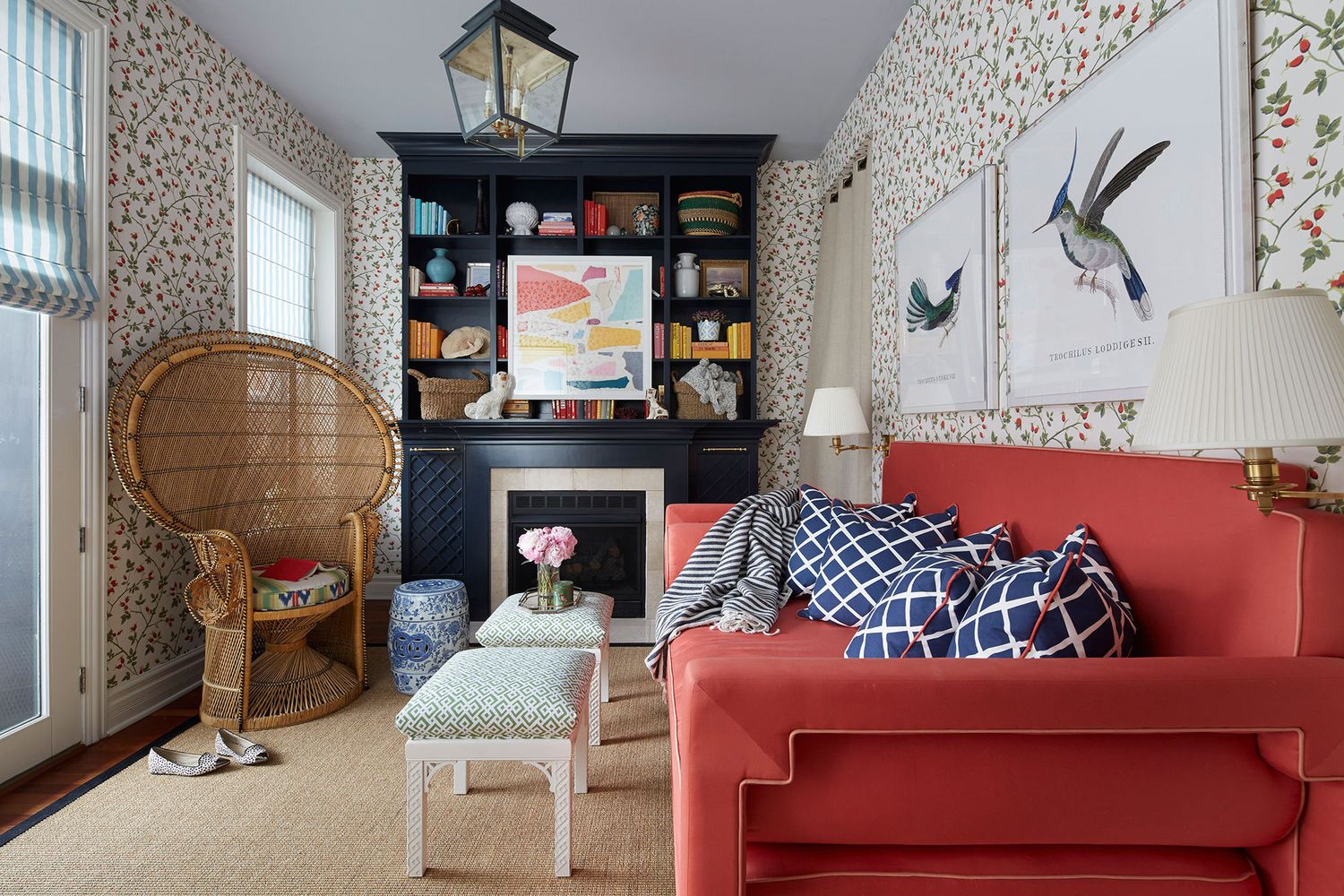 Chinoiserie
There's almost always at least one chinoiserie piece in neo-traditional rooms. Most often, I see a chinoiserie garden stool, as seen below. This room has a lot of neo-trad elements going on besides the chinoiserie stool, from the patterned wallpaper to the blue monochrome, to the traditional skirted chaise lounge.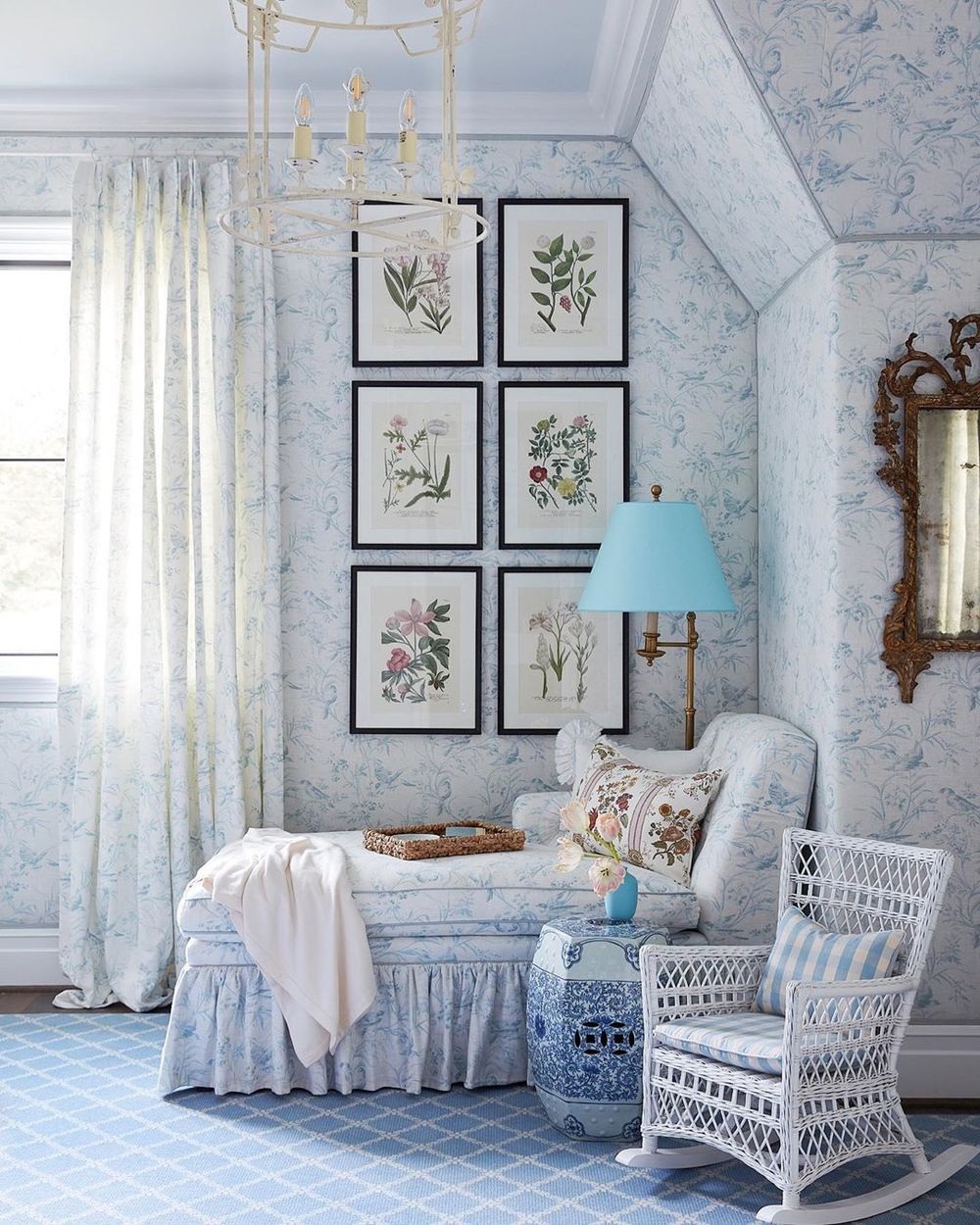 Rich, Saturated Colors
You won't find many pale colors here, except maybe in small amounts! Colors in neo-trad design are bold and rich. I love the interaction between this lime green table lamp and sky blue office chair below.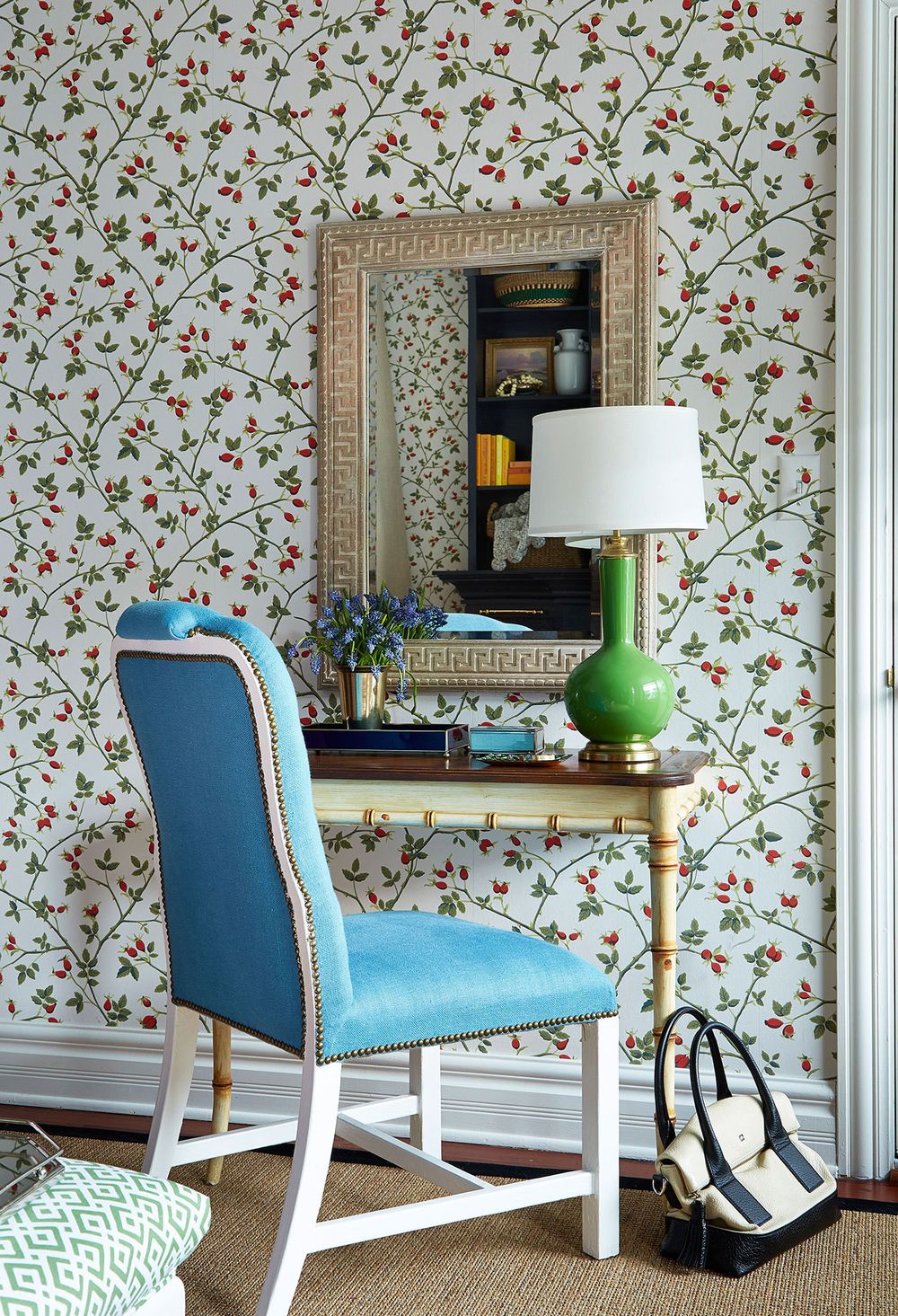 Contemporary Patterns
If there is a traditional form of furniture, then it's most likely upholstered in a contemporary pattern, and vice versa. I see lots of mod, geometrical patterns in neo-trad homes, like the rug below.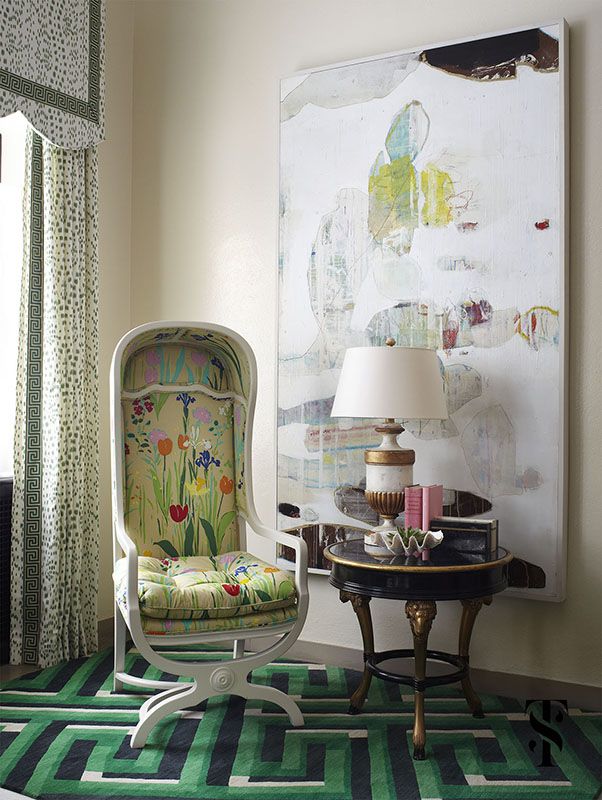 Oriental Rugs
The oriental rug is holding out strong through neo-traditional design. This kitchen's geometrical tile backsplash is also very neo-trad.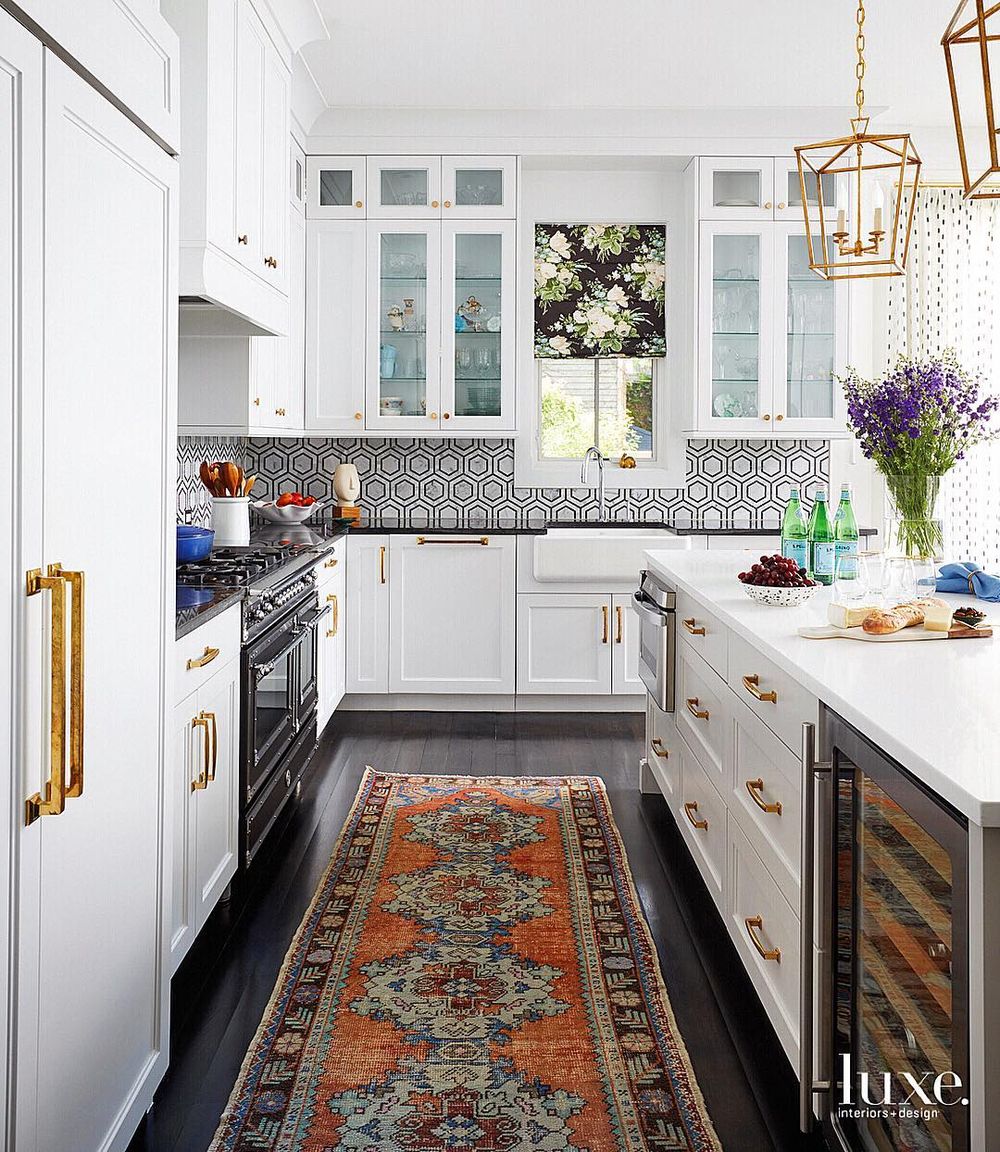 Thick, Colorful Curtains
Curtains make a bold statement in neo-traditional homes. Naturally, they are a bright, saturated color.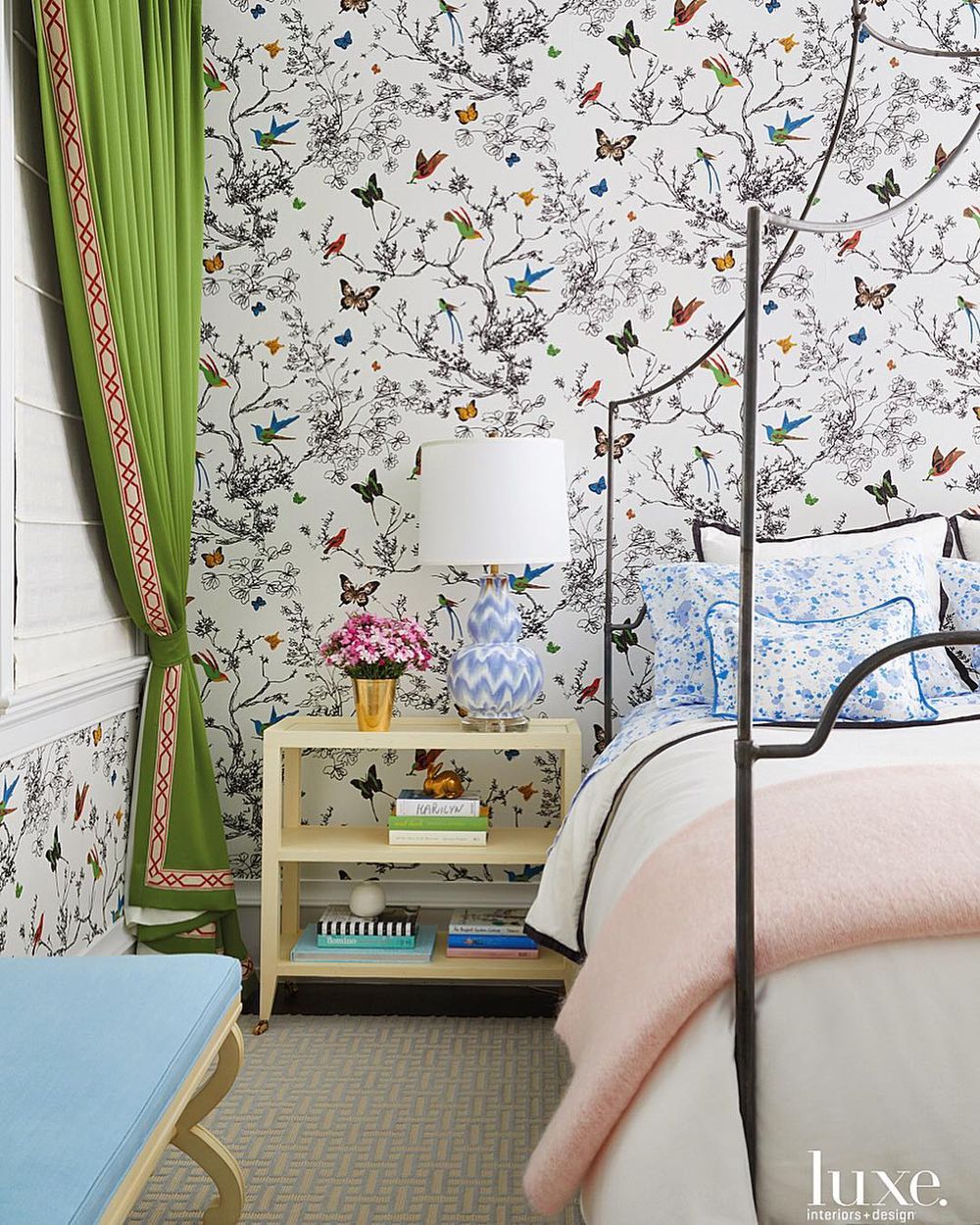 Intricate, Patterned Wallpaper
Lastly, you can't miss the bold and intricate patterned wallpaper of neo-traditional interiors. Often whimsical in nature and with motifs like birds or flowers, it creates a sense of business in the room.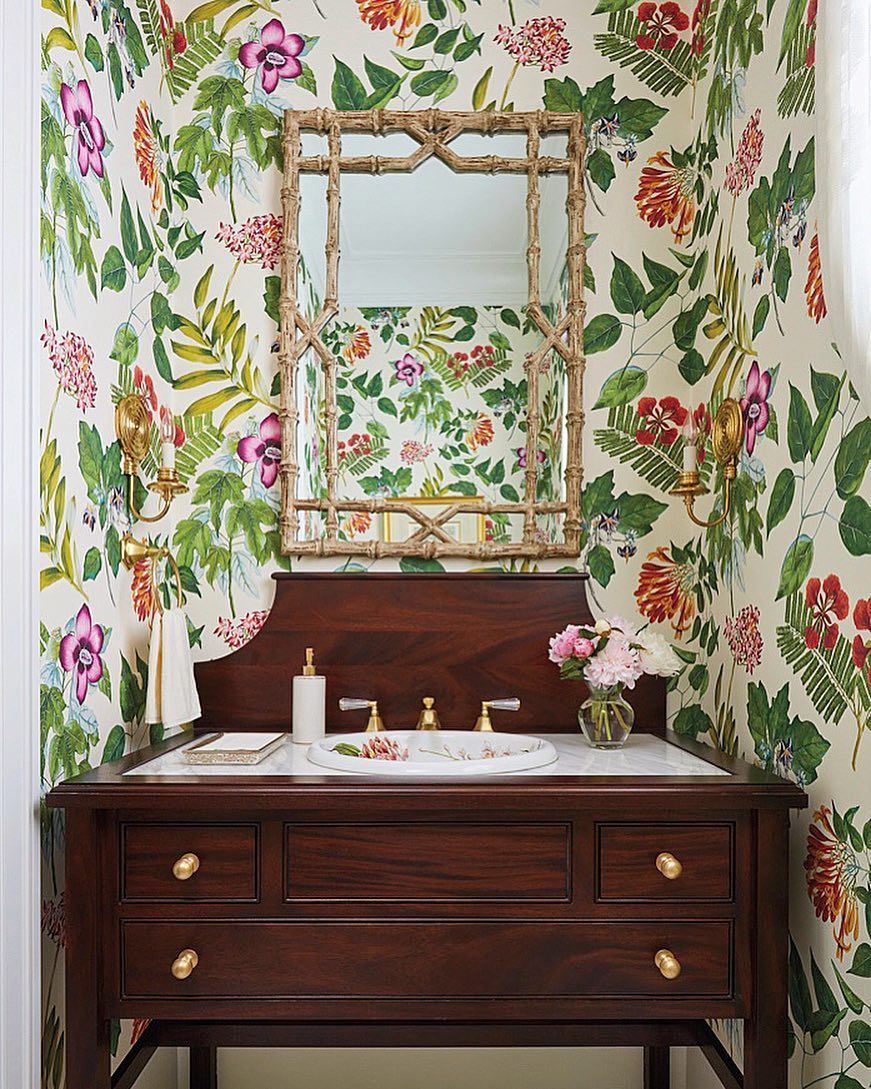 Overall, I think the neo-trad style is very busy and not for the faint of heart. It can be overwhelming at times, but there are definitely some talented interior designers who make it look easy to pull all of those contrasting colors and patterns together. (I'm sure it's anything but!) Personally, it's a little too busy for my style, although I appreciate the design work behind many of these rooms. I could see myself purchasing one or two pieces from this style, but I'd have to tame things down a lot before I'd be happy.
Neo-Traditional Room Design
Neo-Traditional Inspiration
For more Neo-Traditional interior design inspiration, I recommend checking out:
What do you think of the neo-trad decorating style? Could you see it working in your home?