Nestled in the heart of our homes, furniture and decor are more than mere functional pieces; they're the embodiment of our style, comfort, and personality. A name comes up quite often on lists of the best home decor stores and I'm sure you'll recognize it: Crate and Barrel!
When it comes to selecting the perfect elements to create a cozy and elegant atmosphere, Crate and Barrel is a name that resonates with many American women. A powerhouse in the home furnishing industry, Crate and Barrel offers a diverse range of products, from chic dinnerware to plush sofas that promise both quality and aesthetic appeal.
In this review, I'll cover Crate and Barrel's unique offerings, dive into the quality, design, and value that has made it a beloved brand among style-conscious homemakers, and share my personal opinion on this store.
Whether you're a long-time design aficionado or a curious first-timer, this detailed exploration aims to uncover what makes Crate and Barrel an exceptional choice for men and women across the nation seeking to adorn their homes with charm and sophistication.
About the Crate and Barrel Brand
Crate and Barrel is a renowned retail chain that specializes in home furnishings, decor, and housewares. The company's unique aesthetic and quality products have made it a go-to destination for home enthusiasts across the United States and beyond.
The story of Crate and Barrel began in 1962 when a young and newlywed couple, Gordon and Carole Segal, found themselves frustrated with the lack of contemporary and affordable housewares available in the market. Inspired by their European honeymoon where they saw simple, beautiful, and affordable glassware, they envisioned bringing a similar style to the American market.
With a $17,000 loan, they opened the first Crate and Barrel store in Chicago's Old Town. The store's name was inspired by the actual crates and barrels that they used as display fixtures to hold the merchandise. Their concept was revolutionary at the time, as they opted for an open, airy store layout with products displayed so customers could easily interact with them. This was in stark contrast to the more formal, untouchable presentations common in other stores of that era.
Best-Sellers from Crate and Barrel
Crate and Barrel's best-sellers are a blend of timeless design and modern innovation, capturing the attention of those seeking to enhance their living spaces with style and functionality.
Among the top picks, you'll often find the Lounge Sectional Sofa, renowned for its deep, comfortable seating and variety of fabric options, tailored to fit any aesthetic.
The French Kitchen Collection, including the Marble Pastry Slab and the Prep Table, offers elegant European flair to the kitchen with its classic design.
Their wide selection of lighting solutions, such as the Clive Brass Chandelier, often finds its way into the hearts of homeowners looking for a sophisticated centerpiece in dining or living areas.
For contemporary design lovers, the Annie Natural Storage Cabinet by Leanne Ford brings versatility and sleek lines, allowing for customization to fit specific needs and spaces.
In the realm of dining, Crate and Barrel's Mercer Dinnerware Collection stands out for its simple, yet refined appearance, perfectly suited for both everyday use and special occasions.
Finally, among the softer touches, the Macon Beige Chenille Area Rug and the Aire Crinkle Cotton Linen Blend Cream Comforters offer both resilience and luxury, making them top textile choices infuse comfort with refinement.
Each of these best-selling products from Crate and Barrel carries with it the promise of quality and thoughtful design, epitomizing the brand's ethos to design products that resonate with the lifestyle of contemporary American women.
Is Crate and Barrel a Good Brand?
Yes, Crate and Barrel is widely regarded as a good brand and its customer base tends to be women who value good design.
Crate and Barrel's products are known for their superior materials and craftsmanship. Whether it's the dense weave of a luxurious sofa or the flawless finish of a wooden dining table, the brand puts great emphasis on producing long-lasting products that withstand everyday wear and tear.
With a wide range of styles, from contemporary to classic, Crate and Barrel offers designs that cater to various tastes. Their in-house design team often collaborates with renowned designers like Jake Arnold and Leanne Ford to create pieces that are both trendy and timeless, reflecting the latest in interior design trends.
The brand's commitment to customer satisfaction extends beyond the sales floor. Crate and Barrel offers services such as design consultations, easy returns, and dependable delivery, enhancing the overall shopping and interior design experience.
Is Crate and Barrel worth the price?
Crate and Barrel is generally considered worth the price due to its value for quality, design, and durability. The brand's use of superior materials and meticulous craftsmanship justifies its higher price point compared to budget alternatives.
While not the most economical store, most customers agree that the brand's unique and stylish offerings stand the test of time. The company's customer service, including design consultations and dependable delivery, adds to the perceived value. Crate and Barrel's pricing aligns with its positioning as a higher-end retailer, offering a good balance of quality and aesthetics.
I recently purchased the large Crate and Barrel x Jake Arnold Leo Marble Tray for my entryway area and am super happy with what I received, even though the pink is somewhat darker in hue than the product photo showed online. I love the unique look of this tray and it's a product I haven't been able to find elsewhere. It was quite expensive but most marble is pricey, so this was to be expected.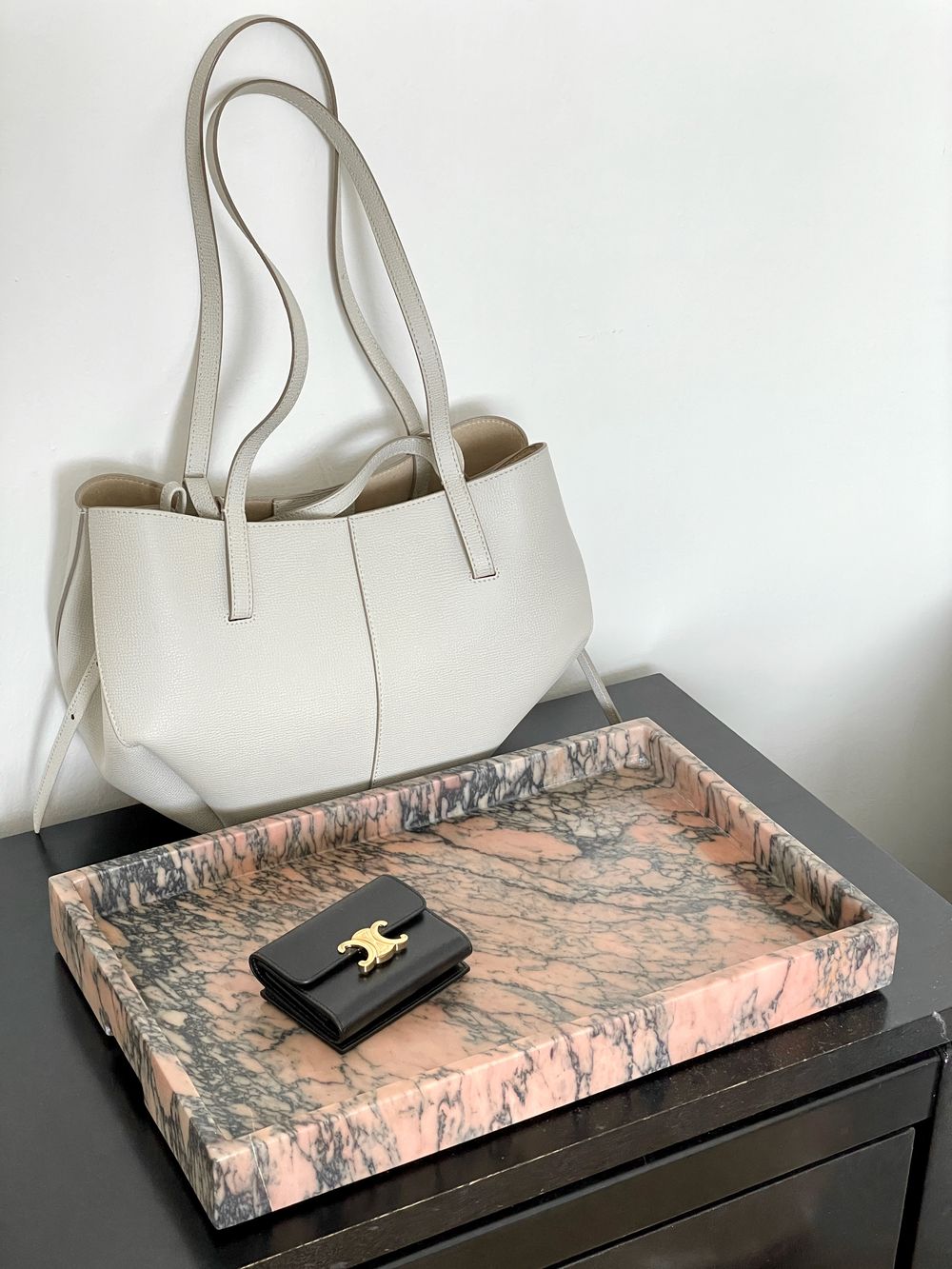 Is Crate and Barrel considered high end?
Crate and Barrel is often considered a high-end retail brand in the home furniture industry. Its reputation for offering quality materials, contemporary designs, and superior craftsmanship places it in a category above many mid-range competitors.
While not as exclusive or expensive as some luxury brands, Crate and Barrel's home products are priced higher than budget-friendly alternatives, reflecting their commitment to quality and style.
I would say that Crate and Barrel occupies a space that merges accessibility with luxury, making it a smart choice for upscale design without venturing into the ultra-luxury market.
Is Pottery Barn the same as Crate and Barrel?
Pottery Barn and Crate and Barrel are not the same, although they are often compared due to their similarities in the home design market. Both brands cater to consumers looking for quality furniture and home decor, often offering stylish and contemporary designs.
Despite these similarities, they have distinct aesthetics and product lines; Pottery Barn is known for its classic, comfortable American style, while Crate and Barrel tends to lean towards modern and innovative designs. They operate independently of each other and have their own retail stores, e-commerce platforms, and unique brand philosophies.
Does Crate and Barrel Ever Have Sales?
Yes, Crate and Barrel does have sales, providing opportunities for customers to purchase their quality products at reduced prices. These sales often occur during key shopping seasons like Black Friday, Cyber Monday, and post-holiday clearance events, as well as at the change of seasons when new collections are introduced. The brand also hosts special promotional events and offers discounts on specific categories or items throughout the year.
Crate and Barrel Loyalty Program
Yes, Crate and Barrel does offer a loyalty program in the form of a credit card (the Crate and Barrel Credit Card). This program is designed to reward loyal customers with a variety of benefits. Cardholders typically earn around 10% back in rewards (subject to change) for every purchase made at Crate and Barrel, CB2, and Land of Nod stores, along with special financing options.
Crate and Barrel Return Policy
Crate and Barrel has a fair return policy to its customers. Currently, Crate and Barrel accepts returns of non-furniture items that are new and unused within 90 days of receipt as long as you have the proof of purchase. Shipping fees are never refunded.
Furniture and rugs can be returned as long as they are new and can be sold again by the brand – only within 30 days of delivery. Custom or personalized items are ineligible to be returned.
Can you return Crate and Barrel items bought online to the store?
Yes, you must return the merchandise to the same brand you bought it from (ie. Crate and Barrel vs. Crate & Kids) and you can return online merchandise in-store.
Does Crate and Barrel replace items broken during shipment?
Yes! If your item arrives damaged, as mine did, Crate and Barrel will replace it quickly free of charge.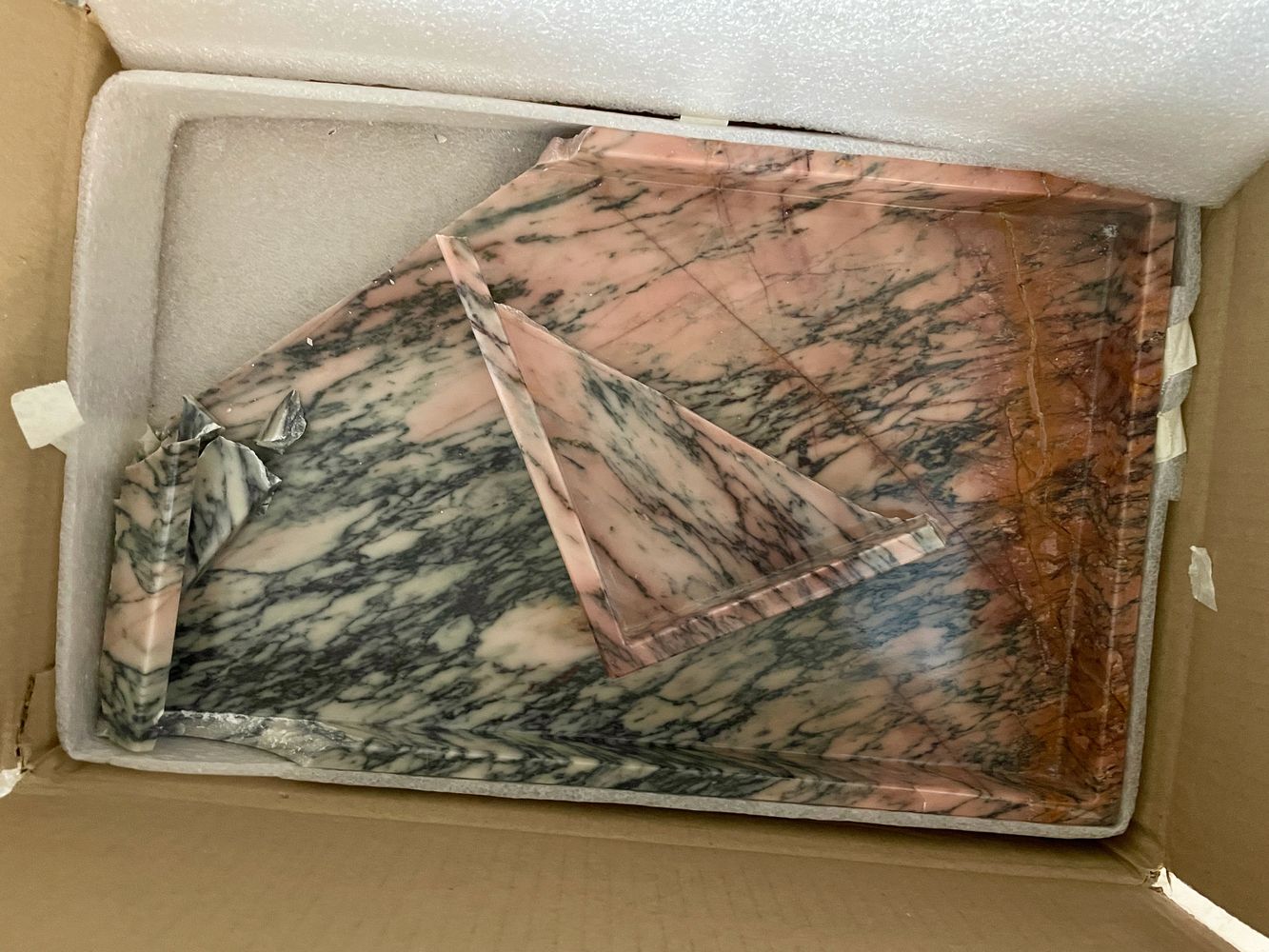 Does Crate and Barrel do price adjustments?
Crate and Barrel has a Price Match Guarantee that will match lower prices found elsewhere on identical, name-brand items.
---
I hope you found this Crate and Barrel review useful! Let me know your Crate and Barrel questions in the comments below.