Quince has been making waves in the home decor world over the past few years with their direct-to-consumer model that offers high-quality essentials at affordable prices. Today, I'm excited to provide an in-depth review of several popular Quince products after testing their linen bedding.
From cozy textile bedding to stylish yet comfortable bath towels and rugs, Quince aims to disrupt the typical home goods market by eliminating middleman markups and providing customers with luxury-level items without the typically inflated price tags.
Read on for the pros and cons of Quince's offerings based on my personal experience fully furnishing a home with their products, as well as tips for how to incorporate their minimalist, versatile aesthetic into your own space. Whether you're looking to give your home a budget-friendly makeover or are curious about the direct-to-consumer approach, this comprehensive Quince review is for you!
What is Quince?
Quince is a lifestyle retailer selling clothing for men and women, home linens and decor, baby and kids products, and even travel accessories like suitcases and organizers. Quince believes in elevating the every day through sustainably made and affordably priced products. It's the epitome of affordable luxury.
Quince is able to keep prices low by following a DTC (direct-to-consumer) business model which cuts out most of the middle-men of traditional retail, getting the products to you faster and more efficiently. This translates into lower costs for the end consumer, as well as a more sustainable logistics pathway.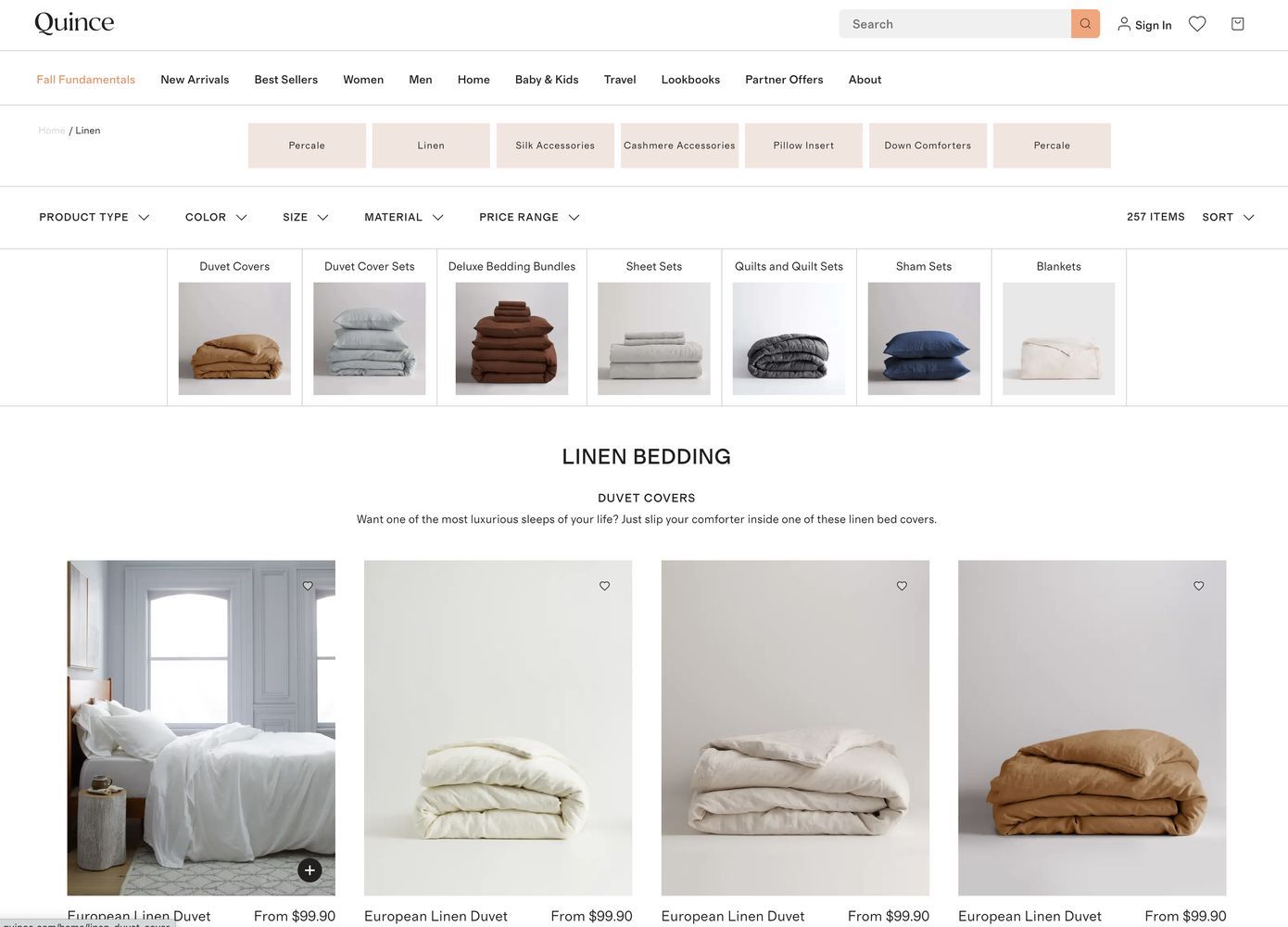 Is Quince Legit?
Yes, Quince is legit. Quince is based in the United States and has many happy customers who received the products they ordered in a timely manner.
Who Owns Quince Clothing?
Quince was founded by Sid Gupta in 2018. The company is based in San Francisco, CA.
Is Quince a Good Brand?
Yes, overall Quince is regarded as a good brand for everyday, lifestyle products like clothing, home textiles, and travel products.
Quince Home Goods
What kind of home goods can you buy from Quince? I'll dive into the various Quince home goods for sale so you can explore if they're worth buying or not!
Bedding
Quince offers a wide selection of bedding including sheets, duvet covers, quilts, and pillowcases made from quality materials like organic cotton, linen, and silk. Bedding options include sheets, duvet covers, and quilts. Their bedding comes in classic neutrals as well as fun prints and designs at affordable prices. These products come in various colors and sizes to match any bedroom aesthetic.
Bath
The Quince bath section features towels, bathrobes, and bath mats. The towels are usually made from Turkish cotton. The bathrobes come in both lightweight and plush options. The mats have non-slip features for safety.
Rugs
Quince has a decent selection of rugs for different spaces. They offer area rugs, runners, and doormats. These rugs are available in multiple textures such as wool and jute. They also come in different patterns and sizes.
Kitchen and Tableware
For the kitchen, Quince sells decorative and functional ceramic dinnerware, glassware, and serving pieces. Their offerings include classic white porcelain along with handmade artisan ceramics in colorful glazes.
Home Decor
Quince's home decor includes pillows, throws, candles, planters, organizers, and more. Their in-house designers create stylish accents that can complement any existing interior design scheme.
Window Treatments
Dress up your windows with Quince's sheer curtains, linen curatins, bamboo shades, and velvet curtains. They offer essential rod and ring hardware and a variety of fabrics to control light and privacy.
Wall Art
Add visual charm to blank walls with Quince's collection of wall art including prints, tapestries, mirrors, and wall sculptures. They work with independent artists to offer affordable statement pieces.
Baby, Kids, Pets
For the little ones, Quince sells crib sheets, quilts, blankets, stuffed animals, and decor for nurseries or kids' rooms. They also offer pet beds, bowls, and accessories to pamper your furry friends.