Looking for the best mid-century modern sectional sofas for your family room? People with large family rooms or with large families love using sectional sofas as a part of their home decoration. Sectionals are a very versatile piece of furniture and a smart choice!
Sectionals are usually divided into square blocks. Oftentimes there are attachments, such as lounge blocks and recliner blocks. The blocks can vary depending on the needs of the customer buying the sofa. Furniture stores that sell sectionals will usually display them in a very large manner to illustrate how much variance in designs one can have.
With a standard sofa, you are often limited to 3 blocks, and with a loveseat, you are limited to just two! However, with a sectional sofa, you can have as many blocks as will fit in the room and each block can have a specific purpose.
People who like to entertain or have lots of visitors will especially benefit from a sectional sofa because the blocks can be moved around to meet whatever need arises.
Mid-Century Modern Sectional Sofas
When a furniture company designs their mid-century modern sectional sofas, they usually look to have a very simple design. The sofa is usually uniform in both the way it is upholstered and the color that is used, preferring solids over patterns.
The legs of the couches are usually quite thin, almost like peg legs, if they are not completely hidden, and the sofa itself is usually upholstered with a durable material such as velvet or rayon. Leather is very luxurious with this type of design as it is harder to mold into the shapes that the mid-century modern sectional sofas would be made in.

These sectional sofas more often than not consist of one main shape that is broken into several modular pieces that are fit together in a way to make it look like one couch. This design favors non-abstract shapes such as squares and rectangles, and if curved, the design is made to be consistent.
As you can see, each of these mid-century modern couches would look fabulous in a mid-century modern living room design such as the one below.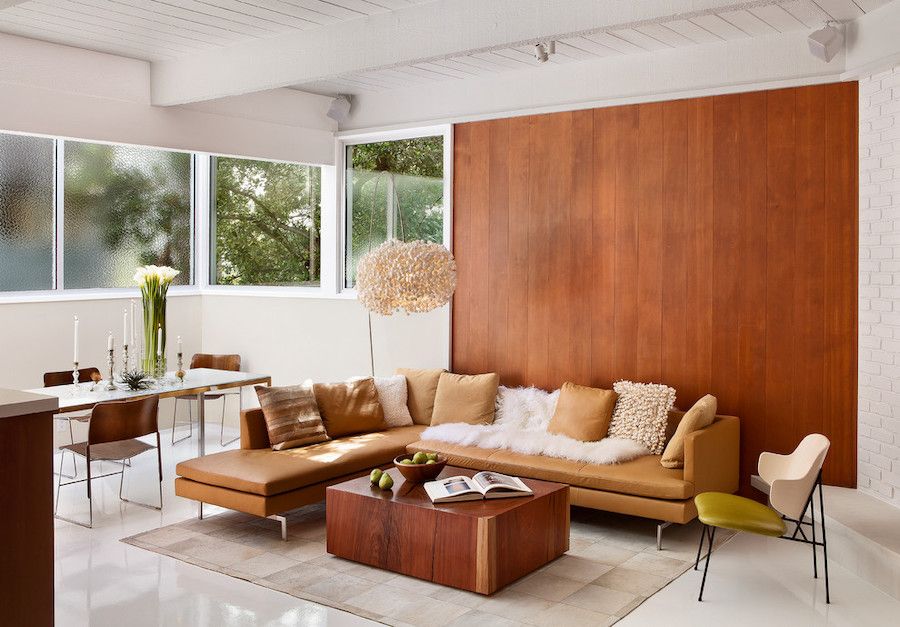 What is Mid-Century Interior Design?
Mid-century modern design is named such because of the atmosphere in which it was designed. The period after World War II was marked as a period of intense growth and optimism. The designs of the era reflected this. The mid-century design relied on using bright colors, space-age materials, and simplicity in the design. There was an emphasis on combining both curves and straight lines, in an attempt to combine form and function. This attitude can be seen in all sorts of goods including vehicles, appliances, and furniture. This was also a period that had a desire to decrease clutter and heralded the beginning of minimalism in interior design.
The 1950s and 60s also started a trend of moving families out of the city into the suburbs. This change required the creation of furniture that was less expensive and more durable to meet the needs of the growing families that were coming into existence at the time. These large families also demanded large vehicles which are known as "land yachts" today due to the fact that we do not build cars as large, or with as strong of material as they did in that era.
More Mid-Century Modern Decor Ideas
Keep reading about mid-century modern design with these related articles you might find interesting: