Are you looking for a full mid-century house makeover? Then you are in the right place! Below we'll explore some of the most iconic mid-century furniture designs, created by some of the most brilliant architects and designers, from chairs to sofas to tables and more! Mix and match your favorite pieces to create your most desirable mid-century paradise.
Wassily Chair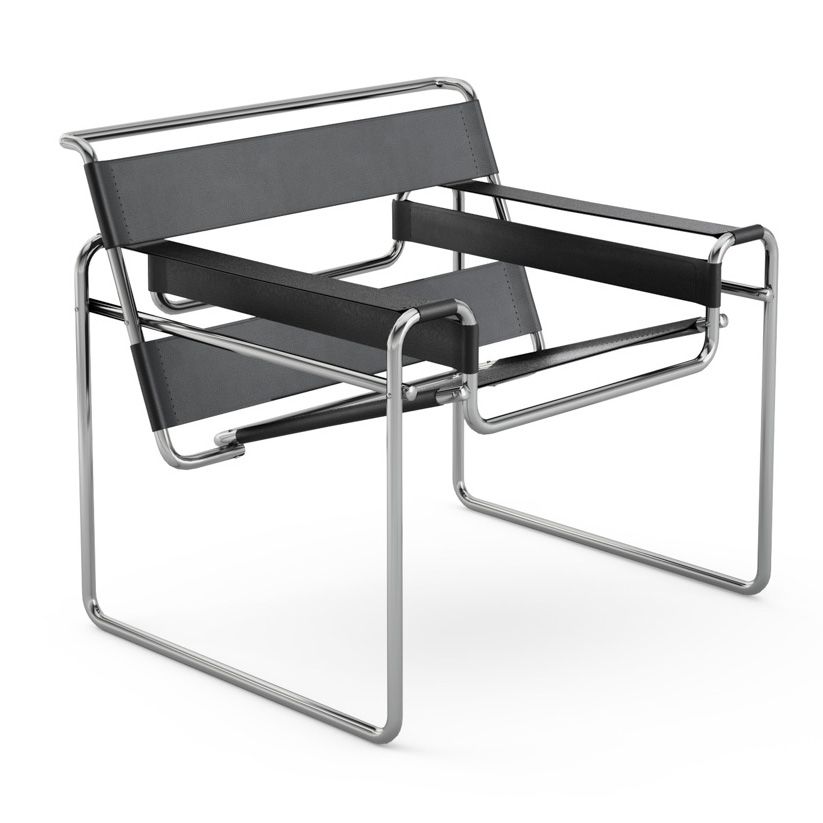 Hungarian artist Marcel Breuer created the Wassily Chair, using inspiration from his bicycle to craft a tubular steel frame. The Wassily Chair is thought to be the first of its kind using this type of frame, which soon became a staple for modern furniture makers. The original design was created at Bauhaus and the prototype was named B3, however, when it was discovered that abstract artist Wassily Kandinsky admired the design, it adopted his name. The iconic mid-century chair is angled with your back sitting lower to the ground so you can really sink in. It's available in stretched leather and cowhide, depending on your style.
Noguchi Coffee Table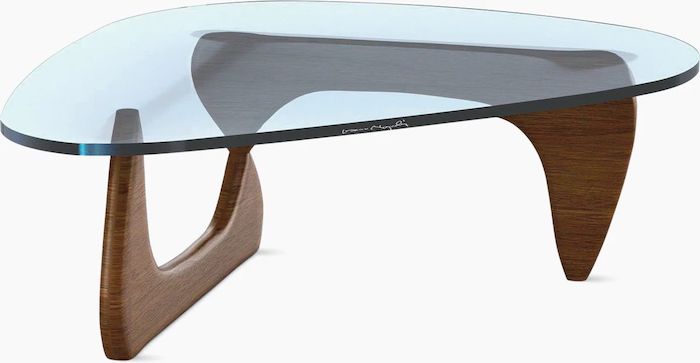 Elevate your living room with a classic Isamu Noguchi glass-top coffee table. Noguchi's design theory was shaped by art techniques from Mexico, Japan, China, and Italy. During his career, he had studios in both Japan and New York, where he designed his famous coffee table: a simple interlocking wooden base topped with chic curved glass. This table comes in black, walnut, white oak, or white ash which can accent a variety of styles. It was originally manufactured by Herman Miller in 1944 and is still available on their site for a little over two-thousand dollars. Its unique candy-corn shape looks different from every angle. Pair it with any of the furniture on this list to bring your room together.
Eames Lounge Chair and Ottoman
The Eames Lounge Chair and Ottoman were created by the happy mid-century couple, Charles and Ray Eames. As many designers were striving for at this time, the Eameses wanted to create an iconic mid-century lounge chair that included both form and function and they succeeded! Its wooden frame covered by plush leather was designed for you to sink in, like a ball in a baseball mitt. The chair is ergonomic and includes a natural recline, and lower back support, and is paired with an ottoman so your whole body can truly rest at ease. You can find the chair in a couple of finishes, but the most striking is the rosewood base with black leather upholstery. This chair would go great in a reading nook or family room.
Jean Royere Polar Bear Sofa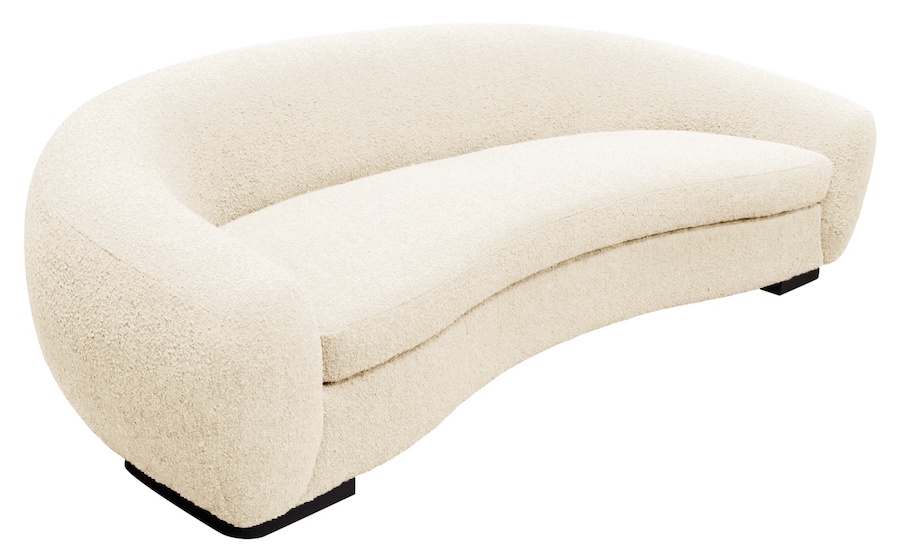 If you're looking to fill a large space, the Jean Royere Polar Bear Sofa might be in your cards. The Polar Bear Sofa, originally called Boule, made its way back on the scene in recent years as celebrities like Kanye and Jennifer Aniston added this exuberant piece to their personal collections. The iconic mid-century sofa was originally created in 1947 with a wooden frame covered by white velvet – you can imagine how it got its name. The sofa looks amazing paired with Royere's egg chairs. Less than 200 sofas were manufactured, making this a high-ticket item that often receives six-digit offers if they are ever available. You read that right; in 2016 one sofa was purchased at an auction for $754,000!
Saarinen Tulip Dining Table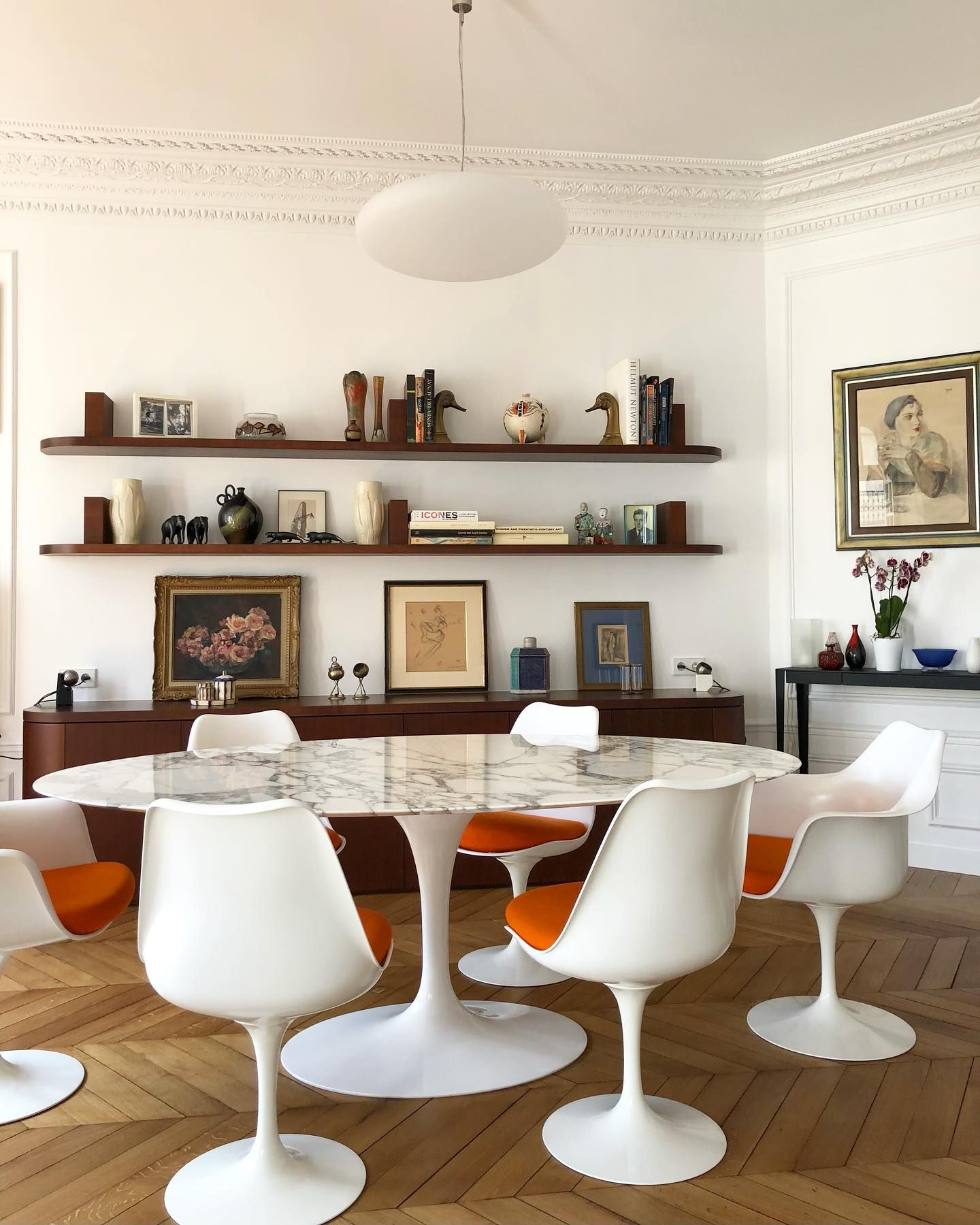 Finnish-American architect Eero Saarinen's 1957 Tulip Dining Table is understated yet elegant. Saarinen revolutionized the base of a dining table by removing some of the clunkier features and creating a sleek cast aluminum stem base in white or black. The table top is available in custom laminate, marble, or wood to match a wide range of dining rooms. Complete the set with a matching chair or stool from the Tulip collection, each with a matching hourglass-shaped base. The dining table is available in a variety of sizes and even comes in an outdoor model to elevate your backyard eating space. You can see the full collection in Knoll's catalog.
Florence Knoll Sofa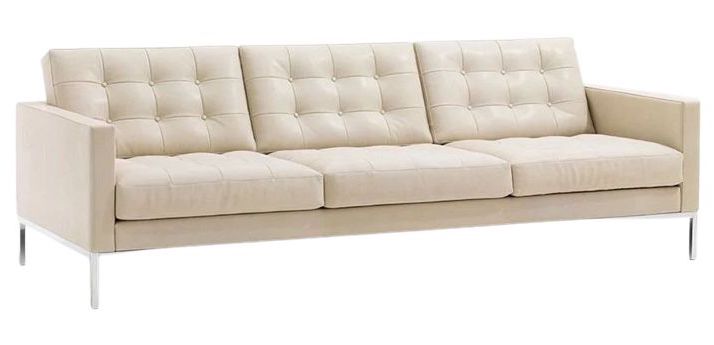 Florence Knoll is an American architect that was skilled at networking and building relationships with many of the top mid-century designers mentioned in this article. Her designs, and those in her network, helped build the Knoll brand and catalog, alongside her husband Hans Knoll. The Florence Knoll Sofa is one of the most iconic office furniture pieces of its time. As a designer, Knoll was interested in geometric shapes and creating strict lines, which lends itself to the boxy shape of her sofa. She considered it the "meat and potatoes" of office furniture; not considerably elegant, but a staple that was begging to be made. Outside the office, this timeless piece would be a great addition to a minimalist living room space, elevated by your favorite accent pillows. It's available in two-cushion or three-cushion options.
Corbusier Sofa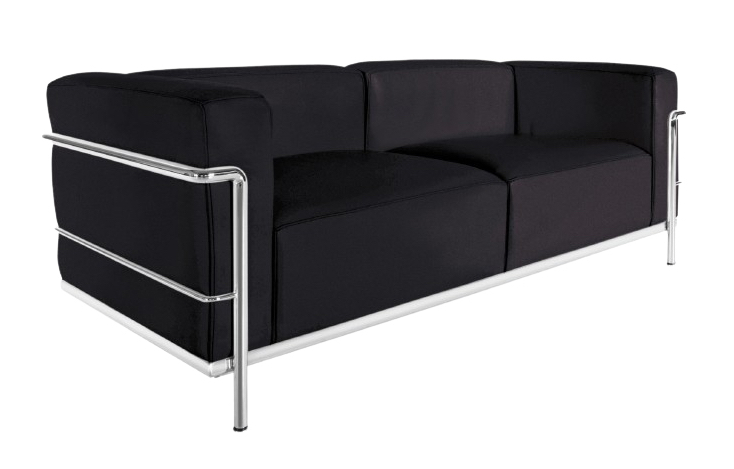 Designed by Swiss-French architect Charles-Édouard Jeanneret, aka Le Corbusier, the LC2 Corbusier Sofa comes in 2-seat and 3-seat models with custom upholstery options. The sofa is nested in a stiff steel frame, adding an element of surprise to an otherwise simple design. The shape of this sofa almost looks like a Tetris block, with high cushions, a sharp rectangular cut-out, and a low back. The collection includes matching chairs so you can complete your set or style independently. Due to the popularity of the sofa, many various reproductions exist, however, if you want to know if you've found an original, look for a serial number etched into the underarm of the upper left bar of the sofa's armrest. The Le Corbusier is still in production and can be purchased for $11,000 new.
Barcelona Sofa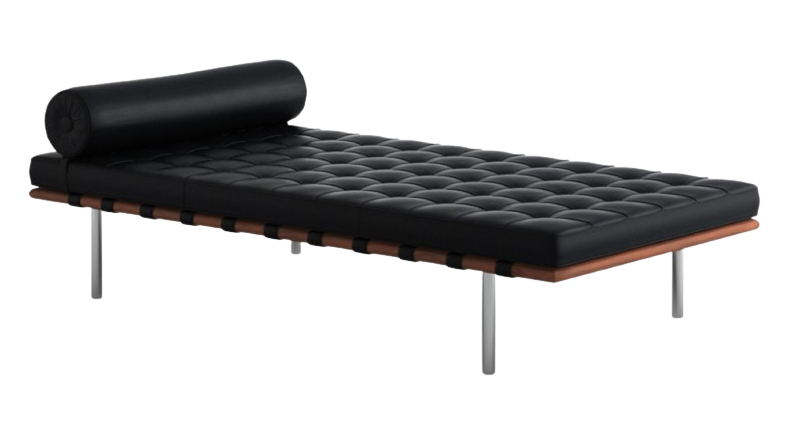 If you are looking for the perfect seating unit that won't block your window view, consider the Barcelona Sofa. Originally designed in 1930 by Mies van der Rohe, this modern upholstered lay-flat seating space comes with a small round pillow strapped to the end. The legs are made of simple stainless steel. Add a coffee table with your favorite mini arc lamp to turn it into the perfect reading spot. The design is available in a variety of upholstered leather styles and colors starting at around $12K. Although the Barcelona was initially intended to offer simple seating for an apartment-sized room, it is versatile enough to be a stand-alone piece or paired with chairs like Royere's egg chairs.
Ball Chair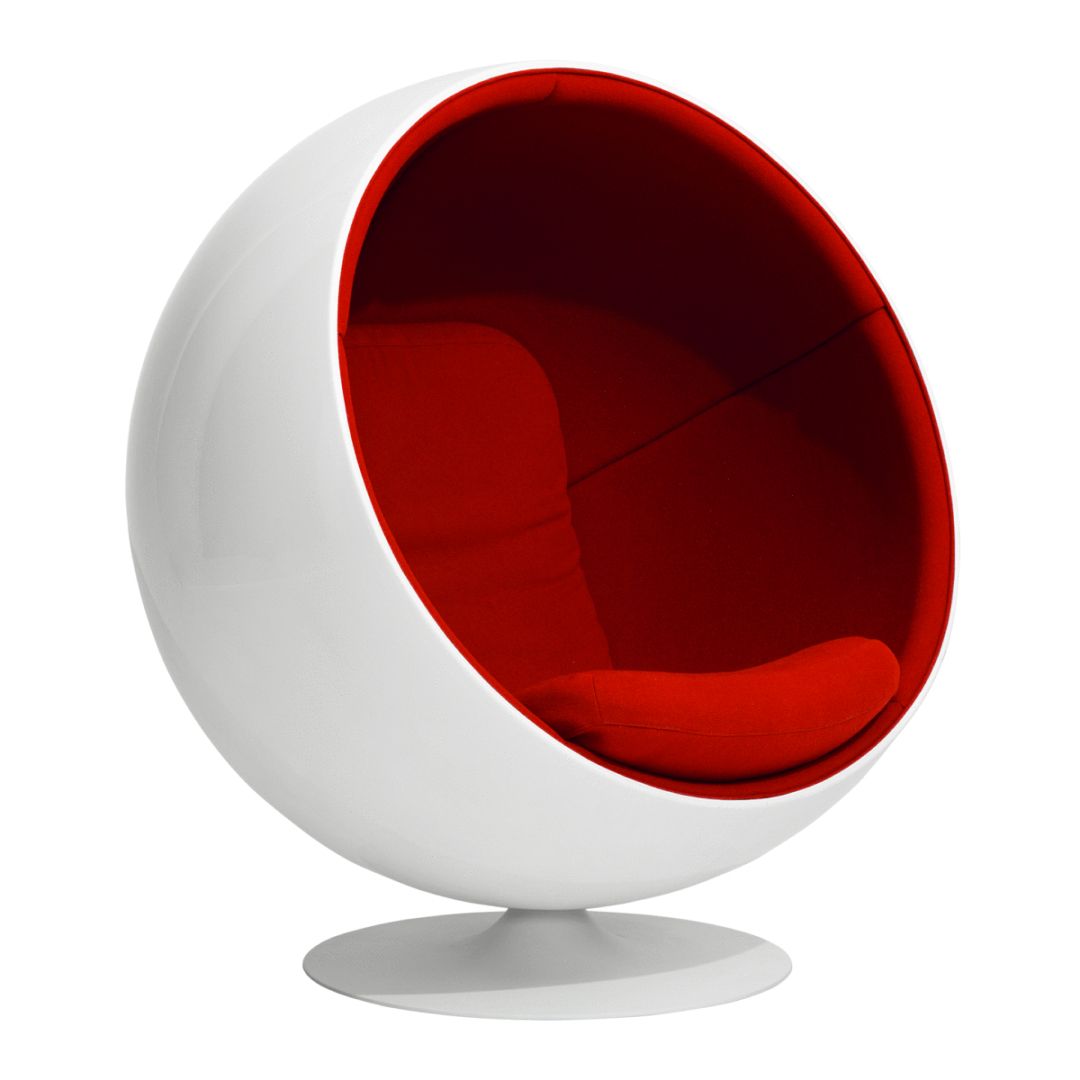 You can't help but want to photograph Eero Aarnio's 1960s Ball Chair. When it made its appearance at its first furniture fair in Cologne, it was quickly picked up by 30 different countries and talked about in the media and in museums. In the Finnish newspaper, Helsingin Sanomat, bragged, "This egg-shaped chair hides its users almost completely from view and it is also sound-proof." This would be the perfect chair to curl up in. Its shell is made of white fiberglass and piping with an upholstered interior and seat cushion. It has a short-round base, similar to what we saw in Saarinen's Tulip Collection. The Ball Chair would be a great reading nook in your home library, photo background for your thriving vintage business, or a bedroom accent chair.
Artek Stool E60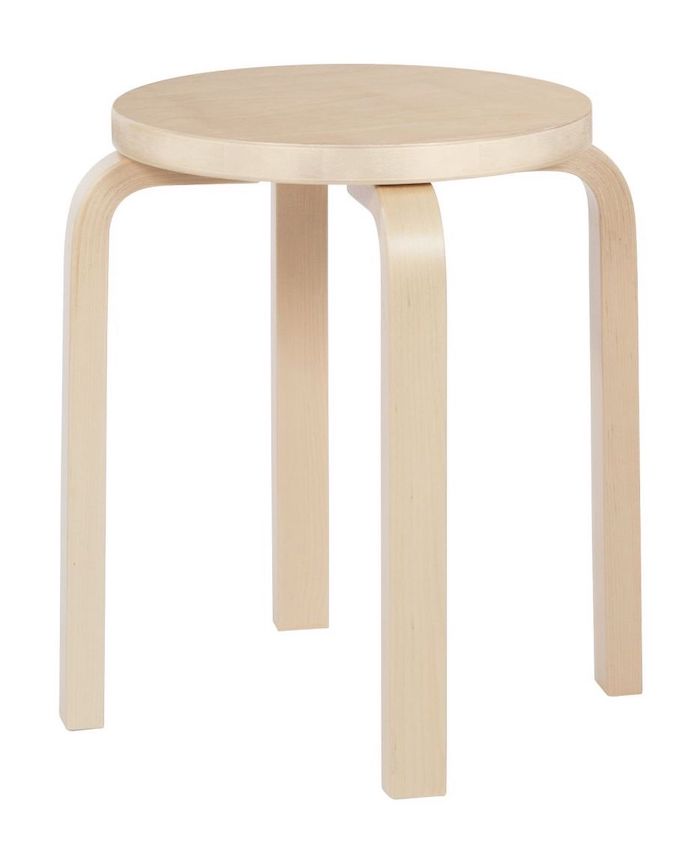 The Artek Stool E60 is incredibly simple but has withstood the test of time as an iconic piece. It was designed in 1933 by Alvar Aato. Because of its simplicity, it is staged in homes, corporate waiting rooms, educational settings, and anywhere where a simple stool or table might be needed. The stool is made of Finnish solid birch wood with a birch veneer. The stools can easily be stacked if you're looking for a seated option to easily pull out when guests stop by that won't take up much storage space. It can also serve as a side table to hold your favorite house plant.
Ikea used to have a close copy called the Frosta stool, but in their current collection, the Kyrre stool is closest in design if you're looking for a budget-friendly option inspired by the classic.
Wishbone Chair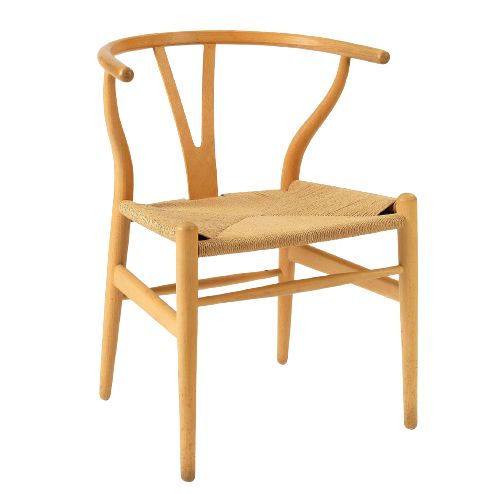 You can't find a more fitting name for a chair than the Wishbone. The two-pronged back of this wood-framed chair looks exactly like a turkey wishbone. The Wishbone chair was crafted in 1949 by Danish designer Hans J. Wegner during what is now referred to as "the Golden Age." There are over 100 steps that go into building this sleek chair, from hand-weaving the seat to carving the back and armrests from a single piece of wood to so much more. This chair is not only well-designed for aesthetics but for comfort. The angle of the seat and the shape of the backrest create a comfortable feel for long-term sitting. Mix and match the available wood base and seat color options to create a unique look for your dining room!
Nelson Platform Bench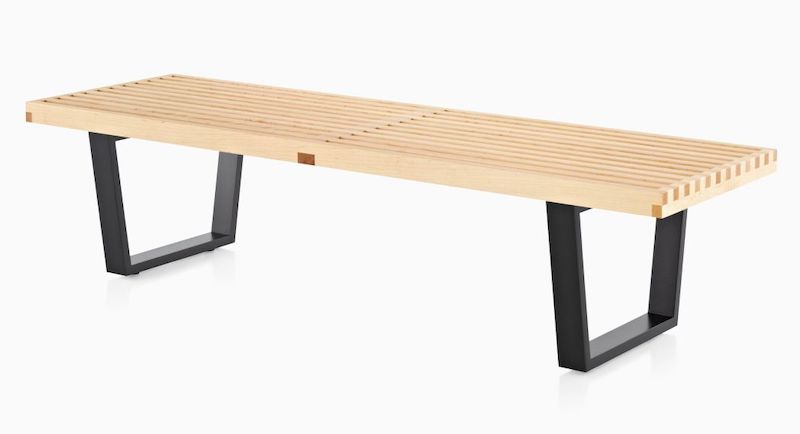 Mid-century designers had an incredible ability to bring innovation to classic furniture styles. Although the bench has been around since medieval Europe, designers like Nelson used their architectural background to reimagine how this classic shape could liven up a space. Nelson's Platform Bench is available in three lengths with solid wood slats that are hand-assembled. The polished slats lock into secure wood or chrome joints, making it as durable as it is arresting. The bench can be used to store your plants and books, added for storage at the end of your bed, or add an optional seat cushion to make it a comfortable sitting area. Looking for a more affordable option? A well-produced replica is available for under $300!
Cesca Chair
Another Breuer creation which New York Times quoted to be one of the top 10 most important and common chairs. Although Breuer signed a contract to sell his version of the tubular steel chair, the design was never patented and so many copies were made. In Breuer's original connection this chair was known as the B32 and was meant to be mass-produced. Though it comes in a few materials, the most revolutionary was the stretched woven cane waffle-like material that offers some stretch and flexibility when it's leaned on. These chairs are still available brand new for a little over $1000 each through Knoll.
Wegner Round Chair
In addition to his Wishbone chair, Wegner produced the "Round Chair" which is thought to be one of the most famous Danish pieces of furniture of all time. A year after production it was noticed by an American architecture magazine and quickly gained International recognition, putting Danish design on the map. The PP501 chair is currently available as a made-to-order production in oak, ash, cherry, or walnut. The shallow concave seat base is made of woven cane that is similar to Breuer's Cesca. Mix and match Wegner's Wishbone and Round Chair to create a more eclectic dining room style. 
Nelson Marshmallow Sofa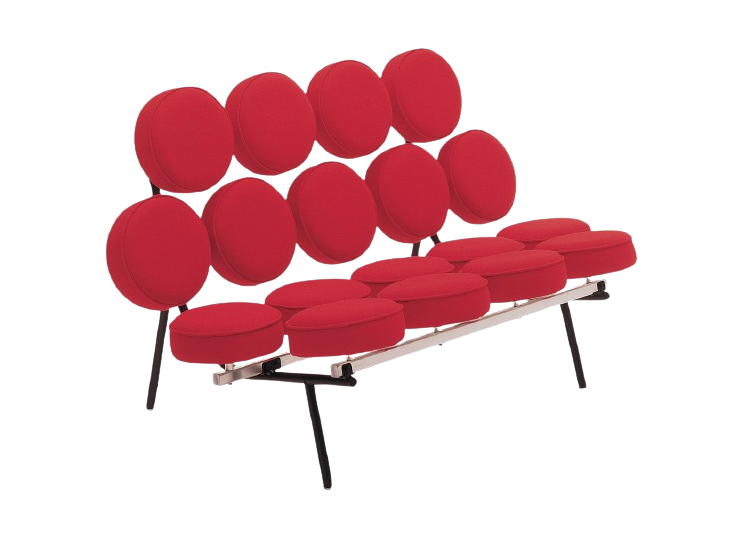 If you are looking for an art piece that doubles as seating space, the Marshmallow Sofa is for you. Inspired by the European avant-garde, its distinctive web of floating round marshmallow cushions is unlike any other on the mid-century modern sofa design market. The sofa is made of eighteen 12" round cushions secured to a steel frame. Its unique design would pair well with a 1960s oversized iconic Pop Art piece, like Andy Warhol's Campbell's Soup Cans. The Marshmallow Sofa is still in production today and can be purchased in a variety of fabrics and leathers for around six grand.
I hope these iconic mid-century furniture designs helped to inspire you on your next big redesign! Be sure to shop them from the best mid-century design and furniture stores.