The mid-century design has had a profound impact on contemporary furniture and interior decorating, more so than most people realize. The three decades of the 1940s, 50s, and 60s saw a drastic shift in interior design norms.
For centuries, western European traditional interiors were at the heart of most homes. In the 1940s, Scandinavian designers began crafting furniture around function, and form came secondary. It's a simple concept but at the time, it was certainly radical. Up until that point, furniture was designed to be beautiful, and its intricate design was meant to look expensive. Mid-century modern furniture designers like those we will introduce to you here ushered in a new wave of simplicity and practicality the world had never seen before.
Much of the furniture we see today was influenced by these mid-century modern furniture designers which is part of what makes their achievements so impressive. Here are the mid-century designers who made the most impact on our modern-day world.
These are the key mid-century design figures that influenced mid-century modern furniture as we know it today.
Hans Wegner
We'll set the bar high by starting with the pioneer of the Danish Modern movement, Hans J. Wegner. Wegner started his apprenticeship at the age of 14 learning how to make cabinets before making his way to art school in Copenhagen. At the conclusion of his schooling, he was invited into furniture design while simultaneously collaborating with a master cabinetmaker. His keen understanding of the way joints moved and came together in his cabinetry inspired him to apply those techniques to his early furniture career. A craftsman, Wegner not only wanted to create pieces that were beautiful to the eye but also ones that reflected the intricate work that goes into making them. His Round Chair, a simple but sleek curved wooden staple, was admired by an American magazine a year after its production and is what initially put Danish furniture design on the scene. Throughout his career, Wegner produced over 500 different mid-century chair designs.
Charles and Ray Eames
The it-couple of the 1940s Mid-Century era, Charles and Ray Eames, made a considerable contribution to the American office furniture design scene. Shortly after they were married in Chicago they found themselves in Hollywood, without jobs but full of ambition. Spending a lot of time in their apartment, they came up with the Kazam! Machine, a tool they used to bend molded plywood into a compound curved shell. Their creativity around molding plywood encouraged a friend to reach out to them during World War II asking them to make a form-fitted curved split that would conform to the human leg. Eventually, over 150,000 of these splints were made to help injured soldiers. In 1943 they moved into their 901 office space in Venice where they continued to expand their use of molded plywood, eventually creating famous mid-century furniture pieces like the Eames Lounge Chair and Ottoman and Lounge Chair Wood (LCW). Their creations are now exclusively produced by Herman Miller and Vitra International.
George Nelson
American creative George Nelson, designed some of the most exuberant designs of the post-war era. You might recognize him for his design of the playful Marshmallow Sofa, the eye-catching Ball Clock, or the funky Bubble Lamps. These designs brought a new use of color and shapes that were unlike any other on the market. In addition to designing, Nelson used his unique perspective to teach others how to see the world through photos and articles. "Design is a response to social change," he believed. You can find a full list of his accomplishments posted by the George Nelson Foundation.
Warren Platner
Another American designer who gained International recognition was the 1960s steel wire icon, Warren Platner. Platner focused his efforts on creating a modern take on 19th-century period pieces. He used steel wire bases as the staple of his designs, applying the same basic approach to chairs, tables, and ottomans. His designs create a sort of optical illusion as your eyes look straight through the angled chrome rod. Platner was inducted into Interior Design magazine's Hall of Fame in 1985.
Harry Bertoia
Italian-born Harry Bertoia was an advanced artist from a young age. In his early teens, he was told by teachers that he was beyond what they had the capacity to teach him and suggested that he move to America to further his artistic career. At the age of 15, he did just that, joining his brother who was already settled in Detroit. Once he arrived he quickly had to learn English and how to behave like an American. Unsurprisingly he was awarded scholarships for his studies and placed in many local art competitions. At 28 he moved to California to join Charles Eames in making molded plywood designs. Recognizing his success, Bertoia was invited by Hans and Florence Knoll to move to Pennsylvania to design for the Knoll brand, where he created such designs as the Diamond Chair. Later in his career, he designed a number of large sculptures that can be found around the US and beyond.
Isamu Noguchi
Isamu Noguchi was born in America but moved to Japan from the age of 2 until the age of 13. He returned to the U.S. alone at the age of fourteen for schooling. He was able to support himself by making portrait busts while becoming an academic sculptor. He spent an extensive amount of time traveling the world which acted as another form of teaching for him, inspiring the style of his sculptures. When the attack on Pearl Harbor took place, creating a negative response to Japanese Americans, Noguchi became a political activist. He continued to take on design projects, including his iconic Noguchi Coffee Table, designed for Herman Miller.
Florence Knoll
Michigan-born Florence Schust was in line to become a baker, but orphaned at the age of twelve she started to express an interest in architecture design and was awarded an opportunity to go to art school at Cranbrook, where she met and was welcomed in by the Saarinen family. Through her connections with the Saarinen family, she was able to meet and study under some of the most renowned architects of the time, soaking up all that she could as she was building her own skill set. In the early 1940s, she moved to New York where she met her husband, Hans Knoll, who was just establishing a furniture company. Florence made a strong contribution to the company, helping define the style of the Knoll brand with contributions like her Knoll Sofa and marble-topped side tables. After her husband's death, she took over the presidency of the Knoll company until she remarried.
Verner Panton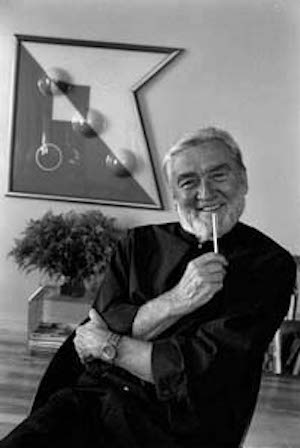 Danish designer Verner Panton had a fascination with shapes and colors that is comparable to George Nelson. Unafraid to think outside the box about the materials, shapes, and styles of furniture, he made a unique impression on the mid-century scene. Some of his most iconic designs are the Cone Chair, which takes the shape of an ice cream cone, and the S-shaped Panton Chair, both produced for Vitra International. His love of colors and curiosity about geometric shapes inspired the creative designs he left us to admire.
Marcel Breuer
Marcel Breuer was born in 1902 in Hungary but then made his way to Germany to study and eventually teach at Bauhaus school of design and architecture. One of his most iconic creations was the Wassily Chair, inspired by the bent metal of his bicycle's handlebars. After a couple of years dedicated to architecture in London, Breuer found himself teaching at Harvard, teaching styles inspired by his learning at Bauhaus that eventually influenced domestic architectural design in the U.S.
Eero Saarinen
Finnish-American Eero Saarinen grew up in a home of designers, with a mom who was a world-famous textile artist and a father who was a director at Cranbrook Academy of Art, where Saarinen eventually met Charles Eames and Florence Knoll. Though you might say he had all the cards stacked up for him, Eero brought his own ingenuity to both architecture and furniture design. Of his designs, his Tulip Dining Table is one of the most iconic; its innovative hourglass shape redefines the elegance of a table base. In 1947 his design was selected for the Gateway Arch in Missouri, after mistakenly sending the award letter to his father who also entered. It is clear that he created his own pathway and influence.
Eero Aarnio
Eero Aarnio was born in Finland in 1932 and shared a love for plastics and bright colors, like some of the other artists discovered here. One of his most iconic creations is his Ball Chair, a piece that was first widely displayed at a furniture fair in Cologne where it gained international recognition. Within its first week, the Ball Chair was sold in over 30 countries and eventually made its appearance in magazines, movies, and museums. Similar to the Ball Chair is his acrylic hanging Bubble Chair, a human cocoon that drops from the ceiling. Both pieces continue to make an impression on modern iconography.
Arne Jacobsen
Danish architect Arne Jacobsen made significant contributions to city skylines for six decades, including one of his most famous, the Bellevue Theatre. In addition to his large-scale architecture projects, he contributed remarkable home design pieces like his wooden cutout Ant chair, the floor and table hooded AJ Lamps, and his wicker recliner Paris Chair which was called the "Chair of the Future." His designs significantly elevated both home and office spaces.
Børge Mogensen
There's no doubt that Danish designers had a heavy hand in defining the Modern era. Adding to the list is Børge Mogensen whose philosophy included creating "items that serve people and give them the leading role, instead of forcing them to adapt to the items." Morgensen's collection includes wooden tables and chairs, leather sofas, stools, benches, and more. He created designs whose top priority was function. One example of this is his Spoke-Back Sofa, which didn't gain traction until almost twenty years after it was originally designed. The Spoke-Back was a hybrid daybed and chaise lounge with hinged sides to help it easily morph. It not only served an everyday need but created an opportunity for a second purpose without adding to the furniture footprint.
Finn Juhl
Dannish Sculptor Finn Juhl studied at the Academy of Arts in Copenhagen in the early 1930s, right at the peak of a new furniture design period. Juhl was drawn to making organic pieces that conformed to the human body to lend to highly comfortable settings. He used his sculpture training to innovate pieces that would carry the body, playing a more active role than other seating elements in its time. His Pelican Chair is an example of how this ideology personified itself. He eventually moved away from the highly upholstered look and grew an interest, like many during this time, to expose the craftsmanship of the wood that made up the frame of his designs.
Poul Henningsen
Poul Henningsen played a major role in the way Danish designers thought about design. Born in Copenhagen, he started as an architect but found himself heavily interested in lighting. He is most famously known for his PH Lamps series – including the many versions of the Pendant Lamp, the multi-layered PH 5, and his innovative PH Artichoke – all designs that are still being replicated by current designers. His interest in light is not only to brighten up a space externally but to create a brighter space for people internally – making them feel good in whatever room or outdoor arena that they walk into.
Ludwig Mies van der Rohe
German-born American architect, Ludwig Mies van der Rohe, learned masonry on his father's construction sites at a young age. At the age of 15, he began more formal apprenticeships under architects where he learned how to sketch some of his earliest architectural renderings. He studied, worked, and contributed to designs in Germany until his move to the U.S. in his early fifties. Some of his most iconic furniture designs include his exaggerated curved Armchairs and steel-based MR Table. Mies played a role in mentoring Florence Knoll whose company eventually gained exclusive access to produce Mies' furniture.
Jens Risom
Jens Risom was the first true Knoll designer. Born in Denmark, Risom made his way to the U.S. in his late twenties, starting his career as the Director of Interior Design at a studio in New York. While there he met Hans Knoll who was looking for someone to help promote his designs in New York. The first Knoll Catalog included 15 pieces from Risom. His contributions include the Amoeba Table, webbed Lounge Chair, and Square Side Table. Risom eventually left Knoll to join the U.S. Army and when he returned to the U.S. he started his own design firm. Later on in life, he was knighted by the Queen of Denmark in 1996.
Pierre Jeanneret / Le Corbusier
Swiss-born architect Pierre Jeanneret entered the design scene with his cousin, Charles Edouard Jeanneret, known more widely as Le Corbusier. The pair were invited to contribute fresh designs to the Villa Church outside of Paris in the late 1920s and brought innovative designs like the LC4 lounge. They also won first place design of the new League of Nations (pre-United Nations) building in 1926. Pierre, Le Corbusier, and Charlotte Perriand worked together to design one of the most recognized Post-Modern collections, the LC, which included iconic chrome and leather tables, armchairs, stools, and more.
Serge Mouille
Although it was not his parents' first choice, Serge Mouille decided to invest his career in the applied arts at the age of 13. Born in Paris, Mouille studied silversmithing and metallurgy and eventually apprenticed to learn the ins and outs of design. One of his first recognized designs was his Three-Arm Lamp, a minimalistic design that appealed to the audience of his time. Throughout his career he created different lighting fixtures, eventually incorporating the fluorescent tube in his designs during its early technological inception.
Pierre Paulin
We are ending our design tour with Parisian designer Pierre Paulin. His first designs were shared at the Soln des Arts Ménagers where they attracted fast attention. Throughout his career he created both office and home pieces, dragging his inventions into the early 2000s. Some of his more recognized designs include his 1953 Day Bed Lounge Chair, a versatile piece that can be used as a bench or bed, and his 1959 Ursuline desk – a thin wooden top with chrome legs with a chic and slender form that lends well to the minimalist aesthetic.
---
There's no doubt that the mid-century era brought a new wave of energy to furniture design. I hope you learned a lot about the most famous mid-century furniture designers: their origins, background, and what inspired them to make the incredible designs that are still making a mark on the design scene. Now that you know a little more about each designer, we hope you have a new appreciation for the designs that make your home shine!