When it comes to furniture design, there is nothing quite as iconic as what came out of the creative minds and hands of mid-century modern designers and architects. You can't help but be drawn to the geometric lines and shapes matched with industrial-age steel and bold leather and fabric textiles that mid-century modern decor embodies. What is amazing is that many of these designs started as one-off pieces made for a friend or family member or built to serve a strictly practical purpose, but their humble beginnings shaped a cult movement that is still passionately followed to this day.
There are five key sofa designs that define the style of this era: Jean Royere's Polar Bear sofa, the Florence Knoll sofa, the Le Corbusier sofa, the Barcelona sofa, and George Nelson's Marshmallow sofa. Each sofa's construction showcases a distinct characteristic that helped shape what is now known as mid-century modern sofa design. Whether you are a collector, admirer, or simply curious about this iconic design era, this article on how to pick the best mid-century-inspired sofa is for you!
These top mid-century design stores are sure to carry at least one of the sofas mentioned here.
Jean Royere Polar Bear Sofa
What do art dealer Larry Gagosian, tv personality Ellen Degeneres, and R&B artist Kanye West all have in common? A love and appreciation for Jean Royere's Polar Bear Sofa. This 40s-era round, velvet iconic piece is a favorite amongst mid-century modern design lovers.
What was originally called the Boule quickly grew into the nickname Ours Polaire, French for "polar bear," due to its soft cuddly nature. It is estimated that there were less than 200 of these made-to-order couches in production, and sometimes the price tag can be marked up to $1,000,000 per furniture set!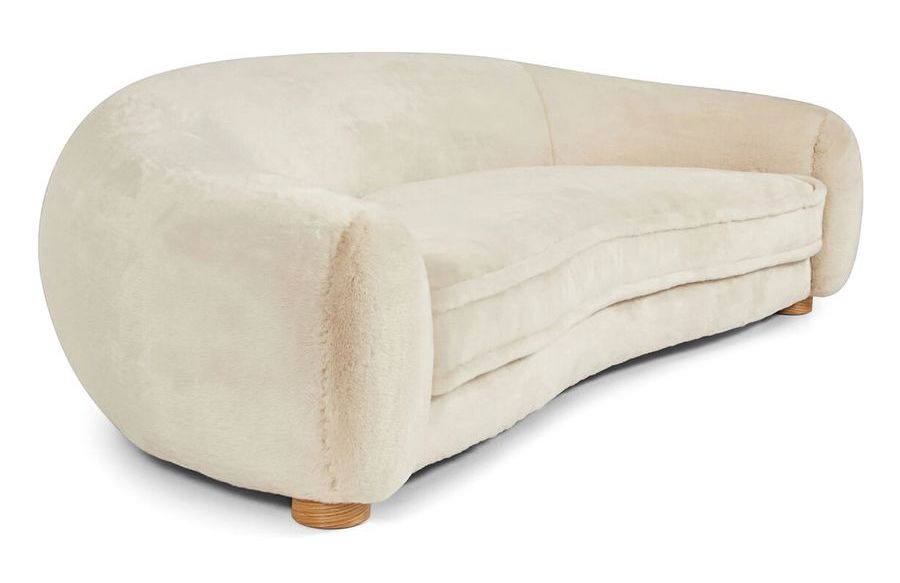 Although the name may make you think of white fluffy snow, this couch can be found in green, burgundy, orange, and other eye-catching colors. You would never guess that this fluffy design is held together by elegantly designed wooden bones. The Polar Bear is the rarest and most expensive mid-mod sofa in this lineup, mostly due to the fact that no one has been authorized to reproduce this design – keeping its accessibility extremely limited and exclusive.
PS. You didn't hear it from us, but you can snag a very close lookalike from France & Son right here.
Florence Knoll Sofa
What started as a practical piece of furniture by young Florence Knoll, transitioned into one of the most recognizable designs of its time – the Florence Knoll Sofa. Florence, aka "Shu", considered her long boxy sofa design the 'meat and potatoes' of the corporate furniture market – staple pieces that weren't in existence that needed to be. The idea was that they were simple enough to pair well with more stylized pieces like iconic mid-century modern accent chairs and the like.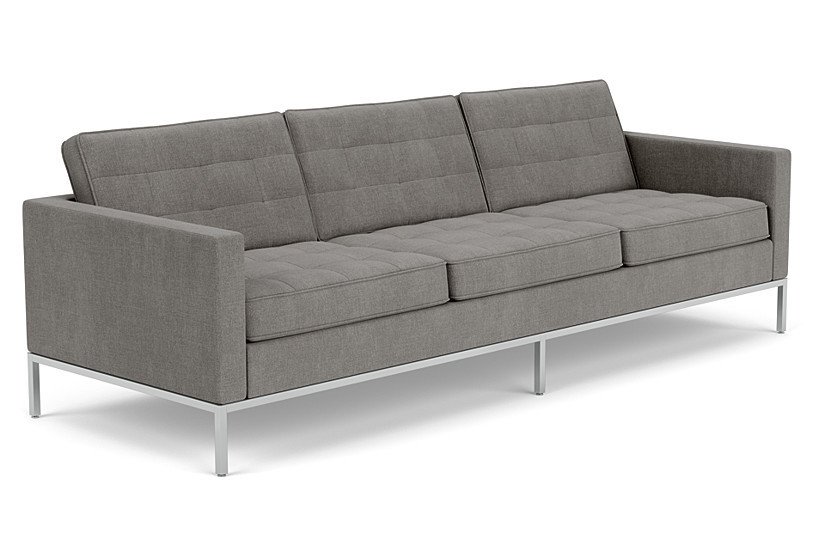 "I designed sofas because no one was designing sofas," she so simply stated. She was able to apply her educational background in architecture to make a reliable sofa that could meet the needs of offices and living rooms alike. This fill-in piece has shaped mid-century modern furniture design for decades and even continues on the market today with a lofty $12,000 price tag.
If you're looking for a more affordable copycat, consider checking out the Interior Icons Knoll style sofa or the Ikea Karlstad sofa.
Le Corbusier Sofa
The Le Corbusier Sofa, designed by Swiss-French architect Charles-Édouard Jeanneret Gris, combines the functionality of the Florence Knoll sofa with an added element of advancement. Its sleek rectangular design paired with chrome steel framing mimics the look and structure of the buildings Jeanneret was creating in the late '20s.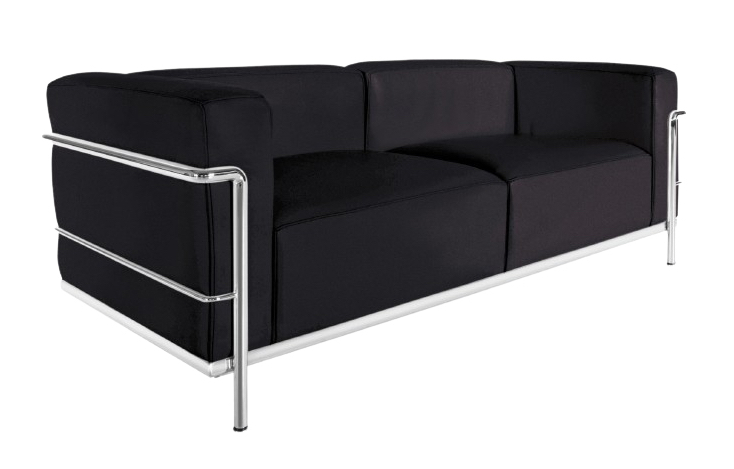 Due to its popularity, many authorized reproductions exist, however, if you want to figure out if your design is original you should look for a serial number etched into the underarm of the upper left bar of the sofa's armrest. Consider this your new estate sale scavenger hunt! The Le Corbusier sofa is still in production and can be purchased in different sizes. You can find replicas from Interior Icons and Eternity Modern.
Barcelona Sofa
The lay-flat versatile couch of the 30s and 40s didn't gain its name until over fifty years after it first made an appearance when it was likened to a 1920s-designed Barcelona chair and stool. What started out as a small apartment-designed couch produced in Berlin by Ludwig Mies van der Rohe, gained traction and popularity in the States – eventually being produced by Knoll.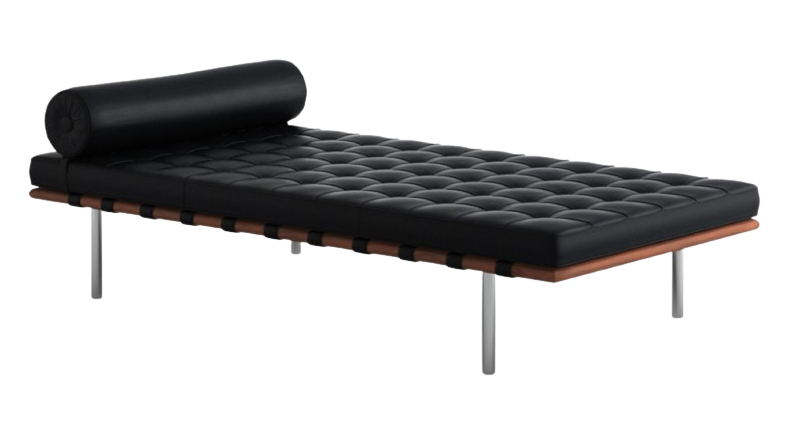 This bed-like tufted couch is perfect for a room with a view. It can be placed next to a couch, against a wall, or under a window, making it the perfect complement to your living room space or office waiting area. If you find an original Mies, expect to pull everything out of your savings, however, the current production by Knoll is said to yield better quality and can be found for around $10K. It is also available from Design Within Reach.
This brilliant design comes in a variety of colors, including bubblegum pink. Find replicas of other Mies Van Der Roe pieces at Interior Icons.
Nelson Marshmallow Sofa
There's nothing more playful than the 1950s Marshmallow Sofa, created in collaboration between inventor Irving Harper and designer George Nelson. Its distinctive web of floating circles is unlike any other on the mid-century modern sofa design market.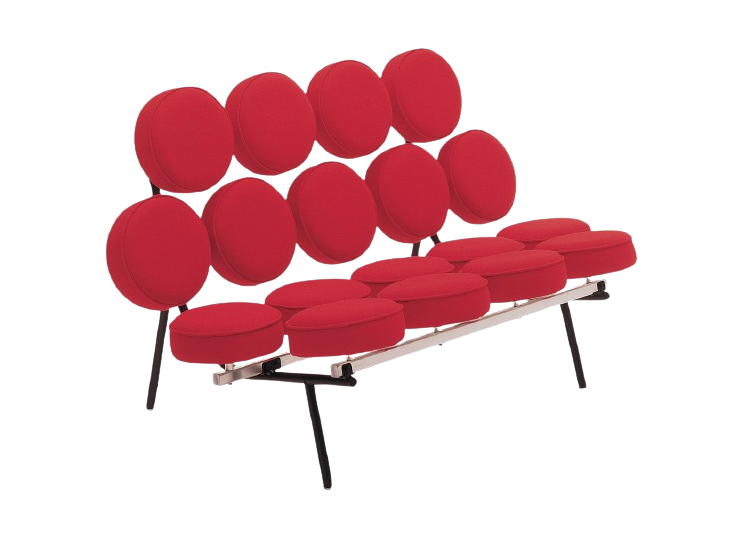 Inspired by the European avant-garde, this sofa serves as a standalone piece of art. It is unique in this line-up due to its style over function approach. Each piece includes eighteen 12" round cushions attached to a steel frame.
If you want really bold design choice, look up the rainbow edition of this couch which consists of complementary colors mix-matched between the eighteen tiles to create an artistic masterpiece that belongs in a Pop Art museum. The Marshmallow Sofa is still in production and can be purchased in a variety of fabrics and leathers from Herman Miller or Design Within Reach.
---
Though these styles vary tremendously, together they represent a new wave of architecture, technology, and art that first appeared in the 1930s-1960s and continues to be revolutionary today. From humble beginnings to timeless masterpieces, mid-century modern sofa designs have made a lasting impression on collectors due to the brilliant quality and design of each piece in its collection. Practical, fun, bold, unique – you are sure to find something memorable from this era.
Are you drawn to the fluffy polar bear sofa? The meat and potatoes? The architect's dream? The lay-flat? The colorful marshmallow? Now the biggest challenge will be deciding which sofa you want to display in your home!
Right after the mid-century period, two iconic 1970s sofas were designed. The Mario Bellini Camaleonda Sofa and the Togo sofa have since become design classics in their own right.