You might recognize the Camaleonda Sofa by Mario Bellini from Instagram. This cloud-like puffy sofa is having its moment. Design lovers everywhere have come to appreciate the classic beauty of the Camaleonda sofa and today I'll share some history behind its creation, where to find replicas, and how to style this sofa in your home.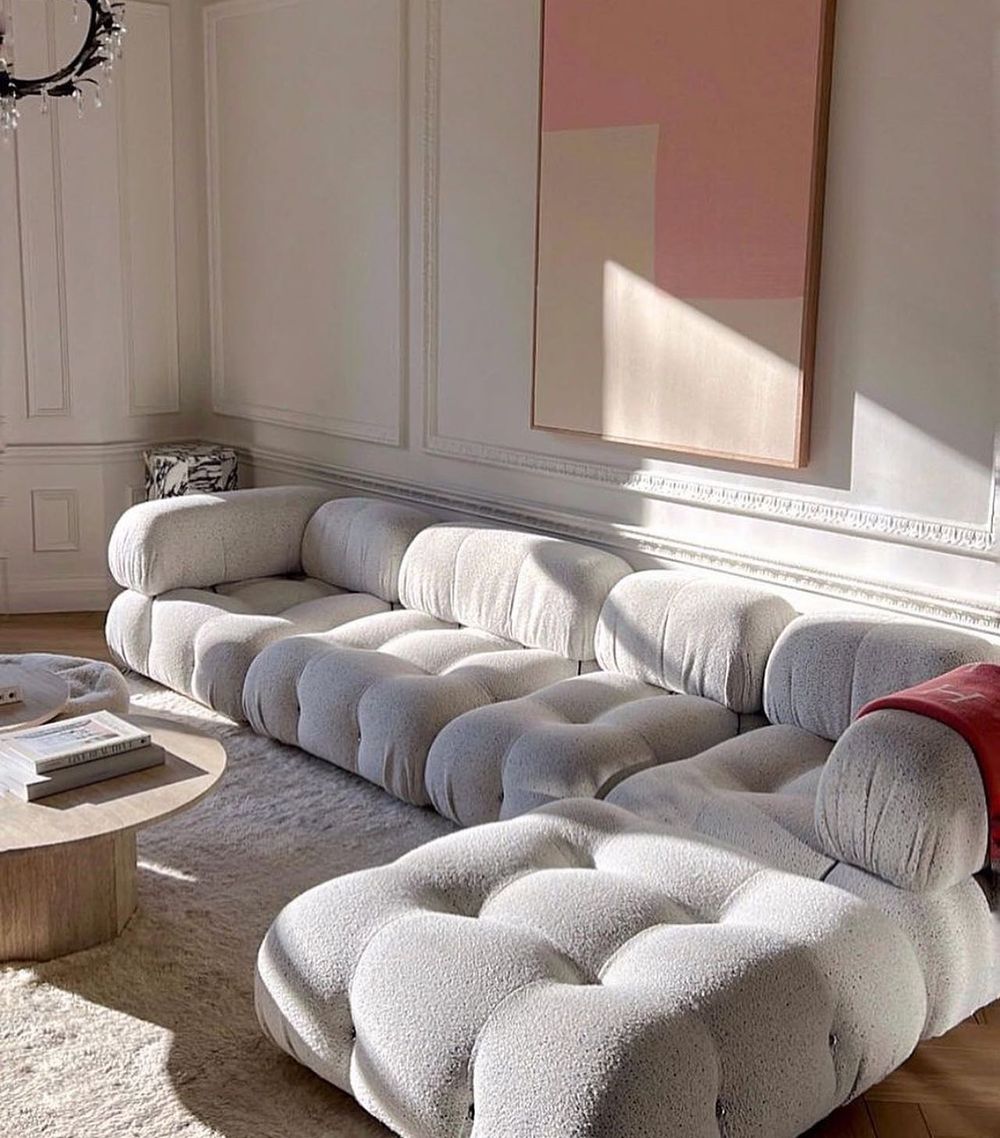 Camaleonda Sofa History
The Camaleonda sofa is made of five individual tufted modules that can be spread out or bunched together, depending on the style and look you are going for. Its versatility is astounding. The couch was originally designed in the 70s and became successful at the 1972 MoMA show "Italy: The New Domestic Landscape." Each modular is made of an innovative system of cables, hooks, and rings. The cushions sit low to the ground, creating a casual lounge feel. The edges are bold and round, almost cartoonish, while simultaneously elegant.
Sectional, or modular, sofas go back as far as the 19th century and were originally created for easy mobility purposes for military families who needed to move around from camp to camp. Although they had an early start for functional purposes, they didn't start gaining popularity in the interior design world until the 1930s and further into the mid-century.
When the Camaleonda was introduced it brought a new vision to the scene, creating an opportunity for an upscale look with the ability to easily rearrange your room to create new looks. Camaleonda is made of two Italian words put together – "chameleon" and "wave." Though these might seem like a funny pair, they perfectly describe the versatility and style of this unique piece. Though there are five different pieces, designers can choose to add more center modulars to extend their couch or take out pieces to put out as stand-alone sofa chairs. You can even remove the back cushions to create a lay-flat bed. The sofa comes in a variety of colors and fabrics.
It was originally only on the market for eight years (1970-1978) but after Stella McCartney donned a sunset sky pink Camaleonda at her flagship store in 2018, the internet started buzzing. By 2020, B&B Italia decided to reissue this classic piece and it has been dominating the interior design market ever since.
"Of all the objects I have designed, Camaleonda is perhaps the best in terms of its sense of freedom."

Mario Bellini
Camaleonda Sofa Replicas
If you want an original Camaleonda Sofa from the 70s, be prepared to pay close to $15,000 for a pair of modules, or up to $46,000 for a 7-piece set (don't forget the $2,000 delivery fee). Prices for these one-of-a-kind retro masterpieces spiked in the last few years as everyone was re-introduced to its majestic design. If you ever find an original out in the wild for less than the price of a small-size sedan, you better buy a lotto ticket because that would be one lucky day.
In 2020, the vintage Camaleonda Sofa regained popularity, with its bold look that could pass as modern. B&B Italia started reproducing the sofa with even more modular options and an opportunity to design your own layout. If you are looking for something new, and don't mind paying a small fortune, purchasing straight from B&B Italia is a great option for an authentic Bellini.
Eternity Modern sells a replica of the Camaleonda Sofa for $4200-$5500. The replica is available for custom order in velvet, classic suede, vegan leather, cashmere, cotton velvet, vintage leather, chenille helios, the performance felt, classic boucle, and aniline leather. Each fabric comes in a different set of hues to best match your styling needs. You even have the option to use your own material if you're looking for something truly unique. Be careful with buying reproduction sofas and always speak to customer service first before buying!
Another close replica is the Belia Sectional Sofa sold by Rove Concepts. Members can currently get this design for as little as $3870, or closer to $5,000 if you're not a member. Pre-orders are available now with an expected delivery of summer 2022.
The most affordable Bellini sofa reproduction is by Overstock and it comes in at below $2,500. You can choose between Beige and Orange colors.
There are also several Bellini sofa replicas from Wayfair and France & Son which you can find here:

You can currently get a 2-seater replica on sale for under $2,000 – act fast if you're in the market. This version is available in microfiber, velvet, and boucle fabrics in a variety of colors. It can be delivered straight to your door in approximately four weeks (which is a miracle in today's supply and demand market).
How to Style the Bellini Camaleonda Sofa
Here are a few Camaleonda sofa decorating ideas to get inspired by!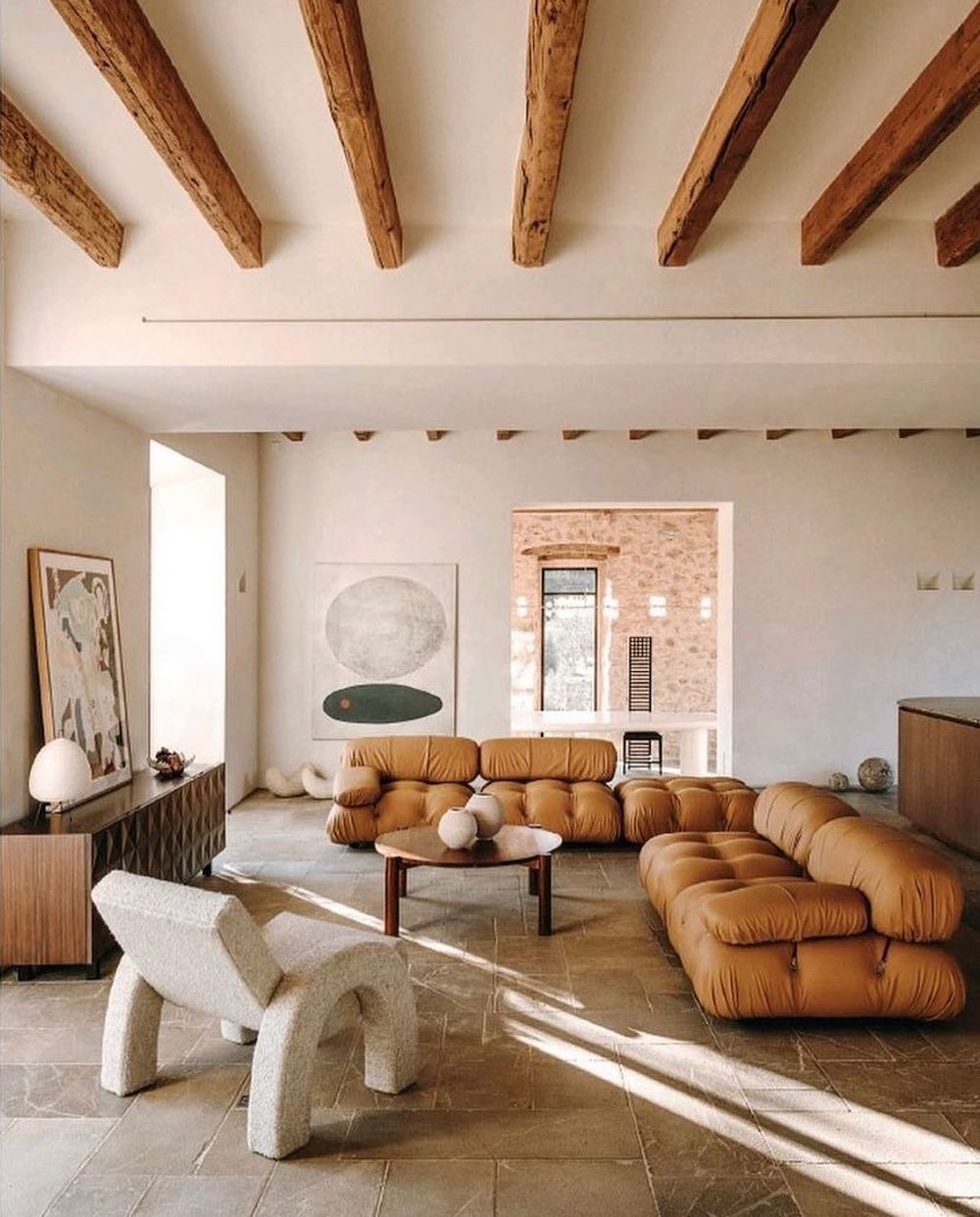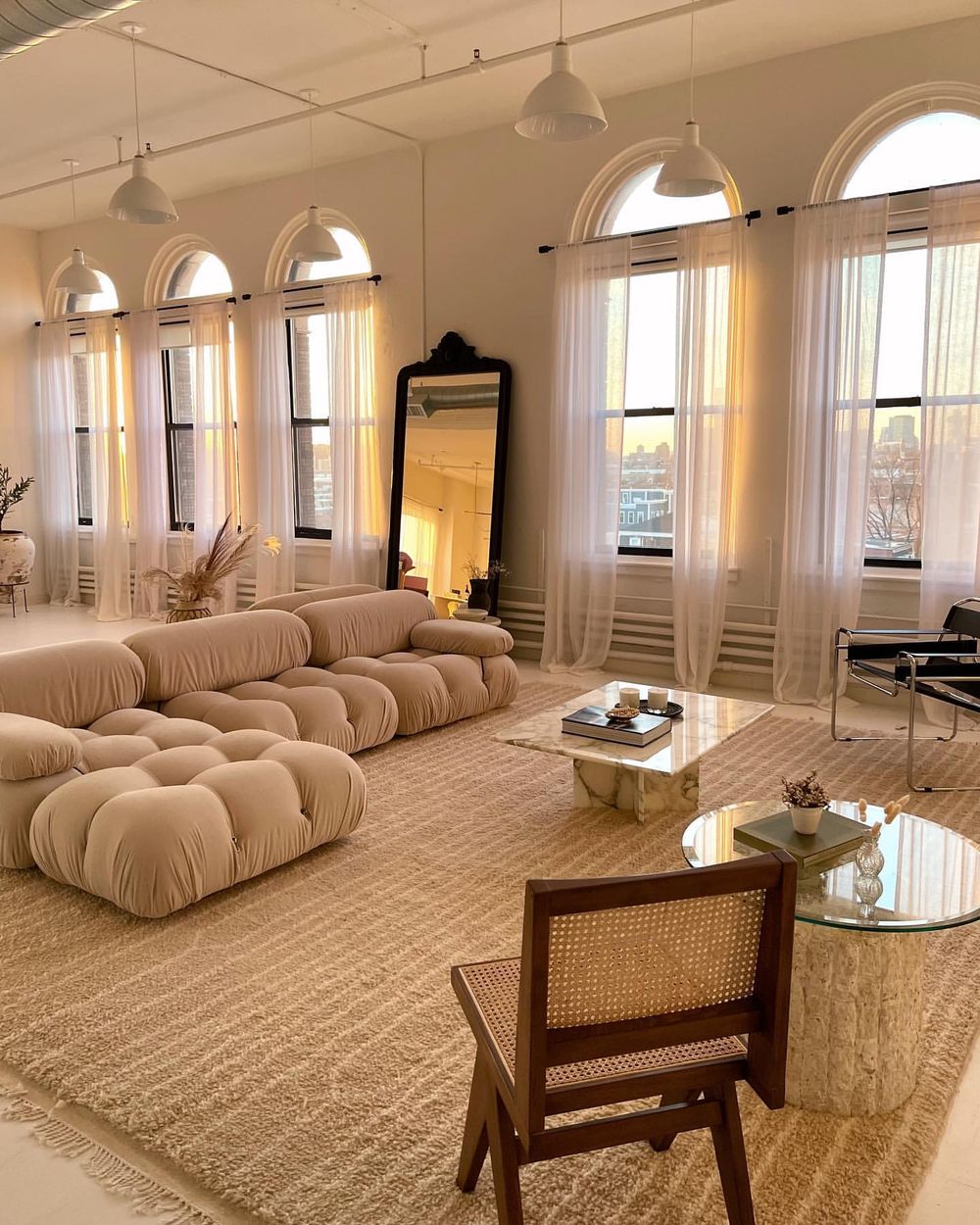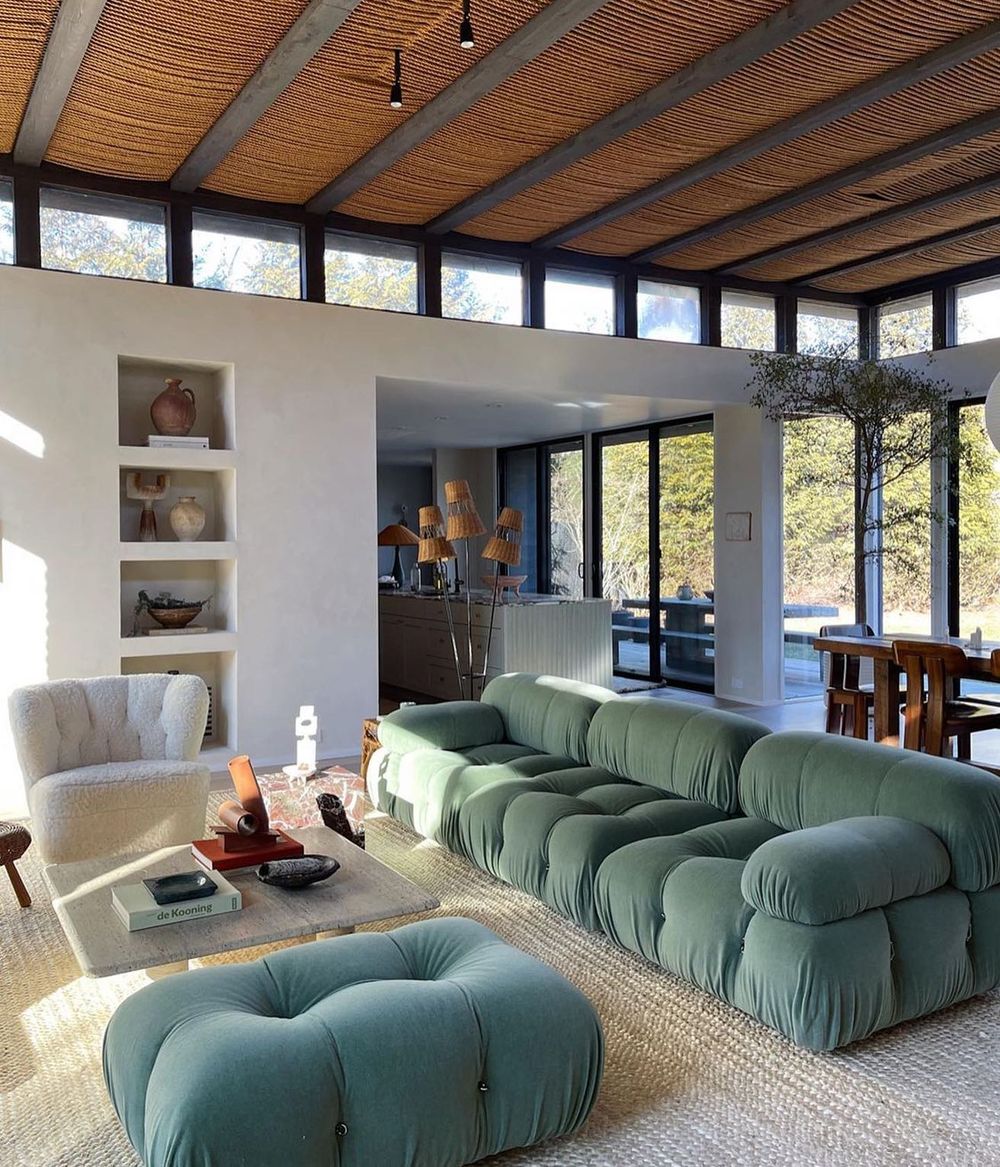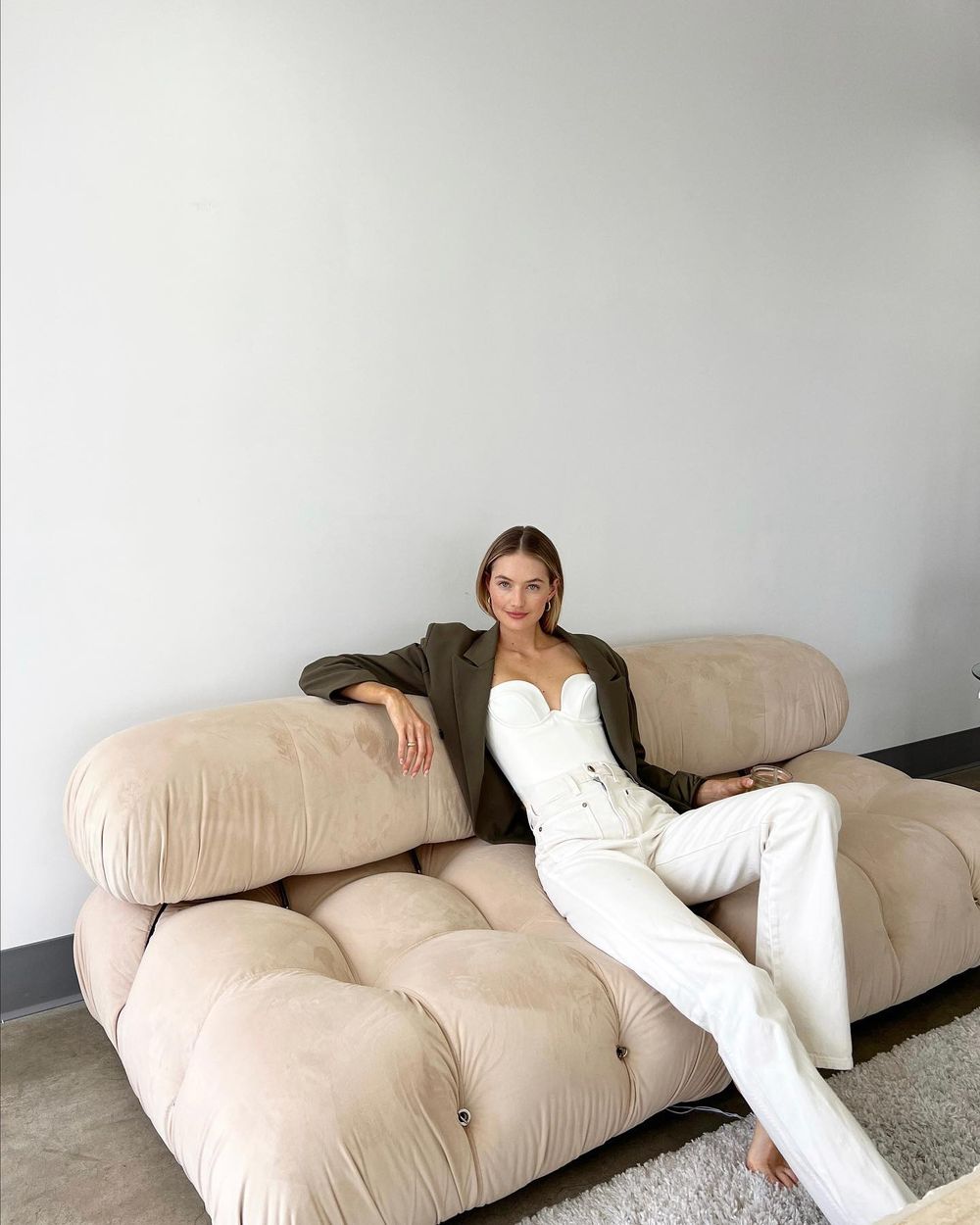 About Mario Bellini
Mario Bellini was born in Milan, Italy on February 1st, 1935. His resume showcases an astounding set of accomplishments across design and architecture. Like Ettore Sottsass, creator of the Ultrafragola Mirror, Mario Bellini spent a solid chunk of his career as a design consultant for Italian tech manufacturer, Olivetti. While there, Bellini made some of Olivetti's most popular typewriters. Later in his career, he designed luxurious automobile interiors for companies like Fiat. His architectural career expands the globe from Paris to Italy to Germany, Australia, and even Japan. He also had a streak as the director of the recognized Italian magazine, Domus.
Two of his biggest accomplishments in the interior design space are his Camaleonda Sofa, designed for B&B Italia, and his famous CAB chair, an armchair entirely made of cowhide stretched over a steel frame, designed for Cassina. His catalog also includes lounge chairs, coffee tables, and other sofas.
Throughout his career, he received eight Compasso d'Oro ("Golden Compass") awards, one of the highest honors in industrial design. He is also one of the first to receive a retrospective exhibition while still living – Mario Bellini: designer at the Museum of Modern Art in New York, 1987.
You can currently find Bellini's work showcased at the Museum of Modern Art in New York and the Dallas Museum of Art, among others. A bulk of his current focus is on his architectural work. Three of his latest projects include a large scientific-technological park in Genoa, Italy, an extension of the Pinacoteca di Brera in Milan, and a cultural center in Turin.
---
In the words of Michael Bargo, a Designer and Creative Director in New York City, "The Camaleonda sofa represents a moment in European design that was all about the future and functionality. Now, a half-century after its conception, it's still more modern and futuristic than most contemporary furniture."
It's incredible to think how far ahead of his time Bellini was in creating the Camaleonda and the impression that it continues to make on the interior design world to this day.