Whether you're a cocktail connoisseur or simply enjoy a casual drink with friends, a home bar can be the perfect addition to your living space. Not only does a home bar create a central point for entertaining guests, but it can also serve as a stylish and functional area for storing your favorite spirits and mixers.
But designing a home bar goes beyond just selecting the right liquor bottles and glassware. The decor you choose can play a huge role in creating the perfect ambiance for your home bar. In this post, we'll explore some of the best home bar decor ideas to help you create a stylish and inviting space to relax and unwind with your favorite drink!
Earthy Color Palette
Make sure you're home by design is a cohesive color palette. This home bar has an earthy theme of forest green, blue-green, pops of yellow, and a Walnut wood cabinet finish.
Hand Painted Backsplash
This beautiful custom home bar features a hand-painted wall mural of exotic birds and flowers perched on a tree. This is a great way to give your home bar a fully customized look.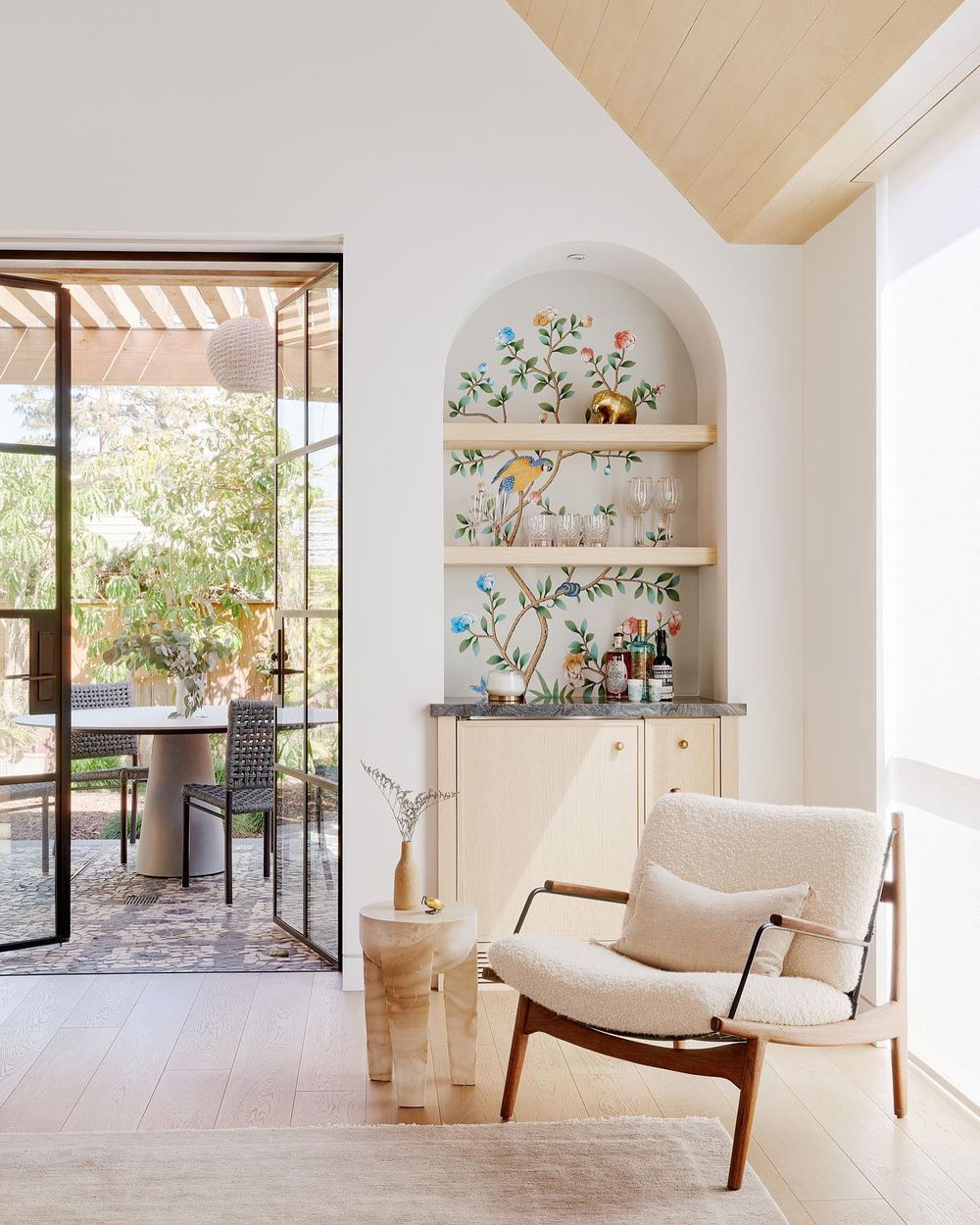 Integrated into the Living Room
This home bar design makes it very easy to access the home bar right from your living room. The design is integrated directly into the corner of the living room.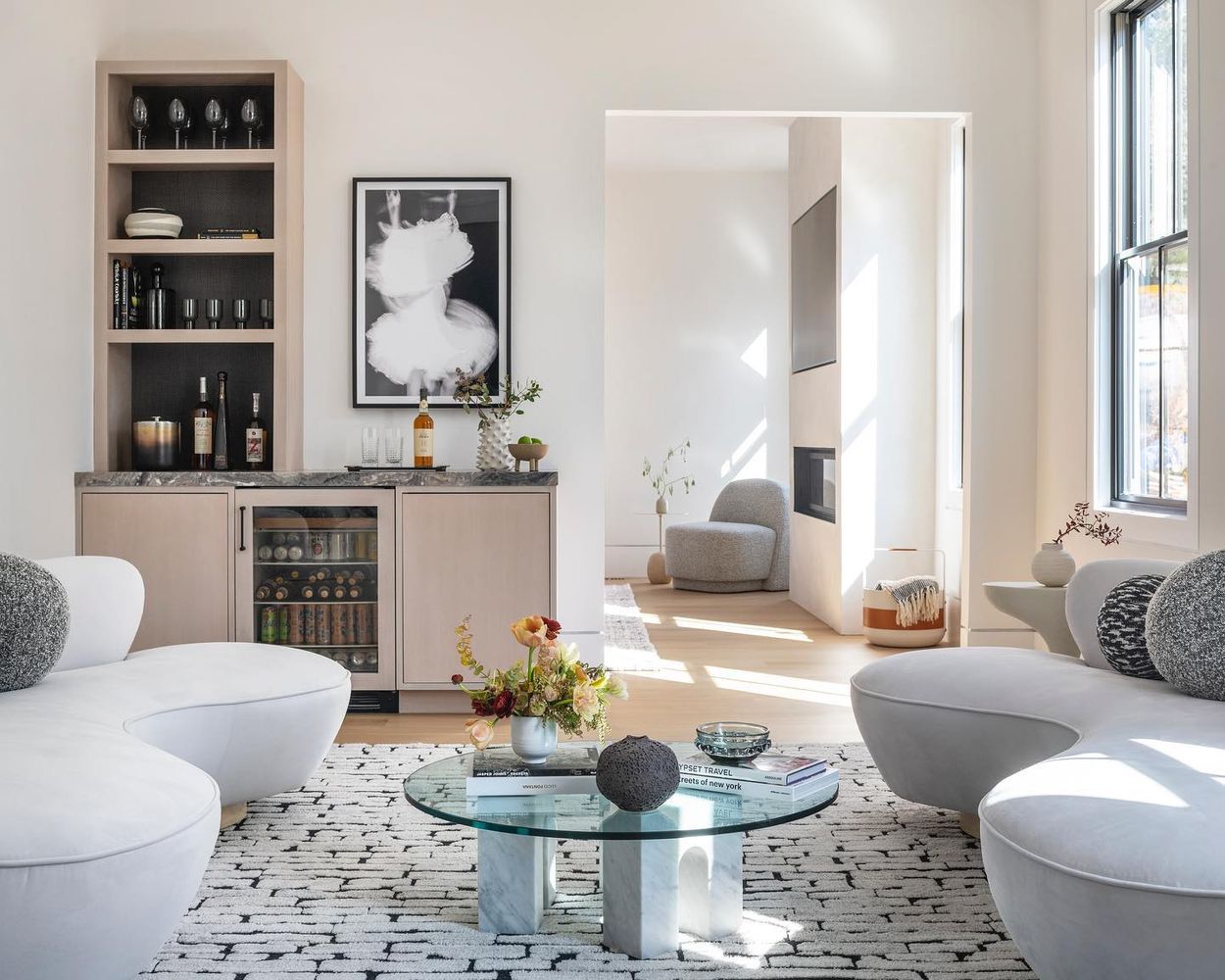 Mirrored Backsplash
The home bar has a mirror and backsplash which makes it look very modern and sleek. It's also a great way to reflect light back into the space.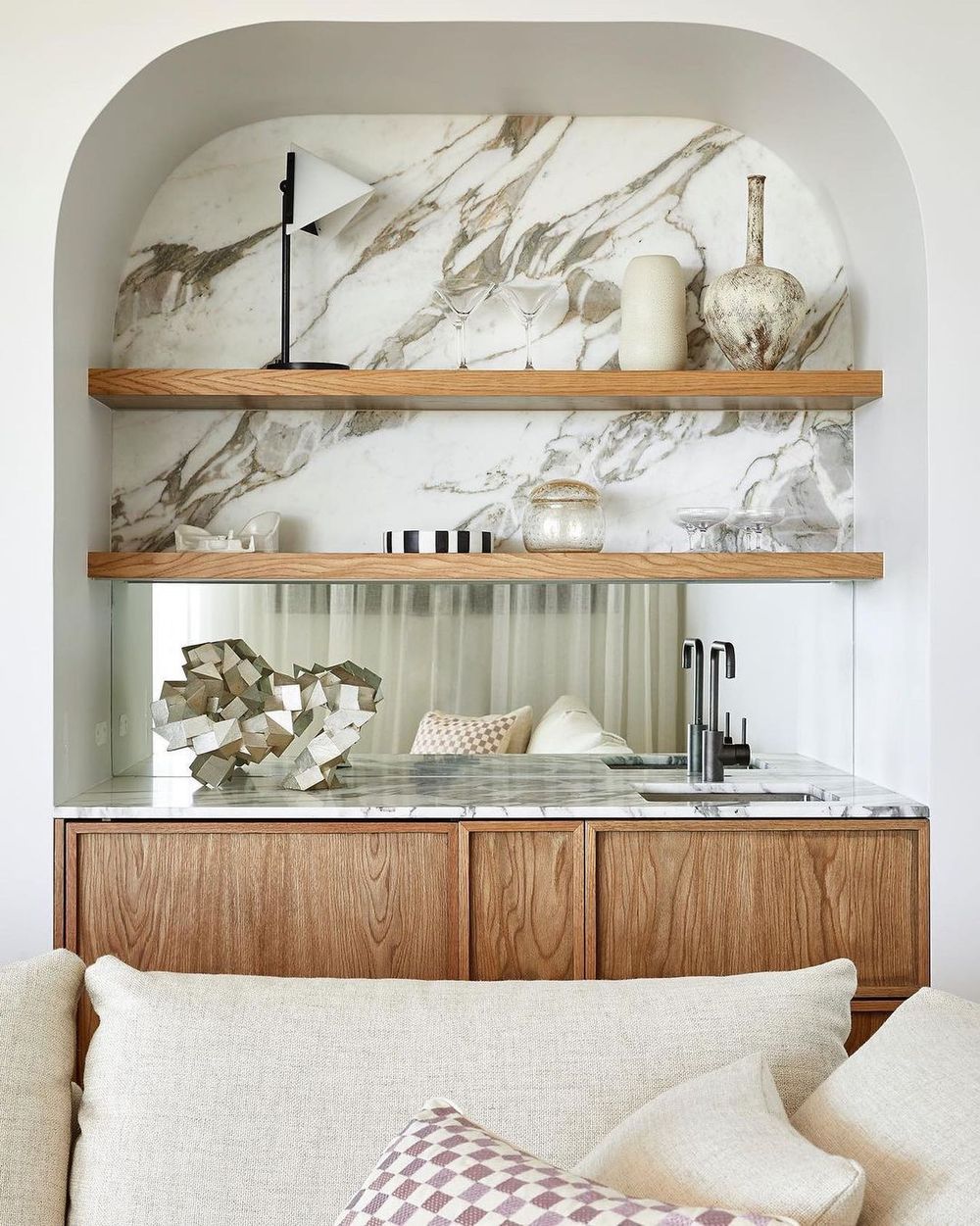 Create the Contrast
I love how this home bar created amazing contrast between the lower cabinets in the upper cabinets. The black lower cabinets paired with the white marble countertop and backsplash make for an interesting design.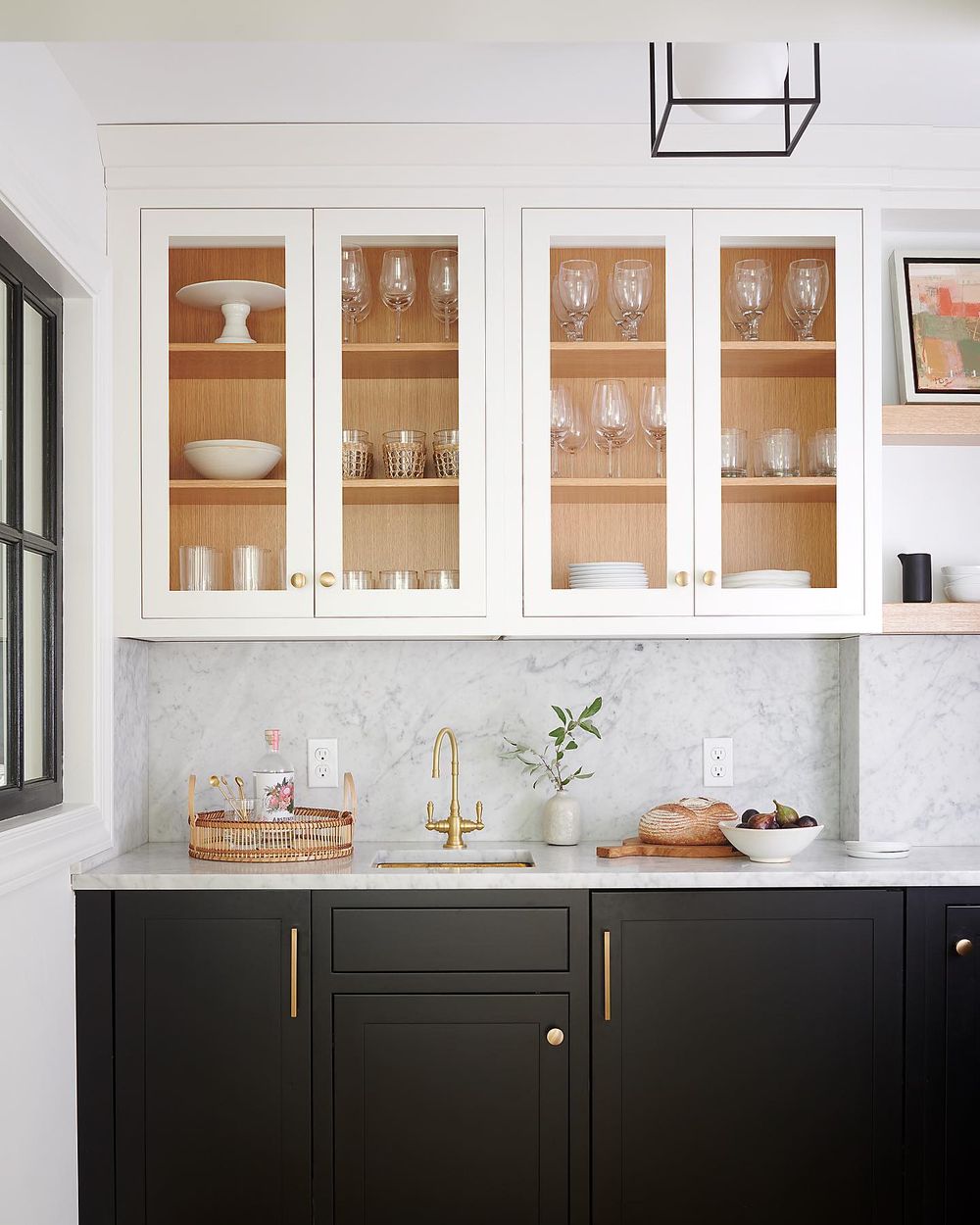 Bright Whites
This beautiful white home bar features a simple design of sleek white cabinets and a white countertop. The cabinets have shiny gold bar pulls for an elegant look. A large mirror forms the backsplash of the space. Open shelving to the right shows off the family's blue glassware collection.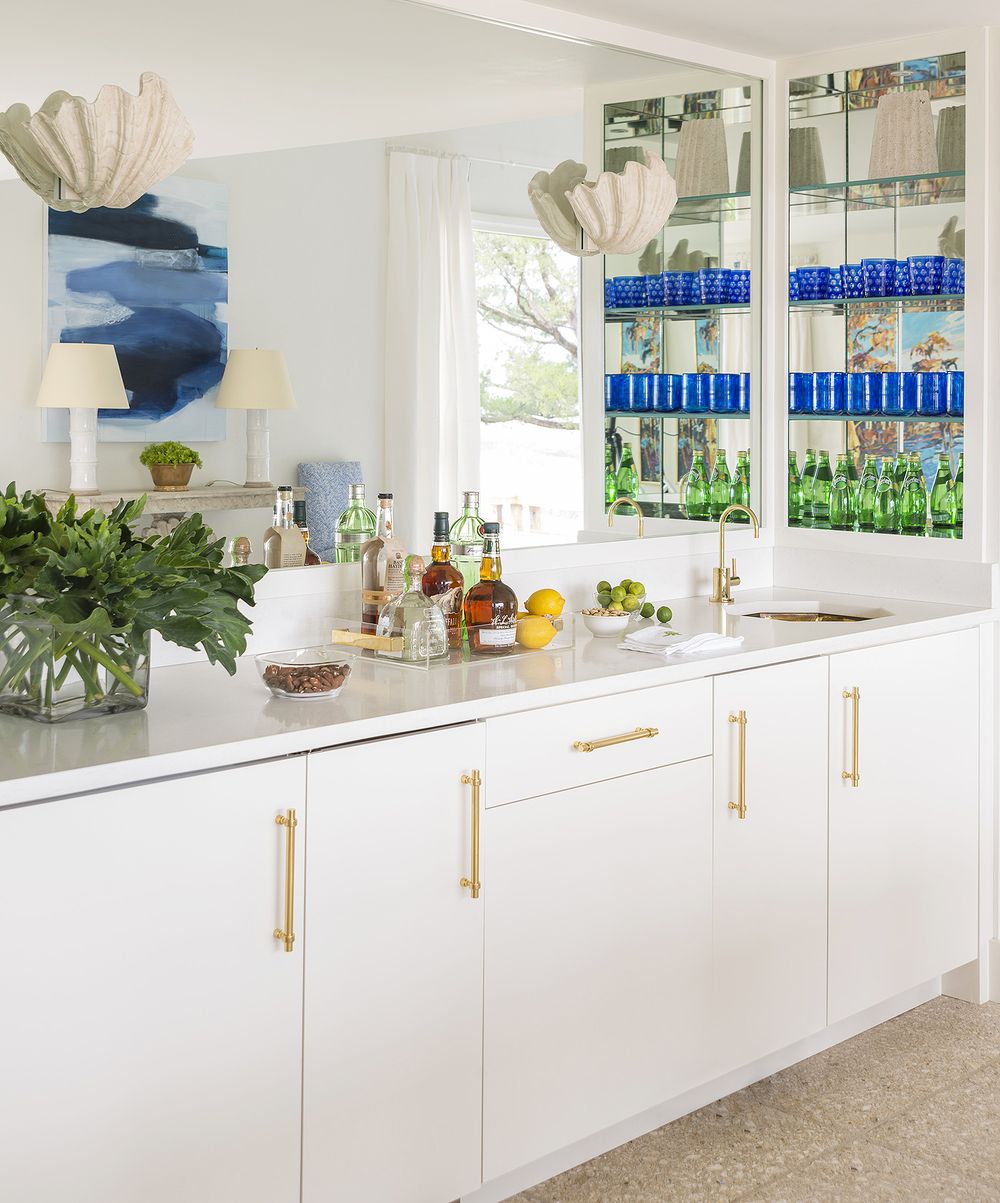 Behind the Doors
You can install a home bar behind a set of simple wood doors as seen here.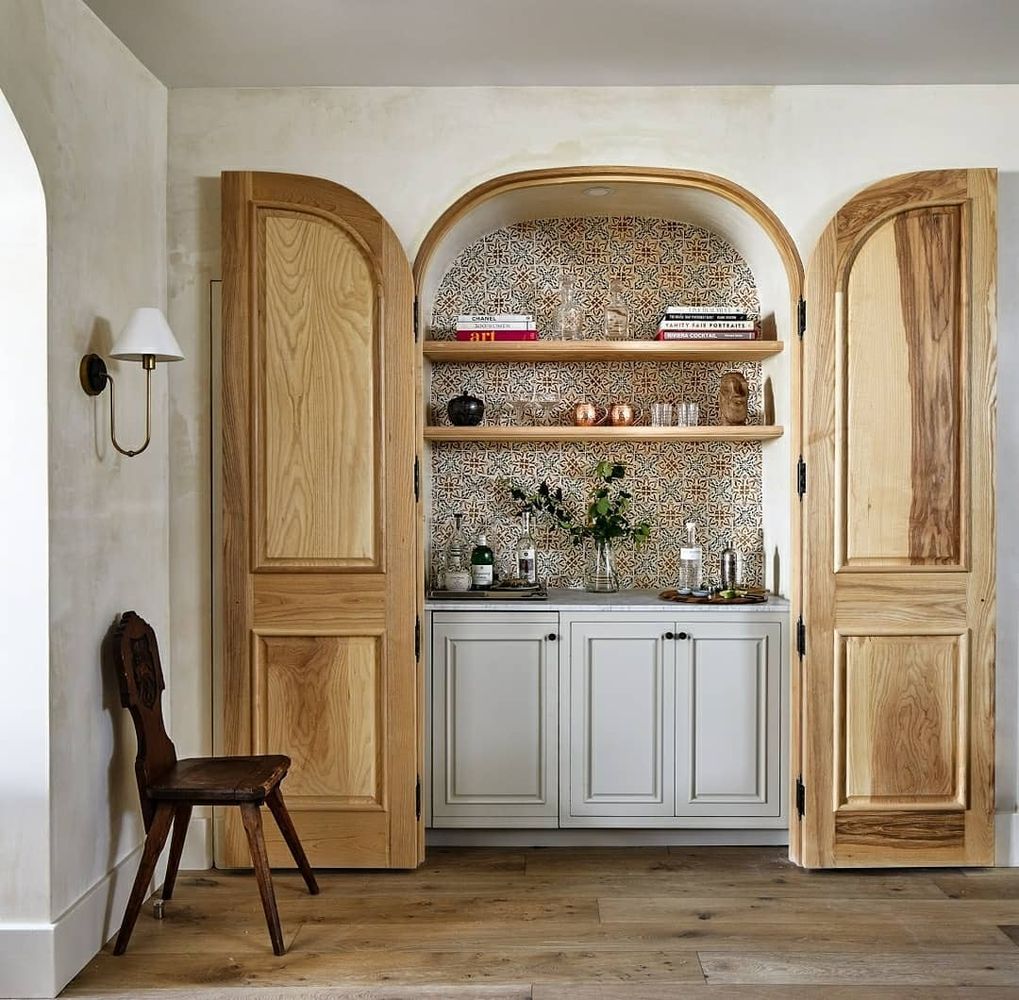 Unique Tile Backsplash
Make your home bar unique by choosing a custom tile backsplash. This home bar design features Blue hexagon tiles that go up at different heights across the wall.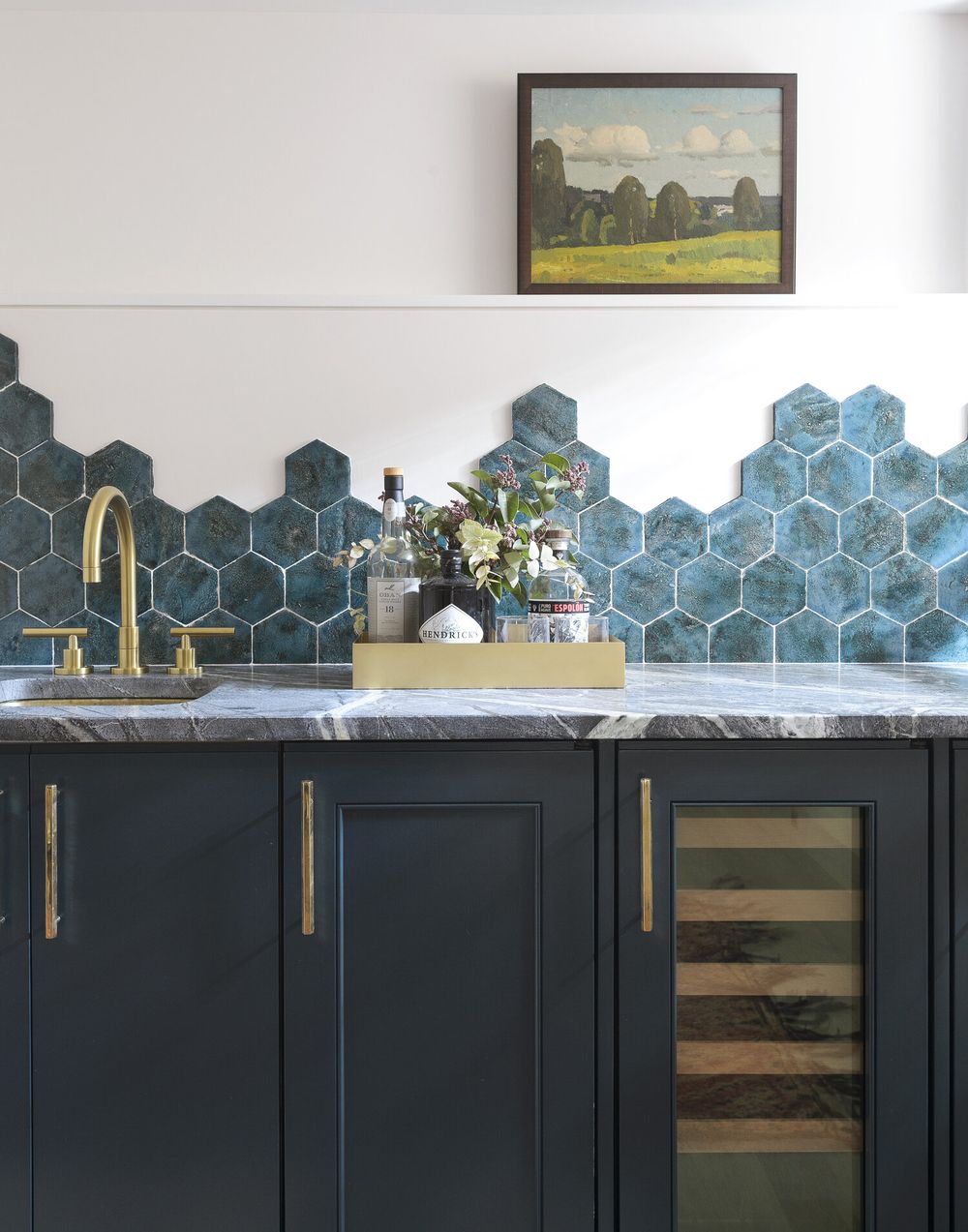 Modular Shelving
This black home bar features modular shelving in a hexagon all design which gives it a retro mid-century style.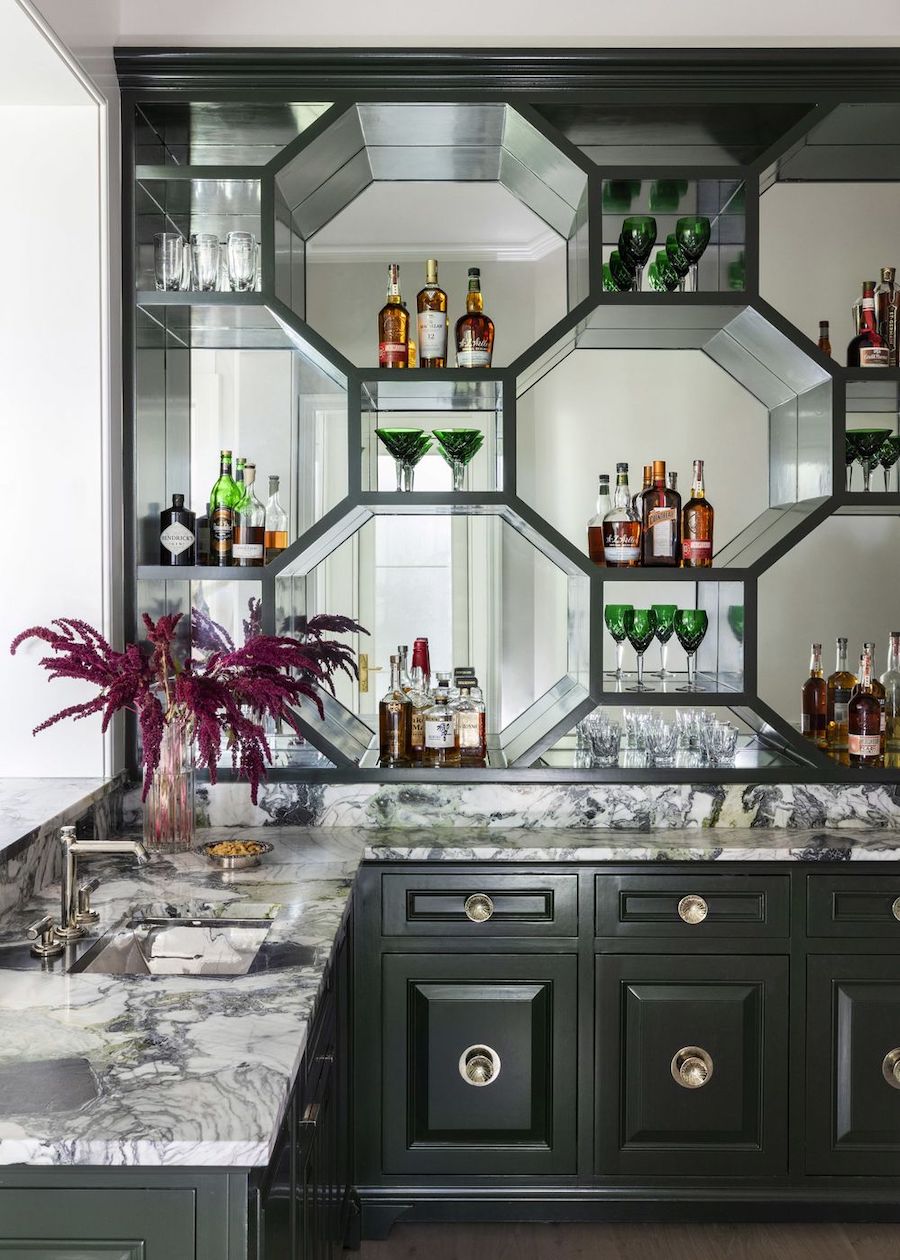 Custom Wall Mural
This blue custom wall mural looks beautiful beneath the arched ceilings of this small home bar. I love the marble countertops with gray veining, the vintage Champagne holder in the corner, and the unique brass wall sconces.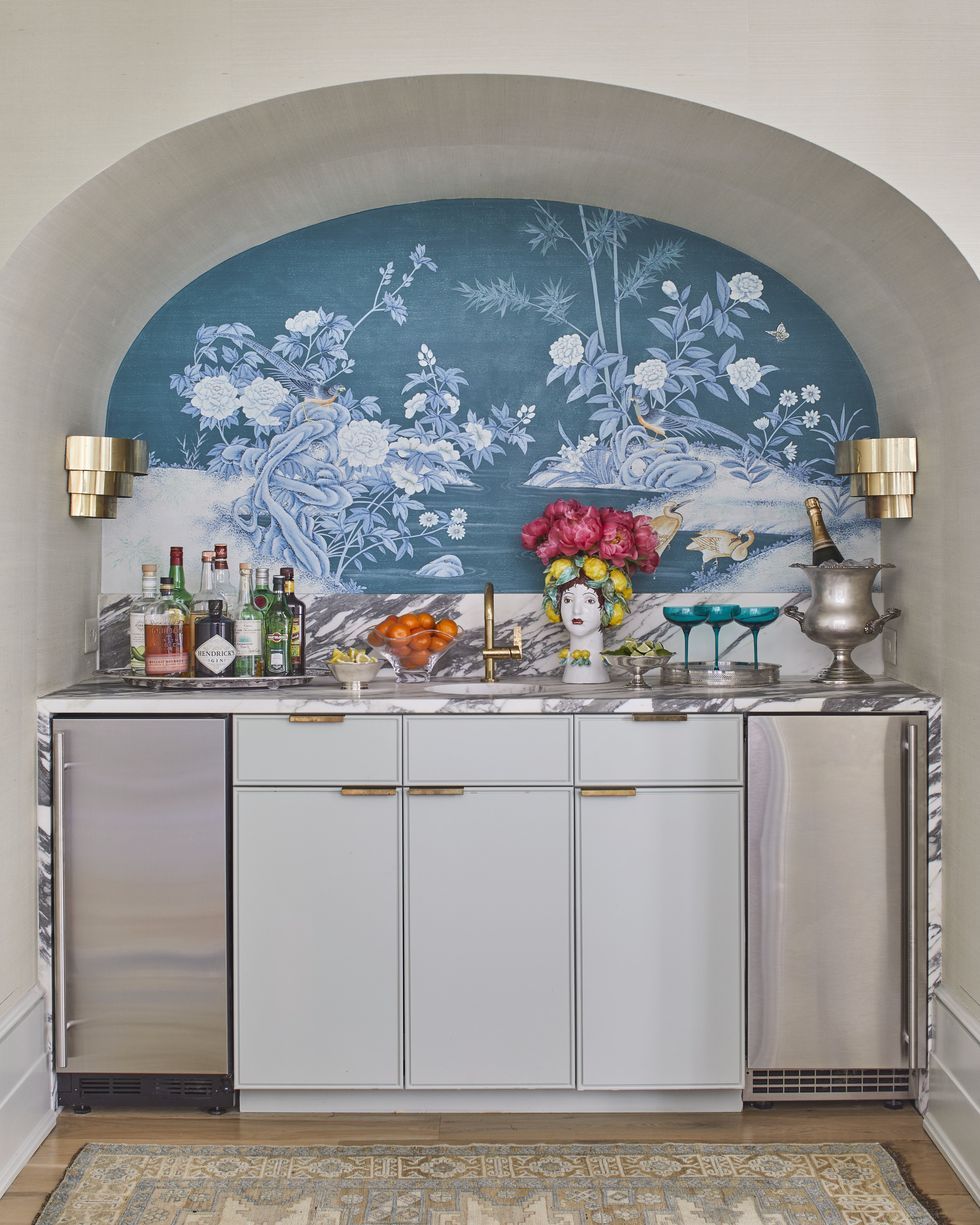 Cute Corner Home Bar
There's so much to love about this cute and functional corner home bar. It has paneling on the cabinets, Black countertops that are gently rounded at the edges, and two faucets for water. Brass floating wall shelves have been installed above the bar for plenty of storage. This home bar seems to serve a multi-functional purpose as a large espresso machine is on the countertop. This is a great example of making a coffee bar and a home bar in the same space.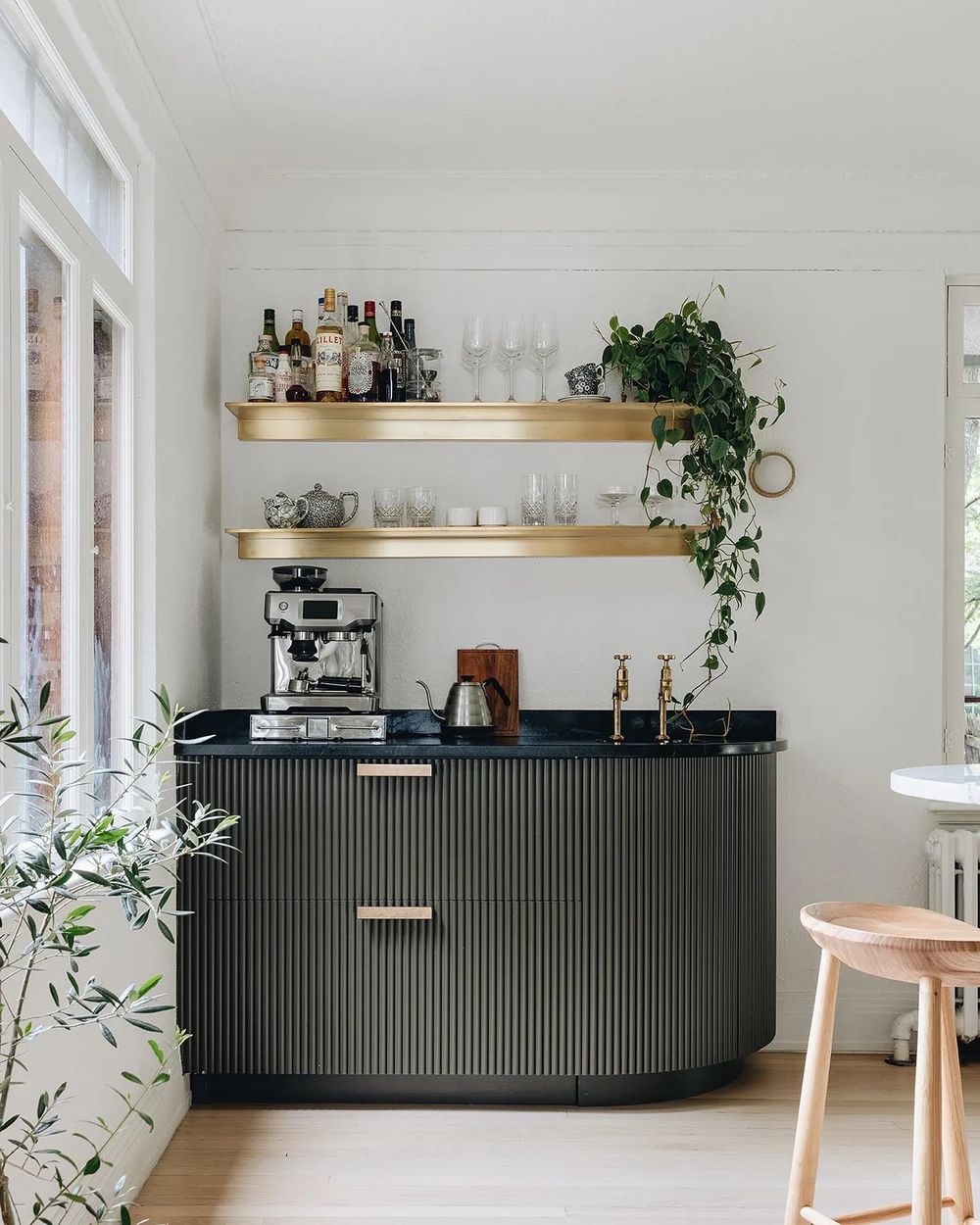 Ladder for Higher Storage
I love the idea of adding a letter to your home bar so that you can reach the glassware that you've stored on the upper shelves that are hard to reach.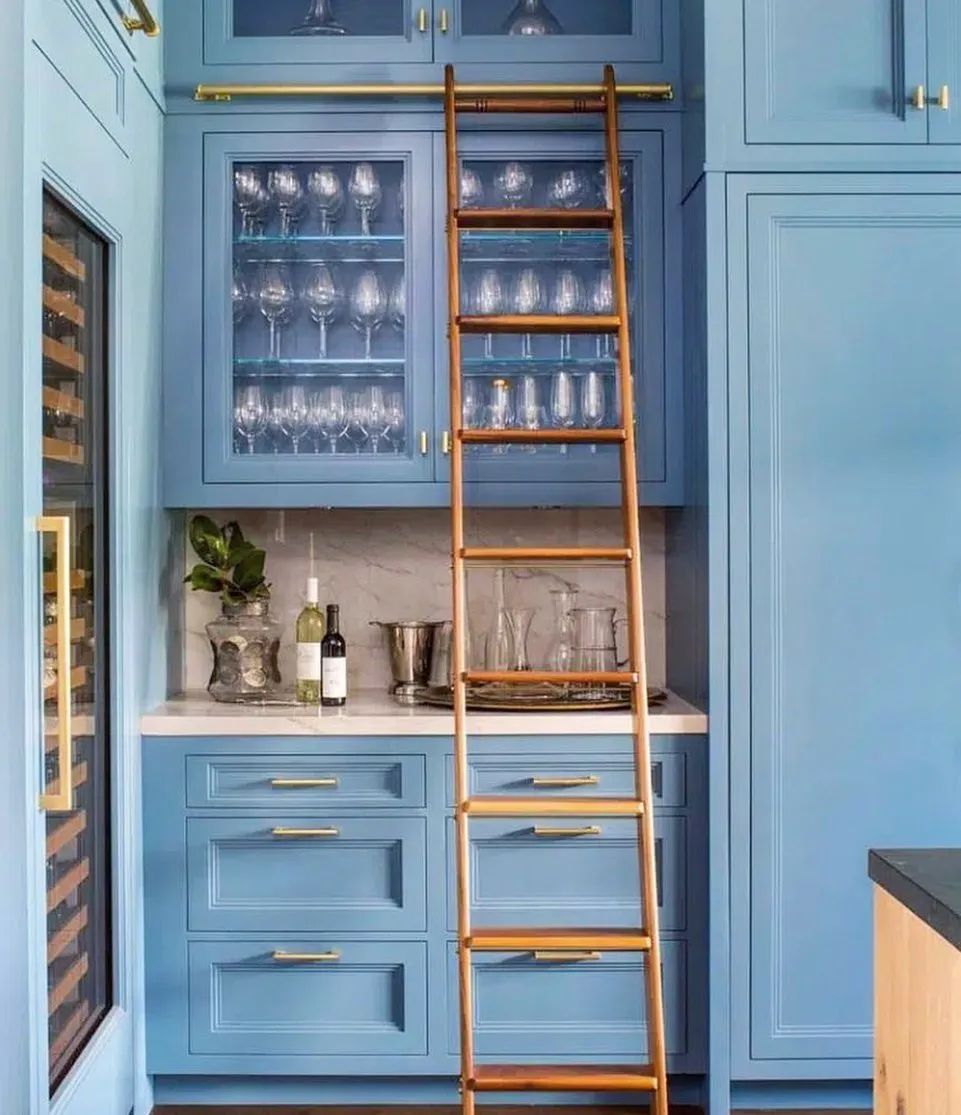 Glass Front Cabinets
Glass door cabinets are the perfect addition to any home bar design. These types of cabinets allow you to easily see what's inside so you can open the right area and get to the glass you need quickly.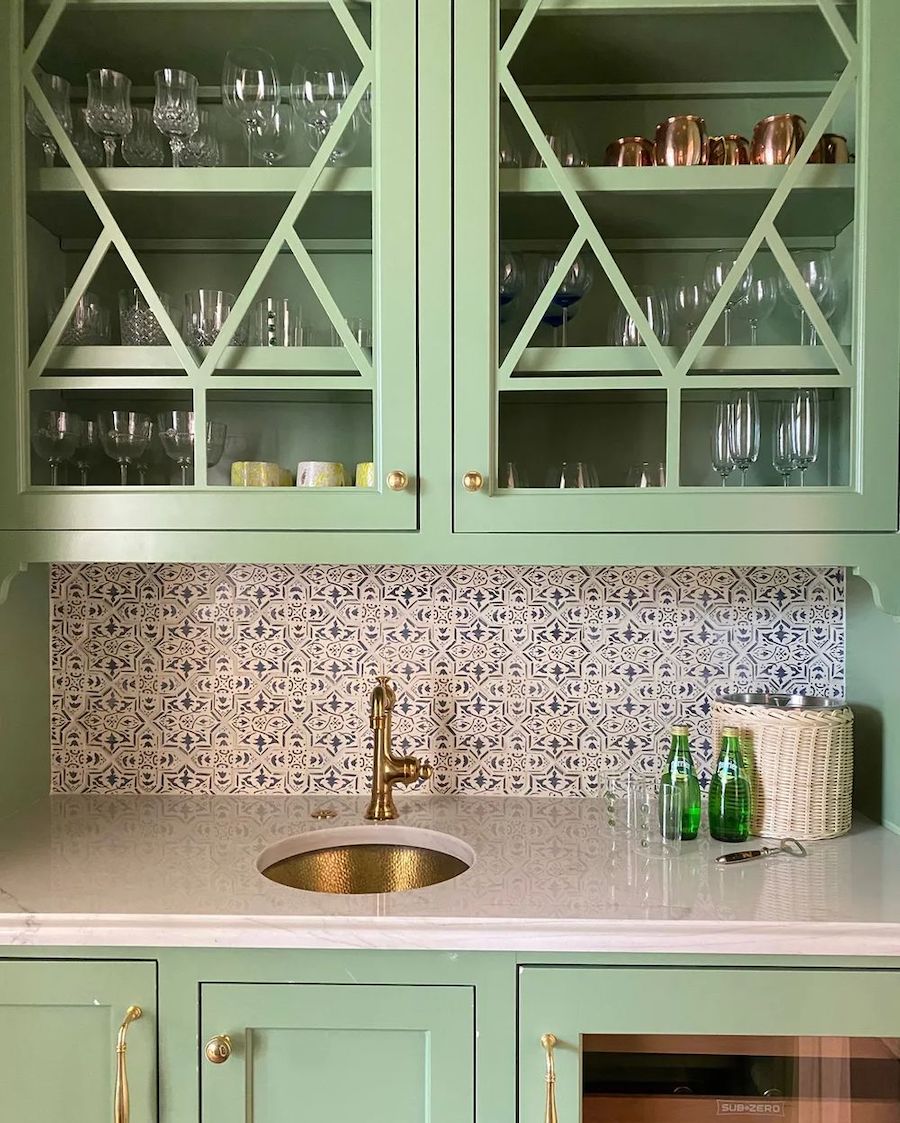 Southwestern Style
This southwestern-style home bar shows that you can design a home bar for just about any type of home or decorating aesthetic.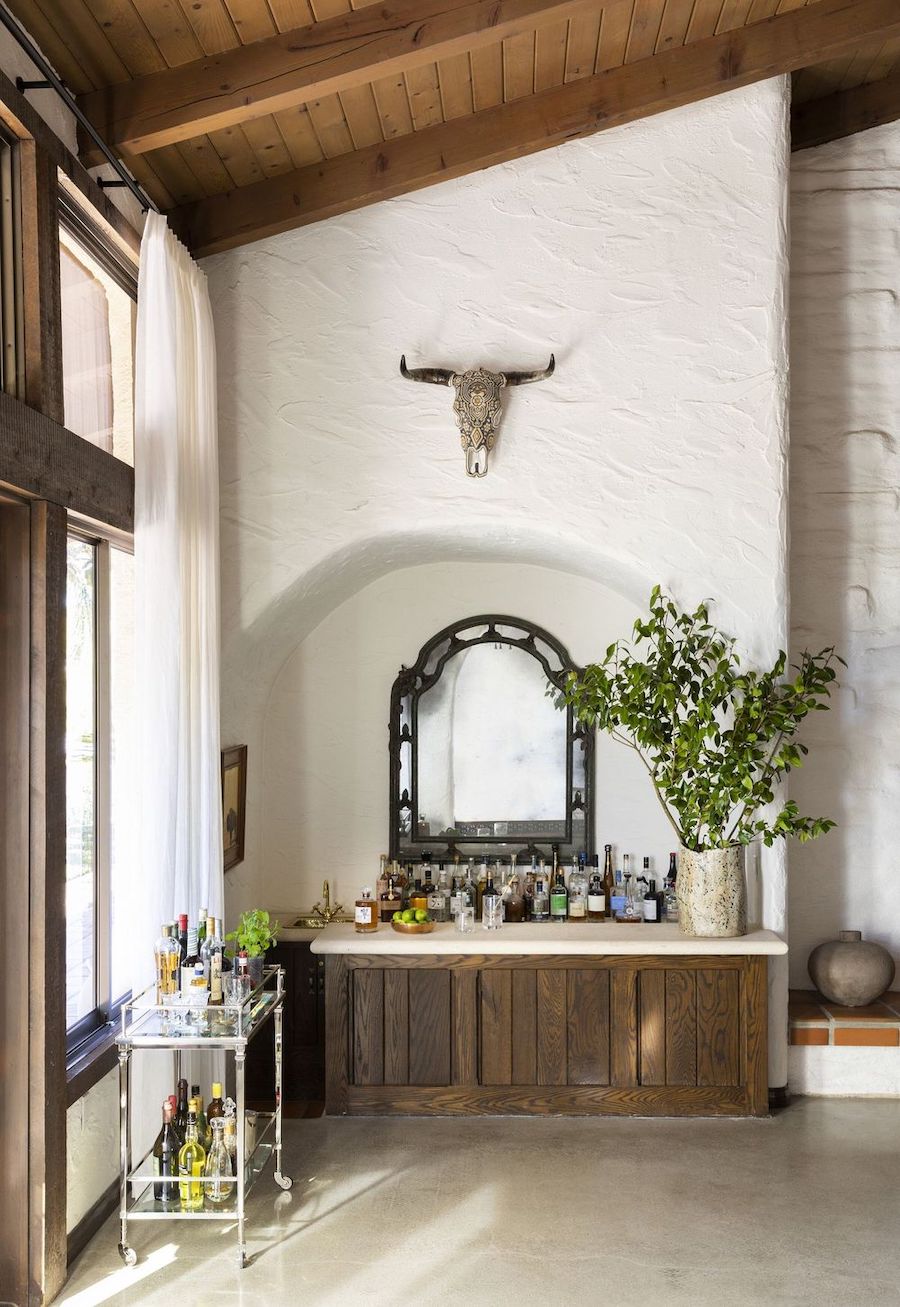 This tiny home bar fits inside what looks to be the size of a linen closet. A single door swings open to reveal the compact space.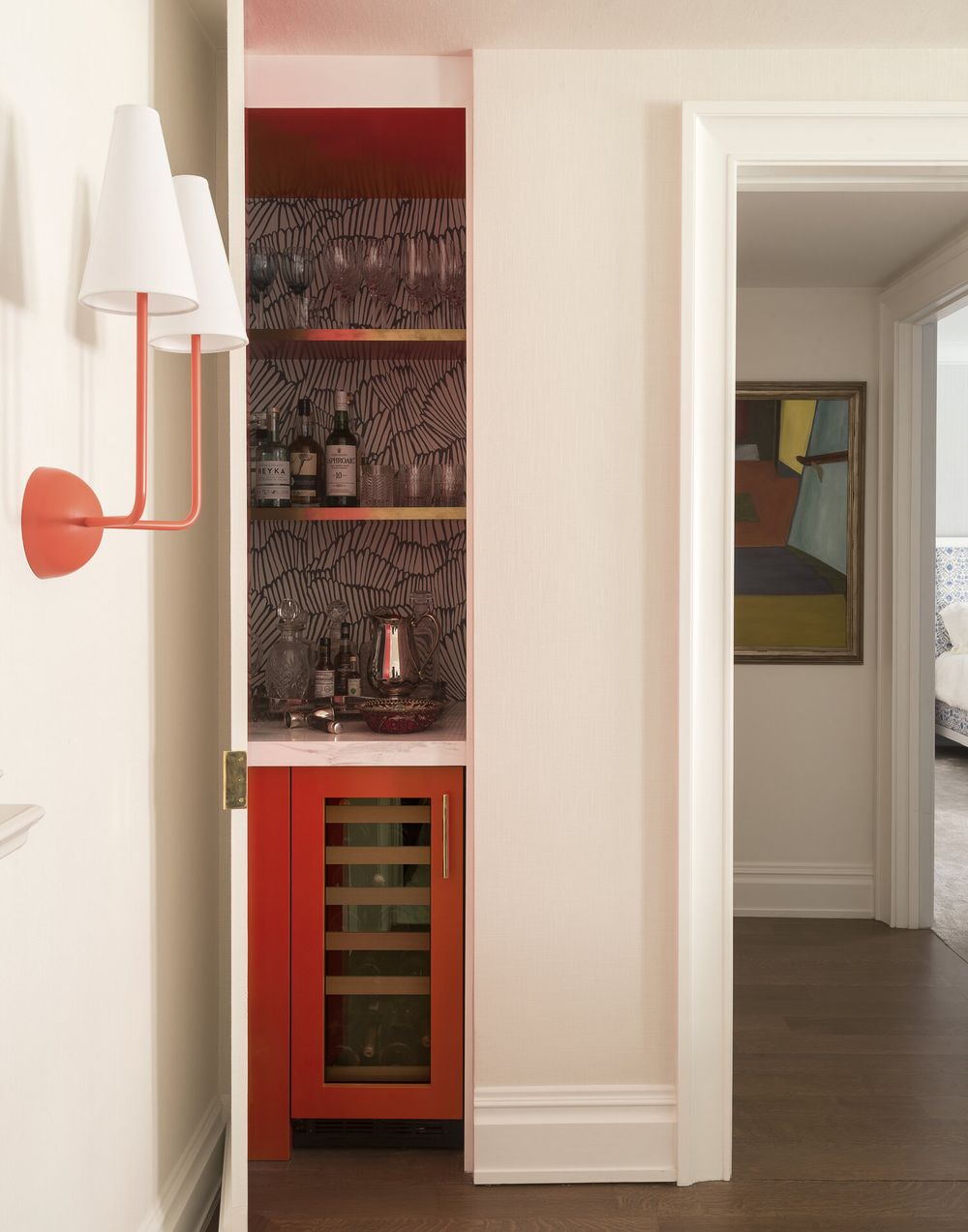 Farmhouse Fresh
This home bar design features a modern farmhouse look with blonde wood cabinets, white subway tile magnolia leaves, and a white marble countertop.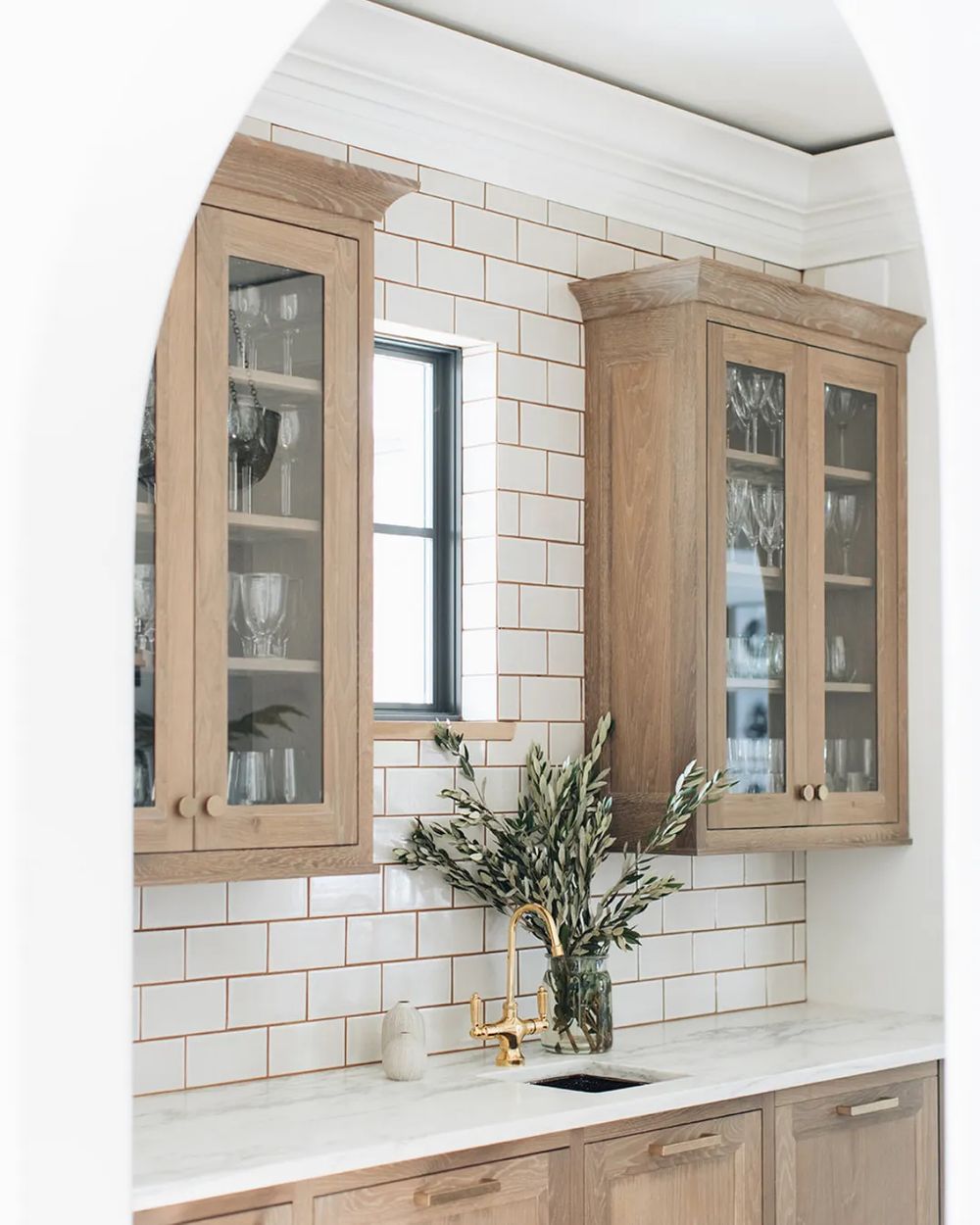 Customized VW Bus Home Bar
I had to share this adorable home bar idea. This homeowner decided to build a customized Home bar in the shape of a vintage 1967 VW bus! How creative.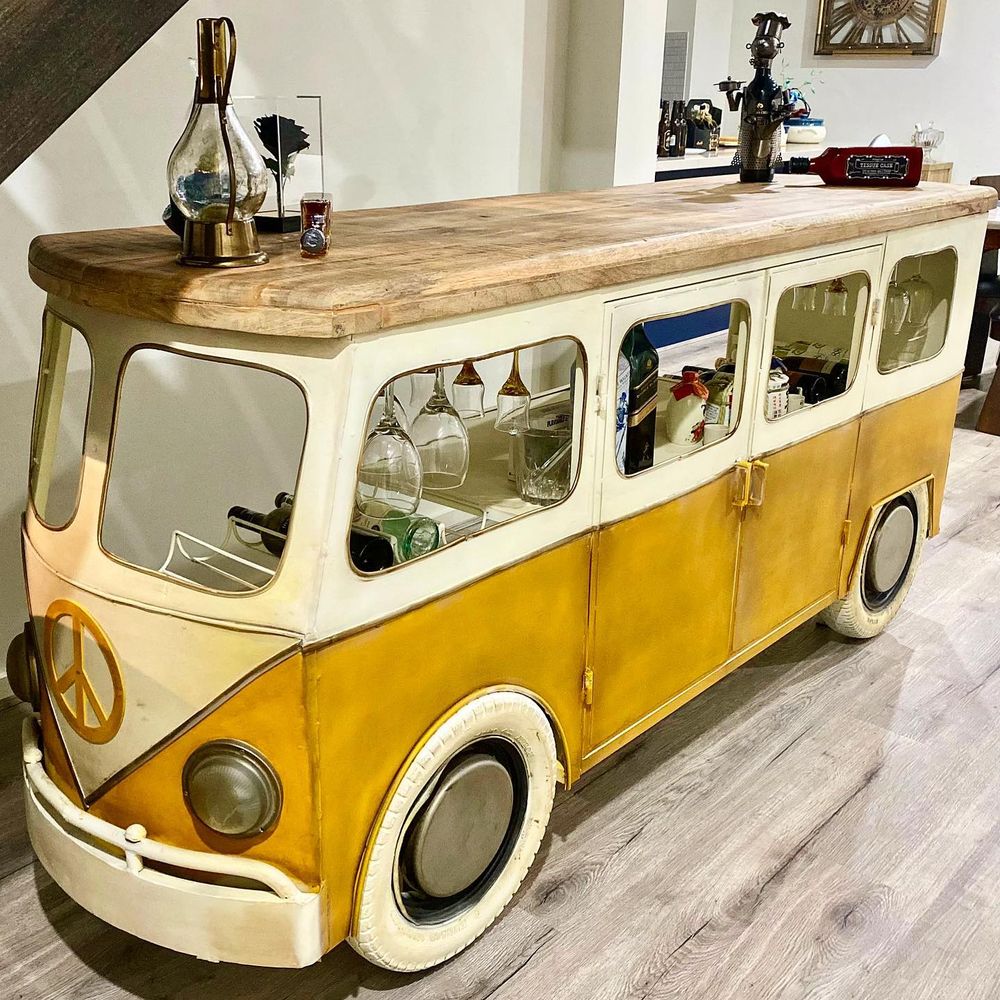 Open Shelving
While open shelving home bars tend to attract more dust and require more cleaning, they do make it easy to access your spirits and glassware. This type of home bar design is probably best for people who plan to use their home bar on a daily or weekly basis.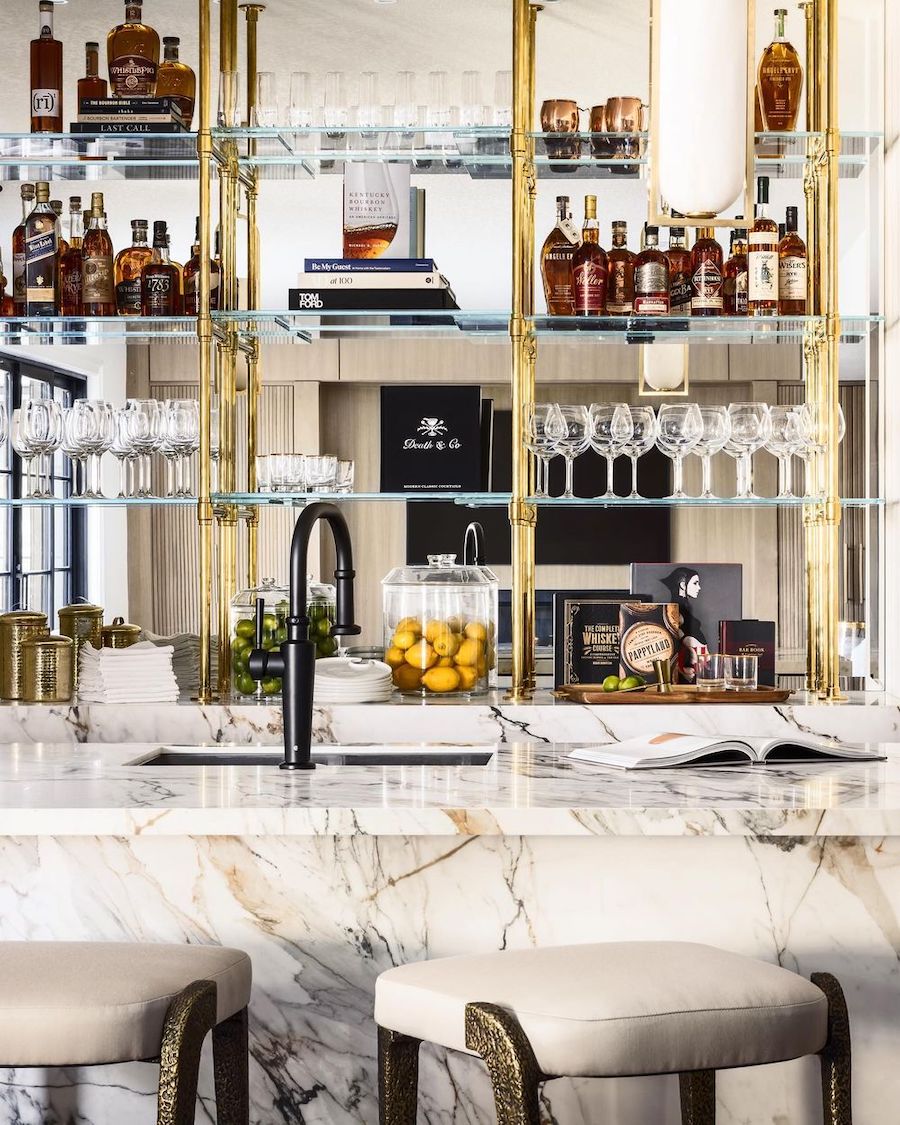 Simple Side Table
You don't have to spend a lot of money to design the perfect home bar. This is definitely one of the more affordable home bar decor ideas that we have to share. This homeowner decided to place a simple wood table in the corner of the room and turn it into a home bar. You can do this pretty easily by adding one tray to hold all of your liquors and spirits and placing it on the table.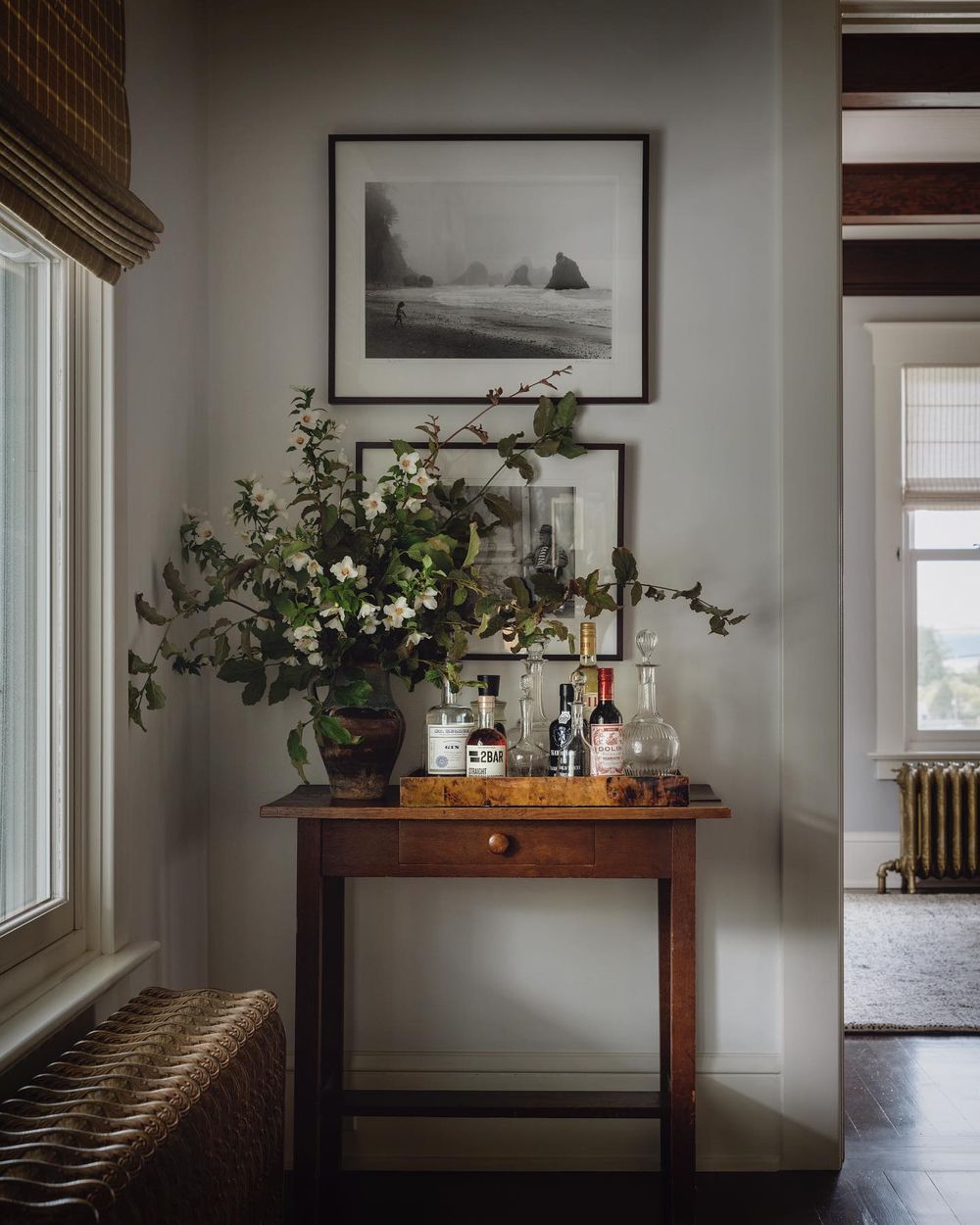 Small Home Bar Design
Don't let space limit you from creating a home bar. This is an example of a beautiful small home bar design in a tight space. The glossy green rectangular backsplash tiles really make the space pop.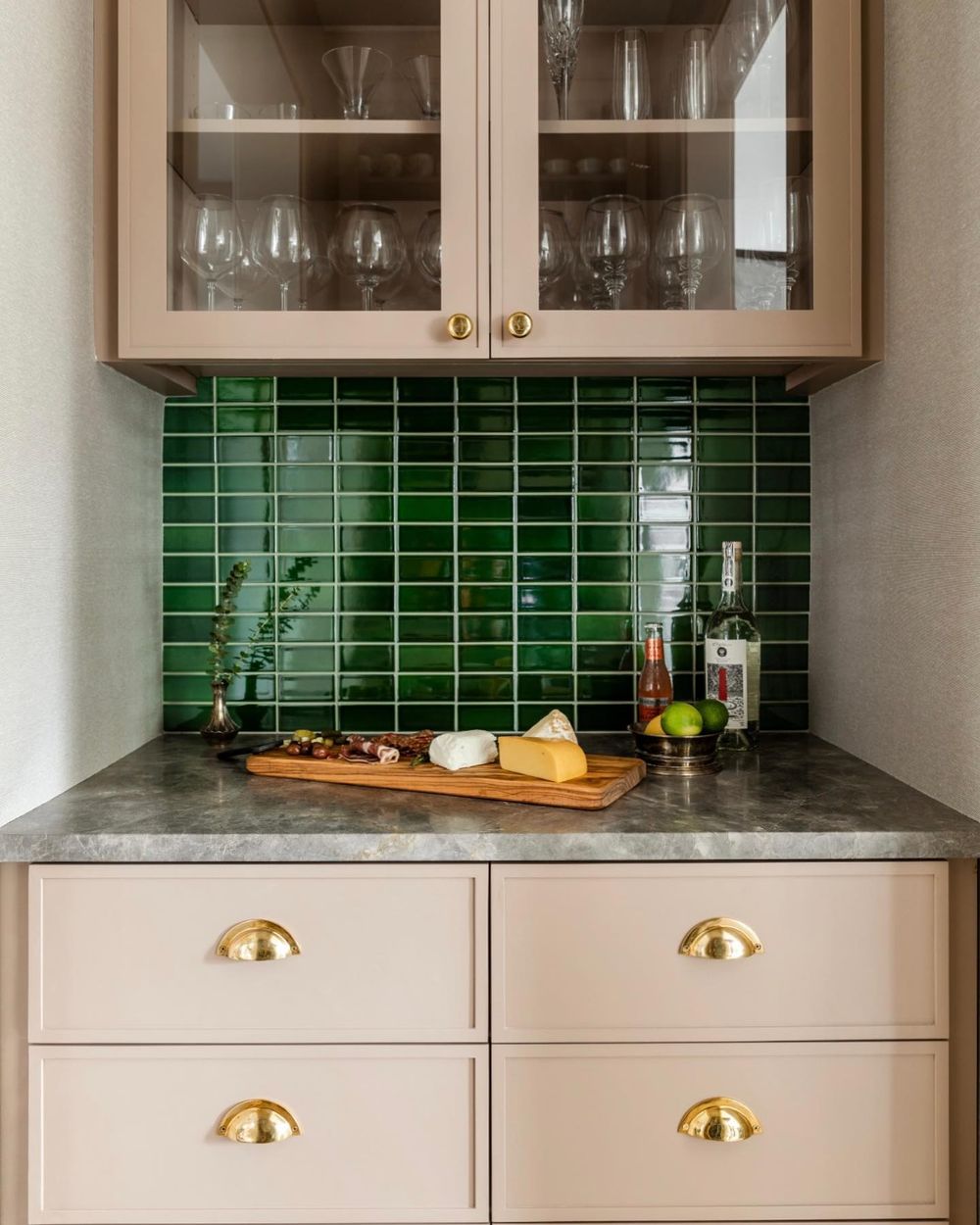 Brass Accents
Brass is a common choice for home bar hardware. This brass ice bucket and mixing tools or a nod to the classic 1950s home bar era.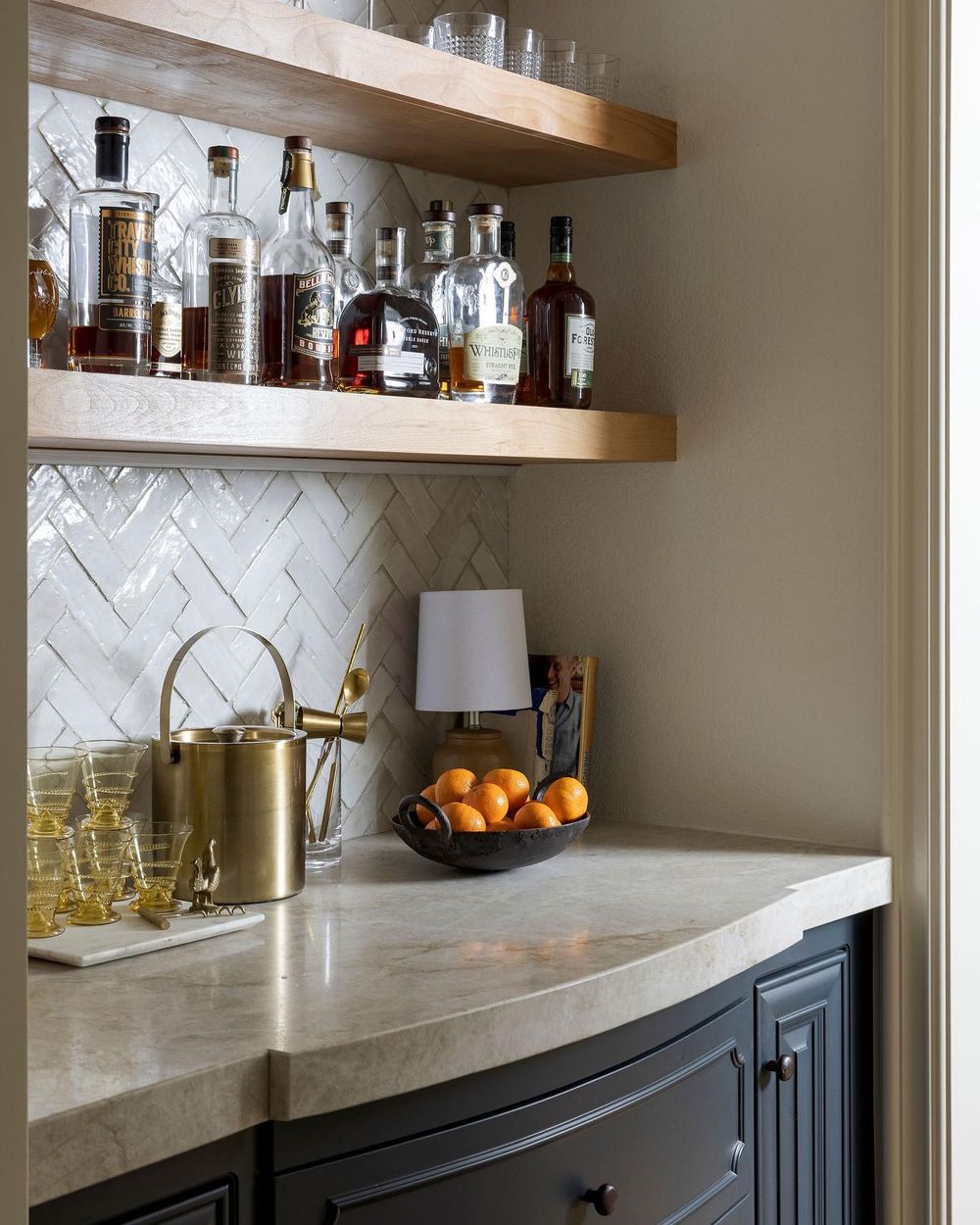 I hope this home bar decor ideas inspired you and give you plenty of inspiration for your own space. Please share your home bar with us in the comments below!